Best Sesame Street Shoes Reviewed
In a Hurry? Editors choice:
Test Winner: Elmo Rain Boots

Since November 10, 1969 kids have eagerly watched and learned with the
colorful characters
on Sesame Street. When you see the adorable footwear options that represent this beloved show, you won't be able to contain your excitement. These sesame street toddler shoes can't tell you how to get to Sesame Street, but they certainly will make the walk there as effortless as possible! By choosing a pair of the outstanding palette you will be able to enjoy walking, and yet, own a pair of carefully designed colorful footwear pieces, now themed with your favorite show characters from Sesame Street. Because of that, we've chosen the very best of them, and below you can choose your perfect pair.
Standout Picks
Criteria Used for Evaluation
Visibility
What good is a themed shoe if you can't even see what the theme is? These sesame street toddler shoes are fore tykes, so we have to take into account they have tiny feet and are far closer to the ground than the average child. So how can we ensure that they are getting the most out of their style?
Bright, on the nose color choices help. Primary colors are already easy to spot, hence their extensive use in children's show characters. The fact that all of these choices have an insanely accurate palette to the character they replicate helps them get noticed.
Not only does the color have to be on point, but the designs are bold, with fashion elements that add to the overall character of the sesame street shoe, no pun intended. We want to love our toddler's shoes as much as they do, so this list has options to please those with a stylist's eye. Most importantly though, your child will go wild for the bright and exciting looks!
Flexibility
By now, most of us know that the best thing for most children is to go barefoot. Unfortunately, unless you live in the open countryside, that isn't really realistic all the time. Kids need an option that allows them to grow without restricting them.
This list has options with both soft soles or extremely flexible soles. The stiffest construction here is probably the Pumas and Sesame Street brand rain boots, and they are more likely to be worn by slightly older toddlers. Their shoes should be foot-shaped or totally soft, and this aids in multiple growth aspects of your little baby's feet.
Shoes that bind or restrict motion interfere with the natural movement of a child's feet. When they are crawling or learning to walk, they are developing important muscles and discovering their gait. Unless they are pigeon-toed, you want to aid in the natural process of this, rather than guide the way their foot develops.
Brand
You probably noticed we have a very limited brand selection of sesame street shoes on this list. That isn't because other toddler shoe brands don't make good shoes, but just that they don't make the best Sesame Street themed options. Here we see multiple officially licensed products from Sesame Street themselves.
The other heavy hitter is Puma's collaboration with the classic PBS show. No one is going to do a Sesame Street theme better than Sesame Street, plain and simple. When the show itself is being consulted on these products, we can ensure that we are getting a shoe that represents them accurately and effectively.
The other options here are Robeez and Stride Rite. Soft picks that are known for toddler shoes, and not much else. Stride Rite has specific features to prevent tripping and falling. Robeez was developed by a mom for parents. Every brand here is an expert at what they do in their own right, and we wanted to honor that.
Accuracy
There are zero kids that would be willing to wear a themed shoe that didn't look like the theme it was representing. Try to sell a child on some warped Barney or off-color Finn from Adventure Time, and they will know immediately. This is another reason for choosing officially licensed products.
If a sesame street shoe says it's Big Bird, we want to recognize Big Bird, and so do our Tots. A style that is meant to call to Cookie Monster shouldn't look like the Sweets Beast or some other bizarre knock-off reimagining. Our kids care, so we care. That is why there isn't a single pair here that begs the question of, "who is that on your shoes?"
Materials
Let's just get one thing clear: toddlers are a mess. No matter which way you spin it, a parent not constantly cleaning up after their toddler may have an imaginary child. Luckily, there are ways to make it a little easier on the caregiver, and part of that is choosing shoes that focus on preventing stains.
Some of the options here, like the rain boot, the Robeez, and the leather Elmo option, can just be wiped clean with a wet cloth. No fuss, no mess, you're done. Others like the Stride Rite can also be easily cleaned. For the clothe picks here, they will need a moment to dry before being ready to play again.
The Abby ballerina slippers can be completely hand washed and then laid out to dry. All choices here are super easy to maintain, so there won't be a huge hassle every time they get a little spotted up. Crocs are known for their easy, water friendly foam constructions, and can also just be wiped off usually, however sometimes they may require a little elbow grease to get out any hard-earned scuffs.
Top 10 Sesame Street Kids Shoes
1

. Crocs Funlab Cookie Monster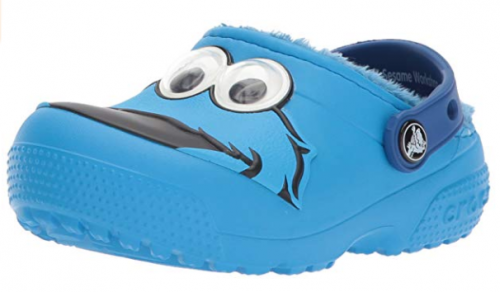 Crocs is an all-around icon for making some of the most wearable sesame street shoes on the market. From celebrity collaborations and endorsements to the everyday stylings of people on the go, their span is vast and their reach undeniable. Hailing from Niwat, Colorado, Crocs puts special emphasis on family values and great products. Cookie Monster is featured in this particular style, and the design perfectly captures his wild, and sometimes downright chaotic, presence in an adorable sesame street shoe.
The graphics on these Crocs are featured on the top of the shoe and are standout, this makes them a particularly fun choice for kids. While adults often wear footwear for fashion, more than anything kids usually just want to be able to look at and admire their favorite outfits and footwear. That is part of why this kind of design is so successful with munchkins.
Cookie Monster's googly eyes make this clog almost interactive for your toddler, as they will see this sweet hungry character come alive with every step. The Croslite Croc foam is one of the softest and lightest materials used in shoes, so toddlers love how they feel as much as they look. Fully lined in bright blue faux fur, they will keep feet warm even in chilly weather. Crocs are priced affordably and have great traction, and can be worn anywhere with ease.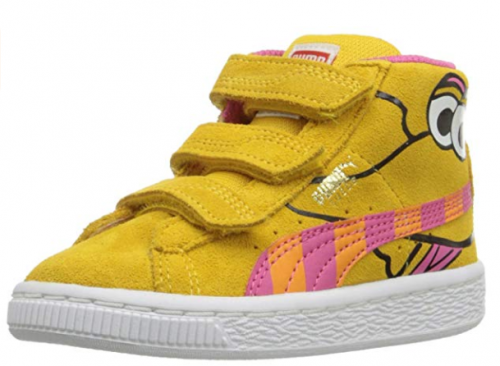 A brand that is dedicated to sports and performance on all levels, Puma is known as one of the top athletic brands in the world. Hitting the market in 1948, Puma has made timeless styles and endless collaborations that keep their customers happy and coming back for more. With a home base in Germany, Puma never fails to innovate and break ground with every new idea. Their kids' styles are absolutely no exception.
My favorite on this list, this muted canary yellow high top has a graphic design that is thoroughly Big Bird, but still super stylish and fashion forward. From the accent stripe with his legs iconic pink and orange colors to the smiling face adorning the heel, this high top is almost too cute for words.
The velcro makes these easy to get on and off, for both child and parent. Their rubber sole of this sesame street shoe has great grip for the curious explorer in every child. Non-marking of course, so no worries about leaving any scuffing. This mid style is completely suede, and though priced like your average name brand sneaker, it is well worth it considering its genuine quality and durability. This will surely become a favorite of your tyke.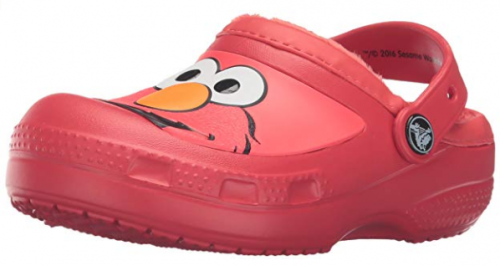 Another Crocs pick, these embody their message of looking on the bright and colorful side of life! If your child cannot get enough of elmo's curious nature and slightly loud enthusiasm, this is the perfect clog. Truly capturing the essence of the character, you can almost here the iconic elmo giggle when you look at this convertible little sesame street shoe. Certain to please even the pickiest toddler with its ultra softness and look!
Your little one may be a bit indecisive, but have no fear, this Croc has the perfect solution. Just like their adult shoes, this features a back strap that comes up to make it into a slingback clog or slide style. The soft lining makes the experience of slipping it on pleasant, so there won't be a fight to get sesame street shoes on before you go out the door. Plus, they'll keep little toes warm and comfortable for colder weather!
The Croslite foam is ultra supportive, but it has even more functions than just that. These are buoyant, and hold up really well in wet conditions. Not only can they withstand moisture, but they are super fast drying. This combination makes them low maintenance and reliable for even the most unpredictable weather, or kids, for that matter. Crocs are one of the easiest options to clean, and this alleviates the worry of shoe rapid shoe destruction. Light on the wallet and the foot, these are a pair of shoes that are worth trying! Crocs have such a loyal fan base for good reason.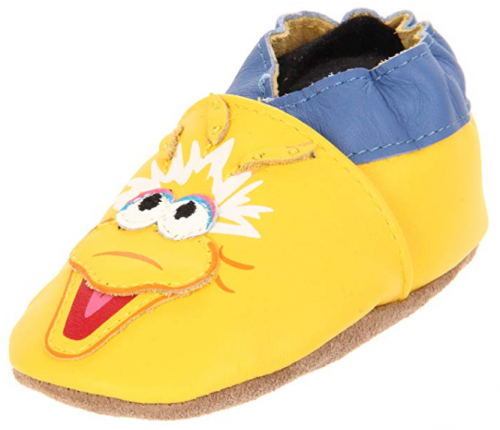 In 1994, Sandra Wilson decided she no longer wanted to continue her job at the airline where she worked. Using leather in bright, eye-catching colors, Sandra constructed a pair of soft-soled sesame street toddler shoes for her son Robert. Much to her surprise, they were a hit! Robeez has since dedicated their brand to growing families, and the need for toddler and baby shoes that cater to them. Every shoe they create gets the seal of acceptance from the American Podiatric Medical Association, guaranteeing healthy footwear your child can grow in.
This soft soled pick, inspired by Big Bird himself, is as cute as it is cozy for little feet. With blue elasticized trim and accent, and the bright yellow upper, this is a standout design and recognizable to boot. Big Birds smiling face appears in great detail with intricate stitching. Full leather from top to bottom makes for a sesame street kids shoe that won't constrict or hinder your child's feet.
Any toddler will love having their favorite bird on their feet. With the no-slip-off design, they're sure to stay in place. Every parent knows the woes of children and their footwear throwing. You can avoid this event entirely with these Robeez. Despite being all leather, this soft soled option is extremely reasonable, so there is no need for guilt when buying a shoe for your fast-growing tot!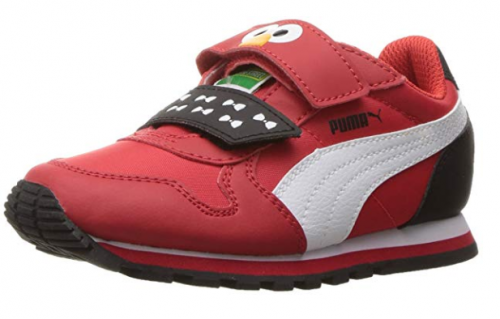 Another pick from Puma, these are one of the standouts performance wise of their Sesame Street collaboration. Catering to the more active toddler in your life, this Runner is a style that has been with the brand exceptionally long and is easily a consumer top choice. Featuring most kids favorite character, Elmo, the appeal is in the details of these cute sneakers. Puma decided to combine toddler functionality with a sporty design you are sure to love.
The EVA midsole on this little gem keeps the pair light and flexible, while also providing cushioned support for your toddler. The two strap velcro closure is easy to get on and off and adorned with cute little black and white bow ties on one strap, and Elmo's curious eyes and nose on the other.
The casual, sporty design is a kid's favorite, and the rubber sole and feature the same padding and cushioning as on adult Pumas. A comfortable foot feel is crucial for a child, so not skimping on youth shoe construction is a big deal in the shoe industry. Luckily, Puma dedicates as much energy into their kid's lines as their performance options. They even come including a graphic explaining how they should fit, before even putting them on your toddler's foot! These are also priced the same as any other brand name sneaker, but size up and you'll be set for a few seasons. Kids are sure to gush over this Elmo inspired runner, so don't hesitate and give them a try!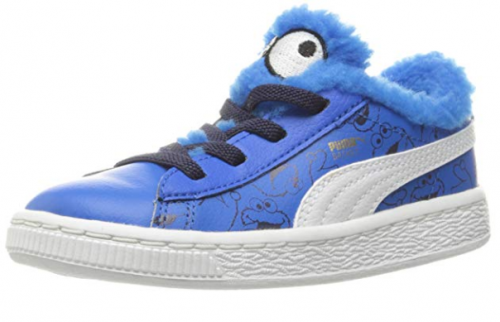 Puma definitely earned their third spot on their list with these iconic sesame street shoes. Fun for kids, in a style loved by athletes and leisure wear aficionados alike, the Basket shows off everything Puma has come to stand for. This athletic brand is loved globally for its sports and lifestyle fusions that combine function, fashion, and practicality into every design. Once your child tries these basket sneakers on, they'll never want to take them back off!
These leather sesame street kids shoes have an all over Cookie Monster print with the classic Puma stripe, but with a super funky aesthetic and tactile addition. The tongue is super fuzzy and features Cookie Monster's crazy eyes! Not only is the tongue fuzzy, but the collar is also padded and fuzzy for a warm and cozy feel. The fuzzy insides make these shoes easy to wear with or without socks, without worries about rubbing or blisters!
The classic basket shape is quite grown up, but with the fun, fuzzy accents the shoe takes on a playful and young look. The laces appear to be tie-up laces but they're actually elastic, so these are easy to get on and off without the hassle of having to tie them to secure. Priced moderately at a point similar to most brand name sneakers, these Puma's are great for your budding Sesame Street fanatic.

7

. Stride Rite Cookie Monster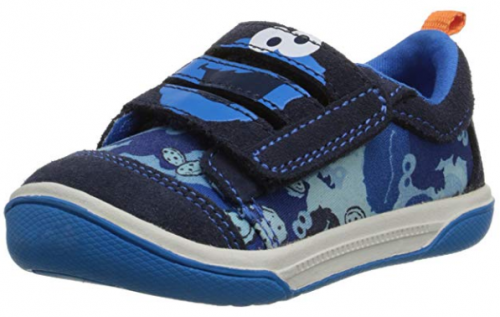 Specializing in growing children, Stride Rite is a brand that pays careful attention to the needs of young feet. Since 1919, they have helped children reach their max potential, emboldening them to adventure freely and comfortably. With that many years of experience, you can figure that Stride Rite has learned a thing or two about childrens footwear and how to make it well. Choose Stride Rite to help your child play, learn, and grow! These sesame street toddler shoes might be the best ones on the market.
Flexibility is a key point in all of Stride Rite's sneakers and these are no exception. The lightweight sole won't make your child drag their feet, and encourages proper foot and bone development. A memory foam insole adds comfort to the footbed, so your tots feet are taken care of from the inside out. Not to mention their unique upper: it almost looks like Cookie Monster camo! The most interesting print of the bunch, this is definitely a shoe that is truly outside the box.
This sole of these sesame street toddler shoes is curvy, and the shoes rounded edges decrease trips and falls for your eager little one. If you have ever seen a toddler struggle with flat bottomed shoes because their gait isn't fully developed, you know how important this is. The three velcro straps connect with a leather pull tab, which makes wearing these super easy, but doesn't compromise on that custom fit feel. Priced lower than some more commercial brands, this is a great play shoe and outdoor shoe. They wipe clean easily and can just air dry until next wear!

8

. Sesame Street Abby Slippers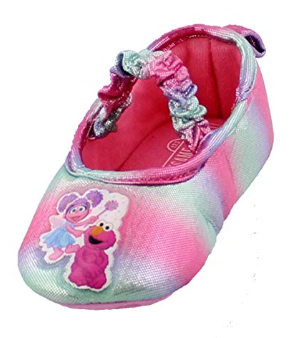 Sesame Street is a major production, that you already know if you're looking at this list. What you might not know is that Sesame Street has strived to provide sesame street toddler shoes for their little fans that make them as happy as the show does. These Abby Cadabby themed shoes look as magical as the fairy girl herself! Your children will feel like they're flying with Abby whenever they put on these precious ballet flats.
Non-slip grip of this sesame street shoe ensures your little troublemaker will be able to flit around the house safely and quietly, or at least their shoes will be. The blue and pink waves of iridescent color are eye-catching and sparkly, a must for any budding fashionista with a penchant for all things glitter. Whether practicing their dance moves for mom or dad or playing with their favorite toys, these are a comfy and super cute choice for your imaginative Abby fan.
Flexible to encourage healthy foot development, these are fairly barebones, but still extremely functional. The soft mary jane elastic band gives you a sure fit, and the toe features a fun decal of Elmo and Abby floating together! Great for year-round wear, they are snuggly and warm for winter, but won't cause a hot foot in the summer. The low price just adds to the appeal, it will be almost as if they appeared out of thin air.

9

. Sesame Street Prewalkers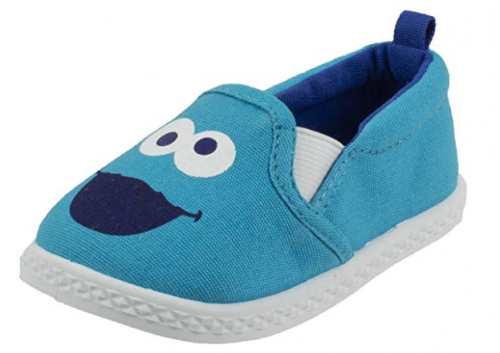 Straight from the show's creators comes another practical and cute sesame street kids shoe completely in tune with your child's growing needs. This adorable canvas slip-on comes in both Elmo and Cookie Monster options. So if you have a child not yet walking on their own that prefers either, this is a great call! The basic style and laid back design look super cool, and they're so comfy your child won't be trying to pull them off every chance they get!
A cozy and soft upper is super breathable. Youngsters have trouble regulating their own body tempts, as you know, so a shoe that breathes is crucial for indoor wear. Official licensing means you're contributing to the program that is helping your child to learn and grow! Sesame Street has made a conscious effort to celebrate and educate on diversity, and every dollar they receive goes back into their vision. Little pull tabs on the back make this an even more effortless addition to your little one's outfit.
The classic blue or red of these characters appeal to little eyes due to being primary colors, and these also appeal to little feet because of their shoeless feel. Easy to slip on and off for parents, these are great casual indoor sesame street kids shoes for an active baby who is not quite on their feet. Plus, they're inexpensive and adorable to boot!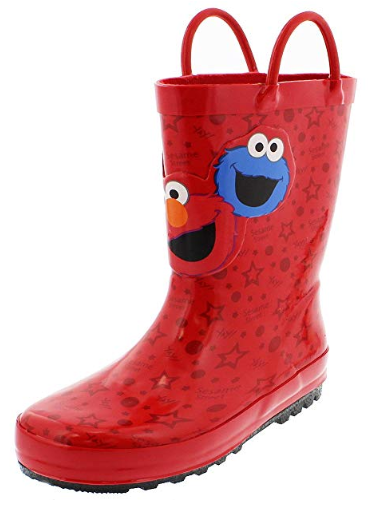 Officially licensed like many other great sesame street toddler shoes on the list, these rain boots will surely please any lover of the show. The primary colors of Elmo, Big Bird, and Cookie Monster are eye-catching details with children in mind. Their faces are the highlight of this cute boot, but the function is the real star for the parents. Encouraging your child's fandom with this practical style will definitely pay off for both of you!
Handles are the perfect addition to kids rain boots. We all know the struggle of getting a kid in outerwear, so a recognizable character array makes these more appealing for the stubborn tot. The handles are convenient for you to grab on your way out when expecting rain, but also aid in simply getting them on and off. The big handles fit even adult hands, which makes the whole process streamlined.
Waterproof with a removable insole, these sesame street toddler shoes will keep rain and mud off your toddler's feet, and won't get stinky because you can just pop the insoles in the washer. The outsoles are skid resistant and have a lot of traction, which will ease the worry of even the most neurotic parents. Their durable construction makes them last, and if you size up you can get away with using these for quite a few seasons with thick socks! Easy to clean, when you come in from the rain and wet you can just wipe with a damp cloth and they will be good to go. Priced low, these are a great rain boot for your curious toddler, and you won't regret adding these to their outerwear collection.

Subscribe to our Newsletter