Best Cartoon Shoes Reviewed & Rated
In a Hurry? Editors choice: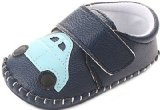 Test Winner: Lidiano Walking Slippers

Looney Tunes, Tom & Jerry, Disney, Pokemon… We all grew up watching cartoons. Cartoons have transitioned into our daily lives from athletic shoes to apparel you can find your favorite cartoon on just about anything.

For those of you who, like us, still nurture that inner childishness, we have created a list of the best cartoon shoes on the market. We have included different cartoon franchises, different shoe types, and we hope that you will be able to find just the right model for a little bit of animated joy in your wardrobe.
Standout Picks
Criteria Used for Evaluation
Features
In the hopes of piquing your interest, we tried to focus on the cartoons which have garnered a worldwide following over the years. Of course, there are more obscure ones, of which only a handful of people has heard, but chances of them getting a shoe collection are, sadly, minimal.
So, let's go over the animations and characters which found their place on our list – and maybe a few that hadn't, but that are still quite popular. It's easy when you're shopping for yourself, and you're confident in your favorites and choice. But if you happen to be confused by all of this, and have stumbled upon our list only to get inspiration for a gift for someone who's passionate about cartoons, this speedy tutoring in all things cartoons will help.
Disney – You can never go wrong with Disney. A certified cartoon empire, The Walt Disney Company, started out as a family-owned business in 1923. Since then it has evolved dramatically, and today there isn't a child, teen or adult who hasn't heard about Disney.
Coincidentally, we're certain that there's no child, teen or adult who doesn't have a favorite Disney movie or a favorite Disney character. Which is why when shopping for cartoon shoes for someone else, Disney is a safe bet. Though there are different versions of Disney you should be aware of:
Disney Princesses – With every passing year they grow in numbers. First, there were the eight original Disney princesses: Cinderella, Snow White, Belle, Ariel, Aurora, Jasmine, Mulan and Pocahontas. But now our princess group includes Merida, Rapunzel, and Tiana, and will likely continue to expand.
The Disney Princesses encompass everything a little girls dream of beauty, strength, cleverness, courage, big sparkly dresses, and dazzling tiaras. This Disney collection has been on a roll since its inception, and you can find the now iconic of Disney Princesses on any type of product you can imagine: from office supplies to electronics, from food and ice cream too, unsurprisingly, apparel. Learn what someone's favorite Disney Princess is, and you won't have to worry about shopping for them ever again.
Classic Disney – When we say 'classic,' we're thinking of the timeless silhouettes of Mickey and Minnie Mouse, Donald and Daisy Duck, Goofy, Pluto, and others. Like the little black dress and a string of white pearls, these cartoon characters will never go out of style. Whether they are marketed in their original, playful design for children, or have a bit of a twist to them to appeal to an older demographic, you will surely find an endless supply of shoes with Classic Disney themes.
Anime – Anime is a word that refers to the type of 2D animation originating from and commonly associated with Japan. That is not to say that anime is limited to only this country. For decades now, it has spread and prospered all over the world, garnering millions of devoted fans in the West in particular. The Internet is packed with communities centered around anime productions, and in recent years anime conventions have become the go-to events for artists, cosplayers and other fans looking to meet new people and share their interests.
Some of the most popular animes, which have a wide selection of merchandise available, shoes included, are:
Pokemon
Dragon Ball
Naruto
Hayao Miyazaki movies, such as Spirited Away, Howl's Moving Castle, etc.
Hello Kitty – Admittedly, Hello Kitty is not a cartoon character. Rather, she is a cartoon in the sense that she is drawn, but she doesn't belong to an actual cartoon production or animation. She has been designed by a company named Sanrio, presumably as a marketing strategy. Which worked, since today Hello Kitty is known worldwide, and her cute kitty face graces many a product, from school supplies to coffee shops, and even entire airplanes decorated in her color theme.
She is a representative of the 'kawaii' part of Japanese pop culture, a word that roughly translates to 'cute, adorable, loveable.' Indeed, Hello Kitty has captured many hearts with her pink bow, button nose, short whiskers, and precious outfits. Today, she is not only popular among children but also among many young (and older) adults as well.
Snoopy – The craze for Snoopy originated in a comic strip titled 'Peanuts' in 1950. Charlie Brown and his pet beagle have become the most recognizable and iconic characters of this strip, and have a huge following all over the world, especially in Asian countries.
Cartoon Network – Cartoons from the Cartoon Network, unfortunately, didn't make it on our list, but it is important to mention them, as they have strong fanbases despite being a part of a cable TV channel. You might have heard of titles such as The Powerpuff Girls, Johnny Bravo, Dexter's Laboratory, Ed, Edd & Eddy and similar. These are all part of the Cartoon Network family, and not famous only in the US. The channel has been a kids' favorite in other parts of the world as well, and this is why products bearing these familiar cartoon faces are sought after everywhere.
Marvel and DC – Marvel and DC don't only come in epic cinematic form – they are comics first and foremost, and as such stock-full of hand-drawn cartoon characters. They might represent people and are less caricatured than others, but entire pages out of these comics find their way onto fashion runways. They offer a trendy, rock and roll vibe that is perfect for those who are looking to be a little bold and a little ironic in their style.
For fear of overloading you with information not particularly relevant to shoes, we're going to stop here. Bear in mind that the ones mentioned in this section and on our list are not the only cartoons you can find printed on shoes. They are the most commonly purchased, but if you're looking for that perfect cartoon-themed gift for someone, make sure to get the name of their favorite animation as well as their shoe size.
Style
Print in the form of cartoons doesn't lend itself to high fashion or formal gatherings. Sure, some might wear a cartoon-themed gown or high heels to an elegant event for a more tongue-in-cheek approach, but when we hear cartoon shoes, we think causal. Laid-back. We imagine the weekend and hanging out with our friends or playing with our kids.
This is why the shoes on our list are leaning towards comfortable, everyday wear, and why we have chosen models that can be worn with anything in an unofficial setting.
Sneakers: Whether you're looking for a pair of new shoes for the gym, need basic footwear for every day, or are even trying to match something easy and effortless with that new skirt you bought – sneakers will never fail you. Cartoon sneakers especially are cute, whimsy, and will add a touch of that much-needed liveliness to any outfit.
On our list we have included regular trainers, then slip-ons for – as their name says – quick and easy slipping into your shoes, particularly useful for those who are perpetually late, and of course, high tops, for a splash of cool rock rebellion.
Boots: Just because it's rainy and muddy outside doesn't mean you have to feel that way inside too. Treat yourself to a pair of waterproof boots with some colorful cartoon designs on the sides and step out into bad weather with a grin on your face and a spring in your step. Instant mood lifters!
Sandals: When summer rolls around we immediately go for bright and bold, open-toed and strappy. Sunshine and clear skies are the perfect opportunity to break out sandals with adorably funny cartoon characters on them. They certainly won't leave anyone indifferent and will garner you many compliments along the way.
Don't take our word as law, however. When it comes to fashion there are no rules; rather, there might be some, but style and taste are subjective, so in this case, rules are meant to be broken. If it's a reflection of your personality, if you like to challenge both yourself and those around you, then by all means, wear those cartoon shoes to work, meet your in-laws in them, conquer the world!
Comfort
Comfort comes, first and foremost, in the form of cushioning. Look for molded footbeds, for padded insoles, memory foam, and other shock-absorbing materials. When you're expected to be on your feet for most of the day you need footwear which will distribute your weight evenly inside the shoe. The most important thing is that you don't feel pressure in your heel and that your feet, ankles, knees and even lower back aren't experiencing any cramping or pain.
Flexibility plays an important role in footwear comfort. You should go for shoes which roll with your foot as you move, which have soles that aren't too rigid. The best option would be those which flex in the forefoot area.
Before you settle on a purchase, you should check that your shoe fits well. Your toes, or any other part of your foot, shouldn't be hanging off the edge, and the straps of the sandal should be comfortable. They shouldn't be so loose that your foot is slipping out – as you may risk losing your shoe in the middle of a hike – but they also shouldn't be too constricting and painfully digging into your skin.
Lastly, try to avoid heavy, bulky models. They tend to put a lot of stress not only on your feet but also on your shins, and they aren't ideal for all-day activity.
Versatility
One of the key characteristics of a great design is being versatile enough to be worn with a variety of outfits. Usually, this will be something that isn't too fancy or too plain.
Another important aspect of overall versatility is the color options. The colors available are important because even if the style is attractive, it won't be quite as wearable if you aren't able to get a color that will match with what your wardrobe.
Value
Another important criterion that we used when picking out products is the price tag. The truth is, we all know the price is important. When picking out footwear, we have a budget in mind and try to stay in-between a specific dollar amount. However, when it comes to this type of evaluation, we are looking at something a bit different. Here, we focused on a way to ensure that no matter what product you decide, you receive your money's worth for the purchase.
We paid very close attention to the highest priced items and the lowest price. In this, we were able to draw some conclusions as to what perhaps maybe an average price tag.
10 Best Cartoon Shoes
1

. Lidiano Walking Slippers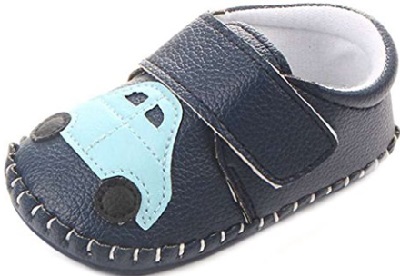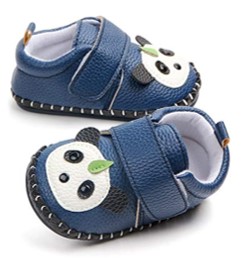 These slippers can be worn outside or indoors. They have a canvas/rubber upper and a cartoon vehicle which seems to drive along with each and every step. These are great at bringing comfortability and fit snug; so, your young one can feel more confident, as their little feet will feel loved by this footwear.
This pair utilizes a Velcro system to provide a better fit. They have a canvas/rubber upper and a rubber sole. These are non-slip, so walking outside on clean pavement will not be a problem; as well as, traversing around the house.
We love cotton for little ones because of its un-abrasiveness and soft-to-the-touch feel it gives. In addition to this, the comfort lining works well at providing a bit of warmth.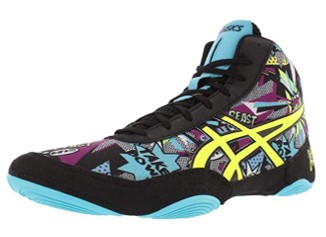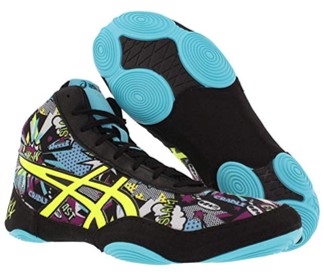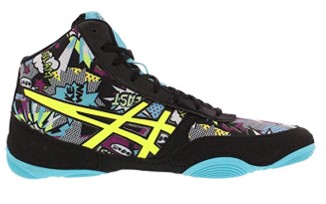 Sometimes you need that functional pair of footwear that can perform and let out your inner beast, while embodying the spirit of fights you read in comics and graphic novels. The JB Elite V2 is a high performance wrestling shoe that will have you tossing opponents left and right, and sports a design panel similar to those you'd see in a graphic novel fight scene. You can bring your inner beast to the fight and have your footwear speak for you!
As with many wrestling style shoes, the JB Elite V2 has a split sole design, to help maximize traction and flexibility for low maneuvering. Rubber soles help keep you on the mat, with strategically places lateral traction pads for extreme angle grip. The arch is quite flexible, allowing you to move freely to overcome your opponent. It has a high top design for ankle support without being restrictive, and an integrated lace up system for optimal fit inside the shoe, helping to prevent in-shoe slippage.
Uppers of this pair are breathable mesh, helping to keep feet cool and ventilating during heated bouts. But what we love so much is the design on this pair! Reflective of fight scenes in your favorite graphic novels and comics, you can 'Slam' 'Cradle' and 'Take Down' your opponent in style. A padded tongue and collar helps add comfort to the shoe, and its overall lightweight feel helps reduce foot fatigue during wear. A great pair to consider for those athletes who want that extra boost of competitive mentality!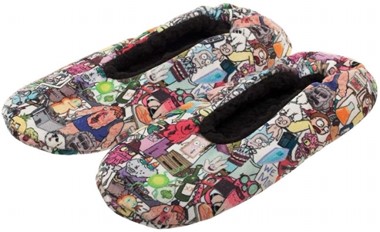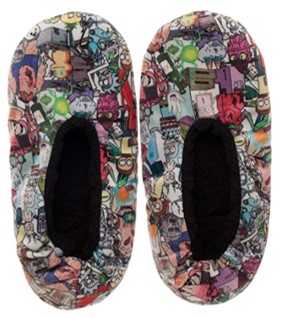 If you're a fan of the adult swim classic, Rick & Morty, this pair is definitely for you! Plush soft slippers that you can kick up your feet to enjoy your favorite adventurers on another crazy mission. Decked out with all the colorful characters from the show you've come to know and love, it will keep your spirits up until the next season rolls around. With non-slip soles, it's a pair you can wear to fetch the morning paper, or just lounge around the house in cozy warmth.
This particular pair is officially licensed for Rick & Morty, so all the characters presented are just how you'd expect their likeness to be! Made from polyester, they'll keep feet toasty and warm during those cool mornings or evenings. With a plush inner lining, feet will feel as they're wrapped in the best possible comfort possible, and they have a great cushion for standing or short walks around the house. A non-slip sole allows for a quick trip outside without damaging the bottom of the slipper, and will provide traction on tiled floors as well.
What we love the most about these slippers is the plethora of characters that create the uppers. You'll find Rick and Morty in a few of their well known expressions, and other characters that have been shown throughout the seasons. A few odd liquor bottles here and there embody the series off color humor, along with enemies they've faced on countless adventures. It's a pair for the enthusiast of the show, and will keep you warm all evening long while you binge watch the episodes over and over again!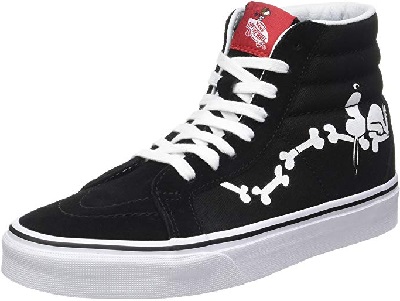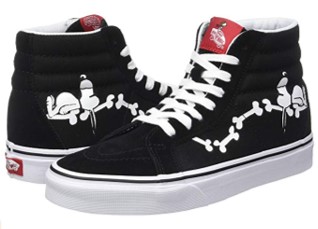 Vans is a brand name well-known for its long-standing relationship with the iconic cartoon characters of Charlie Brown, Snoopy, and the Peanuts Gang. From the newest collection, we have the Vans SK8 HI, featuring a Snoopy side stripe print. The shoe is made out of canvas and suede for the upper, padded collars and signature Vans' rubber waffle outsoles. Snoopy adds a touch of charm and surprise in this unexpected combination of cartoon and skateboarding - who would've thought!
The Vans SK8 HI include reinforced toecaps to withstand repeated wear. This shouldn't be surprising as Vans are already focused on the skateboarding crowd, but this is also a bonus for those who are more active and expect to move around a lot in these sneakers.
A high top provides support for the ankle, though the padded collar ensures that this support isn't restrictive in any way. You will feel stable in your step, and the flexible material will allow you to perform any leaps or turns you may want effortlessly.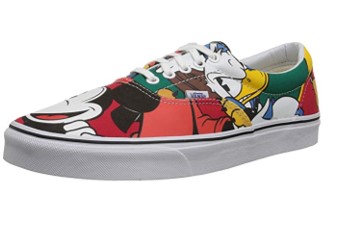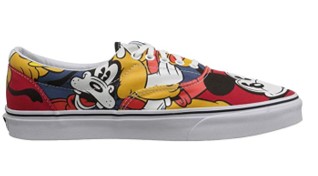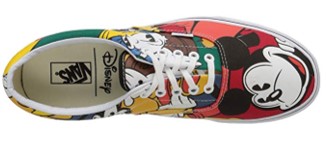 Vans has been nurturing the laid-back, skateboard-ish look ever since the company was founded in 1966. Shoes in the Era collection are a great representation of that chill vibe, and the Era Slip-on is especially whimsical with its print of Mickey Mouse in an older design. This shoe sports vulcanized construction and the signature waffle outsole, as well as a padded collar and an upper made of two-tone canvas.
Vulcanized construction is a special method for making shoes that involve baking the shoe in a specialized vulcanizing oven. As a result, the Van's Era Slip-on offers a better board feel for skateboarders, while for us regular folks the vulcanized construction means it is easy to break in and less expensive to buy.
One more feature that is significant for skateboarding - the outsole of the Vans Era Slip-on has a waffle-like structure that enhances the board feel. For those who aren't familiar with the board, the waffle outsole provides amazing traction at an affordable price.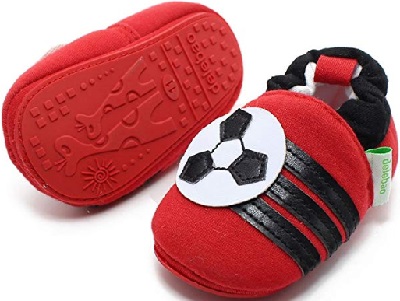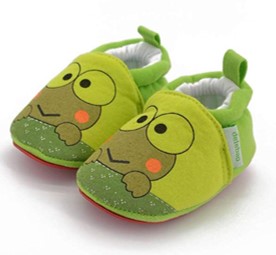 Adorable cannot be to describe this crib shoes. They are, indeed, fantastically adorable! With hers and his styles, you can pick and choose various stylings. They are made with a non-slip, rubber outsole and have a cotton lining for comfort. Furthermore, the slip-on design fits snugly and will help keep baby warm on those cooler evenings.
The rubber outsole helps baby to not slip and fall when he/she begins to stand and move about. They provide decent grip and help with stabilization, as a result.
The slip-on feature makes these completely desirable from a parent/caretaker's perspective. Moreover, they can be easily removed without waking the little ones; a must-have feature, indeed.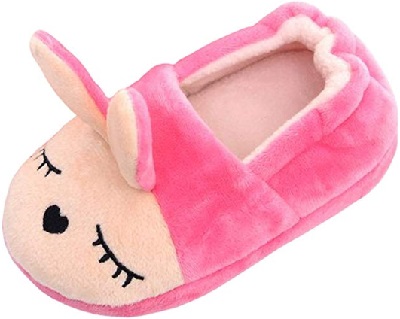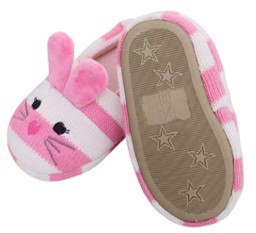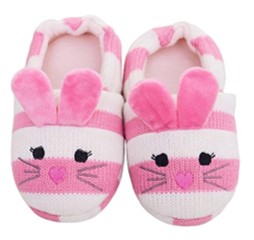 This pair of toddler slippers is so cute and loveable. They are made with a plush upper and sole. Furthermore, these have a cotton lining to increase the already very, soft feel. In addition, they are non-slip and are adorned with a 3D cartoon bunny; floppy ears and all. For your little one, this is a must-have for extending their footwear collection.
Just looking at these might make you want to snuggle. They are very, soft and are made with a cotton lining and plush sole and upper. These are certain to make your kid feel happy.
This pair of slippers is an ideal solution on those cooler evenings, as the weather begins to leave from the summer and heads into the fall. They are super warm and might aid in the little one dozing off with sleepy eyes.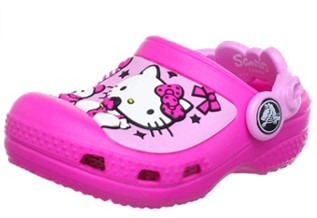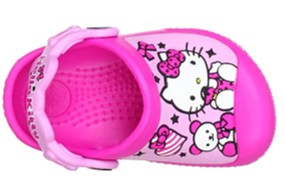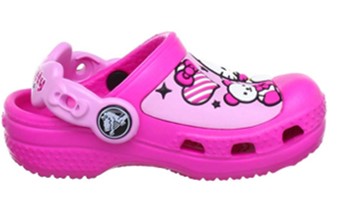 They're practical, they're comfortable, and they have the adorable Hello Kitty character pinned to the side - meet Crocs Hello Kitty Sandals. Designed for toddlers and children, these are outfitted with the fully molded Croslite material, combined with a heel strap, and cover over the forefoot. They're perfect for a fun, playful summer and will bring nothing but a joy to a kid who loves to spend time outdoors!
All Crocs shoes come with this trademark material in the sole. It isn't rubber or plastic, but rather an impact absorbing resin material developed for maximum cushioning. It also has anti-microbial properties, virtually eliminating any unpleasant odors.
The slip on style of the Crocs Hello Kitty is quite easy - it is ridiculously easy to get into them, which especially comes in handy if your child hasn't learned how to properly put on shoes yet. Heel strap helps to keep them locked in place however, so they won't come off easily when it's down.

9

. Skechers Cartoons Forever Flat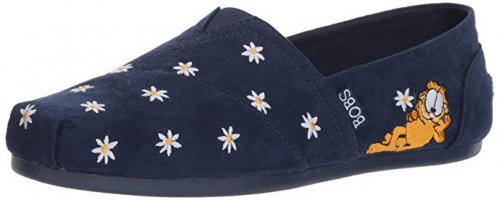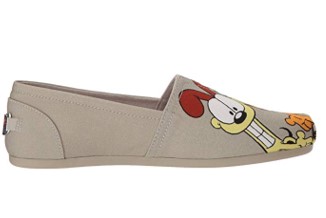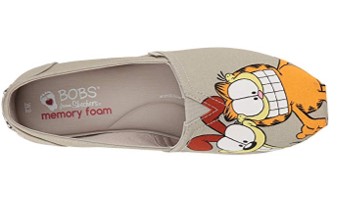 The Sketchers Cartoons Forever Flat helps you unlock your inner child when wearing these low-cut slip-on flats. Embroidered with Garfield on the sides, the Forever Flat will help you remember simpler times when strutting around the mall or around town. The textile upper is lightweight and breathable and the outsole is pure rubber.
Whether it's a Saturday night party or a Sunday morning shopping adventure, the Forever Flat will be the cartoon cherry on top of a fun outfit. With a memory foam footbed, you'll be able to look good and feel great the whole day through.
Finally, when it comes time to clean the Forever Flat, you can pop them in a delicate cycle and let air dry. They are super durable and easy to maintain.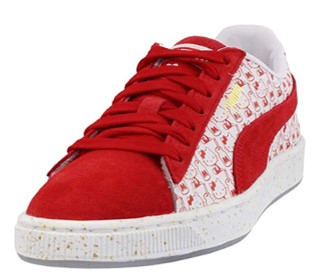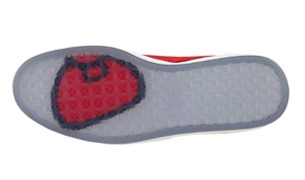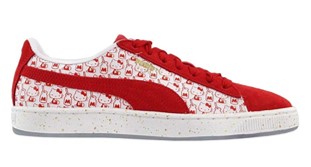 Puma is no stranger to great footwear, from classic sneakers, to those that perform exceptionally for athletics. The Hello Kitty brings your favorite cat to life in a suede skater sneaker style, making it comfortable and casual. With bright red uppers, Hello Kitty adorns the outstep and instep of the shoe with her favorite drink. Perfect for every day style and use, it's one pair that you can wear anywhere you want to show off your love of Hello Kitty, without being over the top.
Puma utilizes their classic suede sneaker style combined with this adorable character to bring fashion and favorites together. Uppers are a rich, bright red suede, soft to the touch, and appeal to view. Along side the outstep and instep, you'll find Hello Kitty perched with her favorite milk against a white background. Lace up vamp allows for that optimal adjustable fit, whether you want to go lose or snug, you'll find the perfect feel. A padded tongue and collar help add comfort to the shoe for walking.
The sole of the Hello Kitty from Puma keeps the theme going, adding more flair to its style. Soles are constructed from rubber, with a grippy traction pattern allowing you to stay stable on any surface. Low top design also helps allow ankle flexibility for walking or skating. Puma logo is found at the heel, and inside is a comfortable soft footbed and lining to give it a great on-foot feel. For lovers of this cute character, it's a must have to add to your collection!

Subscribe to our Newsletter