Best Disney Shoes Reviewed & Rated
In a Hurry? Editors choice: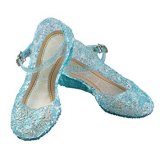 Test Winner: URAQT Queen Elsa

The word "Disney" is practically a household name in many homes around the country.
Between the 11 theme parks
found all around to world, the hundreds of movies, the many
lovable characters,
the television shows and everything in between, one would be hard-pressed to find people who are not familiar with the characters and all of its varied sects. From the vintage movies like Snow White and the Seven Dwarfs and
Cinderella
to more modern titles like Frozen and Moana, the brand has held a special place in many people's hearts throughout the last century.
Standout Picks
Criteria Used for Evaluation
Ease of Use
For children putting on their shoes in the morning can be an important part of their day. This is an opportunity for them to learn and to feel a sense of accomplishment and maturity when they no longer need your help with putting on their shoes. But certain shoes just aren't designed with ease in mind and make it difficult for younger children to handle.
One of the most important considerations to think about when choosing shoes for children is the type of closures they have, along with any assistive features which will help your child to climb the hurdle of putting on their shoes.
The following is a list of the different styles of closures and assistive features available which will help you to choose the best option for your child.
Hook & Loop
The most widely known hook and loop closure system manufactured by Velcro® USA. This type of closure is often used for clothing and shoes made for infants and younger children due to its ease of use. This is the perfect option for children too young to tie their own shoes with traditional lacing systems, or simply for a more convenient option. Velcro type closures provide a more secure fit because the wearer can tighten the closure to their desired level and be assured that the closure will maintain throughout the day.
Lacing
Traditional lacing requires a learned skill which takes time to master, though once learned, it gives a child a sense of accomplishment. Laces are less secure than a hook and loop system because they can habitually come untied during the day. This can be concerning because children can trip over untied laces and hurt themselves.
Pull Loops/Handles
Pull loops or handles are often incorporated in the design of children's boots as they assist them in pulling up their boots with ease.
Fit
Making sure that your child's shoe fits properly is more important than it may seem. Wearing shoes that do not fit securely to the foot can cause all sorts of pain and discomfort, and could even damage your child's feet. Shoes which squeeze the foot can cause painful blisters and calluses, while a shoe which is too loose can cause your child to trip and hurt themselves.
It is important that the upper material of a child's shoe is made from comfortable materials, like; canvas, leather, or mesh. These materials are flexible by nature and allow for airflow which prevents sweating; sweaty feet tend to slide around inside of the shoe which can be dangerous and cause accidentally slips.
You might be tempted to purchase shoes that are half of a size bigger than your child needs to compensate for how fast they grow out of them, but this is not advisable. Children's shoes need to fit properly to help stabilize and protect their growing bones and feet. Shoes that fit loosely can damage sensitive tissues and developing muscles, as well as, pose the risk of causing falls.
Style
While style is often a matter of personal taste, we've checked thousands of online reviews to see what people are saying about each of the products on our list. Some things, such as sleek design, seamless construction and overall weight and shape of the shoe, were common likes or dislikes among buyers of each product.
To evaluate style, we considered everything from the design, color, shape, weight, lines and overall construction of the shoe in question. While no one wants to wear an uncomfortable shoe, they also don't want a comfortable shoe to be ugly on the eyes. We've selected all of those on our top 10 to be not only stylish but also comfortable, true-to-size, supportive and durable.
The higher the score on the "style" metric, the more fashionable we and the community of buyers we surveyed deemed the product to be.
Traction
Safety is always the first concern when shopping for children, which is why it is so important that their shoes have an anti-slip outsole to prevent falls.
Rubber, or better yet, elastic rubber, are two excellent materials to look for in a child's outsole. They offer flexibility and comfort while providing a strong grip and anti-slip properties, rubber is also water-resistant and does not slide around on wet surfaces.
It is best to avoid shoes with a fabric outsole because fabrics do not tend to offer any grip and can easily cause a child to slip to fall.
Weather Resistance
Cold/Snow
When the weather outside is frightful you want to make sure that your little one's tootsies are going to stay warm and toasty, that's why choosing the right pair of winter boots is so important. In order for a child's shoe to qualify as winter-wearable, it must possess certain attributes, including; an insulated upper, solid treading, and warm lining. A rubber sole is also preferable due to its water-resistance and strong gripping capabilities.
Rain
No child will be happy having wet feet all day long. That's why it's so important to make sure your child's shoes are going to keep their tiny toes nice and dry during wetter weather. Rubber is the most reliable material when it comes to providing waterproofing and will also add an extra level of grip on wet surfaces to help prevent slips.
We have included several options on this list which are made from rubber and will keep your child's feet completely dry so they can still enjoy outdoor playtime despite the dreary weather.
Warm Weather
Warm weather means hot sweaty feet and no one like to have those. Certain materials will only exacerbate the problem by restricting airflow, rubber, for example, is a bad choice in the summer because it does not allow the feet to ventilate. Materials like, canvas, leather, and mesh is a good choice for warm weather because they are great at providing airflow and helping feet stay cool and dry.
10 Best Disney Shoes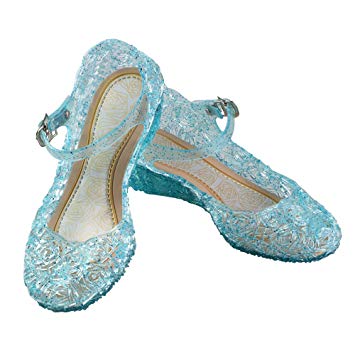 The grown-ups got to dress up in Mickey Mouse slippers and for the younger crowd, we have the URAQT Elsa shoe. Made of high-quality plastic, these shoes will make a great costume completer or fun footwear to wear to parties. Fun and colorful, your younger ones will love this bright and shiny Disney shoe.
These fun and sparkly jelly shoes feature sparkles that are embedded in the plastic body of the shoes, for less mess around the house and long-lasting, durable fun. Sparkles give the shoes the illusion of being icy, completing the whole 'Elsa' look.
The plastic is soft and comfortable to wear so your little one can be sure they won't be uncomfortable during their dress-up party. This is a perfect addition to any Elsa dress and will be sure to be the highlight of any little girl's dream party.

2

. Disney Cars Rubber Boots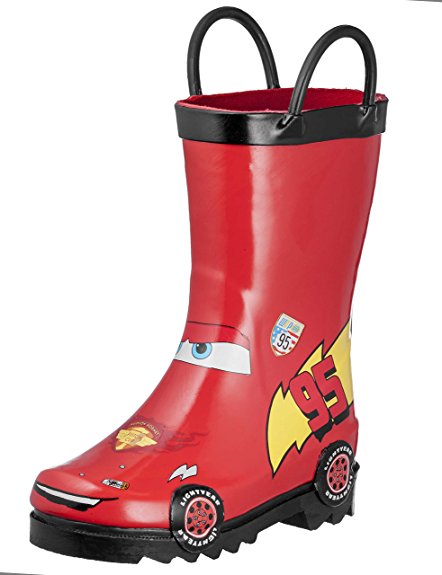 These Lightning McQueen boots are perfect for the Cars lover in your family. They're made entirely of rubber and feature large pull straps for easy on/off transitions. They're easy to clean, perfect for the kids who love to play in the water and mud during the springtime.
These boots are cut high and are made to fit around mid-calf. This feature helps to keep little feet dry in the wetter months. The water will stay out of these boots, this gifting your child hours of dry play time.
These Lightning McQueen boots differ from many others on our list in that they are non-insulated. This feature makes them perfect for all season wear. They won't overheat little feet in the warmer months and will instead provide months of wear beyond just springtime. They aren't stiff and won't constrain your little one's sensitive feet.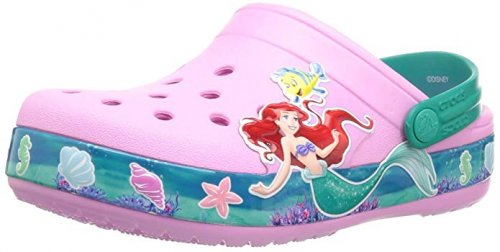 These adorable Crocs brand clogs are perfect for the princess lover in your family. They feature a synthetic sole and Croslite cushioning for the ultimate in comfort. The shoes showcase everyone's favorite Disney Princesses - Cinderella™, Ariel™, Rapunzel™ and Belle™ - on the toe box.
These clogs feature Crocs' notorious Croslite material. This material is lightweight, slip-resistant, comfortable, odor-resistant and ergonomic. These benefits help make this type of shoe a perfect choice for the little one in your family who may require a shoe with extra traction that will remain comfortable all day.
As with most Crocs brand shoes, these clogs offer a secure fit thanks to their heel strap. This particular shoe's strap features a sparkly Disney Princess logo on it for an added girly feeling.

4

. Marvel Spiderman Rain Boot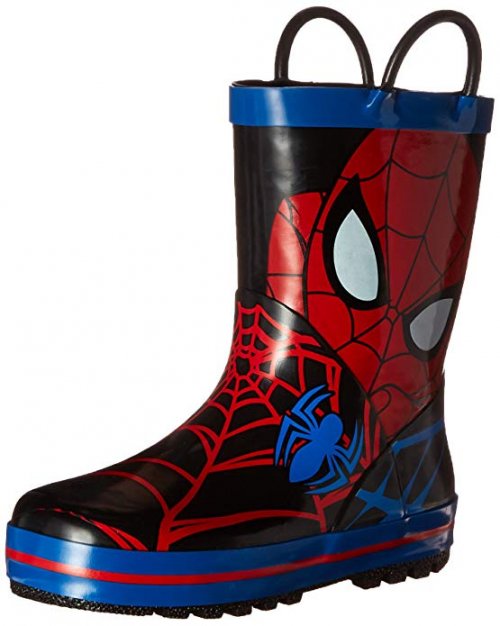 The superhero-obsessed little one in your life is sure to fall in love with these Spiderman rain boots. In addition to their sure-to-please design, these boots are waterproof, slip-proof and easy to get on and off, making them the perfect choice for little ones who are just learning to dress themselves.
These rubber boots feature two pull loops on the side of the boot so those little ones can feel empowered in helping to dress in the morning. Despite being easy to pull on, you can be sure these boots won't slip off once your little one is wearing them.
These rubber boots feature a rigid bottom and a treaded outsole made of rubber that will give your child extra traction on slippery terrain. They're 100% waterproof and sure to keep your little one safe and dry in inclement weather.

5

. Western Chief Rubber Boots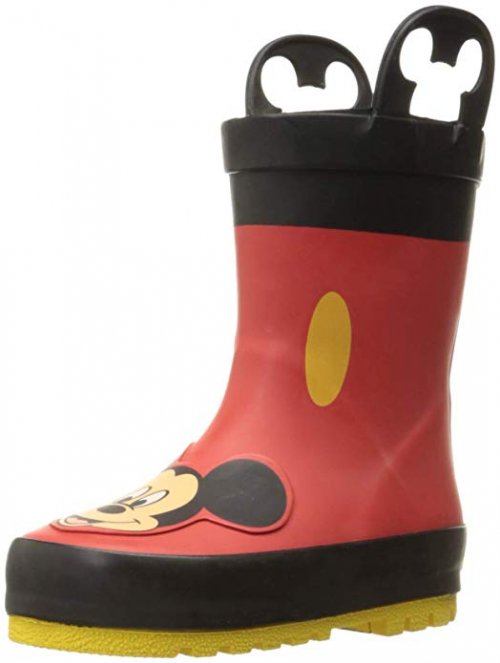 With 26 different design options in total, you'll be sure to find something to suit your little one's style with these Western Chief brand rubber boots. The Disney options available include Princess Ariel, Minnie Mouse and Princesses Anna and Elsa too. These handmade boots will not only make your little one a fashionista, they'll keep her dry and comfortable as well.
These boots feature a moisture-absorbing fabric to ensure that little feet stay dry in cool and rainy weather. The cushioned footbed is removable so it's easy to clean.
All Western Comfort boots feature an inside lining that is as soft as it is cozy, perfect for picky tootsies. They're easy to get on and off thanks to the pull handles and the beveled heel is made for running, jumping and splashing in puddles.

6

. Mini Melissa Mary Jane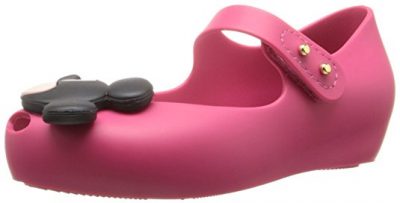 These peep-toed Mini Melissa brand Disney shoes are as adorable as they are whimsical. They have a cute Minnie and Mickey Mouse applique detail that any little girl is sure to adore. They're made of 100% recyclable plastic so environmentally-conscious families can feel good about their purchase. They come in five color options so little ones can help choose their favorite!
These Mini Melissa Mary Jane shoes feature a Minnie and Mickey mouse applique on the toes. When the feet of your little one are next to each other, the appliques make it look like Mickey and Minnie are kissing.
The velcro closure on these Mary Janes will come in handy for any busy mom looking for a shoe that's easy to manage. This type of closure makes it easy for little ones to put on their own shoes, giving them a sense of accomplishment and mom a sense of relief.

7

. Disney Mickey Mouse Slippers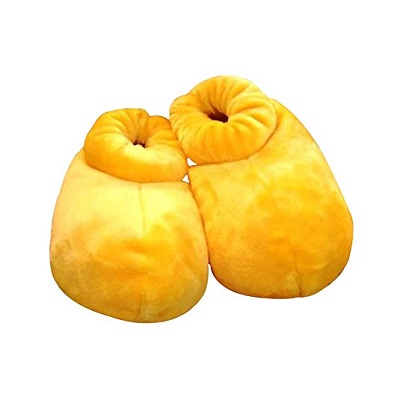 For the kid in every adult, we bring you the Disney Mickey Mouse slipper. Made of a soft, padded and plush material, these will be a comfortable slipper for wear around the house or to complete your Mickey Mouse costume at Halloween. Makes a fun gift!
It doesn't matter how hard your day was, you can't be upset about it in a pair of Mickey Mouse slippers. With their ultra-cute design and padded, plush uppers, you'll be the picture of both comfort and fun.
Elastic ankle helps keep the slippers on your feet without being intrusive or irritating. Easy on, easy off, you will love these soft, velvet slippers.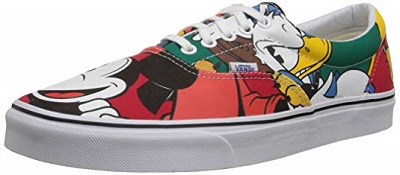 Mickey, Donald and the gang grace the canvas upper on these Disney Era low cut skater shoes. Laid-back yet fun, comfortable yet tough, the Van's are a very popular shoe for their comfort, ease, and quality construction.
The rubber, waffle patterned outsole is a signature of Van's shoes. It is durable and provides good traction on most surfaces. Designed for skateboarding, this shoe is versatile and will be equally at home in school or hanging out.
Vulcanized rubber is a durable material that will help your Van's last a long time. They also provide some cushion and good shock-absorption for comfort all day. The padded collar provides some additional comfort as well.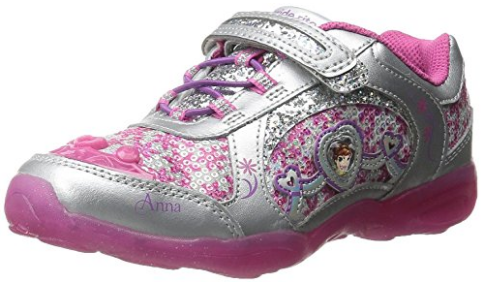 Stride Rite makes footwear designed to keep up with the demands of growing children and have been manufacturing quality children's shoes since 1919. Their Disney Light Up Sneakers offer alternative closures with both hook and loop, as well as, lacing for a secure fit which makes taking them off or on super easy. These cute and girly sneakers feature characters from Disney's Frozen and include light up elements which are sure to dazzle.
Stride Rite's Disney Sneakers feature a hook and loop closure which overlaps their laces making for a perfect fit every time. Hook and loop closures are more secure which prevents accidental falls due to loose fitting shoes.
These sparkly light ups feature characters from Disney's Frozen and include a glittery pink design complete with light up accents which light with every step.

10

. Vans Authentic Minnie's Bow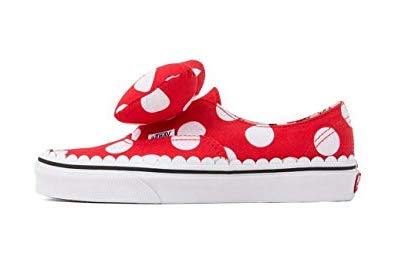 There are few shoes more popular with younger folks than Vans and these skate shoes feature several of the Minnie's iconic polka dots and bow for extra fun! Comfortable, stylish and featuring a Disney classic character, these kicks are a great buy for anyone from the little kids to the grown-up big kid. These are part of Van's Back to School Disney Collection.
Van's are a popular shoe for a reason. They combine their classic skate shoe style with comfort, durability, and quality. These are a unisex shoe that will go well with just about anything in your wardrobe.
The canvas upper on this shoe is both durable and very breathable, keeping your feet cool and dry. This also helps prevent the build-up of unpleasant odors and bacteria, making the shoe last longer.

Subscribe to our Newsletter