Best Shoes with Lights Reviewed & Rated
last updated:
Mar 30, 2020
When it comes to building a quality shoe collection, life isn't all work and no play. Adults can entertain their inner-child and show off a little, with light up LED shoes. Light up sneakers originally were released as high fashion designer wear. Superstar designers Yifang Wan and Samuel Yang released a slick, stylish sneaker that was all-white and had a strip of neck-breaking LED lights at the bottom.
Their original pair of light up kicks retailed for a pricey seven hundred US dollars, which put these fashion-forward shoes out of reach for some. Thanks to the passage of time, the power of manufacturers, and a surge in popularity, consumers now have access to a plethora of various brands of light up LED sneakers.
This is the best product on our list that is currently in stock: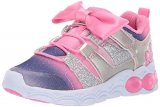 Stride Rite Katie
Why is it better?
Bungee Cord Closure
Hook and Loop Strap
Memory Foam Footbed
Great Traction
Antimicrobial Lining
In a
Hurry? Editors choice: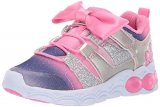 Test Winner: Stride Rite Katie

10
Researched Sources
1,200
Reviews Considered
15
Hours Researching
19
Products Evaluated
Features
Comfort
Midsole
Style
Versatility
By Default
Top 10 Best Shoes That Light Up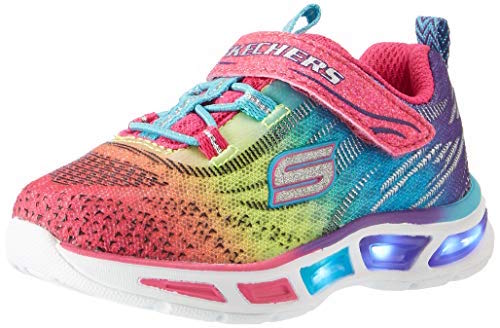 Trusted Brand
Very Comfortable
Supportive Sole
Good Shock Absorption
Easy On Easy Off
Skechers is a brand trusted by millions across the globe for their quality, comfortable, and dependable LED light up shoes. Their version of a model with lights is no exception. Well fitting, breathable, and quality LEDs are only part of what you get when you pick this pair. You will also get a model with a flexible rubber sole making the Lightbeams comfortable for all-day wear.
The mesh upper in these leaves plenty of room and flexibility for growing feet. Proper foot development requires the toes to be able to move and splay naturally and a mesh upper makes it easier for this to happen. In addition, the mesh is also breathable to ensure feet stay cool and comfortable even on hot days or at crowded events.
These LED shoes do not offer a charging feature but what they do offer is an exceptionally long battery life. Keeping it simple there are no on-off buttons or charging ports. Simply walk in these shoes and they light up. Because of the extended battery life and a minimal amount of energy consumption you won't have to worry about your lights going out any time soon. Carrying a name like Skechers also means carrying a higher price tag. You can be assured you will get a top-quality pair of footwear that will last the extra mile. While most budgets will be able to afford them, they may take a little more wiggle room than other options available.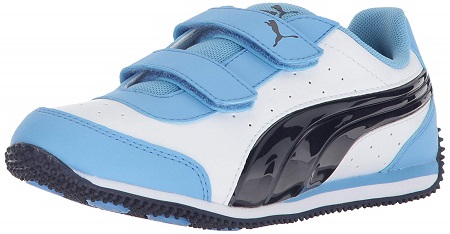 Durable Construction
Velcro Closure
Wide Range Of Sizes
Rubber Outsole
Puma is a heavyweight in the athletic wear industry, and you'll be happy to know that they also make shoes that light up. The Speed Lightup is a casual athletic model with a rubber outsole and velcro closure, as well as fun light-up panels. It comes in five vibrant color options, from black and red to a striking sky blue.
The outsole is the part of the shoe that makes direct contact with the ground, and as such, it can take quite the beating over time. Rubber is the most common outsole material, known for its relatively lightweight design and long-term durability. The outsole is often the first part of a shoe to show signs of wear and tear, after all, so it's important that it stays in good condition.
Most lighted pairs are designed for kids, and as such tend to come with a variety of closure types. Puma used a velcro closure for the Speed Lightup sneakers, as these are easy for both kids and adults to open and close while offering a secure and customizable fit. Prices on these LED shoes vary based on size and color options, but overall the Speed Lightup is priced similarly to other Puma models.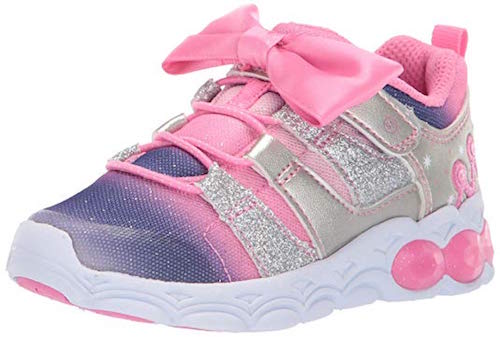 Bungee Cord Closure
Hook and Loop Strap
Memory Foam Footbed
Great Traction
Antimicrobial Lining
A sneaker for little kids, this model by Stride Rite is an excellent choice of an everyday shoe with some added pizzazz. The Katie is a colorful model (available in two colorways) that features plenty of glitter, a heel section with light-up inserts, and even a large bow on top. As you'd expect from the brand, these LED light up shoes also have a number of comfort features aimed at improving your child's wearing experience, making it an overall great choice.
This model takes into consideration the fact that putting footwear on little children often proves to be a frustrating tax, which is why it uses two distinct features. The first one is a lacing system that is made with flexible bungee cords that doesn't require fine motor skills to ensure a secure fit. The other is a hook and loop strap at the top of the foot which further ensures safety, especially when in motion.
The footbed of the Katie LED sneakers is made with memory foam, which is especially suitable for children, seeing that it molds to the foot, providing a soft surface to step on, without being too cushioned. The inner is lined with antimicrobial twill, while the outsole uses slip-resistant rubber and a traction pattern that is suitable for all types of surfaces. The price of this item is slightly high, but still a good value for money, making it a great choice.
4

. Skechers S Lights Hypno Flash 2.0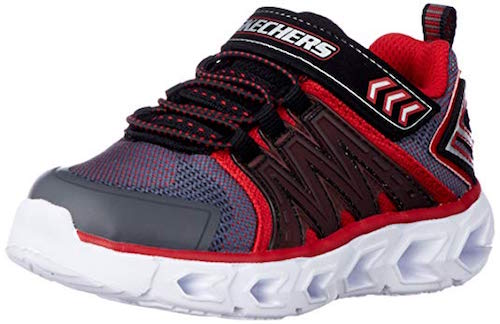 Breathable Mesh Panels
Stabilizing Synthetic Overlays
Elastic Lacing System
Shock Absorbing Midsole
Flexible Outsole
Durability Issues
Scuffs Easily
For those tykes who are always on the move, a LED sneaker which allows them to run around and explore, while looking absolutely cool is a must. The Hypno Flash 2.0 LED light up shoes by Skechers are exactly that - athletic style made for all types of activities - from daycare, to school, to playdates and casual outings. It's available in two color options, both of which show strong contrasts to contribute to the slightly futuristic look and feel.
The Hypno Flash 2.0 is constructed with a combination of breathable mesh, and smooth synthetic overlays placed in key places which increase durability, but also ensure a higher level of support during multidirectional movement. The elastic lacing system is attached to a synthetic cage that wraps the shoe around the entire foot. Plus, the heel features a pull tab for easy on when you're on the go.
The midsole of the Hypno Flash shoes that light up uses a shock-absorbing material, making this a great option for those children who tend to run and jump a lot, keeping their joints and muscles safe from impact. The collar and tongue are generously padded to avoid rubbing, while the outsole offers excellent traction, without sacrificing flexibility. The price point is slightly lower than average, and the fact that the model is made by Skechers, a reputable brand, makes this a great choice for most shoppers.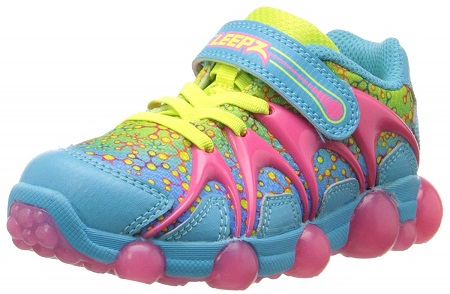 Non-Marking Outsole
Durable Construction
Wide Range Of Sizes And Colors
Elastic Bungee Lacing
Stride Rite got their start a century ago in 1919 and is dedicated to making products that allow kids to joyfully explore the world. The Leepz sneakers are a perfect example of this. Coming in a wide range of sizes and colors, these shoes that light up look as great as they perform.
Non-marking outsoles are a feature you'll likely come across in school and company dress codes. This type of sole won't leave significant marks on hard floorings such as wood and tile, making them a very attractive option for a lot of people.
Velcro is a wonderful closure type, but can sometimes begin to loosen as you move around. This is where elastic bungee lacing comes in. It will complement velcro closures rather than replace them, allowing for a secure fit no matter how much you move in them. The Stride Rite Leepz LED sneakers are priced similarly to other pairs on this list. What really makes these stand out is the wide range of size and color options, from basic black and grey to beautifully contrasting colors such as green and pink.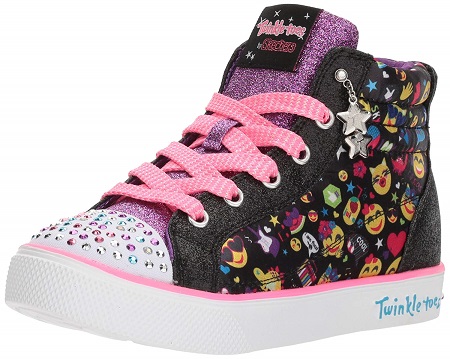 High Top
Canvas Upper
Decorated Toe Cap
Vulcanized Rubber Outsole
Zipper Closure
From kids to adults, everyone loves a little sparkle. The Skechers Twinkle Toes sneakers feature rhinestone accents on the toe cap, as well as lights in this area that blink with each step. These are offered in a wide range of both size and color options, making it easy to find the perfect ones. This particular model is a high-top style featuring a colorful emoji print.
A style most commonly associated with Converse, high-top shoes come above the ankle. This allows them to provide robust ankle support, though it does make the shoes marginally heavier. The Twinkle Toes sneakers are also available in low-top varieties if that is your preference.
Rubber outsoles such as those found on this model are the most common type, thanks to the durability, water-resistance, and natural traction of the material. The vulcanized rubber used in these has been chemically hardened using volcanic compounds, most commonly sulfur. This makes these LED shoes more durable than standard rubber, all the way down to the atomic level. This model is slightly more expensive than average, though it does fall in line with other Skechers products. Thanks to the extra durability from the vulcanized rubber, these sneakers are a good long-term investment.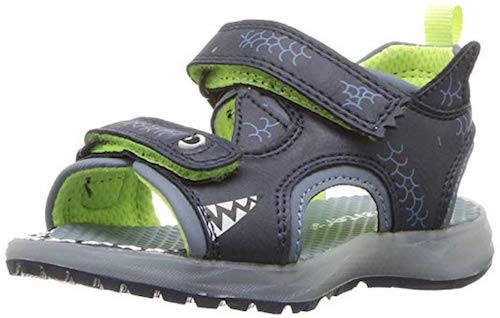 Double Hook and Loop Straps
Mesh Lining
Padded Footbed
Heel Pull Tab
Unique Design
Summer shoes that light up with a fun design, the Shark by Carter's is one of the highest-rated pairs of footwear of this type, and looking at it, it's quite understandable. It features a shark face detail on each foot, including some not-so-scary-but-rather-cute fins. You can purchase these in two color options, one with an orange lining and a scaled upper, and one with a smooth upper and green lining.
These shoes that light up was made to be put on quickly, which is why it features two hook and loop straps, one at the forefoot and one around the ankle. Not only do these ensure that little kids can put the sandal on without help, but they also allow for fit adjustments, even on the go. The heel pull tab makes on and off easier, but also allows you to hang these up if need be.
The footbed of the Shark is padded, with enough cushioning to make it suitable for activewear, and the outsole features a traction pattern suitable for multiple surfaces. One thing to keep in mind with this model is the fact that it can even be worn around water (without full submersion), and the lighting system won't suffer any damage. This makes it a good investment, considering the average price.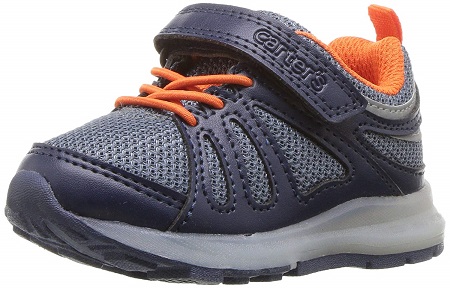 Mesh Upper
Wide Range Of Sizes
Inexpensive
Hook-And-Loop Closure
Carter's got their start in 1865, with the founder knitting mittens in his kitchen. Since then, Carter's has become one of the top most trusted brands in the US for children's apparel. This is no surprise, given their commitment to making quality products at accessible prices. The Shelby has everything you'd want in a children's shoe, such as a hook-and-loop closure and a mesh upper, as well as a lighted bottom.
Lighted shoes aren't all for show; it's important they perform as well as they look. The Carter's Shelby features mesh panels in the upper to promote breathability and reduce odor, keeping feet comfortable and dry without worrying about the smell.
Sometimes you want laces. Sometimes you don't. The Carter's Shelby features a little bit of both. A hook-and-loop closure makes these easy to put on and take off, while the rubber lacing over the tongue provides a solid and secure fit. These are surprisingly inexpensive in comparison to other shoes that light up on our list. Carter's is well known for their accessible prices, and the Shelby is a worthy investment.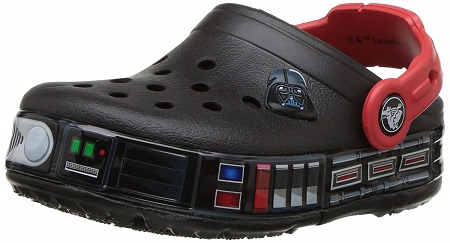 Croslite Insole
Pivoting Heel Band
Lightweight Construction
Roomy Fit
People either love or hate Crocs. These brightly colored clogs have become a household name in casual wear for their lightweight design, comfort, and style potential. These particular Crocband shoes feature lighted accents and everyone's favorite bad guy: Darth Vader.
Croslite is a lightweight, resin-based material used in most Crocs styles. This material is well-known to be comfortable, non-marking, and odor-resistant. Croslite has even been found to be beneficial in special-made shoes for diabetics and those with foot injuries! Designs with holes like this Crocband shoe also work to promote exceptional breathability.
Crocs shoes are known for their pivoting heel band. This is a signature style for the brand, and this closure type works well at keeping a secure fit, no matter how you move. On this particular shoe, the red heel band contrasts with the black upper for a striking design. While prices will vary based on sizing options, these Crocbands are priced similarly to other products on this list. What these bring to the table are a lightweight Croslite construction, pivoting heel band, and the iconic design that Crocs is known for.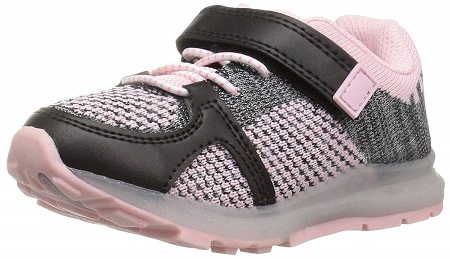 Breathable Upper
Cushioned Insole
Long Lifespan
Durable Rubber Outsole
The Carter's Tris led light up shoes are similar to their Shelby model, albeit without a heel loop. The lighted bottom on these shoes that light up has a surprisingly good lifespan in comparison to some other similar models. A cushioned insole and textile/mesh upper keep feet dry and well-supported, while the velcro closure with elastic lacing provides a secure fit.
Not everyone likes shoelaces, and that's okay. This is especially true for younger children, who may end up being frustrated by the laces in the event they come undone. This is why Carter's used a velcro closure as well as elastic lacing in the Tris. The velcro closure makes them easy to put on and take off, while the elastic lacing ensures a solid fit no matter how they move.
Nobody likes hot and sweaty shoes. They're uncomfortable, they can cause irritation, and they can smell. This is where a textile and mesh upper comes in. While textile is quite breathable on its own, the addition of mesh supplements this, allowing for the most in airflow and temperature management. No more smelly shoes! These are very close to the same price as the Shelby, the other Carter's shoe on our list. While sizing options for the Tris led light up shoes are somewhat limited, these offer a secure fit, a cushioned feel, and solid airflow.
Criteria Used for Evaluation
Expert Interviews & Opinions
Most Important Criteria
(According to our experts opinion)
Experts Opinion
Editors Opinion
Users Opinion
By Default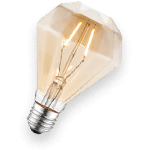 Adding Fun To Footwear
Many times, kids may not want to learn how to tie or put on their shoes, but having something unique about the footwear can help make it fun for them to want to learn. Light up shoes do just this! With each step, your child can watch their steps light up in the dark or on the playground, and will help motivate them to learn how to properly tie and put on their shoes.
Nighttime Adventures
Light up shoes were made to be something fun, so make the most of them for your child by taking an after dinner stroll in the dark. Grab a few flashlights, and have them wear their light up shoes. Each step will light the way to a brilliant colorful adventure!
Other Factors to Consider


Bottom Line
Chances are, you're looking at this article because your child has seen an awesome pair of light-up sneakers around town that they simply have to own. But, in addition to being cool to look at, this type of footwear actually has other benefits, making it a purchase worth considering. First and foremost, the lights in these sneakers increase visibility in low light conditions, so if you're out for a sunset walk, you can relax knowing that your child will be seen at all times. Additionally, the fact that shoes like these look great contribute to children being more open to wearing them, which means less arguments about putting on shoes, and shortened preparation time before you're out the door.
Nonetheless, this type of footwear needs to be evaluated like any other pair of sandals, shoes or sneakers you would purchase for your kid, which means that the product you decide to go with in the end needs to be comfortable, durable, made with quality materials and resistant to the aggressive use most children put their shoes through. For the best possible purchase, you can either choose one of the models listed above, or read the informative Criteria for Evaluation section which will give you a good idea of the most important qualities to look out for in a pair of children's footwear.
Frequently Asked Questions
q:

How long does it take to charge LED shoes?

a:

This ultimately depends on the manufacturer as well as the charging port and the shoe properties. However, a standard pair of shoes with lights should take anywhere between 2 to 3 hours for a complete charge after the battery has depleted. It is important to note, how often you wear your shoes with lights and the environment in which you wear them play their part in how long your batteries will take to charge as well as the overall life you will get off of a charge.
q:

How long do the batteries last in LED light up shoes?

a:

This depends on multiple factors; the first one being the flashing intensity and color patterns. A single-colored LED shoe consumes considerably less energy than shoes with multiple colors and patterns. Additionally, running instead of walking also contributes to faster consumption. In general, a pair of LED shoes may last anywhere between 5 to 8 hours of flashing. The age of your shoes, as well as your typical wearing patterns, play their part. In addition, you have to consider the overall quality of the shoe's design. A poorly made design can lead to damage to your lights and less time off of each charge.
q:

How do LED sneakers work?

a:

An average LED shoes contains 6 circuits of lights. These circuits are triggered by the pressure of each step; certain spots on the shoe is sensitive to pressure (or the whole outsole, in some cases). On shoes with different color patterns, the pressure pad won't trigger until the current flashing pattern is over. Else, it would be interrupted on each step. As technology advances, there are newer and more innovative ways to make your lights turn on and off. While most often it is done as stated above there are other options that allow you to adjust a button to turn them on and off. You may also be able to adjust the settings on your shoes with lights to show different patterns. The best way to know for sure is to check out the brand's site where you will be able to find out specifics for the shoe you are interested in.
q:

Are shoes that light up reparable?

a:

Depending on the manufacturer, as well as the shoe structure, the LED lights may or may not be replaced in case of malfunctioning. In some cases, the lights are fairly easy to access, although it's not recommended to try your luck with them instead of contacting an expert. Certain shoes, however, cannot be disassembled easily and often require assistance from someone related to the brand or the store.
q:

Are LED shoes machine washable?

a:

Unless the manufacturer instructions and product descriptions clearly state it's suitable for laundry, never toss them in the washing machine. Circuits don't get along with water, and the midsoles aren't necessarily sealed for protection against water. If the label doesn't state it's suitable for the washing machine, follow this guide instead.