Best K Swiss Shoes Reviewed
In a Hurry? Editors choice: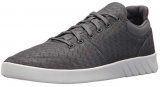 Test Winner: Aero Trainer T

For over 50 years K-Swiss has designed sneakers that are great for a variety of activities. Some examples are, fashion sneakers, those for comfort walking around all day, for exercising or playing most sports and enabling your best performance. Whatever reason you're looking for a sneaker, you'll likely find the answer you want in the variety that K-Swiss offers.

For style, there is a wide variety of colors offered for most of these, and there are unique outline designs. The brand has chunky designs and nice sleek ones that will grab anyone's attention. For comfort, many of the K Swiss shoes have great cushioning and padded features that'll feel great on your feet. You'll also find unique cooling aspects in some of these that will add more comfort for you.

So sit back, relax and scroll on down to discover the best of K-Swiss shoes currently available!
Standout Picks
Criteria Used for Evaluation
Style
Between the older, more plain collections and the newer, more fashionable ones, you have plenty to choose from when it comes to footwear from this brand.
While K-Swiss shoes tend to be more athletic in nature, the appearance and style associated with each model is an important factor to consider when creating a list of the top 10 choices.
While some people may only be purchasing these for their performance factors, many people seek out a particular brand name out for the way their designs look. K-Swiss designs have certain factors that make them stand out from the rest, including their 5 striped sides, tongue logo, and other unique factors such as their tubed soles.
These sneakers tend to be more muted in color than a lot of other brands, but that doesn't mean they don't offer a variety of options. Their newer lines, such as the Gen-K, have an array of pastel options as well as a few colorful prints. Some of their classic models will feature a splash of neon, while many also come in monochrome white or black choices.
Throughout the years this brand has developed a bit of a reputation for being more bland, with their focus on performance more so than on appearance. This seems to be changing, as their new models are upgraded with leather finishing, unique shoe cuts, and a wider selection in upper materials.
For this list, we looked at a lot of the traditional K-Swiss styles, but we did bring together some of their newer options to showcase the direction that the brand is going in. It is evident that there is trying to rebrand their sneakers in a more modern way, and so the appearance of the designs was a major consideration in the selection process.
Comfort
With memory foam footbeds, padded collars and a special cooling system, these designs will make you feel amazingly comfortable every step of the way.
One factor that this brand has always been known for is their ability to make their footwear extremely comfortable. While other brands have always tried to push the envelope and get crazy with their designs, K-Swiss has remained faithful and dedicated to producing footwear that is well made and has a high level of comfort.
As is important with any footwear, comfort had a very strong influence over whether or not design made this list, as an uncomfortable shoe is a useless shoe.
When purchasing footwear, you always want to make sure that it feels good when you wear it, otherwise, it will simply sit in your closet without ever being worn. Every design that made out list has the comfort factor at the forefront.
Memory foam footbeds that are featured in some models are loved by many, and they do a great job of providing all-day comfort. With the ability to conform to the shape of your foot, this style of footbed gives you a more customized fit and feel.
Different arches and foot types will find that memory foam does a better job of giving support where you actually need it, as it is extremely flexible and malleable.
For those who tend to notice chafing or blistering around the ankle and back of the heel, many K-Swiss shoes are supplemented with additional padding in these areas. This should give you that extra touch of comfort that other footwear may be lacking, while also ensuring a bit more ankle support for athletic activities.
Technologies like K-Swiss' Flow Cool System are innovative features that help to make every aspect of the shoe more comfortable.
For people who spend hours in the same pair of shoes, or use them for athletic pursuits, having sweaty and hot feet tends to be par for the course.
To keep their footwear breathable and airy, K-Swiss has developed its Flow Cool System in order to make sure your feet stay cool throughout the entire day. With added ventilation holes, airflow is maximized, and paired with their common mesh upper, you should notice a significant difference in how your feet feel by the end of the day.
Durability
By using leather overlays and thick rubber outsoles, these designs are quite long-lasting.
Since this is an athletics company, it is only natural that their footwear is designed with sports and athletic pursuits in mind. While they do offer designs that are more for casual, every day wear, the majority of their models are running or sport-related.
With this in mind, it is understandable why traction and durability are highly important factors and must be considered when purchasing a pair of K-Swiss shoes.
If you put a lot of mileage into your footwear or use it for rough and active sports, then you want to make sure that it is going to last and you won't have to replace it every few months. Running shoes do have a mileage cap on them, but getting your money's worth is an important aspect to consider before you make the purchase.
K-Swiss designs tend to be on the durable side, and this is even truer when you look at some of their original models. Not only are they designed to last, but they use leather to reinforce areas that would break down quickly otherwise. This means you still get the breathability of a mesh upper, but you don't have to worry as much about the mesh breaking down or losing shape as quickly or as easily.
Another feature that really impacts durability is the outsole, as this is what is in contact with the ground constantly. A thin or weak outsole will wear through in no time at all, so ensuring that the rubber is thick and durable will make a significant impact on the longevity of your footwear.
This brand uses a very strong and durable rubber, which is an important feature of the majority of their footwear. When the top 10 designs were selected, each outsole was looked at in order to ensure that the wearer would be getting more use without a quick breakdown.
Traction
K Swiss shoes have more than enough traction for casual, everyday wear.
The outsole not only needs to be durable, but it also needs to have good grip and traction as well. You can have the thickest of soles, but if you slip around constantly then they aren't going to be of much use.
This is true when you're wearing casual footwear, simply going about your daily errands, but it is especially true for athletic designs. If you want to make the most out of your training session and improve your overall performance, you can't afford to lose balance or somehow slip or skid.
Even worse, an injury from a fall is the last thing anyone wants in their life.
Thankfully, K-Swiss puts thought into traction, and their footwear features a decent tread pattern that will keep you from slipping in both wet and dry conditions. These tread patterns generate friction between the ground and the outsoles, making sure that you stay steady on your feet no matter what.
However, this trend generally doesn't feature intense lug patterns. This means that, while their footwear is great for pavement, a running track or just simple casual walking, you may not have the ideal amount of traction for hiking or other strenuous pursuits.
Features
Don't forget to take a look at all the latest technologies from the brand, such as their tubing system and special new Gen-K Outsole.
K-Swiss has been around since 1966 and there is no question that footwear technology has changed over the course of the last five decades. If footwear companies didn't keep up with the times, there is little chance their designs would still be in demand, so it's always important to look at what new things are being developed and added.
There are some designs on this list that are very classic-heavy, and they were not selected for their newness so much as their ability to remain functional over the years. These are staples, and while they are great choices, it is also important to point out the newer models that have been updated or changed over time.
Some of the staple, unique components, like the K-Swiss tubing, have seen a massive redesign over the last few years and this was something that was taken into consideration when putting together this list.
Originally seen in a vertical pattern, the sole tubing was a great feature that added significant bounce and response to the K-Swiss running shoes. The problem with the tubing, however, was that the appearance wasn't always necessarily desired and the design took some getting used to feeling-wise.
That has all been changed with the updated tubing, now crafted into a figure-eight design that is much more subtle in appearance. While it is still noticeable underfoot to the wearer, it isn't as prominent and doesn't distract from the design or your outfit as much. This means the shoe looks less athletic in appearance and is far easier to pair with both business and casual clothing.
The Gen-K line is one of the most recent additions, and this is where you will find the majority of updated looks and styles. This line is focused on producing footwear that can be worn with more business casual attire, and so far it has done a great job of accomplishing that goal. With a more modern-looking upper, leather detailing, and bootie styled ankle support, this is a line that is bringing K-Swiss back to a younger generation.
Not just limited to appearance, the Gen-K line has also redone the outsole and now features the Gen-K Outsole which is more supportive and has a bit more bounce to it. The heel platform has been raised so that it is more comfortable to walk in, and for those who need some extra heel support, they will find it in this outsole.
10 Best K-Swiss Shoes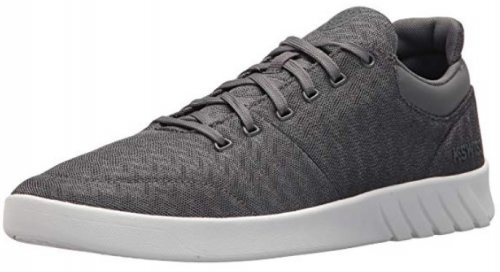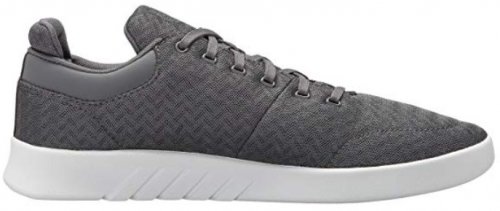 Made for court sports, this is a new design in K-Swiss' collection that was inspired by their prior Aero trainer model. The difference with the T comes down mostly to the upper, where we now see a mesh design over a synthetic leather one. The new design is more breathable, flexible, and comfortable especially for court sports, and you should find that it has great traction and grip on slippery gym floors. Turn and pivot with ease in the Aero Trainer T, and enjoy any of your sports, or simply use these as a great walking and everyday shoe.
To make these trainers stand out and have visual appeal, they have a herringbone design that subtly contrasts against the upper. This style choice looks great and gives the Aero T the needed bit of pop. With the added dimension, this design goes from being a bland court shoe to something you could wear out for more casual occasions. Adding in the multiple colorway choices, and this is a design that has a modern, fun look that most people will find pairs well with jeans or other casual outfits.
The heel to toe drop is a bit higher than in some of the other models from this brand, and this has to do with the fact that they have extended the heel cushion in order to provide extra comfort and support. The plushness of the midsole is a crowd favorite, as the Aero T has quite a bit of bounce and is very responsive. For those that tend to experience heel pain after long hours on your feet, this is an option worth checking out as it may help reduce pain and fatigue.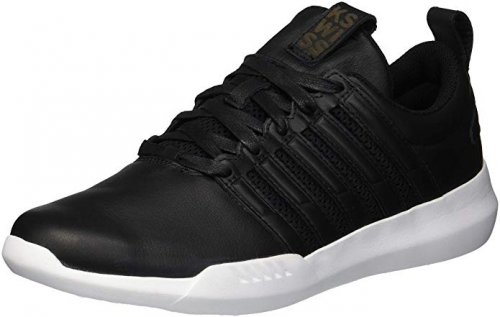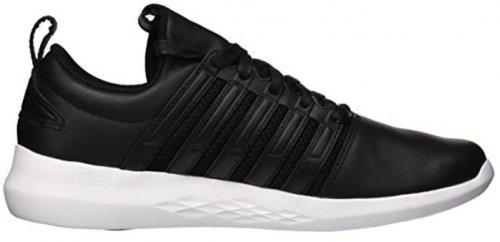 Another model from the new Gen-K line, the Manifesto is a great looking sneaker. While it may be inspired by regular runners, it has taken that concept and flipped it on its head in order to create a much more athletic, unique, and modern piece of footwear that is sure to stand out. With its raised ankle area, this is a design that puts an emphasis on comfort and style.
Not only does this option look amazing, but it also feels great as well. With a microfiber lining, the inside is extra soft and plush, allowing you to wear this sneaker with or without socks. The interior also features a molded footbed that will conform to your foot shape, giving you a very personalized and comfortable experience. The attention given to the interior means there should be no blistering, chafing or rubbing even right out of the box.
The Gen-K line was founded with the intention of proving footwear that young entrepreneurs could wear all day long. From business meetings to after-work parties, this is the line for those who want their footwear to travel seamlessly between their professional and social lives. The Gen-K Manifesto is one of the perfect options for this, as the TPU detailing gives this shoe a very classic look.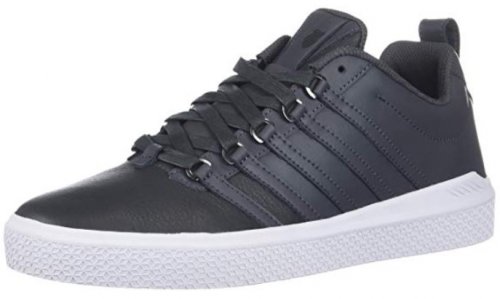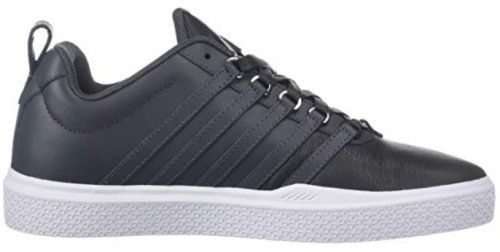 This brand is not only about the sporty, athletic options. The Donovan is a clear example of a streamlined, monochrome look that is as elegant as it is comfortable. It features the well-known five-stripe logo on the sides, as well as laces that fit the color of the design for a sleek appearance. The Donovan is that versatile sneaker that you can wear both to work and to a fun night out with your friends without the need to change footwear in between.
This design is made from genuine leather which provides a suave finish as well as a comfortable fit. It has a molded EVA sock liner that absorbs shock as you walk but also keeps you cushioned throughout. The midsole is made from molded rubber that features a geometric pattern that continues down into the outsole, providing you with solid traction on all types of surfaces.
The finishing touches on the Donovan are the leather details on the heel and the tongue so that no one misses the brand name you're wearing. This sneaker is a staple silhouette that everyone should have in their wardrobe. It pairs well with both jeans and slacks, and you will find it effortlessly easy to fit it into your aesthetic.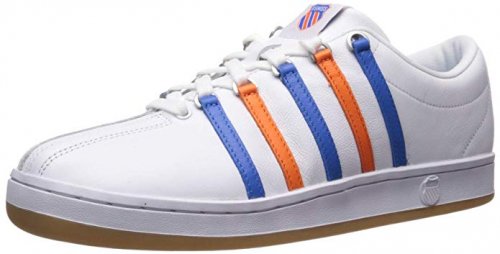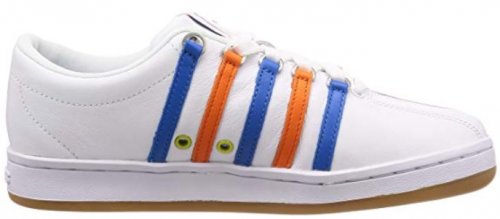 The Classic 88 Heritage is definitely a design that captures your attention at first glance. It has a slightly larger size in comparison to the other options on this list. The Classic 88 Heritage is made with soft leather material and features a rubber sole and a flexible rubber outsole that gives it good traction.
For those with slightly wider feet, this design can provide a comfortable fit for your feet with its large size. You won't feel as much of that new shoe tightness at the sides of your feet.
As you know with new footwear, you tend to feel the most tightness in the toes. With the blucher toe feature, more room has been created in the toe area of the 88 to reduce the tightness while wearing and walking in this sneaker.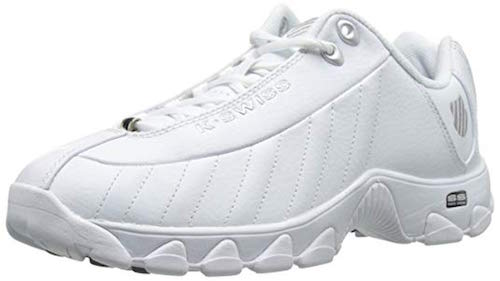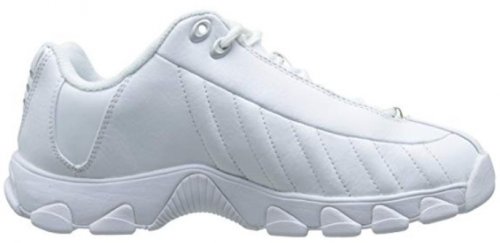 The ST329 CMF is a combination of comfort and durability. It's great for just going out in the city or quickly changing direction in a fast-paced sport to facilitate your feet's movements. This design features cushioning on the inside and a memory foam footbed as well. The ST329 also features a rubber outsole and is built to be used for a long time.
When your feet are walking for a long period of time, it can take a physical toll on your joints and your muscles. The memory foam footbed of the ST329 gives a soft feeling to the foot with every step taken, helping you move for as long as you want to.
The rubber outsole on the bottom of this design serves to provide long-term durability. You won't have to make another purchase for new footwear anytime soon because of this feature.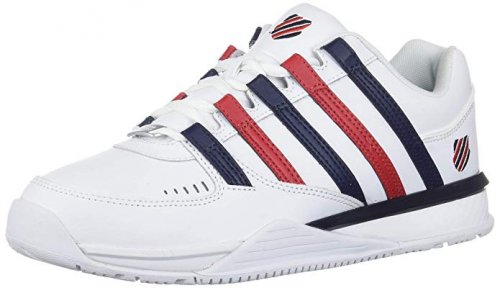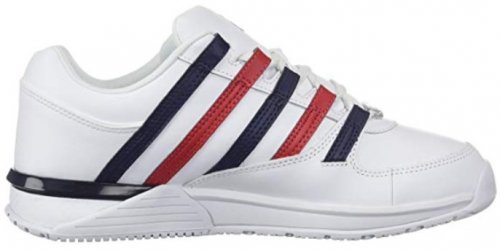 This sneaker could arguably be one of the most comfortable options on the list. The Baxter features a padded collar, a padded tongue, and a padded footbed. It also features a synthetic sole and the upper is made of leather. In addition, it has a textile design with contrast in the stripes and laces. Definitely many things to appreciate in these cool-looking kicks.
The Baxter features a lot of padding for comfort. The combination of padding on the collar, tongue, and footbed gives all-around softness and protection to the feet for just walking around or going for a run.
These sneakers can get a good grip on the ground with their single-piece sole. You won't have to worry much about falling if you're making quick movements in these shoes.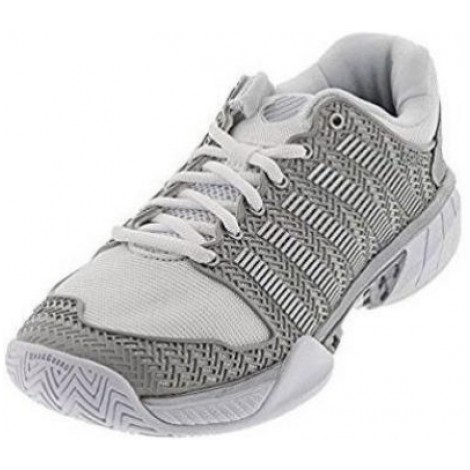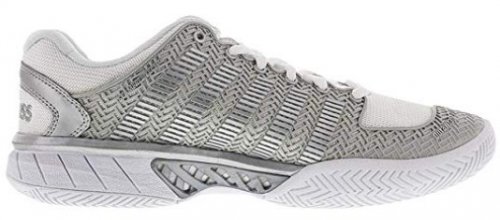 This option is another eye-catcher to walk around in with its unique design that stands out from others on this list. The Hypercourt Express equally matches its style with innovative features. It features a mid-foot support chassis and a Durawrap toe guard. In addition, the design also has a K-EVA Strobel board and a dual-density Guideglide EVA midsole.
The mid-foot support chassis provides you with more support and stability in the steps you take. It makes it less likely you'll fall in these sneakers. If you're familiar with toe dragging in your shoe, you'll appreciate the Durawrap toe guard feature. It is designed to decrease excessive toe dragging and thus increase comfort for you during your walks.
The Hypercourt Express is one of the more expensive options on this list, but it's worth considering for its nice style mixed with innovative features that'll make walking in them not much trouble at all.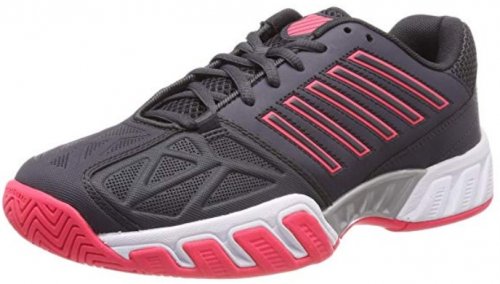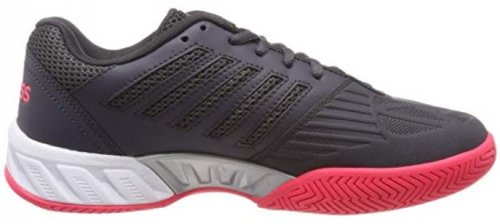 The Bigshot Light 3 is a somewhat innovative design in keeping the feet cool and comfortable in any situation. The sneaker has a somewhat futuristic look to it with the features that it has, including a Flow Cool System and leather mesh uppers. It has EVA midsoles, lightly padded insoles, and a 180 PCS mid-foot support.
No one's a fan of having hot and sweaty feet. The Flow Cool System consists of vent holes on the upper sides of the Bigshot Light 3, allowing air to get in and moisture to get out, creating maximum cooling.
The EVA midsoles provide shock absorption for the feet. This will lessen the high impact on the feet from the steps you take and protect your joints from wearing down.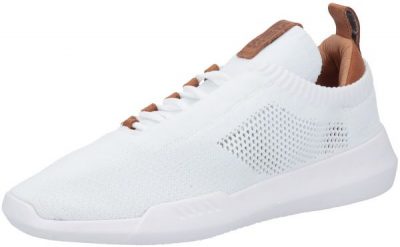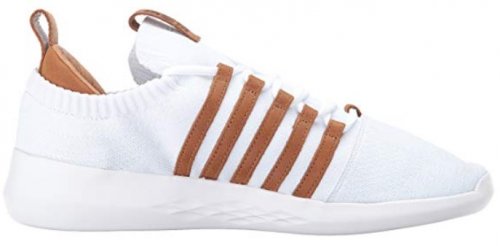 The Gen-K line from K-Swiss is one of their newer additions that seeks to blend together a more modern, fun look with a style that can be dressed up or down for work or play. The Gen-K Icon is one of the stand-out sneakers from this line, as it has jumped on the upper knit bandwagon, and features the brand's take on breathable, stretchy fabric that is comfortable and form-fitting.
While the majority of the upper is comprised of a flat knit, there is additional leather detailing that both enhances the appearance and the stability of the design. The leather contrasts the knit nicely and can be seen on the heel counter, loop, and stripes along the side. While most of the leather offers a contrast color, some colorways feature leather that has been dyed to match the shoe itself, making it a more subtle feature.
This line features its own branded outsole, which is made from EVA and is soft and comfortable. With a noticeable heel to toe drop, the outsole gives the heel a raised platform that will keep you feeling comfortable while you walk and move. With such a nice, thick outsole, the Icon is extremely comfortable to wear, and you should find that your feet have no soreness or fatigue even after long hours with these on.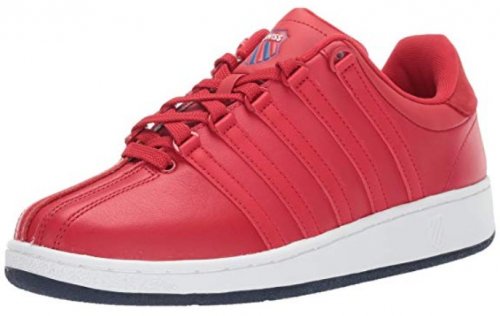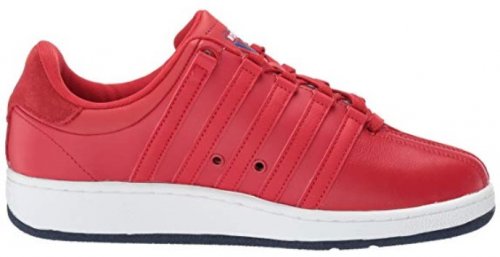 The Classic VN is a heritage design, the first-ever leather sneaker from this brand. It has been updated for the modern era with higher quality materials, metal D-rings for laces and, of course, the inevitable five-stripe signature and the three-piece toe area. The Classic VN goes with absolutely any casual outfit combination, and you will have a great time playing with its versatility.
As we already mentioned, the upper of these kicks are made from premium leather. The metal D-rings for the laces mean improved durability and sturdiness, and there is an EVA midsole for comfort. This midsole is soft yet supportive, and it makes sure that you can stay on your feet for as long as you want to. Additionally, there is also a molded heel cup for back support and a die-cut EVA outsole that provides traction and yet is incredibly lightweight.
The Classic VN doesn't come with any fancy new technologies as it belongs to the older, heritage line of the K-Swiss brand. However, that doesn't mean you can't revel in its simplicity and minimalist appeal. Take the Classic VN with you anywhere you wish to go and you'll find that it has no problems with keeping up!

Subscribe to our Newsletter