Best Shoes For A Business Casual Event Reviewed
In a Hurry? Editors choice: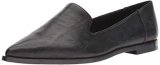 Test Winner: Frye Kenzie Venetian

You might think that there's no need to worry about your choice of shoes for a business casual event, but you'd be wrong! We know, we know. This dress code can be very confusing for everyone involved. What's considered too formal, or too casual?

Depending on your company, this can mean a lot of different things, but beachwear, flip-flops and gym attire are definitely not acceptable outfits. Then again, a full suit and tie or a cocktail dress and dress pumps might be too much, so what should you do?

Well, we have created a guide for what to wear in terms of shoes for a business casual event in order to help you with your confusion. The 10 best designs were chosen, taking into consideration style, comfort, durability, versatility as well as construction quality. This way, you can can be sure you're making the best possible choice for you.
Standout Picks
Criteria Used for Evaluation
Comfort
Comfort is one of the first things you should look for when buying shoes for a business casual event, or any shoe for that matter. But, since this will still be a business event, you do want to look your best and act your best, and you can't do that if you have footwear on that bothers you and distracts you from casual chit-chat and what not. So, always make sure that the shoes you are buying are cozy; don't sacrifice your health and well being for looking good!
Insoles play the biggest part in overall comfort when it comes to shoes for a business casual event. After all, it's the part of the shoe where your feet will spend the most time on, so it's important to find footwear that has proper insoles! Memory foam insoles are one of the best out there. You probably saw many commercials and ads talking about how great memory foam mattresses are, and if you've ever tried it, you know it's true. So imagine walking on a set of two super cushy mattresses all the time!
Memory foam insoles will adapt to your foot shape almost instantly, ensuring you have a great fit in your shoes for a business casual event. What makes them so special though is their ability to bounce back to their original shape as soon as you take the shoe off, so the amount of compression they will suffer over time is minimum, and they will always provide you with great levels of comfort and ventilation!
Ortholite footbeds are also one way to improve the comfort of shoes for a business casual event. These removable insoles found their way into many popular brands today, like Nike or Adidas, all because they have a lot of things to offer. When compared to regular insoles, Ortholite insoles have a compression set of less than 5%, meaning that the cushioning an fit will always remain the same. It's made out of an open-cell PU foam. These open-cells allow moisture to dissipate easily, and they move it away from your feet, giving you a drier and healthier shoe environment. This foam is also very light, so there will be no added weight to tire down your feet. And the best part is, they are removable, so you can wash them in a machine! They will always come out looking and feeling like brand new, maintaining all of the benefits they had before.
Gel-infused insoles also decorate the inside of some of the shoes for a business casual event mentioned in our guide. These insoles, unlike the foam ones, have a certain type of gel filling them in. This gel also provides a good amount of comfort. Instead of compressing and shaping itself like foam, the gel reorganizes its density and composition, cushioning you just where you need it to. It will not compress at all since it is in a liquid state and it can just move around to accommodate your feet. This gel is also light, and it breathes well, so you will have proper ventilation and cushy comfort.
Lifestride is a company known for making cozy footwear, so it's no surprise they have a special technology meant to improve the level of comfort even more. This is their three-part system meant to provide you with all-day comfort. All of their insoles are fitted with a high-rebound foam that provides a soft fit, while it breathes and dries you, keeping you fresh and happy. The liner also provides support, for stability and balance. No more arch pain! And, it's highly flexible, so you won't feel as much force as you walk, especially on high heels. If comfort is your top priority, you may want to choose LifeStride shoes for a business casual event.
Materials
The materials your footwear is made out of also play an important role. Imagine showing up in extravagant satin shoes for a business casual event, or in simple canvas sneakers? That wouldn't be professional at all! So choosing the right kind of material can do wonders, and it could completely revamp your appearance.
Bovine leather is obviously the best choice for shoes for a business casual event. This type of leather is the most common type, while the word bovine means that it came from cattle and nothing else. Just because it's so common doesn't mean it's not valuable though, as leather does have plenty to offer! About 95% of products made out of leather are made out of bovine leather, so it's pretty popular, and also because cattle are widely bred and available everywhere. If you worry about the ethics of leather farming, don't!
If you enjoy eating meat and meat products, then you should know that the very leather that you're wearing comes from the same animals, so nothing goes to waste. Although, if you're completely against the meat industry, we understand, and that is why faux leather exists. This type of leather is the most durable and will outlast any kind of material that exists. The leather is pricey though, but it's better to shell out a few extra than to buy medium-quality shoes for a business casual event over and over again. It's also stiff and heavy, so you might have a hard time breaking it in and adjusting to the overall weight. It resists water and dirt, and it's pretty easy to maintain. But, it's also hard to dye leather, so your color options might be limited.
Suede is also a good choice for shoes for a business casual event. This material also comes from animals, specifically the inner surface, which is visible once the leather is removed from an animal. Sometimes, suede is left just the way it is, upturned and not treated at all, but that takes away from all the qualities suede is known for. The majority of the time though, the leather gets split, revealing the soft, fuzzy underside we all know and love. Suede, if it's made to be thicker, can be very durable, but still not as durable as leather is. The brushed face gives away the luxurious look ll suede has, which makes you look like a fashion star no matter what you might be wearing with it. Suede is pricey though, is a dirt magnet, and it absorbs water easily, making it a bad fit for wet seasons.
Style
The most important thing when it comes to shoes for a business casual event is the style of your footwear. Only a few styles are acceptable, but depending on your company, they might be a little bit more laidback, so you'd have more options. We will discuss the most common types of shoes for business casual events though, as you can't go wrong with these!
Of course, oxfords are the most common type of shoes for business casual events. They are the definition of smart shoes, so they should be a no-brainer, right? They are very versatile and can take you from school to super formal events, but you should be careful about the type of Oxfords though because many do exist and their formality varies. This shoe became popular on the grounds of Oxford University, which is where it takes its name from. You can easily recognize an Oxford shoe if you know what to look for. First, they sit under your ankle, meaning they are low cut. Secondly, they have low heels, which can be stacked.
Lastly, they have a lacing system that is stitched closed at the bottom. The lacing system is the number one difference between an Oxford and a derby shoe because Derby shoes have open lacing systems. Brogues exist too, and knowing the difference between the two can go a long way. Brogues are the perforations seen on the upper, which were meant to drain the water out of the shoe. Brogues are less formal than Oxfords and can be a great choice of shoes for a business casual event. The most formal of the Oxfords are the plain toe, which is the number one choice for black tie events. The cap toe though is meant for business events, because it doesn't have such a serious and mature silhouette.
Wingtips feature the shape of the letter M near the toes that resemble a bird in flight and have many perforations running alongside the edges, making them a great smart shoe. The Balmorals look like wingtips, but they lack the perforations, making them more formal and mature. The saddle Oxfords are a rare find, and they originate from America. They feature a strip of leather in a different color, that runs around the middle and down to the soles. Last but not least, we have the whole-cut Oxfords, that are, like the name suggests, cut from only one strip of leather. They lack any detail but they are still casual enough to be the most versatile type you can find out there!
Chelsea boots are also a great smart option. These shoes for a business casual event are quite simple in design, and they have a dual panel elastic gore on the sides that will stretch to make putting them on and off easier. A pull tab often sits on the heel counter, making it even easier to slide your feet in. These boots date back to the Victorian era and have been worn by both men and women since they first saw the light of day.
Loafers are shoes for a business casual event that have no lacing or fasting systems and are instead simply slipped onto the foot. This is why sometimes they are regarded as a slip-on. Their construction was inspired by the moccasins Native Americans used to wear, although their style today varies greatly. Penny loafers are one of the most popular types. These loafers have a leather strap that goes over the forefoot, with a slot shaped like a diamond big enough to fit a penny, hence the name.
Tassel or kiltie loafers were made by the Alden shoe company and then popularized but the Brooks Brothers. This loafer sports a decorative lace with a tassel on top. Gucci also introduced a type of loafer with a brass strap, making them a great choice for formal events. Moc loafers took a lot from traditional moccasins, as they have a stitch that runs along the top of the toes, just like real mocc's have. Loafers usually don't have high heels, but sometimes they can sport it. Loafers are not formal shoes, which is what makes them a great choice for business casual events.
And last but not least, we have the ballet flat. The ballet flat took a lot from pointe shoes, footwear made for ballet dancers. Just like the dance, the shoe is dainty, graceful and elegant, adding to the gentle tone ballet brings with it. Many people liked the footwear and desired to bring it out of the dance and into the fashion scene, and that surely did happen. Ballet flats are a very popular type of shoes for a business casual event today, but if they have the right set of details and colors, they can be transformed into formal shoes as well. They usually don't have a heel, but a little-stacked one can be added, which is great because it provides us with arch support. A ballet flat is a great option for business casual events because it's just formal enough to fit in with the scene.
You should also consider the color of the shoe you will be buying. Bold, vibrant colors and wild patterns are not acceptable in this situation, although they can be if your company is laidback. These hues scream casual, and should not be worn to business events, even if they are a bit more casual. It's always better to dress more formal than casual! So, which colors work in this situation?
Earthy colors, like tan, brown or taupe work the best for shoes for a business casual event. These colors are calm and neutral and can be matched with pretty much anything you have in your closet. Black is also great, and this is the most universal color out there. Choose colors like these and you will make no mistake at all!
Durability
When you have such an event that requires specific clothing and shoes, finding ones that will last for more than one event can be a lottery. This would mean that you are settled for future events too, but it's still recommended to change them up sometimes. Durable shoes for a business casual event are always a win, as you will have a trusty pair you can always throw on. Their durability is affected by the material they are made out of. Leather is super hardy and lasts for a long time, making the most durable shoe out there. If they are paired with welts, you will have shoes that could last even several decades! Suede is durable too, but it tears easily and can't be compared to leather. Of course, textile lasts the least, requiring changing after a few seasons.
The construction also affects their overall durability. Shoes for a business casual event that are stitched together usually last the longest, since glue tends to give after a few uses, meaning you can kiss the soles goodbye. Reinforced toes and heels also save the life of one shoe, because these areas are the first that give in. Durable outsoles also help, since they are what you walk on, and having flimsy outsoles won't help your case!
Versatility
When you're purchasing shoes for a business casual event, you definitely want to invest in a pair that you will be able to wear more than just on a couple of occasions. The good thing about this type of footwear is that, usually, it is highly versatile and should be possible to dress up or down. When you're buying a pair of shoes for a business casual event you may want to err on the side of caution - this means that opting for something that is slightly more formal is the better choice than making a faux pas with shoes that are too casual.
For men, the safest option is always to go with a pair of Oxfords - not only because these will look good with both jeans and trousers, but because they can also be worn with a suit, allowing you to get the best value out of your investment. Other versatile options of shoes for a business casual event include loafers, monk straps or Chelsea boots for colder weather.
For women, the best versatile shoes for a business casual events are either a pair of simple high heels, or menswear inspired flats. Heels go great with skirts, trousers and jeans, but if you're going to be in a professional setting, it is still best to stay away from designs which are too extravagant. Flats such as ballet flats, Oxfords and loafers are an ideal alternative because they can still look professional, but offer the support and comfort you don't usually receive from high heeled footwear.
One more thing you'll want to keep in mind is price. In general, investing in higher quality items is always a good choice, but if you really only need shoes for a business casual event you'll wear once and never again, you will probably want to go with something a bit more budget friendly. In these cases, you may even want to look to what you already own, and see whether there is a pair of footwear in your closet you can make use of on that single occasion.
Top 10 Shoes For A Business Casual Event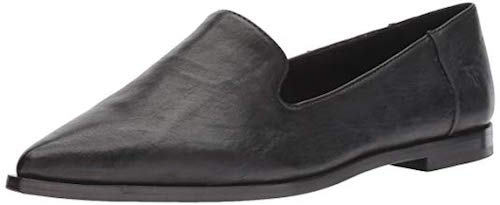 Very few types of shoes for a business casual event do as well as a pair of loafers. The Frye Kenzie Venetian is one of those pairs of footwear you will gladly put on in the morning, and enjoy wearing it all day through, no matter the challenges ahead. Made by a reputable company, it is constructed with high quality materials and attention to detail, following a simple and classic silhouette that is sure to fit in anywhere your day takes you.
This pair of shoes for a business casual event uses supple, antiqued Italian leather in the upper for an unmatched level of comfort and style. It can be purchased in several color options including black, grey and cognac, and even comes in a slingback version which can be a great choice for warmer weather conditions and laid back settings.
The silhouette of these shoes for a business casual event was inspired by the classic ballerina flat, adding a pointed toe and a higher vamp. As with most products by Frye, the lining and outsole are both made from leather, which is a great choice - not only is this material durable, naturally breathable and great looking, but it will mold to the shape of your foot with wear, giving you unparalleled comfort. The outsole features some rubber overlays for increased traction and abrasion resistance, and the .75 inch heel adds a feminine touch without throwing you off balance. The price of these shoes for a business casual event is high compared to the other items on this list, but you can rest assured that they're an excellent, versatile investment that you'll love wearing.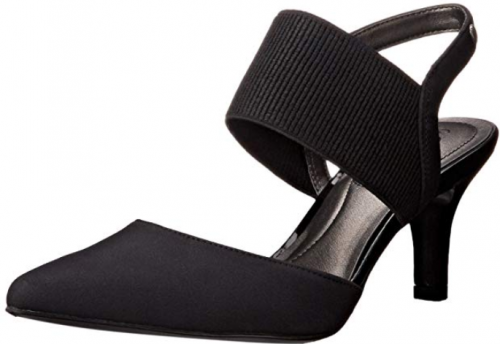 This dress pump combines comfort with refurbished style to help you stay on point all day long. These LifeStride shoes for a business casual event are 100% synthetic, meaning they are guilt-free and light. The very first thing you can notice on them is the thick, chunky strap, ribbed for an even prettier aesthetic. This strap will keep you secured, combined with the strap that goes around your ankles. They come in a black and taupe color, both fit for many different styles.
The toes are pointy, but there's enough room for you to feel comfortable. Just like every LifeStride shoe, the Solace features their soft system. This is a three-part system that helps you stay cozy, as it supports your arches and lets you bend your feet as much as you need to. The insole is high-rebound, keeping its shape and ensuring you always have an optimal fit. The heel is cushioned, lessening the impact you feel while you walk on the high heels. And just in case you are a bit on the clumsy side, they were designed for stability and balance!
In terms of cost association, these shoes for a business casual event rank average, making for a great investment. Furthermore, they're quite versatile, and can be easily paired with a cocktail dress or even a formal outfit.

3

. Florsheim Fuel Wingtip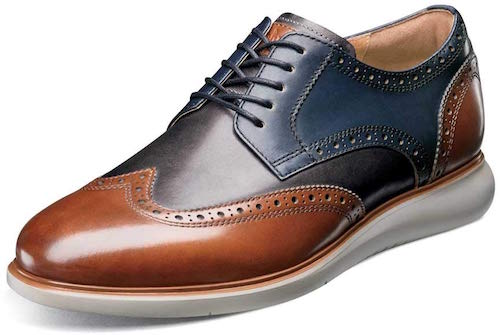 Sometimes, the best shoes for a business casual event are those that combine the best of two worlds: formal and casual footwear. These designs have been extremely successful in the past decade (for example, Cole Haan Zerogrand Oxford shoes), and it comes as no surprise that more serious manufacturers have come up with their own versions as well. The Florsheim Fuel Wingtip is one such design, combining the sensible wingtip upper of a classic Oxford shoe with the functionality and comfort of your running sneakers.
The upper of these shoes for a business casual event is made with smooth leather or nubuck. There is a variety of colors to choose from - apart from the classic blacks and browns, you can also decide to opt for shades of blue, or even multicolored designs that are sure to stand out. The lining, of course, is leather, for higher levels of breathability, and you can choose between two widths for the best possible fit.
The insole of these shoes for a business casual event are made with PU and have a molded heel and arch support for the best possible experience. The footbed is removable, so if you prefer custom orthotics you can add them in, and the EVA foam with rubber wedge outsole contributes to the overall shock absorbing abilities of this model, so you can rely on it for more active outings that require you to stand or walk a lot. These shoes for a business casual event rank average in terms of price, and make for a great choice for those who prefer a more sporty approach to business casual.

4

. Thursday Boot Company Duke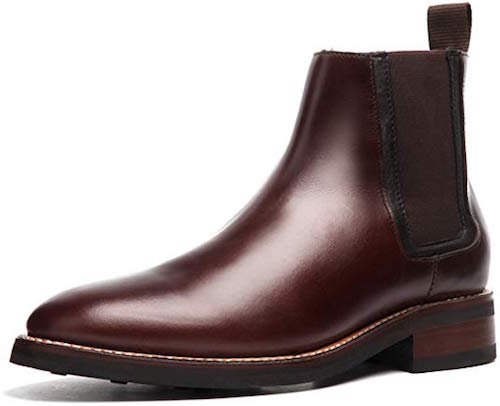 The best thing about Chelsea boots is that they're such a versatile pair of footwear. These shoes for a business casual event by the Thursday Boot Company will go great with slacks and jeans, and depending on the upper variation you decide to go with (chrome leather or suede), you will get an option that leans more towards formal or casual. There is a variety of colors to choose from, most of which are neutrals and will go great with a number of outfits.
This pair of shoes for a business casual event is handcrafted, using high quality materials and a well thought out design process that focuses on feel and aesthetics. What's interesting about Thursday Boot Company footwear is that it is made with integrity - using sustainable methods and fair labor policies, and that the prices remain fair without charging their customers sky high sums.
In terms of functionality, you should know that this model is fully lined with leather on the inside, features an elastic gore for easy on and off, utilizes a cork midsole for shock absorption and support that adapt to the wearer's foot with time, and is made with a Goodyear Welt Construction which means that the shoe can be resoled and repaired at any time. The studded rubber outsole ensures great grip on all surfaces, and the heel pull tab makes on and off much easier. As for cost, these shoes for a business casual event rank higher than average, but considering you'd pay three to four times more for a product of the same quality from a different brand, they're more than worth it.

5

. Cole Haan Tali Bow Pump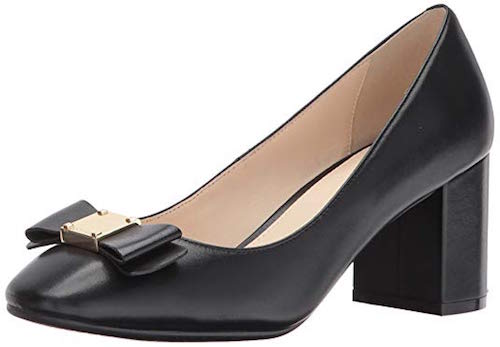 The thing we love about these shoes for a business casual event is that they can be worn on almost any other occasion - they're great for the office, cocktail parties, formal events, and may even be dressed down with a pair of jeans for a weekend night out. Cole Haan's Tali Bow truly is a versatile option, and considering the brand's reputation, it's a good investment for those who want a quality pair of footwear that they can make the most use out of.
The upper of these shoes for a business casual event are made out of soft, genuine leather, and the inside is lined with the same material as well. In terms of color options, the Tali Bow comes in black and tan, both of which are neutrals that are easy to pair. For an option with a bit more flair, you may also decide to go with the snake print. In terms of design, the toe has a round shape, ideal for long hours of wear, and you can even purchase these shoes for a business casual event in two widths: medium and wide.
The outsole of the Tali Bow is made from polyurethane which has several benefits. First and foremost, it is a lightweight and durable material. Secondly, this particular sole has an efficient traction pattern, allowing you to wear these heels on any indoor and outdoor surface without having to worry about slipping. The 2.5 inch heel is chunky for a good amount of support and stability, and the inside of these shoes for a business casual event is cushioned with Grand.OS technology for ultimate protection from impact. The price of these pumps ranks higher than average, but they're not too expensive, meaning that they can be a great pair to purchase for comfortable and versatile use.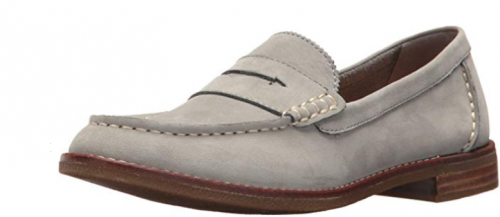 You might not think that Sperry would create footwear that is more on the formal side, yet here we are, and we are glad they did! The Seaport penny loafer is what any slip-on shoe should strive to be. These shoes for a business casual event are 100% leather, colored in various hues so you have plenty of options. The beef rolls on the sides improve the construction and also act as interesting details. They got their name because they resemble actual beef cuts, as you can probably see.
The sock lining is genuine leather as well, keeping you dry and smelling nice. The footbed is fully cushioned with a memory foam, which will keep its shape no matter how much you wear it down. The strobel construction improves their flexibility, helping you stay on track. They even have a leather welt, which increases their durability, negating the need to buy a new pair of shoes for a business casual event every year. A durable rubber outsole keeps you going, and adds enough grip and balance.
With Sperry, you can expect to receive a high quality item, which is why these shoes for a business casual event are such a good investment. They are averagely priced, and can sometimes even be found on sale, so if you happen to find a color option you like, getting these is highly recommended.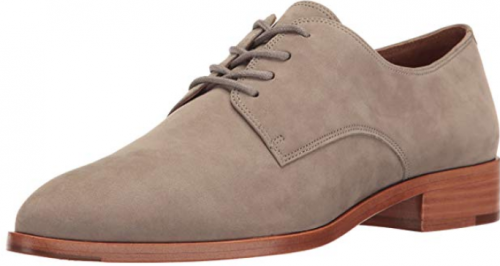 This fashion-forward Oxford is just what your business casual attire needs to be completed. The trendy leather upper is full of feminine charm, tanned with vegetable to create the smooth color. The slim laces are waxed, making it easy to lace the up when you need to. The best part is, these shoes for a business casual event are handcrafted, meaning they had to go through rigorous quality control, so there is no room for error!
The linings inside are leather, keeping you safe from moisture and bad smells. The footbed is lightly padded, helping you stride with confidence and ease. The short one-inch heel helps you stay supported, and adds traction and balance. The outsole is rubber, adding even more traction and grip, so you'll be safe in the slickest of weather.
These shoes for a business casual event are the perfect choice because of the menswear inspired design. Not only will they look great with jeans, but you'll also be tempted to wear them for casual outings as well, or even on more formal occasions that don't necessarily call for pumps. Do keep in mind, however, that full grain and smooth leather options will look more dressed up than suede and nubuck.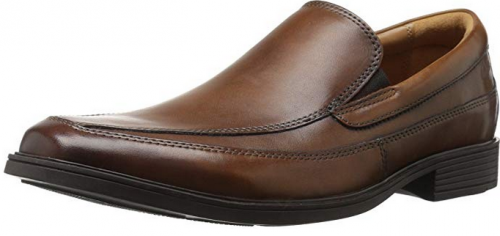 Clarks is a company well known for creating super cozy and stylish footwear, and that is just what the Tilden is. This slip-on pair of shoes for a business casual event is padded all around, helping you stay carefree and happy. They are made out of leather, just like any other proper dressy shoe is. The leather comes in neutral, calm tones, versatile enough to be combined with plenty of outfits. A little elastic strip sits near the entrance, making it easy to slip them on.
The leather used to make these shoes for a business casual event is also very breathable, helping you stay properly ventilated and dry. The insole is padded with memory foam. The memory foam is remarkable, as it adapts to the shape of your feet almost instantly, and it returns to their original shape in mere seconds after you take them off. It also breathes very well, just like the leather, so there is no possible way for your feet to be dry and smelly! The sole is very flexible, allowing you to bend your feet enough to walk naturally without straining. They are also very light, which ensures you won't get tired fast.
These shoes for a business casual event rank average, giving you great value for your money. Seeing that these will work great with jeans, you may get a lot of use out of them, which means that these are, ultimately, a great purchase for most people.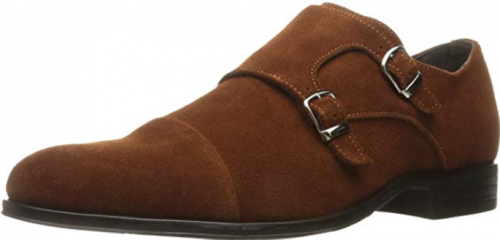 The Slocomb is a refurbished monk-strap that combines the casual with formal, upping your style in an instant. These shoes for a business casual event are suede, meaning they have a soft, luxurious upper and a cozy interior. The double monk strap is topped off with two silver buckles and a cap toe. Just be careful not to get the dirty, as suede is very sensitive to water and you'll have a tough time cleaning them!
The insole is fully cushioned with memory foam. The memory foam is light, breathable and absorbs shock, saving your joints from pain and aches. The construction is durable, complete with breathable leather linings, keeping you dry for a long time to come. The outsole is flexible with etching on the midsole, and a heel for added traction, keeping you safe from slipping around.
Monk straps are excellent shoes for a business casual event because they offer the formal appearance of Oxfords, but bring a fashion forward design element to the table. You'll definitely love matching these with a variety of outfits, and the below average price is a great benefit as well.

10

. Rockport Derby Wingtip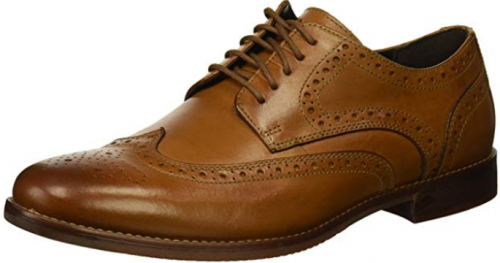 Derby wingtips are what any person looking for shoes for a business casual events should have, so it was only logical we included this wingtip in our guide. The characteristic wingtip spans all the way to the sides and is decorated with many different perforations, adding to their sleek silhouette. They are leather, that comes in earthy versatile tones.
The slim laces match the color of the shoes well, making them a little bit more serious. The footbed that sits inside is Ortholite. Ortholite footbeds are regarded as some of the best insoles out there because they are light, cozy and flexible! Also, you can easily take them out to wash them whenever you like. The heel cup is EVA, so you will have a proper, durable fit for a long time. The construction is cement, meaning this shoe will last for a long time.
The biggest advantage of investing in these shoes for a business casual event is that they're made by Rockport, a company that is utterly devoted to comfort, and foot health. You'll be receiving the right amount of support for your arches, at affordable prices that reflect the true cost of this type of footwear.

Subscribe to our Newsletter