Best Cinderella Shoes Reviewed & Rated
In a Hurry? Editors choice: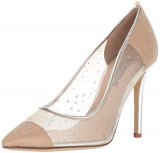 Test Winner: Sarah Jessica Parker Glass

It's a story as old as time: a little girl growing up to become a princess and marrying her prince. Littering almost every Disney film, there is something about this theme that transcends and captivates the imagination of generations of people. Aside from the splendid castles, the fancy balls or the sparkling tiaras, princesses also have gorgeous Cinderella shoes. In this guide, we're going to help you find your very own pair, so when Prince Charming comes along, you'll be ready. We've combed through dozens of Cinderella-style options to find the best ones for you. With a mix of high heels, low heels and everything in between, there is a style to fit everyone; but the one thing all these choices have in common: they are all fancy and glamorous. Let's take a look at our 10 best Cinderella shoes.
Standout Picks
Criteria Used for Evaluation
Materials
Let's face it, there are not many people that consider dress shoes to be extremely comfortable. Most of, the time, people only wear them for fancy events or because they have to dress for work. The material that a shoe is made from is going to greatly affect the comfort and desire to wear.
Plastic/Vinyl: Yes, you read that correctly. A lot of these clear heels are made of a plastic or synthetic vinyl type of material. Otherwise, you cannot get the fabric to be clear no matter how much you bleach it. Anytime you see a clear shoe, it will be made from plastic or a synthetic blend of materials. While this will give you the clear shoe you are seeking, it may not be the most comfortable on the foot. As well, it is not going to stretch much to give any wiggle room for your feet. If your feet have a tendency to swell you will want to be cautious when ordering these shoes. You do not want the plastic of the shoe to rub into your skin.
Leather: Leather is going to be much more comfortable on your feet compared to most other materials in terms of softness. The downside to leather is, it can be hot and trap heat sometimes. If you live in a warmer area or have feet that feel hot all the time, leather may not be the best option. However, leather is very durable. It has been used for centuries in goods because it can withstand so much. Typically, you will find leather is used in shoes that have sparkles, rhinestones, etc. These types won't be clear but they will still be gorgeous. Using leather will give the adornments something to stick to when constructing the shoe.
Micro-suede: Otherwise known as microfiber, this man-made material is a good choice for shoes because it is soft, flexible, and easily attained. Micro-suede is durable, and stain-resistant, which makes is a good material for shoes. After all, they get worn in all sorts of weather conditions. Micro-suede is chosen above suede as suede tends to be more expensive, tougher, and more rigid.
There is no right way to choose which material is the best for what you are looking for. You will have to judge these shoe materials based on things such as what types of weather they will be worn in, do they need to keep my feet warm, etc. Ultimately, you will know which material will be best for your foot.
Style
In terms of a high heel, it is very important to decide upon the heel height before buying a shoe. If you have not worn heels on many occasions in your life, you should probably avoid buying a sky-high heel. You risk falling or slipping if you can not confidently walk in the heels. Furthermore, if you do hurt yourself or find that you cannot walk in the heels, more than likely you will have wasted your money because the shoes won't get worn a lot if ever again.
Additionally, some people suffer from foot pains of many varying degrees. There are also many reasons a person can have foot pains, but wearing heels can aggravate those pains, especially stiletto heels. The taller the heel, the more pressure gets placed on the toes, ball of foot and metatarsals. Don't let that scare you because you can still safely wear heels without causing unnecessary foot pain. Conversely, some ladies can confidently wear sky-high shoes all day, every day. They can, of course, wear short heels, but they will not need to check the heel height because they have much practice in tall shoes.
Another thing to consider in the design of a shoe is the toe area. Dress shoes are known for having round, pointy, average, peep-toe, and open toes. You should most definitely consider the shape of your toes and the length when looking for Cinderella shoes. If you have very long toes, you should avoid trying to cram your toes into a rounded toe or short toe area. You can cause issues to your overall foot health by doing this for the long term. Also, if you have a wider toe splay, we advise you to avoid very pointy toe shoes as they tend to have a very narrow toe box.
Value
A top characteristic of any shoe is going to be the quality and durability of the shoe. No one wants to spend their hard-earned money on a pair of shoes that don't last for more than a few days. We thoroughly examine the shoes and their ability to hold up in many conditions. Dress shoes also have the added burden of proving the heel can last many miles. Furthermore, the shoe needs to be made of durable fabric or material that will not rip, fade, etc. Such good choices of material include leather, vinyl, mesh, etc. This is not to say these shoes won't ever have anything happen to them but with proper care, these shoes should all last a long time.
The quality of a shoe is going to affect the comfort level of the shoe. Shoes that are made from subpar materials had a negative effect on the quality and moreover on the comfort. It is important to pick shoes that have quality materials, a padded footbed, and a supportive sole. Otherwise, a shoe is not going to be comfortable and it will not get worn as much as a consumer would hope for.
Comfort
Most models listed above feature a high heel, which is why the aspect of comfort is such an important one for the category of Cinderella shoes. Although made to be worn on formal occasions (mostly), you should still make sure that your next pair of pumps are comfortable enough not just to cause no discomfort or foot health issues, but also to allow you to wear them for an entire party or event.
Several factors will go into the comfort levels of a pair of shoes, so considering them before making a final purchase can help you make the best possible choice for your individual needs.
Heel Height: If you're going for the princess look, you will most likely opt for a pair with a high heel. This is completely understandable, as this type of footwear will elongate the legs, will define the calf muscles, and will give you a more feminine look that'll look amazing both with skirts and trousers. However, high heels are less than ideal in terms of health, seeing that they shift your body balance, and put unnecessary pressure on the front of the foot, knees, and back. If you need to be wearing your heels for more than just a couple of hours, a good thing would be to choose a model that's less than 3" high. Another thing to consider when wearing high heels is to make sure you don't wear them every day, and not for more than a couple of hours at a time. This will prevent unwanted health problems in the future.
Size: A well-fitted shoe beats any type of comfort-oriented gimmicks you may be tempted to try. That's why it is always a good idea to try on a pair before making a purchase. Even better is doing so at the end of the day when your feet are likely to be swollen, as this will ensure that you don't end up with footwear that fits great in the morning but turns out to be too tight in the afternoon. If you happen to have a wide foot or suffer from issues such as hammertoes or bunions, stay away from pointed toes, and opt for rounded options instead. Overall, look for models that don't rub, that cradle your heel well, and that isn't too big (making you grip extra hard with your toes to keep them on).
Insoles: While more and more manufacturers are including some sort of padding in their footwear, high heels don't often come with this feature, even though it can be a lifesaver. It's an issue that's relatively easy to fix with a pair of inserts that can help absorb excess shock, making your feet more comfortable, especially during long days of standing, walking or dancing.
Breathability: Last but not least, you are most likely to be wearing your Cinderella shoes without any socks or hosiery, as those would defeat the purpose of a glass-like slipper. In these cases, it is crucial to choose models that are breathable and allow plentiful airflow as the last thing you want is locked in moisture that can cause odor, fungal infections or overheating and swelling. A good bet is to go with moisture-wicking or natural materials such as suede and leather, especially in the lining and insoles of your shoes, or to opt for models with straps or cutouts that'll allow for some fresh, cool air to comfort your feet, even if you've worked up a sweat while dancing the night away.
Durability
To assess each of the options on our list for durability, we not only read through thousands of customer reviews on our recommended products, but we also looked for some of the hallmarks of quality construction. From brand name reputation to their initial smell out of the box, there are a few ways of identifying a well-built, made-to-last product.
The Details
A zipper that doesn't zip or snaps? Poor threading technique? A smelly, chemical residue on the shoe when you open the box? All these details were looked for an evaluated when assigning a score for durability.
Materials
Certain materials last longer than others, even if that comes at the expense of a higher score in the "comfort" criterion. Materials that are synthetic, thicker and firmer tend to score higher on durability.
Product Purpose
A shoe made for running and high-impact sports will not likely last as long as a good pair of general activity shoes, and that's okay. Being aware of the shoe's purpose is critical for you as a reader and for us as a reviewer. Although shoes that will last longer score higher on this criterion, you might also see high scores to shoes with more limited durability, if that product was specifically designed for certain purposes that involve high-impact and high-stress motions. We take into account the type of shoes you are trying to purchase when assigning scores to shoes in this criterion.
Brand Name
A product is a promise made, but a brand is a promise kept. A brand name is often a signal of quality and consistency in construction and durability from product to product. Although there are always exceptions to this rule, quite often brands that perform continue to perform. Brand names on our list tend to score higher in the durability score.
Top 10 Cinderella Shoes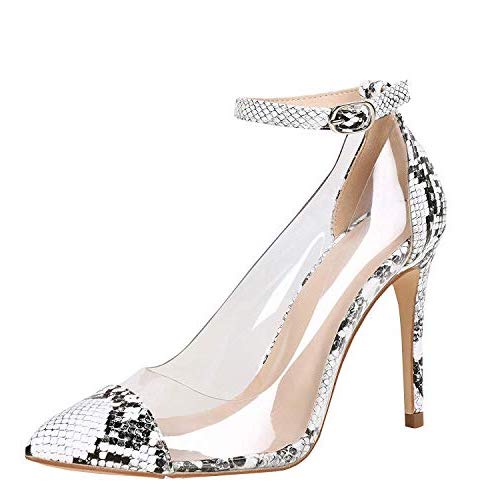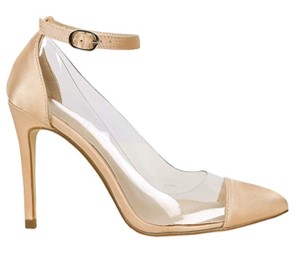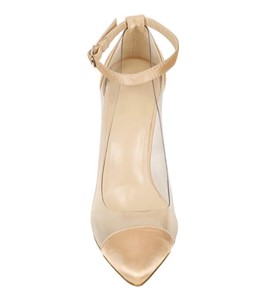 A great example of true Cinderella styling is this pump with a creative clear accent. It has an upper that is almost entirely see-thru and is adorned with a pattern at the heel, toe, and around the ankle strap. The patterns come in many different options from snakeskin to matte black to shiny white. They instantly add a small amount of elegance to the shoe without going overboard. The subtle styling makes this shoe a good choice for many different occasions. Furthermore, the heel is on the lower side compared to others in the category. That is a good learning heel if you aren't quite a professional in walking with heels yet.
The thin heel is stylish with the choice of color running along it and it's also thin without being too difficult to walk in. The sole of the shoe is textured rubber. It is not overly textured so as to not appear gaudy. It also has the traction focused on the ball of the foot. This is where you should land your foot with each step so it adds to the stability of walking in the shoes.
These shoes are relatively low-priced. They will, however, make a great addition to your wardrobe. It is a versatile shoe that can go with just about everything. It is also almost totally closed around the foot so you won't need to worry about rain soaking your foot if you are in a rainy area. You can wear this shoe for many different events or even weekly to work or girls nights out.

2

. Sarah Jessica Parker Glass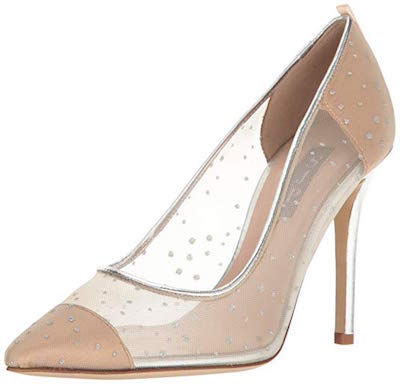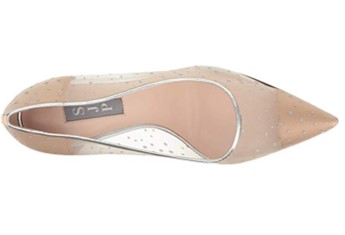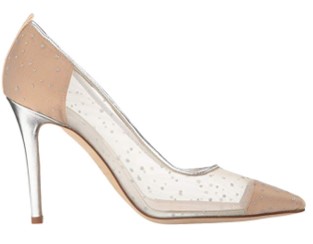 A pair of salon shoes inspired by glass slippers, the Sarah Jessica Parker Glass is the perfect option for those looking for fairytale footwear for adults. Constructed with a combination of high-quality materials and made in Italy, this is a good investment for those who want something versatile and elegant, without being too flashy. It comes in two color options, a nude that will look just like a glass slipper, and a black option that's more eye-catching, and just as stylish.
The problem with pumps, particularly those with a pointed toe, is that they're rarely comfortable enough to be worn for an entire night. The Glass solves this problem through a padded insole that won't allow for too much pressure on the forefoot, giving you a better wearing experience you'll appreciate. When paying a high price for a pair of pumps, you want to ensure you get a quality product that will last you several years (especially since you will only be wearing it occasionally). To give you this, the Glass is made with a suede upper that's the best material you can have in pumps - both comfortable, durable and breathable, it'll become your go-to formal option.
With a price that can only be described as sky-high, the Sarah Jessica Parker Glass is an investment. If you're after a wedding shoe or something you can combine with any dress in your closet for special occasions, then this is the way to go. It'll look perfect with almost anything, and the subtle glitter will provide the perfect amount of flash.

3

. Jessica Simpson Pixera 2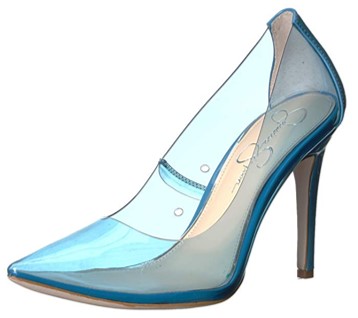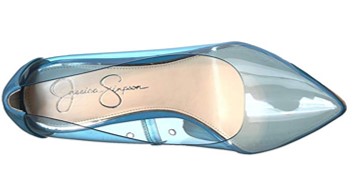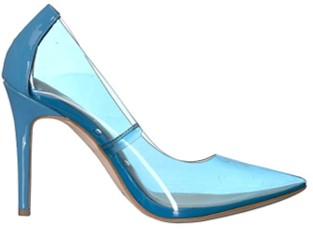 This pair of heels from Jessica Simpson is the classic 'glass' slipper from Cinderella, with a lucite clear upper that comes in a variety of colors! Simple pump silhouette is clear throughout the upper, with perforations on the instep to create ventilation so your feet won't sweat or get overheated. A synthetic sole at the base adds for ample traction, and its medium heel height can be worn for any duration of evening event without becoming uncomfortable. If you're looking for that fairytale-like pair of heels, look no further than the Pixera 2!
Inside the Pixera 2 lies a comfortable memory foam midsole, adding cushion to each step and helping to make steps feel plush and soft. Its synthetic sole has a patterned tread, so you can maintain a grip on slippery floors or wet surfaces. The stiletto heel raises near 3 inches high, making it a perfect height for longer evenings, without creating an uncomfortable feel or pinched forefoot. The pointed toe adds to the silhouette, giving it a formality and charm. The heel is the only non-transparent part of the upper, adding to the durability of the shoe.
Uppers on this Cinderella pump are classically clear, just as in the fairy tale. It utilizes a synthetic lucite upper, clear throughout the outside, instep, and toes. On the instep of the upper are two perforations to help with airflow into the shoe, so your feet will remain cool and dry no matter what the occasion brings. Available in several color options, you can find the perfect pair for your fairy tale ensemble! This pair keeps to simple, classic lines, and could even be worn for everyday work or nights out with friends.

4

. Badgley Mischka Pepper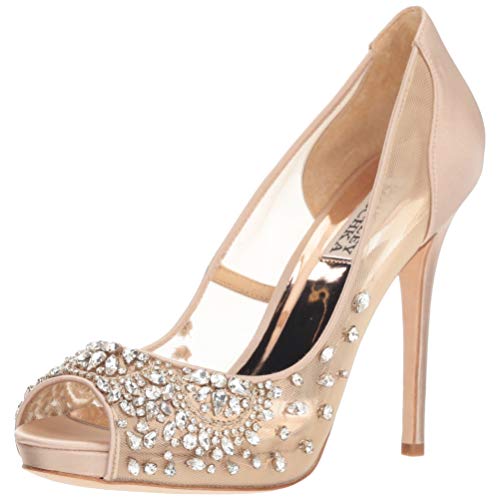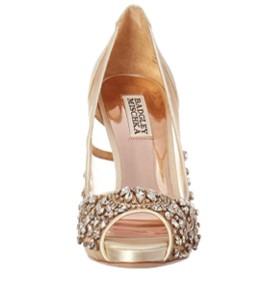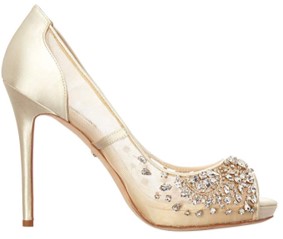 Renowned designer Badgley Mischka throws their hand in the ring with these beautiful shoes that are the epitome of royalty. Badgley Mischka has been a top shoe designer for many years. They take classic princess styling and transform the shoe with translucent nude fabric that is adorned with rhinestones delicately. Turn heads when you strut these shoes to an event or even to work.
While not the traditional rubber sole that is found on all other shoes in the category, these have a supple and luxurious leather. They will not provide any slip resistance but you will feel the padding underfoot. It is also aesthetically appealing. The mesh upper fabric will allow air to flow around the foot inside the shoe. None of the other shoes on the list were made of mesh. Mesh is also dainty and unique. It is not used very often in high heels.
These are a major brand name and therefore the price will reflect that. The price is at the highest end of the price range. However, for a designer shoe, this one can be worn as a daily shoe as it is a neutral color and will compliment any outfit. It can be worn with dresses to pants. It is highly-rated for comfort and is rated for durability.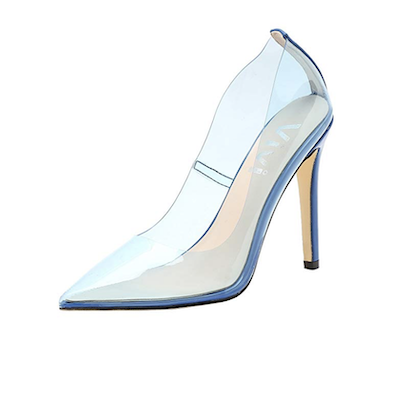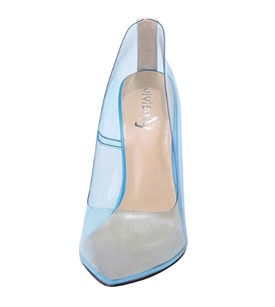 While not completely see-through as some others in the category, these shoes have gorgeous styling with a slight hint of color to the upper. You will still get the trendy translucent look without being clear. Additionally, the styling of these shoes is modern while still keeping with a traditional and classic silhouette. Finally, the extra-pointed toe will make any set of legs look longer and leaner thanks to the visual appeal these shoes give.
Even with the tinted PU plastic upper, these shoes give classic styling a modern twist. However, you will still get the aesthetic help of a pointed toe, a mid-rise heel height, and sleek flowing lines. This shoe has a moderately padded footbed. It is not as thick as some of the others in the category but it seamlessly blends into the shoe to not be obtrusive while still providing a comfortable step.
These shoes fall in the middle of our price range. They are an excellent buy as they are made from PU plastic flexible uppers. You won't have to worry about being caught in the weather elements in these shoes as they are resistant to stains and clean very easily. Also, they complement a wide assortment of clothing styles. You should have no trouble finding a reason to wear these trendsetting tinted high heel shoes.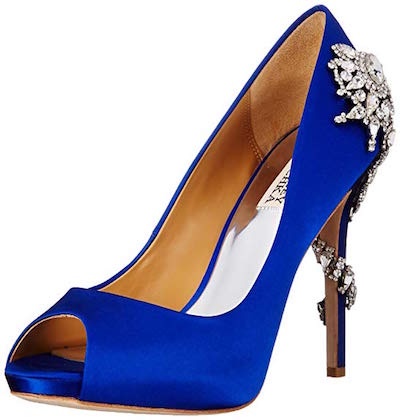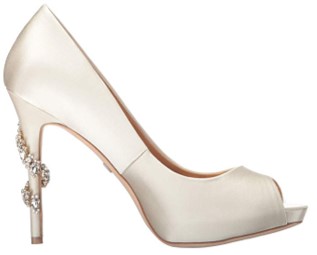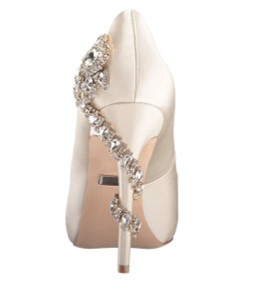 What better way to feel like a princess than in a pair of crystal-embellished pumps called Royal? This model by Badgley Mischka is the perfect choice for special occasions when you want to show off your legs, plus want to be wearing the most breathtaking pair of footwear in the room. Available in a number of color options, we're especially fond of the ivory, white and royal blue versions which are all great options for formal occasions such as parties and weddings.
With hand-placed crystals that wrap around the heel, you can add a bit of sparkle without coming off as over the top. This is one of the most elegant models of this type you'll find, seeing that it doesn't go over the top, but is still unique. Though most people prefer the comfort of a lower heel, the four ⅜ inch stiletto heel and 1-inch platform on the Royal are quite comfortable. Well-centered and balanced by the platform, you won't find yourself lacking balance due to poorly made footwear (that's so often the case with heels this high).
This is one of the more expensive models listed in this guide, but it's one made for special occasions that do deserve a bit of a splurge. You definitely can't go wrong with the Royal, seeing that it's a well-made peep toe with a satin upper and leather lining that'll breathe and feel soft in contact with your skin, even barefoot.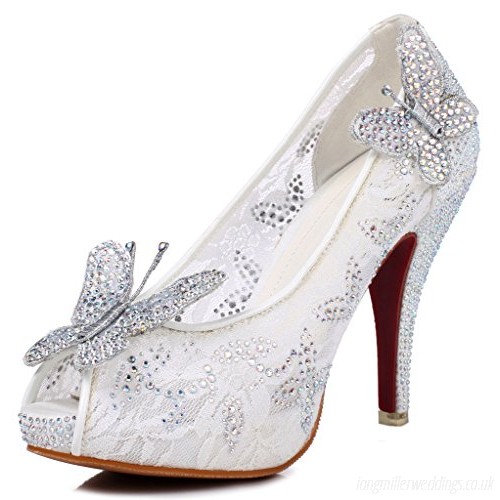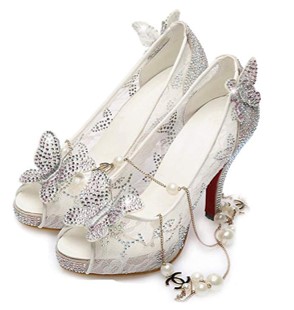 With so many gorgeous accents accompanying this next option, it is no wonder it's a crowd favorite. The beautiful shoe has classic princess detailing which includes glitter and rhinestones along with a cute butterfly accent. They are tastefully scattered to make this heel catch the eyes of everyone else in the room. You can wear this shoe and feel like a true princess. It will be great for every fancy dress you can find or even nice jeans and a blazer.
The platform that is integrated into the ball of the foot is 0.5-inch and will help alleviate some of the arch the heel height puts on your foot. That makes it a great option for those that have issues with walking in very high heels. The sole offers a nice padding to help cushion your foot. It also helps to prevent your foot from slipping down to the toe portion and ball of the foot. That is when undue strain is placed on the foot.
This particular heel comes in at a great price point. This is especially true considering all of the shoes in the category. The gorgeous shoe makes a fabulous addition to your shoe collection. It can be worn for very fancy events down to dinner dates. Also, it is closed all around which means you can wear it even if the weather is chilly or rainy. Lastly, it is a classic color so it will not go out of style anytime soon. You will get plenty of use from this heel.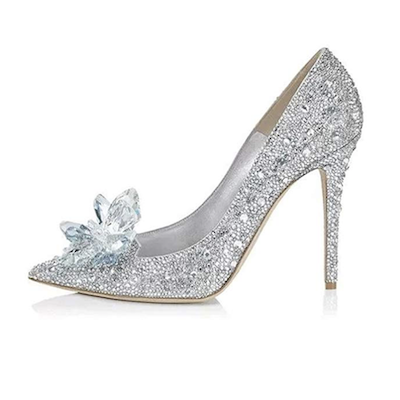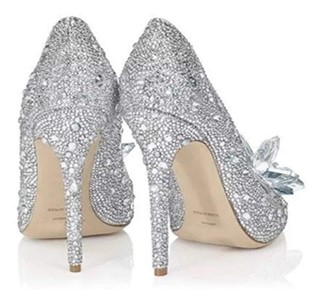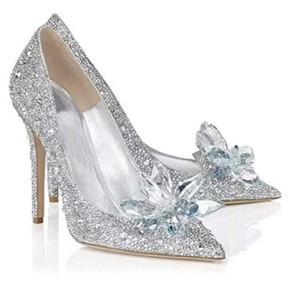 These are beautiful shoes as they are adorned with rhinestones and crystals. They will pop off of your feet and catch the attention of everyone that sees them. These heels by Naly are so glamorous and fancy that you will want to go to the nicest dinner and dancing venue around when you put them on. The toe vamp has stylish crystal 3-Dimensional stones that come off the shoe to give it a detail to stand out from the rest.
These heels are very comfortable as the sheepskin helps them to be flexible and soft against the skin. You could forget you are wearing high heels when you put these on. There are so many crystals on this shoe you will not be able to look away as they are so attention-grabbing. The crystals give the shoe a pizzaz and excitement. There are just enough to look dazzling but not overdoing it to where the shoe looks tacky.
This shoe is at a nice price point. It is right in the middle especially when you compare it to similar shoes. You will be pleased with your purchase as these shoes are so beautiful you will find many excuses to wear them. They are definitely a stand-out shoe; therefore you will be able to wear them for any occasion.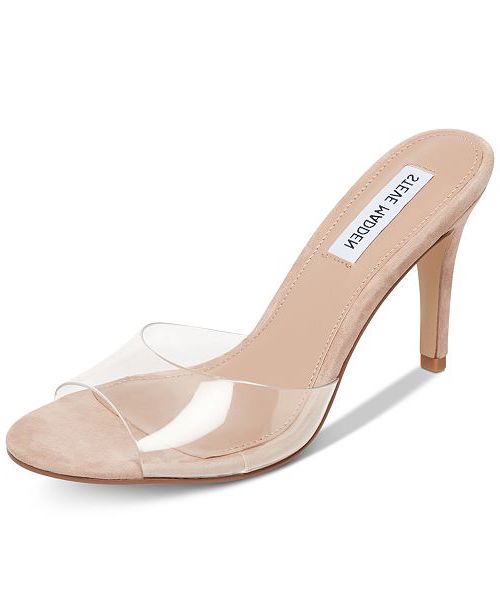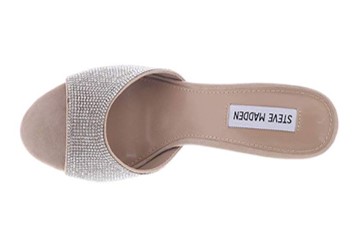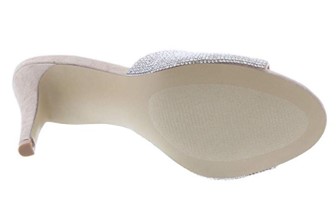 This pair is definitely on the less flamboyant side of our list. With a sleek backless heel and a clear plastic upper that gives the appearance of a glass slipper, you will feel like Cinderella in no time.
Most of the shoes in the category did not have a leather lining. This will be very comfortable against the skin. However, the only downside to leather in shoes like these, they don't breathe as much as other types of materials. But luckily, so little of your foot is actually covered you shouldn't have too much of an issue with sweaty feet.
This sole has good anti-slip rubber. This will help you to feel secure when walking in these shoes. The actual heel has a tiny amount of traction to it as well. Furthermore, the rubber provides some cushioning so it adds to the comfort of wearing these heels.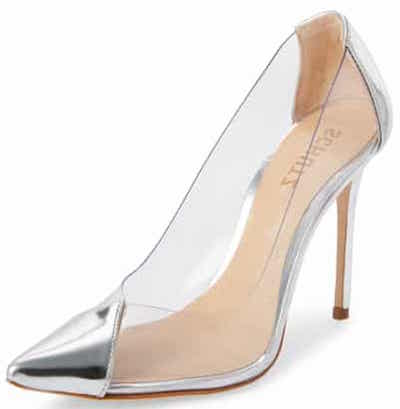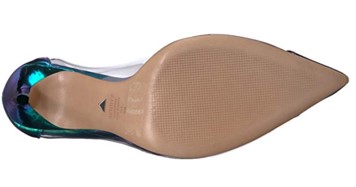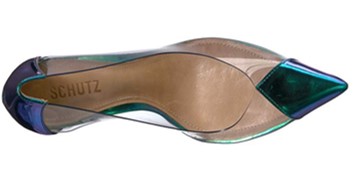 If Cinderella is the look you're going for, you may also want to look into the Schutz Cendi, which is a vinyl pump made to show off your feet in a completely unexpected way. It's available in several versions, most of which are the perfect choice of day to evening wear, but the nude is our definite favorite. Of course, you can also go with metallic silver or animal print, if you want something bold and completely unique.
Although the main part of this pump is made with vinyl, the toe and heel are crafted from high-quality cowhide leather with a patent finish for a shoe that's durable and easy to keep looking brand new. Not only does this add to the comfort level, but it also ensures some level of breathability in the toe and heel area, considering that the clear plastic wouldn't allow for any airflow otherwise.
The insole on the Cendi is made with leather, and for a higher comfort level, it's padded so as to absorb the shock that travels up your feet and legs every time your heel and toes hit the floor. You'll appreciate this, especially if you're planning on wearing these to work, where you'll probably be expected to keep them on for upwards of 8 hours. Averagely priced, the Schutz Cendi is a great investment for those looking for a shoe that works both as a formal and casual option. It's made with great materials, including a leather sole and insole, and is a great choice if you want to stand out, but prefer to forego the glitter and crystals that are usually associated with this type of shoe.

Subscribe to our Newsletter