Best Shoes for Disney World Reviewed & Rated
In a Hurry? Editors choice: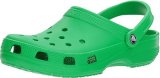 Test Winner: Crocs Classic Clog

The list we compiled consisted of a wide variety of shoes, so everyone can find a shoe to their personal liking. We included clogs, flip-flops, and
athletic shoes
to give a good assortment. Disney World is huge and you will be doing more walking and standing than you have ever done in your life, at any given time. Pair that with the heat and the crowds and it can be a bit overwhelming. Make sure you are taking the precautions for the best-fitting shoe; as well as, overall health. Take home good memories, not
blisters and overly sore feet
.
Standout Picks
Criteria Used for Evaluation
Comfort
When faced with the daunting task of being on your feet all day and walking many miles a day, the biggest priority is finding a shoe with the highest comfort level possible. Many people that go are not used to walking that far every day and it will wear your legs, feet, and entire body out. Picking a shoe that has a padded sole and extra cushioning is at the top of the list of desires.
You would not wear high heels or cowboy boots, as your feet would hurt within minutes of setting out on your adventure for the day. Some people prefer to wear flip-flops versus athletic shoes, and that is okay. Some people feel more uncomfortable in shoes that surround the feet, instead of letting the foot spread where it may. Also, some people have feet that sweat in sneakers, so they choose to wear something like Crocs instead. Whatever is going to make your feet the most comfortable is the shoe style that you should buy.
If you aren't used to wearing sneakers and go purchase a pair just to wear at Disney World, then that will be a mistake. First, your feet might retaliate and just not feel good. It would be expensive to have to purchase a matching pair of your beloved flip-flops that you left at home because everyone said, "wear sneakers." Secondly, purchasing any new pair of shoes the day before your journey starts, won't give the shoe adequate time to break in, get acclimated to your foot, and your foot time to get acclimated to the new shoes, even if it is the same as a shoe you previously have purchased. Make sure to purchase shoes a few weeks in advance and give them time to see if they are comfortable on a daily basis before you plan to wear them for many miles a day during your vacation. Nothing will ruin a trip faster than blisters on your feet. You won't be able to possibly even walk if you get blisters on your heel or toes the first day at the parks.
Support
Supportive shoes, no matter the style, are the second highest priority to find when researching footwear for Disney World.
Overall, the type of shoe you should be looking for will have plenty of arch support to support the tendon at the bottom of your foot, preventing it from working overtime. A high heel cup can also be beneficial as it will properly align your feet, ankles, knees and hips, and won't result in joint pain. Look for footwear with a toe box wide enough to let your toes to naturally splay, as this will prevent rubbing or blisters between your toes, and will even make your steps more effective.
Some shoes don't come with enough support, and that's OK as well, as long as they can accommodate a custom insole or orthotic. If you suffer from known foot health problems, just use your own orthotics, and your foot will be in the correct position to prevent any unwanted pain. It's also a good idea to plan resting time on your visit to the resort, so that your feet don't suffer too much.
Certain individuals prefer to have flip-flops, as opposed to sneakers. As long as the flip-flop has a good sole and construction, it should be fine to wear flip-flops. Many brands of flip-flops, through the years, have observed consumer's desire to have an everyday wearing flip-flop and have thoroughly redesigned them to not just be for the beach or pool.
Most flip-flops can be purchased in styles that have very thick, gel footbeds for support and comfort. Be careful to watch for blisters on the soles of your feet, as sometimes the friction of the foot sliding around on the sole will cause them. Again, nothing ruins a vacation to Disney World more than if you cannot walk, as a result of a blister forming on the foot. One other caution regarding flip-flops is: water being trapped between the skin and the sole of the flip-flop, especially if going on one of the many water features and attractions Disney World has. This can cause athlete's foot, as well as, blisters. Keep feet dry when not in a water area. Carry napkins in your pocket if you think getting to a bathroom is not going to be convenient to dry your feet at.
Breathability
Disney World is hot, due to the location and the thousands of square feet of surface area that is concrete and asphalt, two massive heat conductors. Your feet will be standing on the pavement scrunched against thousands of people and their body heat. Your feet will get hot!! It is wise to find shoes that are made of a breathable material, such as mesh if you are looking for tennis shoes, per se.
Also, try to avoid leather, as it is, usually, not considered to be one of the more breathable materials. However, leather will keep your feet drier than a mesh shoe, if you are trying to avoid being in wet tennis shoes from a water attraction. Don't let flip-flops fool you because they are open and you think they will let all of the heat out. Sometimes, flip-flops, because of the sole material, will be major heat retainers and they will burn your feet up.
Some of the models listed above are closed styles, but have moisture wicking linings which can do a great deal in helping prevent overheating, as well as odor build up. In addition to getting such a product, you should also consider the type of socks you wear. Investing in a pair of moisture wicking running socks can actually keep your feet cooler, and may even help prevent blisters.
Traction
Traction is important when selecting a shoe for most occasions. You will find yourself walking on many different surfaces, some could have water on them and some might not. Bathrooms, carpeting, concrete, etc. all have different textures and falling while at the Happiest Place on Earth, won't make you a happy camper. You could end up in the hospital with a broken body part.
Some of the rides will have water aspects. Having a shoe with at least some traction pattern will possibly prevent a fall and injury. You do not need a high traction, as if you were going to be in the snow and ice, but it is best to find a shoe with a tread design that will not make the sole of the shoe slick.  It is a good idea to test the shoe out on different surfaces and in different weather elements before going to Disney World. Make sure that you are confident in walking on slick floors and water before your trip.
Shock Absorption
Although you may not think much about the amount of cushioning needed for long days of walking and standing, it's inevitable that a full day at the Florida entertainment complex will be a strain on your feet, even if you're in top physical shape. Walking on hard surfaces can generate a lot of force, and when it all adds up, you may find yourself suffering from pain in your ankles, knees, hips or back. All of this is even worse if you already suffer from certain podiatric problems such as flat feet, plantar fasciitis or heel pain. To ensure your family adventure isn't spoiled by pain and fatigue, a good choice of footwear is essential.
Some of the models on this list were chosen exactly because they offer generous amount of cushioning underneath the foot, protecting you from the force. With shock absorbing technologies located in the midsole and insole of shoes, you'll easily choose the option that works best for you.
For the most basic amount of shock absorption, go with a simple sneaker with an EVA midsole, or one of the sandals listed above. If you want something more protective, opt for a running sneaker, as it'll be more likely to keep your feet comfortable, but will still allow a good amount of breathability that won't make you feel like you've put your feet in a pot of hot water. Finally, if you suffer from foot health issues, you may want to splurge on a maximalist model such as the Brooks Glycerin that'll surely comfort you while walking long distances, and will even offer a good amount of support so that you are perfectly aligned and pressure is distributed evenly.
Do note, however, that foam materials will lose their cushioning abilities when wet, so we would advise that you let your shoes dry thoroughly at the end of each day. Remove the insoles and put them in a well ventilated place away from direct sources of heat. This way, you should have dry footwear in the morning, and it'll do a good job at comforting and protecting your feet.
Top 10 Shoes for Disney World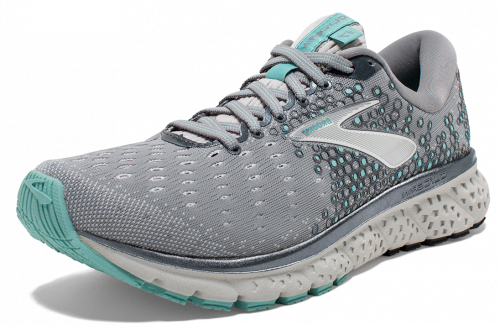 Brooks runners are synonymous with support, comfort and style. The quality of their construction is unmatched by even the biggest names in athletic footwear. The Brooks Glycerin 17 is a popular update to previous version, featuring unique technologies and features, such as a 3D printed overlay for a snug fit and a plush interior lining offering unparalleled comfort and durability.
The Glycerin 17 fits like a glove, thanks to the aforementioned 3D printed overlay, ensuring it conforms to the unique shape of your foot. A padded tongue and collar add comfort to a shoe whose midsole features DNA LOFT technology, further augmenting the support of the wearer. A durable, rubber outsole provides excellent traction to avoid nasty falls or twists.
What is so unique about the Glycerin 17 is Brooks' IDEAL Pressure Zones, which systematically take shock and disperse it away from your body. This allows you to run farther and faster, without adding undue pressure on your feet. Transition Zone technology makes sure your foot is completely supported throughout the gait cycle. If you are serious about running or walking or anything in between, grab a pair of Glycerin 17s right away.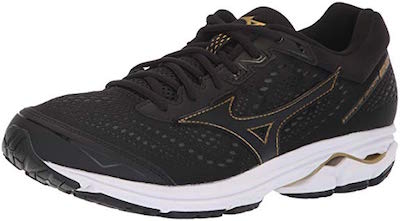 Although originally intended as a neutral road running shoe, the Mizuno Wave Rider 22 is an excellent choice for anyone looking for something utterly comfortable to wear on a long day of walking. Made with some of the best cushioning in the industry, it'll keep fatigue at bay, your heels protected, and the entire foot securely locked in but comfortable thanks to the engineered mesh upper that's highly breathable and does great with excess moisture.
An extremely lightweight material used in the midsole of this shoe gives you plenty of cushioning and impact protection without creating bulk or unnecessary weight that would make you stop early because you're feeling tired. The heel portion is even softer, which is great for anyone who tends to land hard on this part of the foot.
The sole of the Mizuno Wave Rider 22 features a Cloudwave shock dispersion system that mimics the natural motions of waves and helps draw force away from your feet and legs while walking. What this will result in is less muscle fatigue and joint pain, and can even be a great option for those who experience back pain from lots of standing.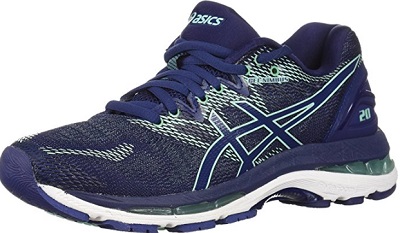 Asics are legendary for a supportive and comfortable walking shoe. The Gel Nimbus ranks high for both characteristics, as well as, for being durable. The shoe gives a responsive and flexible step each time, thanks to a FluidRide midsole that quickly absorbs impact and helps the feet from feeling the fatigue. This shoe will be perfect for walking the many miles at Disney World with its mesh upper. It will help your feet stay dry and comfortable.
Two strategic placements of a gel cushioning system in the rearfoot and forefoot mean this shoe is made to take the impacts. Those gel spots will absorb the force from your steps and prevent the energy from going into your legs, keeping your feet comfortable all day.
The arch of the foot must be properly supported, in order for the whole foot and step process to be correct. If the arch is not supported correctly, over time, the bones of the arch can break down and, eventually, collapse causing long-term problems. The arch of this shoe is reinforced in the midsole and shaft to ensure your arch is cradled nicely.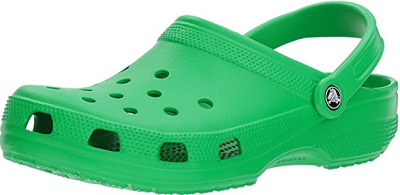 The Classic Clog, by Crocs, offers a roomy interior with a massaging footbed. They are lightweight and offer many ventilation holes to keep the feet cool. They can, also, help to drain water away and the shoe dries quickly. The Crocs Clog style is odor resistant and buoyant in the water, meaning they float to the top of the water.
Sometimes, shoes that are clog style offer no support on the heel and your feet move around. The Croc Clog has a heel strap that helps securely hold the foot into place.
Patented foam design, by Crocs, is lightweight and durable. It feels great and supportive underfoot while being easy to clean and fast drying. It feels like walking on air and provides all-day support.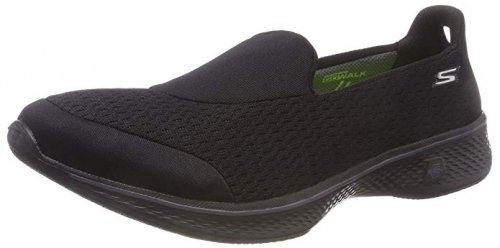 Skechers has always made quality products that look great and are very comfortable. The Go Walk 4 Slip-On is lightweight and breathable, so perfect for all day long wear. Your feet are strongly supported with the Resalyte midsole that reinforces both the shaft and arch support. These shoes will be great for preventing leg and foot fatigue. The shoes, also, dry fast, as the upper is made of mesh.
This feature will prevent these from retaining odors and growing bacteria. That will help keep your feet protected against germs and harmful bacteria, such as athlete's feet. The quick-dry, antimicrobial insole means no time for moisture to stay trapped against the foot.
You will feel like you aren't even wearing them when you wear these Skechers. These are so soft and lightweight you will think you have only socks on. They can be worn with or without socks for personal choice comfort.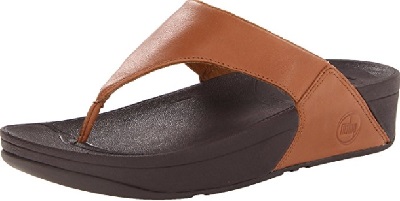 The FitFlop is a nicely engineered flip-flop where nothing is unnoticed. The lining of the strap is leather for a soft feel against the skin. The sole is a sturdy, slip-resistant rubber that is, also, easy to clean. The shoe, itself, has been shown to promote optimal foot health by getting the APMA Seal of Acceptance. The midsoles have an anti-wobble technology to make anyone that wears the FitFlop feel secure while walking.
The seamless integration of the arch contour means the footbed of the shoe is going to cradle the foot and support the arch. Proper arch support is a must for overall good foot health and to prevent the arch from collapsing.
Some people worry about flip-flops as being slick. However, FitFlops are designed with that in mind, so they have a strong, slip-resistant traction outsole that helps prevent slips on wet surfaces or any other rough terrain.

7

. Skechers Go Walk Pizazz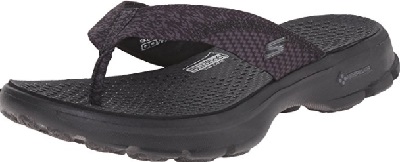 Skechers has put athletic walking flip-flops on the map with these shoes. They are so soft and comfortable while being responsive and cushioning. The flip-flops are lightweight, and dry quickly should they get wet. They are good for walking long distances and on wet floors. They are made with a strong midsole that cradles the foot and absorbs the impacts from walking.
Remain comfortable with this comfort and textured footbed. Your feet will feel relaxed and satisfied with each new step; not to mention, the footbed is GOga Mat® technology.
The soles of the shoe are made with multidirectional facets that help keep your foot stabilized, no matter what surface you are walking on. Feel confident in your steps if around water and preventing accidental falls and injury, due to slipping on the floor.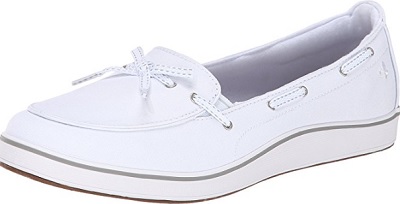 A stylish and lightweight alternative to a walking shoe, the Grasshoppers Windham is a soft and flexible slip-on that is made of canvas. It provides ultimate breathability and coolness to the shoe. The inner sole is very padded and gives a responsive cushioning to the foot. A nice tread on the sole means you don't have to worry about slipping, as they are similar to boat shoes with their traction.
A shoe that promises to whisk away excess moisture is top notch; that is, it will help the foot feel dry, even if you are sweating. It, also, dries fast should the shoe get wet from the outside. This, also, helps cut down on the chance of bacteria growing inside the shoe.
Sometimes shoes that are canvas have the tendency to cut into the ankles. These are heavily padded around the collar and the tongue to prevent this from happening; as well as, it adds more support to the ankle and across the arch of the foot.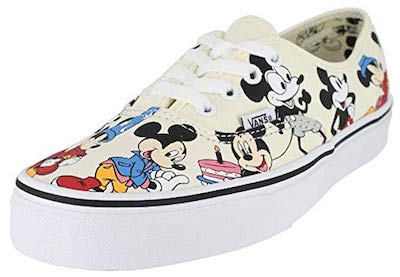 The original skate shoe is always a good option to wear, but if you're headed to the happiest place on Earth, then getting something special should go without question. Pairing up with Disney, Vans brings a range of footwear and clothing that shows off the most iconic cartoon character to date - Mickey Mouse. Choose between a white version that shows Mickey in various situations, or go with a red, black and yellow one that resembles his clothing - whichever you go with, you'll fit right in!
Being a pair of sneakers made for skateboarding, the Vans Authentic brings plenty of performance features you'll benefit from, including a vulcanized rubber waffle outsole that has some of the most durable traction you can get in any pair of footwear. It's lightweight but protective, and offers just the right amount of bounce and cushioning. Want a bit more softness underfoot? Add a custom insole and you'll be ready to go!
Sturdy canvas that allows your foot to move naturally, as well as to breathe is hard to find, especially in sneakers which are mostly made with flimsy mesh and knit. The Authentic has an abrasion resistant upper that'll last for years, and that'll be easy to keep clean whenever you feel like your footwear could do with a little bit of freshness.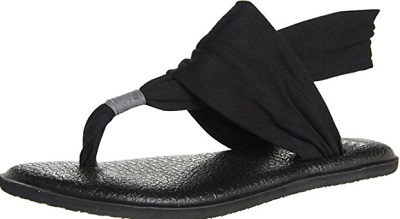 Your feet will thank you for the moment you slip into them, as they are super comfortable and amazingly supportive. The Sanuk Yoga Sling 2 is made of a yoga mat for the footbed and a soft cloth for the straps that are incredibly comfortable against the skin. Easy cleaning, by placing them in the washing machine, they adapt to your foot for a cloud-like support.
Unbelievably comfortable and soft, the footbed is made from the same material as yoga mats. It helps to relieve stress on the feet and joints, by absorbing the energy before it goes through your feet; nice spring back and supportive feel.
Making the straps out of a soft cloth material allows the feet and ankles to not be chaffed by a strap that could agitate the skin, such as vinyl. The straps have a bit of giving to them, so if your feet swell, the straps will stretch without feeling tight.

Subscribe to our Newsletter