Best Stride Rite Shoes for Toddlers Reviewed & Rated
In a Hurry? Editors choice: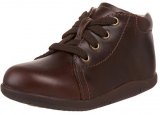 Test Winner: SRT Elliot

Infant and toddler shoes are anyone's weakness. Those teeny-tiny feet melt your heart, don't they? It's hard to believe that they can be so small! The only downside to shoe shopping for your knee-knockers is that a lot of the time their size isn't in stock at the store. Plus, the selection is always limited to certain types and styles, and it can be hard to figure out which ones will last the longest and be comfortable.

Fortunately, we're here to rescue you from the endless looking for a pair of great shoes for your little one. Behold Stride Rite, one of the leading brands of toddler footwear. Check out our list of top ten Stride Rite shoes and walk away with one or more models that will make your child the happiest they can be!
Standout Picks
Criteria Used for Evaluation
Outsole
A flexible, non-marking outsole with decent grip should be your top choice.
When a toddler throws a tantrum or is just plain tired from walking around the store, they can drag their feet like no tomorrow!
Imagine this: it's a family day at the YMCA or there's an event at the museum, so you decide to take a day to get out of the house. It's clear that you'll choose to leave in the early morning when your toddler has just woken up and is ready for adventure. So, you go but it isn't too long before the complaining and whining start about being tired and not wanting to walk anymore.
It's a common courtesy that scuffing up polished floors is rude and you want to avoid having your kid leave a trail of skid marks all the way through the building, so opt for footwear that is designed with a non-marking outsole. That's why many Stride Rite shoes are so popular with parents!
Slippery floors are a bopping toddler's worst enemy if they don't have proper footwear. Their balance and ability to correct a misstep haven't quite been honed yet and if they have a pair on that can't grip the floor then a tumble is bound to happen!
Look at some of the options on our list and notice how pairs like the Elliot bootie have little pods on the sole. These rubber pods are called "sensory" nodules to help your kiddo stay grounded and feel more natural for them to walk around in.
As we've already said a few times, very small children can have difficulty walking around in their sneakers since they can't feel the ground under their feet. Due to this seemingly small factor, it can affect their gait and cause a fabricated type of movement.
If you get the SRT SM models, they will encourage a natural walking style because the deep grooves in the outsole help the shoe bend with the arches of the foot. There's less chance that your mini-me will develop knee and back problems later in life if they have high-quality shoes at the start.
Materials
Materials should be soft, durable, breathable and easy to take care of!
When shopping for children's footwear, one of the first things you will want to consider is the type of material used. While they do grow fast and tend to be harsh on their sneakers, it's important that you don't make sacrifices on the quality of components used in construction.
Different types of use and occasions will require different materials, but there are some things that are universal in making a good design for children:
The upper of the shoe needs to be made with a type of material that is soft yet durable. Leather and suede are always a good choice, but so is textile. If you go with synthetics, you need to ensure that they allow proper air circulation and temperature control in order to prevent sweating and bad odors.
The lining used is crucial in ensuring the health of your child's feet. It is best to go with materials that are breathable, such as mesh and textile, and you will ideally opt for moisture-wicking versions that prevent sweat from accumulation inside the shoe (which is the thing that leads to bacterial overgrowth and smelly feet). You should also try to invest in models that have padding around the more sensitive areas such as the heel and top of the foot.
Consider maintenance before shopping. Stride Rite offers both genuine leather as well as synthetic versions of their footwear, but keeping them clean is quite different. If you want something fuss-free, opt for one of the machine-washable models. If, however, you're looking for greater durability and a more premium product, invest in leather, but be prepared to take proper care of it.
Comfort
Uppers that don't cause irritation, the right fit, and cushioning should be a priority in terms of comfort.
What adults often don't realize is that children's feet are more sensitive than our own. With this in mind, it is extremely important to look for footwear that is highly comfortable and that provides the best possible fit.
There are a lot of factors that go into this. One of the most important, the materials used, has already been mentioned above, but there are, of course, other things you need to look out for as well.
The type of construction used will heavily influence how your child feels about their new sneakers. Before purchasing, we recommend checking the pair for exposed seams or tough spots that could cause irritation. Many of the models listed above have a seamless construction, which is ideal, especially for toddlers.
Get the correct fit. Not only does this mean not wearing sneakers and flats that are too small, but also not sizing up. Some of the items listed above come in wide sizes as well, and these are highly recommended for those children who have chubby feet, or who need orthotic inserts.
Although shock absorption isn't a priority in this type of product, a soft insole is still a good idea. Most Stride Rite shoes have a memory foam insole that provides soft cushioning, without going overboard and altering the natural walking movement of your child.
Use
Decide what styles you will get based on where your little one will be wearing their Stride Rite shoes.
This may go without saying, but not all footwear is suitable for all occasions. While there's no need to always have a huge number of shoes available, you should try to invest in a couple of key pieces that will serve different purposes.
Most toddlers will do well enough with one or two pairs they can wear on a daily basis. Whether you go with a more athletic look or prefer to keep things dressier is completely up to you, but do keep in mind that you can't really expect them to take good care of their dress flats.
When it comes to everyday use, it is recommended that you opt for a durable and versatile model that is easy to keep clean and that feels comfortable.
As for more specific conditions, such as beach visits or wet/snowy weather, you will need to invest in something that was made for that type of use. Summer use will require you to pick thinner, more breathable materials, and if you expect to be around water, it's good to go with ones that dry quickly.
Winter and fall, on the other hand, will necessitate a higher level of insulation and a waterproof construction that will help keep your child dry and warm.
Value
In terms of value, there is nothing you should worry about when it comes to this brand.
Finally, there is the matter of value to consider. Value has a lot to do with the price tag of a design, but its cost is not the only thing that defines its worth. Rather, value is determined by the relationship between cost and quality. It answers the question of whether or not you were right to invest money in a certain product; whether it was worth it in the long run.
For a design to be valuable, it first needs to be wearable. Buying something and then just keeping it in the wardrobe because it causes blisters or is too tight or too loose or develops a smell or something else entirely is just as good as throwing money out the window.
Secondly, you want it to be durable as well. A pair of shoes that fall apart in three days is definitely not worth the purchase. Even worse if they fall apart once the deadline for return passes.
It would be best if you could get a pair of wearable, durable shoes for an average or even below-average price. Now, Stride Rite shoes come from a renowned brand, and as such, they are a bit more costly than the average kid's design.
However, with all the technologies and innovations included in their construction, and the incredible comfort and foot-feel your child is sure to love, we can't think of a brand more worth investing in when it comes to this type of footwear.
Our Favorites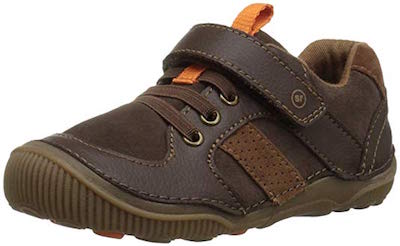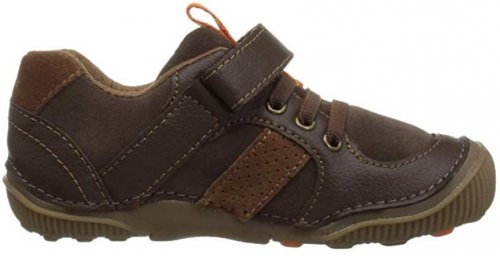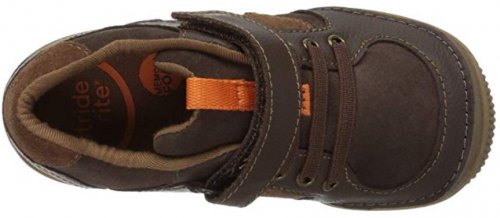 This is a pair that was developed for babies who have taken their first steps, as well as toddlers who are keen on exploring the world without being held back. The SRT Wes is a simple looking sneaker that comes in two color options - brown and blue, both of which are made with premium materials. What differentiates the Wes from similar sneakers is the fact that it comes in an extra-wide option, making it suitable for those who need orthotics.
The upper of this model is made with premium leather and suede which are durable enough to withstand daily playground visits, but still look presentable for school and casual wear. The hook and loop closure helps with the on and off process, as does the tongue pull tab. As for the lining and insole, both are made with odor and bacteria resistant materials, promoting breathability and temperature control.
The insole uses memory foam to keep your little one's steps cushioned, while the outsole uses SRTech that was developed to give children the safety features they need when making their first steps. It uses an effective traction pattern to prevent slipping and skidding without sacrificing feedback from the ground, in this case provided by sensory pods. This allows children to adjust their steps based on the surface they are walking on. The model is slightly more expensive than similar sneakers, but it's definitely a good investment for kids who are hard on their shoes.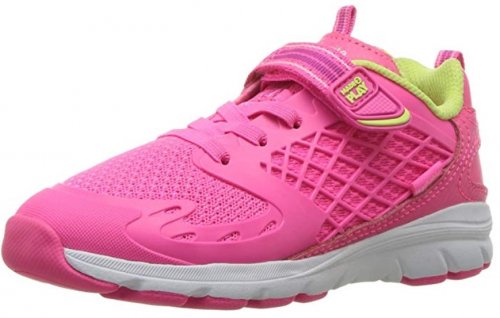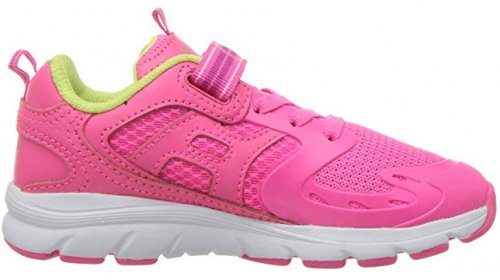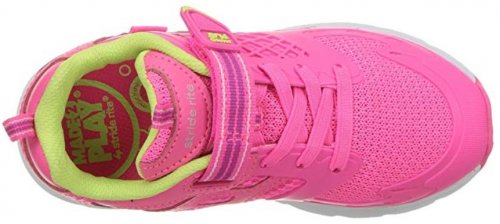 Made 2 Play models are for those toddlers that are already experts at walking and need a pair of shoes that will keep up with them in all their running adventures. The outsole has been reinforced to give traction no matter where they go so they'll never be slowed down and can keep playing anywhere and everywhere.
Dirt is kind of unavoidable, and when you have small children running amok, it is expected that your floors constantly have gunk tracked through them whether you have carpet or hardwood. With the Made 2 Play collection, though, you can cut down on the amount of mud and junk all around the house since the Cannan sneakers can be tossed in the washer with no worries of being ruined! The brand really pulled out all of the stops when they designed their M2P sneakers. Not only do they have the basics like memory foam, velcro, and rubber outsole they also have been made out of the strongest leather and mesh materials that could be found. They are basically indestructible.
Who would've thought that these super-cool Stride Rite shoes were going to be in the middle price point? It's amazing considering the high-quality leathers, rubbers, and mesh used to construct this impeccable design. Not only that but there's the whole machine wash, easy on/off features as well. They really are amazing and well worth every cent!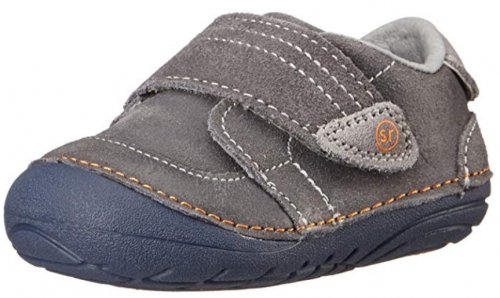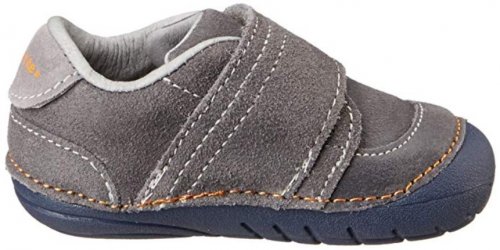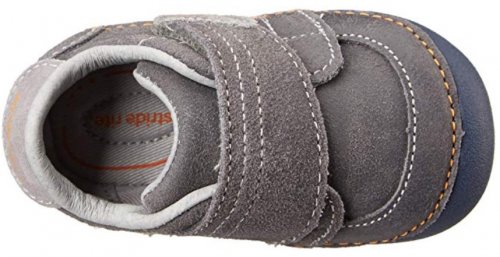 How cute are these little sneakers? A baby has never looked so stylish! These Soft Motion shoes are made from real suede with seamless construction to naturally hug your baby's foot, making them extremely comfortable, and your little one will want to wear them. This means you won't have to double back after getting halfway done with running errands when you notice one of their sneakers is missing because they took it off (oh the frustration).
What's worse; the tongue of the shoe getting pushed in or the heel being crushed down? They're both ridiculously annoying and almost impossible to avoid. The Stride Rite brand knew this was not the case; you just need to give more adjustability! So they designed their Kellen sneakers to have an extra-wide opening. You will no longer have to struggle with holding the tongue, heel, and baby's foot to get the shoes on the first try. Almost every pair of Stride Rite shoes has a memory foam insole and a rounded outsole for natural movement. No awkward steps that lead to falls, no more injuries and boo-boos.
If you're still surprised by how much more you're spending on a pair of these compared to Walmart products, let us remind you why you're paying more. Not only do you get items made specifically to make walking easier, but they're also designed to be more comfortable and handle rough use. High-quality materials are a must with this company! They will deliver nothing less, so take the plunge and see for yourself why so many parents swear by this brand.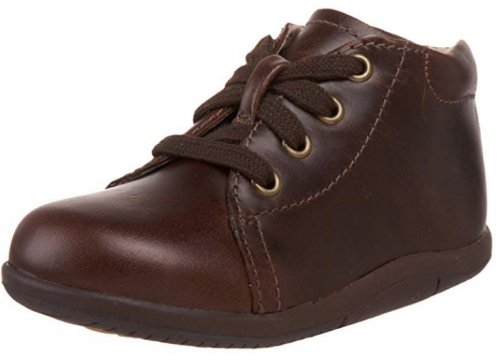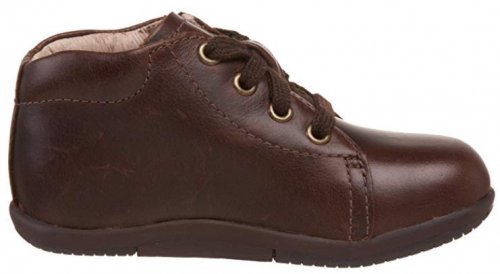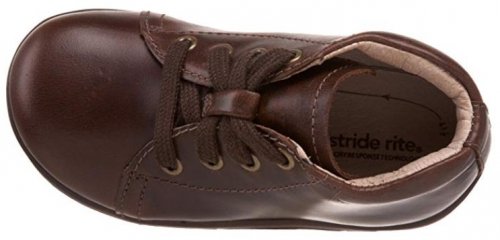 Be careful not to cringe too hard when you hear yourself say, "Oh my gosh look at these little boots!" in a high-pitched baby voice. There is just something about teeny baby (and toddler) shoes that turns off some kind of switch in our brain and turns us into mushy balls of embarrassment. You can grab a pair of SRT Elliots in classic white, black and deep brown to go with any occasion, leaving everyone fawning over just how adorable your munchkin is.
When it comes to our own footwear, we can be ridiculously picky about how they're made and what they're made out of. We should be just as picky when purchasing a pair of shoes for kiddies. New walkers have trouble lifting their foot off the ground high enough to prevent toe drag, so it's important that their shoes are really good quality to handle the abuse they will no doubt be put through. Leather can hold up quite well but it also can be easier to clean and polish.
The Elliot is specifically designed for crawlers that have recently become walkers and it has the perfect amount of flexibility to make the transition from bare feet to footwear much easier. Your little one will be running from place to place, exploring and getting into all kinds of things without so much as a second thought on where they're stepping.
Real leather, a sensory outsole, and a memory foam insole are quite the package so the SRT Elliot is an amazing deal overall!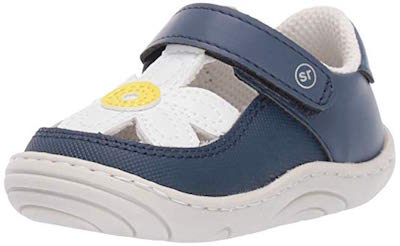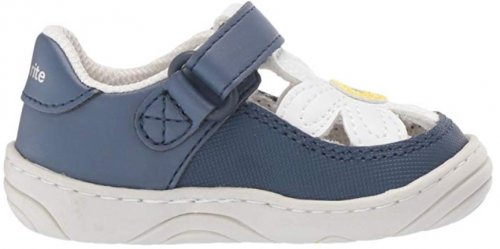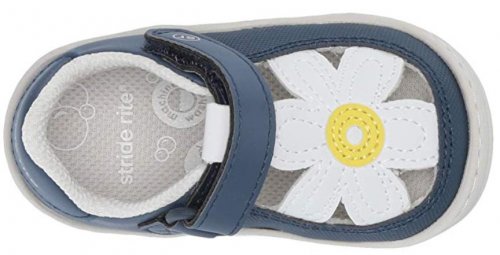 A semi-formal pair of toddler sneakers, the Daisy Mary Jane is one of the brand's cutest designs that works just as well for dressy occasions as it does for everyday wear. The model features a hook and loop strap over the top of the foot that ensures a secure fit but still allows for easy on and off. It boasts a large flower detail that makes this pair stand out from other Stride Rite shoes. It's available in three color options: navy, pink and white, and is an overall good choice for mild weather.
One of the main features of the Daisy Mary Jane is the large opening that allows little children to put on the shoe fuss-free. In warmer weather, it also aids breathability, preventing overheating, and coupled with the mesh lining and odor-resistant materials, it will keep the inside of your child's shoe bacteria-free. As most Stride Rite models, it's machine washable for easy maintenance.
The Daisy performs well in terms of comfort and stability - the footbeds are made with memory foam that's shock-absorbing and soft to the touch, while the rubber outsoles are made with rounded edges to aid the natural movement of small kids. As for cost, this is an affordable pair of shoes, around average for the brand, but seeing that it's versatile in terms of style, it's a good investment.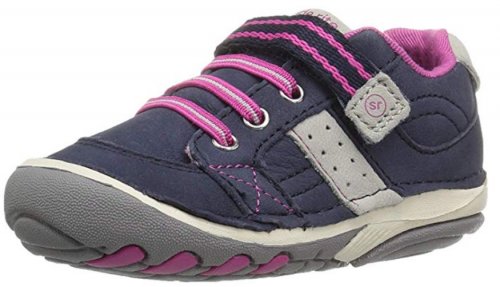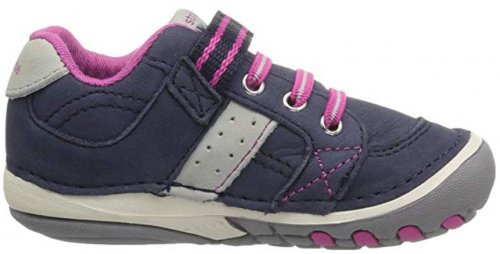 These sneakers are ideal for those looking for a casual look and plenty of functional features. Ideal for new walkers, they have a hook and loop closure and elastic laces that add security, but also contribute to the overall design. They will stay on throughout the day and will stand up to hours of playing and exploring, all the while looking incredibly cute.
Many of us have experienced the pudgy phase when people comment on how cute and chunky our kid is, and we deny that they're chunky to high heaven. Until we go to put their shoes on. Whether they were a pair of zip-up boots or velcro tennis kicks, you would get them partway closed and then couldn't force them on anymore. Stride Rite knows their target audience and makes sure their footwear can be enjoyed by all children, whether they are chunky or not.
The Artie sneaker is a model on the higher end of the spectrum when it comes to price, but don't let it scare you away because it is quite the design.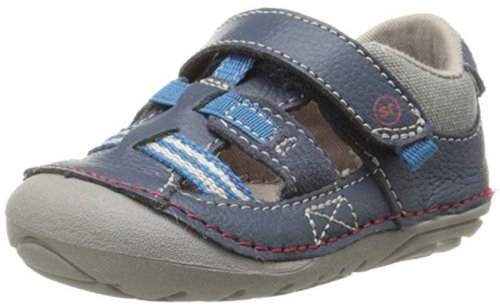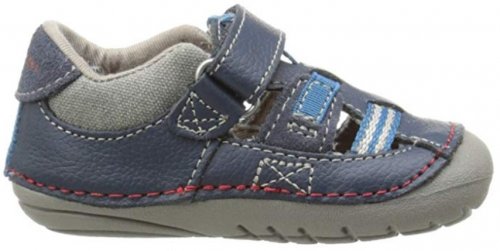 More Soft Motion? Yes! It's the number one choice among parents who have little babies that are just learning to walk because it's the closest they'll get to wearing footwear without feeling like they are. The SM Antonios completely flex with the foot for a more natural feel and are also great at helping your kiddo remain balanced (no more wobbles).
To prevent falls and injuries, it's very important you get a pair of shoes for your kid that can grip whatever floor they're walking on. The Antonio does that, making it a great choice of footwear for your walker!
You might be wondering what does APMA mean? It's an acronym that stands for the American Podiatric Medical Association. Having their stamp of approval is huge in the shoe industry because it means that those shoes are good for your foot health.
Considering how amazing the Antonio sandal is, it's a cheaper alternative to several other Stride Rite shoes. That may seem odd because they have the top dog podiatrists' thumbs up, but the whole point of their brand is to be able to provide to all kids.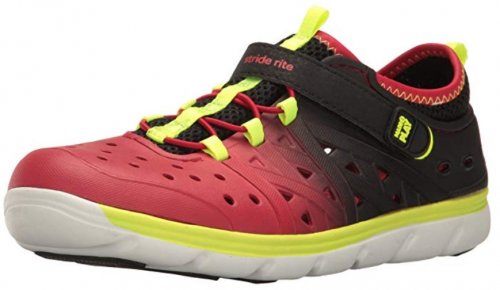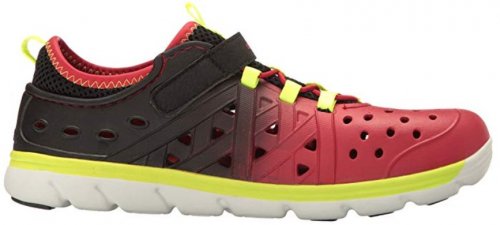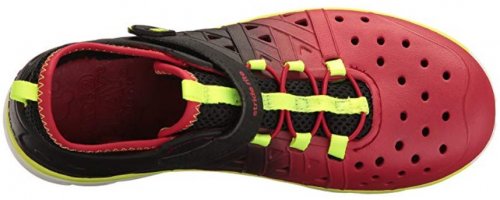 Is it a sneaker? Or is it a sandal? It's both! Although the outward appearance screams tennis shoe, the ventilation holes make the M2P Phibian qualify as a sandal. They are made from a lightweight rubber material that can handle the rugged outdoors and rough play. Once the fun is done, you can slip these off quick and easy and toss them aside where they'll dry fast and be ready for round two tomorrow.
How many shoes do you or your children own that you can toss in the wash without fear of them being completely ruined? You should get some, especially for your toddler who will get the Phibian completely dirty and smelly in no time. Can you machine wash them? Yes. Will they be like new? Yes. So grab a pair and you'll never regret it!
How else are you going to convince a stubborn kid to walk around the store with you for two-plus hours? That's why getting light-up shoes is a better choice, not only are they practically indestructible and can be machine washed, they keep your young'un (and you) entertained all day long.
Just take a good look at these! You get an EVA outsole that will keep from bogging down the little feet, and the breathable materials have been treated with an antimicrobial agent to prevent germs from building up. So you can keep the shoes clean, always, and keep them for a very long time. Just know, until they've been broken in, put socks on your kid's feet to avoid blisters!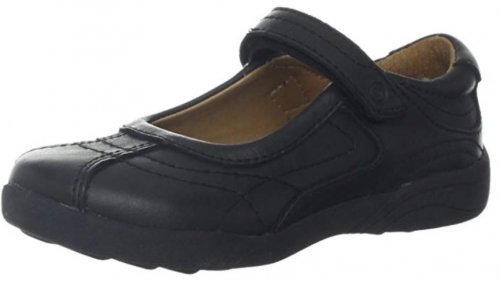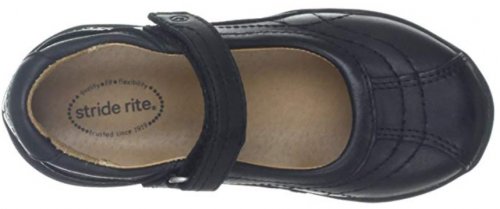 The Mary Jane style has been around for a very long time; it's a staple for any formal attire for adults and young children alike. Stride Rite made their own version of the classic design but one that's much more durable and comfortable than the older designs were.
It seems as though every pair of toddler and infant shoes out there has a thin and stiff opening that creates blisters and raw skin around the ankles. The brand makes sure every pair that you buy will be comfortable for your little one, and the Claire has a padded collar that will keep your kiddo playing until the sun goes down.
Fighting with the superhuman strength of a child when they don't want to do something or are too distracted to hold still can make putting footwear on a really frustrating part of the day. That's one of the reasons the Claire is so popular because it slips right on without little effort and closes with a single velcro strap across the top of the foot. Never be judged about your barefoot child again!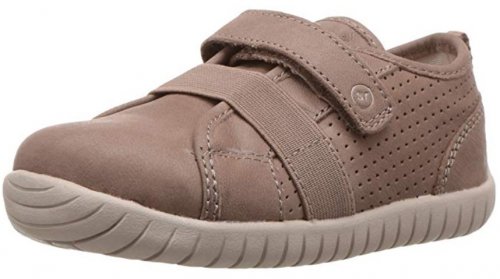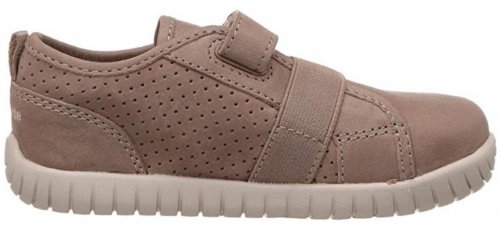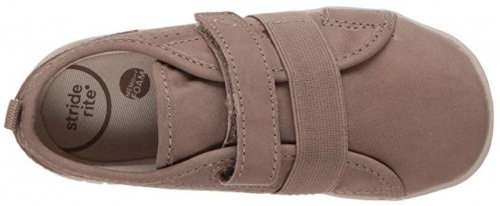 When your kiddo first starts to walk, they rely on how the ground feels under their feet. Put footwear into the equation and suddenly it is a whole different ballgame. That's why you'll be happy with this pair of Riley sneakers that are specifically designed for new walkers.
Like we just said, little toddlers can have trouble adjusting to the difference between walking barefoot and wearing shoes. With this pair though, the sole is much more flexible and has sensory pods that help feel the ground underfoot which keeps your kiddo on their feet.
It can be quite disturbing watching how incredibly flexible your child is, like how they can just twist and turn in pretty much any direction and it doesn't seem to affect them in the slightest. Their feet are no different. Meaning, their toes spread every which way and they use the entire surface area to feel the surface they're currently standing on. The design on the soles of the Riley provides a much more natural feel, thanks to the multi-directional flexibility they have. This really is a great pair if your baby can't seem to get the hang of tennis shoes (or any other kind of footwear).

Subscribe to our Newsletter