Best Stride Rite Shoes for Toddlers Reviewed & Rated
last updated
May 10, 2019
Infant and toddler shoes are anyone's weakness. Those teeny-tiny feet melt your heart, don't they? It's hard to believe that they can be so small! The only downside to shoe shopping for your knee-knockers is that a lot of the time their size isn't in stock at the store. Plus, the selection is always really limited to certain types and styles, and it can be hard to figure out which ones will last the longest and be comfortable and something your picky toddler will like. We're here to rescue you from the endless aisle stalking looking for a pair of great footwear for that screaming bundle of joy in your cart.
In a Hurry? The test winner after 19 hrs of research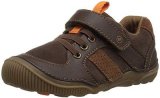 SRTech Wes
Why is it better?
Premium Leather and Suede Upper
Odor-resistant Lining
Memory Foam Insole
SRTech Sole
Great Traction
In a
Hurry? Editors choice: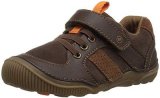 Test Winner: SRTech Wes

16
Researched Sources
1267
Reviews Considered
19
Hours Researching
20
Products Evaluated
Outsole
Materials
Comfort
Use
Value
By Default
10 Best Stride Rite Shoes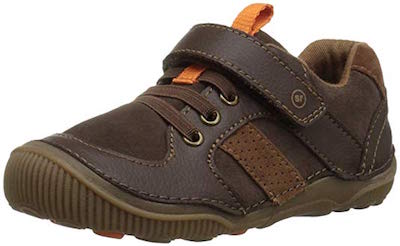 Premium Leather and Suede Upper
Odor-resistant Lining
Memory Foam Insole
SRTech Sole
Great Traction
Runs Large
Requires Breaking In
This is a pair that was developed for babies who have taken their first steps, as well as toddlers who are keen on exploring the world without being held back. The SRTech Wes is a simple looking sneaker that comes in two color options - brown and blue, both of which are made with premium materials. What differentiates the Wes from similar sneakers is the fact that it comes in an extra wide option, making it suitable for those who need orthotics.
The upper of this model is made with premium leather and suede which are durable enough to withstand daily playground visits, but still look presentable for school and casual wear. The hook and loop closure helps with the on and off process, as does the tongue pull tab. As for the lining and insole, both are made with odor and bacteria resistant materials, promoting breathability and temperature control.
The insole uses memory foam to keep your little one's steps cushioned, while the outsole uses SRTech that was developed to give children the safety features they need when making their first steps. It uses an effective traction pattern to prevent slipping and skidding, without sacrificing feedback from the ground, in this case provided by sensory pods. This allows children to adjust their step based on the surface they are walking on. The model is slightly more expensive than similar sneakers, but it's definitely a good investment for kids who are hard on their shoes.



Scuff Proof
Indestructible
Antimicrobial Treatment
Adjustable
Memory Foam
Made2Play models are for those toddlers that are already experts at walking and need a pair of shoes that will keep up with them in all their running adventures. The outsole has been reinforced to give traction no matter where they go, so they'll never be slowed down and can keep playing anywhere and everywhere.
Dirt is kind of unavoidable, and when you have small children running amok it is expected that your floors constantly have gunk tracked through them whether you have carpet or hardwood. With the Made2Play collection though you can cut down on the amount of mud and junk all around the house since the Cannan sneakers can be tossed in the washer with no worries of being ruined!
The brand really pulled out all of the stops when they designed their M2P sneakers. Not only do they have the basics like memory foam, velcro, and rubber outsole they also have been made out of the strongest leather and mesh materials that could be found. They are basically indestructible so no more buying a new pair every month because your monster destroyed their shoes again with rough play. Who would've thought that these super-cool tennis shoes were going to be in the middle price point for shoes from this brand? Heck, we thought they were going to be the most expensive pair on here but they're surprisingly not. It's amazing considering the high-quality leathers, rubbers, and mesh used to construct this impeccable design. Not only that but there's the whole machine wash, easy on/off features as well. They really are amazing and well worth every cent!



Easy-On
Flexible
Rounded Outsoles
Secure Closure
Premium Suede
How cute are these little sneakers? A baby has never looked so stylish! These soft motion shoes are made from real suede with seamless construction to naturally hug your baby's foot, making them extremely comfortable, and your little will want to wear them. This means you won't have to double back after getting halfway done with running errands when you notice one of their sneakers is missing because they took it off (oh the frustration).
What's worse; the tongue of the shoe getting pushed in or the heel being crushed down? They're both ridiculously annoying and almost impossible to avoid because shoe companies tend to think that for a good fit the collar needs to be tight and small around the ankle. The brand knew this was not the case; you just need to give more adjustability! So they designed their Kellen sneakers to have an extra wide opening, let's all do a happy dance since no longer we have to struggle with holding the tongue, heel, and baby's foot to get the shoes on the first try.
If you're after something your child will love wearing, go with this brand since they are known and adored for the fact that their products are so comfortable. Almost every pair they make has a memory foam insole and rounded outsole for natural movement. No awkward steps that lead to falls, no more injuries and boo-boos.
If you're still surprised by how much more you're spending on a pair of these compared to Walmart products, let us remind you why you're paying more. Not only do you get items made specifically to help make walking easier, but they're also designed to be more comfortable and handle rough use. High-quality materials are a must with this company! They will deliver nothing less, so take the plunge and see for yourself why so many parents swear by this brand.



lNatural Movement
Reinforced Midsole
Sturdy
Premium Leather
Be careful not to cringe too hard when you hear yourself say "Oh my gosh look at these little boots!" in a high-pitched baby voice. There is just something about teeny baby (and toddler) shoes that turns off some kind of switch in our brain and turns us into mushy balls of embarrassment. You can grab a pair in classic white, black and deep brown to go with any occasion, leaving everyone fawning over just how adorable your munchkin is.
When it comes to our own footwear we can be ridiculously picky about how they're made and what they're made out of, we should also be just as picky when purchasing a pair of shoes for kiddies. New walkers have trouble lifting their foot off the ground high enough to prevent toe drag, so it's important that their shoes are really good quality to handle the abuse they will no doubt be put through. Leather can hold up quite well but it also can be easier to clean and polish so when the asphalt leaves black skids all over you can easily get it off.
The Elliot's are specifically designed for crawlers that have recently become walkers and they have the perfect amount of flexibility to make the transition from bare feet to shoes much easier. They'll be running from place to place, exploring and getting into all kinds of things without so much as a second thought on where they're stepping. You might wonder why you should spend such a hefty amount when there's a good chance your toddler will outgrow them within a few months (sometimes weeks) but if you order up a little in size, not only will they continue to fit for a long period they will be able to handle any kind of shenanigans they'll be a part of. Real leather, a sensory outsole, and memory foam insole are quite the package so it is actually an amazing deal if you think about it!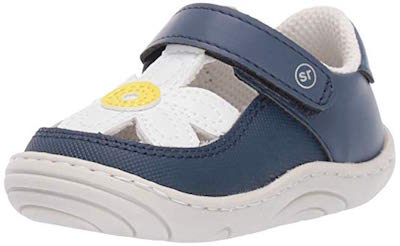 Hook and Loop Closure
Large Opening
Memory Foam Insole
Odor-resistant
Rounded Rubber Outsole
Unsuitable for Beach Wear
A semi-formal pair of toddler sneakers, the Daisy Mary Jane is one of the brand's cutest designs that works just as well for dressy occasions as it does for everyday wear. The model features a hook and loop strap over the top of the foot that ensures a secure fit but still allows for easy on and off, and it boasts a large flower detail that makes this pair stand out from similar items. It's available in three color options: navy, pink and white, and is an overall good choice for mild weather.
One of the main features of the Daisy Mary Jane is the large opening that allows little children to put on the shoe fuss-free. In warmer weather, it also aids breathability, preventing overheating, and coupled with the mesh lining and odor resistant materials, it will keep the inside of your child's shoe bacteria free. As most Stride Rite models, it's machine washable for easy maintenance.
The Daisy performs well in terms of comfort and stability - the footbeds are made with memory foam that's shock absorbing and soft to the touch, while the rubber outsoles are made with rounded edges to aid the natural movement of small kids. As for cost, this is an affordable pair of footwear, around average for the brand, but seeing that it's versatile in terms of style, it's a good investment.



Rounded Design
Flexible
Hook & Loop
Wide Opening
Padded Collar
These sneakers are ideal for those looking for a casual look and plenty of functional features. Ideal for new walkers, they have a hook and loop closure and elastic laces that add security, but also contribute to the overall look. They will stay on throughout the day, and will stand up to hours of playing and exploring, all while looking incredibly cute.
Ever noticed how tight kids shoes can be no matter how much you go up in size? For some reason or another, someone figured that all infants and toddlers have really thin and long feet. This is not the case, in any way. Many of us have experienced the pudgy phase when people comment on how cute and chunky our kid is, and we deny that they're chunky to high heaven. Until we go to put their shoes on. Whether they were a pair of zip-up boots or velcro tennis', you would get them partway closed and then couldn't force it anymore. The brand knows their target audience and makes sure their footwear can be enjoyed by all children alike whether they are chunky or not.
So depending on the sizing, prices in shoes can fluctuate. Did you ever have a friend tell you about a really good sale going on and how you needed to go because they got such-and-such for only a few bucks? Then you get there, and it's way more. That usually only happens because bigger sizes cost more thanks to the use of more materials and higher demand rate. The Artie sneaker is one of those on the higher end of the spectrum but don't let it scare you away because it is quite the shoe.



Natural Movement
Memory Foam
APMA Approved
Hook & Loop
Seamless
More Soft Motion? Yes! It's the number one choice among parents who have little babies that are just learning to walk because it's the closest they'll get to wearing shoes without feeling like they are. They completely flex with the foot for a more natural feel and are also great at helping your kiddo remain balanced (no more wobbles).
Going from carpet to concrete to asphalt can confuse a baby (even a toddler) because not only do they feel different under a barefoot, they also have a different effect on the bottoms of shoes. Ever notice how there are some shoes out there with a fuzzy-like outsole? Try walking across linoleum with those and fwoop! Your foot will slide out from under you, and suddenly you can do the splits. A little kid will experience the same, so it's very important you get a pair of shoes that can grip whatever floor they're walking on. The Antonio does that, making it a great choice of footwear for your walker!
You might be wondering what does APMA mean? It's an acronym that stands for the American Podiatric Medical Association, basically a bunch of podiatrists (doctors who specialize in foot health). Having their stamp of approval is huge in the shoe industry because it means that those shoes are good for your foot health. Seeing that your kid's shoes are certified by the APMA is huge! You can always be assured that they won't develop chronic foot, knee and back pain! Considering how amazing the Antonio sandal is, it's a cheaper alternative to several other shoes by the brand. Which may seem odd because they have the top dog podiatrists' thumbs up, but the whole point of their brand is to be able to provide to all kids. Not all parents can afford to spend a huge wad of cash on a pair of shoes, so it's nice to be able to buy a awesome sandal at an even more awesome price.



Waterproof
Slip-Proof
Ventilated
Hook & Loop
Is it a sneaker? Or is it a sandal? It's both! Although the outward appearance screams tennis shoe, the ventilation holes make this pair qualify as sandals. They are made from a lightweight rubber material that can handle the rugged outdoors and rough play of a little monster. Once the fun is done and you've just walked in the door with a sleeping toddler over your shoulder, you can slip these off quick and easy and toss them aside where they'll dry fast and be ready for round two tomorrow.
How many shoes do you or your children own that you can toss in the wash without fear of them being completely ruined? None? That's a shame. You should get some, especially for your toddler who will get these Phibian shoes completely dirty and smelly in no time. Once it's to the point that you think you need to buy them a new pair of shoes take a moment and wonder; can you machine wash them? Yes. Will they be like new? Yes. So grab a pair and you'll never regret it!
How else are you going to convince a stubborn kid to walk around the store with you for two-plus hours? You can get a pair of those squeaky shoes but you wouldn't make it halfway through the grocery trip before losing your mind and going home. That's why getting light-up shoes is a better choice, not only are they practically indestructible and can be machine washed, they keep your young'un (and you) entertained all day long.
Just take a good look at these shoes! You get an EVA outsole that will keep from bogging down the little tikes feet, and the breathable materials have been treated with an antimicrobial treatment to prevent germs from building up. Athlete's foot is real and can happen so easy you'll be shocked if it does happen. So you can keep the shoes clean, always, and keep them for a very long time (so order a size up to keep them around longer). Just know, until they've been broken in, put socks on your tikes feet to avoid blisters!



Lightweight
Flexible
Non-Marking
Easy-On
Adjustable Strap
The "Mary Jane" style has been around for a very long time, it's a staple for any formal attire for adults and young children alike. Remember as a little kid your mom always made you put on your "Sunday best" which was usually some really uncomfortable outfit with a pair of Mary Janes on your feet? Sure at the time you couldn't stand them but now you look back on old photos fondly and want to share the experience with your own kid. The brand made their own version of the classic design but it's much more durable and comfortable than the older shoes were for that reason (or that's what we think).
It seems as though every pair of toddler and infant footwear out there has a thin and stiff opening that creates blisters and raw skin around the ankles. As adults, we know this is really a painful experience and wouldn't wish it on our children, so we're on the lookout for a pair of shoes that don't cause pain because of their cheap construction. The brand makes sure every pair that you buy will be comfortable for your little, and this pair of Mary Janes has a padded collar that will keep that kiddo playing until the sun goes down.
Fighting with the superhuman strength of a child when they don't want to do something or are too distracted to hold still can make putting shoes on a really frustrating part of the day. So much so that there are times we say screw it and don't bother putting their shoes on because we're in a hurry and running late. That's one of the reasons the Claires are so popular because they slip right on without little effort and close with a single velcro strap across the top of the foot. Never be judged about your barefoot child again.



Unisex
Seamless
Memory Foam
Sensory Pods
Oh, the days when your tike stars to toddle around the house! Adventuring and exploring while learning how to use muscles they didn't even know they had (although they don't know what muscles are either so there's that). When your kiddo first starts to walk they rely on how the ground feels under their feet and when putting shoes into the equation suddenly it is a whole different ballgame. That's why you'll be happy with this pair of Riley sneakers that are specifically designed for new walkers.
Like we just said, little toddlers, can have troubles adjusting to the difference between walking barefoot and wearing shoes. They can no longer feel the differences in the ground with the nerves in their feet, basically taking out one of our main sensory aspects in the body. Touch. A middleman really dulls the senses so when that nugget goes from asphalt to rock they'll more than likely go splat. Right on the behind. You'll be laughing as they sit and wonder what the heck happened and attempt to get up but continue to slip as the rocks slide underneath their shoes. With this pair though, the sole is much more flexible and has sensory pods that help feel the ground underfoot which keeps your kiddo on their feet.
It can be quite disturbing watching how incredibly flexible your child is, like how they can just twist and turn in pretty much any direction and it doesn't seem to affect them in the slightest. Their feet are no different. Meaning, their toes spread every which way and they use the entire surface area to feel the environment they're currently standing on. The design on the soles of the Riley sneakers provides a much more natural feel, thanks to the multi-directional flexibility they have. This really is a great pair of shoes if your babe can't seem to get the hang of tennis shoes (or any other kind of shoes).
Criteria Used for Evaluation


Outsole
When a toddler throws a tantrum or is just plain tired from walking around the store, they can drag their feet like no tomorrow! Imagine this: it's a family day at the YMCA or there's an event at the museum, so you decide to take a day to get out of the house. It's clear that you'll choose to leave in the early morning when your toddler has just woken up and is ready for adventure. So, you go but it isn't too long before the complaining and whining start about being tired and not wanting to walk anymore. It's a common courtesy that scuffing up polished floors is rude and you want to avoid having your kid leave a trail of skid marks all the way through the building, so opt for a pair that is designed with a non-marking outsole. That's why many of this brand's products are so popular with parents!
Slippery floors are a bopping toddler's worst enemy if they don't have proper footwear. Their balance and ability to correct a misstep haven't quite been honed yet and if they have a pair on that can't grip the floor then a tumble is bound to happen! Look at some of their shoes and notice how pairs like the Elliot bootie have little pods on the sole. These rubber pods are called "sensory" nodules to help your kiddo stay grounded and feel more natural for them to walk around in.
As we've already said a few times, very small children can have difficulty walking around in their sneakers since they can't feel the ground under their feet. Due to this seemingly small factor, it can affect their gait and cause a fabricated type of movement. If you get the SRT SM Artie shoes, they will encourage a natural walking style because the deep grooves in the outsole help the shoe bend with the arches of the foot. This causes the original rolling and gripping movements we develop as we learn to walk but lose over time because of hard and plank-like shoes. There's less chance that your mini-me will develop knee and back problems later in life if they have high-quality shoes.


Materials
When shopping for children's footwear, one of the first things you will want to consider is the type of material used. While they do grow fast and tend to be harsh on their sneakers, it's important that you don't make sacrifices on the quality of components used in construction.
Different types of use and occasions will require different materials, but there are some things that are universal in making a good product for children:
The upper of the shoe needs to be made with a type of material that is soft yet durable. Leather and suede are always a good choice, but so is textile. If you go with synthetics, you need to ensure that they allow proper air circulation and temperature control in order to prevent sweating and bad odors.
The lining used is crucial in ensuring the health of your child's feet. It is best to go with materials that are breathable, such as mesh and textile, and you will ideally opt for moisture wicking versions that prevent sweat from accumulation inside the shoe (which is the thing that leads to bacterial overgrowth and smelly feet). You should also try to invest in models that have padding around the more sensitive areas such as the heel and top of the foot.
Consider maintenance before shopping. Stride Rite offers both genuine leather as well as synthetic versions of their footwear, but keeping them clean is quite different. If you want something fuss-free, opt for one of the machine washable models. If, however, you're looking for greater durability and a more premium product, invest in leather, but be prepared to take proper care of it.


Comfort
What adults often don't realize is that children's feet are more sensitive than our own. With this in mind, it is extremely important to look for footwear that is highly comfortable, and that provides the best possible fit.
There are a lot of factors that go into this. One of the most important, the materials used, has already been mentioned above, but there are, of course, other things you need to look out for as well.
The type of construction used will heavily influence how your child feels about their new sneakers. Before purchasing, we recommend checking the pair for exposed seams or tough spots that could cause irritation. Many of the models listed above have a seamless construction, which is ideal, especially for toddlers.
Get the correct fit. Not only does this mean not wearing sneakers and flats that are too small, but also not sizing up. Some of the items listed above come in wide sizes as well, and these are highly recommended for those children who have chubby feet, or who need orthotic inserts.
Although shock absorption isn't a priority in this type of product, a soft insole is still a good idea. Most Stride Rite models have a memory foam insole that provides soft cushioning, without going overboard and altering the natural walking movement of your child.


Use
This may go without saying, but not all footgear is suitable for all occasions. While there's no need to always have a huge number of shoes available, you should try to invest in a couple of key pieces that will serve different purposes.
Most toddlers will do well enough with one or two pairs they can wear on a daily basis. Whether you go with a more athletic look, or prefer to keep things dressier is completely up to you, but do keep in mind that you can't really expect them to take good care of their dress flats. When it comes to everyday use, it is recommended that you opt for a durable and versatile model that is easy to keep clean, and that feels comfortable.
As for more specific conditions, such as beach visits or wet/snowy weather, you will need to invest in something that was made for that type of use. Summer use will require you to pick thinner, more breathable materials, and if you expect to be around water, it's good to go with ones that dry quickly. Winter and fall, on the other hand, will necessitate a higher level of insulation and a waterproof construction that will help keep your child dry and warm.


Value
The price of a shoe can sometimes be a deal breaker. That's part of the reason why footwear manufacturers invest time and energy into creating cost-effective technologies to incorporate into their shoes to make them durable, long-lived, versatile, and inexpensive. It's especially important to look at value when it comes to kids' footwear.
Durability & Longevity
Footwear, usually, lasts more than a few months, because shoes that are going to fall apart after a few months of use aren't worth the investment of more than a few dollars. Leather and synthetic overlays can be used to make the shoes more durable without sacrificing flexibility. Firm leather or synthetic uppers provide durability and support.
Versatility
Great footwear can be used for more than one activity. Walking and running models, for example, can be used in some casual sports. Stylish athletic footwear could be used in informal work environments. Sandals can be used in casual and semi-formal settings. The more situations you can use the shoe in, the more value it offers for the price.
Maintenance
Good footwear is easy to maintain and clean. They don't require a lot of expensive shoe treatments or time-consuming upkeep. Shoes that need a lot of effort, time and money to maintain, don't sell as well as shoes which are easier and cost less to keep.
Removable inserts
As mentioned earlier, removable inserts in footwear make it customizable, but that's not the only bonus to removable inserts. Removable inserts increase the longevity of the shoe, which is why some come with removable inserts.
Cost
A hefty price tag can be a deal-breaker for people on a budget. That's why many can be found in the low-to-middle price range. They're affordable, and if they are priced a little higher than others, then they offer many features to make the footwear worth the extra investment.
Expert Interviews & Opinions
Most Important Criteria
(According to our experts opinion)
Experts Opinion
Editors Opinion
Users Opinion
By Default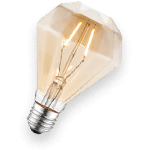 Fitting Children's Footwear
Proper fitting shoes for your little one is critical for the health of their feet, and proper muscle development to help them walk.
Make sure you have a little room in the toe for growth, but that the shoe can cushion their steps. It should fit as natural as possible to what barefoot would feel like for your child, to help muscles develop and support their walking gait.
Did You Know?
The brand was founded in 1919, and celebrates their 100th birthday this year in 2019. Check around this year for specials, discounts, or other centurian bonuses the brand may promote!
Other Factors to Consider


Bottom Line
If you've decided to invest in a pair of Stride Rite sneakers for your little one, you've definitely made a good choice. This is a reliable brand that is focused on bringing quality items to their customers, and their models are designed with comfort and functionality in mind. A large number of the items they produce are easy to keep clean and fresh, seeing that they're machine washable, while they also include a number of comfort features that make them popular amongst children.
Regardless of which of the models listed above you go with, you are sure to get a quality product that will serve its purpose well. Nonetheless, we recommend going through the pros and cons for each one, to ensure you're getting the absolute best thing for your personal requirements.


Advanced Features
Kids love getting into things and getting dirty, meaning their clothes get dirty too; especially, their shoes! Because there isn't a toddler in the world who doesn't love mud puddles, it's important to get shoes that can hold their own time after time, wear after wear. So, if you see a pair that says anti-microbial, like the Made-2-Play Cannons, snatch up a pair and you'll be grateful you did. Added bonus: your kid will be less likely to get athlete's foot and less likely to mess up your beautiful foyer.
Frequently Asked Questions
q:

Who owns this brand?

a:

The brand is owned by Wolverine World Wide (WWW), a manufacturing and marketing company based in Michigan that also owns brands like Hush Puppies and Chaco. WWW started as a small brand with big ambitions and kept building themselves up until, suddenly, they grew tenfold. They are now the owners of twelve brands that they've nurtured into large names and are licensed manufacturers for Harley-Davidson and CAT footwear. It actually wasn't until 2012 that they took over this brand, but since then they've really brought this amazing shoe line to light.
q:

Are these shoes good for infants and toddlers?

a:

When you go onto the website there are options like "girls" and "boys", but there's also "infant" and "toddler" sizes. Many of their shoes though are available in both sizing scales (so if you've got a new baby and want to match with big bro/sis they can be twinsies) but there are some that are specific to each. Many toddler shoes are much more heavy duty than infant ones and they tend to have thicker materials used to stand up to the abuse they take. Little bitty babies don't really need anything super sturdy and can wear canvas shoes that are more forgiving when baby topples over, stopping them from hurting their bum when they fall.
q:

Are the shoes washable?

a:

There are some pairs that you can just toss in the washing machine and let sit in the sun to dry. The Made-2-Play Phibian shoes have this nifty feature, so you don't need to worry about cleaning them. Now if you're wondering "well, what about shoes that aren't machine washable?", then you will have to spot clean most of the time. One of the best ways to clean a pair of shoes is to scrub them with a toothbrush and some Dawn dish soap and dry them off with a microfiber towel.
q:

Where are these shoes made?

a:

The brand is owned and manufactured by Wolverine World Wide which has all of their factories based in Michigan, along with their tanneries. It was in 1883 that a man named Krause had this dream and turned it into a reality. Starting out as a small family business and growing over the next several decades to become one of the largest corporations in footwear across the nation, WWW Inc. has been named Company of the Year twice thanks to their amazing quality of footwear and continued innovation in the industry.