Best Infant Walking Shoes Reviewed & Rated
In a Hurry? Editors choice: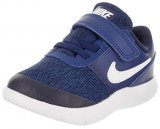 Test Winner: Nike Flex Contact

It is an exciting phase of any parent's life! Indeed, it can be scary and exhilarating all at the same time. The point when your baby goes from crawling to pulling up and then pulling up to letting go. From there, the first steps are imminently around the corner. Considering that it takes 200 muscles for a body to take a single step, that is no small feat and that's why having the right and best baby walking shoes is paramount.
It is perfectly acceptable to allow a child to walk around safe and clean areas when barefoot. While barefoot the toes are able to grip slippery surfaces better, walking outside is completely different. The perfect pair of infant
walking shoes
will provide protection, a good fit, a bit of cushioning, and comfortable experience.
Standout Picks
Criteria Used for Evaluation
Materials
When choosing the right material in walking shoes look at the pros and cons of each shoe. Sure, the cute little pair that is calling you from the shelves would look adorable with a particular outfit; on the other hand, does it serve the purpose you need it for? Does it provide the support a toddler's foot needs? Is it just aesthetically pleasing but has no qualifications to help your emerging walker?
Furthermore, everyone knows babies are messy. They drop food when they feed themselves; they have the occasional spit-up session still. Does the material of the shoe you are purchasing allow for easy clean-up? That is why when you select a material you need to look for the following characteristics of the material:
Lightweight
A material that is not lightweight could be hot and cumbersome to a baby. They will not be able to voice their opinion about the sticky shoe. You must use good judgment on the material. Feel it and place your fingers inside the shoe. If it does not feel good against your skin, it most certainly will agitate a baby. Their skin is sensitive since it has not matured like an adult's feet have. Furthermore, babies exert much more energy than their older counterparts. Additionally, you could expect them to have sweatier feet. In that manner, the babies need lightweight shoes that don't add heat to their bodies.
Also, having bulky and heavy shoes will weigh them down. Their little legs and body stature do not need clumsy baby walking shoes. Above all, it could hinder their journey in learning to walk. What's more, nine months to three year age range children need shoes not made from synthetic materials. It is best to look for linen, cotton, mesh, and others of the same standards. Even leather is a good choice. Leather supports the foot and helps keep it in position.
Breathable
Have you owned a pair of shoes you couldn't stand because they made your feet hot and uncomfortable? Now imagine, you can't tell anyone they bother your feet because you only know 2-3 words at best! Pair that with being a small child that has to wear the shoes picked for them. To put it another way, it sounds like a miserable situation. This is one reason babies pull their shoes off. They don't like shoes.
They have not adjusted to wearing shoes. It is wise to pick breathable shoes. Therefore, lessening the chance of putting the infant walking shoes back on your child dozens of time a day. Another reason to pick a breathable shoe is for hygiene reasons. Shoes that trap heat and therefore sweat, set up breeding grounds for bacteria. In fact, small children and babies are not immune to an athlete's foot disease. That is a fungal infection growing in warm, dark, and moist environments. In addition, staphylococcus, or "Staph", grows in the same environments also.
Care Guidelines
Toddlers and babies go through so many sets of clothes on a given day. You most certainly do not want to hand-wash the shoes that go on their feet. Having any time or energy after chasing a toddler all day is an old wives' tale. Make sure, when researching shoes for emerging walkers, you buy a shoe that is machine washable. Otherwise, you will find yourself scrubbing the shoes every few days. They will run through anything once they get fully mobile.
Following this, check for the material to be stain resistant. Therefore, when you are tossing them in the washing machine, you won't have to worry about the milk they spilled at lunch staining the shoes. Save the cute boutique shoes that are "Hand Wash Only" for photography sessions. Another great tip for the care guidelines is to find a material you can spot wash. Meaning, it should wipe clean with a damp rag to save you from having to wash frequently. Washing machines should be a last resort when cleaning most infant walking shoes; they can damage shoes over time.
Flexible
The last thing to check for when looking for the best new walker shoe is the flexibility of the material. Flexibility is key in promoting a child to walk on their own. They will need a shoe that can transition from the ground playing to standing in seconds. If a shoe is too rigid, it won't move with their legs and feet. Moreover, it can slow them down. If the shoe does not flex, children get mad. Inevitably that leads to their baby's first walking shoes being pulled off.
Outsole
Moving into a new stage of development, children will more times than not take a fall. It is part of the learning process. However, we need to give them all of the advantages to assist with walking. One of the most important things a child needs in first-walker shoes is a non-slip sole. In fact, almost 8,000 kids seek treatment daily from an injury sustained during a fall. Not all of these are from almost-walkers. However, if we can make the environment safer, that is the goal.
The best option for outsoles is always a rubber material with a traction pattern on the bottom which will prevent slipping and sliding but also won't pick up too much dirt. If shopping for indoor use, you can also get away with a softer sole with rubber points that prevent slipping on hardwood floors, but outside you'll want more protection.
Weather conditions should be a special consideration, as wet surfaces will require a better grip and more aggressive traction pattern. In these cases, you should look for a shoe with deeper lugs that will stick to the floor better, preventing unwanted accidents. Similarly, if you're buying summer footwear, you need to consider the heat resistance of the purchased model, as soft rubbers often won't offer suitable protection, especially if walking on pavement or in the sand.
At the same time, the baby walking shoe sole needs to have some flexibility. You should be able to flex the shoe in a rainbow shape with some ease. Conversely, if you can bend the shoe with no resistance, the sole is too soft. This will not be appropriate for a baby learning to walk.
Shock Absorption
While most people love the sound of baby footsteps on the floor, their walking shoes for babies learning to walk will require some padding. If they do not have the proper amount of padding in their shoes, they could injure the bottom of the foot. The soles of most baby walking shoes are not as thick as adult shoes. Therefore, it must have adequate padding to protect the foot.
Nonetheless, it's best not to have too much cushioning either, as it may affect the way your baby learns to walk, and how they land on their foot. Dense EVA foam, rubber, or even natural materials should do well enough. If, however, you feel like your little one requires something extra, you may consult with their doctor who may recommend special insoles that'll offer a higher level of protection.
The cushioning found in infant walking footwear also doubles as a support stabilizer. Toddlers just learning to walk are most definitely unsteady. A well-padded footbed ensures the foot lands equally with each step. Stabilization is also important in the health of afoot. The foot of any human has hundreds of tiny bones. Those bones require support in order to function properly. Further, foot development problems happen without correct arch and foot support. Through repetitive abuse over the years, adults have to sometimes seek treatment for foot pains. Start early during the foot development to ward off potential problems.
Make sure to encourage your child to walk and run around as much as possible in their walking shoes for infants, allowing them to develop a healthy musculature. Should their doctor notice any issues, they may recommend using custom orthotics to ensure proper development and the support necessary to achieve it.
Adjustability
Many options exist for the closure of a shoe. You might see hook closures, velcro, or shoestrings. In our opinion, shoe strings would be the only choice to not buy on the child's first shoe. String laces are a better choice for later on. That is not to say if your personal choice is shoestrings you should change your mind. Just know, you will be tying laces numerous times a day. However, the upside to laces is, they give you more control over the tightness of a shoe. Additionally, laces make removing the shoes for the child harder. As well, kids are closer to 10 years old now before they learn to tie shoes. Compared to the earlier age of 6 many decades ago. This is due to shoe manufacturers coming out with more creative ways to secure a shoe.
There are pros and cons to each style of shoe closure. You will have to evaluate the walking shoes for babies learning to walk based on your child and their needs. If you have a child that loves to pull shoes off, a slip-on style is probably not the best choice. By way of contrast, children with thick feet might need a shoe that expands more with velcro than just a slip-on.
Another popular option that's becoming more and more popular among manufacturers are elastic laces that don't require any tying or untying but still allow for a customized and secure fit that's easy to put on and off. This type of closure is perfect for those with chubby feet or a high instep who don't do well with buckles but tend to undo velcro closures too easily.
Fit
The fit of a shoe is the key ingredient to making a successful walker out of your crawling baby. How do you know what to look for in the fit of the shoe? Especially since the child does not have the vocabulary to tell you how it feels. More importantly, most parents have a struggle when they put walking shoes for babies on their child. The child is fussing, kicking, and sliding out of your lap.
Brands specifically tailored for children have traits that assist babies learning to walk. Their designs incorporate the flexibility, breathability, and toe box space needed for growing feet. Also, when checking the basic fit of the shoe, insert a pinky into the heel area when the shoe is on the child's foot. Your pinky should fit snugly in the space. Similarly, now is the time to feel the material against your skin. If it rubs your finger in an irritating way, it will absolutely rub the skin on the back of your child's ankle. Lastly, when your child is standing in the shoe, there should be no more than one-half inch space between the toe and the tip of the shoe. That gives just enough wiggle room. However, there is not so much space your child trips over their own feet.
Some kids are more sensitive than others, so in addition to length, you should also consider the width of the shoe, as well as whether it provides enough space over the top of the foot. If there are indentations or redness on your child's feet, it means the shoe is too snug, and you should either loosen the closure or look for a larger size or different model.
Furthermore, check whether the inside of the shoe has any exposed seams that may pose a problem. As children have more sensitive skin, that's made even softer once they've worked up a sweat, they are more susceptible to blistering than adults. For the best possible fit, you should go with a model that has a seamless construction on the inside, paired with a pair of quality socks and a proper fit.
Best Walking Shoes for Babies Learning to Walk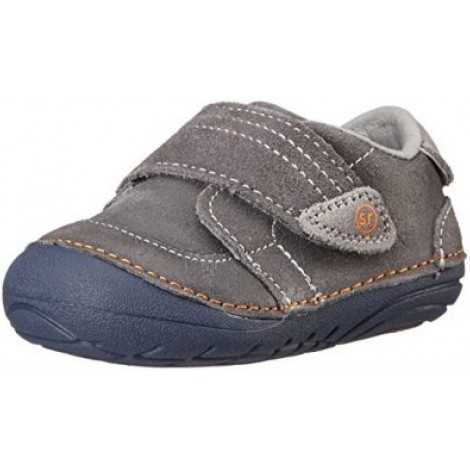 Stride Rite has been the leading manufacturer of children's footwear for almost 100 years and with good reason. Their designs are created with children in mind, and they also received the APMA Seal of Acceptance. (The APMA stands for the American Podiatric Medical Association.) The Kellen, like all Stride Rite options, has a rounded sole. This promotes balance and stability while reducing the likelihood of falls. It also comes with a flexible sole that mimics natural foot movement making them one of the best shoes for babies learning to walk.
Stride Rite knows the pain of dressing an uncooperative toddler. The Kellen baby walking shoes have extra-large openings to make sliding the foot in easy, even with a squirmy child. The opening has security to keep the foot in place and is hard to undo by a child. The sole of the Kellen promotes good stride and balance. The heel and toe are slightly rounded to teach proper heel-to-toe roll throughout the practice of walking.
Your toddler will have many experiences in the Kellan as they go the distance on little feet. This design is very durable and cleans easily which means a longer lifespan. Stride Rite is a trusted company and its footwear is of superb quality. You definitely won't regret investing your money in these walking shoes for infants!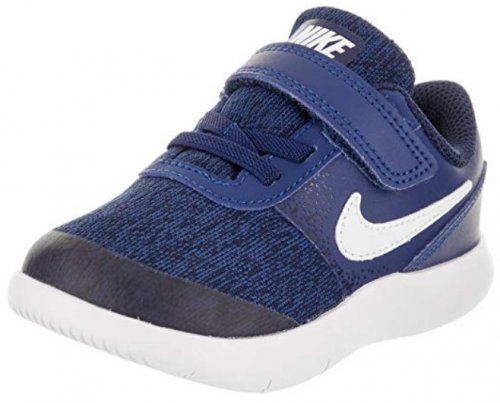 Not to be confused with the adult's model of the same name, the Nike Flex Contact baby walking shoes for infants and toddlers are here to provide your little one with everything they can possibly need to move around freely. From a stretchy knit upper to a durable foam midsole to a secure closure - this design has it all. With a brand name like Nike, you know that the quality isn't lacking, and your kid will definitely be the coolest on the block with their snazzy new kicks.
The Nike Flex Contact has a knit upper which stretches to accommodate the foot. These walking shoes for babies enable natural forefoot movement, which is crucial when one is just learning how to walk. The midsole is made from a durable IU foam which provides cushioning and a natural feel, and there are flex grooves in the outsole that don't hinder the natural range of motion. To top it all off, there is an easy hook-and-loop closure to make it easy for everyone to slide this sneaker on and off.
Truly, we can't envision better-constructed infant walking shoes than the Nike Flex Contact. It is simple, it is packed with all of Nike's signature attention to detail and comfort, and your little one certainly won't want for anything in these sporty, elastic Nike baby walking shoes learning to walk.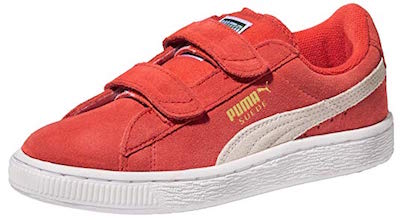 It's highly likely that you have a version of these walking shoes for infants as well, so why not purchase a pair of Puma Suede sneakers for your baby boy or girl? Perfect for their first steps, this is a stylish sneaker that'll look great as well as feel great, thanks to the quality construction and design that allow natural walking motions, providing some cushioning and support without going overboard. It comes in several simple color options, as well as extended sizes, allowing them to be worn by kids and adults of all ages.
The upper of the Puma Suede is made with perforated suede and a textile lining that allow plenty of air flow, while still providing a good amount of insulation in spring and autumn weather. The collar and tongue are padded to prevent any rubbing or blistering, while the closure includes two hook and loop straps that make on and off easy and hassle-free. The outsole of the Suede is made of non-marking rubber that grips any surface well, ensuring a non-slip experience as your little one is making their first steps. On the inside, you'll find a removable child-fit insole that allows all-day comfort, but can also be replaced with custom orthotics should your kid need a higher level of support.

The Puma Suede is definitely the most stylish option on this list. Made with great quality materials, and with a reputable brand name, with features that are meant to make your life easier, these are one of the best shoes for learning to walk and are definitely worth the extra bucks.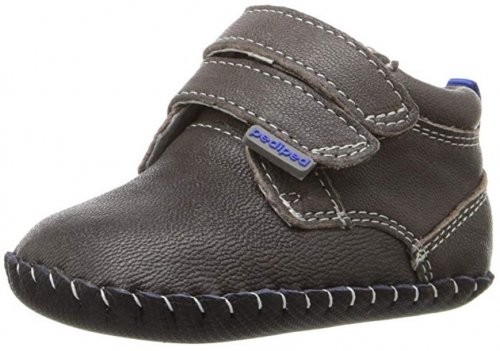 So it may not be the most attractive style out there, but the Pediped Lionel are those perfect simple walking shoes for babies when you need a reliable design to make your kid's transition to walking easier. It is made from high-quality leather materials and features technologies that were approved by the American Podiatric Medical Association for promoting healthy foot development, something that not many other options on our list can brag about, making these shoes one of the best shoes for new walkers on the market.
The Lionel baby walking shoes have a genuine leather upper and lining which is non-toxic. The bootie style makes sure that your kid's foot is supported from all sides, and there is a double velcro closure to deliver a secure and customizable fit. The Lionel comes with an Originals sole, which has a diamond leather tread, making it completely slip-resistant. Your little one can talk without a care in the world, and you don't have to worry about them slipping or skidding anytime soon.

Pediped is a brand which has been at the forefront of the children's footwear industry, and with good reason. They deliver only the best designs, created to aid little ones all over the world in taking their first steps, and the Lionel is no different. These are doctor-approved, no-nonsense best shoes for beginning walkers that will prove to be a much-needed addition to your kid's wardrobe.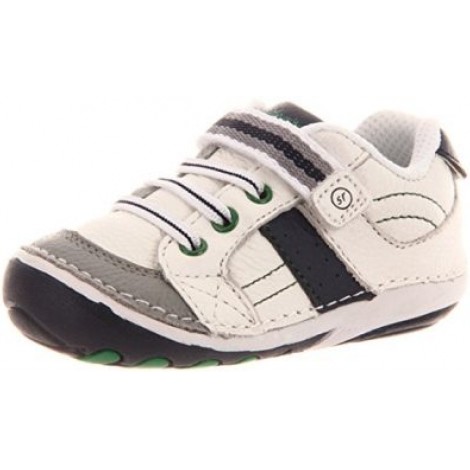 Stride Rite Footwear is specifically geared towards little feet that are learning to walk. All of their designs are outfitted with a contoured sole. This sole isn't flat so that it encourages a proper foot strike. Also, it makes a sturdy base for the foot to land on, making little walkers more confident in their new walking abilities. Finally, Stride Rite baby walking shoes are treated with an anti-microbial spray that wards off germs and bad odors.
The sole of the Artie is designed to mimic natural movements. For example, it bends with the foot when a toddler rolls it around to make a step and doesn't prevent any type of motion. A flexible sole is a must for a newly walking child. The opening of the Artie is extra wide, so the foot easily slips into it. The hook-and-loop closure makes it simpler to put these on and keep them on, as well.

The Artie is that sporty, trainer style that everyone finds comfortable to wear. Whether your little one is going to the kindergarten or to grandma's house, you know they will have the best time in the world in their new kicks. So breathe a sigh of relief, as the Stride Rite Artie one of the best shoes for babies learning to walk has your back.

6

. BirdRock Baby Moccasins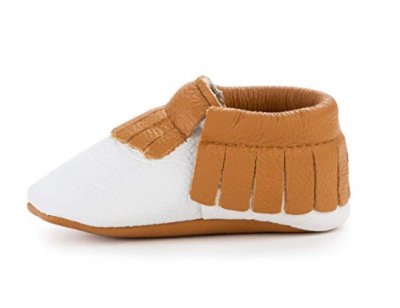 These adorable little baby walking shoes keep soft leather soles and uppers to protect your little one's feet but make them feel nearly barefoot when the baby is learning to walk. The soft sole is recommended for proper foot development in growing children, with the flexibility to help them learn balance and utilize their foot muscles for walking. Elastic band at the top helps keep this little moccasin on tight, and its cute design is backed by a 100% lifetime guarantee!
BirdRock Baby Moccasins come in a plethora of color options and design patterns, so you'll find one suitable for your little guy or gal to start practicing in. Soft soles help keep the shoe flexible and promote a nearly barefoot feel, ideal for kids just learning to walk and to use the muscles in their feet for balance and stride. Elastic closure at the top keeps the shoe firmly on your child's foot, which also makes them easy to get on and off. With all the color options and patterns, the BirdRock Baby Moccasin comes in, you can find one for your child that suits their personality. The fringed collar gives it an adorable look, and since these moccasins were made to last, they are backed by a 100% lifetime guarantee. In addition, each purchase of BirdRock walking shoes for babies donates funds from the company to children that are malnourished and in need of proper nutrition.

For a pair of walking shoes for infants, the BirdRock Baby Moccasin is about averagely priced, but you can't beat how smart of a purchase it is with the money-back guarantee and a donation to help starving children. You'll be able to feel good about making the purchase, and also watch your little one start to take their first steps in comfort! Get these walking shoes for babies learning to walk by following the link to see the best available deals.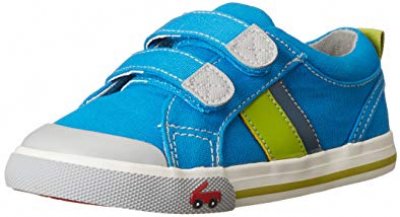 See Kai Run is a quality children's footwear brand, known for their roomy toe box and comfortable fit. The Russell baby walking shoes are a style perfect for new walkers that are ready for a more sturdy sole instead of a soft sole. A dual Velcro closure keeps them simple to get on and off and help encourage your child to learn how to do it themselves. It's a great little sneaker for kids graduating to harder soled designs.
Made from textile and synthetic materials, the Russell has a classic style combined with breathability and ease of care. Easy to wash should they get dirty from the playground, they are made for wear and tear from running and walking. The wide toe box promotes toe splay and gives room for growing feet, while a built-in toe cap with rubber protection keeps their feet safe. The See Kai Run Russell has a dual Velcro hook and loop closure, so you can have some adjustability with the fit. Easy for little ones learning to put their footwear on and take it off, it also has a heel tab to help pull them on. A herringbone outsole gives added traction and grip for playground time, while still being flexible enough for little ones learning how to walk or run.

Great for kids learning to run or walk, the See Kai Run Russell walking shoes for babies have a harder rubber sole made for the playground or active times that won't wear easily. Grippy traction helps kids stay upright, and the toe cap protects them from the occasional trip or toes stub. Easy closure will have your kids learning to put on their own shoes in no time!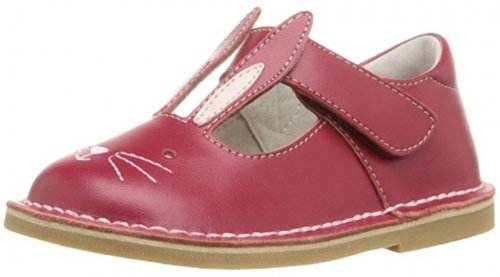 We simply can't get over the cuteness of the Livie & Luca Molly design! This Mary Jane comes with floppy ears and a bunny face embroidered on the front, a decoration that will melt everyone's heart. The unique design is not only adorable but also made from premium leather materials and constructed in a way that is perfect for the beginner walker. Treat your little one with baby walking shoes that they will definitely cherish years after they've outgrown them!
The Molly has a smooth leather upper, as well as a leather lining, which promote a healthy foot climate and provide breathability for little feet. There is a hook-and-loop closure for an adjustable fit, and the collar is padded for extra comfort. The outsole of the Molly is a so-called Flexible Path design, one which moves with the foot and makes sure that your kid takes their first steps without anything holding them back.

When it comes to baby first walking shoes, there is an abundance of heartwarming designs, and we are thrilled that the Livie & Luca Molly is one of them. This is an option that will make your little one happy, and keep them stable and help them develop a proper, well-balanced gait as they venture into the world of walking. What an amazing combination! They simply are one of the best shoes for new walkers! Our recommendation!

9

. New Balance Kids' Arishi V2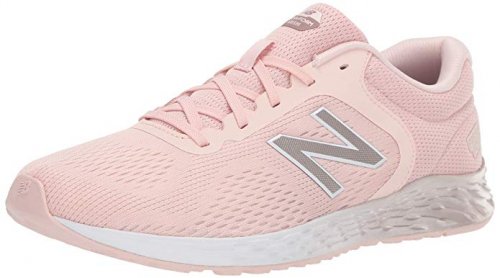 Your little one can't walk yet but watch her learn how to run the second she straps on a set of the Arishi v2 baby walking shoes by New Balance. Well, that might be an overstatement, but the features in the Arishi speak for themselves. A grippy rubber sole paired with an engineered mesh upper made to be breathable, your child can feel good and look cute, as well.
Keep your kid safe with the easy-to-use lacing system in these walking shoes for infants, knowing that the compression offered is just right. The heel is reinforced and ankle collar is cushioned for extra comfort. With colors like Alpha Orange and Rose Gold, there's the perfect pair out there for your child.
We think that when you see how cute your infant looks in the New Balance Arishi v2, you might just run out and get a pair for yourself.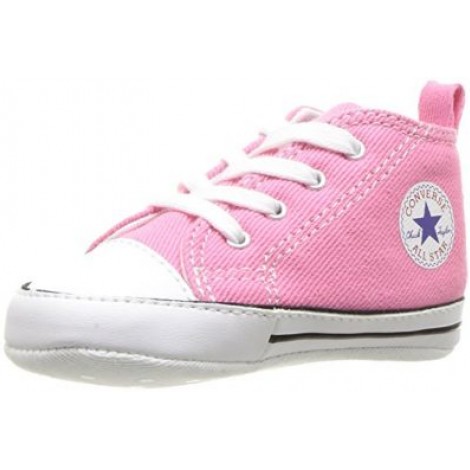 The original shoe that Converse is known for made for little feet, the Converse First Star is the classic style that goes with all outfits. This design has a synthetic sole with rubber grippers for non-slip traction. It is flexible and facilitates proper walking, and its footbed incorporates a memory foam padding for a soft stride. These baby first walking shoes are amazingly easy to put on and take off.
The canvas upper of the First Star promotes breathability and is quick-drying. Also, the canvas makes it easy to clean the design. It also gives enough support but is still flexible to accommodate regular to wide feet. An added hook and loop closure makes it harder for little inquisitive hands to take the design off. Nothing can be worse than to get home and realize you lost a shoe somewhere while shopping with your kid, and fortunately, the First Star prevents that from happening!

The First Star is a great value, as Converse footwear is revered for its quality and craftsmanship. The fact that it is easy to clean adds life to the design since you won't need to trash them when they get dirty. Now your little one can also be cool and iconic in these well-known sneakers!

Subscribe to our Newsletter