Best Long Distance Walking Shoes Reviews
In a
Hurry? Editors choice: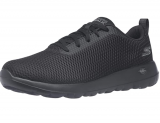 Test Winner: SketchersGo Walk Max – 54601

The physical and mental benefits of long-distance walking are huge. Whether you enjoy walking in the countryside, beach, or city, you must wear a quality pair of walking shoes. This will not only protect your feet but it will ensure you are in complete comfort so you can enjoy taking in the scenery instead of worrying about your feet.

To help you, we have selected some of the best long-distance walking shoes on the market. Take a look, you will be sure to find a pair that's a perfect match for you.

Standout Picks
Criteria Used for Evaluation
Overall Fit
Walking sounds easy when it's just down the street, but when you're spending long hours on your feet at work or hiking long distances in rugged areas of nature, your feet can tire out much more easily.
For those of us who don't have enough time to try on every pair of footwear out there, it's important to make sure the fit of the shoe is still going to be comfortable and form-fitting. A number of features affect the fit of a shoe:
Size:
You may know your size but since all walking models are created to be different, the size that may fit you in one brand may not fit you in another. When choosing the proper long-distance walking shoe, you'll want to take a close look at the shape of your feet so you can find the perfect fit.
Tightness:
Pairs that are too tight can cut off circulation to the foot and create blisters in the main points of contact. Sneakers and boots that are too loose will cause your foot to slide around in them creating a potential for blisters and sprained ankles, which is something nobody wants.
Foot shape:
When trying to find a proper fit, the shape of your foot is what should dictate the shape of the footwear. Take a look at the shape of your toes; are they squared, rounded, or pointed? The shape of your toes will help you to figure out how much space you need in the toe area. Square-shaped toes should stay away from models with a narrow toe box and may require more width in the forefoot.
Arch shape:
Along with the shape of your toes comes the depth of your arch. Walking evenly distributes your weight against the bottoms of your feet so it's important to find sneakers that fit your arch shape and provide a stable structure. Those of you with flatter feet or light arches won't need to focus too much on arch support; however, if you have deep arches, you'll want to look closely at the shape of the insole.
Comfort
Comfort is a must-have feature in any good quality shoe, but for those of you who spend long hours moving on your feet, the amount of comfort provided in your footwear will either make it or break it in terms of reliability.
While it is intriguing how much pressure your feet can withstand, it's important to provide them with the proper amounts of comfort to keep your feet healthy and happy.
Uncomfortable shoes can make your feet feel like they're screaming in pain and when spending your hard-earned money on a pair of long-distance running sneakers, you want to make sure they're reliable and provide long-lasting comfort.
The first thing people think of when it comes to providing comfort in your footwear is cushioning. Usually located in the insole of the shoe, the cushioning provides a form fit and soft, resilient feel. The insole padding helps to create ease of pressure that can become built up against the foot. Cushioning is also beneficial in other areas of the shoe as well. A padded tongue or ankle collars is also a great choice for providing a cushioned barrier between your foot and the shoe.
Comfort isn't only found on the inside, it's found throughout the entire shoe structure. Inside and outside, the shoe's materials should be durable and comfortable. Materials that are too tough can irritate your skin and materials that are too soft may not provide enough protection. Even the outsoles can provide comfort to your feet.
Since they absorb most of the impact from movements against hard surfaces, it's important to make sure the soles are sturdy and strong. Weak soles that wear down easily can cause damage to your feet and warp the overall shape of the design.
Use
Walking may seem like a simple activity with only one way to approach it, but shoe companies and athletes beg to differ.
When trying to find the best long-distance walking shoes, it's really important to consider the intended use of the shoe before narrowing down your choices.
If you're someone who stays active on their feet during long work shifts, the models listed above may be a great choice for providing your feet with extra support and comfort. For the work setting, we've included a few casual styles that stray away from the typical athletic style in our best list.
If you're looking for more of the typical outdoor shoes for walking long distances on trails or in nature, you'll easily be able to find this. Most of these styles embody the regular athletic shoe appearance with extra features like traction and comfortable cushioning. For the outdoors, your walking options are going to need to be more durable in structure and materials.
If you're walking outside, the type of surface is also going to play a large role in your experience. Walking uphill or at an incline can create uncomfortable movements without the proper footwear. Most outsoles are going to be created for versatile use on flat surfaces and may provide a lightweight grip underneath.
Durability
Long-term reliability should automatically come equipped in all long-distance walking products, but since it doesn't, it's important to take a look at the overall structure of the shoe.
A high price tag may mean they are created with higher quality but for those who are on a budget, the price needs to go hand in hand with reliability. Since most good quality walking footwear is going to be more towards the pricey side, you'll want to make sure you're getting the proper value you deserve.
Reliability can be found in many aspects of the shoe. Using materials that help to increase durability is great for creating a long-lasting structure. Once the shoe starts to wear down or holes start to form in the materials, it's recommended to stop wearing it and replace it immediately. Having ones that are built to withstand all types of use is great for getting your money's worth, especially outdoors.
The outsole is also extremely important for long-term reliability. The soles are what helps to absorb the impact against solid surfaces and are vital for providing proper comfort.
Sometimes the materials may be perfect but it's the stitching the ends the life of them. Small details like seams create a simple structure that holds the shoe altogether.
Advanced Features
Every type of walking shoe is created to be different. Each shoe comes equipped with different features that aid in the overall level of comfort.
After you figure out your intended use, it's much easier to figure out the features you need in the product. While there are some features that work well for everyone, there are also some others that are more specialized in your intended use.
One extra feature that is great for providing extra comfort and protection around your feet is padded ankle collars. This lightweight cushioning creates a soft barrier between the sturdy structure of the shoe and your vulnerable skin.
For those of you who spend most of your long walks outside, there are a few features that make for a more reliable and durable shoe choice. The first feature is waterproof materials. Don't let the wet weather or rainy seasons keep you trapped in your house anymore.
Traction is also a very important feature for those who like to hike or walk long distances in nature or off-trail. Models without any midsole or cushioning aren't going to be any good for walking on dirt paths or steep inclines.
There are a couple of other features that aren't as important for reliability but provide more of a comfortable feel or make the shoe easier to use. Shoelaces that don't need to be tied and come with an innovative pull system are great for easy on and off wear. Protective toe areas are another good feature for protecting the outer materials of the shoe and increasing durability. Last but not least, mesh ventilation is also another great feature that helps to add breathability and keep your feet cool and dry.
Top 11 Long Distance Walking Shoes
Subscribe to our Newsletter