Best New Balance Running Shoes Reviewed & Compared
last updated
Feb 01, 2019
If a pair of running shoes that are both dependable and reasonably priced are what you seek, then look no further than New Balance. A brand started in 1906 on the principle of delivering results to the many athletes that have proudly worn them. Today, New Balance running shoes are available in a wide variety of styles, from minimalist to motion control and stability,made for runners with specific needs, to durable trail running shoes which offer the best possible performance and protection. Their footwear is lightweight and cushioned, with plenty of focus given to comfort and fit.
In a Hurry? The test winner after 20 hrs of research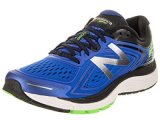 M860BG8
Why is it better?
Synthetic Mesh
Rubber Sole
Dual Density Foam Midsole
Mesh Upper
TruFuse Midsole
In a
Hurry? Editors choice: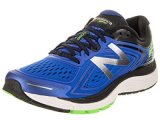 Test Winner: M860BG8

19
Researched Sources
1288
Reviews Considered
20
Hours Researching
20
Products Evaluated
Stability
Comfort
Features
Breathability
Durability
By Default
In Depth Review Top 10
M860BG8
990v4
608v4
Fresh Foam Cruz
990v3
1540v2
690v1
410v5
T410
Gobi Trail v2
Table of contents
Criteria Used for Evaluation
Frequently Asked Questions
Sources
10 Best New Balance Shoes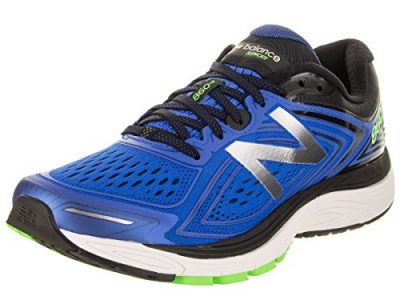 Synthetic Mesh
Rubber Sole
Dual Density Foam Midsole
Mesh Upper
TruFuse Midsole
These stability running shoes by New Balance were made for road runs, and provide plenty of support, cushioning and durability features. Available in a wide color selection, both for men and women, these shoes utilize a mesh upper for maximum flexibility and breathability that are lightweight and comfortable. The front of these shoes allows for plenty of room for your toes, so you might want to look into these shoes if you have a wider forefoot.
Read more
TruFuse Midsole
The midsole on these shoes mixes two types of foam for the absolute best results when it comes to cushioning. It's both soft and supportive, while you will be happy to hear that the section below your arch features a firmer material that will offer the necessary support for flat feet.
Blown Rubber Outsole
The outsole on these shoes is made of blown rubber, which is an excellent choice for two reasons. The first is that it provides a cushioning effect you will love for your urban jogs. The second is the excellent traction that it will provide without showing signs of wear too quickly.
Cost and Value
Costing a bit above average compared to the other items on this list, the 860v8 is an excellent choice if you're looking for a pair of stability running shoes that will work well with flat feet. Featuring plenty of support, cushioning and an improved upper made out of breathable mesh, you are bound to love these New Balance shoes.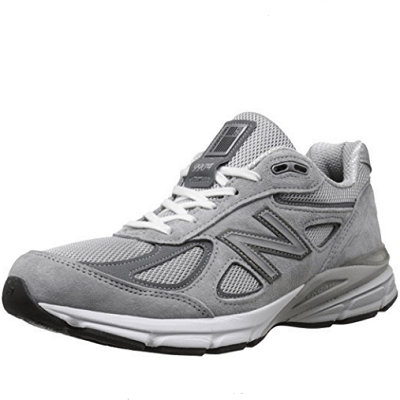 Breathable Mesh
Suede Overlays
Rubber Outsole
Dual-Density Foam Collar
The New Balance 990v4 is a stability running shoe focused on support and cushioning. It comes in a variety of colors and is proudly manufactured in the USA, ensuring you get a high-quality product for your hard-earned money. It comes with some of New Balance's best comfort and support technology, including an Encap and EVA core heel, a blown rubber outsole, and a dual-density foam collar. It isn't a flashy shoe and won't make a loud statement, but it makes up for that with great support and comfort.
Read more
Breathable Mesh
Breathability is vital to the health of your feet. New Balance's breathable mesh upper reduces blisters from sweaty, wet feet and helps to regulate the temperature in your running shoes. The leather and suede overlays provide stability and support to keep you from injury.
Blown Rubber Outsole
The outsole on these shoes is made of blown rubber which is a material often used in stability running footwear. It provides an excellent cushioning feel due to the air which is mixed into the compound, while it is also durable, and suited even for mild off-road trails.
Cost and Value
Featuring the latest available technologies in the New Balance arsenal, it comes as a surprise to find that the New Balance 990v4 is moderately priced, and is even cheaper than some of the brand's older models. Coupled with the fact that it's made in the USA, you can easily invest in this model, knowing that you're getting some of the best running shoes available in the market.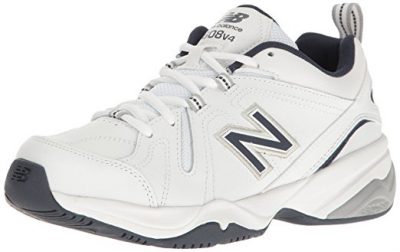 ABZORB Midsole
EVA Footbed
Dual-Density Padded Collar
IMEVA Sole
PHANTOM Liner
The 608v4 is a well rounded shoe for athletes of all sorts. The textile lining and EVA cushioned insole will keep your feet comfortable while you train for that marathon, while the dual-density padded collar and padding in the tongue provide additional comfort features that you are bound to appreciate during your next run. New Balance designed this sole with its special ABZORB padding for extra shock absorption.
Read more
ABZORB Midsole
This proprietary midsole design adds cushion where you need it while also resisting compression while you run. The result is more than adequate shock absorption for your feet and legs, allowing for a smoother more comfortable run.
EVA Footbed
While many of the shoes on this list use an EVA midsole, this shoe uses an EVA footbed on top of the extra cushioning midsole. This provides a great combination of firmness and flexibility. A great addition is the seamless PHANTOM liner which allows for even pressure distribution over the entire foot.
Cost and Value
Despite being one of the highest rated shoes on this list, the New Balance 608v4 is also one of the cheapest models by this brand. It's a shoe which offers all of the comforts of a high-end running shoe, without the downside of costing a small fortune. You will especially love the fact that these shoes are also suitable for everyday wear when you need to be on your feet for prolonged periods of time.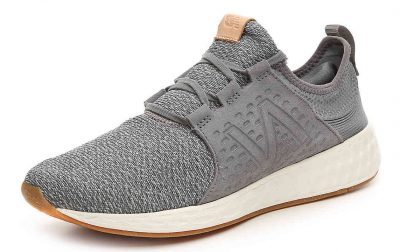 Breathable Knit Mesh
Slip-On Design
Cushioned Footbed
Rubber Sole
Not Very Durable
Sizes Run Small
These neutral running shoes were made with superior cushioning in mind, allowing you to enjoy the benefits of a shoe that is flexible, lightweight and provides excellent shock absorption. The flexible heel allows you to just slip these on, and the loop will help with an even easier on and off experience. The knitted mesh upper is a well-loved feature as well, seeing that it will adapt better to a wide variety of foot shapes and sizes.
Read more
Gum Rubber Outsole
With an outsole made out of gum rubber, you will be getting a pair of running shoes that are perfect for road runs. These shoes will give you excellent traction, ensuring that you are not just comfortable, but also safe during your daily run.
Fresh Foam Midsole
New Balance's Fresh Foam technology gives the user both cushioning and responsiveness, ensuring a superior feeling shoe that provides excellent shock absorption, especially in the heel area where most runners are likely to strike during their landings.
Cost and Value
The Fresh Foam Cruz is an affordable pair of running shoes that you will be more than happy with if you don't require too much arch support, and are happy with cushioning that is not too thick in the forefoot area. Coupled with the stylish knit upper, the Cruz is an excellent choice.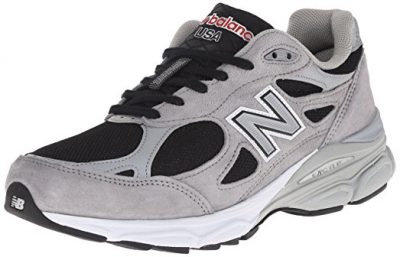 Classic Style
Encap Midsole
ABZORB Cushioning
NDurance Outsoles
Reflective Markers
A classic design with all of the features of a modern running shoe. The New Balance 990v3 is a pair of running shoes that features the best of New Balance technology and is suitable for runners with a variety of issues including flat feet, overpronation or plantar fasciitis. It's a lightweight shoe with ABZORB and Encap midsoles, NDurance rubber outsoles and softly cushioned collar and tongue. The reflective details on the upper ensure a safe run even if you choose to do it at night.
Read more
Suede and Mesh Upper
By strategically mixing and matching suede and mesh the upper of the 990v3 retains that classic look and protection of an old-school running shoe while also remaining as cool and breathable as newer designs.
ENCAP Midsole
These shoes feature a midsole core that fills a solid polyurethane frame with soft EVA cushioning. The core is focused under the heel, leaving you with a little extra spring in your step.
Cost and Value
The New Balance 990v3 is one of the rare examples of when an older version of a running shoe is more expensive than its latest update. With classic design features and incredible performance, this is a pair of shoes that are well-worth investing in, especially if you suffer from any foot-related issues such as plantar fasciitis.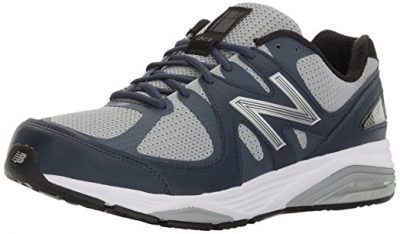 Rubber Sole
Foam Collar
Fabric Lining
Polyurethane Insert
Designed for runners who have a severe tendency towards overpronation, the New Balance 1540v2 is a motion control running shoe that focuses on providing you with all the necessary help to achieve your personal best. The motion control running system is spearheaded by a dual layer of padding in the midsole and the roll bar support system in the heel. The no-sew design along with the breathable mesh tops and the padded tongue and collar will keep your feet from ever wanting for comfort. These shoes may even be eligible for Medicare reimbursement.
Read more
Roll Bar Support
Specially designed to reduce the movement of the rear of your foot while you run, this is a perfect shoe for someone who is just starting out or someone who needs a little help with their form.
Motion Control Design
While a little pronation is natural if your ankle rolls too far you can seriously hurt yourself. Do you have a problem with overpronation? Not anymore you don't. These shoes were designed to help prevent your feet from rolling too far while you're running.
Cost and Value
These are some of the pricier shoes on the list, but paying a little more for shoes that can help prevent shin splints or plantar fasciitis will save you both literal pain and money in the long run. It is well worth paying the extra money up front.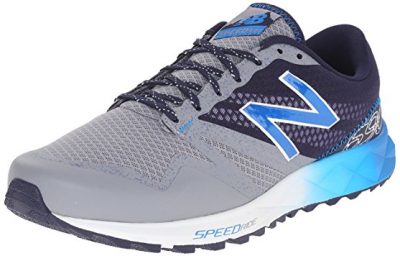 Gusseted Tongue
IMEVA Sole
AT Tread Outsole
No-Sew Upper Shoe
Inconsistent Color Patterns
A modern trail shoe for a modern trail runner. No longer does the trail runner need to sacrifice functionality for fashion. As with all the New Balance trail shoes on this list, these shoes have AT Tread all-terrain outsoles. The colorful no-sew uppers prevent the annoying sensation of shoe seams rubbing against your feet as you run. Your feet will be as comfortable as ever when you run on these IMEVA foam midsoles.
Read more
No-Sew Upper
The upper section of this shoe was designed to fit together without any need for sewing the pieces together. You'll have no seams to hold you down.
Gusseted Tongue
The gusset on this tongue helps keep debris from finding their way into your shoe while you run. This is especially important while running on a trail. Nothing is worse than having to stop every few feet to remove pebbles from your shoes.
Cost and Value
Powerful and stylish shoes are hard to come by, especially at a price as low as this one. If you're in need of a trail runner, you'd best snap this one up before New Balance realizes what a terrible mistake they've made.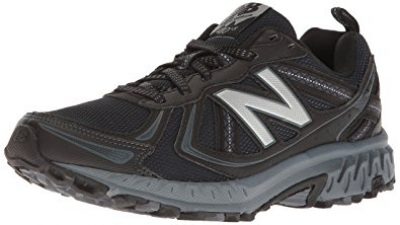 ACTIEVA Midsole
AT Tread Outsole
Breathable Mesh
Removable Footbed
Narrow Toe Box
Non-Reinforced Eyelets
Another pair of trail running shoes that are versatile enough for both on and off-road running, the latest edition of the New Balance 410 provides plenty of features that will make you want to wear them on all your runs. With a comfortable mesh upper that has a seamless design, the synthetic overlays that add stability, and the toe protector that improves their durability, the 410 is a great choice for anyone looking for a high-quality pair of trail shoes.
Read more
ACTIEVA Midsole
The midsole found in these shoes is made out of compressed ACTIEVA material which provides stable cushioning that's 24% lighter than standard compressed EVA midsoles. This means that with the 410v5 you're getting a lightweight shoe that won't cause too much fatigue during your jogs.
Synthetic Overlays
On top of the breathable and flexible mesh which makes the upper of these shoes are synthetic overlays that provide lateral stability and protect you from suffering injuries such as rolled ankles.
Cost and Value
These shoes are quite affordable and are a great choice for users who are just getting started with running. If you want a shoe that will work well on all surfaces, and that provides good support and cushioning, then the 410v5 is a great option for you.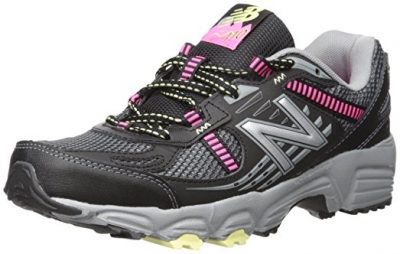 AT Tread
XLT Footbed
Leather and Mesh Overlay
IMEVA Midsole
A smart trail running shoe with a classic style, the T410v4 strikes the balance between comfort and protection. The ghillie-style lacing will keep the shoes from slipping off your feet while the AT Tread will keep your feet from slipping out from under you. Strategically placed mesh and leather will keep your feet cool but protected from the perils of the trail, while the foam insole and XLT Footbed will keep your feet feeling comfortable.
Read more
Stripe Overlay
This trail shoe was designed with durability in mind. While there are gaps where the mesh shows through, this shoe is constructed from strips of tough leather. It doesn't sacrifice protection for breathability.
All Terrain Outsole
The rugged outsole was made to be worn on any terrain. The deep lugs will allow you to get superior traction on any terrain, while remaining comfortable enough to wear for everyday use as well.
Cost and Value
These shoes do tend to run on the more expensive side for New Balance. While the price may be a little higher than the other shoes on this list, they are still worth looking into if you're looking for a trustworthy trail running shoe.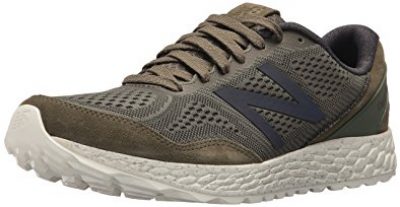 AT Tread Outsole
Gusseted Tongue
Rubber Sole
These shoes are the upgraded version of last year's Gobi Trail model, made for runners who need a shoe that will perform both on trail runs as well as everyday walks. It's lightweight and breathable and is best suited for runners who need neutral cushioning, seeing that it does not feature any pronounced arch support. The seamless no-sew upper is especially comfortable seeing that there are no seams that could compensate the comfortable fit of this trail running shoe.
Read more
Gusseted Tongue
When running in nature, it's important to consider the state of the trail so that you are adequately prepared for what awaits you. The Gobi Trail v2 has a gusseted tongue which is an excellent protective feature that prevents any debris from getting into your shoe and lowering the level of comfort you feel as you conquer mile after mile.
AT Tread
The outsole on the Gobi Trail v2 features a rugged and durable tread that allows you to run both on trails (in dry and wet conditions alike) as well as on roads - giving you a shoe that is versatile and adapts easily to your needs.
Cost and Value
The cost of the Fresh Foam Gobi Trail v2 is quite affordable compared to other flagship running shoes, and the fact that it's a versatile shoe adequate for more than just one surface works to its advantage when it comes to value.
Criteria Used for Evaluation


Stability
One of the most important things to consider before purchasing a pair of running shoes is the way in which your feet are shaped. Arch and instep height, forefoot width, foot and Achilles strength and flexibility all come into play in ensuring that you run in a way that is comfortable and risk-free. One such aspect is the way in which your foot moves when you run. Pronation – the side-to-side movement of your foot when running or walking – can heavily influence your running experience. Some people are lucky enough to have neutral pronation, but there are those who have different tendencies. Over-pronation and under-pronation are indicators that your foot is not moving in an optimal way when landing, and that your arch is not absorbing the shock which happens with each strike of the foot. Furthermore, an unstable landing (one that is leaning towards the inside or the outside of the foot) can lead to serious injury should your ankle roll because of inadequate support.
That's why the best pair of running shoes for you will have the correct stability features which will ensure that you are getting the right amount of firmness in the areas where you need some extra support. New Balance running shoes offer plenty of different technological features which are focused on exactly this – providing you with a shoe that will ensure a safe and comfortable run.
Stability Features of New Balance Shoes
Tread: This particular aspect of a running shoe isn't something that New Balance has its own special technology for, but good New Balance running shoes have to have good treads on their shoes. You need good treads on the outsole so the shoes grip the ground as you run so you don't slip and fall.
Fantom Fit: New Balance's FantomFit technology is an upper design for your shoe which fuses two materials together. This lightweight, no-sew upper is lightweight, but also supportive. Part of the upper is an overlay of a firmer material to support your foot as you run.
ProBank: ProBank is a lightweight stabilization technology created by New Balance with running in mind. If you've ever had to make a hard turn on a run, you would know that the lateral movement involved in switching directions is unavoidable. ProBank is designed to keep the midsole in place and support your foot as you make that lateral movement by dispersing the force evenly.
Stabilicore: Stabilicore is a New Balance technology designed to reduce flexing in the midfoot area as a means of arch support. This support technology is lightweight, as well, to reduce foot and leg fatigue from running.
Stability Web: The Stability Web built into the outsoles of many New Balance shoes is designed to provide arch support. It's made of a thermoplastic material. It smoothes out the transition from heel strike to toe-off.
T-Beam: The T-Beam is a long bar centered in the shoe under your plantar fascia. It's meant to support your arch and plantar fascia to reduce the symptoms of plantar fasciitis, a painful condition characterized by the inflammation of the plantar fascia.
S Roll Bar: New Balance's S Roll Bar is a support system built into the outsole of your shoe to limit rear foot movement. Specifically, the S Roll Bar in current and recent models works to prevent your feet from rolling both outward and inward. The S Roll Bar is made of two posts and a plate. One post goes along the outer edge of the shoe while the other rests along the inner edge of your shoe. That means no sprained or broken ankles from overpronation or supination!


Comfort
Cushioning is an important aspect of any shoe, especially that intended for running. Each time you land on your foot, there is a certain amount of shock that generates from the impact. While some of it is absorbed by your arch, there's still a considerable amount that goes up your leg and to your hips and back. Although you may not feel the consequences of these landings now, after some time spent running, you are bound to start feeling fatigued, sore or even experience injuries.
Luckily, a good pair of running shoes can prevent a lot of these. The proper cushioning will act as a shock absorbing barrier that will work with each landing to lower the amount of stress you put on your joints and muscles. Having spent over 50 years making running shoes, New Balance has some effective technologies that work to provide you with the protection you need – not just from the surface underfoot, but from the negative effects you may be experiencing from a hard shoe upper as well.


Features
New Balance Cushioning Features:
Lining:
Ortholite Lining:New Balance offers a built-in sockliner from Ortholite in their shoes. This lining protects your feet from any abrasive seams in the upper of your shoe, but it also provides a soft layer to hug your feet.
Insole:
EVA Footbed: The EVA footbed is exactly what it sounds like it is: an insole made of EVA foam. Most of the time, EVA is used in midsole technology, but the EVA footbed is another common use in New Balance shoes. It's soft and springy to give you the most cushioning and rebound as you run.
XLT Performance Footbed: Another type of foam insole, the XLT Performance footbed from New Balance is a continuous strip of foam which is a blend of different materials aimed at providing a customized cushioning experience. The footbed bears some grooves in areas which need the most flexibility and there's a dip in the foam from the heel to the arch of the foot for support.
CUSH+: This is a foam insole built to be lightweight and soft for the best cushioning. The CUSH+ foam is meant to be responsive, so it depresses easily when you step on it and returns to its original shape when you step off of it. It's more durable and lightweight than many insoles.
Midsole:
ABZORB: ABZORB is a special foam cushioning compound created by New Balance to reduce the shock of running on your feet by dispersing it through the rest of your foot and to your ankle and leg.
Fresh Foam: New Balance's Fresh Foam is a plush cushioning foam technology. It's built into the midsole to give you a smooth, painless run.
ENCAP: This material is a heel midsole piece which is made with EVA foam and a firm polyurethane rim. Together, these two materials create a stabilizing, cushioned effect. The materials are extra durable, too.
ACTEVA: A midsole foam built with DuPont Engage, which is designed to be 12% lighter than most midsole foams.
ACTEVA Lite: Like ACTEVA, ACTEVA Lite is built with DuPont Engage, but it also includes DuPont Elvaloy. It's a lighter combination of materials, which is meant to be 24% lighter than most midsole foams, but it also has better compression properties than most.
ACTEVA Ultra Lite: This midsole is built with DuPont Elvaloy and is meant to be 32% lighter than most midsole foams. It has the best compression properties.
C-CAP: This midsole is made with EVA which has been compression-molded to give it maximum levels of cushioning. This material is also extra flexible.
N2: N2 is a thinner midsole material, but it's just as good at cushioning as the others. It's built to be responsive to each footfall and it's extra durable.
NERGY: The NERGY midsole is designed to offer cushioning and support, but it can be molded and shaped to go in different parts of the midsole area to suit your needs. It's designed by New Balance to be very responsive and to absorb a lot of shock.
Rapid Rebound: New Balance's Rapid Rebound midsole foam is built with a focus on energizing each of your steps with exceptional rebound capabilities.
REV Lite: The REV Lite midsole foam is lightweight with the same cushioning capabilities as heavier midsole foams. It doesn't sacrifice cushioning and protection for a lighter weight, either.
Outsole
Most New Balance outsoles are made of different kinds of rubber. Vibram is one of the most commonly used rubber outsoles. The rubber and other synthetic outsoles are designed to decrease the shock from each foot strike and to protect your feet from any rocks or other debris which may injure your feet.


Breathability
New Balance doesn't have a lot of technology specifically designed for achieving breathability, but many of the technologies that they have designed for other things, such as support and cushioning, also help with breathability. Lightweight, breathable materials are used in the construction and design of many New Balance shoes. Any New Balance shoe with a mesh upper or a mesh-with-leather-overlay upper will be more breathable than traditionally built shoes. Breathable shoes will reduce the retention of heat and moisture in your shoes so you can have a more comfortable run. Dryer feet will develop fewer blisters and won't be sticky with sweat.


Durability
When shopping for running shoes, you want to get a pair that will last you more than just a couple of months. New Balance is an excellent choice if you're looking for a durable, high quality make, especially considering that a lot of their models are even made in the USA or UK. Additionally, they have plenty of features which are used to prolong their lifespan, which you are bound to appreciate, seeing that you won't have to purchase new shoes too often.
Durability Features in New Balance Shoes:
Leather Strip Overlay: Many New Balance shoes come with a leather strip overlay. This overlay usually tops a breathable mesh material to provide more support, but it also provides more durability. Lightweight, breathable meshes can be rather fragile, but the protective leather strip overlay can increase the durability of your running shoes, as leather is tougher than the synthetic materials found in meshes.
Fabric & Pigskin Leather Construction: This combination of fabric and pigskin leather is a little different than the above-mentioned leather strip overlay. It's also a little older and less breathable than more recently created upper materials for running shoes. However, the sturdier materials will promise a longer lifespan for your running shoes.
NDurance Outsole: The NDurance outsole was specially designed by New Balance to be a more durable rubber outsole. It won't wear down as quickly as other outsoles will and, because it's rubber, it will have great traction, too!
Removable Insoles: All New Balance shoes come with removable insoles. That may not seem like a big deal, but in reality, these can make you love New Balance shoes even more. New Balance recognizes two important things about insoles. One, insoles are eventually going to wear out, no matter what the material is and two, not everyone needs the same insole in their shoes. Insoles are not one size fits all. If New Balance didn't have removable insoles in their shoes, then once the insole wore out or you discovered that you need a custom insole, the shoes would be ready for the trash heap.
This also saves you money. If the outsole and upper of the shoe are in good condition, then you shouldn't have to go out and buy a whole new pair of shoes when you could just replace the removable insole, which gives your shoes new life.
Expert Interviews & Opinions
Most Important Criteria
(According to our experts opinion)
Experts Opinion
Editors Opinion
Users Opinion
By Default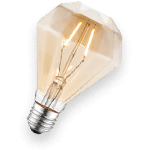 Beginner Running Tips
Running is a great, and simple sport to get into, whether your goal is to compete or race, or just for better health.
When starting out, take a few walk breaks if needed, and increase your mileage slowly week to week. Rule of thumb is that your longest run should only increase by 10% or less each week, to help prevent shin splint or other overuse injury.
Trail Running Tips
Trail running can give a sense of being close to nature, or exhilaration from downhill descents. When hitting the trails however, be conscious to check weather beforehand, as conditions can change quickly!
Frequently Asked Questions
q:

New Balance shoes don't always come with a name like other brands of running shoes. What do the numbers and letters used as their name mean?

a:

New Balance used to use numbers and letters in a combination to reflect different properties of each of their shoes. Now, they've moved away from the numbering system they've been using to three different categories for newer shoe models to be sorted into.

Each product name in the old method, which they have not abandoned, is comprised of letters and numbers which correlate to the following aspects:

Gender and Sport/Activity
Shoe Price and Quality
Cushioning
The Version of the Shoe

So, the first two letters tell us if the shoe is for men or women and what the sport or activity is that they were made for. When you're looking for running shoes, you would want to look for shoes with M or W (depending on your gender) followed by R for running.

The one or two numbers that follow the gender and sports letters denote how expensive the shoe is compared to other New Balance shoes. The bigger the number (for example 1260 versus 860), the more features the shoe would have and the higher the price would be.

The two numbers that follow the shoe price and quality number tell you how cushioned the shoe is. The higher, the more cushioned it is. 60 and 70 are stability shoes while 80 is a neutral cushioned shoe and 90 would be a minimalist shoe designed for speed rather than cushioning.

The v followed by a number tells you which version of shoe it is that you're looking at. If the running shoe you're looking at is a v2, then it's the second version of the original model of the shoe.
q:

When should I buy new running shoes?

a:

It depends on how much you run, how hard you run, and how durable your shoes are. If your shoes are wearing down and the heel looks squished, then it's time for a new running shoe. However, if the sole is in good condition and hasn't worn down to reveal the midsole, you can keep wearing your running shoes until they do wear down. If your insole wears down and doesn't provide enough cushioning, though, you can replace the insole and extend the life of your shoe.
q:

How long do New Balance running shoes tend to last?

a:

That varies by person. The environment you run in, your weight, how you run, how much you run, and how far you run all impact the life of your New Balance shoes.
q:

How can I extend the life of my New Balance running shoes?

a:

You can extend the life of your New Balance running shoes by using them only for running. Taking proper care of your shoes and cleaning them correctly can extend the life of your running shoes, as well. Some New Balance shoes are made with strips of leather and those strips would need to be cleaned with leather-safe cleaning materials.

If the outsole and upper are in good condition, but you have found your insole is wearing down and the cushioning isn't as effective as it used to be, you can replace the insole with a new one of your choice to extend the life of your New Balance shoes.
q:

My New Balance shoes squeak. How do I make them stop?

a:

New Balance recommends that you try removing the insole (all New Balance insoles are removable, so you won't be damaging your shoe!) and dropping some baby powder in it and leave it overnight. In the morning, dump the baby powder out and put the insoles back in. You shouldn't have the squeaking problem anymore.

Another solution New Balance provides is to sand down the sides of the tongue of your shoe with sandpaper so it doesn't scrape anymore.
q:

How tight of a fit should I get?

a:

Your shoes should never hurt when you wear them, so if it's so tight the shoe hurts your foot, you should pick a different shoe. You don't want the shoe to be too loose, either, because it could slide off or cause blisters from your foot sliding around in it. You want to have ample room in the toe box for your toes to spread out naturally, but you want it to be tight enough so that your heel won't slide out as you run.
q:

How do I wash my running New Balance running shoes?

a:

New Balance does not recommend that you put them in the washing machine. Some of the materials in some of their running shoes should not be submerged in a lot of water. Here are step-by-step instructions for washing your New Balance running shoes:

Take a brush, such as an old toothbrush, and scrub the outside of your shoes with it using laundry or dish detergent as soap. New Balance warns against the use of any detergent that has dye in it, because it may stain your shoe.
Use a damp cloth to wipe the detergent and grime away.
Let the shoes air dry for twenty-four hours. Not just overnight. They need to air dry for twenty-four hours.
For stinky interiors, New Balance recommends you try a shoe deodorizing spray. They do not recommend that you wash the interior of the shoe.
In lieu of dish or laundry detergent, you can purchase shoe cleaning products, but this could be more expensive than just using a detergent you already have.
q:

Can I dry my New Balance running shoes in the dryer?

a:

You should not dry your New Balance running shoes in the dryer. Some of the materials in New Balance running shoes should not be heated. Drying your New Balance shoes in the dryer could damage them.
q:

Can I use my New Balance running shoes to participate in other sports?

a:

Yes, but to increase the longevity of your shoes, I would not recommend using them for other sports and activities. Running shoes will last longer if you use them only for running. It also depends on the sport. For example, you can't use a running shoe instead of shoes with cleats when you're playing soccer or football.
q:

How do I prevent odor development in my shoes?

a:

Change your socks at least once a day and wear breathable socks. Cotton socks will soak up all of the sweat and turn your running shoes into a swamp, so avoid them when you're going running as much as possible.
q:

Can I wear my New Balance running shoes to work?

a:

It depends on the workplace, but if you are allowed to wear casual shoes at work, then New Balance running shoes may be fine for that purpose. However, you will likely need to choose your color schemes carefully to make sure that your running shoes aren't stealing all of the attention. After all, you want your work to shine at the office, not the shoes you're wearing.
q:

I have custom insoles that I need to use in my running shoes. Can I use them in my New Balance running shoes?

a:

Yes. All New Balance shoes come with removable insoles so you can replace them as they wear down or switch them out with custom insoles.
q:

Should I buy a cushioned running shoe or a stability running shoe?

a:

That depends on your preference and foot needs. If you overpronate, then you should go for a stability shoe but if most stability shoes don't provide enough cushioning, you may want to find custom insoles which will provide ample support to go in a pair of cushioned running shoes. The good news is that New Balance shoes all come with removable insoles, so you can replace them with any insole you want.