Best New Balance Running Shoes Reviewed & Rated
In a Hurry? Editors choice: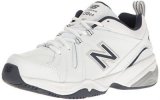 Test Winner: Mx608v4

If a
pair of running shoes
that is both dependable and reasonably priced is what you seek, then look no further than New Balance, a brand started in 1906 on the principle of delivering results to the many athletes that have proudly worn them. Today, their designs are available in a wide variety of styles, from minimalist to motion control and stability, made for runners with specific needs, to durable trail footwear which offers the best possible performance and protection.
New Balance running shoes are lightweight and cushioned, with plenty of focus given to comfort and fit.
Standout Picks
Criteria Used for Evaluation
Stability
One of the most important things to consider before purchasing a pair of New Balance running shoes is the way in which your feet are shaped. Arch and instep height, forefoot width, foot and Achilles strength and flexibility all come into play in ensuring that you run in a way that is comfortable and risk-free.
One such aspect is the way in which your foot moves when you run. Pronation – the side-to-side movement of your foot – can heavily influence your experience. Some people are lucky enough to have neutral pronation, but there are those who have different tendencies.
Over-pronation and under-pronation are indicators that your foot is not moving in an optimal way when landing, and that your arch is not absorbing the shock which happens with each strike of the foot. Furthermore, an unstable landing (one that is leaning towards the inside or the outside of the foot) can lead to serious injury should your ankle roll because of inadequate support.
That's why the best footwear for you will have the correct stability features which will ensure that you are getting the right amount of firmness in the areas where you need some extra support. Designs from New Balance offer plenty of different technological features that are focused on exactly this – providing you with a model that will ensure a safe and comfortable run. Let's see what these stability features are.
Tread: This particular aspect of a trainer isn't something that the brand has its own special technology for, but good footwear has to have good treads. You need good treads on the outsole so the sneakers grip the ground as you run so you don't slip and fall.
Fantom Fit: FantomFit technology from the brand is an upper design which fuses two materials together. This lightweight, the no-sew upper is lightweight, but also supportive. Part of the upper is an overlay of firmer material to support your foot as you run.
ProBank: ProBank is a lightweight stabilization technology. If you've ever had to make a hard turn on a run, you would know that the lateral movement involved in switching directions is unavoidable. ProBank is designed to keep the midsole in place and support your foot as you make that lateral movement by dispersing the force evenly.
Stabilicore: Stabilicore is a technology designed to reduce flexing in the midfoot area as a means of arch support. This support technology is lightweight as well, to reduce foot and leg fatigue from high impact activities.
Stability Web: The Stability Web built into the outsoles of many New Balance designs is created to provide arch support. It's made of a thermoplastic material and it smoothes out the transition from heel-strike to toe-off.
T-Beam: The T-Beam is a long bar centered in the design under your plantar fascia. It's meant to support your arch and plantar fascia to reduce the symptoms of plantar fasciitis, a painful condition characterized by the inflammation of the fascia.
S Roll Bar: The S Roll Bar is a support system built into the outsole to limit rear-foot movement. Specifically, the S Roll Bar in current and recent models works to prevent your feet from rolling both outward and inward. The S Roll Bar is made of two posts and a plate. One post goes along the outer edge of the trainer while the other rests along the inner edge. That means no sprained or broken ankles from overpronation or supination!
Comfort
Cushioning is an important aspect of any design, especially that intended for running. Each time you land on your foot, there is a certain amount of shock that generates from the impact. While some of it is absorbed by your arch, there's still a considerable amount that goes up your leg and to your hips and back.
Although you may not feel the consequences of these landings now, after some time spent running, you are bound to start feeling fatigued, sore, or even experience injuries.
Luckily, a good pair of New Balance running shoes can prevent a lot of these. Proper cushioning will act as a shock-absorbing barrier that will work with each landing to lower the amount of stress you put on your joints and muscles.
Having spent over 50 years making footwear of this kind, New Balance has some effective technologies that work to provide you with the protection you need – not just from the surface underfoot, but from the negative effects you may be experiencing from a hard upper as well.
Lining:
Ortholite Lining: The brand offers a built-in sockliner from Ortholite in their footwear. This lining protects your feet from any abrasive seams in the upper, but it also provides a soft layer to hug your feet.
Insole:
EVA Footbed: The EVA footbed is exactly what it sounds like: an insole made of EVA foam. Most of the time, EVA is used in midsole technology, but the EVA footbed is another common use in footwear from this brand. It's soft and springy to give you the most cushioning and rebound as you run.
XLT Performance Footbed: Another type of foam insole, the XLT Performance footbed is a continuous strip of foam which is a blend of different materials aimed at providing a customized cushioning experience. The footbed bears some grooves in areas which need the most flexibility and there's a dip in the foam from the heel to the arch of the foot for support.
CUSH+: This is a foam insole built to be lightweight and soft for the best cushioning. The CUSH+ foam is meant to be responsive, so it depresses easily when you step on it and returns to its original shape when you step off of it. It's more durable and lightweight than many insoles.
Features
Aside from cushioning, two more important aspects when it comes to this type of footwear are the midsole and the outsole, and here we will talk a bit more about the systems that New Balance puts in place for both of these features.
Midsole:
ABZORB:ABZORB is a special foam cushioning compound that reduces the shock of running on your feet by dispersing it through the rest of your foot and to your ankle and leg.
Fresh Foam: Fresh Foam is a plush cushioning foam technology built into the midsole to give you a smooth, painless run.
ENCAP: This material is a heel midsole piece which is made with EVA foam and a firm polyurethane rim. Together, these two materials create a stabilizing, cushioned effect. The materials are extra durable, too.
ACTEVA: A midsole foam built with DuPont Engage, which is designed to be 12% lighter than most midsole foams.
ACTEVA Lite: Like ACTEVA, ACTEVA Lite is built with DuPont Engage, but it also includes DuPont Elvaloy. It's a lighter combination of materials, which is meant to be 24% lighter than most midsole foams, but it also has better compression properties than most.
ACTEVA Ultra-Lite: This midsole is built with DuPont Elvaloy and is meant to be 32% lighter than most midsole foams. It has the best compression properties.
C-CAP: This midsole is made with EVA which has been compression-molded to give it maximum levels of cushioning. This material is also extra flexible.
N2: N2 is a thinner midsole material, but it's just as good at cushioning as the others. It's built to be responsive to each footfall and it's extra durable.
NERGY: The NERGY midsole is designed to offer cushioning and support, but it can be molded and shaped to go in different parts of the midsole area to suit your needs. It's designed to be very responsive and to absorb a lot of shock.
Rapid Rebound: Rapid Rebound midsole foam is built with a focus on energizing each of your steps with exceptional rebound capabilities.
REV Lite: The REV Lite midsole foam is lightweight, with the same cushioning capabilities as heavier midsole foams. It doesn't sacrifice cushioning and protection for a lighter weight, either.
Outsole
Most outsoles from this brand are made of different kinds of rubber. Vibram is one of the most commonly used rubber outsoles. The rubber and other synthetic outsoles are designed to decrease the shock from each foot strike and to protect your feet from any rocks or other debris which may injure your feet.
We understand that all of these technologies may sound overwhelming at first glance. Indeed, you don't have to know the details of any single one to choose the right option for yourself. Simply pick out a design based on your pronation type, on any special needs you perhaps may have, and leave the intricate specs of each system to the engineers developing them in the lab.
What you should know is that we ranked all of the items on our list based on their performance and on how well these features and technologies work in their favor. When you choose an option from our guide, you can rest assured that all of the high-tech qualities are top-notch!
Breathability
In case you might be wondering why breathability is an important feature when it comes to this type of footwear, we are here to explain it a bit better. Breathable footwear will reduce the retention of heat and moisture so you can have a more comfortable run. Dryer feet will develop fewer blisters and won't be sticky with sweat, nor will they develop bad odors even after hours of intense workouts.
Additionally, hot, damp environments are excellent for breeding bacteria and fungi; thus, you are more likely to develop some type of infection in less breathable footwear. This is why we have also ranked the designs on our list based on how ventilated they are.
New Balance running shoes doesn't have a lot of technology specifically designed for achieving breathability per se, but many of the systems that we talked about for support and cushioning also help with breathability.
Lightweight, breathable materials are used in the construction and design of many models. Any option with a mesh upper or a mesh-with-leather-overlay upper will be more breathable than traditionally built footwear.
Durability
When shopping for the best New Balance running shoes, you want to get a pair that will last you more than just a couple of months. The brand that is the focus of our guide is an excellent choice if you're looking for a durable, high quality make. Additionally, they have plenty of features that are used to prolong the lifespan of their designs, which you are bound to appreciate, seeing that you won't have to purchase new footwear too often.
Leather Strip Overlay:
Many designs come with a leather strip overlay. This overlay usually tops a breathable mesh material to provide more support, but it also provides more durability. Lightweight, breathable meshes can be rather fragile, but the protective leather strip overlay can increase the durability of your footwear, as leather is tougher than the synthetic materials found in meshes.
Fabric and Pigskin Leather Construction:
This combination of fabric and pigskin leather is a little different than the above-mentioned leather strip overlay. It's also a little older and less breathable than more recently created upper materials. However, the sturdier materials will promise a longer lifespan for your footwear.
NDurance Outsole:
The NDurance outsole was specially designed by New Balance to be a more durable rubber outsole. It won't wear down as quickly as other outsoles will and, because it's rubber, it will have great traction, too!
Removable Insoles:
All options from this brand come with removable insoles. Namely, New Balance recognizes two important things about insoles: one, insoles are eventually going to wear out, no matter what the material is, and two, not everyone needs the same insole in their footwear. Insoles are not one size fits all. If the brand didn't have removable insoles in their designs, then once the insole wore out or you discovered that you needed a custom insole, the shoes would be ready for the trash heap.
This also saves you money. If the outsole and upper are in good condition, then you shouldn't have to go out and buy a whole new pair of trainers when you could just replace the removable insole, which gives your footwear new life.
10 Best New Balance Running Shoes Reviews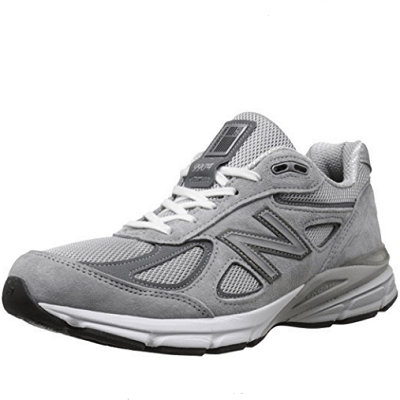 The 990v4 New Balance running shoes are a stability option for runners focused on support and cushioning. It comes in a variety of colors and is proudly manufactured in the USA, ensuring you get a high-quality product for your hard-earned money. It comes with some of the brand's best comfort and support technology, including an Encap and EVA core heel, a blown rubber outsole, and a dual-density foam collar. It isn't a flashy design and won't make a loud statement, but it makes up for that with great support and comfort.
Breathability is vital to the health of your feet. The breathable mesh upper of the 990v4 reduces blisters and helps regulate the temperature in the design. The leather and suede overlays provide stability and support to keep you from injury. The outsole on the New Balance Men's 990v4 is made of blown rubber which is a material often used in stability footwear. It provides an excellent cushioning feel due to the air which is mixed into the compound, while it is also durable, and suited even for mild off-road trails.

Featuring the latest available technologies in the brand's arsenal, it comes as a surprise to find that the 990v4 is moderately priced, and is even cheaper than some of the brand's older models. Coupled with the fact that it's made in the USA, you can easily invest in this New Balance running shoe model, knowing that you're getting one of the best options available in the market.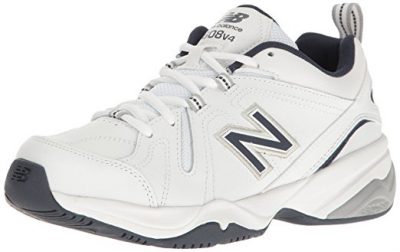 The 608v4 is a well-rounded design for athletes of all sorts. The textile lining and the EVA cushioned insole will keep your feet comfortable while you train for that marathon, while the dual-density padded collar and padding in the tongue provide additional comfort features that you are bound to appreciate during your next run. The brand designed this sole with its special ABZORB padding for extra shock absorption.
The ABZORB midsole design adds cushion where you need it while also resisting compression while you run. The result is more than adequate shock absorption for your feet and legs, allowing for a smoother and more comfortable ride. The New Balance Men's Mx608v4 uses an EVA footbed on top of the extra cushioning midsole. This provides a great combination of firmness and flexibility. A great addition is the seamless PHANTOM liner which allows for even pressure distribution over the entire foot.

The 608v4 offers all of the comforts of high-end design, without the downside of costing a small fortune. You will especially love the fact that it is also suitable for everyday wear when you need to be on your feet for prolonged periods of time.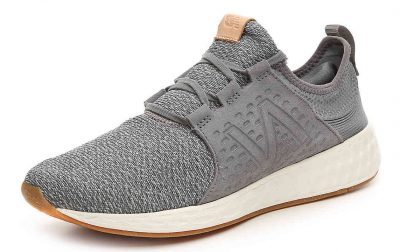 These neutral running trainers were made with superior cushioning in mind, allowing you to enjoy the benefits of a design that is flexible, lightweight, and provides excellent shock absorption. The flexible heel allows you to just slip these on, and the loop will help with an even easier on and off experience. The knitted mesh upper is a well-loved feature as well, seeing that it will adapt better to a wide variety of foot shapes and sizes.
With an outsole made out of gum rubber, you will be getting a pair that is perfect for road runs. These trainers will give you excellent traction, ensuring that you are not just comfortable, but also safe during your daily workout. The Fresh Foam technology gives the user both cushioning and responsiveness, ensuring a superior feeling that provides excellent shock absorption, especially in the heel area, where most runners are likely to strike during their landings.

The Fresh Foam Cruz V1 is an affordable pair that you will be more than happy with if you don't require too much arch support, and are happy with cushioning that is not too thick in the forefoot area. Coupled with the stylish knit upper, Cruz is an excellent choice.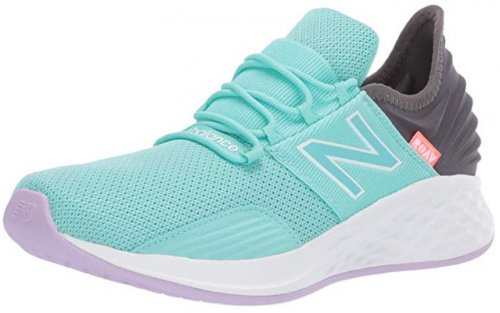 No, we didn't accidentally include the Adidas Ultraboost in this guide. What you are looking at is the Fresh Foam Roav, a design that is every bit as powerful as it is stylish. Created for those who are always on the go, it comes with Fresh Foam cushioning and Ultra Heel technology, as well as a smart outsole. The Roav is nothing short of stunning both in appearance and performance, and you would do well to try it out.
This option has a bootie construction that hugs your foot just right, made from a mesh and synthetic leather combo. Fresh Foam technology means that the cushioning is super cloud-like and super lightweight, while the Ultra Heel is there to keep you locked in and secure no matter what surface you're training on. The outsole of the Roav is built for comfort and longevity, made from durable rubber.

The Fresh Foam Roav is something different, something rather unexpected from a brand which has mostly dealt in solid footwear that looks a little bit like what your grandpa would wear. In contrast, the Roav is fierce, equipped with advanced features, and it will not let you down on your next run.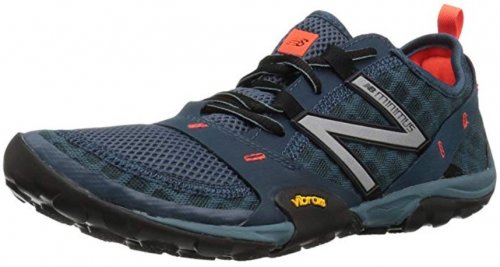 For all of those who are fans of minimalist footwear, of that barefoot feel, the Minimus 10v1 is here to brighten your day. It is a design built for off-road training, with a flexible upper and a Vibram outsole, as well as a 4mm drop to keep you closer to the ground. With this option, you will experience better posture, less pain in your legs and joints, and an overall increase in your energy and performance levels.
The Minimus 10v1 has an upper that is a combination of synthetic and mesh, with a special wrap around the middle to keep you secure and locked-in. It comes with antimicrobial treatment inside, to reduce foul odors, as well as a layer of foam for cushioning and support. The outsole on the Minimus 10v1 is from Vibram, meaning that it is extremely durable and with flex grooves that keep you sure-footed even on challenging terrain.

If you're the type who loves nature, who is all about exploring new trails and admiring the scenery, then the Minimus 10v1 is the right option for you. With its minimal drop, it is a great stepping stone towards zero drop footwear, and with it, you will have no problems making the most out of your next outdoor adventure!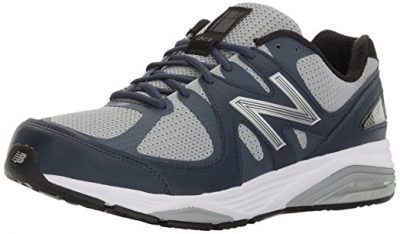 Designed for those who have a severe tendency towards overpronation, the 1540v2 is a motion control design that focuses on providing you with all the necessary help to achieve your personal best. The motion control system is spearheaded by a dual layer of padding in the midsole and the roll bar support system in the heel. The no-sew design along with the breathable mesh upper and the padded tongue and collar will keep your feet from ever wanting for comfort. These New Balance running trainers may even be eligible for Medicare reimbursement.
Specially designed to reduce the movement of the rear of your foot while you run, this is a perfect option for someone who is just starting out or someone who needs a little help with their form. While a little pronation is natural if your ankle rolls too far you can seriously hurt yourself. Do you have a problem with overpronation? Not anymore you don't. The 1540v2 is designed to help prevent your feet from rolling too far while you're exercising.

Paying a little more for footwear that can help prevent shin splints or plantar fasciitis will save you both literal pain and money in the long run. It is well worth paying the extra money upfront.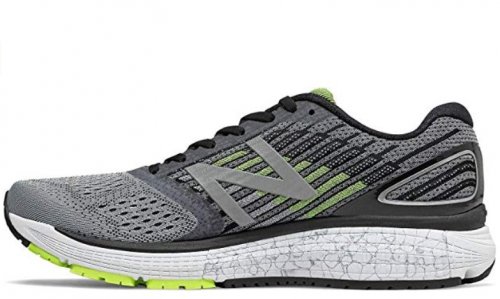 Let's take a moment to admire the sleek, almost elegant aesthetic of the 860v9 New Balance kids running shoes. This brand is not famous for its stylistic appeal, but the 860v9 is definitely a sight for sore eyes. Along with the streamlined look, it comes with a TruFuse midsole and dual-density cushioning for comfort that will effortlessly keep up with you.
The 860v9 has an upper that is a combination of synthetic leather and mesh. Thanks to its no-sew construction, this trainer has no pesky seams that would be digging into your skin. In terms of comfort, it comes with a medial post for support, and the TruFuse midsole which consists of two layers of responsive foam. Additionally, the 860v9 has a 10mm drop, meaning that it's not a minimalist option, and a blown rubber outsole for even more energy rebound.

If you're determined to look cool on the track, the 860v9 definitely doesn't lack any style points. It is also more than stable, with its lateral support and extensive cushioning, and it will definitely make for a wonderful addition in your sports footwear collection.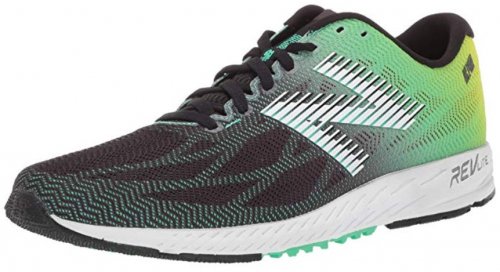 The 1400v6 New Balance running shoes are designed to withstand practically anything - from 5k runs to those long-distance ultramarathons. It is meant to add speed thanks to its REVlite outsole, to provide support with a FantomFit cage, as well as solid breathability with the mesh parts of its upper. The 1400v6 did not come here to play, and if you're serious about the sport, you need serious footwear such as this to match.
The 1400v6 has a flexible upper for lightness and breeziness, but it also comes with a FantomFit cage in the midfoot area that supports your foot and doesn't let it slide where it shouldn't. The REVlite outsole on the design is incredibly lightweight and makes you feel like you are flying down the track. Finally, the 1400v6 has a tongue that is streamlined so as to not cause you any problems when you're focused on the track.

This option is definitely not for a casual runner. It is built for competition, for those who are looking to best their opponents and come out the top. If you're someone who thrives on the unbeatable feeling of a gold medal, of a first place, then definitely consider investing in these fierce trainers.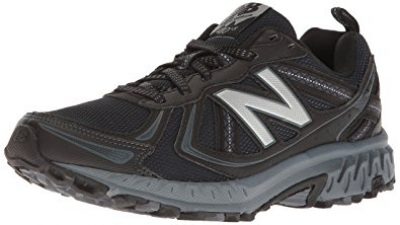 Another pair of trail running sneakers that are versatile enough for both on and off-road, the latest edition of the 410 provides plenty of features that will make you want to wear them on all your runs. With a comfortable mesh upper that has a seamless design, the synthetic overlays that add stability, and the toe protector that improves their durability, the 410v5 is a great choice for anyone looking for a high-quality pair of trail footwear.
The midsole found in the 410v5 is made out of compressed ACTIEVA material which provides stable cushioning that's 24% lighter than standard compressed EVA midsoles. This means that with the 410v5 you're getting a lightweight option that won't cause too much fatigue during your jogs. On top of the breathable and flexible mesh which makes the upper, are synthetic overlays that provide lateral stability and protect you from suffering injuries such as rolled ankles.

The 410v5 New Balance trail running shoes are a great choice for users who are just getting started with the sport. If you want a design that will work well on all surfaces, and that provides good support and cushioning, then the 410v5 is a great option for you.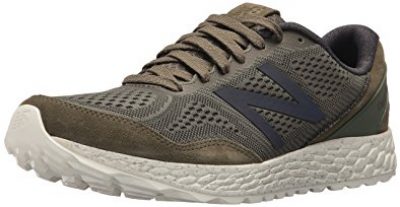 The Gobi Trail V2 is the upgraded version of last year's model, made for those who need a design that will perform both on trail runs as well as on everyday walks. It's lightweight and breathable and is best suited for those who need neutral cushioning, seeing that it does not feature any pronounced arch support. The seamless no-sew upper is especially comfortable since there are no seams that could compromise the comfortable fit of this trail option.
When out in nature, it's important to consider the state of the trail so that you are adequately prepared for what awaits you. The Gobi Trail V2 has a gusseted tongue which is an excellent protective feature that prevents any debris from getting into your trainer and lowering the level of comfort you feel as you conquer mile after mile. The outsole on the Gobi Trail V2 features a rugged and durable tread that allows you to run both on trails (in dry and wet conditions alike) as well as on roads - giving you a design that is versatile and that adapts easily to your needs.

The cost of the Gobi Trail V2 is quite affordable compared to other flagship designs, and the fact that it's a versatile option adequate for more than just one surface works to its advantage when it comes to value.

Subscribe to our Newsletter