Best Zero Drop Running Shoes Reviewed & Rated
In a Hurry? Editors choice: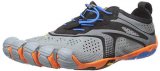 Test Winner: Vibram V-Run

Footwear, particularly modern types, doesn't often take your foot's natural anatomy or movement into account. In particular, heels can cause a variety of problems for your feet, legs, and back. Thus, in an attempt to go back to a more natural way of moving, zero-drop running shoes have become popular in the running community.

For the uninitiated, these are shoes that have no height difference between the heel and the rest of the foot. This is said to be better for your feet for a variety of reasons, not the least of which is that it allows your feet to strike the pavement in a more natural fashion while you're running.

The list below looks at the 10 highest rated zero drop running shoes currently available for purchase, including models for the road as well as trail surfaces.
Standout Picks
Criteria Used for Evaluation
Outsole
This type of footwear allows the heel to sit level with the forefoot, providing a more natural run. To achieve this, all additional padding is removed from the design, which can leave the foot more exposed to rough terrain. This is why the outsole is so important because it acts as the only level of protection between the foot and any external hazards like sharp objects or rocks.
Additionally, the outsole must compensate for the support and cushion which is lost with this type of footwear. There are many features and styles of outsole available and knowing how to choose the best option may be difficult. The following is a list of different outsole variations available in this footwear style.
EVA: EVA is a lightweight foam rubber which is used to provide an added cushion as well as to absorb shock.
Rubber: Rubber offers superior traction and grip, which is why it is so commonly used as outsole material. It is slip-resistant and water-repellant, making it an excellent consideration. The following are variations of the traditional rubber outsole.
Carbon Rubber: A durable rubber compound that is the most common material used in running footwear outsoles.
Blown Rubber: A rubber which is lighter than regular rubbers, as it's air-injected, making it softer as well as more flexible. Most times, blown rubber is used in the construction of the forefoot on the outsole.
Trail-Specific: This type of outsole is designed for off-pavement running or walking. It is made with deeper lugs that offer a better grip for off-trail activities.
Road-Specific: Designed for use on paved surfaces, road-specific outsoles will traditionally have a more shallow lug pattern, which will offer less grip.
When choosing which type of outsole to purchase, it is important to consider what type of activity you will be wearing the footwear for. Will you be running on the sidewalk or off-trail? Will you require water-resistance, or are you in need of a more supportive option? These are all questions to ask yourself before deciding which pair is the right one.
Support
Traditional running footwear is designed to provide additional arch support and heel sculpting, whereas the options in this guide do not. This is why a secondary footbed may be necessary to help those with certain requirements.
For example, a supportive insole would offer some of the arch support and heel sculpting of a regular design without adding the incline from the forefoot to the heel. This type of footbed would be beneficial for those with a flat, or low arch.
A completely flat footbed, which offers less support, would be preferable for those who desire to strengthen the muscles in their feet. This can also be achieved by removing the insole that came with the design.
Lastly, a runner may require an insole that offers additional support, especially if their legs and feet collapse inwardly - in what is called overpronation. Stability wedges can be inserted into a design without pushing the arch upwards, which could potentially weaken the feet over time.
Brand
Brand power is an important consideration when choosing a pair of zero drop running shoes, in part because there are a smaller number of manufacturers than for other types of footwear. This is why there are now a select few 'big names' that pop up in conversation and come highly recommended by runners everywhere.
The following is a list of those biggest names:
Altra:
Altra started off in the back room of a Wasatch Mountain store. Founded by store managers and elite athletes, Altra is a brand that delivers footwear which lets you run the way that you were made to. They are the only company that provides a cushioned zero-drop platform and the FootShape™ toe box.
Merrell:
Merrell has been manufacturing footwear for over 30 years and is currently one of the world's top manufacturers of outdoor sports equipment and apparel.
Vibram:
Vibrams' FiveFingers is a minimalist design that is meant to replicate being barefoot. They manufacture footwear with thin, flexibles soles, which contours to your foot to provide the ultimate minimalist experience.
Nike:
Nike has been manufacturing sports equipment and apparel for over 50 years. They are a trusted brand for a wide array of clothing items, and zero offset footwear is just another thing to add to their list.
New Balance:
New Balance aims at helping athletes achieve excellence and their footwear does just that! In 2019, they chose to focus more on minimalistic styles than zero drop running shoes, but they're always a good brand to turn to.
Brooks:
This is a vastly popular brand among most running enthusiasts, mainly due to the brand's inclusive size and width offer. Their footwear features some of the best cushioning in the industry, so if you're not against a bigger stacking height, you should definitely check out their products.
Drop
The 'drop' of a design is the height between the heel and the forefoot and is traditionally around 10 to 12mm. Zero drop running shoes, or minimalist running shoes is designed to provide a more natural experience for the runner, which mimics the feeling of running barefoot.
Zero drop designs facilitate a better run by discouraging a heel strike, whereas, a 10 to 12mm difference actually encourages the heel to unnaturally strike. Minimalist footwear is preferred by many runners, in part because it is thought to reduce the risk of injuries.
The drop of a shoe can range anywhere from zero to 16mm, but the best one for you will depend on your own foot structure. The following list breaks down the different drop sizes available and explains the type of foot each would be best suited to;
0mm (zero drop): A flat design which is ideally suited to midfoot or forefoot strikers. This is the natural way for your foot to hit the ground, as it would if you were running barefoot. Most runners are able to adjust to this level comfortably by gradually decreasing their drop over several months.
4mm: A very flat design which is best suited to runners who strike midfoot. The heel will not be felt and there is only a slight bit of padding which will benefit those who tend to occasionally strike with the heel.
8mm: This is considered the middle zone and will be best suited to those who strike at the midfoot. This is a good height to start with if you are trying to achieve a more natural running form.
12mm: A moderate heel-striking design which can feel as though the heel is getting in your way while you run.
16mm: Best suited for those who strike with the heel, it would be impossible to strike with the midfoot. This type of design has a very sharp angle from the forefoot to heel.
Comfort
When it comes to footwear for this activity, comfort is a big deal, especially for long runs and uneven terrain. An ill-fitting or uncomfortable design will quickly cause pain and fatigue, which can hinder performance and motivation, as well as increase the risk of possible injury.
Minimalist footwear is by nature more comfortable as it guides your feet into a natural striking pattern.
Most of us, however, are used to footwear with a moderate or high drop. Going straight from a high to a zero drop design can be difficult or even uncomfortable in the short-term, as your feet now have to adjust to the lack of height. This is why it is advised to gradually lower the heel height in your footwear, allowing your feet a few months to fully adjust before moving down.
A lot can go into the comfort of a design; things like support, cushioning, and breathability come to mind. It's important that all of these different factors combine together to provide the comfort you need.
A well-cushioned option is nice and all, but if it doesn't have the right amount of breathability you will likely still find it uncomfortable. This is the same if the design has great breathability, but is lacking in support. Comfort is relative, and you have to consider what is most important to your unique feet and running style.
Top 10 Zero Drop Running Shoes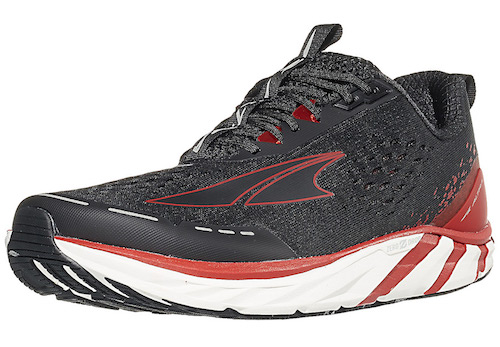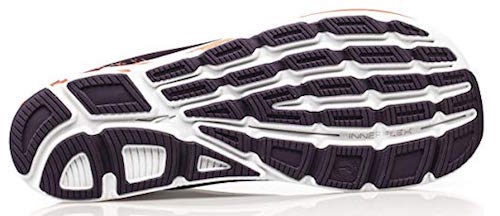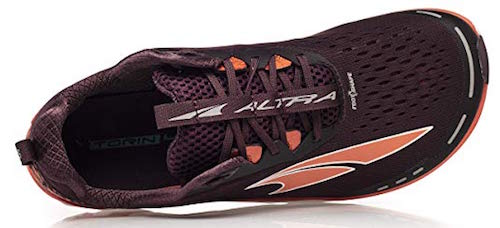 The Altra Torin 4 is a low drop model featuring almost maximalist cushioning. It boasts an impressive stacking height of 26mm which does not sacrifice responsivity, making this a great racing option. It also comes in a Plush version for those who want a higher level of shock-absorption, and it can be purchased in several classic color options that are just as fashionable as models released by leading running shoe manufacturers.
The Torin 4 is made for neutral pronators and road conditions. The midsole uses a newly developed Altra Quantic compound which has a number of great features. First and foremost, it offers a cushy feeling underfoot, all while being lightweight (contributing to the shoe's approximate 280g weight) and responsive. It ensures seamless transitions and a powerful toe-off, mainly due to the Inner Flex system. It also uses a Natural Ride Platform that helps place the foot in an anatomically correct position.
The upper is made with engineered mesh that is knit more tightly in the heel and metatarsal areas and features more perforations in the arch, toe, and tongue. It's highly breathable and comfortable to wear, and support is offered through printed overlays in the toe and other key areas. The classic lacing system is made stronger through the use of reinforced eyelets that maximize durability, while tongue and heel pull tabs make on and off easier.
The outsole utilizes FootPod technology that's often used in other models by the manufacturer. It is effective on road surfaces and can be expected to provide solid traction regardless of weather conditions. As for cost association, this shoe ranks slightly above average, seeing that it's a newly released model. If you're on a budget, you can check out one of the previous versions for similar performance features at a more affordable price.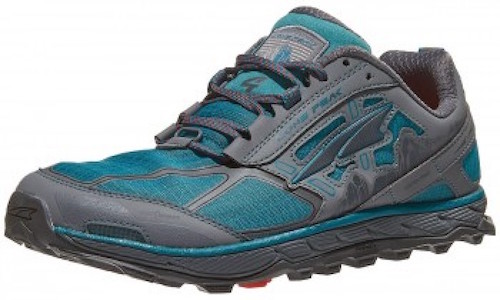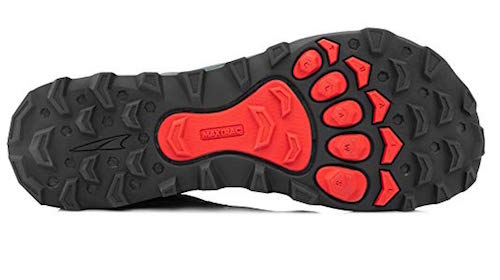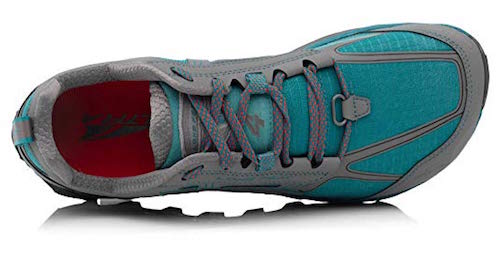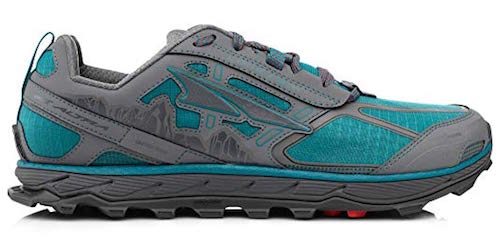 The Altra Lone Peak 4.0 is a continuation in a successful series of trail running shoes with a 0mm heel to toe drop. It's a highly protective pair of footwear with a 25mm stacking height and plenty of superb features that absorb shock, allow natural foot movement, and ensure a comfortable wearing experience. The Lone Peak can be purchased in several color options, comes in regular and extra-wide widths and even has special versions such as the medium shaft height and RSM option for rain, snow, and mud.
The upper of the Altra Lone Peak 4.0 is made with a QuickDry Mesh that has been enhanced with a durable coating that prevents it from becoming damaged on rough surfaces. What this means is that you won't have to worry about cutting or abrading the lightweight material. There is a Gaitertrap system installed in the Lone Peak allowing you to use these shoes with attachable gaiters to prevent debris from entering the foot chamber. Synthetic overlays are stitched on for maximum support, and a locked-in heel feeling.
The midsole of the Altra Lone Peak 4.0 uses Dual Layer EVA foam which is both supportive and cushioning. It also includes a StoneGuard sheet that is meant to protect the foot from rocks underfoot. Included are an A-Bound eco-friendly topsole for a plush feel, as well as a removable insole that can be replaced with custom orthotics.
The Outsole uses MaxTrac rubber, a highly grippy compound that is resistant to use in nature. Its performance is enhanced by TrailClaw, a system of lugs positioned beneath the metatarsal bones, allowing for excellent traction and a more efficient toe-off, even when moving uphill. This is one of the most expensive models listed in our guide and may be a bit too pricey for the average user, but if you're after the best low drop trail runners, you should definitely check these out.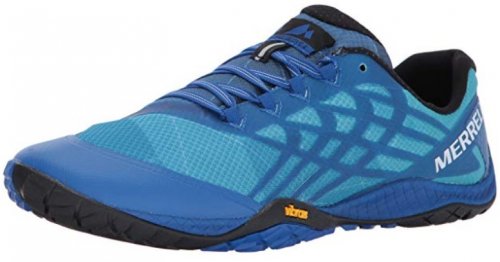 Another design from Merrell, the absolute champion of minimalist footwear, the Trail Glove 4 is an off-road option for all of your nature-exploring needs. It has a sock-like fit and is guaranteed to lock your foot inside properly. For maximum performance and cushioning, there is a Vibram outsole to keep the quality level high.
The upper of the Trail Glove 4 is made from mesh for breathability and TPU for support. The lining is also made from mesh materials, to reduce the chance of sweaty feet. A TrailProtect pad is what provides support when you're training off-road, and the Vibram TC5+ outsole delivers stability and slip and skid resistance like no other.

When it comes to this type of footwear, there is hardly a brand that can beat Merrell. The Trail Glove 4 is a great option for challenging terrain, for when you're bored of the tame roads and what to experiment a little. It will keep you supported, cushioned and secure, and it is really all anyone needs from a design of this type. This model is definitely our top choice when it comes to the best zero drop trail running shoes.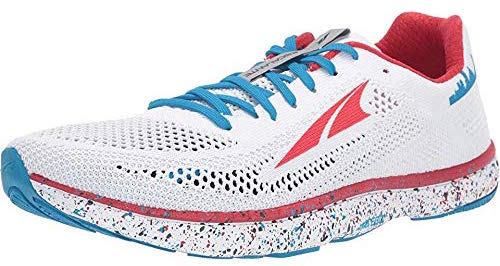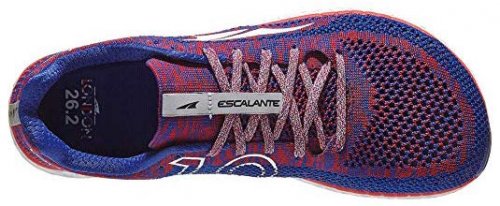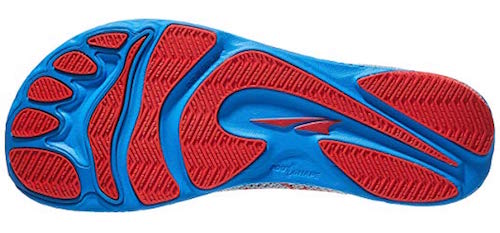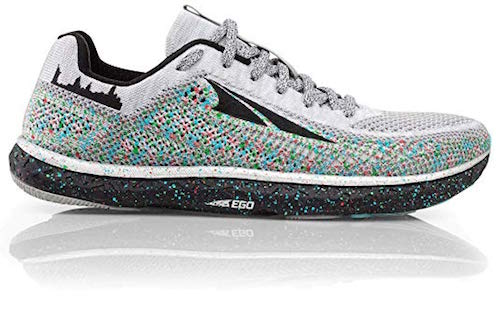 If you're after a pair of running shoes that have a 0mm heel to toe drop, chances are you've come across a number of Altra models. This sportswear manufacturing company is completely focused on designing performance-driven running footwear that's ideal for competition use. Lighter and faster than the regular Escalante models, the Racer version uses more technological advancements, focuses on comfort, and offers interesting colorways inspired by major US cities.
The upper of the Escalante Racer is made with engineered knit mesh which is highly breathable and lightweight, all while ensuring a snug fit through the classic lacing system. The toe, arch and tongue areas all feature plentiful perforations for ultimate temperature regulation and moisture management, keeping your foot dry and cool throughout the race. As for the shape, this model features a Footshape Toe Box which provides enough space for the toes to naturally splay during your gait cycle. It also increases stability, especially on steep terrains.
The midsole of the Escalante Racer is where this pair of running footwear shines. It's worth mentioning that the shoe has a 17mm stacking height, which allows for plenty of space to include the latest shock-absorbing technology that will protect the foot from impact. The Racer utilizes an Altra Ego midsole which is cushioned and highly energy returning, while flex grooves inside the midsole itself encourage flexibility and natural movements. You'll also find that this model has a removable 5mm footbed which provides added shock absorption. Users who need a supportive shoe (the Altra Escalante Racer provides neutral support) can easily replace it with custom orthotics.
The outsole of the Racer uses a rubber compound and utilizes a piece of technology called FootPod. The FootPod analyzes and adapts to the runner's foot anatomy, ensuring natural movement throughout your training session. Another notable feature is the incredibly low weight of this shoe averaging at around 210g for men's versions. The cost of this model ranks average, especially when considering that it can easily be found on sale (if you go with last year's color options). This makes it an excellent investment for anyone after a minimalistic running option.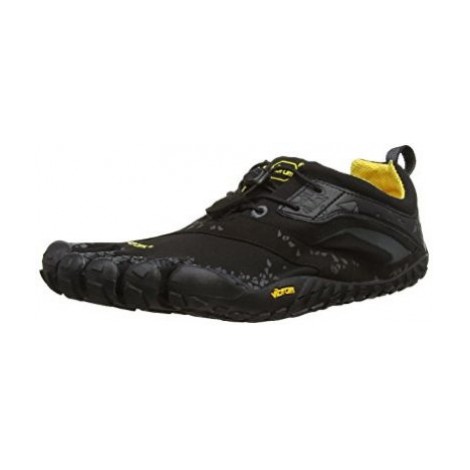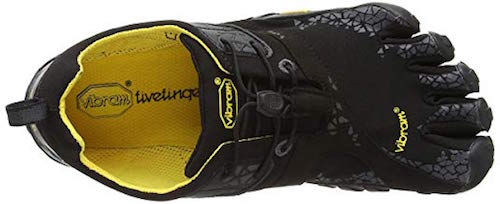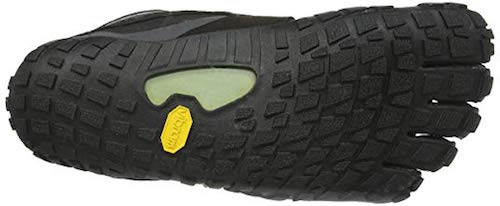 Minimalist designs are perfect for everything from mud runs to your daily errands. Vibram has found the perfect balance between a nearly barefoot feel with a tough protective sole that will keep rocks and debris from throwing off your stride. Vibram's FiveFinger design allows for your toes to flex and splay naturally as you run.
You'll feel as good as barefoot with this lightweight Rockblock nylon mesh midsole. It protects your feet from the elements while remaining thin enough that you can feel the ground beneath your feet. The multidirectional wavegrip outsole permits stronger traction even on the slipperiest of surfaces. Even steep muddy trails should be no problem with these on your feet.

The price tag is nothing to sneeze at, but given the quality of the product, it is a reasonable cost. If your wallet can take the hit, your feet will thank you for spending the extra money on the Vibram Spyridon MR.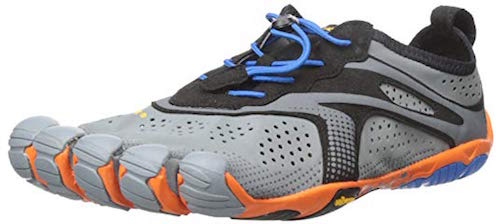 The Vibram FiveFingers V-Run is one of the highest-rated low drop models you can currently purchase. Made for athletes who want as natural an experience as possible, it is completely focused on ensuring comfort without too many barriers between you and the ground you'll be running on. Although technically described as a road running shoe, this model will perform great on trails as well. Plus, it's highly resilient to temperature changes, so it can be worn in cold weather as well, without having to worry about losing your footing.
The upper of the Vibram V-Run is made with a polyester-lycra mesh which has several benefits. First and foremost, it shouldn't be a problem to get a snug, supportive fit, seeing that this is a stretch material often used in workout clothing. Secondly, it's highly breathable thanks to strategically placed perforations that allow optimal airflow. It's also important to note that the material used has great moisture regulation properties, drying quickly and allowing moisture to escape the foot chamber. The lacing system uses a quick-lacing bungee cord that's not only easy to handle, but that provides adaptive stretch on your runs or walks.
The sole portion of the V-Run combines a number of materials for a minimalistic feel. Closest to the foot is a 2mm EVA foam footbed that has antimicrobial properties. Underneath is a 4mm EVA midsole that absorbs most of the shock from impact while still allowing you to move without any constraint whatsoever. On the bottom is a 2.5mm rubber outsole made with Vibram's MONT compound that performs equally well in normal and extremely cold conditions. All of this makes for a total of 8.5mm of stacking height, which is two to three times less than most other models listed.
There is one more notable feature of the V-Run, which is completely obvious from the moment you look at the shoe - it has a five-finger design that allows the toes to splay naturally and move in a more comfortable, efficient manner. Though these zero drop road running shoes do require some getting used to, it's a great alternative for anyone who finds regular footwear too constricting or uncomfortable due to sizing issues. As for price, this model goes for an average cost and represents an excellent alternative to most traditional running shoe models.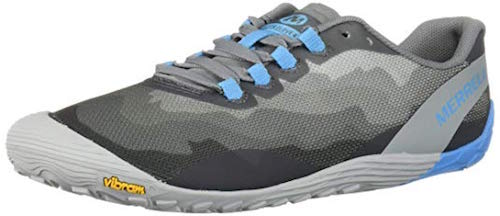 This model by Merrell is categorized as a pair of barefoot running shoes made for users who want as much ground contact as possible, while still remaining protected. It's ideal for road surfaces and warm weather use, considering the high amount of breathability it offers. It is also worth mentioning that this is a lightweight shoe clocking in at around 120g, while still offering a number of excellent features that you'd hardly expect from a minimalist shoe.
The upper of the Merrell Vapor Glove is made with a synthetic mesh material that was developed for maximum moisture-management. It offers numerous tiny perforations that let hot air escape, while still holding their shape and providing a good deal of support. The heel counter features a TPU overlay for a locked-in feel which minimizes in-shoe movement, thus making your runs more efficient and lowers the likelihood of blistering. The inside of the Vapor Glove 4 is lined with a chemically treated mesh that prevents bacterial growth, leading to an odor-free foot environment that will remain fresh even if you decide to wear these without any socks on.
Technically, the Vapor Glove 4 has no traditional midsole, but it does provide some impact protection through a compression-molded EVA midsole unit. It is what protects users from sharp objects as well as dispersing pressure from the outsole lugs. The insole itself is integrated, which means that all shock absorption takes up around 3mm of space. As for the outsole, it utilizes Vibram rubber with exceptional durability and slip-resistance, as well as an effective traction pattern that is made for roads but should perform well on light trails as well.
One more thing to note about the Merrell Vapor Glove 4 is that it is a vegan shoe that doesn't use any animal products, making it an excellent choice for those looking for this type of footwear. It is also one of the more affordable options on this list, with a price that's considerably below the average for this type of running gear.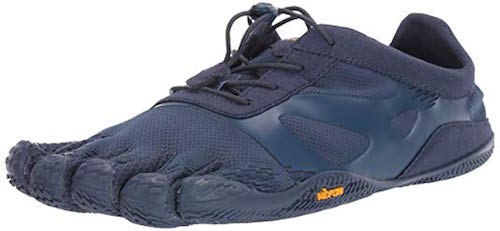 This mode by Vibram FiveFingers is a great choice who want the absolute minimum amount of materials between them and the ground. With a stacking height of only 4mm in men's versions and 3mm in women's versions, it's the most lightweight model on this list, clocking in at around 100g. It can be purchased in four simple color options and is an affordable pair of footwear ideal for anyone willing to try out five-finger running footwear.
The upper of the KSO EVO is made with a loosely knit mesh material that encourages foot flexibility and moisture management. Printed overlays in the midfoot and heel areas ensure proper support, while the bungee cord lacing system allows for easy adjustments, even on the go. Synthetic leather is used in the collar and tongue as reinforcement, and each toe has a protective front to prevent injury from stray rocks or obstacles.
The sole of this model is completely minimalist. The outsole utilizes Vibram XS Trek rubber with a complex traction pattern that was developed for varying terrain. This model will work just as well on the trail as it will on roads, and it's even non-marking for indoor use. On the inside, it's topped with a 2mm insole for lightweight flexible cushioning, and an antimicrobial treatment to prevent odors from developing.
The Vibram KSO EVO is machine washable, which is a unique feature on this list, and this allows you to always have a fresh pair of sneakers, whether you're going for a run, or just want something comfortable to work out in. As for price, it's incredibly affordable, seeing that it can easily be found on sale.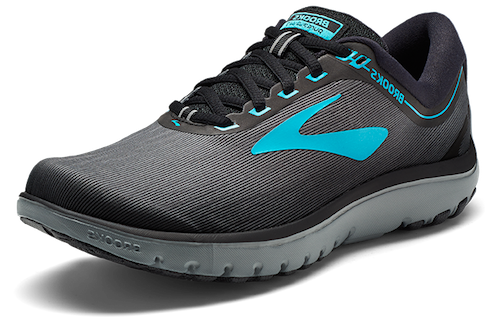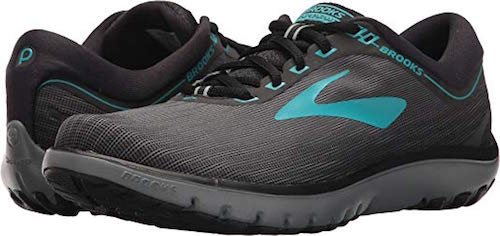 Brooks' PureFlow 7 offers lightweight cushioning and gives a flexible response. It is a sleek, neutral option, which offers 3D Fit Print upper technologies. The PureFlow 7 comes equipped with a removable articulated sock liner and a full-foot length BioMoGo midsole, which ensures adaptive cushion at a lightweight performance. The heel design gives reliable alignment which will reduce pressure on the muscle and joint areas.
The 3D Fit Print upper is a revolutionary process that uses screen-print technology to apply engineered structure to the uppers, maintaining the structure with increased flexibility and lighter weight. The BioMoGo DNA LT midsole is a cushioning system that adapts to runners of all sizes and speeds, providing unique and comfortable wear.

The Brooks PureFlow 7 is designed to provide unique cushioning while maintaining a lightweight and breathable feel. It is not the cheapest on our list, but it is definitely worth the cost.

10

. Inov-8 Bare-XF 210 V2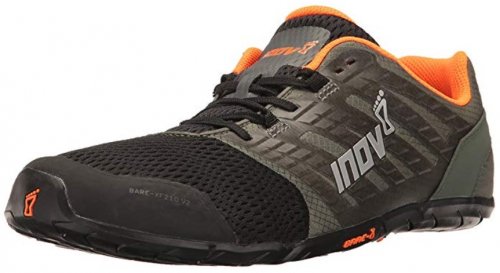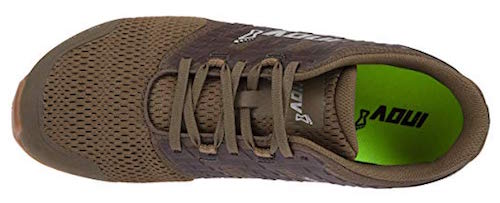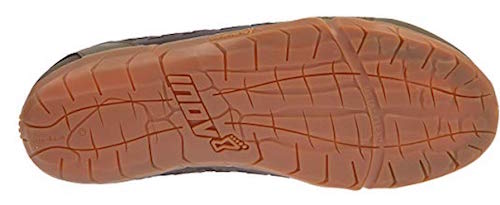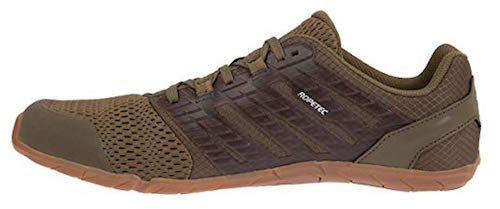 Aside from being a mouthful in terms of its name, the Inov-8 Bare-XF 210 V2 is actually not created specifically for running. This design is a climbing trainer, but it has been long accepted into the world of running as well. It keeps the foot close to the ground, provides an easy fit and Rope-Tec protection, which means a superior grip and durability like no other.
The Bare-XF 210 V2 is a lightweight design, with breathable materials. It offers plenty of room for the toes and a good feel of the ground. The forefoot is outfitted with the Meta-flex technology for natural flexibility, and there is a special lacing system that keeps your foot secure inside the design. The outsole of the Bare-XF is a sticky rubber for maximum grip, and the entire construction is incredibly long-lasting thanks to the rubber toe bumper.

If you want something that will withstand hard wear, that will keep you on your feet no matter what and protect you from stubs and challenging terrain at the same time - this Inov-8 design is the right option for you! The Bare-XF has everything you need for off-road activities, and it will surely not let you down, no matter what you do.

Subscribe to our Newsletter