Best Crib Shoes Reviewed & Rated
In a Hurry? Editors choice: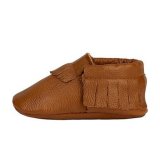 Test Winner: BirdRock Baby Moccasin

Crib shoes are little adorable shoes that play an imperative roll in helping to stabilize your child – but also in keeping them safe when walking and crawling. Today, there are hundreds of options on the market, all of them looking quite precious and lively in style. Now, before you purchase just any pair of crib shoes, it's important that you really seek out the valuable options – not just those that look cute.

Don't worry though – we have you covered. In today's buying guide, we are going to explore the very best of this type of footwear and share some tips and tricks to making the smartest purchase. Ready to begin?
Standout Picks
Criteria Used for Evaluation
Materials
If you want the highest quality materials, look for genuine leathers such as full-grain, nubuck leather, and suede.
Let's take a minute and talk about the most important quality and criteria when it comes to any pair of shoes, whether crib, running or even hiking. The quality of the materials that a manufacturer uses can speak volumes as to the quality and value that the shoe actually has.
Footwear that is typically only made from synthetic materials or even plastic – is poorer in quality, meaning you should stay away from them. The reason for this is that synthetic materials can be stiff, unyielding, and may even cause blisters on your little one's feet. Additionally, synthetics are not as durable, breathable or comfortable as genuine leather materials.
For the most comfort and the best foot-feel, look for genuine leather and/or suede, as these will provide your baby with the ultimate wearing experience!
When we were assessing products for your consideration today, we carefully studied each product and the materials that the manufacturer used inside and out. Since this is all about your little one – you really only want the softest and most comfortable shoes. Based on our list today – we can tell you that each of these products is made from the very best materials – otherwise, they wouldn't be here!
Durability
Choose footwear with sturdy rubber soles for maximum durability.
Once a baby starts crawling or even walking – they are going to start to move even more! Think about it, how amazing does it feel to walk around and enjoy life around you? That's precisely how a baby feels – and everything is new to them!
With this logic in mind, it was critical for us to only pick out footwear that we felt was designed with the capacity to handle such activity. So, we scanned each product and measured its durability. Now, when it comes to footwear, it's typically easy to see how well a pair will hold up.
What you want to look at is the outsole of the design, or the bottom. Companies will either resort to using cheap rubber or higher-quality carbon rubber. When it comes to crib shoes, standard rubber outsoles can probably last a few months of constant and daily use.
Now, we do urge you to consider that your young one is growing – so, a pair of 3-month shoes will become small in only two months! So take this into account when you're thinking of durability.
Comfort
Soft, plush uppers are key in keeping your baby comfortable.
When you are at the store picking out a pair of shoes, what is one of the most important aspects for you? Comfort, of course! No one wants to purchase a pair that makes them feel uncomfortable at work, the gym, or just in general.
With that being said, the same logic applies in the case of baby footwear. While a baby cannot look at a parent and say, "These are uncomfortable, next!", it's important that parents pay attention to the design of the shoe and how the baby reacts once they try it on for the first time.
To ensure that your little one is the most comfortable, look for soft materials. Uppers made from plush, cozy fabrics, canvas and even genuine leathers will prove to be quite comfortable over a longer period of time. When you take your baby's shoes off, there should be no red marks on their skin, no indents or blisters. Of course, the baby should also not be crying as a result of wearing the footwear.
We carefully looked at the interior of each design and how it was crafted. In today's guide, we really only shared with you products that had softer interiors and were carefully designed to support the development of a baby.
Safety Hazards
Make sure that the footwear you're buying is safe both for your baby's feet and your baby's well-being overall.
With any pair that we assess, we always consult and look at the actual safety of the design. This could not be more important when purchasing footwear for babies.
So, as we assessed each shoe for today's list, we really looked at different safety features and made sure that they were "accident-proof". On top of this, we always looked at previous customers who shared their insights – just to make sure it was a good pick.
To determine whether or not a design is safe for your baby, there are a couple of aspects to consider.
Fit: This largely has to do with the comfort criterion we talked about above. The fit of your baby's shoe has to be loose enough for little toes to wiggle freely, but also tight enough so that your baby can't shake off the shoe during the day. Make sure the design isn't slipping off and that it's not causing any undue rubbing on your baby's skin.
Removable Parts: This may be a given, but try to stay away from designs that have buttons, dangling charms, or any parts that can fall off or easily be removed. Little objects like these represent a choking hazard, and that is something that we all want to avoid. So make sure that all parts of a design are glued or sewn on and that your baby can't remove them out of curiosity at any point.
Value
Value means weighing the cost of the design against its quality and features.
In our opinion, when evaluating crib shoes, one of the most important criteria that all consumers really need to take into consideration is their cost and value. Now, this does not have much to do with the physical parts of the design – but rather to ensure that parents are investing their money and receiving value in return for it.
Everyone wants to get their money's worth, right? Well, to help parents out, we looked at hundreds of products and compared their price tags to see what the average cost was in this industry.
From there, as we looked at each product, we were able to see where the product stood, as far as price went, in comparison to the rest of the items. From there, we really asked ourselves, "What value does this product provide a customer?" With this, if we were able to answer the question with valuable information – the product was one step closer to making our list.
Our Favorites
1

. BirdRock Baby Moccasin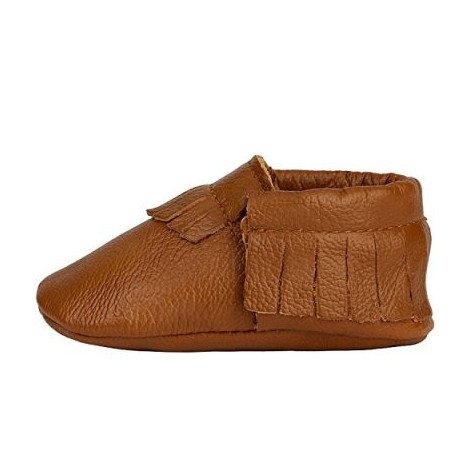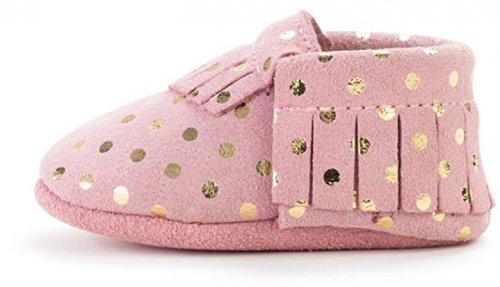 The BirdRock Baby Moccasins are easily one of the most popular options on the market today, thanks to their incredibly reliable and soft design that both the parents and babies will love. The best part – there are so many colors that you can pick one for every occasion! Let's explore some more of these features.
What really impressed us about these specific shoes is that they are constructed on the foundational principle of quality. The entire design is crafted from 100% genuine leather, which is known to be soft, reliable, durable, and, for the parent's sake, safe. Additionally, the interior is made with a soft sole to help support the little one's feet during the most important stages of development.
So, while this specific brand and design have captured the number one spot because of their pure quality, they also secure the position even more with over 29 different color options. That's right – the number is no exaggeration. This is a fantastic feature for parents that are seeking to purchase a few different pairs of comfortable crib shoes for their young one.
When it comes to considering the price tag of these – we would like to say that they are considered one of the more affordable pairs on the market today. Most parents will agree that for the pure value that these have, the cost is most certainly worth it.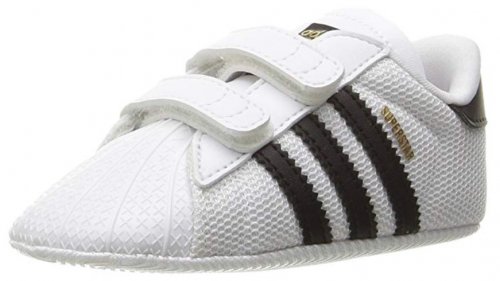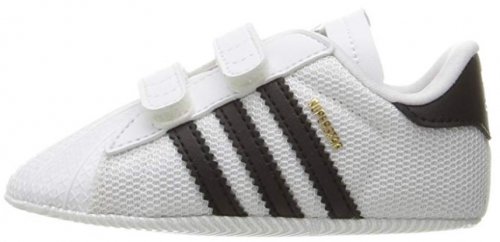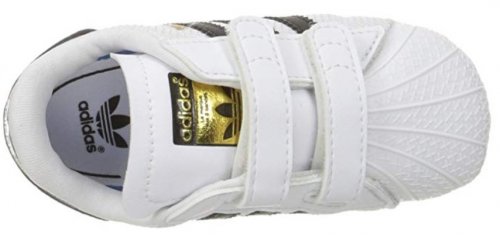 Adidas is everywhere today in the sports and footwear industry. That being said, they constructed a great crib shoe for little ones known as the Superstar sneaker. Designed like many other traditional Adidas sneakers, with the Superstar, parents can not only match their shoes with their baby – they all can have some peace in knowing the little one is comfortable with these on their feet. Let's explore some features!
First and foremost, investing in this type of design is really more about the actual brand than the product itself. Now, the rationale behind this thought is that – given the reliability associated with this brand, in particular, parents can have the assurance of knowing that the footwear they are purchasing is of outstanding quality and precision. Today, this brand is one of the largest footwear manufacturers in the world and this is one of their testaments to being the best.
Aside from being a notable brand, the Adidas Superstar is infused with both soft and stable features. Through utilizing the right balance of synthetic materials and padding in-and-around the design itself, your baby will be comfortable the entire time these are on their feet. Additionally, thanks to the rubber sole which is found on the bottom, parents will notice their little one having slightly more traction and control when trying to crawl or walk around the room.
Now, as far as cost is concerned, since this is a name brand in the footwear industry, consumers can expect to pay the price for that. We would like to interject though – this should not be a deterrence for any of our readers. The reality is, this is a classic investment case where consumers need to really look at their return on investment. Here, not only are you getting a well-known designer brand shoe, but you are also getting high quality, comfort, and a fashionable pair of shoes for your child.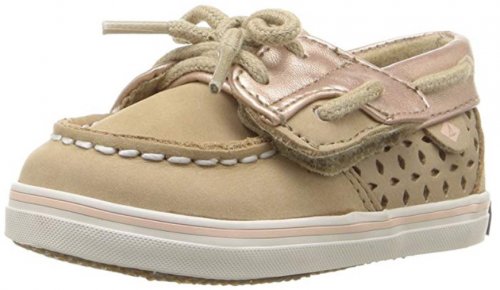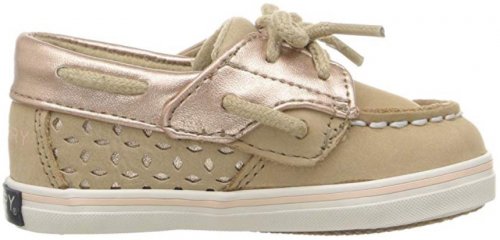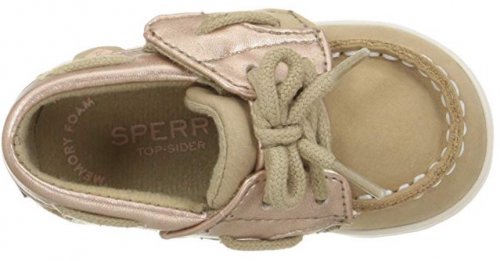 Sperry is a brand renowned for their preppy resort style, and now your baby can also put their best foot forward - literally - thanks to the Bluefish Crib! These are inspired by the famous Top-Siders, trendy loafers for trendy people, and we could not be more in love with their design. They feature genuine leather, a hook-and-loop closure, a footbed made from memory foam and a durable vulcanized rubber outsole that will keep your baby steady and protected.
The Bluefish Crib is made from high-quality leather in the upper. This leather will mold to your baby's foot over time, providing them with an irreplaceable sense of comfort. Don't be intimidated by the laces you see on the design! These are purely decorative, as, in fact, there is a hook-and-loop closure underneath that makes it amazingly easy to slide these onto your baby's feet.
If your little one is just starting to walk, then the cushioned memory foam footbed and the durable, slip-resistant rubber outsole will certainly come in handy. Your baby will be stylish, comfy, and secure as they take their first steps thanks to the amazingly fashionable Sperry Bluefish Crib!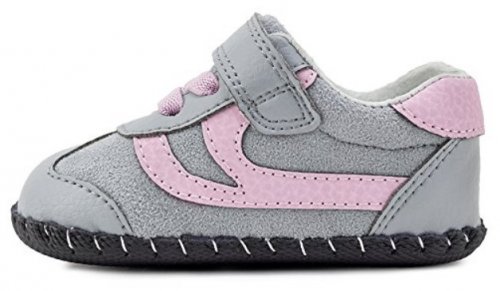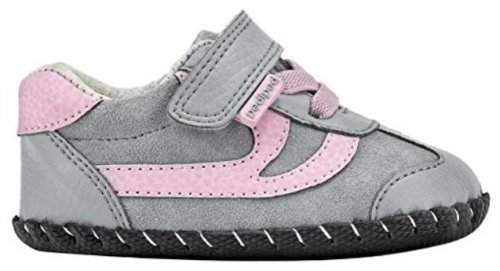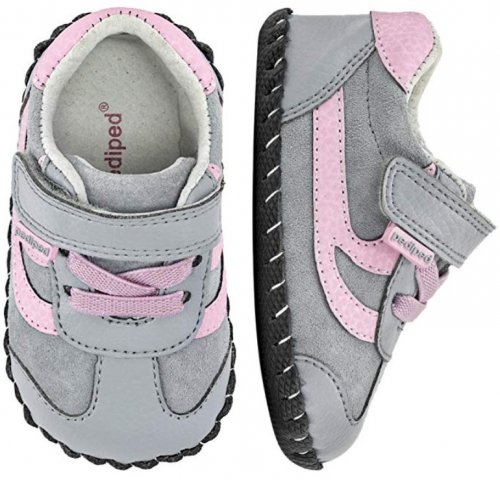 Everyone loves a cute, colorful pair of sneakers, and your baby is no different! Pediped created the Cliff, the perfect option to match the personality of lively, spunky babies who are just starting to explore the world. The Cliff is made from a combination of synthetic and microfiber materials, and, similarly to some other options on our list, it has been approved by the APMA for assisting in proper foot development. An adorable sneaker that supports your baby all throughout the wear!
The Cliff has an upper in several different color combinations so you can easily find one that suits your baby's style. Its inner lining is breathable to reduce sweating, and it features a leather sole that is flexible and durable. This sole has diamond tread on it, meaning it is slip-resistant and yet provides good grip and allows little toes to easily wiggle.
Put these on in a blink of an eye thanks to their Velcro closure across the top! The Pediped Cliff is just that everyday style that your baby might need. It goes well with any type of outfit, and it is great both for infants and for those who are learning how to stand and perhaps taking their first steps in life!

5

. Juicy Bumbles Soft Sole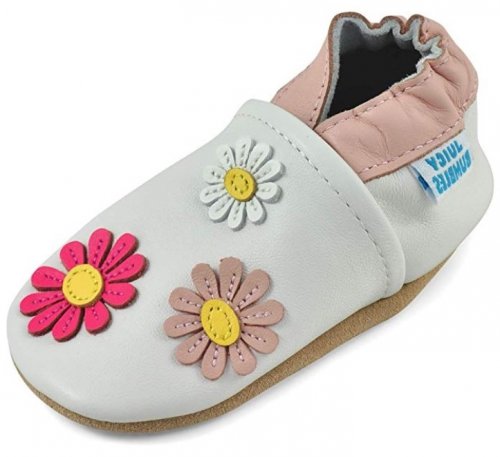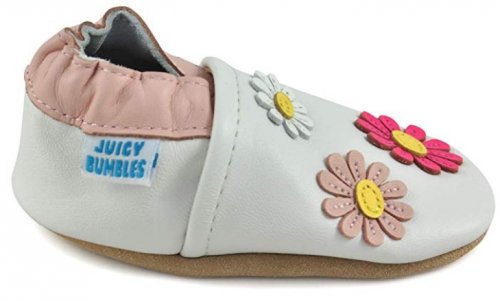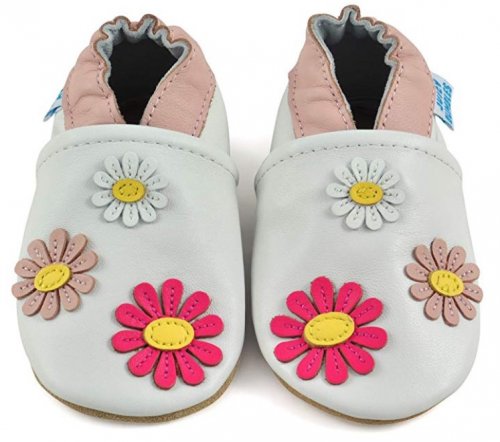 For the next design on today's list, we are very excited to share with you the Juicy Bumbles Soft Sole. This design is another top contender for the throne as it boasts similar value to the number one product on today's list, and a better price tag. With a great, soft sole and unique design, this might just be your pick!
While the Soft Sole cannot compete in terms of quantity of options – it can in the quality of options. This brand sought to create a decent amount of colors for parents to pick from, all of which are classy, vibrant, and fashionable. From pink to camo to even a navy blue, consumers will have the choice to pick their favorite color version of this high-quality shoe.
Let's take a minute to talk about what these are made of. For one, the exterior of the actual is made of leather materials, which is known to be one of the most durable materials that a manufacturer can pick from. Additionally, it is soft, which is great for a baby. Now, in an effort to support a young one, Juicy Bumbles created this product with a suede sole, which is even softer and more comforting.
When it comes to comparing the cost of this product – we can say it's most certainly one of the more cost-friendly options for parents to pick from. This is actually one of the main reasons why consumers prefer this product to others on today's list. Not only is it a better price – it contains a similar or competitive value to more expensive brands, making it a great deal.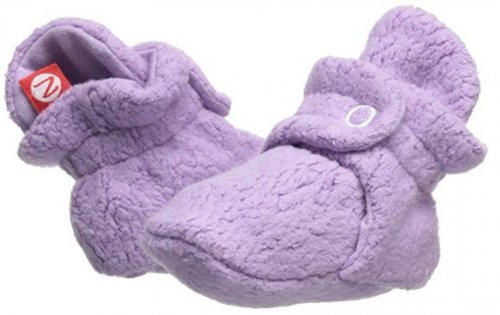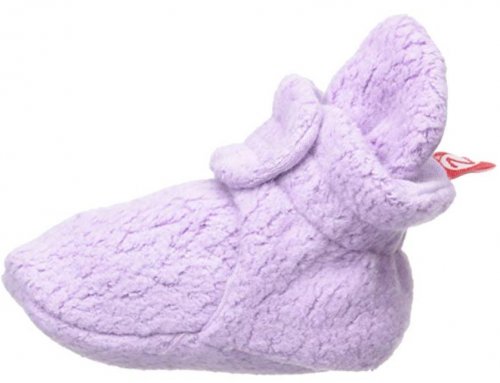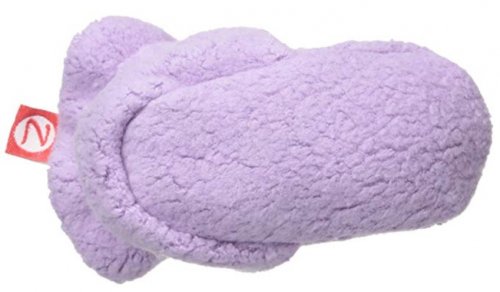 We wanted to make sure we included the Zutano Cozie fleece booties. These are considered a hot commodity today as many parents have flocked to purchase these instead of having their child wear socks. With stunning and vibrant colors to pick from and comfortable materials, it's a pretty decent option, hence why it's on our list!
Let's take a minute to explore the materials that the manufacturer chose to use. Now, just by the pictures, you can get a sense by how warm and cozy these really look. The company used a specialized cotton and fleece blend of materials to create a soft yet durable bootie that babies will enjoy wearing.
The biggest selling factor for many parents is most certainly the design, appeal, and vibrant colors that they can pick from. For one, the booties are designed with a simple snap closure system, which makes them easy to put on and take off. Additionally, the bottom of the bootie has some nice traction features to prevent any slipping.
When it comes to comparing price tags – this design is considered priced similarly to some of the cheaper shoes on today's list. Here, you can expect to pay a small amount of money for a large amount of value. With some vibrant color options, soft materials, and a unique closure system, parents will appreciate these while their little one slowly begins crawling more and more.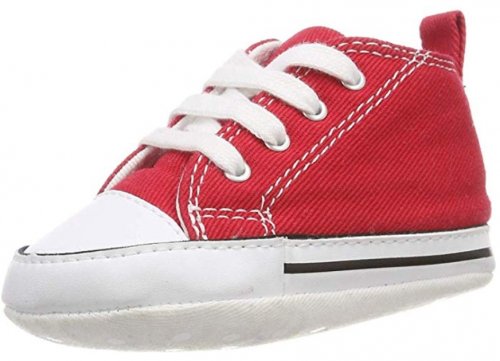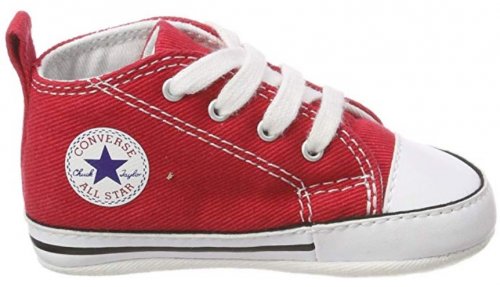 If you are in the fashion industry, you must have heard of the Converse brand seeing as they are wildly famous. Well, now, not only can you purchase a pair of shoes for yourself – but you can also get a stylish pair of First Star high tops for your baby. How cool is that? Without further ado, let's explore some cool features that might just make you want to purchase these today!
So, as we evaluated different children's footwear for this buying guide, we did not come across many products that had any extra support or padding. However, Converse chooses to use foam padding for the back part of the design to offer the baby a little more support when crawling around. We would also like to mention that they also carefully constructed the insole with terry cloth for maximum comfort.
Now, this would not be a standard design from Converse if they did not offer it in different colors, right? Well, just like the adult versions of this shoe, babies can also have the selection of their favorite colors as well. From black to blue to even pink – there is a color for everyone!
When it comes to comparing the cost and value of these shoes with others on today's list, parents will conclude that these are slightly costlier than many other products. While they are not the most expensive, it may be hard to justify spending this much on crib shoes, unless you look at its value. These are not only a fashion shoe, but they are also comfortable, sturdy, and a great transition shoe for this stage in a baby's life.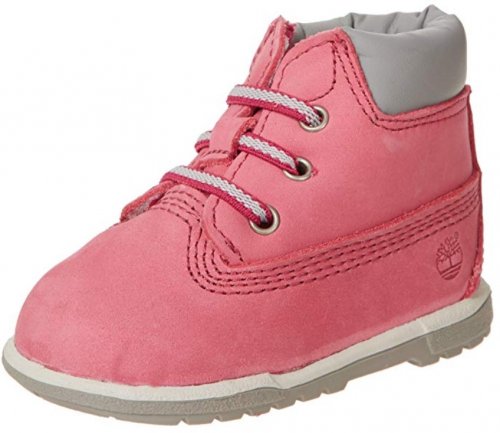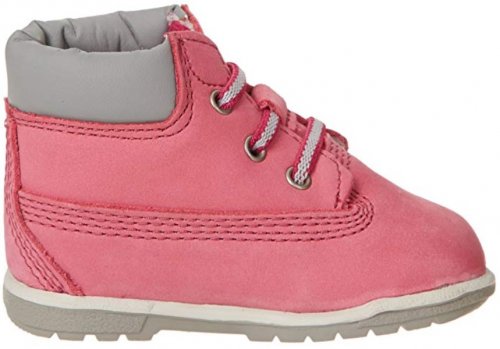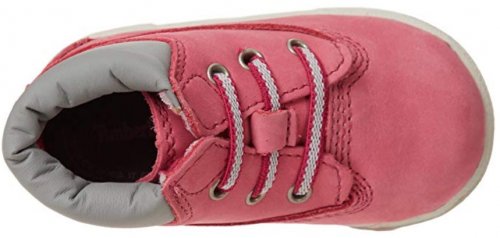 When it comes to boots, does any brand really compare with the famous Timberland? Not only do they run the market for rugged boots, but they are also on their journey to take control over the baby shoe department with the 6-Inch crib booties pair. Here you will not only get an opportunity to get a colorful pair of Timberland booties – but you also get a free gift, making the purchase totally worth it!
So, each standard purchase comes with a gift box, which is packed with both the booties and a free Timberland hat, complimentary with the purchase. This is great for the fall time, or wintertime, the moment it gets colder and colder. Now, the best part about the color sets is that there are four different options for consumers to pick from: pink, blue, yellow, and fuchsia rose.
On top of the great value in the set, the booties are made from all soft materials, including nubuck leather for the exterior part of the boot – and leather for the outsole. Both of these materials promote the most comfortable experience for a baby – especially in this special time of development.
When it comes to the cost of this specific pair, they are considerably costlier than any other product on today's list. Now, part of the reasoning behind this is the name of the brand – which is known to offer higher-priced products. However, consumers are getting some great value in return for their purchase, including not only comfortable and soft booties but also a matching and branded hat.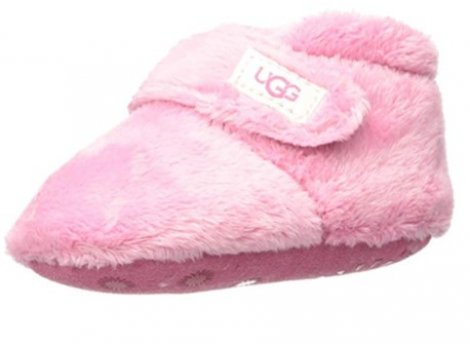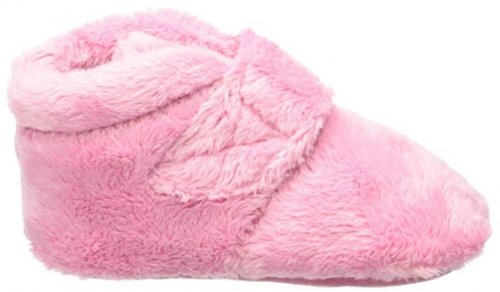 This design from UGG is a soft, cozy option for your little one! The Bixbee has a terrycloth upper, fuzzy and soft for your little one's foot comfort. These are better suited for colder weather for sure, but we can't help but love their look and appeal, as well as the simplicity and ease of use. The soles on this pair have some synthetic material added for traction for those learning to stand or walk while keeping the flexibility to help your child's foot muscles develop to support them properly.
With super soft terrycloth uppers, the Bixbee will wrap your little one's foot in soft plush comfort. Available in several great color options, you can find one suitable for your little boy or girl! The uppers of this design definitely provide warmth, but also make them machine washable. This is a wonderful characteristic for ease of care, should your child dirty them or just need a quick refresh.
An adjustable closure around the ankle and top of the foot makes the Bixbee an easy-on, easy-off kind of footwear. Hook and loop cinch together with Velcro and help provide a little bit of ankle support as well. The outsole is a soft suede synthetic material that has a patterned tread of silicone to help give traction. Inside this little design is also a terrycloth insole, so a bit of support is found for developing feet. UGG has made a solid option to consider for cooler months!

10

. Robeez Slip-On Soft Sole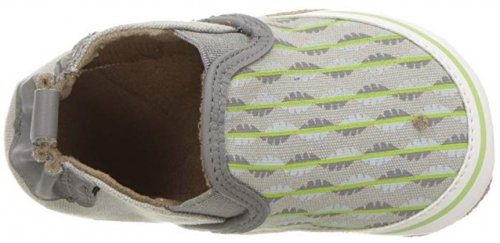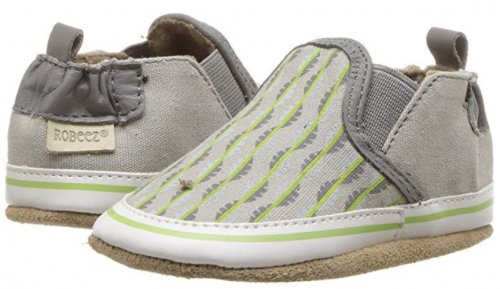 Cool, sleek slip-on styles are not just for the adults - your baby can now rock them too, thanks to the Slip-On from Robeez! This minimalist design comes in a variety of trendy colors and patterns. It features two gore panels in the sides for elasticity, a suede sole, and an elasticized ankle that makes putting the kicks on and taking them off a breeze! What's more, this Slip-On has been approved by the American Podiatric Medical Association, meaning it promotes proper foot health and development for your little one.
The upper of the Slip-On is made from durable canvas material that will go easy on your baby's feet. You will be amazed how quickly you can put these on thanks to their stretchy top line, and the lining in the front of the design keeps your baby's feet dry and cool throughout the wear. The suede sole of the Slip-On is flexible and soft and supporting proper foot development. It is also slip-resistant, should your little one start learning how to walk.
There is honestly nothing better than a pair of lightweight, comfy slip-on sneakers like these from Robeez. The Slip-On Soft Sole is a good choice for your baby not only in style and comfort but also when it comes to health. You can be sure they will develop a healthy gait and be walking around the house in no time in these cool sneakers!

Subscribe to our Newsletter