Best Baby Hard Bottom Shoes for Walking Reviewed
In a Hurry? Editors choice: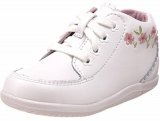 Test Winner: Stride Rite SRTech Emilia

Is there a better feeling in the world than seeing your baby walk their first steps? Though it is a milestone, it also comes with an influx of new responsibilities. In this case, a good pair of hard bottom shoes can help them on their new journey. But even more than that, the needs of a toddler are way higher than the ones of an adult person, and because of this, your kid deserves quality hard bottom shoes made with an increased amount of love and care about all the things.

As a crawling infant, your child has probably worn soft-soled shoes this whole time. This is ideal for foot development, and also the most comfortable. Below, we've gathered ten of the best hard bottom shoes out there.
Standout Picks
10 Baby Hard Bottom Shoes for Walking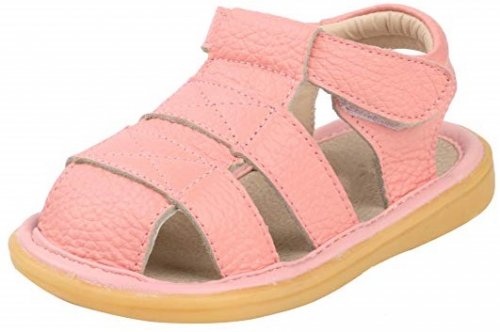 To begin with, we've got an adorable pair of sandals for girls as good hard bottom shoes. Sandals are perfect hard bottom shoes for a baby and for hot summer days because they often have cutouts providing ventilation, while also having a protective hard sole.
This particular pair of hard bottom shoes for babies features a simple strap design with a hook-and-loop closure for easy on and off. There are cut-outs along the side of the foot, but the toe box is closed to protect the toes from scrapes and stubs.
The cushioning provided by the soles also make sure that the shock impact of each stride is absorbed. Though this is most important for jumping and running, it is also important for walking. It may not be apparent for your child, but in the long term, it reduces the likelihood of foot fatigue. The outsoles are made of lightweight rubber with a tread pattern for optimal traction. With an inexpensive price and various soft colors to choose from (pink, white, and ginger), this pair is both practical and super cute in a hard bottom shoe. Just make sure to order a size or so down from your little girl's usual shoe size, as this model does run large in size.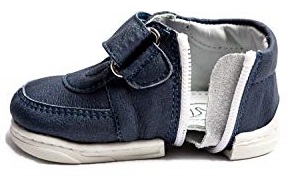 Convenience is important when it comes to kids' footwear, and zippers and elastic openings are great for this purpose. However, these baby first walking shoes take it to the next level.
Not only do they zip up the collar and down to the hard bottom shoe sole - they actually wrap around the underside of the foot, allowing you to zip the whole shoe in half! As a result, they are super easy and breezy to take off, arguably more so than any other kind of footwear. There are also no laces to trip over and no straps to get tangled up in.
In addition, the uppers are nice and supple, reducing the risk of having uncomfortable friction against the top of the foot when walking. They are also thin, providing ventilation for warm days and preventing odor and moisture from accumulating. To top it all off, they are of a reasonable cost for a hard bottom shoe and are available in different colors.

3

. Stride Rite SRTech Emilia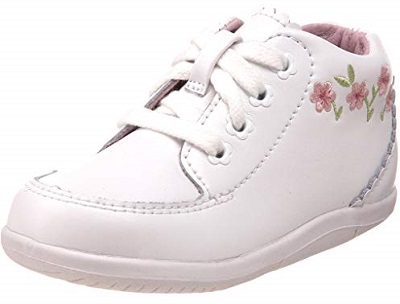 This next pair we've chosen is another adorable baby hard bottom shoes for your baby. Designed to cater to all the possible needs of a new walker, the Stride Rite Emilia bootie will help them walk more easily on their own.
A seamless construction cradles the natural contours of the foot, ensuring its proper alignment. The exterior is made of smooth, premium leather, and the hard bottom shoe has a hook-and-loop closure that renders them very easy to slip on. All technicalities aside, they also have flowers stitched to the side, and the pastel colors contrast nicely with the white uppers. But watch out! they could get dirty easily.
The tread design on the rubber outsoles includes unique sensory pods to ensure better stability and traction. There are also sensory pods that enhance their sensitivity to the ground underfoot, ensuring balance. Overall this hard bottom shoe offers exceptional structural support, so although they are a bit pricey, the benefits your child gets in return are priceless.

4

. Pidoli Hard Sole Moccasin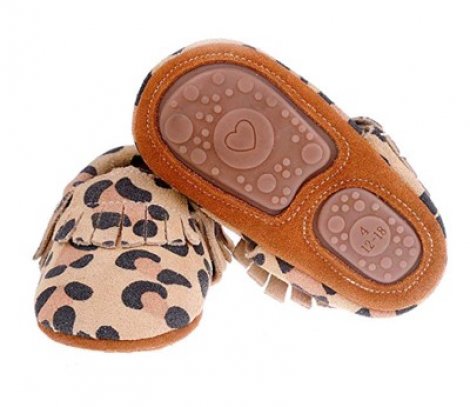 Established in 2010, Pidoli has created a hard bottom sole shoe for babies and new walkers that is simple and easy to use and provides all the comfort of a moccasin. Soft uppers will cradle your child's foot, while the split hard bottom sole shoe allows for flexibility when they are learning to take those first steps. It keeps a barefoot feel with the traction of a harder sole, allowing your child's foot to develop naturally through walking.
The muscles in the foot develop as we learn to walk, and having the split sole in this hard bottom sole shoe helps to keep the feel of walking barefoot, helping to promote proper muscle development. A non-slip dotted sole provides plenty of traction with cute heart emblem at the forefoot, all made from a quality rubber material.
The uppers are created from 100% genuine leather, adding a bit of durability to the shoe. And, it comes in a variety of great colors and patterned options to go with any outfit your child has! The fringed moccasin design gives it a pleasing aesthetic, and easy slip-on style makes them easy to use. Elastic opening helps to give a good fit without slipping off the foot. Great for new walkers that are in need of a hard bottom sole shoe!

5

. HONGTEYA Leather Tassel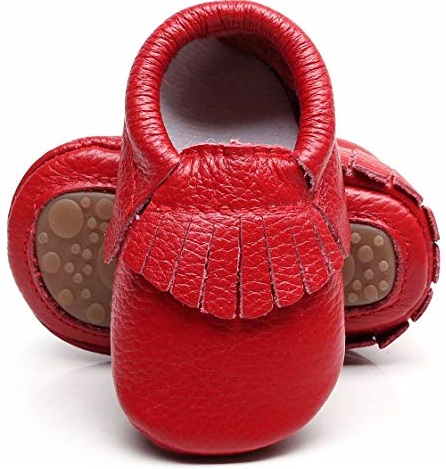 Mocassins are a type of footwear first created and worn by First Nations. The design has spread to different peoples are parts of the world, as well as undergone many changes to become the stylish mocassin it is today. Their hard bottom shoe design is clean and simple, resulting in a minimalist and slightly bohemian vibe.
Though moccasins were originally made from animal hide, this particular pair of baby hard bottom shoes for walking by HONGTEYA is made using leather. The leather upper is nice and flexible for the toes when walking, and are dyed in different colours like brown, blue, pink, and yellow, and even rose gold. The back of the shoe also features an elastic gathering, making it super convenient and easy to slip on.
When it comes to the outsole, rubber is used instead. This creates a hard sole measuring approximately 1.5mm, which will protect your child's little feet from feeling the rocky or rough terrain underfoot. It also ensures ease of walking, which, of course, is super important for babies who are just learning to walk. Cost-wise, they are affordable, though some customers claim they are flimsy for a hard bottom shoe and not durable.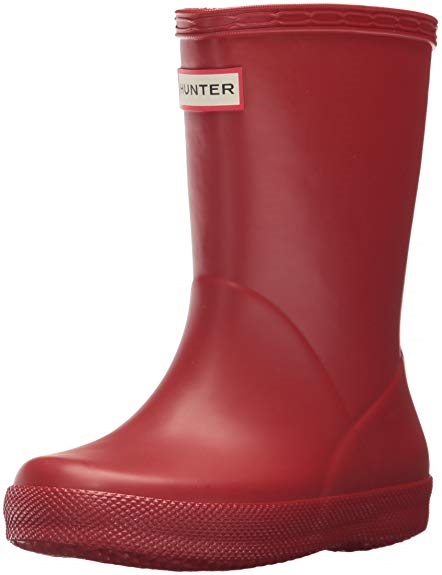 Rainy days might be gloomy and frustrating to you, but to a young child, it's just another day to play and to have a blast. With a pair of these rain boots as your kid's hard bottom shoes, your baby will be able to explore the world outside while staying protected and dry.
The First Classic rain boot by Hunter was made with growing feet in mind. They ensure maximum ease when walking by using a sole that's flatter than most, combined with a rounded toe. This encourages the natural toe-to-heel rocking of the foot with each stride in these hard bottom shoes and makes walking easier for beginners. This feature is a huge pro, as building a good foundation is vital to ensuring that your child does not have foot issues when they grow up.
Another great feature is the construction of these hard bottom shoes. They are handcrafted for maximum quality and made with natural rubber with a matte finish. On the inside is a textile lining to ensure warmth and comfort, while the outside remains waterproof and protective. As well, have a broad opening at the shaft that makes sure they are easy to slip on while also allowing for agility. These boots are somewhat pricey, but again, that's to be expected because of their reputable brand.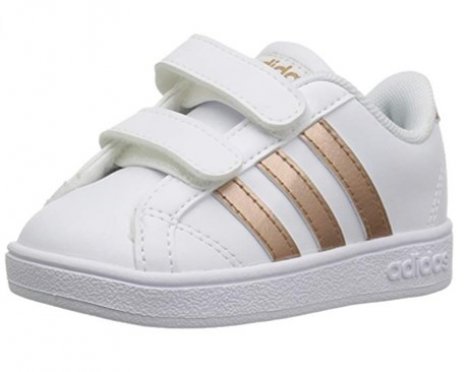 We all know and love this famous brand of shoe, and we know the brand stands for quality, even in their little hard bottom sole shoes for little ones! The Adidas Baseline is a sneaker style shoe with easy closure for an adjustable yet solid fit. Utilizing the best kind of materials to help keep the shoe light, breathable, and stable, Adidas can start your child's steps off right with this great pair of the hard bottom sole shoes.
At the bottom of the Baseline is a rubber sole, giving cushioned support to your little one's feet, yet maintains the flexibility to help with proper gait. A patterned tread helps give the sole traction on slippery surfaces. It's a low top design, so the ankle will have the mobility to bend and flex, and a dual Velcro strap closure allows an easy and adjustable fit to the foot.
Uppers of this hard bottom walking shoes are leather, while the brand's iconic three-stripe emblem and heel patch are made from synthetic leather. Stripes come in a few different colors while the main part of the upper is white, giving it a bit of style and flair. A padded collar and tongue give added cushioned comfort for when your child is learning to walk. A solid option for a hard bottoms sole shoe from a quality name brand in footwear!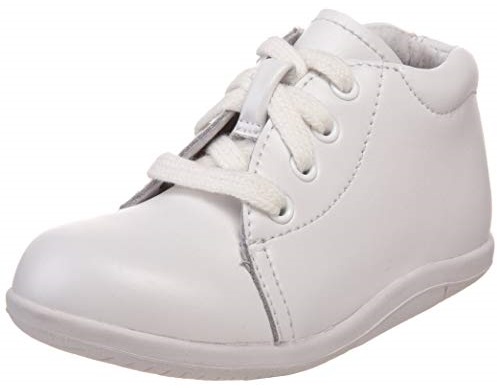 The name of our number eight pick is very similar to the hard bottom shoe we've mentioned previously. They are both from the same brand and have been made with the same great technology called SRtech.
This pair also has the sensory pods on the outsole, which allow your baby to feel the ground beneath their feet and have a better balance. A tread design can also be found there, allowing for multi-directional flexibility. The premium leather used in the uppers of this hard bottom shoe ensures the shoes stick through thick and thin, and a reinforced midsole provides stability.
In terms of comfort, this pair of hard bottom walking shoes for babies ranks high. The secret behind this is their memory foam footbed. With every step, the foam is compressed according to the natural shape of the foot, rebounding back as the foot is lifted to take the next step. This provides cushioning as well as structural support. The seamless construction, too, cradles the natural shape of the foot to ensure its healthy alignment. However, the uppers are a bit stiff and they might be restricting and uncomfortable. Though on the pricier side, we're sure you'll be glad for your purchase of these adorable baby hard bottom shoes.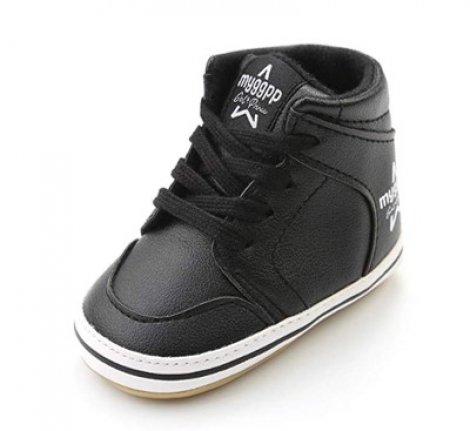 Once your child starts taking those first few steps, likely you'll be checking out newer, more sturdy shoes for them after a few weeks or months of softer soled shoes. The Antheron High Top is a hard bottom shoe that also helps a bit with ankle stability for your little one. And with basic colors, and a fun shiny gold hue, you can find one that will suit many occasions!
Any child's shoes should be breathable and lightweight, helping them develop proper foot muscles while they explore walking without being heavy. These hard bottom sole shoes create stability and have a cotton blend upper that keeps it light and airy. It's a lace-up closure but can easily be slipped onto the foot. The high top design also provides stability for the ankle so their steps feel secure and supported.
The base of this hard bottom sole shoe also has anti-slip treads with fun star shapes that give it an element of fun. A cotton liner inside also helps to wick away any moisture built up from playing or walking. This pair certainly checks all the boxes when it comes to stability, support, and breathability all in a hard bottom sole shoe that looks fashionable.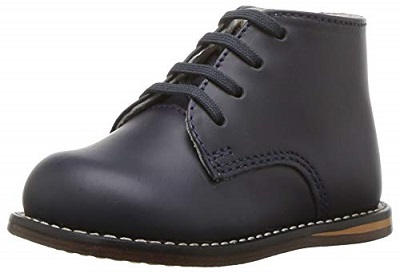 This pair of hard bottom shoes for a baby is a beloved classic. The 8190 Walkers, first made by Josmo's over fifteen years ago, has gained popularity amongst parents. As the company says, Josmo Shoes are growing with you every step of the way, providing reliable quality and (nearly) guaranteed satisfaction.
With a leather sole and upper, these are extremely durable and long-wearing while also providing a flexible fit. The downside, however, is that they come at a higher cost for a hard bottom shoe. The overall structure was made to support children's' walking gait by having a flat bottom. Unfortunately, the outsole is also smooth, providing minimal traction and stability. In terms of convenience, they also score quite high - though they seem to have laces, the laces don't actually have to be tied up. What's more, they are available in different colours including peach, beige, white, and black. Your baby might still be small, but that doesn't mean they can't start looking stylish already!
This model of hard bottom shoes is also available in two different widths - regular and wide. This way, if your child has relatively wide feet, you can ensure they've got the right fit. A more specific sizing system means the risk of causing discomfort is greatly reduced.

Subscribe to our Newsletter