Best Baby Shoes & Sneakers Reviewed
In a Hurry? Editors choice: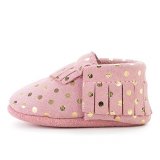 Test Winner: BirdRock Baby Moccasins

Although they will not be moving around and on their feet throughout the day
like a toddler
, shoes are still important for crawling, standing, protecting against outdoor conditions and for providing warmth. From moccasins to
snow boots
and everything in between, this list will cover what exactly makes a shoe perfect for babies, and how to pick a pair or two that best suits your infant.
Standout Picks
Criteria Used for Evaluation
10 Best Baby Shoes
1

. BirdRock Baby Moccasins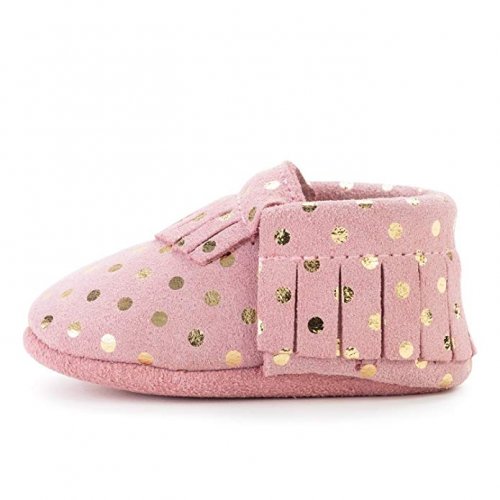 These adorable moccasins not only come in a wide variety of colors and designs to match with any possible outfit, they also most importantly will stay on your child's feet all day long. With their elastic back making them easy to slip on, and made of 100% leather these are very high-quality shoes. BirdRock also teamed up with a wonderful charity so you can feel even better about your purchase if you thought the price was a little high.
Giving Back Program
BirdRock not only makes adorable shoes for your children, they also believe in giving back to the community. With each pair of their shoes sold, they feed a child in need through Feed My Starving Children, so you can truly feel good about your purchase.
Genuine Leather
All moccasins are made with 100% genuine leather, so you can rest assured knowing that you are paying for a quality product. This soft, durable leather will not only last a very long time, but with wear it will gently mold to your child's feet, ensuring the perfect most comfortable fit.
Cost and value
These shoes are very reasonably priced considering all it is that you will be receiving. Not only are you getting a high-quality product that comes with a lifetime guarantee, you are also contributing to a great cause. At the end of the day, you are not only gifting your child something great, you are also giving to a child in need.

2

. Enteer Infant Snow Boot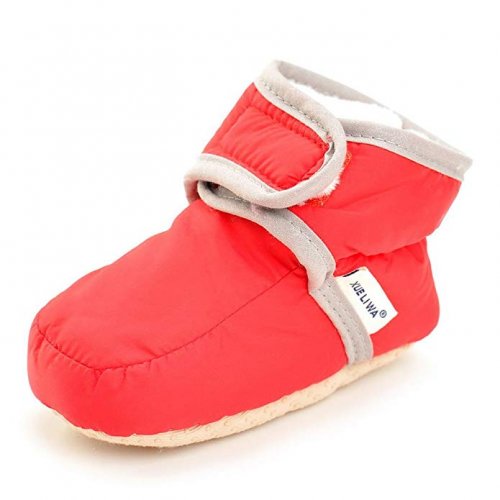 Your infant may be too young to actually stand and play in the snow but that doesn't mean their feet shouldn't be just as protected from the cold outdoors. These snow boots will ensure that your little one's feet stay nice and toasty during the cold winter months with their faux-fur lining and easy but secure velcro closure.
Faux-Fur Lining
As the winter months approach it is very important to have a couple of pairs of winter boots on hand. Although your child is not yet standing, having a boot that will provide them with enough warmth even during a quick jaunt in their stroller is very important. Most body heat is lost through our feet, so it is crucial to ensure the proper footwear for your baby. These fuzzy, fur lined boots provide the perfect amount of warmth to your baby's feet and are incredibly comfortable that they won't want to take them off.
Easy On and Off
It is important for your infant's shoes to be easy to take on and off… for you. If your child can easily remove their shoes and toss them, your outing will quickly go from fun to frustrating very quickly. These boots have a very secure velcro closure that opens right up to easily slide your child's foot into them.
Cost and value
Depending on the color the price varies slightly, but overall regardless of color they are a very affordable option and considered a must-have for infants. They are not only easy for you to take on and off, but your child will feel warm and comfortable wearing them all day long.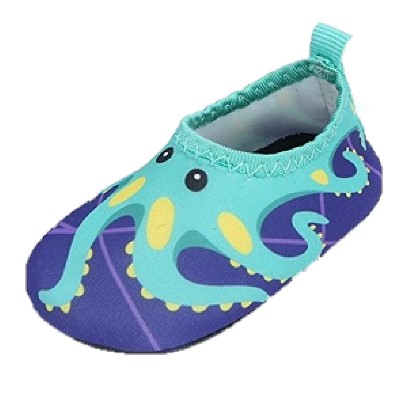 Babies and toddlers love to play near the water as much as older kids and grown-ups. Going barefoot is an option in a wading pool but we know as well as you do that baby will also want to come out onto the sand, decking or grass, where their feet are more vulnerable. These little barefoot water shoes are great for baby both in and out of the water
Protective outsole
The shoes have a rubber outsole which makes them lightweight and slip-resistant, for when a baby is running all over wet areas or trying to stand up in a wading pool. If you're at the beach, the shoes will protect small feet from scratches and cuts from sharp objects as well.
Comfortable upper
The upper is made of a stretchy, thin material that fit more like socks than shoes. They have a smooth neck that won't scratch sensitive skin while being worn and make them easy for Mom and Dad to put on and take off. The material is also wicking so baby feet won't stay waterlogged when out of the pool.
Cost and Value
These shoes are priced in the low end of the range. For the money, you get a shoe that will protect your child's feet while they enjoy the water. The shoes are very cute and come in 42 different color and design combinations. Soft, comfortable and secure, you get great value for the price.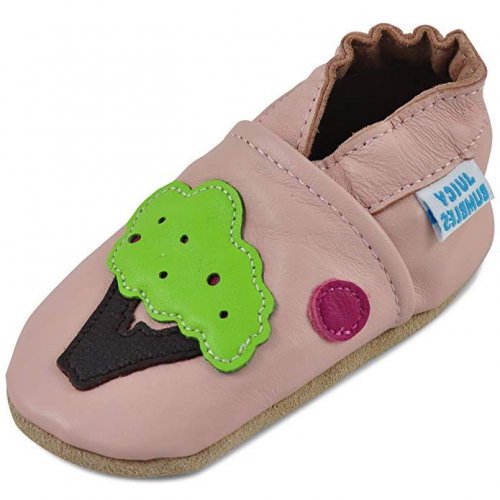 Available in a variety of colors and styles with cute leather details sewn onto the top, these soft leather shoes are great for baby's feet. These will allow your child's feet to move naturally and will not hinder growth. Protective and adorable, these shoes will also stay on little feet.
Non-slip
With soft, flexible leather on top and a protective, non-slip suede sole, baby's feet will move naturally without the risk of falls caused by footwear. The shoes promote normal foot movement and balance while protecting your little one on most surfaces.
Elasticized ankle
The elasticized ankle on the Petit Marin leather crib shoe helps to ensure that the shoes stay on the feet. They cannot easily be pulled off by your inquisitive baby, keeping both sock and shoe in place. They should be purchased a little large to ensure your child's feet are not cramped, making the elasticized ankle that much more useful!
Cost and Value
These are not expensive shoes. In the lower range of prices, the shoes are comfortable, secure and safe on little feet and come in 44 super cute designs. They come in four different sizes from newborn through 18-24 months and should be ordered a little bit large.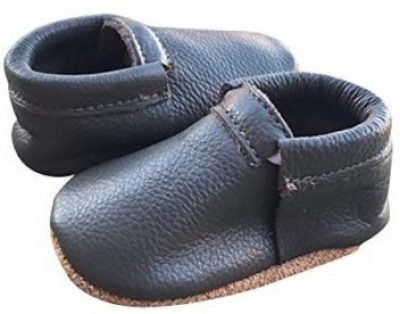 These shoes that are easy to slip on are ideal for any infant who just needs their feet protected against the outdoors. These are not made to step in, although they have a slip resistant suede sole just in case. The flexible and breathable leather will form to the shape of your baby's feet and feel comfortable rather than too tight.
Breathable Material
Made with soft, breathable leather, these shoes are not only flexible and easily mold to the shape of your baby's feet, they also will keep them nice and cool during the summer when their feet tend to get sweaty and clammy. You never want to purchase a shoe that doesn't allow for airflow, unless it is for cold winter months.
Textured Suede Sole
These shoes are not made for moving about, however, they can be great for when your child is in the early stages of taking their first steps. They are comfortable and fit nice and snug, and because of their textured sole, they will not have your baby slipping and falling all over the place.
Cost and value
Lucky Love shoes are a more expensive option, and although still affordable, there are many similar shoes on this list that are more affordable. These are made of leather and are great quality however your child will be quickly outgrowing all shoes at this age, and you do not want to be throwing expensive shoes to the back of their closet within a month or so.

6

. Zutano Cozie Fleece Bootie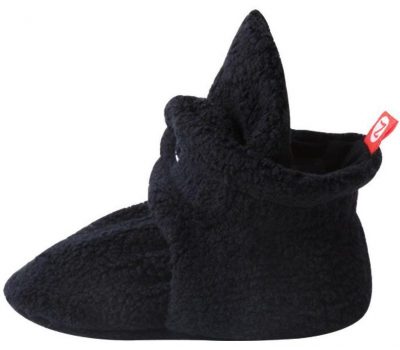 Zutano's cozy fleece booties are a great everyday shoe, made with a cozy cotton blend and easily machine washable there is no reason not to wear these daily. Their signature two-snap closure sets them apart from other boots and ensures they are securely fit onto your child's feet.
Two-Snap Closure
The two-snaps ensure the best fit possible for your child, along with the elastic ankle. Not only will these shoes stay put on their feet they will also contour to the shape of your baby's foot, ensuring the most comfortable fit, with plenty of wiggle room.
Machine Washable
There is nothing more tedious than having to hand wash clothes, especially babies shoes that are constantly getting spills or dirt on them. The option to machine wash their clothes can make or break the purchase, in this case, Zutano recognized the importance of convenience and made these a breeze to clean.
Cost and value
Zutano does not make the most affordable baby shoes, however, they are amongst the highest rated on this list for a reason, they work. Zutano excels where comfort and fit are concerned and these are sure to not only feel great on your child's feet but fit great as well. They are worth the extra dollars if you are in need of booties that will truly stay on, or if you are looking for a great baby shower gift.

7

. Converse CT First Star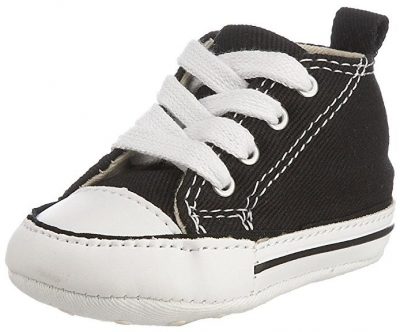 Super soft padded insoles, outsoles provide a non-skid grip and well, the name is a classic… Converse! Your baby will just love their first designer pair of sneakers. The support may not be the same as most other infant shoes, but you have to admit it's a fun tom-boy like option for infant girls. The extra cushioning gives it a more sock-like feel that can't be beaten.
Design
Durable canvas upper creates a sleek design and easy is easy material that can be cleaned. The durability is phenomenal and perfect for infants that are learning to crawl. The canvas is very fashionable as well and smudge proof.
Support
Great for parents who have trouble and find it difficult to take their baby's shoe on and off. Converse Chuck Taylor First Star comes with a pull-tab on the heel that helps with taking the shoe on and off. No more struggling with each foot. For once, a shoe that does it all.
Cost and Value
According to the official Converse website, these cute Converse Chuck Taylor First Star are only $22 and worth every penny.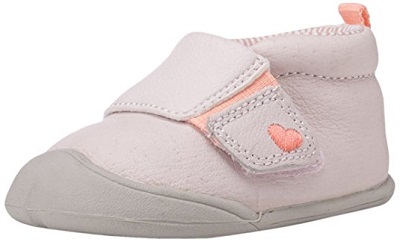 Uniquely designed for your crawler, your baby's feet will be comfortable and protected while gliding over carpet and floors. Available in 10 different colors and styles, these cute little first stage synthetic leather shoes will take the baby from crawling to first steps with ease.
Natural growth
The shoes fit a little roomy so that nothing restricts your child's natural muscle and bone growth. The crawling phase is an important phase for your child's toes, feet and ankles to move well while remaining protected.
Seamless linings
Baby feet will be very comfortable in this shoe that is both roomy and features linings that are seamless so there are no hot spots to rub against baby's toes and sensitive feet. They can speed crawl all day and practice their first steps without irritation.
Cost and Value
These shoes are priced in the mid-range relative to the rest of the list. They still represent a great value for their comfort, protect toe and crawl-specific design. There is plenty of room for growing feet and 10 colors to choose from.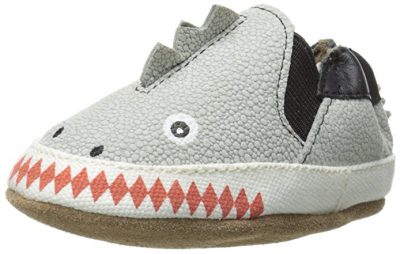 If you're looking for a slip-free, comfortable, supportive shoe that is a lot lighter than most infant shoes than Robeez shoes are perfect. These super adorable Dino shoes are very comfy with slip-proof soles. Your little ones will just love them.
Quality
First off, these Robeez Dino Dan flats are made of 100% leather which means they are super durable and easy to care for after wearing them. Not to mention the outsoles are made of suede so it helps prevent slips while promoting good balance and providing great protection.
Protection
These adorable shoes have elasticized added ankle straps that protect the foot from sliding out and makes the shoe easier to stay on and to put on. Robeez Dino Dan flats are best for indoor wear and if worn outside the activity should be light.
Cost and Value
Robeez Dino Dan flats are only $26 based on the Robeez official website and for a basic crib shoe, the price is just right. You can't beat the price for a shoe that is all leather, comfortable and good for all stages of a babies' development.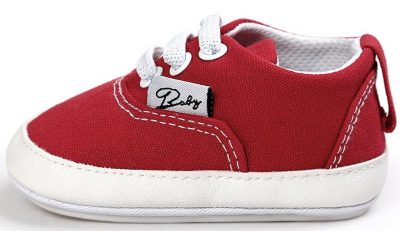 Soft, and easy to slip on when you're rushing to head out the door, these shoes are the perfect addition to your baby's shoe collection. The soft rubber sole is great for protecting their little feet, and once you see the wide color selection you won't be able to buy just one pair.
Padded Insole
Regardless of if your child is standing yet or not, it's nice to have a little bit of cushioning or padding in their shoe just to ensure their foot is properly protected. These BenHero slip-on shoes have the perfect amount of cushioning to ensure a snug fit, yet still mold to the shape of your baby's foot to keep them comfortable all day.
Color Selection
Baby's go through shoes very quickly due to their rapidly growing feet, so finding a shoe that fits and feels great, and having the option to buy multiples in different colors at an affordable price, keeps things super easy and makes for a fun little wardrobe changes.
Cost and value
These super cute shoes are very well priced and a great value made with nice breathable materials and cushioned to ensure your baby's feet are comfortable. There are so many fun colors to choose from and at this price, why not grab a couple pairs.

Subscribe to our Newsletter