Best Ice Skates Reviewed & Rated for Performance
last updated
Feb 05, 2019
With snow and freezing temperatures upon us come thoughts of winter sports and recreation. One of the most popular winter activities throughout the world is ice skating. You don't need to be an Olympian to enjoy ice skating, but you do need one thing; a good pair of ice skates. They come in five styles: figure skating, bandy, racing, touring and hockey style. You can tell figure skates by the toe pick they have on the front of the blade. Hockey skates are smooth from front to back.
In a Hurry? The test winner after 18 hrs of research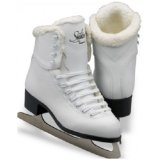 Jackson SoftSkate GS181
Why is it better?
Nylex Lining
Extra Padding
Nickel Blades
Charcoal PVC Outsole
Recreational-Level Skating
In a
Hurry? Editors choice: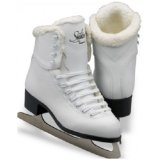 Test Winner: Jackson SoftSkate GS181

18
Researched Sources
1678
Reviews Considered
18
Hours Researching
20
Products Evaluated
Support
Comfort
Style
Features
Value
By Default
In Depth Review Top 10
Jackson SoftSkate GS181
Jackson Ultima Excel
Jackson Ultima Mystique
Glacier Jackson Ultima GS180
Lake Placid Summit
Riedell 615
Riedell 110 Opal
Lake Placid Nitro
Lake Placid Starglide
Bauer Junior Supreme 170
Table of contents
Criteria Used for Evaluation
Frequently Asked Questions
Sources
10 Best Ice Skates
1

. Jackson SoftSkate GS181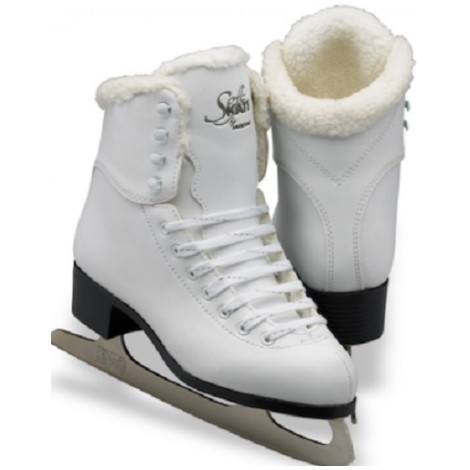 Nylex Lining
Extra Padding
Nickel Blades
Charcoal PVC Outsole
Recreational-Level Skating
The fleece lining of the Jackson SoftSkate GS181 wraps your feet in comfort. Its nickel blades provide a stable platform for you, as you learn to skate. The padded covered tongue and rolled padded collar provide warmth, comfort, and support. This is a great skate for recreational use, as well.
Read more
Fleece Lining
The soft, fleece lining aids in keeping your feet toasty warm; as well as, provides comfortable padding to allow all-day skating without foot fatigue.
Nickel All-purpose Blade
The blades of the Jackson SoftSkate GS181 are nickel, perfect for beginners. The blades are long-lasting with little maintenance needed. Also, these blades have a toe pick.
Cost and Value
The Jackson SoftSkate GS181 is an affordable skate, with a starting price of around $60-$70. Jackson is a reputable brand in the figure skating business, and their skating apparel is known to last for a long time.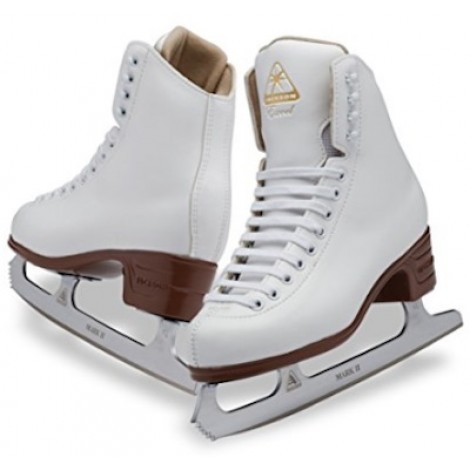 Ultima Mark II Blades
PVC Outsole
Vinyl-Coated Upper
Synthetic Lining
Level 5 Beginner Rating
If you're looking for an excellent all-around ice skate at an affordable price, the Jackson Ultima Excel is for you. This is a great pair of skates for a beginner or someone who is getting back into skating. They provide the support that you need at a price you can handle.
Read more
Support
The Jackson Ultima Excel provides excellent support to the ankles, which is a necessity for ice skating shoes. Furthermore, these are lace-up, and as such, there is a better fit around the top of your ankle.
Blades
The Ultima Excel comes with Jacksons Ultima Mark II blades, which take an edge extremely well and provide a solid base of support. Additionally, these blades are made to glide well on the ice.
Cost and Value
The Jackson Ultima Excel runs around $100, which is an affordable price for a beginner. The skate is made of durable vinyl coating that will last for years. Moreover, these skates glide well, are made with a synthetic lining, and have PVC outsoles.
3

. Jackson Ultima Mystique



Padded Backline & Tongue
Flex Notch
Full Quarter & Ankle Padding
PVC Outsole
All-purpose Chrome Blade
The Jackson Ultima Mystique is a step up in quality from the Ultima Excel but, also, a step up in price. The added padding in the foot and the tongue provide your ankle with excellent support. There is a flex notch to aid in better flexibility and improved stability, as well.
Read more
Additional Padding
The Jackson Ultima Mystique comes equipped with lots of additional padding inside the boot, which helps with support; as well as, landings on jumps.
Flex Notch
The Mystique adds a flex notch at the neck for increased flexibility while being able to maintain ankle support. This ensures fluidity in motion and better transitioning.
Cost and Value
The Mystique is a step up from the more affordable Excel, and the Mystique will cost you between around $130 - $140. Jackson is a reliable brand of an ice skate, and you can expect your Mystique to last you from beginner to intermediate skill level.
4

. Glacier Jackson Ultima GS180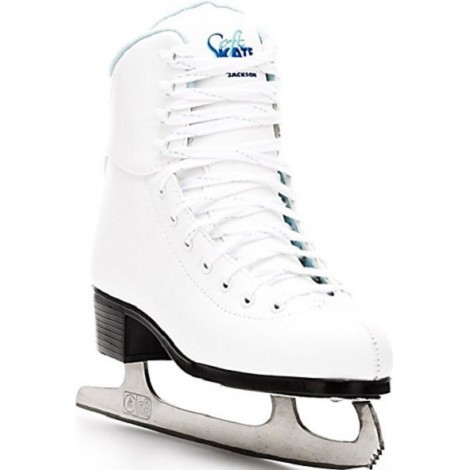 Nylex Lining
Charcoal PVC Outsole
Nickel All-purpose Blade
Vinyl Upper
Padded Tongue
Beginner Ice Skates
Size Runs Small
An absolutely wonderful choice for beginners, these Jackson Ultima's from Glacier can be a decent tool for traversing through your first 3 levels (i.e. pre-preliminary, preliminary, juvenile) of ice skating splendor. Having a Nylex lining, charcoal PVC outsole, an all-purpose nickel blade, padded tongue, and vinyl upper, this is a great first skate, so to speak. Whether you are looking to make ice skating into a serious profession or just hanging out with friends leisurely, this is a good pair to have in your ice skate arsenal.
Read more
Nylex Lining
Reduce sweat with this Nylex lining, as it wicks away moisture. This, in turn, helps to keep your feet dry for the long haul and, thereby, promotes better overall foot health.
Nickel All-purpose Blade
A great blade for beginners, this all-purpose nickel blade is sturdy and made to last. Cut through the ice, as you learn that next move which will help you gain the next level; moving you ever closer to those professional skates you have your eyes on.
Cost and Value
Midrange in cost association when compared to other skates on this list, these ice skates are an ideal choice for beginners or skating leisurely with friends. Moreover, made with good-quality materials, these skates will last. As such, this is a pair worthy of the purchase price.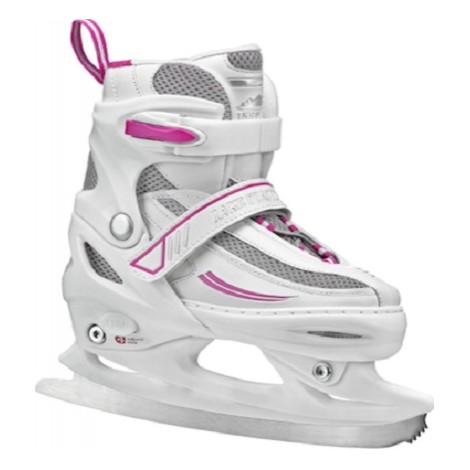 Adjustable Size
Sof-Tec Foam Lining
Ankle Support
Stainless Steel Blade
Waterproof Outsole
The Lake Placid Summit is a great purchase if you have a young child who is just getting into skating. It features an adjustable push button sizing feature which allows your child to grow up to four full sizes while remaining in the same skate.
Read more
Push Button Adjustment
The Lake Placid Summit comes with adjustable push button sizing, which allows the user to grow up to four full sizes and stay in the same skate. This allows young skaters to stay in the same boot while they learn the basics of skating.
Woven Lining and Comfort Padding
The Summit includes insulated Sof-Tec foam lining for increased warmth and softness. It, also, reinforces ankle support and provides a safer skating platform.
Cost and Value
Lake Placid skates are some of the most affordable in this review. The Summit is a deal at around $45. The adjustable size, also, adds value because you won't need to rebuy new ones every year for a growing child.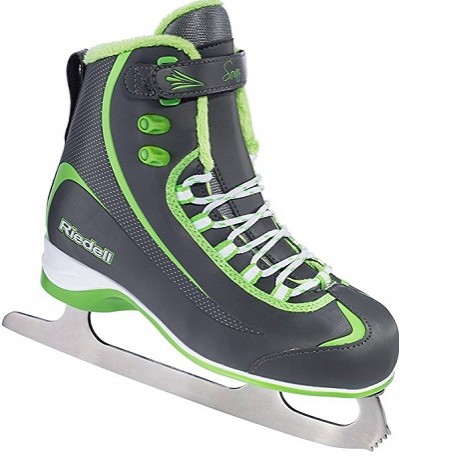 Foam Quarter Padding
Quilted, Foam-Backed Velvet Lining
PVC Outsole
Maintenance-Free Uppers
Are looking for a good pair of skates to hang out with your friends on the ice with? These best ice skates are great for recreational-purpose skating. Made with maintenance-free uppers, PVC outsoles, and foam quarter padding, these are skates which are perfect for all-day wear in a day of leisure skating. Furthermore, the quilted, foam-backed lining helps to increase comfortability levels.
Read more
PVC Outsole
PVC outsoles are in place to help decrease the overall weight of the skate. This, in turn, aids in reducing overall fatigue levels; thereby, increasing your hours of potential fun.
Maintenance-free Uppers
Easy to maintain and keep clean, these maintenance-free uppers are durable. In other words, spend less time cleaning and more time having fun out on the ice.
Cost and Value
Averaging in the midrange of cost association, this is a great pair of ice skating apparel to have. Cost-efficient and made for generalized skating, this is a great go-to pair of skating shoes while spending time with friends and family.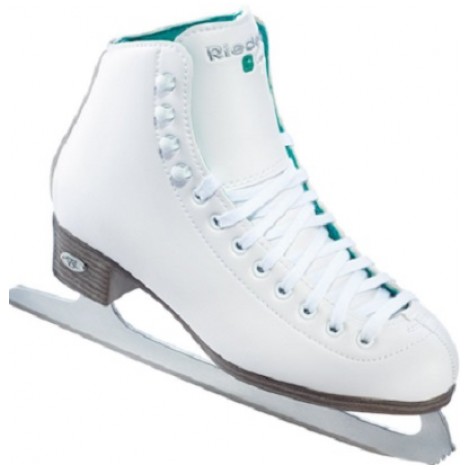 Support Rating - 20
Hand-made Quilted Lining
Figure Skate Feel
Open Throat & Split Tongue Design
PVC Outsole
The Riedell 110 Opal is a no-frills, basic beginner's skate. It provides adequate support for a great price. If you are looking for a skate to learn with, this is your skate. Made to support level 20 light, the boot construction can handle the pains of beginner skating rather well.
Read more
Foam Quarter Padding
The Riedell 110 Opal provides your feet a soft, padded fit with its padded quarters. All-day skating is no problem with comfort at the helm. Furthermore, your feet will thank you for the choice in the skate.
Attractive Design
The basic, attractive design of the 110 Opal is appealing to many people. The split-tongue design, also, provides added stability on the ice. Moreover, this is a skate which looks good aesthetically and will go well with many outfits.
Cost and Value
At around $80, the 110 Opal is a very affordable skate. Its basic, attractive design makes it very popular amongst beginners. Furthermore, this skate has a great support rating of 20 and is perfect for recreational use.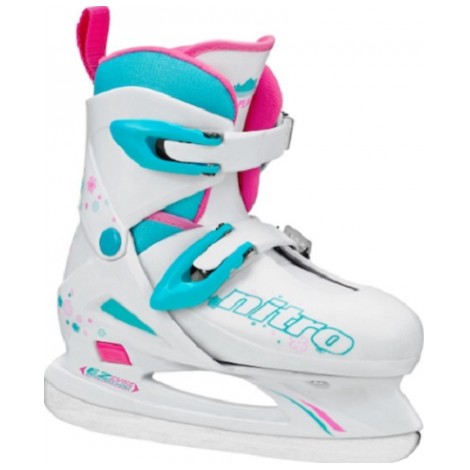 Adjustable
Nickel-Plated Blades
Affordable
Quick-fit Cam Buckles
Washable Comfort Liner
No toe pick
Not for serious skating
The Lake Placid Nitro skate features a push button adjustment that allows the skate to grow with your child's foot. That, combined with the adjustable fast-snap buckles, makes this a great skate for youth begin
ners. It is, also, one of the more affordable pieces of skating footwear on our list. Moreover, young ones might have a spark of confidence with these on.
Read more
Adjustable Push Button
The adjustable push button allows the skate to adjust to growing feet. That means that this skate will grow with your child, and reduce the number of new skates you need to buy, as they grow.
Affordable
The Lake Placid Nitro is one of the more affordable skates on our list, with a price tag around $50. A great beginner skate for children, they are durable and adjustable for long life.
Cost and Value
Costing around $50, the Nitro is a great deal for younger skaters who need a basic pair of skates they can grow with and learn in. The Nitro is durable and adjustable and will stay with your child for many years.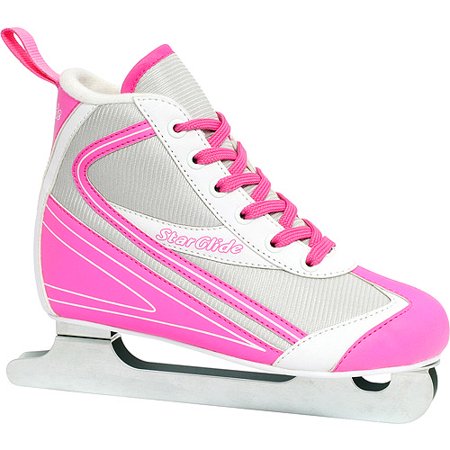 Sports Boot Design
Double Runner Blades
Vinyl Upper
Lace Closure
Zinc Plated, Carbon Steel Blade
No Toe Pick
Dull Blades
Beginner-Only
Fix up that potential new professional ice skater with their first pair. These are beginner skate shoes which are designed to help pre-preliminary skaters to transition over to a single blade. With this dual-blade design, confidence can be built; as well as, the fear of the ice alleviated, as these best ice skating apparel are the equivalent of training wheels to a bicycle. Learn to stand and move around with the added balance of dual blades.
Read more
Double Runner Blades
These dual blades are great for learning to stand and move around on the ice for first timers and early beginners. A great choice for those who fear the ice; yet, want to learn. These double runner blades are a great choice for transitioning to a single blade.
Sports Boot Design
These are not designed to give much in the realm of ankle support. They are, however, cute and comfortable. Moreover, this design helps with comfortability levels associated with moving over from street shoes to ice skates.
Cost and Value
Budget-friendly, they are perfect for nervous beginners and a great purchase choice. Furthermore, the lace-up closure helps to secure a better fit. Additionally, the double runner blades is an ideal choice for adding stability to your feet before making that all-important next step over to the single blade.
10

. Bauer Junior Supreme 170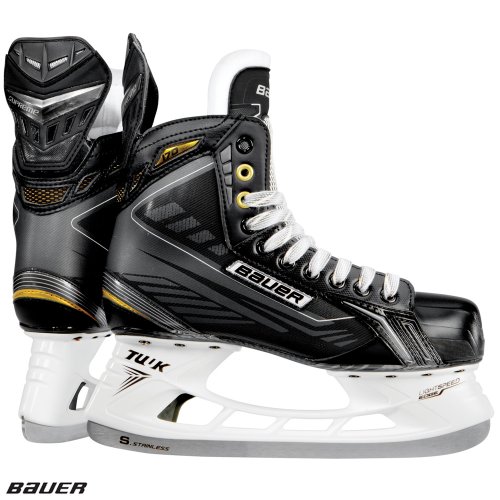 Anatomical, Thermo-Molded
Nylon Quarter & Microfiber Liner
TPR Outsole
TUUK LIGHTSPEED Pro Holder 
A great beginner to intermediate skate with sharp blades, this is an ideal choice for all-around, general skating; perfect as an alternative to rentals. An anatomical design allows for a true fit, as the ankle and heel are well supported. These best ice skates are made with a TPR outsole, TUUK super stainless runner, TUUK LIGHTSPEED pro holder, and a nylon quarter and microfiber liner.
Read more
Anatomical Ankle & Heel Support
Thermo-molded anatomical design allows a custom fit for your ankles and heels. This, in essence, creates a safer environment, as your feet will not move around inside of the skate.
Nylon Quarter & Microfiber Liner
Your feet will remain dry with moisture-wicking properties associated with the nylon quarter and microfiber liner. In other words, you can enjoy the day out on the ice without worrying about sweaty feet.
Cost and Value
Midrange in cost association when compared to others on this list, this pair of best ice skates is not only worth the purchase price but a great addition to your skate gear collection, as well. With the technologies associated with these skates, they are perfect for beginner to intermediates, or for an all-around general skate session.
Criteria Used for Evaluation


Support
One of the most important features of an ice skate is the level of ankle support it provides. Standing on a blade of metal can make even a veteran ice skater wobbly. The best ice skates provide you with excellent ankle support and make you feel like you're standing in regular shoes. Features, such as support straps and padded tongues, all contribute to a supportive skate.


Comfort
Comfort is always a criterion when looking for any type of footwear, and ice skates are no exception. Ankle support and comfort go hand-in-hand because if your foot and ankle are not supported, you won't be comfortable. Some of the features I look for in a comfortable skate are padded inserts, fleece lining, and expanded toe boxes. When you are comfortable in your skating footwear, you will be able to skate longer, and that will lead to better results and, ultimately, more enjoyable.


Style
The style of the skate dictates the type of activity you will be performing. That is, a racing skate (i.e. speed skates) won't perform up to par in a figure skating scenario and, likewise, a figure skate won't do well in giving you top speed in a race.
Choose a skate which handles the job in which you will be performing. If figure skating is something you are interested in, then a toe pick is a must-have. If, however, you are going to play the game of bandy, then a hockey skate with a longer blade must be purchased, or otherwise known as a bandy skate.


Features
Figure Skates – These have toe picks which are utilized to initiate certain jumps and spins. Designed for figure skating, this is not a skate in which you want to use as a speed skate or for generalized skating.
Bandy Skates – These ones are designed for the game of bandy. The blade is reminiscent to that of a hockey blade but runs about an inch longer. This is to ensure higher speeds inside of the bandy rink.
Racing Skates – Generally speaking, racing skates have a flat bottom and the blades are designed in such a way as to minimally cut into the ice. As such, they have better glide than some of the other ones out there.
Touring Skates – These skates are really long blades attached to either cross-country ski boots or hiking boots. Designed with long distances in mind, these blades help cover a lot of area in a short amount of time.
Hockey Skates – These blades have a curvature associated with them. Moreover, they are specifically designed for the games of hockey and ringette. Further grinding of the blades is performed dependent on the position of the player (i.e. goalie, forward, etc.).
Double Runner – These blades are dual and are for younger audiences. They provide better stability and are perfect for alleviating fears associated with the ice. Furthermore, these blades make it easier to gain confidence.
Recreational – Usually found in mass as a renter skate, recreational models can resemble inline, hockey, or figure skating characteristics. These are the choice skate for all-purpose and/or leisure skating.


Value
If you are a beginner, the value is always something that you are looking for in a skate. There's no reason to spend hundreds of dollars on ice skating apparel that you are just learning how to use. Even if you are an experienced ice skater, it's always good to check the cost of your skates versus others that are available.
Expert Interviews & Opinions
Most Important Criteria
(According to our experts opinion)
Experts Opinion
Editors Opinion
Users Opinion
By Default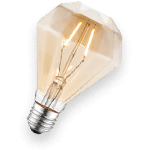 Beginner Tips
Ice skating can be a thrilling sport to get into, with the athleticism of balance, speed, and strength combined with grace and expression.
If you're just starting out, it's helpful to take a few lessons to learn the basics at your local skating rink. Start off with small goals, like balance, skating backwards, and turns before advancing to more difficult maneuvers.
Get Inspired!
With ice skating as one of the olympic sports, it's also quite popular for entertainment, with ice rinks putting on shows and musicals to wow audiences.
Get inspired by attending a local show, seeing how different skaters use their strengths on the ice, and how they execute certain tricks or how they express their movements.
Frequently Asked Questions
q:
What's the difference between hockey skates and figure skates?
a:
The main difference between hockey and figure skates is the blades. For the former, the blade is smooth throughout the entire length with a curvature, while figure skating blades have a jagged toe pick and is used for digging into the ice. Besides that, there is a difference in appearance. Hockey skate footwear tends to have a large, bulky, plastic appearance to them, while figure skate footwear is smaller, made of either leather or vinyl that looks like leather. Hockey skates, generally, have quick straps that secure your ankle tightly, while figure skates almost always have laces, with some having an additional ankle strap for support.
q:
How are ice skates sized?
a:
Ice skates are sized the same as shoes, in the United States those sizes go 6, 7, 8, 9, 10, etc. However, they are not sized equivalently to shoe sizes. Ice skates generally run 1 to 1.5 sizes smaller than shoes. For example, if you wear a size 8 in a tennis shoe, you should try a size 6.5 in ice skates.
q:
How tight should my ice skates fit?
a:
They should fit tighter than normal shoes. This is to provide adequate ankle support when standing on a single blade of metal. When you slip your foot into the skate, it should feel snug on both sides. You still want the room in the toe box to be able to wiggle your toes. Then, after you have tightened the laces or adjustment straps, you should feel additional snug pressure from the tongue on the top of your foot. If it's difficult to slip your foot into the skate, or if you don't feel snug pressure on your foot after tightening the skate, you may have the wrong size.
q:
Can I do jumps and spins in my beginner skates?
a:
All of the skates in this review are beginner level only, and, thus, have beginner level ankle support. This is more than adequate support for recreational skating, but will not provide you with the support needed to land jumps and execute spins, like you see figure skaters pull off in the Olympics.
q:
Do my ice skate blades come pre-sharpened?
a:
As a general rule, most ice skate blades do not come pre-sharpened from the manufacturer. You will need to visit a skate shop and have the skates professionally sharpened before you take them out to enjoy them.