Best Ice Skating Shoes Reviewed & Rated
In a Hurry? Editors choice: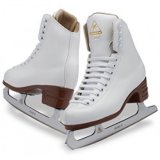 Test Winner: Jackson Ultima Excel

With snow and freezing temperatures upon us come thoughts of winter sports and recreation. One of the most popular winter activities throughout the world is ice skating. You don't need to be an Olympian to enjoy ice skating, but you do need one thing; a good pair of ice skates. They come in five styles: figure skating, bandy, racing, touring and
hockey style.
You can tell figure skates by the toe pick they have on the front of the blade. Hockey skates are smooth from front to back.
Standout Picks
Criteria Used for Evaluation
Support
In addition to allowing you to glide over the ice, the most important thing you want out of your new pair of ice skates is proper support and protection. This is crucial in ensuring your safety on the ice and in preventing injuries such as twisted ankles and bad falls. Overall, there are a few things you need to consider in terms of the support you get out of your skate:
Ankle support: The main area you want to look at when shopping for a new model is the ankle. Does it provide the right amount of stiffness, or does it allow your foot to move in all directions? For recreational users, a softer model may work, but anyone who wants to focus on performance will need to invest in something more supportive.
Heel counter: A number of medium and advanced level pairs will feature a stiff heel counter that serves a double purpose. Firstly, it adds to the support your ankle gets from the boot, ensuring proper placement while on the ice. Secondly, it helps attain a more correct fit, locking your heel in and preventing any movement inside the shoe. This is crucial for those who want to take up figure skating or hockey.
Laces and buckles: Regardless of the closure system you decide to go with, the best model will have one which allows you to get a secure fit. On the whole, there should be no extra room inside the boot, but it shouldn't cut off your circulation either. Look for models that have reliable buckles, or that have laces that won't come undone, causing you to trip and fall.
Fit: Lastly, when shopping for a new pair, you should pay close attention to the fit, which will feel quite different from what you want in your street footwear. Ice skates will take a longer period to break in, and will often feel painful at first. More advanced models will include comfort technologies that are meant to speed up this process, but on the whole, you will have to go through it.
Comfort
As already mentioned, your brand new pair of skates will be quite uncomfortable when you first purchase them. This is because the boot is made with tough, durable materials that can stand up to aggressive use and still properly support your feet through a series of challenging movements. Once you've purchased a brand new pair, you will need to break it in. This process will be lengthy, and may take up to several weeks, so it is highly recommended that you do it little by little, no more than 30 minutes at a time. You can choose to do it on the ice, but may also do some things at home that will be helpful.
If there are any parts of the leather that rub your feet, you can have them punched out at the shop, which will help soften them a bit
The first few times you wear the boots, you should leave the top eyelets unlaced, so as to allow an easier process.
Practice motions in which you bend your knees, as this is ultimately what you will be doing on the ice
Break in skates before important events such as competitions, as this will prevent performance hindering discomfort
Another thing you will want to pay attention to with your new pair of skates is the type of socks you wear. You should never try to skate barefoot, as this will surely result in rubbing. Choose thin, cotton or microfiber hosiery that won't bunch. Forego any thick or woolen socks, and don't expect a thick pair to fill up extra room in the boot.
Style
The style of the skate dictates the type of activity you will be performing. That is, a racing skate (i.e. speed skates) won't perform up to par in a figure skating scenario and, likewise, a figure skate won't do well in giving you top speed in a race.
Choose a skate which handles the job in which you will be performing. If figure skating is something you are interested in, then a toe pick is a must-have. If, however, you are going to play the game of bandy, then a hockey skate with a longer blade must be purchased, or otherwise known as a bandy skate.
There are several types of models available:
Figure Skates: These have toe picks which are utilized to initiate certain jumps and spins. Designed for figure skating, this is not a skate in which you want to use as a speed skate or for generalized skating.
Bandy Skates: These ones are designed for the game of bandy. The blade is reminiscent to that of a hockey blade but runs about an inch longer. This is to ensure higher speeds inside of the bandy rink.
Racing Skates: Generally speaking, racing skates have a flat bottom and the blades are designed in such a way as to minimally cut into the ice. As such, they have better glide than some of the other ones out there.
Touring Skates: These skates are really long blades attached to either cross-country ski boots or hiking boots. Designed with long distances in mind, these blades help cover a lot of area in a short amount of time.
Hockey Skates: These blades have a curvature associated with them. Moreover, they are specifically designed for the games of hockey and ringette. Further grinding of the blades is performed dependent on the position of the player (i.e. goalie, forward, etc.).
Double Runner: These blades are dual and are for younger audiences. They provide better stability and are perfect for alleviating fears associated with the ice. Furthermore, these blades make it easier to gain confidence.
Recreational: Usually found in mass as a renter skate, recreational models can resemble inline, hockey, or figure skating characteristics. These are the choice skate for all-purpose and/or leisure skating.
Features
Like in all sports equipment, ice skates come with a variety of advanced features nowadays, all focused on increasing your comfortability or bettering your performance. There are several things that you may find useful in a brand new pair.
Certain boot models are made with materials that are heat moldable, which means that they will break in more easily, and the fit can be customized using a mild source of heat. This is a particularly handy feature for those who don't have several weeks to ensure a perfectly broken in pair before competition season.
Moisture wicking linings can often be found in pairs made for intermediate and advanced skaters, and this is an excellent feature to have. When participating in any strenuous physical activity, your feet will naturally tend to sweat, and with thick footwear, this generated moisture will be locked inside the shoe, creating a breeding ground for bacteria and fungus that cause foot odor or issues such as athlete's foot. A moisture wicking lining will speed up the moisture evaporation process, preventing your feet from being in a wet environment.
Extra padding can often be found in certain models, and this is a great feature to have if you know that you have some problem areas on your feet. Additional padding can help prevent blistering and rubbing, and overall speeding up the break in process.
Hinged ankles are available with some models, and these skates offer a higher range of motion in the ankle area, without sacrificing support. They are most often found on entry level models made with a plastic shell.
The weight of your boots and blades will greatly influence how they feel on your feet. Though this type of equipment generally comes with a greater weight than most athletic shoes, you will still want to look for the pair that packs the least. This will help you move faster, and it will also ward of muscle fatigue during long practice sessions.
Value
Skating equipment will often come with a high price tag, which may ward first time purchasers off. What works best for you will ultimately depend on your personal needs. If you plan on taking up skating as a regular activity, you should be prepared to spend a bit extra. If, however, you only get time on the ice a few times a year, a cheaper but well fitted and broken in model will do just as well.
On the whole, the products listed above fall into one of three categories - entry level, mid range and top-of the line. While the fist category may set you back between $50 and $150, the most elite skating equipment can cost up to a $1000. Anyone who isn't playing professionally or competing at high levels, will, however, be just fine with mid-range models that use quality, durable materials, have better blades and innovative fastening and comfort features, and may even include some tech features such as methods for changing your steel more quickly.
Another thing to consider when it comes to value is that boots and blades which are well taken care of - thoroughly dried, conditioned, sharpened and properly stored will last you at least a few years. You can keep this in mind when shopping - investing in a better quality product can actually save you some money in the long run.
10 Best Ice Skates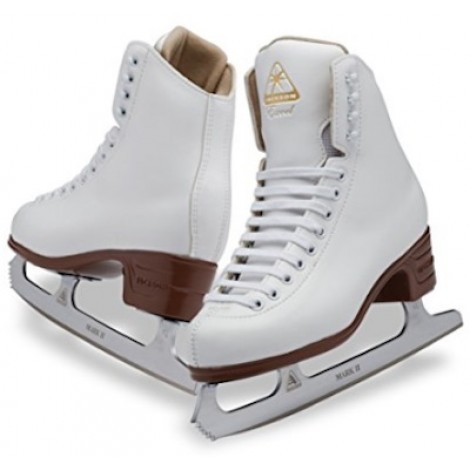 If you're looking for an excellent all-around product at an affordable price, the Jackson Ultima Excel is for you. This is a great pair of skates for a beginner or someone who is getting back into skating. They provide the support that you need at a price you can handle.
The Jackson Ultima Excel provides excellent support to the ankles, which is a necessity for ice skating shoes. Furthermore, these are lace-up, and as such, there is a better fit around the top of your ankle.
The Ultima Excel comes with Jacksons Ultima Mark II blades, which take an edge extremely well and provide a solid base of support. Additionally, these blades are made to glide well on the ice. The Jackson Ultima Excel runs around $100, which is an affordable price for a beginner. The skate is made of durable vinyl coating that will last for years. Moreover, these skates glide well, are made with a synthetic lining, and have PVC outsoles.

2

. Jackson Ultima Mystique


The Jackson Ultima Mystique is a step up in quality from the Ultima Excel but, also, a step up in price. The added padding in the foot and the tongue provide your ankle with excellent support . There is a flex notch to aid in better flexibility and improved stability, as well.
The Jackson Ultima Mystique comes equipped with lots of additional padding inside the boot, which helps with support; as well as, landings on jumps.
The Mystique adds a flex notch at the neck for increased flexibility while being able to maintain ankle support. This ensures fluidity in motion and better transitioning. The Mystique is a step up from the more affordable Excel, and the Mystique will cost you between around $130 - $140. Jackson is a reliable brand of an ice skate, and you can expect your Mystique to last you from beginner to intermediate skill level.

3

. Glacier Jackson Ultima GS180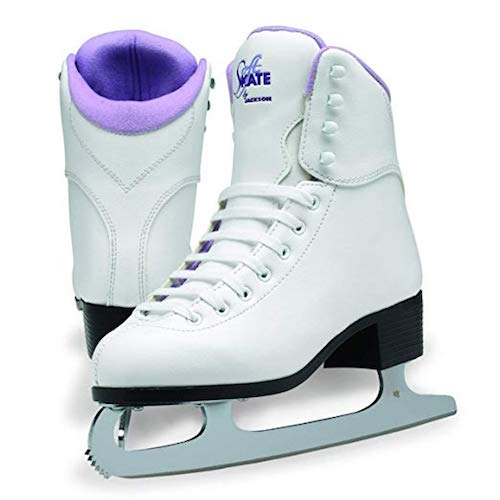 An absolutely wonderful choice for beginners, these Jackson Ultima's from Glacier can be a decent tool for traversing through your first 3 levels (i.e. pre-preliminary, preliminary, juvenile) of ice skating splendor. Having a Nylex lining, charcoal PVC outsole, an all-purpose nickel blade, padded tongue, and vinyl upper, this is a great first skate, so to speak. Whether you are looking to make ice skating into a serious profession or just hanging out with friends leisurely, this is a good pair to have in your ice skate arsenal.
Reduce sweat with this Nylex lining, as it wicks away moisture. This, in turn, helps to keep your feet dry for the long haul and, thereby, promotes better overall foot health.
A great blade for beginners, this all-purpose nickel blade is sturdy and made to last. Cut through the ice, as you learn that next move which will help you gain the next level; moving you ever closer to those professional skates you have your eyes on. Midrange in cost association when compared to other skates on this list, these ice skates are an ideal choice for beginners or skating leisurely with friends. Moreover, made with good-quality materials, these skates will last. As such, this is a pair worthy of the purchase price.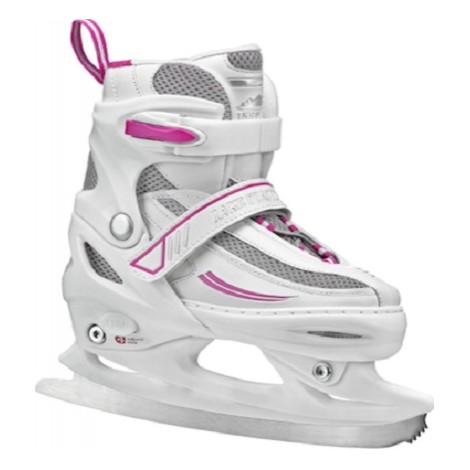 The Lake Placid Summit is a great purchase if you have a young child who is just getting into skating. It features an adjustable push button sizing feature which allows your child to grow up to four full sizes while remaining in the same skate.
The Lake Placid Summit comes with adjustable push button sizing, which allows the user to grow up to four full sizes and stay in the same skate. This allows young skaters to stay in the same boot while they learn the basics of skating.
The Summit includes insulated Sof-Tec foam lining for increased warmth and softness. It, also, reinforces ankle support and provides a safer skating platform. Lake Placid skates are some of the most affordable in this review. The Summit is a deal at around $45. The adjustable size, also, adds value because you won't need to rebuy new ones every year for a growing child.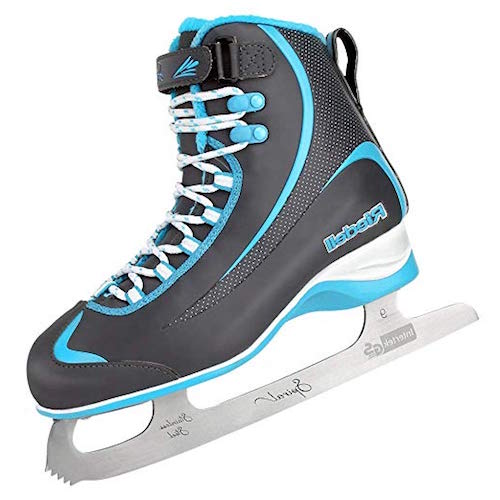 Are looking for a good pair of skates to hang out with your friends on the ice with? These best ice skates are great for recreational-purpose skating. Made with maintenance-free uppers, PVC outsoles, and foam quarter padding, these are skates which are perfect for all-day wear in a day of leisure skating. Furthermore, the quilted, foam-backed lining helps to increase comfortability levels.
PVC outsoles are in place to help decrease the overall weight of the skate. This, in turn, aids in reducing overall fatigue levels; thereby, increasing your hours of potential fun.
Easy to maintain and keep clean, these maintenance-free uppers are durable. In other words, spend less time cleaning and more time having fun out on the ice. Averaging in the midrange of cost association, this is a great pair of ice skating apparel to have. Cost-efficient and made for generalized skating, this is a great go-to pair of skating shoes while spending time with friends and family.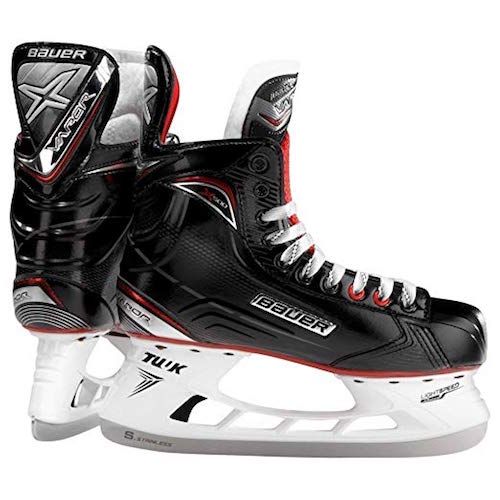 Bauer has always been a reliable manufacturer, so it comes as no surprise that their Vapor X500 model is used by hockey players and recreational skaters of all levels. It features a number of performance and comfort oriented advancements, and is an overall good investment due to the quality of materials used in the design.
The Vapor X500 has a lot of advanced features in its corner. When it comes to comfort and breaking in, it uses a thermoformable frame you can easily shape to fit your requirements, but that still offers excellent protection and support, especially in the heel and ankle area. Ultimately, this translates into more efficient power transfer, helping you move at a faster pace.
On the inside, it utilizes a hydrophobic mesh lining that wicks moisture away from the foot, keeping it cool and dry throughout your skating session. The Tongue unit is anatomically designed - it has two units, both lined with a protective foam that do a lot in terms of cushioning. As for the blades, they're held by a quick release trigger holder that allows you to quickly swap out the steel when needed. In terms of price association, these fall in the mid-range category. You'll definitely appreciate all the features, but won't have to shell out too much for them either.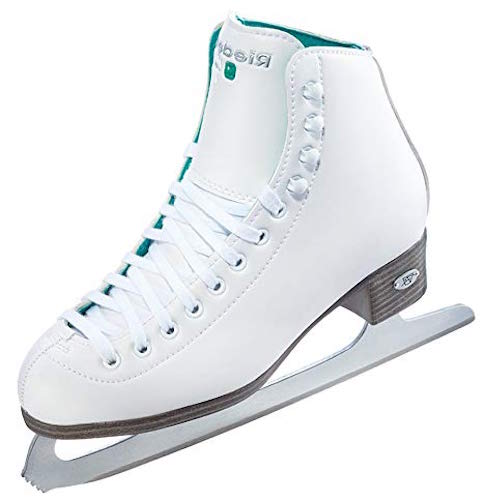 The Riedell 110 Opal is a no-frills, basic beginner's skate. It provides adequate support for a great price. If you are looking for a skate to learn with, this is your skate. Made to support level 20 light, the boot construction can handle the pains of beginner skating rather well.
The Riedell 110 Opal provides your feet a soft, padded fit with its padded quarters. All-day skating is no problem with comfort at the helm. Furthermore, your feet will thank you for the choice in the skate.
The basic, attractive design of the 110 Opal is appealing to many people. The split-tongue design, also, provides added stability on the ice. Moreover, this is a skate which looks good aesthetically and will go well with many outfits. At around $80, the 110 Opal is a very affordable skate. Its basic, attractive design makes it very popular amongst beginners. Furthermore, this skate has a great support rating of 20 and is perfect for recreational use.

8

. Jackson Ultima Softec Sport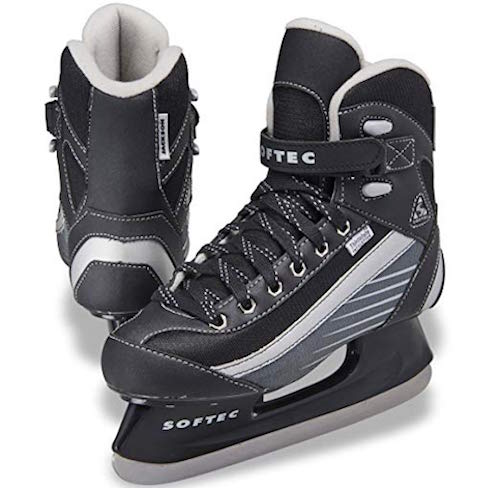 This recreational model by Jackson is ideal for use on outdoor rinks both by adult and child enthusiasts who want something that will feel comfortable from the first wear. Made with a number of quality materials (as we'd already come to expect from this brand), these are a great investment for anyone who isn't willing to spend too much, but still prefers not to share their footwear with complete strangers as is required when renting.
In terms of comfort, the Ultima Softec Sport features a boot which is generally padded with foam for a soft fit you'll definitely appreciate after an hour or two on the ice. It features Thinsulate lining in the entire boot, including the tongue, so even chilly temperatures won't have you feeling cold. The upper doesn't feature any plastic materials, which should contribute to a shorter break in period.
As for support, these do as well as an entry level skate can be expected to. The closure system features a classic lace with an added hook and loop strap around the ankle that serves two purposes. Firstly, it allows for quick adjustments on the go. Secondly, it can be used to secure the laces from coming undone. As for the blade and holder, they're made for recreational use, out of stainless steel.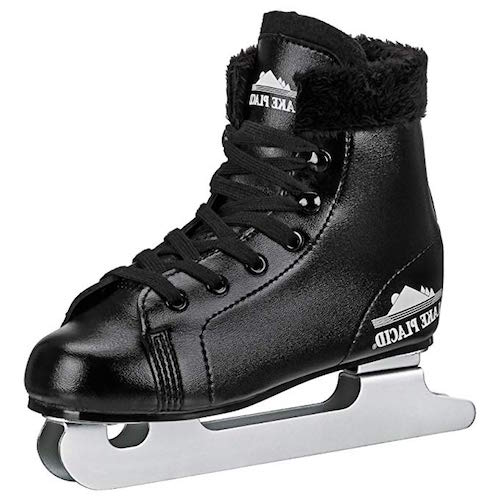 Fix up that potential new professional ice skater with their first pair. These are beginner skate shoes which are designed to help pre-preliminary skaters to transition over to a single blade. With this dual-blade design, confidence can be built; as well as, the fear of the ice alleviated, as these best ice skating apparel are the equivalent of training wheels to a bicycle. Learn to stand and move around with the added balance of dual blades.
These dual blades are great for learning to stand and move around on the ice for first timers and early beginners. A great choice for those who fear the ice; yet, want to learn. These double runner blades are a great choice for transitioning to a single blade.
These are not designed to give much in the realm of ankle support. They are, however, cute and comfortable. Moreover, this design helps with comfortability levels associated with moving over from street shoes to ice skates. Budget-friendly, they are perfect for nervous beginners and a great purchase choice. Furthermore, the lace-up closure helps to secure a better fit. Additionally, the double runner blades is an ideal choice for adding stability to your feet before making that all-important next step over to the single blade.

10

. Bauer Junior Supreme 170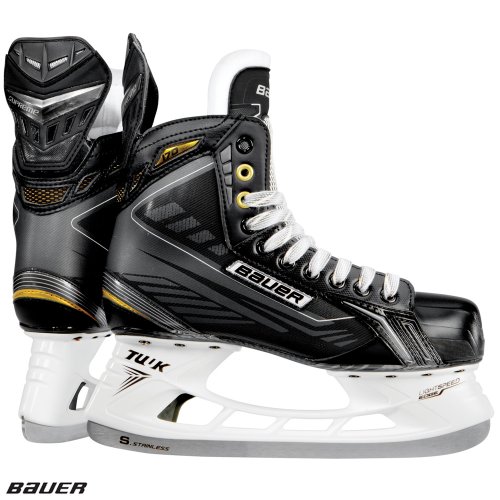 A great beginner to intermediate skate with sharp blades, this is an ideal choice for all-around, general skating; perfect as an alternative to rentals. An anatomical design allows for a true fit, as the ankle and heel are well supported. These best ice skates are made with a TPR outsole, TUUK super stainless runner, TUUK LIGHTSPEED pro holder, and a nylon quarter and microfiber liner.
Thermo-molded anatomical design allows a custom fit for your ankles and heels. This, in essence, creates a safer environment, as your feet will not move around inside of the skate.
Your feet will remain dry with moisture-wicking properties associated with the nylon quarter and microfiber liner. In other words, you can enjoy the day out on the ice without worrying about sweaty feet. Midrange in cost association when compared to others on this list, this pair of best ice skates is not only worth the purchase price but a great addition to your skate gear collection, as well. With the technologies associated with these skates, they are perfect for beginner to intermediates, or for an all-around general skate session.

Subscribe to our Newsletter