Best Ice Hockey Skates Reviewed & Rated
In a Hurry? Editors choice: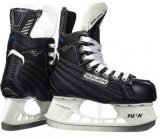 Test Winner: Bauer Junior Nexus 4000

According to historians, the very first skates were made by the Dutch who sharpened the leg bone of large animals and strapped them to their feet with leather thongs. By the early 1900s, a leather boot and vamp with a tongue of thick felt and some webbing to keep it all from stretching out too far, allowed players to skate around a pond with a fair bit of control but not much comfort. The oldest hockey skates were probably torture to wear, but innovation follows demand and every decade brought a
huge change in style
and materials and effective performance. There is now a huge variety from which to choose, almost as many different types as there are body types and range of skills.
Standout Picks
Criteria Used for Evaluation
Use
We looked at all the things that would make for a great bargain. Clearly, these will be different for various skill levels, but there are some basics we felt would be most useful.
Most skate manufacturers have a few lines, each catering to different foot types or physical considerations like high or low arches. Within these lines, there are different ones for various player types and skill levels. This may depend on the position you like to play or which attribute is most important to support your style of play. Basics are just that. If your feet aren't comfortable, if they tire too quickly, you might just be wearing the wrong skate. They are made to amplify your strengths and provide a good structure to let you make the most of your weaknesses. Your efforts should be translating into increasingly better responsiveness from them until you reach peak performance and if that isn't happening, you may have to consider a change of equipment to play your best.
If you're just starting or buying some for your child, you have to consider the level of commitment if you want to make a smart purchase. Again, a pair that doesn't fit will end anyone's enthusiasm. For kids who have grown out of their first ones and show that diehard, never-gonna-quit-this spirit you may wish to consider a higher quality skate at a higher price to give them their very best chance of success on the ice.
Terrain
If you skate on weekends only and hang out with your kids then it isn't necessary to invest in the latest skate or the highest end materials. As long as they fit properly and keep your foot warm then they are perfectly suited to the job. Most moderately priced models will have a range of styles to fit any foot from wide to narrow, with high arches or flat feet. Once you've found the right boot for your type of foot there are inserts, padded socks aplenty to help you achieve the right fit. Make sure they're comfortable enough to let your feet relax between activity and they don't feel heavy in your stride. Thickly padded tongues will protect you from the pressure of the laces and padding around the ankles should keep you safe from bruised shins. If you plan to play in a league or your kids are ready for a big challenge then you'll probably want ones with well padded, reinforced boots and runners that will support regular sharpening.
Ride
Knowing your style of play helps you chose even at the lower end of the price range. Reinforcing directs your energy into the skate giving you a little extra power with less stress on the ankle and calf as well. Knowing your strengths and weaknesses not only helps you determine what you need to develop, but it also helps you decide which skate will give you the most benefit.
If you're a two-way player, you might want more speed and skate with a lot of jumps. There are a variety of models that will bring it on and not every one of them work as well for every player. Wider feet have their demands and must be respected. If you like to grind it out in the corners or camp out behind the net, you'll want to make sure your toes are protected and that you are given the maneuverability you need in a tight spot. You won't be going far, but you need to get there fast!
Every manufacturer has their own tricks and, while materials are fairly standard as we have moved from leather to synthetics, the way they come together can provide a completely different ride.
Value
In making our selections, we looked at the quality product in the moderate price range. There are extremely expensive models out there for pro players, but we left them off the list. At the highest end of moderate price range, there are great options for semi-pro and college players. At the lowest end, there are some amazing buys for recreational and new players, young and old. In the main, we considered the quality of materials, innovation of design, the reputation of makers, and "buzz" from users because only a skater can tell you how it is.
Durability
A quality product is one that will follow you through the years and work the same way it did on the first day you bought the product. In regard to skates, we assessed durability in a few key ways, analyzing the materials, details, construction methods and brands to deliver to you a simple opinion: will this set of skates do the job and do it again and again? Take a look at each area we evaluated:
The Materials
Which type of materials were the product made from? Are they synthetic or natural? How do they smell out of the box? All of these are critical questions we asked when evaluating the materials of the product.
The Details
Extra clips, complimentary cases, and reinforced fabrics are all good indicators of a manufacturer that is setting you up for long term success with their product. Attention to detail separates high-quality producers from the cheap ones.
The Brand Name
A reputable brand is a signal of quality and trust. Often, high performers continue to perform and out-endure the competition. While there are always exceptions to the rule, we gave higher marks to manufacturers with solid reputations.
The Construction
You can tell a lot about a pair of skates by how the zippers behave. Do they pull swiftly and softly, like cutting butter? Or do they jam and snap? What about the sew? If there was threading after a few wears, we considered that a warning sign of a lack of proper construction and durability.
A durable product gives you the confidence to go out and give it your best, knowing your skates can back you up.
10 Best Hockey Skates
1

. Tour Hockey Adult TR-700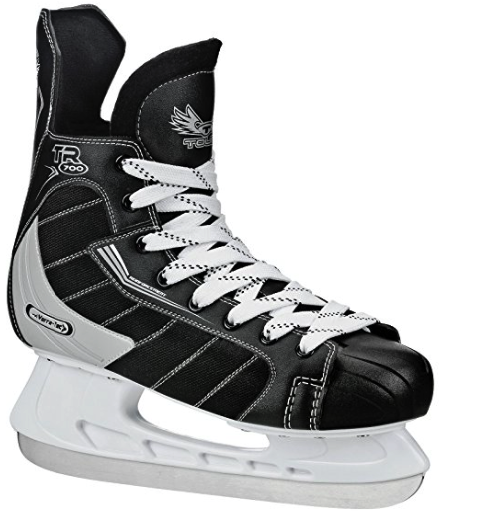 Great for an intermediate player. The TR-700 offers extremely good craftsmanship to match your skill level and the reinforced ankle promises more finesse in your play. This one is for the player who is advancing into harder play, requiring a better response from the equipment. Greater speed and quicker response in turns will increase confidence on the ice.
If you're pushing the edge with your old pair, then test your skills with next level design. You need a model that enables a little more finesse if you want to compete hard. Carbon steel blades are a good match for growing skills.
A brushed tricot liner will keep your feet dry and comfortable. Deluxe EVA foam padding will add to your foot's ease, and the firm ankle support puts all your physical strength and efforts to good use. The Tour Hockey TR-700 with reinforced quarter panels and firm ankle support allow better maneuverability and speed on the ice, are good quality gear for an intermediate player. They will up your game, but they are not likely to last as long as a more expensive pick.

2

. Bauer Junior Nexus 4000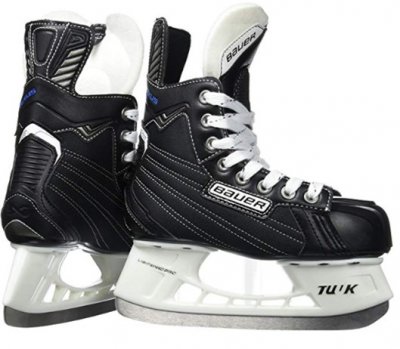 The Bauer Junior Nexus 4000 is another quality model in the Nexus lineup from Bauer, keeping traditional fit with wide width and volume. Deep-V fit helps keep the heel secure and enhances the ability to maneuver without any slippage inside, and also allows for those with taller insteps to wear comfortably. Perfect entry level model for those just starting in the sport, or who need the wider and deeper fit for proper maneuvering and comfort.
The Bauer Junior Nexus 4000 follows the line's make with Deep-V heel pocket design, allowing for a firm and snug fit, so you don't slide around inside it during critical maneuvers. It also allows for those with higher insteps to fit comfortably inside it and execute moves, as well as having a wide toe box. Quarter Panel is a lightweight mesh for support and breathability and lined with brushed nylon.
Packed with comfort features, the Bauer Junior Nexus 4000 has foam ankle pads to give support along with cushion, felt tongue to prevent lace bite, and a molded EVA footbed for supportive comfort. TPR outsole is stiff and helps transfer energy, while the TUUK Lightspeed Pro Holder is a unified one-piece system with the runner. Runners are TUUK stainless steel and cannot be replaced.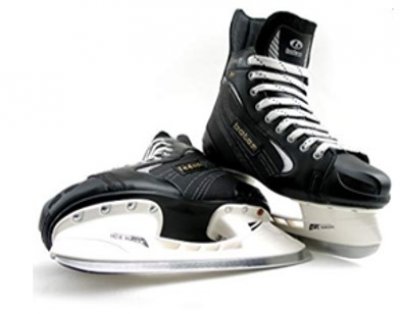 A new model from the Czech Republic's Botas brand. The company is not well-known in North America but good design and construction are making a reputation. This is a great option for active players who don't camp out and wait but join the play at every opportunity. The silver and gold decoration on a black base is an attractive new look, too.
The plastic toe surrounded by high-quality PA fabric is designed to protect feet in collision situations. The upper has an ergonomic cut for comfort and strength on the sides with a padded lining of synthetic velour. New anatomical tongue design adds to comfort along with a felt "sandwich" insole to cushion the feet. This design will give you an extra jump as well as good responsiveness.
Sometimes popularity drives cost, but it doesn't affect value. While Botas works to make their presence known, the high-quality product is modestly priced, and the value is extremely good.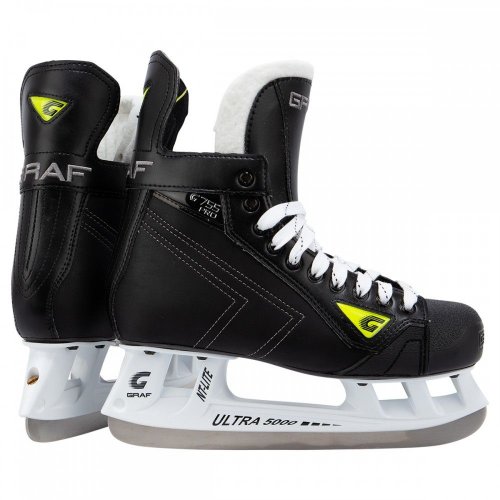 An excellent choice for a strong amateur player, the Graf Supra G755 Pro is designed to offer high performance for non-pro play. Less expensive than the Bauer Vapor but still offers great maneuverability and supports powerful skating. The boot is designed to accommodate a wider foot and, though it doesn't have all the same high-performance attributes of a professional one, it is still an excellent buy.
Graf Supra is a much more comfortable option than other comparably priced non-pro models. These are still a high performance but not quite as durable as a pro model. Graf Supra would provide a great start for a beginner. These are very comfortable with great ankle support. A good option for amateurs learning to grind it out in the corners.
Less expensive than semi-pro designs, the Graf Supra G755 Pro gives away nothing in comfort. Same blade holder as the pricier models steel but a great buy for amateur and new skating enthusiasts.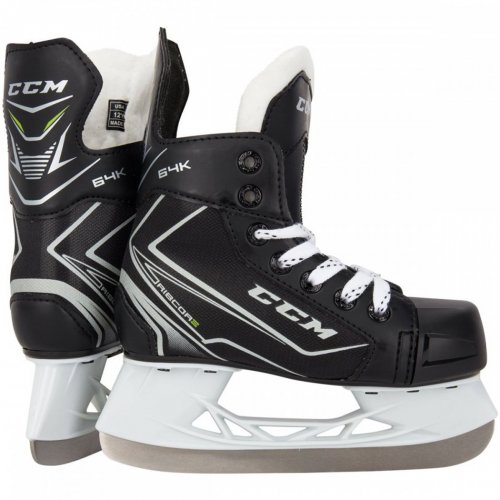 The CCM Ribcor 64K skates are adjustable to accommodate growing feet. Super padded inside with reinforced ankle support, these glide on stainless steel blades. An ideal bargain for young players who will need equipment that can grow with them allowing young players to keep the same pair for years to come.
Since kids have no choice but to grow, a hockey parent has to decide whether to buy as they grow or get the ones that grow with them. CCM offers this unusual trait, similar to Bauer, DBX and a few others do likewise but this is nicely priced.
There's a lot to be said for a pair you've already broken in. As the foot grows, inserts are removed to allow more room. When the feet grow do you buy new, buy used, or adjust the ones you own?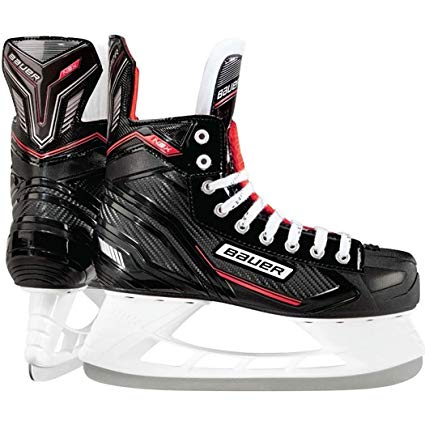 Bauer's skates were constructed with a 'deep-v' heel, resulting in a super comfortable and securely locked-in heel, so making responsive movements is easy. The NSX is a great entry-level option that won't break your budget for a decent pair. It maintains a traditional style and fit, from toe to heel with plenty of room, but soft foot feel. Lightweight mesh quarter package makes them feather-like in weight and can be worn right out of the box.
The NSX was constructed keeping the heel pocket with a deep V fit, so you can be sure you won't be slipping and sliding around inside it on critical maneuvers. Featherweight feel comes in the quarter package with mesh, and a brushed nylon lines the inside. While not heat moldable, it still keeps a great wide, volume fit you can take right out of the box and onto the ice.
Ankles are supported and padded with foam pads, and the tongue is pre-shaped with metatarsal guard and felt padding. To help keep you protected, the NSX has traditional flex tendon guards, and outsole consists of TPR, while inside you're supported by a molded EVA footbed.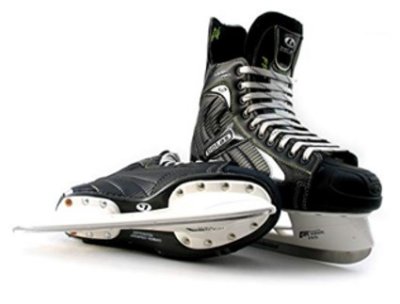 For those professionals out there who require something upgraded and can take a beating, while being responsive, The Botas Largo 571 Pro is the model for serious consideration. The top level in its class, it's comfortable, protective, and lightweight with a carbon sole. Packed full of technology, it does come with a premium price, but for serious players, it's an extremely great investment.
The Botas Largo 571 Pro was designed with the professional player in mind, packed full of technology for powerful and responsive skating, maneuvering, and protection. Uppers are created from synthetics which have a waterproof finish, and also help give it durability during play and off the ice. Ms lacing rings won't fail over time as they're rustproof and padded. Flex protection tongue is slimmer with a flexible anatomical shape to better protect and add a cushion.
Flex Fenders Technology provides the Botas largo 571 Pro better responsiveness for movement dynamics and stance positioning, no matter what situation you find yourself in on the ice. Double reinforced quarters make lateral movements supported and help absorb impacts, while the Profi 2 sole reduces overall weight while maintaining exceptional rigidity and energy transfer.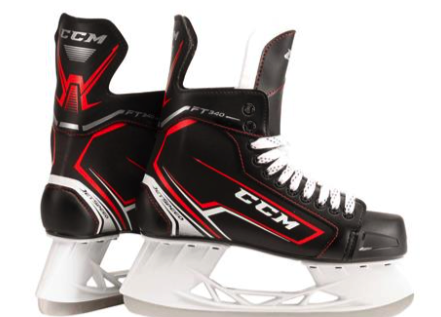 For the more experienced skater looking for more speed and accuracy on the ice, the CCM Jetspeed brings maneuverability and quick response with the low profile design. This is not for everyone but for those that enjoy this cut it offers the extra maneuverability they're looking for in a typically high-quality CCM product.
This is a great option for adults with a lot of power and looking for lightweight equipment, ready for the competitive levels. For semi-pro power forwards or playing defense, the CCM Jetspeed is fast. Good construction ensures continued support for your feet. The tapered fit is narrow in the forefoot while preventing slippage in the heel — Pro level stiffness for power forwards and hanging out in the crease.
These are pro level materials for serious players, and if the Low Profile cut works for you, then CCM is a great choice. More expensive than intermediate models, these are worthy of consideration if you're looking for quality equipment.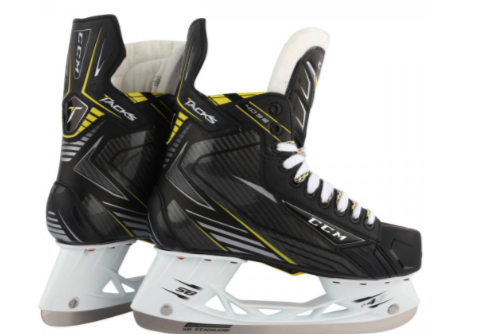 A higher cut CCM made for quick response and maneuverability. SK9040 is perfect for two-way players, constantly on the move and switching up the pace. CCM lightweight materials allow pro-level play and good comfort. For quick turns and all-around play, these are the right model. This is high-end equipment, highly responsive, made for comfort, and built to last.
For traditional two way play, these are highly responsive and lightweight. For players who like maximum ankle support, this one offers a great fitting boot with anatomical heel lock and a medium forefoot. CCMs constant innovation brings you a better boot with great comfort and increased maneuverability. The anatomical fit translates more of your energy into movement without increasing effort. That's better performance all around.
Tacks are more expensive than the CCM Jetspeed, but this is the high end of non-pro models. Next level of performance without breaking the bank. If you're a semi-pro or high-level college player, these are worth the investment.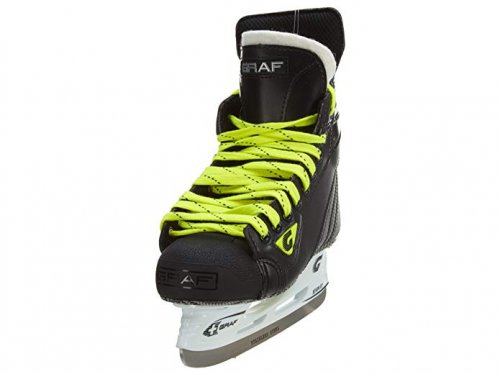 The Graf family has been making them since 1937. This premier brand was originally manufactured in Switzerland and has since spread into the field of running and soccer shoes as well. They know a thing or two about comfort and performance and how to bring them together. The Supra XI is designed for young players.
Graf makes dozens of different models; none is better or less good than any other they are simply made for different types of feet. The Supra XI is made for youth play and will add comfort to growing feet and advancing play.
For young players, it's impossible to develop skill levels if they can't stay on the ice for hours of practice. Graf offers great comfort and fits in boots that aren't a punishment to wear. The constant back and forth and the speed required to referee a game puts a lot of pressure on the ref's feet. Their equipment takes the same punishment as players and Grafs are often their picks.

Subscribe to our Newsletter