Cool Shoes for Boys Reviewed & Rated
In a Hurry? Editors choice: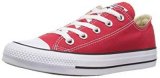 Test Winner: Converse CT All Star Core Ox

The right shoes will keep a boy's feet supported and protected, while a poorly designed shoe can cause
discomfort for the feet, legs, and joints.
A badly constructed one may fall apart or begin to fray quickly. It's important to choose a sturdy pair that will hold up through everyday wear, intensive use, and many washes. Finding the perfect shoe for a growing boy isn't simple. Boys like to run and jump and have a tendency to find mud puddles where you'd least expect it – all of which can wreak havoc on the wrong shoe. Luckily, we've found the top shoes for boys that'll last as long as your boy's feet will fit into them.
Standout Picks
Criteria Used for Evaluation
Breathability
Although there are many factors to take into consideration when buying running shoes for boys, one of the most important is breathability. Kids are active, they sweat a ton, and the effects of sweaty feet without ventilation is the same as adults: unpleasant. A great rule of thumb is to choose shoes that are made of breathable and lightweight material. Canvas, cloth, and leather are always better than rubber or plastic, and they last longer too. However, rubber shoes with proper ventilation can make a great water shoe for summertime.
Like adult running shoes, children's shoes should have decent water resistance. Since kids have weaker immune systems, they are more vulnerable to catching colds or the flu. Having shoes that aren't water resistance can increase the risk of kids having soaked socks, and cold feet increases the odds of flu in those exposed to a virus. Bottom line, wet shoes are never great, especially for kids. Getting a proper water-resistant or even waterproof shoes can go a long way in keeping your child healthy during cooler weather.
Some kids sweat more than others, and this trait can be hereditary. There are ways, however, to keep your child's shoes from being thrown out every so often due to foul smell. Having sweaty feet is no joke either, as kids can also develop common symptoms as adults, such as foot odor, itchy feet, and toenail fungus. The results are not pleasant, so it is imperative that a child's shoe be breathable. This can be done by providing the right type of shoes and socks!
Not only does buying a breathable shoe help, there are other methods to treat sweaty feet. One is to always have an alternate pair of shoes. Although not all of us can afford two pairs of nice shoes, having two pairs of shoes and alternating between them can keep your child's feet stay dry and breathe better. It's also important that your child dries their feet completely after showering. Having moisture retaining to the foot can cause odor and keeping your feet dry and clean is always good feet hygiene.
It is always great if a shoe company incorporates mesh material for footbeds or soles to enhance breathability. There are also certain shoe styles that are better than others if breathability is a priority, like sandals or open-toed shoes. These shoes, however, may not have the same reliable structure as closed-toed shoes, and might make certain outdoor activities off limits. A child's feet should always be protected, which is why open-toed shoes can be dangerous.
Washing your boys' shoes often can also help kill bacteria such as fungus and viruses. This makes machine washable shoes a great choice, as they can be washed often and easily. Clean shoes for children prevents many dangers of infection, so you should always make sure your boys' shoes are clean and washed, ready for their outdoor activities.
Fit
Many parents may fail to realize the importance of fit for their child's shoes. It is important for parents to pay extra attention to the shoe's length, width, and depth when fitting their child's shoe. This is imperative because often children will not know whether or not their shoes are ill-fitted, and this can result in their feet molding into an unhealthy shape.
It's also valuable to know that a child's foot can grow in spurts, especially in the age where boys are developing, meaning they must have new shoes nearly every three to four months. Toddlers can grow almost one-foot size every two months, and young children between the ages 2-3 can increase half a foot size every four to six months.
You should always examine and test the width and depth of the shoes before purchasing. It is imperative that the top of the shoe doesn't press on the toes or the toenail, as this part of the foot is developing most in kids. Try to find shoes that have a large, rounded toe box, giving room for development.
Materials
A shoe's construction can be broken down into several key factors. There's the upper part, the insole, the outsole, and the heel. The upper part of a child's shoe should be made of a quality material such as leather or canvas, or even mesh for more comfort. Since children's feet sweat heavily, the upper part should always be made of breathable, comfortable material. The insole of the shoe should be made of absorbent material, and it is advised for parents to get padded insoles for their children. Most children aren't in need of arch support since toddlers generally have flat feet and only fully develop from the ages of 6 to 10.
The outsole of the shoe is the part that provides traction, cushion, and flexibility. Although children fall often, it shouldn't be because of their shoes and it's important that parents pay attention to the durability and stickiness of the outsole. Some thick or very sticky outsoles can make walking tough for children, causing many accidents. Finally, the heel is not a necessity in children's shoes as their feet are fairly flat, which makes having flat soles easier for them. Older boys can wear shoes with light heels, but they should never be too high as they can cramp the toes against the inside of the shoe.
Some children can develop foot problems in their early years of growth, and, although these problems are never too severe, wearing shoes with flat or high arches may worsen it. If a child has specific foot problems, it is always best to contact a physician for an examination or diagnosis. These issues, if not fixed early, can last a lifetime.
To conclude, it's best to look for ventilated shoes that allow plenty of room for proper growth. It's also important to know when your child has a growth spurt and how often you must consider buying new shoes, as cramp shoes can lead to many underlying problems. A leather or canvas upper is recommended for its breathability but modern mesh uppers can also be a choice.
Some tips for fitting include: measuring their feet every three to four months, ensuring there is a half inch between their toe and the end of their shoe, fit the widest part of the foot to the widest part of the shoe, and to always fit to the larger foot if one is larger than the other.
To recap, there are seven steps in ensuring a good fit: first, the shoe should be comfortable and loose without falling off, especially in backless shoes like sandals or slippers. The shoes shouldn't fall off while the child is walking. Second, try to plan shoe fitting in the afternoon when feet are often most swollen. The size of someone's foot varies throughout the day and the last thing you want to do is buy your child's shoes in the morning only to find him cramped in the afternoon. Third, when standing up, their weight should be evenly distributed on both feet with a natural spread. Fourth, there should always around an inch of space between the toe and the end of the shoe. Fifth, squeeze the material on the sides of the shoe to indicate the shoe's exact width. Sixth, the back of the shoe should fit snug when inserting a finger between the heel and the back of the shoe. And, lastly, when taking off the shoe, there should never be any markings left on the child's foot.
Unlike adult shoes, children's shoes rarely need "breaking in", so make sure the shoes are comfortable on the first try.
Use
Just like how there are countless different types of adult shoes, children shoes can also be separated into many different subgroups. For one example, there are the lace-up, buckle, and velcro type shoes. Each one has their own attributes. The lace-up helps keep the foot back in the heel of the shoe but can be a hassle for kids to constantly tie and endanger them of tripping over laces. The buckle can be easier to use but is often heavier than the lace-up and velcro, making them often uncomfortable for children. The velcro is an easier answer to both worlds, as it is light yet easy for kids to use, which is why it is so popular in children shoes. The velcro lace also has no hot spots or uneven pressure points, making shoes versatile and comfortable.
Other than laces, there is also the question of what shoe style you should get. The two most popular trends in shoes for boys are sneakers and boots. Both of these choices are protective and offer grip on surfaces. Sneakers are better because they have breathability and flexibility to ensure comfortable walking, but boots can protect your child's feet from wet conditions and are often better for younger children since they are more durable.
The best type of kids' shoes are ones that are durable, supportive, and affordable while providing maximum stability and comfort. Children's feet are known to withstand three times more stress than adult feet, which makes it important to find shoes that are supportive and sturdy.
Value
So, as you might notice many of the different criteria that we used to evaluate are really based on the physical design and construction of good shoes for boys. However, there are other ways that we can assess a product and learn whether or not it's worth our money. This is where utilizing and understanding the relationship between the cost and the value come into play. Now, most consumers often look at the price tag but don't really use it to their advantage.
You might be wondering, how can you use a price tag to benefit you? Well, it's quite simple – but takes some extra effort. Here's how it works:
Prior to even picking the first product for our list, we actually looked at what companies were charging for this product. We created a rough estimate or average by finding the highest and lowest priced items on the market.
With this average number, we evaluated each product and measured where it stood in comparison to this. If it was higher than the market, we wanted to know if it was because of value, brand reputation, or if the product simply was overpriced.
With each product, we asked ourselves one question: What value does this product offer consumers?
Through taking the time to answer these questions and really research the market, consumers can really get the best deals out there – which is what we precisely did for you!
Top 10 Awesome Shoes for Boys
1

. Converse CT All Star Core Ox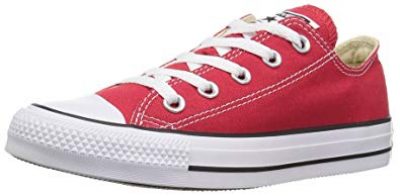 The Chuck Taylor shoe is instantly recognizable, and its iconic design is perfectly replicated for young boys in the Converse Kids' Chuck Taylor All Star Core Ox. Available in classic colors like black, white and red, this pair is designed to be noticed yet also complements most outfits. Plus, the canvas material will keep the wearer comfortable all day.
The iconic design is instantly recognizable: The canvas upper, medial eyeholes, lace closure, and rubber outsole. This pair is a classic for a reason, and the kids' version remains true to the original design.
This footwear was originally designed as a non-skid basketball shoe, and the rubber outsole continues to deliver on its promise of improved traction. This is ideal for busy boys who love to run.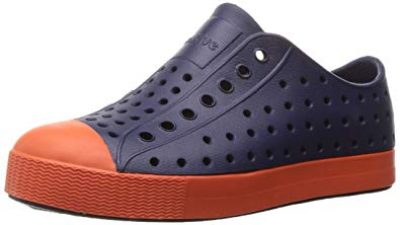 With summertime in full effect, you may be finding creek walking, lakes, or beach activities more frequently, and the Native Jefferson cool shoes for boys will help keep your little guy's feet protected while playing in the water. It's vegan footwear, approved by Peta, and made from rubber, EVA, and even has been treated for odor resistance. Grippy outsole helps them play hard, and perforations in the uppers allow maximal airflow in hot weather.
This slip-on sneaker is fully waterproof with its rubber and EVA material design, and perforations to help drain water, but keep airflow going in and out of the footwear. Perfect for exploring beaches, pools, creeks or lakes, and still protect sensitive soft skin. Its waterproof materials and design have been Peta approved as vegan footwear.
With the variety of color options and combinations keeping this shoe fun to wear, it's also back with supportive stability and comfort features. EVA footbed provides padding, support, and shock absorption, while the rubber sole helps give traction for each little step. Slip-on design makes it easy to get in and out of, and its odor resistant should you need to be aware of unwanted foot odor on your little one's shoes. Bonus feature—they are easily washable as well!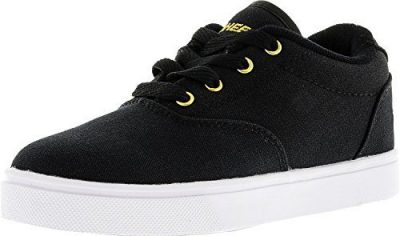 Kids love Heelys for one simple reason: They're fun. A single wheel housed in the heel allows wearers to easily transition from a walk or run to a roll. As far as parents are concerned, they are long-lasting, nice looking, and reasonably priced. The Launch features a classic structured style that pairs well with any casual outfit.
The canvas material these shoes are made with is highly durable. Combined with expert stitch work that won't begin to unravel with extended use, this foot apparel is made to last. Canvas is also easy to clean and washable on a gentle cycle.
Kids won't have any trouble removing the wheel using the tool Heelys supplies with the foot apparel. They come with a cover to close the opening where the wheel is housed.

4

. Adidas Originals Superstar


Originals Superstar Adidas Sneaker was a hit among adults, and the kids' version is modeled after these best sellers. They're not only cute but comfortable, too. Kids like that they're easy to maneuver in, making them perfect for indoor play or sports practice. They're made with a leather upper and gum rubber outsole, both of which lend to high-quality construction.
The soft textile liner offers additional padding that won't crowd feet. As a result, this shoe is highly comfortable for all-day use and appropriate for kids who are always on their feet.
The classic rubber toe cap inspired sneaker design well after the Superstars debuted, so these are a fashionable option. The rubber outsole also improves grip on smooth, slick surfaces like the gym floor.

5

. Stride Rite Soft Motion Kellen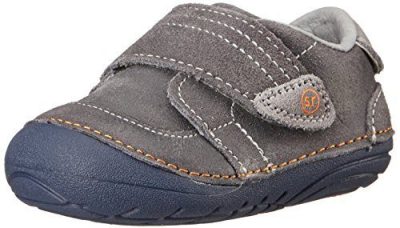 Stride Rite is a natural top choice for parents seeking out the perfect footwear for their rowdy boys. The brand is specifically geared toward toddlers and these are designed to hold up to wear and tear. The Soft Motion Keller Sneaker is made for your little guy just learning how to walk, or for the tiny tot who's ready to run.
These sneakers close with a sturdy Velcro flap, which makes putting them on fast and simple, but ensures the footwear will stay secured. This also makes them easy to adjust. No fussing with laces here!
Learning to walk is hard work, but the rounded edges make the whole experience much easier on tots. The shape decreases stumbles, and the sturdy sole helps them stay balanced.

6

. Heelys Motion Plus Skate Shoe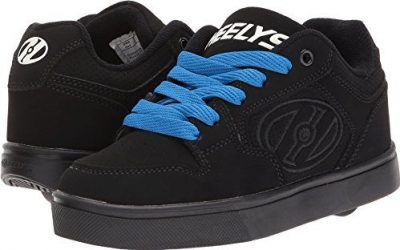 Heelys are awesome shoes for boys because they offer something unique most shoes don't: the option to skate at will. With a wheel in the heel, switching from a walk to a roll is a cinch. In addition to this feature, the Heelys Motion Plus Skate Shoe offers added comfort to wearers as well as options for unique patterns, bright colors or subdued black tones.
Extra padding in the tongue and heel make them ultra-comfortable and supportive. There's also a removable foam sockliner for the option of even more comfort and support.
The brake pad is an important safety feature of any skate. These have an abrasion-resistant brake pad, making stopping easy and safe. The pad will hold up with extended use.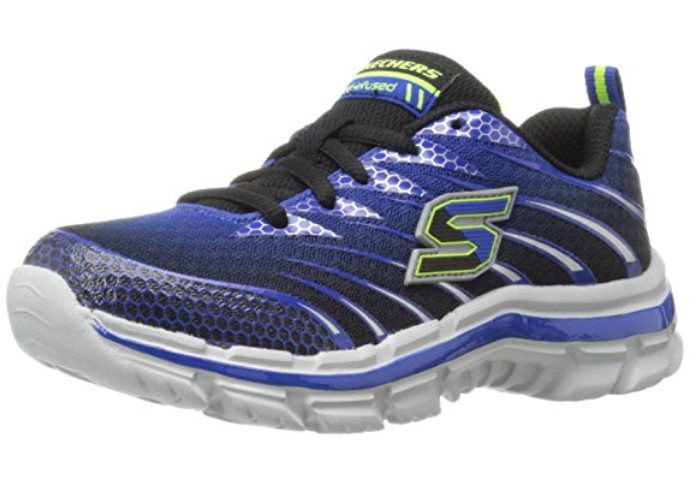 It's not surprising that Sketchers makes their way onto this list as the company is a global leader in the footwear industry. Their Nitrate footwear for kids adds onto their long line of successful products as it is made of synthetic fabric and has a gel-foamed memory sole. It is also lightweight and flexible, making it an ideal sneaker for growing kids.
The gel-infused memory sole offers strong padding to absorb any unnecessary shock while your child is running or playing. It also adds a cushion of comfort to help them thrive during playtime.
Not only comfortable, but this foot apparel are also really good shoes for kids and guarantee a lightweight feeling so kids won't be restrained by the weight of their footwear. The design is also flexible to adapt to any foot shape.

8

. ASICS Gel Contend 4 GS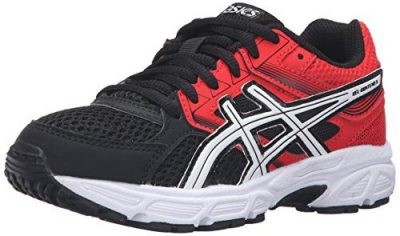 Finding a high-quality and supportive running shoe isn't always easy for parents. The Gel-Contend 3 GS ASICS Running Shoe is ideal for boys who love to run and be active. The gel cushion provides comfort while the supportive construction holds feet in a healthful position, no matter the activity. The leather upper makes this footwear long-lasting for school, play and beyond.
The Rearfoot GEL Cushioning System not only makes these shoes very comfortable for all-day use but also reduces shock when running or jumping, making these easy on joints and feet. Perfect for the little runner in your family.
High-quality materials and stitching make them very long-lasting. The reinforcing stitching on the toe cap as well as the outsole sewn directly to the leather upper construction both add durability for frequent intensive use.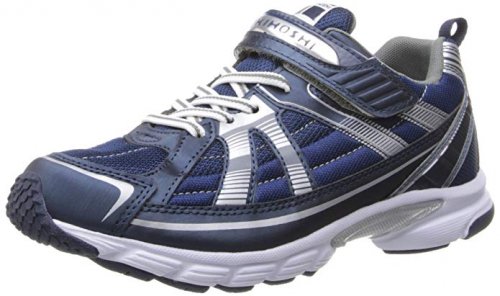 Tsukihoshi is known for making children's shoes that are durable, supportive and, best of all, machine washable. Originating in Japan, Tsukihoshi has been spreading Japanese efficiency around the world since 1873. The simple design of the Youth 70, featuring a 100% textile upper, Velcro strap closure system and rubber outsole, make it the perfect shoe for your growing child.
As a mom or dad, your time is limited and valuable. That's why Tsukihoshi made sure that their shoes can be popped right into the washing machine without a fuss. We all know that growing boys and girls like to explore even the dirtiest and muddiest puddles in the playground, so they need a shoe that can be washed quickly and effectively.
Not only will you save time on washing the shoes, but you'll also save time putting them on and taking them off, thanks to the Velcro strap closure system. The added heel loop will also help you when you teach your growing child how to put on and take off shoes by him- or herself. The Youth 70 also features a durable rubber outsole, so you can rest assured when your kid is running around the park, he or she is protected. Top off all of these great features with the fact that the Youth 70, like all Tsukihoshi shoes, are APMA approved.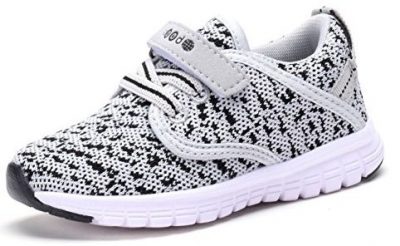 Finding children's footwear that's flexible and lightweight isn't always easy. The COODO Toddler Kid's Lightweight Sneakers solves that problem. The flexible sole offers ample range of motion for the foot, and the breathable fabric keeps feet cool yet protected. These are very easy to put on and take off, plus the closure is flexible and doesn't constrain feet.
The breathable fabric allows for airflow and wicks moisture at the same time. This keeps feet cool and dry and is very comfortable to move around in. The woven material also makes this a very lightweight foot apparel.
The soft sole is highly flexible, allowing for a full range of motion. The EVA material is supportive and durable yet allows for natural movement and doesn't weigh down the footwear.

Subscribe to our Newsletter