Best Toddler Slippers Reviewed & Rated
In a Hurry? Editors choice: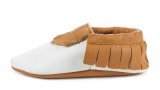 Test Winner: BirdRock Moccasins

We often forget about
best slippers
as important footwear so learning about the best toddler slipper choices can help to make the best decisions when looking to buy these items. The best slippers for toddlers are all about fit, form, and function, not fashion. But if our little fashionistas refuse to put or keep them on, our efforts will not work. Luckily, today's choices for
toddler slippers
can meet all these requirements. We have scoured the internet to bring you 10 of the best, most current, still adorable slipper options for your little walker (who are we kidding, they start at a full-speed run). Happy shopping!
Standout Picks
Criteria Used for Evaluation
Traction
When our kids really start moving and running, slips and falls can put a quick stop to the family's fun, proud moment. Making sure feet stay firmly planted on the ground across the different surfaces can be a huge challenge, not only for you but also for your little one. Different surfaces mean different types of grip, but do we really need a different pair of toddler slippers for every room? No, certainly not, we do need a slipper with superior grip strength. Slippers that can offer stability and traction from the tile kitchen and bathroom to the hardwood in the living room, and of course the carpet up the stairs and in the bedroom.
A lot of toddler slippers have no sort or grip at all, just fleece bottoms. As a matter of fact, many of the most expensive brands do not have any type of skid control. This is surprising to many. Fleece bottoms are an accident waiting to happen. Yes, they feel amazing and keep your toddler's feet nice and warm but they are doing nothing to help your little one move around and stay on their feet. Fleece has many great properties, slip resistance is not one of them.  If you want your kiddo to wear warm, flexible fleece that's wonderful, just make sure that it has some sort of rubber or polyurethane grip on the bottom.
All leather toddler slippers offer natural slip and skid resistance. Especially after they have been worn for a little while. While not as good as rubber, leather is still superior to fleece. It will give your child a smooth, superb feel for their little feet and help to keep them up and moving. The pliability of soft leather is amazing for growing feet and really allows the toes to grip and respond the way they are meant to.
Rubber, synthetic, and polyurethane soles are superior when it comes to slip and skid resistance. We wear these types of soles on our shoes every day as adults. However, our feet are done growing and we have the muscle memory to allow for this type of change. Toddlers have quickly growing feet, and to allow proper development you will want a slipper that is majorly pliable and flexible. A lightweight blown rubber won't weigh your toddler down and will give them superior grip and traction, keeping their feet under them longer and farther every day.
Fit
It can be so frustrating trying to keep socks or slippers on your toddler. Socks are always sliding down during those epic moments transitioning from crawling to walking and slippers are just too easy to take on and off. Let's not forget about the millions of children who downright refuse to leave anything on their feet. A lot of us understand the hatred of shoes, however, unprotected toes are also not acceptable.
Elastic - Our guide to the best toddler slippers has hopefully shed some light on the best closure systems to help your little one keep the mile counter climbing as well as keep their feet warm. Fleece is very warm and a common slipper material, add to it a band of elastic and for the most part it will stay put, but your avid mover is going to pull them right off as soon as they realize they can.
Hook and Loop - So, where do we go next? A hook and loop closure. The hook and loop are not only secure but it's more difficult for little fingers to manipulate. This type of closure will help those feet stay warm and with any luck, will afford you more time to get to the mountain of clothes in the laundry room without having to chase down another wayward toddler slipper.
It is also important to note that if you are buying your toddler slippers and you are currently fighting to keep socks on those cold little toes, make sure to avoid any type of slide on slipper. Slide ones may be great for us but a child that doesn't like anything on their feet will never keep these on. They also come off of the foot very easily for those just beginning to walk. This can lead to slips and falls very easily.
Durability
Coming across any product that is built to last can be a tall order when it comes to your toddler. At such a young age, they don't know that everything they destroy costs you money. We find it to be exceptionally important to find the best toddler slippers, that not only keep your child standing up but keeps your child's slippers standing up to them.
Fleece is a very durable material and is counted on by many parents. Not only will it give your child long, durable wear, it will also stand up to your washing machine. Spills and messes are a part of our everyday lives and an item that can simply be thrown in the washer saves us time and money. It also keeps our family looking great, while not breaking the bank with constant replacement.
The thin sock-like material used for slippers, can be very frustrating. If not replacing for little holes that seem to crop up every time they come out of the dryer, you find yourself buying more because the dog decided chewing on your toddler's slippers would be a great idea. Some sturdier cloth material can be durable, it really depends on the construction. Our guide to the best toddler slippers has given you footwear that will stand up to the test of time and toddlers.
Breathability
An important thing to note when shopping for any type of footwear for your toddler is that babies have yet to develop their internal temperature regulation systems, which means that they are bound to get hotter in warm weather, and colder in cold conditions. The foot, just like in adults, is a peripheral part of the body, and will often receive warmth the last, so you really want to protect it to prevent discomfort or even health issues.
Most slippers on this list are made to keep your little one warm, and that makes them an excellent choice for cold weather wear, both inside and outside. However, manufacturers will often focus on insulation, forgetting about the fact that breathability is just as important.
The ideal pair of shoes will be adequately warm, but will allow proper air flow so that the feet never overheat, and don't sweat more than necessary. If your kid is active, this is even more important as they're bound to work up a sweat.
You'll want to look into models that are either made with naturally breathable materials such as leather or suede, that have a high quality lining such as wool, or include some technology that will allow for warm air and moisture to escape.
If sweat is trapped within the shoe, you may find that your baby starts developing stinky feet, which is not just uncomfortable, but can be a sign of bacterial or fungal overgrowth. The last thing you want is your little angel to pick up Athlete's foot or an infection that will take time to cure and may even re-appear later in life.
Insulation
Warmness factor is very important, especially if you live in colder climates with hardwood floors. Everyone has a different impression of what is best to keep feet warm. Any layer will be better than bare feet on cold floors, but some are superior when broken down into what they can do to make snugly warm toes all day long.
Cotton - Natural and loved by many, cotton is an asset in most clothing items. It is soft and comfortable, it breaths but also helps keep chills off. The problem with cotton is that it is not very durable and if cold toes are a daily problem, cotton is probably not going to fix it. Better than nothing but not fit for superior warming.
Fleece - Fleece is a top choice for parents looking for something that will truly make their toddler's feet stay warm. Thick and plush, it is not only durable but allows feet to warm up quickly. Fleece is very slippery, and you will want to use caution with wobbly walkers, especially if there is no grip on the bottom of your chosen fleece toddler slippers.
Wool - Wool is probably the very best when it comes to cold feet. It naturally moves moisture away and helps insulate. Some parents stay away from wool because it can be itchy. This can be a real problem especially for children that don't like anything on their feet in the first place. Adding a thin loose sock to wool slippers will keep the itch away but allow plenty of room for natural motion of your toddler's growing feet.
Top 10 Kids Slippers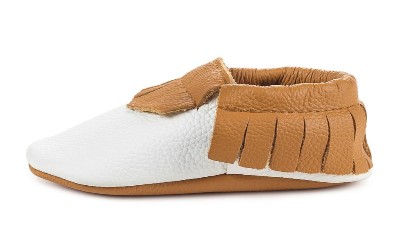 Two families caught in a normal 9 to 5 life, brought life to something they had envisioned for years. A brand that they live for and in, promises to give us high quality, toddler-friendly items. They offer a variety of ways to contact them, including, text, and email which is a type of customer service we don't get to see every day. BirdRock Moccasins have qualified as some of the best toddler slippers because of their design, which ensures room for growing feet, and they are made of 100% genuine leather. They not only feel great they are also flexible allowing excellent development of the foot.
Giving back is not in everyone's budget and when children are involved there is always a need for a new pair of kids slippers. Why not kill two birds with one stone? Buy from a company that will not only feel like family but will also give back to an amazing cause. With the help of Feed My Starving Children, for every pair of BirdRock Moccasins that are sold, a child is provided meals for a day. Giving back is important to everyone and this genuinely good cause is offered by a brand that gives quality well-priced toddler slippers among many other awesome products.
Children move and groove all the time. If you are constantly chasing the kiddo, to slide a slipper back on, stop. With an elastic band securing this adorable moccasin, you will find them easy to put on and be impressed by how well they stay on. It is important to note, it also helps keep your toddler safe, a slipper that slides partially off is a serious trip hazard. Save yourself time and save possible falls with BirdRock Moccasins.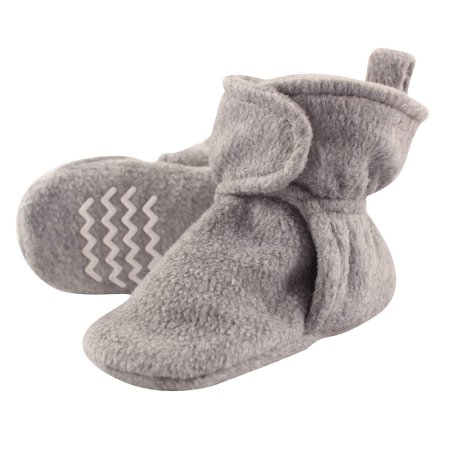 Made with 100% fleece polyester the Hudson Cozy Fleece Booties with Non-Skid Bottom, live up to their name. Warm and soft these flexible toddler slippers will give feet room to grow and promote strength. They are hard to kick off and look great with a variety of outfits. Also, with the zigzagged rubber grips, your kiddo will have an easier time staying on their feet and crossing slippery floor surfaces throughout your home.
Most children prefer to go barefoot and will remove socks, shoes, and kids slippers by any means necessary. The hook and loop closure system help ensure these toddler slippers stay put. No amount of kicking will have these flying off. We all want to make sure our kid's little feet stay warm, and the Hudson Cozy Fleece Booties will make sure that happens, and you won't have to put them back on every two minutes.
Wobbly walkers will have slips and falls no matter what. We hate to see our kids fall and get hurt and want to do what we can to help our toddler stay on their feet. The grip is extremely important in avoiding slips and falls. The zig-zag pattern offers versatility when it comes to keeping your child by overcoming quick position changes. Turning like a ballerina or a ninja requires a design that covers the bottom and moves with your agile walking toddler.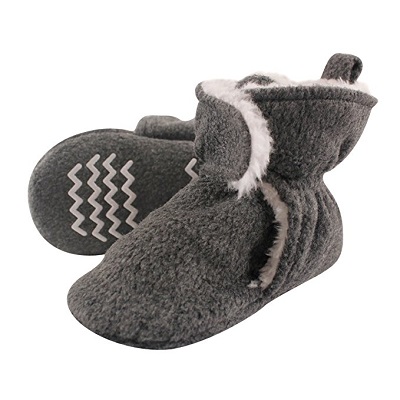 These cute little toddler slippers are perfect for cold floors in the winter or just running errands in the car during the winter. With a Sherpa fleece lining, Velcro closure and non-slip grips on the bottom, your toddler will be warm, comfortable and secure while running about. For such a great winter slipper, they are very reasonably priced too!
These kids slippers feature a hook and loop closure so baby can't kick them off or pull them off while you're out and about in the cold or while the baby is playing on cooler floors. You'll feel better knowing that your baby's feet are cozy and warm inside the slipper.
These slippers feature zig-zag grips on the bottom for non-skid, no-slip security while baby runs and plays. Soft and warm, they are the perfect combination of thick, soft fleece and stable feet.

4

. Luvable Friends Fleece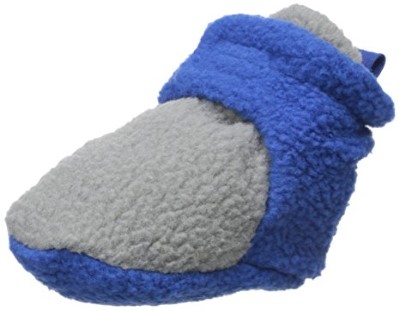 Luvable Friends is a brand we can trust in baby and toddler basics. These cute and versatile toddler slippers are warm and will stay where you put them, with a secure Velcro closure. A variety of colors and non-skid sole will make every outfit look great and keep your new walker securely on their feet. The Luvable Friends Cozy Fleece Booties with Non-Skid Bottom are sure to be a great addition to your child's slipper collection.
Warm, soft, comfortable, and washable, it must be too good to be true. We promise it isn't, life is messy and we need to make sure we are spending our money wisely. Luvable Friends understands what moms need. Throw these in the wash and have these ultra soft toddler slippers warming your child's feet up in no time. Most adults have a favorite fleece piece and that's because it warms us up so quickly, offer your child the same for their cold little toes.
Whether new to walking or a few miles under the belt, traction is important. The individual non-skid circles on the bottom of these toddler slippers will make every step a sure step. Falling is part of growing up, but sometimes a fall can be really dangerous, especially around sharp corners or on hard flooring surfaces. Promoting good traction and the ability for your child to stay up and moving, the Luvable Friends Cozy Fleece Booties with Non-Skid Bottom is a win with moms and kids alike.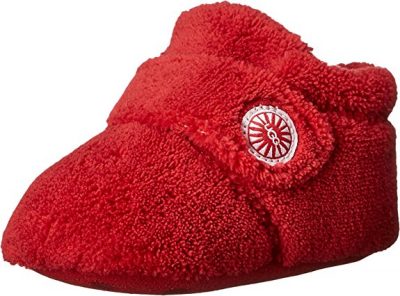 Ugg was founded by an Australian surfer living near the shores of southern California in 1978. This company is committed to supporting philanthropic endeavors wherever they are needed. UGG is a leader, operating their business ethically, only using sheepskin that is a byproduct of the meat industry. And UGG is one of "Oprah's favorite things". The UGG Bixby Boot is a top quality product for those consumers who want the best and are willing to pay for it.
This slipper is soft and flexible. The overall fit is excellent - there is enough room for foot and toe motion. The hook and loop closure makes it easy to dress your toddler. The outsole is made with a flexible silicon tread.
With a brand named UGG, you can expect up-to-date styles - that is what you get with the Bixby Boot. The hook and loop closure keeps the ankle supported while keeping the fit snug.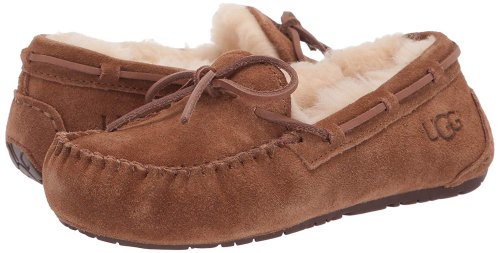 The UGG name is synonymous with comfy slippers. These moccasins for toddlers is no different. Made from 100% leather and Shearling Lamb fur, they are sure to keep your little one's feet nice and cozy.
Simple to put on and keep on, the Dakota Slip-Ons is a must have for those toddlers who need a snug, cozy and warm bootie type slipper. The rubber sole is flexible giving your toddler the tactile feel that helps them adjust from crawling to standing.
The Dakota slippers come in a few color options, mostly in neutral colors like brown, gray, and black. With a soft dyed shearling lamb fur, the inside of the slippers are nice and cozy to keep your little one's feet toasty warm.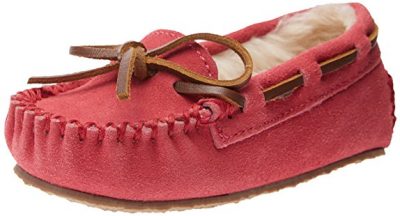 Drew Barrymore, Gwen Stefani, and Kate Moss are among the many celebrities that can be spotted wearing Minnetonka moccasins. Using quality moose hide or deerskin leather, artisans handcraft each pair to the highest standards. Your budding star will love a pair of Minnetonka Cassie Slippers. They come in a variety of colors and there is a matching adult Minnetonka Cally Faux Fur Slipper. Over time, the Minnetonka Cassie slipper will stretch and conform to the toddler's foot and wear pattern ensuring a good fit. They even come with a one-year replacement policy.
The Minnetonka Cassie slipper molds to the wearer's foot ensuring a snug fit but never uncomfortable. The heal is firm but will soften over time. They are lightweight, designed in the true and time-tested moccasin shape.
This classically designed moccasin slipper will always stay in style. The Minnetonka Cassie slipper comes in a variety of colors and some interesting patterns. The faux fur interior keeps the toddler's feet warm but not hot and whisks away any sweat. The rubber outsole maintains its flexibility and grip.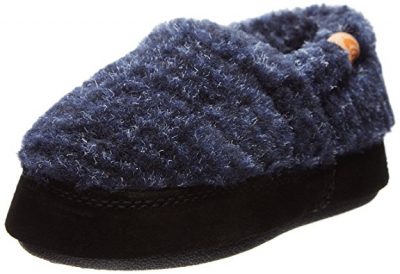 The Moc Slipper manufactured by ACORN is the third on our list of the 10 Best Toddler Slippers for this company. There are times when you need a slipper to double as a shoe. The ACORN Moc Slipper is made with a durable and weatherproof sole, making it a good choice for indoor as well as outdoor use.
The slippers fit well, except for those toddlers who have a chubby foot. Ordering a size up will fix the issue because they run a little narrow. They will eventually stretch to fit snuggly but are best for toddlers with narrow feet. The non-slip sole is not as flexible as other slippers listed here, but with outdoor use, you would require a stiffer sole.
The Moc Slipper by ACORN is the sturdiest made slipper on our list. The durable rubber sole has a good grip for traction yet comes with a little flex. They are very warm and are great on your hardwood floors or tiles during the winter. The slipper comes in some interesting colors and there I am sure there will be one to make your toddler happy.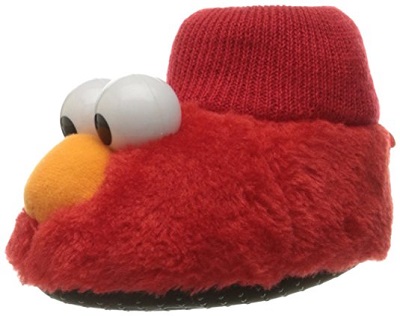 Available as either Elmo or the Cookie Monster, these faux fur sesame street shoes are super cute, warm and fun for your toddler. Who wouldn't want a puppet on your feet? They have a soft collar and a foam footbed for cushioning of your toddler's busy, busy feet. Adorable!
In cooler temperatures, it's a great warm and cozy slipper for your toddler's little feet. However, slip a hand inside and it becomes a puppet for your toddler to play with. Versatile and fun for baby.
There is a foam footbed inside the slipper for extra cushion. Your toddler's feet are super busy all day, and these slippers will keep them warm and comfortable. Nothing in the slipper will restrict your baby's natural muscle and bone growth at the same time.

10

. Kamik Kids' CozyCabin2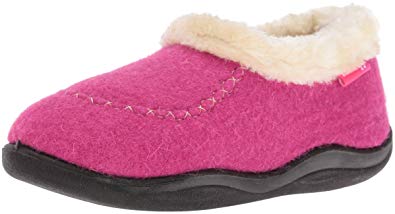 Fun and playful, warm and comfortable, your baby will also have good traction and they come in sizes from toddler all the way up to Mom and Dad so the whole family can join in the fun. The Kamik CozyCabin2s are an inexpensive slipper with a high-end look.
These shoes are great for toddlers who run all over slick surfaces like hardwood and tile floors. The rubber soles help to prevent slips and falls and the soft, padded soles also make the slippers quiet and comfortable.
With many color options including pink, gray, red, and black, you can find an option that will fit your toddler's personality. The soft upper with faux fur will keep their feet warm, and the felt foot bed is a nice touch for their tiny feet.

Subscribe to our Newsletter