Best Kids Dress Shoes Reviewed & Rated
In a Hurry? Editors choice: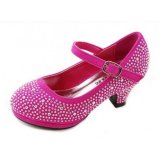 Test Winner: Forever Dana

Whether going to a wedding or a formal party, everyone wants to look good. Kids are no exception. Now days style starts early and many parents are looking for the best shoe to help their kids stand out. The biggest issue many parents have when looking for children's shoes, is the fact that kids grow quickly. We've compiled a list of ten of the most stylish yet affordable shoes to help your child shine.

That's where this guide comes in. Since children's feet aren't simply smaller versions of adult feet, shoe shopping for children is naturally a different undertaking as well. To make things easier, we've reviewed the best kids dress shoes in durability and style for you. Whether it's a dance recital or a science fair, these shoes will do the job.
Standout Picks
Criteria Used for Evaluation
Fit
In a way, choosing dress shoes (and shoes in general) for children is simpler than choosing them for yourself or another adult. Once you have measured your child's foot, you have tackled the issue of general sizing. You simply need to compare the length of your child's foot to a size chart and voila! However, there's still more to the equation than just foot length.
The most important consideration in children's shoes is fit, even more so than for adults. Since children's feet are still growing, improperly fitted shoes can introduce your child to foot problems and pose a risk for deformities. Shoes should fit well from the beginning, as well, especially for children. "Breaking in" a shoe shouldn't be necessary, and means the shoes are not designed or fitted for your child's feet.
One method of ensuring proper fit is to take the measurements of your child's feet in the afternoon or evening. Feet of all ages tend to swell as the day goes on, and you want your child in shoes that will accommodate that natural swelling.
Safety Hazards
Ingrown toenails, calluses, 'hammer toes', and bunions are all foot problems that can occur from shoes not fitting properly around the toe box. Round-toe shoes are the best for achieving a roomy fit that allows your child's toes to spread naturally as they walk; pointy-toed shoes are guaranteed to cramp growing toes.
Furthermore, you should regularly check your child's shoes for the fit around the toe to make sure the shoe is still a comfortable size. While your child is wearing shoes, press around the top of the shoe — where the toe box is — for the tip of your child's big toe (or longest toe, if it isn't the big toe). If where you find their toe is less than a half-inch away from the tip of the shoe, the shoe is too small.
The way a shoe stays on your child's feet is yet another essential facet of finding the best fitting dress shoes. Lace-up style shoes are the best for getting a custom and secure fit. Velcro fastening is a close runner-up. Overall, some kind of closure is recommended for children's shoes; backless and slip-on shoes can change a child's gait when they struggle to keep the shoe on. Plus, there's nothing worse than losing a single shoe and ruining the pair, right?
Heel
When it comes to the heel of a shoe, there are considerations needed on both the heel bottom (beneath the shoe) and the heel quarter (at the ankle). For the ankle portion of the heel, the shoe should fit snugly against the ankle but should not rub or chafe. However, be wary: too loose of a heel quarter can cause a child's foot to slide inside of the shoe and contribute to a fall.
On the topic of the heel beneath the shoe, know that it is crucial to avoid too-tall heels for children. High heels can cause problems even in adult feet, so they are absolutely terrible for adequate development. Nevertheless, we know that some children feel special, like a grownup or a princess, when wearing heels so the recommendation isn't to outright avoid them.
Instead, stick to a small heel and limit the amount of time your child spends walking in them. This way your child can feel special while you can feel confident that they are safe and secure in their new shoes!
Midsole
The midsole is designed to provide cushioning and shock absorption to the shoe, nestling the foot in comfort. Whereas running shoes tend to have thick midsoles, flats and thinner shoes not designed for high-impact activities often have thinner midsoles.
The reason for this is simple: you need more shock absorption and vibration dampening during high-intensity movements or activities to maintain comfort and prevent foot injury than you otherwise would with a regular shoe, flat or sandal. Midsoles are often made from EVA (ethyl vinyl acetate), a synthetic plastic also used to make insertable orthotics. A firmer type of EVA for the midsole will make the shoe heavier, but more durable; whereas a softer type of EVA, like those found in running shoes, improve shock absorption, but wear much quickly.
This is one of the trade-offs you will have to consider when buying your child's next pair of shoes. You want them to be comfortable, but also be aware that comfort tends to mean the shoe will wear much more quickly. Fortunately, kids are growing so fast around this age, so you should opt for comfort over durability, as you will most likely need to buy new shoes in the short term.
Breathability
A shoe that breathes is critical to providing the wearer a comfortable and healthy experience when sporting a pair of shoes, sandals or boots. A lack of breathability will create a wet and humid foot, leading to discomfort and possible fungal or bacterial infections that are painful and difficult to cure.
How does a manufacturer ensure their product will allow maximum airflow? There are several ways to achieve this, including using special fabrics in the upper of the product, lining the midsole with moisture-wicking technologies and finally, the good old use of perforations of holes throughout the product.
If a product scores high on this metric, the buyer can rest assured that the manufacturer has used some or all of the above techniques to ensure the wearer a comfortable and dry wearing experience.
Top 10 Picks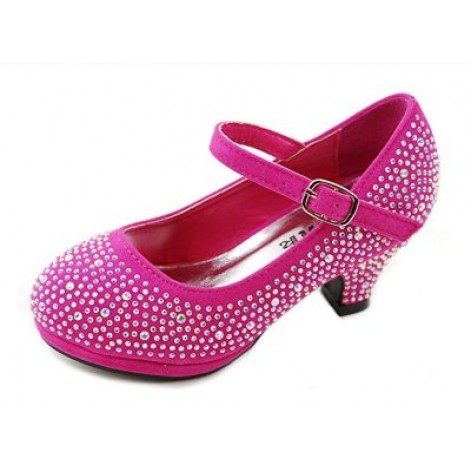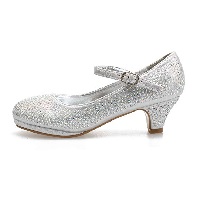 Dana, from Forever, is the perfect fairytale dress shoe. These shoes feature a round toe, Mary Jane-style adjustable strap, and a textured pad on the sole for traction and resistance. The Forever Dana comes in black, gold, and hot pink, and are made of a velvety synthetic material. Sizes are available in toddler, little kid, and big kid sizes, so the Dana can be worn by a child of just about any age.
The biggest draw of the Forever Dana dress shoe is the rhinestone studding scattered across the upper and heel of the shoe. Rhinestones give the Dana instant glitz and glamour and complement any occasion. Also, should any of the stones fall off, extras are shipped alongside the shoes just in case.
If your child is interested in heels, the Forever Dana is a great introduction to them. The Dana features a 1.5" heel, excluding the platform. Adding the platform in brings the heel under the 1.5", making it a shoe with easy walkability. These shoes also feature replaceable heel caps, and extras come with the purchase of the shoe.
For a kids shoe, the Forever Dana is more on the expensive side. Especially when considering the general lifespan of a child's shoe. However, if you size up in the Dana so that your child can grow into it, you can easily get a year of wear.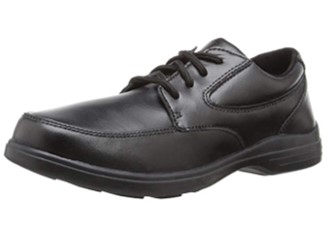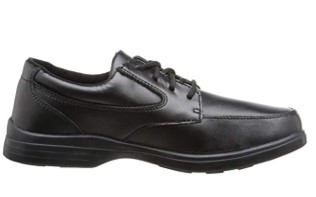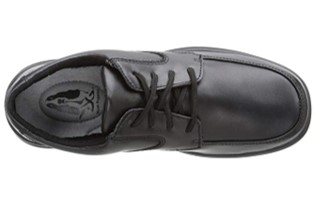 Well known for their comfortable and supportive footwear, Hush Puppies also makes some quite stylish options for children's shoes. The Hush Puppies Oxford was made for little ones that need that more formal look, but won't leave their feet sore or feeling uncomfortable. It has a memory foam footbed and bacterial fighting sockliner to help them smell fresh and prevent discomfort. With its classic oxford silhouette, it's appropriate for formal events like weddings, but also for school uniforms!
Lace up closure on the Hush Puppies Oxford cinches together the quarters for a clean and simple look. It has a somewhat square toe which gives ample room for growing feet, and a padded tongue and collar for additional comfort when wearing. Inside is an antibacterial treated sockliner, helping to prevent bacteria build up and resulting odors. Uppers are 100% pure leather, giving the shoe a durable quality as well as sleek look.
Rubber soles base this oxford and have a wide pattern tread for traction and grip. The soles are non-marking as well, so even if your child takes time to play around on tiles or floors at formal occasions or school, they won't leave a trace. Inside, a memory foam footbed helps keep their feet padded and cushioned, suitable for all day wear without pain. It's a versatile option for your child as a formal pair of shoes.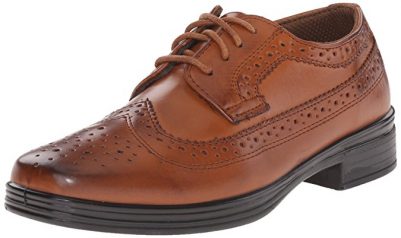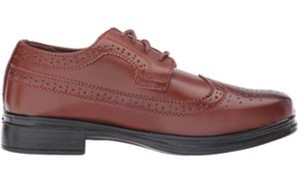 Deer Stags is a brand that has been in the shoemaking business since 1929 and has a reputation for quality. The Ace by Deer Stags is dressy, round-toe wingtip oxford that comes in two staple colors: black and luggage brown. The Ace is available in both little kid and big kid shoe sizes. If there were a picture to describe "looking sharp," it would include the Deer Stags Ace.
The Deer Stags Ace puts comfort ahead of even style with a flexible, lightweight, and multi-directional sole; breathable mesh lining, and shock-absorbing EVA midsole. The Ace features padded EVA footbeds and is a roomy shoe overall; this is in addition to a classic lace-up closure that helps to achieve a secure and customized fit.
Starting with rich simulated leather, the Deer Stags Ace is the perfect classic wingtip oxford. These shoes feature broguing across the vamp, sides, and collar of the shoe for true retro styling. The toe of the Ace, in the luggage color only, also has a burnished look for added class. Lastly, these shoes have a fashionable 0.75" synthetic heel.
Somewhat cheaper than the Forever Dana, the Deer Stags Ace is a high-quality dress shoe with a discount quality price tag. As a coupling of comfort and style, the Ace is one of the best wingtip oxford dress shoes available for children; it's built with all of the perks you would look for in an adult shoe, even.

4

. Sweet Pea and Lilli Mia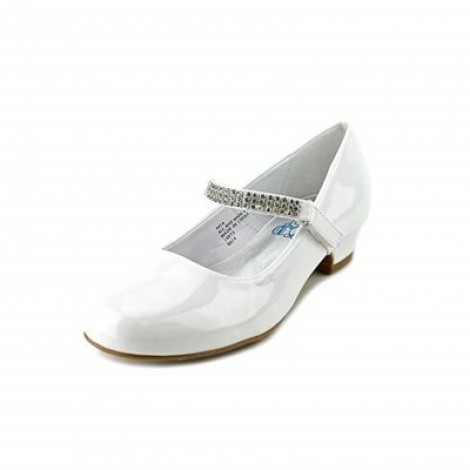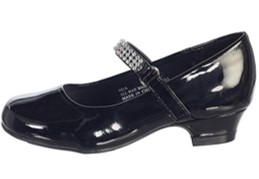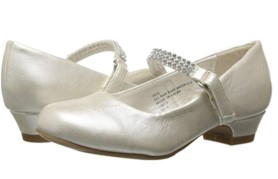 Though the Mia from Sweet Pea and Lilli is branded as a casual shoe, it's much dressier than that. The Mia dress shoe is available in three colors, white, black, and a creamy ivory. Unlike the black and white pairs that are made of a patent leather-like synthetic material, the ivory version of the Mia is made of fabric for softness and character. Sweet Pea and Lilli makes the Mia available in toddler sizes, as well as big and little kid sizes.
The only adornment the Mia has is three rows of shiny silver rhinestones across a single strap. Against faux patent leather, the rhinestones pop and give the shoe an extra shininess. The less-than-an-inch heel on the Sweet Pea and Lilli Mia is perfect for children who want to feel special or "grown up," and adds another layer of dressiness to boot.
Like many adult shoes, the Mia dress shoe features a cushioned insole for comfort and a rubber sole for shock absorption. The single strap on the Mia has a simple velcro closure for easy wearing and a snug fit. Also, despite having uppers made of a somewhat stiff synthetic material, these shoes don't dig into or pinch young feet painfully.
The Sweet Pea and Lilli Mia is an affordable children's dress shoe. Since it is one of many kids shoes that run larger, you can plan for the future by buying a size that is a little roomier.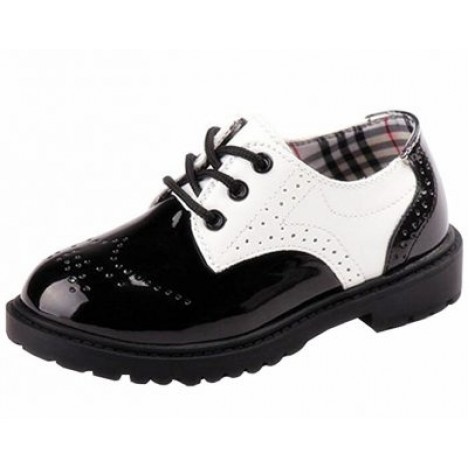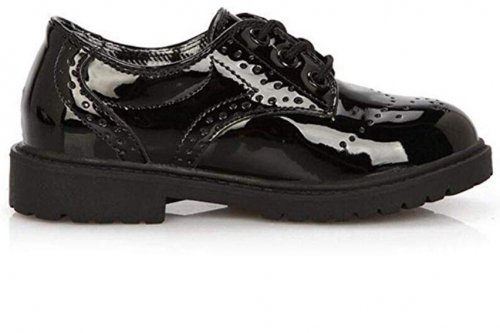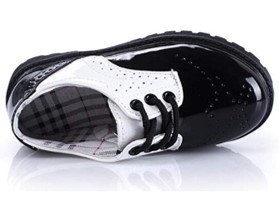 Why mess with what works? The DADAWEN Oxford dress shoe doesn't. Perfectly retro, the DADAWEN Oxford takes a page from British fashion of yore. These shoes are made of shiny, simulated patent leather and are available in two colorways: solid black and two-toned black and white. The Oxford comes in a range of sizes, so toddlers, little and big kids alike are able to wear these shoes.
Similarly to the Deer Stags Ace, the DADAWEN Oxford features broguing across the vamp, sides, and heel counter. A fashionably rounded moc toe, plus classic three-hole lacing, ensures a roomy toe box and custom fit. Also, the lining of these shoes is a soft, lightweight fabric with a complementary plaid pattern.
Part of the appeal of the DADAWEN Oxford is its tonal handsewn stitching. Pronounced stitching connects the upper to the sole, as well as decorates the shoe alongside the broguing. The outsole, made of rubber, has thick grooves for grip, stability, and prevention of excessive slipping. The insole, on the other hand, is made of comfy, cushiony EVA foam.
The DADAWEN Oxford are a great budget-friendly option. Where the Oxford excels is in its formality; it is the ideal shoe for any formal occasion and is sure to garner compliments from all angles. Furthermore, a non-skid sole adds a measure of peace of mind.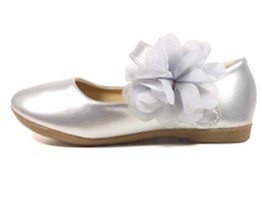 The Utopia from Nova Footwear is a demure and dainty Mary Jane-style dress shoe. Comfortable and lightweight, the Utopia is ideal for spring and summer events. The Nova Utopia comes in six colors ranging from gold to a peachy pastel pink. Unfortunately, though, your eldest is out of luck on this adorable shoe — the Utopia is only available in toddler and little kid sizes.
The Nova Utopia is a beautiful shoe despite its basic silhouette. The uppers are made of a synthetic material that is semi-shiny or pearl-like, depending on the shoe's hue. A gauzy, same-color organza flower is the only decoration the Nova Utopia has, lending to the Utopia the above-mentioned dainty feel.
A single velcro strap allows for a more unique fit to your child's foot. The Velcro strip along the strap is noticeably long, providing a greater range of adjustability and security. Additionally, the vamp of the shoe stops right after the toes, allowing plenty of toe room for growing feet.
With the Nova Utopia being cheaper than even the DADAWEN Oxford, you may suspect there's been a compromise somewhere in the quality. This isn't the case at all, especially with easy-to-clean faux patent leather uppers. The Utopia straddles the line between dressy and casual well enough that your child would want to (and can!) wear them just about anywhere.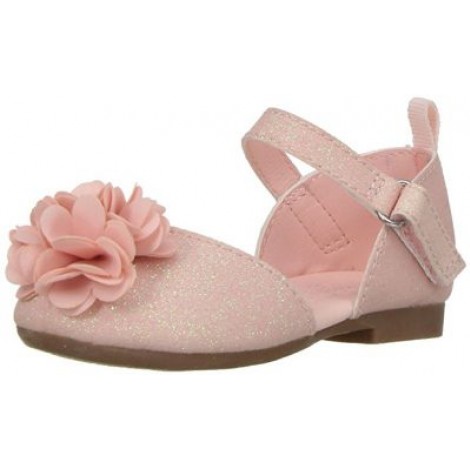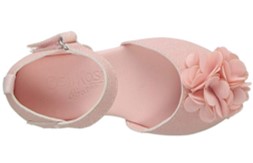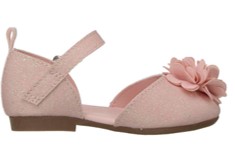 Founded in 1895, OshKosh B'Gosh is one of the most well-known children's apparel brands. As such, OshKosh can be counted on for quality children's shoe and the Giselle is an exceptional example. Though it's another dainty round-toe dress shoe, it's unique in style. Only available in a sparkly rose pink, the OshKosh Giselle isn't a varied shoe either — but it is beautiful and sturdy. Also, these shoes are easy to wear and comes in toddler to little kid sizes. Sorry, big kids! (Again.)
The OshKosh Giselle is the result when a shoe style mashup is done well. Though billed as a ballet flat, the Giselle features both a D'orsay-like cutout on the sides and a hook-and-loop closure like a Mary Jane. And for extra embellishment, there is a matching 3D floral fabric applique applied to the vamp of the shoe.
Giselle by OshKosh is a fully synthetic shoe, featuring comfortable non-toxic fabric uppers that bend and move with your child's feet. The lining of the Giselle is soft fabric too and extends to cover the lightly padded footbed. The outsole material is rubber-like and textured for traction.
The difference in price between the OshKosh Giselle and the DADAWEN Oxford, but the Giselle is still the more expensive of the two. Alongside a soft and comfortable shoe, with the OshKosh Giselle, you get the peace of mind that comes with a quality, beloved brand.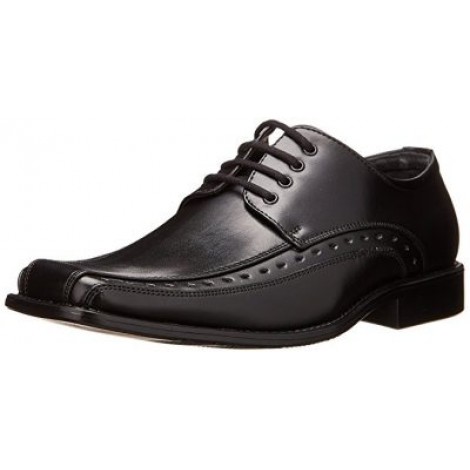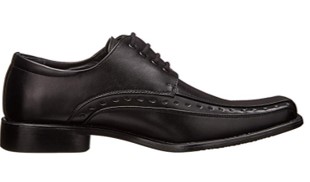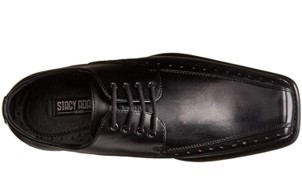 The Demill by Stacy Adams is an uniquely styled kids dress shoe. It is a shoe that doesn't cross over well into casual but will take any formal outfit to the next level. The Stacy Adams Demill has a sharp, square silhouette that would be mistaken for an adult shoe were it not for its size. Available solely in black, the Demill is a dress shoe with little and big kid sizing only.
In true Oxford style, the Stacy Adams Demill features decorative broguing across its sides. But the uniqueness of the Demill is in the square toe and pronounced bicycle stitching. These shoes also feature a 1" heel, though a 0.25" platform brings it closer to a 0.75" heel. Even the sole of the shoe has a bit of decoration, including the Stacy Adams logo and emblem.
Like all of the comfiest shoes, the Stacy Adams Demill has a lightly padded footbed, a padded collar, and a rubbery, shock absorbing outsole. Four-eyelet lacing provides flexibility in shoe fit and security while simultaneously lending these shoes a traditional look.
The Stacy Adams Demill is the priciest shoe in this guide. Part of the reason why is because Stacy Adams is a premier shoe brand that's even been referenced in pop culture. The other part is because the Demill is a sturdy oxford dress shoe with timeless style. The Stacy Adams Demill is worth stretching the budget a bit, especially if your child frequently attends formal events.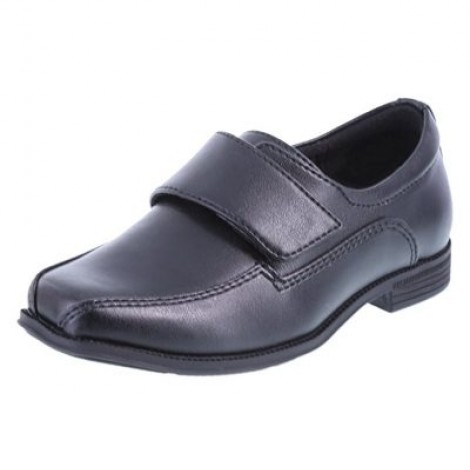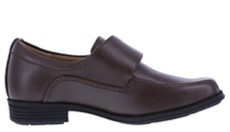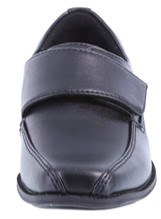 The SmartFit Grant scales back on embellishments for a low-key yet sophisticated dress shoe. Modeled after modern adult dress shoes, the Grant from SmartFit is the perfect solution to a dress shoe dilemma. Available in black or white, these shoes come in toddler and little kids sizes.
With especially soft faux leather uppers and a chic square toe, the Grant is a kids dress shoe with a dash of maturity. Adding to the classic feel of these shoes is a complimentary 0.5" stacked heel and simple yet pronounced stitching. Billed as being "just like Dad's", these shoes match up well with similar adult styles.
Designed for simple on-and-off wearing, the SmartFit Grant features a thick velcro band with a hook-and-loop closure. Built with SmartFit's 'Tried and True technology', these shoes are meant to withstand play and provide comfort and wiggle room for growing toes. In addition, the Grant has a soft, jersey fabric lining, padded collar, and padded insole.
Reasonably priced, these dress shoes cost the same as a pair of Nova Utopia shoes. What makes the Grant an excellent option is its focus on providing a stable and comfortable shoe experience. Created and sized with the roominess children need in mind and combined with classic style; that's the SmartFit Grant.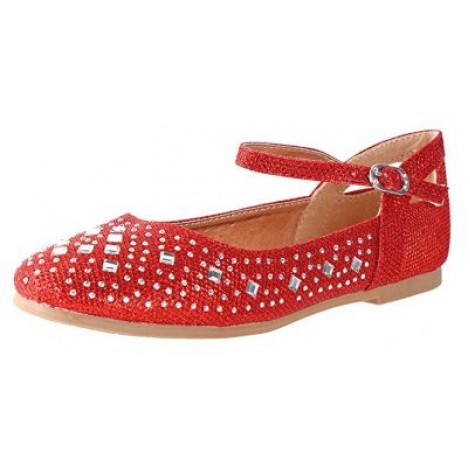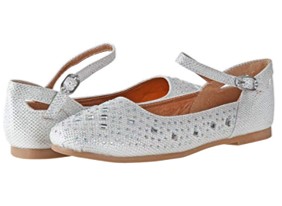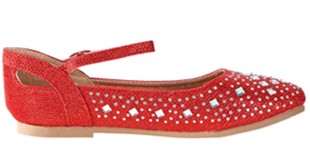 The Britt from Little Angel is a darling, studded kids shoe that easily transfers between casual and dressy situations. Britt is a classically designed flat dress shoe and has six vibrant colors to choose from, ranging from red to black. Moreover, these shoes are available in toddler, little kid, and (limited) big kid sizes.
Like many kids dress shoes, the Little Angel Britt features rhinestone studding across the vamp and sides. The difference with the Britt, however, is the playful mix of large diamond rhinestones and small round rhinestones. The outsole of the shoe is a contrasting yet complementary nude hue that matches the sock lining — save for the black-on-black style variant, that is. Not to mention the subtle cut-outs in the heel counter, a tiny but trendy detail.
Soft and sturdy fabric and a synthetic rubber sole aren't the only comfy perks the Little Angel Britt has. Add a roomy rounded toe box, lightly padded footbed, and soft fabric lining. Then include an adjustable Mary Jane-style buckle strap for security and the Britt becomes an ideal kids dress shoe.
In short, the Little Angel Britt is an inexpensive shoe. The difference in price between the Britt and the SmartFit Grant is small enough to be negligible. As one of the few versatile dressy casual shoes, you can expect your child to get a lot of wear out of these.

Subscribe to our Newsletter