Best Princess Shoes Reviewed For Disney Loving Kids
In a Hurry? Editors choice: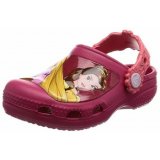 Test Winner: Crocs Dream Big

There is hardly a little girl who hasn't imagined herself to be a princess. Daydreaming about living in a huge, lavishly decorated palace, dressed up in equally extravagant gowns, having
cute animal
friends and a handsome young prince on a white horse – it's all a part of growing up and getting to know the fantasy worlds around you.
Of course, the popularity of specific fairy tales grew exponentially thanks to
Disney
. This entertainment conglomerate brought the graceful likeness of Snow White, Belle, Aurora, Cinderella and many more princesses to the small screens and into our homes, and everyone fell in love with their stories.
Standout Picks
Criteria Used for Evaluation
Compatibility
In the beginning, they were eight. With the arrival of Disney's first animated feature film, Snow White and the Seven Dwarfs, came the first Disney Princess – Snow White. Others that followed were: Cinderella, Aurora, Ariel, Belle, Jasmine, Pocahontas, and Mulan.
Each of these royal young women has a message she embodies, a value that young girls all over the world can look up to. They range from Snow White's "be a friend to all," over Ariel's encouragement to "explore new worlds" and Pocahontas' "respect the earth," to Mulan's "find your inner warrior." As we mentioned before, the mentality and characterization of these characters changed over time, and they have gotten progressively more independent, and more feminist as the years went by.
As more Disney animations rolled around, more princesses were added to the line-up, making them a total of eleven. That's how today we also have Tiana from The Princess and the Frog, Rapunzel from Tangled, and Merida from Brave. They all bring a set of their own quirks and uplifting messages to the world.
Of course, if you're looking for footwear with a princess on it, you don't have to limit yourself to only these eleven characters. There are many more animated young women who can easily fit the bill and who are not part of the official Disney Princess group. Most notable are Anna and Elsa from Frozen, Megara from Hercules, Esmeralda from The Hunchback of Notre Dame, and Moana.
We could get into a debate that, technically, some of these characters don't have a royal background, a tiara, and a kingdom, but that would be nitpicking. Ultimately, all of these animated girls are an inspiration to generations of children all over the world, and they are a perfect representation of strength, wit, poise, and beauty.
Style
We were careful to include a wide variety of footwear styles in our list so that your kid can enjoy their favorite character regardless of where they're going or what they're wearing. Let's take a closer look at each of these types, and what they're most suited for.
Sneaker
Kids love sneakers. Adults love sneakers. Really, everyone loves sneakers. The reason for this is that this type of footwear is amazingly comfortable and easy to wear, and it is the go-to shoe for any occasion.
Children, in particular, benefit from sneakers as these allow them to move about freely. They love running, jumping, sliding, climbing, dancing and everything in between, and there is no better shoe to keep them secure and safe in all of these activities than the sneaker.
When picking out a good sneaker for your kid, take a look at the closures. If your child is not old enough to properly tie shoelaces yet, maybe a velcro strap would be a good option or a simple slip-on design. Otherwise, lacing systems are an excellent way to adjust the fit of the sneaker and to make sure that your kid doesn't lose them when it starts running after cute little dogs.
Speaking about running around, the style of the sneaker itself usually determines its security level. For example, if your kid is extremely active, then consider a design like high tops, where they will have extra support around the ankle. This will not hinder them in their play time in any way but will reduce the risk of sprained ankles and similar injuries.
Clog
Originally, clogs were made partly, or completely, from wood, but here we are not talking about these types of clogs. Rather, we are talking about the well-known flexible, lightweight clogs for the beach, such as Crocs.
This type of footwear is simple to get into, as it has only a backstrap which can be rotated forward for a quick and easy entry. They are also very comfortable, usually designed to be worn on bare feet. Beach clogs are waterproof, allowing your kid to make the most out of their time by the sea, be it by building sandcastles or searching for seashells in the shallows.
It is important to mention, however, that because clogs are not the most secure type of footwear – they can easily fall off – they shouldn't be worn as everyday shoes, especially not if your child is intent on running around and playing tag with their friends. They're great for the pool and the beach, but not supportive enough for the playground.
Boot
Boots are a must in places with a lot of rainfall, snowfall, or simply where cold, unforgiving winters are common. These shoes are made from waterproof materials to keep the water out, and no matter what adventure your kid decides to embark on in rainy days, you can be sure that their feet will be dry and comfortable.
Additionally, boots serve to contain warmth inside when it's chilly outside. There are varying lengths to a boot, but for kids, they usually come up to their calves or knees. This protects their legs from getting cold – if you get a boot with a wider fit you can even add an extra layer of coziness by having your child wear fuzzy socks underneath.
Ballet Flat
Ballet flats are one of the most adorable types of footwear. They are modeled after pointe shoes that ballerinas wear, and are very comfortable and stylish. They come in a vast array of colors and combinations, blinged up with rhinestones, crystals, beads, studs, glitter, ribbons and more.
What is great about flats is that they are unbelievably versatile. They go well with jeans and shorts and also skirts and dresses, and your kid will love wearing them wherever they go.
However, it is important to keep in mind that ballet flats shouldn't be worn all day, every day. They usually have no support in the footbed, meaning that your child can develop some ailments, such as flatfoot if there is no contouring to the insole. They don't correct overpronation or supination – inward and outward rolling of the foot during walking – which can lead to many problems later on. Short-term wearing is not a big deal, just make sure that your kid doesn't wear flats constantly.
Sandal
Sandals, the saviors of summer. Everyone loves when their feet get to breathe a little when their toes have the freedom to wiggle and soak up the sunshine, and your child is no different. Sandals are amazing in hot temperatures because they prevent sweating of the feet and all the issues that come with that – bad odors, itchiness, and possible infections.
Sandals can also be quite trendy, with many different decorations and ways of arranging the straps. If your kid doesn't yet have a great pair of sandals to wear this summer, make them happy with sandals with their favorite princess on them.
Breathability
A shoe that breathes is critical to providing the wearer a comfortable and healthy experience when sporting a pair of shoes, sandals or boots. A lack of breathability will create a wet and humid foot, leading to discomfort and possible fungal or bacterial infections that are painful and difficult to cure.
How does a manufacturer ensure their product will allow maximum airflow? There are several ways to achieve this, including using special fabrics in the upper of the product, lining the midsole with moisture-wicking technologies and finally, the good old use of perforations of holes throughout the product.
If a product scores high on this metric, the buyer can rest assured that the manufacturer has used some or all of the above techniques to ensure the wearer a comfortable and dry wearing experience.
Outsole
The outsole, or more simply, the sole of the shoe, makes direct contact with the ground and therefore supports the entire foot and body when in motion. Needless to say, a poorly-constructed outsole will lead to discomfort, slipping and foot or other bodily injury. For this reason, many manufacturers use materials that are water-, weather-, heat-, and impact-resistant.
Depending on the type of footwear, one will often see outsoles made from natural or synthetic materials, such as PVC, EVA, rubber and leather. Each of these has their advantages, depending on the shoe's purpose; however, as a general rule, they each are resistant to the aforementioned factors. They are also flexible enough to support a proper foot cycle when in motion, but they are not so flexible that they feel like a pair of socks.
A sole made of the materials above tend to score higher on our product evaluations, as they are not only comfortable, but also support other criteria, such as "support" and "durability".
Upper
The insole is the proverbial foundation of the entire shoe. The sock liner lays on top of the insole, which is then fused to the midsole, and finally the outsole. A firm insole will give good structure to a shoe and increase its stability and durability, but it will also increase the weight of the overall product and be less comfortable.
A softer insole might be more comfortable, but that comes at the expense of stability and durability. We tried to balance these weights when evaluating our products, but each reader and wearer is different, so be aware of this trade-off.
The final word on insoles is that the higher the score the product receives, the firmer it will be; however, it might also mean the insole experiences one of the trade-offs discussed earlier.
Top 10 Picks
1

. Disney Princess Runner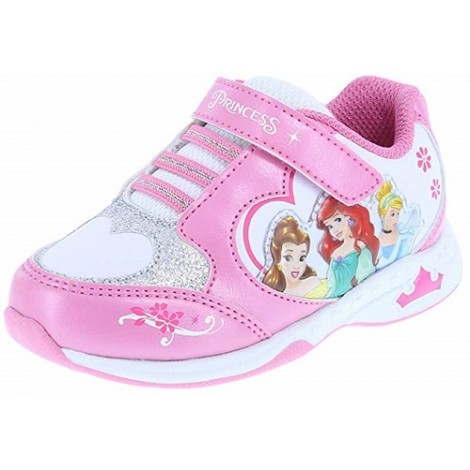 We honestly can't think of a more stylish, more princess-y design of a sneaker than the Disney Princess Runner. This synthetic construction has a double closure in the form of stretchy laces and a velcro strap on top, a padded footbed, and a non-marking outsole. It has three characters on the side - Belle, Ariel and Cinderella - and a glitter-encrusted upper for a dash of eye-catching girliness. And if all of that didn't yet convince you of the cuteness that is the Runner, we need to mention how it has lighted elements which light up with your kids every step. The definition of fun and playful!
Double Closure
When you have an active toddler, it is extremely important that they are safe as they explore the world around them. Having two closures - laces and velcro - brings the overall security of the Runner, and enables your child to run around freely without any risk of injury.
Outsole
The outsole of the Runner is not only non-marking - meaning that it doesn't leave any marks on indoor floors - but it is also skid-resistant. You don't have to worry about your child slipping or losing their balance in these adorable sneakers.
Cost and Value
Given the original Disney Princess brand name, their colorful and glittery design and all of the neat little features the Runner has, we are surprised at its relatively low price. This is a sneaker that will thrill any Disney fan, and will simultaneously turn you into a parent of the year.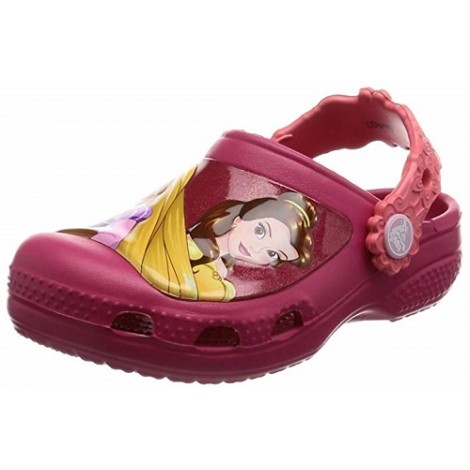 Crocs have really gone out of their way to make their iconic Crocs comfort available in all demographics. The Dream Big is a prime example of that. This wonderfully comfortable clog is made out of Crocs' signature Croslite material, and has the well-known faces of Disney Princesses on its front - each shoe with a different pair of characters! There is a pivoting strap in the back for ease of entry, styled to look like a regal ornament and the ever-present slip-on design. These ultimate beach clogs will ensure your kid is comfortable and protected as they explore the shoreline.
Croslite
Croslite is a resin material designed for maximum cushioning and shock absorption. It has an anti-microbial quality which helps prevent bad odor, potential itchiness, and infections. On top of that, Croslite is ridiculously easy to clean - with just a bit of soap and warm water this clog is as good as new!
Closed Toe
Crocs Dream Big is a closed toe sandal, which allows for maximum protection. Especially when playing by the sea, kids can often run into rocks, sharp stones or seashells which can lead to injuries if most of their foot is exposed. Thankfully, the Crocs Dream Big has a construction which keeps your child's toes safe from all of that.
Cost and Value
After all that we have mentioned about this clog, after learning about features and qualities designed to make the wearer comfortable and secure, we are thrilled over its average price. The Crocs Dream Big clog isn't expensive, and we honestly don't see a reason why you shouldn't treat your kid with a pair of these lovely princess beach sandals.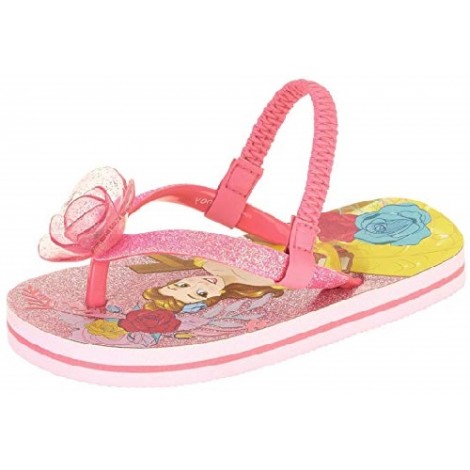 Who says that flip-flops can't be stylish and princess-like in appearance? With its rose-shaped detail at the front, the ACI Belle Sandal is a good choice for summer for a kid who wants to feel poised and feminine while running around the beach. It has a strap in the back for an elastic fit, a soft, cushioned midsole, and a print of Belle from The Beauty and the Beast on the footbed. The front strap and the rose decoration are sprinkled with glitter for maximum sparkle effect, and we can't get over how irresistibly cute this entire design is.
Elastic Strap
With the ACI Belle, you don't have to worry if your child's foot is too big or too small, or if the sandal will maybe slip off their feet. The elastic strap at the back stretches out to accommodate any foot size, and your kid will feel comfortable and secure as they enjoy the warm summer weather outside.
Cushioning
While it is true that this sandal doesn't offer much in terms of arch support, it is still comfortable to walk around in. This is thanks to its impact-absorbing footbed, which is not only decorated with a Disney Princess image, but it also provides that much-needed cushioning.
Cost and Value
The ACI Belle Sandal is the least expensive design in this guide. It stands to reason since it is a sandal, which usually doesn't require much material to be constructed. However, it does leave room for improvement when it comes to quality, as the rose detailing and the straps aren't the most durable. In the case of this design, you get what you pay for - a cute flip-flop which might last for one whole season.

4

. Western Chiefs Rain Boot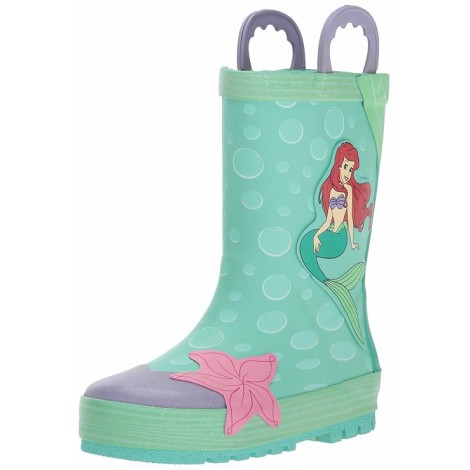 As its name suggests, the Western Chief Rain Boot is a waterproof boot with a height of approximately six inches from the arch. It is made out of water-resistant rubber for the upper - with the option of Ariel, Anna or Elsa prints - a non-slip rubber outsole, and a gentle polyester/cotton lining. For comfort, there is a removable EVA midsole inside the boot, and for practicality and ease of transport, there are handles around the opening. When you want to take the boots with you, just pick them up like a purse and you're good to go!
Waterproof
You don't have to worry about your child going out into bad weather. Thanks to the waterproof upper of the Western Chief Rain Boot, they can play and splash around all they like without any risk of getting their socks and feet wet.
Lining
The polyester and cotton lining of the Western Chief Rain Boot is incredibly soft on the skin, and you can be sure it won't rub your child's foot the wrong way. It is also moisture-absorbent, meaning that it prevents sweating.
Cost and Value
Western Chief Rain Boot is in the middle range when it comes to price. It is an outstanding type of footwear, one that every child needs, especially if not even rain or mud stops them from playing outside. The materials it is made of are durable and comfortable, and honestly, we are hard-pressed to find a flaw with this amazing design.

5

. Disney Princess High Top


From the Disney Princess brand, itself comes this adorably fashionable high top sneaker. Its upper is constructed out of canvas, with a print of our favorite Disney characters on the side, and a cute little heart shape decorates the toe guard in the front. This sneaker has stretchy laces for an adjusted fit and a zipper on the inner side for an easy way in and out of the shoe. There is a padded insole for extra comfort and a non-marking outsole so your kid can play on both indoor and outdoor surfaces without any problems. Fun, sporty, and unmistakably princess-y!
High Top
There are several reasons why high tops are a great choice of sneakers - they keep the ankle stable, reducing the risk of sprains or injuries, and they also preserve heat in colder days. They're perfect for an active, playful kid!
Canvas
What is amazing about canvas materials is that they are exceptionally breathable. This type of fabric promotes proper air flow through the sneaker, so you can be sure that your kid's feet will be cool and sweat-free even in summer months.
Cost and Value
The Disney Princess High Top is a reasonably priced sneaker. It offers security and support, it is effortlessly cool and casual in design, while at the same time boasting that princess vibe that we are looking for. It hardly gets any better than this!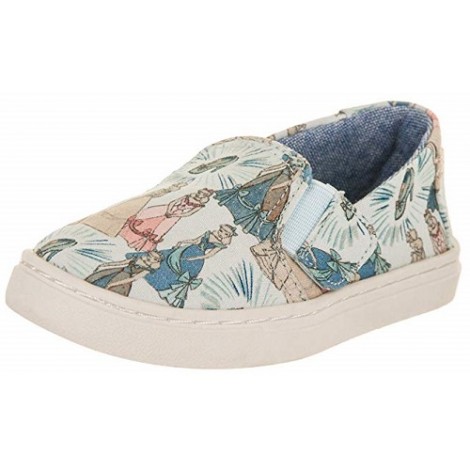 A little less cartoony and a little more artistic, the Toms Alpargata is a fashionable slip-on design. This sneaker has a classic round toe silhouette, dual gore panels coupled with an adjustable strap in the vamp, and it features some conceptual art of Aurora, Snow White or Cinderella. The footbed is made out of textile and has light cushioning for bonus comfort, and the rubber sole provides durability. This sneaker is perfect if you're looking for a princess shoe that is more subdued in design - not as flashy as Disney can sometimes make them - and yet still undeniably cute.
Gore Panels
We love the gore panels in this slip-on sneaker because they provide much-needed elasticity, in case your kid has a high instep or a wide foot. Not only that, the strap on the Toms Alpargata is perfect for adjusting the overall fit of the sneaker.
Cushioning
Toms shoes, in general, are well-known for their molded footbeds which provide impact absorption upon every strike of the heel, and the Alpargata is no exception. Your kid will feel supported and cushioned every step of the way, and they will have a hard time parting with these sneakers.
Cost and Value
When compared with other models on this list, the Toms Alpargata is neither cheap or expensive. Given the brand name it carries, the comfort and support levels it provides, as well as all the ways you can adjust its fit - we feel that this is an excellent deal.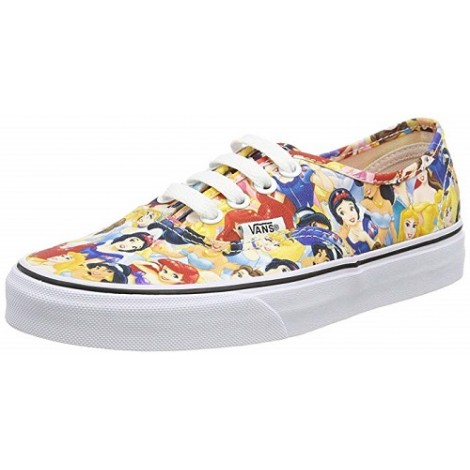 Vans are a constant in the skateboarding community, but that doesn't mean that you or your kid have to jump on a skateboard to be able to wear these. Vans Authentic sneakers have that cool, laid-back design that completes most casual outfits, be it jeans or shorts or even skirts and dresses, and now it comes with the faces of Disney Princesses as well. This sneaker has that Vans signature waffle outsole, reinforced metal eyelets for the lace-up closure, and the standard Vans logo at the side. With its low-top, round-toe silhouette, it is simple, minimalistic, and refreshingly effortless in design.
Waffle Rubber Outsole
The purpose of waffle treaded outsoles on Vans sneakers is to provide better board feel, as well as a good grip for skateboarding. However, for those of us who don't skate, this means that the Vans Authentic ensures that we have good traction no matter what surface we decide to walk on.
Metal Eyelets
When eyelets are made of plastic, they tend to fall out quickly and contribute to the shoe's overall lack of quality. This is why in the Vans Authentic the eyelets are made of metal, ensuring that your sneaker and your laces last for as long as possible.
Cost and Value
We can't hide the fact that the Vans Authentic is the most expensive design we looked at. Outrageously expensive, compared to other options in this guide. However, it is a Vans sneaker, with an iconic silhouette and well-known reliability, and if you invest money in this design, you can be sure that it will be worth it.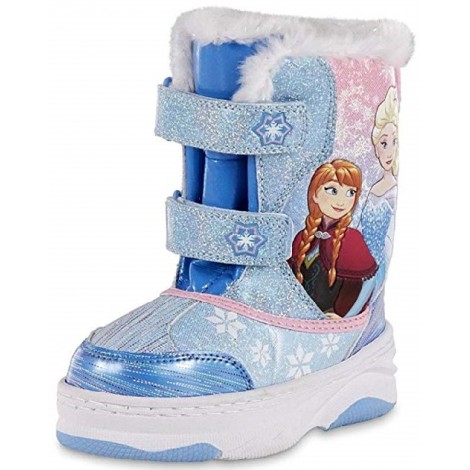 Hop on the Frozen train with the Disney Frozen Boot. If you're not familiar with the main characters of this already iconic animation, Anna and Elsa, we are sure that your kid will explain everything to you. This boot comes with a faux fur lining for that cozy style, an insulated shaft, two adjustable straps, and a treaded rubber outsole for superior grip. It has Frozen princesses, it has snowflakes, it has metallic shine and blue glitter all over - honestly, who wouldn't be in love with this girly design, so perfect for winter months?
Insulation
The purpose of an insulated shaft on a boot is that it retains heat. It doesn't matter how cold it gets, in the Disney Frozen Boot your child will be comfortable and toasty from the moment they step outside to the time they get back and take the boots off in a warm place.
Adjustable Fit
The Disney Frozen Boot has not one, but two customizable hook-and-loop straps across the shaft. Regardless of whether your child has thinner calves, or maybe thicker ones, they won't have any problems getting in and out of this boot once you adjust the straps to fit them just right.
Cost and Value
The Disney Frozen Boot doesn't stand out when it comes to cost. It is a solid shoe which is designed to be worn in harsh winters both in style and in functionality. It will keep your child cozy and warm, protect them from slippery ice, and put a smile on their face whenever they see their favorite Frozen characters on the side.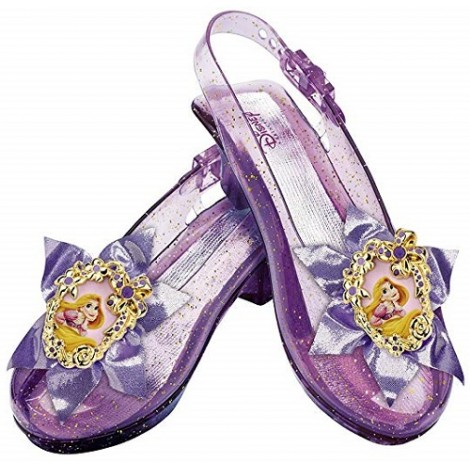 The Disguise Rapunzel is a jelly shoe - a design made out of PVC plastic that is transparent and with a sheen that makes it look like jelly. Jellies were a fad in the early 1980s, though they have forever won the hearts of little girls all over the world, and so they remain popular even today. The Disguise Rapunzel is a flexible transparent slipper with Rapunzel's character on the front. It has a back strap with an adjustable buckle and a low heel which elevates height but keeps the foot stable. With this jelly shoe, your child will feel like a princess, while at the same time wearing a princess character as well.
Design
Not least because of the Rapunzel image on the front, the Disguise Rapunzel is a true princess design. It has a low heel, a transparent upper which makes it seem like a "glass slipper", and it is infused with glitter for maximum sparkle and playfulness.
Heel
You may be worried about your kid wearing heels at such a young age, but we are here to assure you that the Disguise Rapunzel's heel isn't any higher than that of boots and winter shoes, for example. It is chunky in design and won't cause any wobbly movements or stumbling while your child walks around.
Cost and Value
The Disguise Rapunzel is one of the lowest priced shoes on this list. It is not especially high in quality and doesn't offer much in terms of comfort, however, it is a slipper which will absolutely dazzle your little princess. They will be in awe of this sparkly design and will want to wear these jellies everywhere.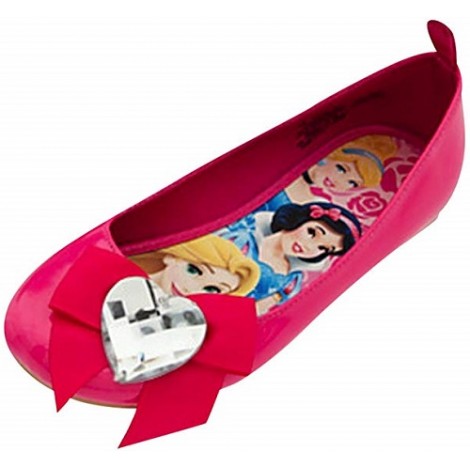 With the Disney Ballet Flat, your kid gets a trendy, cute ballet shoe with the faces of Disney Princesses on the inside. The left and the right flat have different characters printed on the footbed - Cinderella, Snow White, Rapunzel on one, and Jasmine and Belle on the other. This design is made out of synthetic materials, with a round-shaped toe and a pull-tab in the back for an easy way in. There is a bow with a large heart-shaped crystal on the front to add a touch of glam to this classic ballet flat silhouette. Your kid will love pairing these up with their favorite skirts and dresses!
Easy Entry
The Disney Ballet Flat has a slip-on design, as most flats do. It is easy to simply slide into it - especially with the pull-tab in the back - and be on one's way; perfect for when you are late for an appointment and don't have a minute to spare to help your kids get into their shoes.
Ballet Flat Design
What we love most about ballet flats is that they are uncomplicated. Their construction is lightweight, they are effortless to wear, and they automatically add a dose of cuteness and romance to any outfit, no matter where your kid needs to go.
Cost and Value
The Disney Ballet Flat is one of the lower priced designs on our list. It is a simple shoe without too many embellishments or decorations - or even features - but for its cost, it can be a great addition to your child's wardrobe. If you're looking for something more princess-y in appearance but which still has actual characters in it, then this flat is a perfect choice.

Subscribe to our Newsletter