Best Giraffe Shoes & Slippers Reviewed
In a Hurry? Editors choice: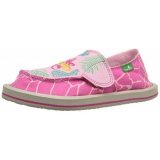 Test Winner: Sanuk Scribble 2

There is something inherently gentle and kind about a giraffe. The tallest animal on earth lives in open woodlands and savannas of Africa, seamlessly blending in with the parched earth, dry grass and green canopies so high that only giraffes themselves can reach them.
Above all, the one thing we can't overlook when it comes to these gentle giants is the fact that they are so darn cute. There isn't a
kid
who didn't wish to be able to feed a giraffe on a trip to the zoo. For that very purpose, we have arranged this list of top ten
shoes
and slippers centered around this gorgeous creature.
Standout Picks
Criteria Used for Evaluation
Style
Depending on your age, and where you intend to wear your footwear, we have sorted all the models into different categories. You will find that some designs are more suitable for the younger generations, while others can also be appropriate for adults. However, we need to emphasize that absolutely nothing should stop you from, say, getting yourself a pair of slippers which are shaped like a giraffe! If you find them in your size and prefer a little silliness in your home life, absolutely go for it!
All of that being said, let's look at the most common styles for the footwear we have analyzed in the list, and learn more about them.
The one, the only, the sneaker. While the story of this ubiquitous shoe began in sports, as it aimed to improve athletic power and performance, today the sneaker permeates every aspect of our lives.
It has, of course, remained the main choice of footwear for athletes – largely due to its comfort, supportive abilities and a vast array of innovative features – but they are also lifestyle shoes, one we can't imagine our days without.
Adjustability
Lace-up sneakers are the standard sneakers we see practically everywhere. The most popular ones are manufactured by huge sportswear conglomerates such as Nike, Adidas, and Puma, but there are also more fashion-forward sneakers, such as Yeezys, or those made by Steve Madden, Balenciaga and similar.
The main benefit of having a lacing system on a sneaker is that it helps to adjust the fit. You can tighten or loosen the laces to your liking, so that your sneaker doesn't constrict you too much, but that you also don't lose it along the way. This type of a closure keeps your foot secure in the sneaker and makes you feel supported as you walk around.
Additionally, depending on the material they are made of – such as satin or neon colors – laces can be quite a fashion statement.
Slip-on sneakers are popular for their smooth, minimalistic designs. They usually feature gore panels in the top for elasticity – these inserts stretch out as you slide your foot in, meaning that they can accommodate just about any foot width and instep height.
Two key benefits of a slip-on sneaker are their tendency to save time and effort. When you are in a rush and juggling about a million things on your mind – keys, phone, wallet, purse, earphones, etc. – having the luxury of simply sliding into your footwear in a second is invaluable.
Not only that but when you are looking for footwear that is comfortable and easy for your kid, the slip-on design is perfect! If they happen to still be uncertain about properly tying laces, then an effortless sneaker they can just pull on before heading out for a playdate is a great solution.
Comfort
Slippers are the ideal type of footwear for the home. Inside the house, we want to be comfortable, want our feet to be free and light – however, sometimes circumstances don't allow us to go barefoot. Heating can be unreliable, these days the weather changes from spring in the morning to winter in the afternoon, and thus it is wise to have a pair of slippers on hand; for yourself, for your family, but also for any friends that might be visiting.
In general, indoor slippers are made out of soft materials, easy to put on and easy to take off, without any straps, buckles or closures that could cut into skin or cause blisters.
They come in all shapes and sizes, but for the purpose of this guide, we will mention those which look like animals. For very little money you can get a pair of house slippers with your favorite cartoon character or animal on them. They might look silly, but they're fun to wear, and will bring a lot of joy to the entire household!
While in the past slide sandals haven't been the epitome of fashion – reserved for post-game athletes and frat boys going out for a midnight snack – recently, this trend has been on the rise. The reason is that, in this fast-paced society where we barely have time to drink our coffee in peace, slide sandals are ridiculously easy to wear. As their name suggests, you simply slide your foot in, and you're on your way.
Slides also come in a staggering number of different designs. From sporty Puma sandals to more upscale Stella McCartney ones, from simplistic and streamlined to bedazzled and luxurious, you can find a pool slide that fits your personal tastes without any problems. This, of course, includes slides with animal prints and designs, such as the one in our guide.
Materials
Lastly, we have the boot. When harsh winds pick up and the temperature outside drops, sneakers and regular shoes no longer cut it. Instead, we reach for our reliable, sturdy boots to keep us warm and protected.
As with most footwear, boots can be made out of different materials – leather, suede, velvet, rubber, just to name a few – and they can be designed for different purposes. There are boots for everyday wear, cute ankle booties for a cute autumn outfit, stiletto boots for a sexy, sultry look, waterproof rain boots for trudging around on wet soil, and all sorts of others, such as hunting boots, tactical boots, hiking boots etc.
The benefit of wearing boots is that they keep the feet warm and dry even in the most unforgiving of winters. In them, you can take on any terrain you face and march through it without fear. Bonus points if you look stylish at the same time, such as, for example, in a great pair of giraffe-printed boots.
Breathability
A shoe that breathes is critical to providing the wearer a comfortable and healthy experience when sporting a pair of shoes, sandals or boots. A lack of breathability will create a wet and humid foot, leading to discomfort and possible fungal or bacterial infections that are painful and difficult to cure.
How does a manufacturer ensure their product will allow maximum airflow? There are several ways to achieve this, including using special fabrics in the upper of the product, lining the midsole with moisture-wicking technologies and finally, the good old use of perforations of holes throughout the product.
If a product scores high on this metric, the buyer can rest assured that the manufacturer has used some or all of the above techniques to ensure the wearer a comfortable and dry wearing experience.
Top 10 Picks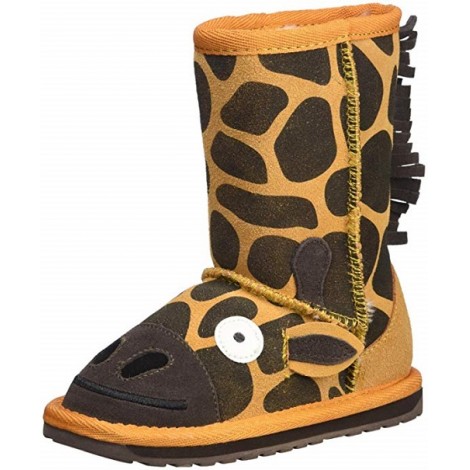 It is impossible to not laugh the moment you lay your eyes on the Emu Australia Boot. This design is full of whimsy and good humor with its silly giraffe face on the front, and a line of fringe in the back. However, aside from being simply hilarious, this boot is also unbelievably high-quality. Its upper is made out of genuine suede and Australian Merino Wool, with a soft EVA midsole for comfort. The outsole is durable TPR for traction and flexibility, and there are no closures on this pull-on silhouette. While maybe not suitable for wet conditions, this boot will still marvelously keep your child's feet and legs warm even in the harshest of winters.
Suede and Merino Wool
The level of quality of the materials that go into the Emu Australia Boot is staggering. Suede is a soft, plush fabric which provides blister-free comfort, while Merino Wool is there to trap all the warmth inside the boot. At the same time, wool has moisture-wicking properties, meaning that the feet and legs won't sweat even while being cozy and toasty.
EVA Midsole
There is a reason why EVA is used mostly for athletic sneakers - it has exceptional power to absorb impact. As you walk, the force of your steps is evenly distributed over the surface of the midsole, meaning that no part of the foot feels excess pressure, strain or pain.
Cost and Value
We can't overlook the fact that the Emu Australia Boot is mind-numbingly expensive, especially when compared to other options on this list. However, we also can't overlook the fact that its quality is enviable, and that it meets all the requirements for a great winter boot, and then some. If you don't mind unstringing your coin purse for this one, it will be absolutely worth it.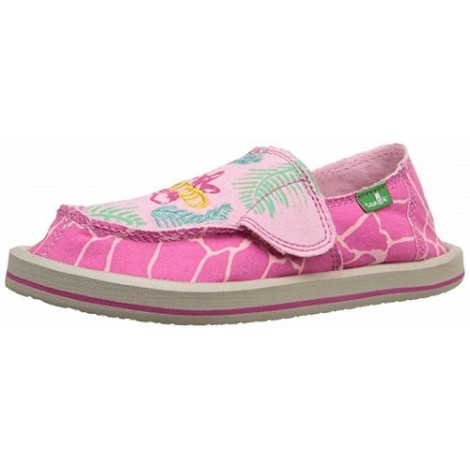 With the Sanuk Scribble 2, we are moving on from the literal into a more artistic depiction of the giraffe. This sidewalk surfer, as Sanuk dubs it, is decorated with cool, colorful drawings of the animal all over the upper, combined with its fur pattern in pink. The upper is constructed out of soft canvas material, and it has a velcro closure on one side and a gore panel on the other for that adjusted, accommodating fit. The footbed of the Scribble 2 is molded EVA with antimicrobial properties, and there are perforations in the side of the upper for enhanced breathability. The Sanuk Scribble 2 is the ultimate summer option for a young giraffe-lover, and we are sure that your kid will be thrilled to wear it!
Canvas Upper
Canvas is a soft material that doesn't cause any abrasions on the skin. Additionally, it is perfect for a lightweight, summer design, as it allows for proper air circulation in and out. This means that your kid's feet will remain dry and cool, regardless of the temperatures outside.
EVA Footbed
Not only is the Scribble 2 footbed made from molded EVA - a material famous for its shock absorbing qualities - but it is also treated with an antimicrobial agent. Your child's feet will be safe and protected from any bacterial or fungi infections and itchiness and bad odor that come with them.
Cost and Value
The Sanuk Scribble 2 is not expensive, though it isn't the cheapest option in this guide either. We deem it quite affordable, especially when we take into account all the features it has. It is an outstanding summer shoe for your kid, one they will love both in design and comfort, and which will bring a huge smile on their face.

3

. Luvable Friends Sneaker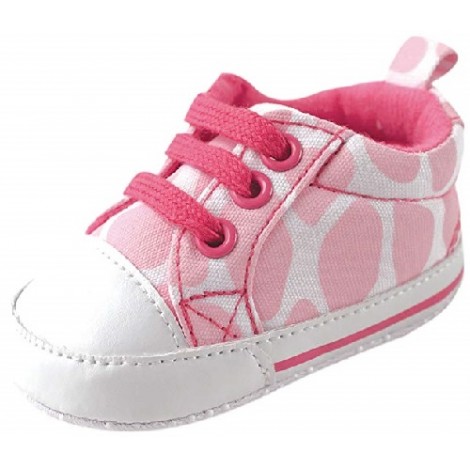 The Luvable Friends Sneaker is just the casual, everyday touch that your baby needs. This is a lightweight, canvas design with a soft outsole and a reinforced toe area. It has a lace-up decoration in the front and a pull tab in the back for easy wear. The Luvable Friends Sneaker is great for pairing up with any baby outfit, and it works well for pre-walkers and beginner walkers alike! Your baby will be cool and comfortable as they take their first steps in these adorable giraffe-printed sneakers.
Reinforced Toe Area
While it does offer that well-known Converse style, the benefit of the reinforced toe area of the Luvable Friends Sneaker lies elsewhere. Namely, this is a great feature to have when your baby is crawling around the house, as it helps protect both their little toes from injury and the sneaker itself from too much scuffing.
Casual and Stylish
We can't take our eyes off of the Luvable Friends Sneaker, and we're sure that you're captivated by its design as well. It is the ultimate fashion-forward lifestyle shoe for the youngest, and it will complete any outfit that you decide to dress your baby in.
Cost and Value
The Luvable Friends Sneaker is the lowest priced design on this list. It stands to reason, as it is a baby model first and foremost. It is made of lightweight, breathable canvas, with quality construction and a picture perfect aesthetic. For its low price, we feel that you won't go wrong by treating your kid with these beauties.



We have yet to see a more stylish cowboy boot than the Ariat Quickdraw. Its very name speaks of the Wild West and all the rugged bravery of the gunmen of that age. The upper of the Quickdraw is constructed out of full-grain leather, with an intricate stitch design and a giraffe fur pattern. It has a 4LR four-layer footbed for comfort and a Duratread outsole for wear resistance. There is also a removable Wiggle Room insert. Empower your little cowboy with these ultimate cowboy boots and send them out into their next adventure, whether on horseback or on foot!
Footbed
The footbed of the Ariat Quickdraw is built to provide maximum cushioning. It has four layers of padding for that heavenly soft experience, as well as a stabilizing shank for support. Your child will never feel as comfortable and as secure as in the Quickdraw boot.
Wiggle Room Insert
It is a struggle to buy footwear for growing children, as any design you get will be too small in only a few month's time. Fortunately, in the case of the Ariat Quickdraw, you can simply remove the Wiggle Room insert from inside the boot, and thus provide your kid with extra room. They can now enjoy their favorite boot for a little while longer!
Cost and Value
The Ariat Quickdraw is quite an expensive design. However, we don't blame it, as it is made of premium leather, and features technologies aimed to provide your kid with great cushioning, solid traction and even extra room as their feet grow! We can't find a flaw with the design of the Quickdraw and feel like it's worth every penny of its high price.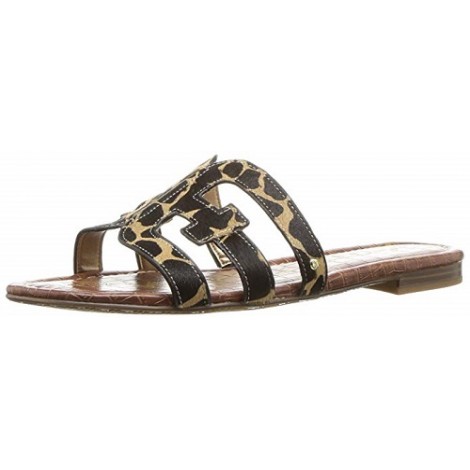 While Sam Edelman does have collections for children, here we have something geared more towards grown-ups. This brand is the essence of chic comfort, and so is their Bay slide sandal. This is such a simple and yet interesting design, with a leather upper decorated with geometric cutouts and a giraffe pattern. It has an open-toe silhouette, barely a one-inch heel in the back, and a synthetic outsole. The Sam Edelman Bay is the ultimate versatile sandal, which you can pair up with cutoff jeans, or a simple, flowery sundress for a quick and easy day to night transition.
Leather
While leather is, admittedly, not animal-friendly, there is a reason this material has been used in the production of clothing and footwear since the dawn of time. Namely, it is its ability to change shape the more you wear it, meaning that the straps of the Bay slide will adjust to your foot and won't dig into your skin or otherwise hurt you.
Pool Slide
One of the reasons we love the Sam Edelman Bay is that it is a slide sandal design. This means that all you have to do is slide your feet into it, and be on your way! It is ridiculously easy to put on, and a real lifesaver when you're in a time crunch.
Cost and Value
The Sam Edelman Bay sits in the middle range when it comes to cost. It is a minimalistic yet still fashion-forward sandal that you will enjoy wearing in the heat of the summer. Its premium leather upper makes it durable and comfortable, and it will be a great addition to your wardrobe.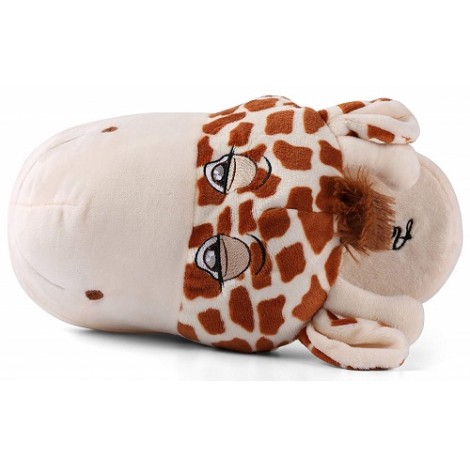 As the Aerusi brand says it themselves, "make your feet completely relaxed at home" with the Aerusi Slipper! This soft, plush design is shaped like the head of a giraffe with a sleepy expression on its adorable face. The upper is constructed out of polyester, while the inside is cushioned with foam. The sole of the Aerusi Slipper is made out of waterproof rubber, textured for added traction. We can't get enough of the little ears and horns and a tuft of hair on the animal's forehead! This slipper is great for traipsing around the house for the entire family, both parents, and children!
Cushioned
This Aerusi design is all about comfort. It stands to reason, as inside your own home you don't want to be anything other than comfortable. Thanks to the thick foam padding inside the shoe, you will be able to enjoy a smooth, cloud-like ride while feeling supported at the same time.
Rubber Sole
The rubber sole of the Aerusi Slipper is there to provide you with stability regardless of the surface you're walking on. It is resistant to slipping and skidding thanks to its textured bottom, and you will even be safe on wet ground!
Cost and Value
The Aerusi Slipper is one of the least expensive options in this guide. It has a loveable design which will capture the hearts of many and is very comfortable and easy to walk around in. If you are looking for that perfect indoor shoe to match with your kids, then this is the one!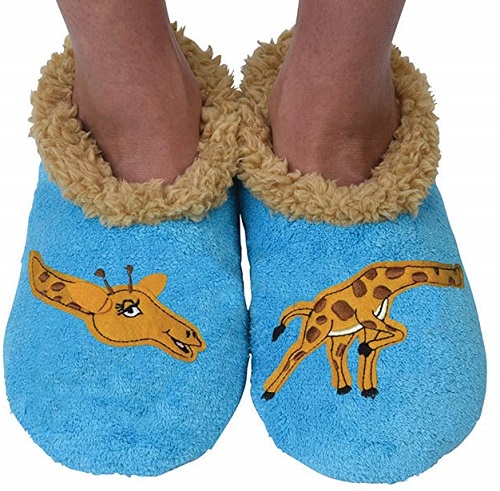 Are they socks? Are they slippers? Actually, they are both! Snoozies is a brand which prides itself on innovation, and they have come up with a design which is a crossover between a sock and a slipper. "Foot coverings," they call them. Whatever it is, the Snoozies Slipper with a giraffe applique on it is simply adorable. It has a soft, lightly furry upper, with faux fur lining around the ankle. It is very easy to clean - completely machine washable, and there is a non-skid outsole on the bottom, which prevents you from sliding across tiled or otherwise polished floors. The Snoozies Slipper is simple to put on, effortlessly comfortable to wear, and adorable to look at!
Anti Cold
One of the main reasons this design is a mix between a sock and a slipper is that it helps preserve warmth. Many people suffer from poor circulation and cold feet, especially in winter, and this snug, plush design of the Snoozies puts an end to their ice cold troubles!
Durable
We mentioned that the Snoozies Slipper is completely machine washable, which is outstanding. However, if you are worried that this means they will wear out quicker - don't be. This design is highly durable, and it can withstand countless of washings while still looking as good as new.
Cost and Value
The Snoozies Slipper belongs in the lower range of cost. It is a great option if you have cold feet, literally, as it will keep you warm and cozy all throughout the day. This design will last you longer than most, and for its low price, we see no reason why you shouldn't get it.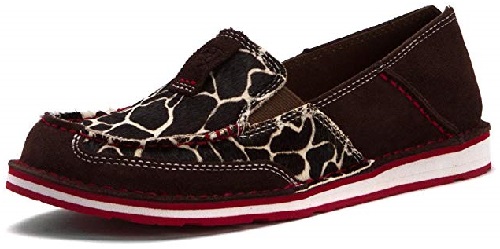 From a company which revolutionized the equestrian footwear scene comes the Ariat Cruiser. Of course, you don't actually have to be familiar with horseback riding to enjoy this slip-on design. Its upper is made out of genuine chocolate colored suede, with a giraffe print on the front. It has gore panels in the sides for an elastic fit and a Duratread outsole for good traction. The toe silhouette of the Cruiser is reminiscent of moccasins, and it also has an EVA midsole for that cushioned, shock-absorbing comfort. This style is amazingly cool, casual and will serve you well as you go about your day in warm summer weather.
Suede
We have already mentioned that suede is unparalleled when it comes to comfort. This is a gentle material that won't rub your foot the wrong way, and it will also provide you with a soft, rich feeling. Not only that, the suede upper of the Cruiser will mold to the contours of your foot, providing you with the ultimate comfort experience.
Gore Panels
Slip-on designs aren't easy to fit into for some of us. However, having elastic inserts in the form of gore panels on the sides is an excellent feature. These bands stretch to accommodate the size of our foot, no matter how wide it is or how high our instep is. The Cruiser can be adjusted to fit all!
Cost and Value
The Ariat Cruiser has an average price. It is a design meant for those who enjoy the outdoors, even at high temperatures, and who wish to wear something comfortable and breathable on their long strolls. It is made from high-grade materials such as suede and EVA, and we feel that this slip-on design is a good deal, overall.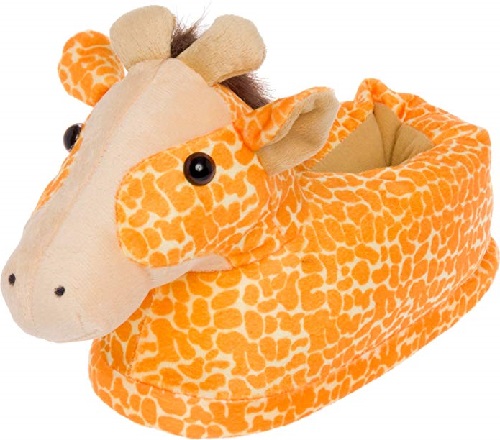 Treat your feet with softness incarnate that is the Silver Lilly Slipper. This design is made out of polyester, with a distinct giraffe shape. The attention to detail is extraordinary with the cute ears and horns and gentle eyes, and it won't leave anyone indifferent. Other than being adorable, the Silver Lilly Slipper also has extra foam cushioning in the footbed, traction dots throughout the sole, and is perfect for sitting back and putting your feet up after a hard day at school or work. This option comes in both adult and children's sizes, and we don't see why you shouldn't get it for your whole family!
Cushioned Footbed
If you are spending a significant amount of time at home - say over the weekend - then high levels of comfort are imperative. With the Silver Lilly Slipper, the cushioning of the footbed not only supports you underneath, but it also hugs your foot from all sides, providing that addictive, all-day wearability.
Traction Dots
At home we go from carpet surfaces, to hardwood flooring, to tiles in only a few steps. We need footwear which supports us and prevents us from slipping and possibly injuring ourselves. Traction dots on the sole of the Silver Lilly Slipper ensure that your footwear stays right where you want it and that there are no unfortunate accidents.
Cost and Value
We have nothing negative to say about the Silver Lilly Slipper. It is cute, it is plush and comfortable, and it is incredibly affordable. It doesn't matter how old you are, if you are dying to get a pair of giraffe slippers for yourself, this is a great choice!

10

. Bearington Collection Bootie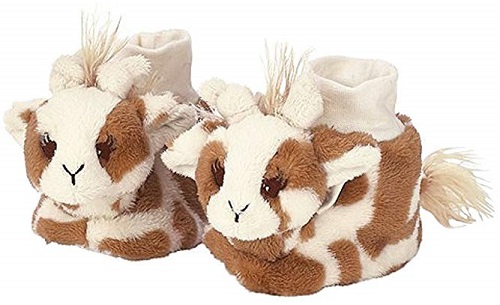 You can go ahead and squeal, we'll wait. Have you ever seen a more adorable slipper than this one? The Bearington Collection Bootie holds nothing back when it comes to the cuteness factor. This design is basically made of two plush toy giraffes outfitted for feet. And what adorable animals they are! The material is soft and padded for maximum comfort, there is a knit sock top, as well as traction dots on the outsole for skid resistance. We can't deny that the Bearington Collection Bootie is simply to die for.
Knit Sock Top
Thanks to the knit sock top, the Bearington Collection Bootie is ridiculously easy to slip onto any wiggling foot. You don't have to worry about putting shoes on your baby anymore, as you just slide these on like a sock, and you're on your way!
Attention to Detail
The level of craftsmanship of the Bearington Collection Bootie leaves us speechless. Not only is the animal design heart-wrenchingly cute, it is also constructed with special care devoted to the finest details. For example, the eyes on the bootie are embroidered, meaning that they don't represent a choking hazard at all. Comfortable and safe!
Cost and Value
Compared to other baby slippers in this guide, the Bearington Collection Bootie is a bit too high in price. It is undeniably irresistible in design, and comfortable at the same time, but we can't help but wonder if the high cost is worth it, since we all know how fast babies grow out of their footwear.

Subscribe to our Newsletter