Best Kids Designer Shoes Reviewed & Rated
In a Hurry? Editors choice: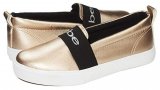 Test Winner: Bebe Slip On

It's safe to say that all of us reading this right now like to have nice shoes. Whether you own a special pair of Michael Kors or Coach sneakers or have decided to purchase your favorite pair of Hermes shoes that you saw at Bloomingdales – you can agree to one simple truth - designer is always more fashionable. The same goes for kids designer shoes, as well!

The brands we are talking about in this guide make some great, high-quality footwear that is in a whole new league of its own. The models you will find are stylish, comfortable, and will make your little one the star of any event. So scroll on down and take a look at our top ten kids designer shoes the world currently has to offer!
Standout Picks
Criteria Used for Evaluation
Materials
Leather and suede are the best type of materials you can find in this type of footwear.
When it comes to footwear, it's important to pay very close attention to the materials that the brand uses. This is the best way to ensure that the brand is actually the real brand and not a fake one. Additionally, the type of materials can really speak volumes as to whether or not a design is worth your money.
If you are going to spending $100 on kids designer shoes, you better make sure they're made from good leather or even good suede. Leather and suede are natural materials that are far more comfortable, breathable and durable than their synthetic counterparts.
Genuine leathers have the ability to mold to the shape of the foot over time, providing a personalized type of comfort. They breathe well, promoting air circulation and reducing the chance of sweating and bad odors. They are also more durable than other types of materials and can last for several seasons with proper care.
If you're not willing to invest in leather footwear - or if it's warm outside and you would prefer your kid to wear something lightweight - then canvas or textiles are a good alternative. These are thin materials that are gentle on the skin, and that won't weigh your little one down no matter what adventure they decide to embark on.
When making this list today, the quality of materials used in the construction of the designs was a primary concern of us. So, as you look thru at each product, you can see that each product really features the best materials out there.
Brand
Go with known, reliable brands and keep an eye out for possible fake designs.
When it comes to designer culture – it's vital, essential, imperative to know who the brand is. You don't want to spend money on a brand that you really don't even know who they are, or if they are a legitimate company.
What we have learned in writing this guide is that there are imitation brands out there that are charging the same costs for footwear in popular styles and designs. With that being said, when we were picking out products for your consideration, we wanted to make sure each name was well-known and an established icon in the industry. In fact, just by looking at the product list, most consumers can probably recognize the brand and what their logo is.
The question of whether or not you are getting a real design and not a fake one for your money is a valid one. Unfortunately, there isn't a surefire way of telling whether a particular shoe is actually a designer shoe or if it is a copy before you purchase it.
The best way to check would be to contact the designer directly and send them all the relevant information regarding the footwear (most likely a serial number of some sorts) and have them check whether or not this corresponds to their databases. This may not be the easiest, but it is definitely the most reliable way of making sure what you bought is a real, legitimate design.
Other than that, shopping in certified retail stores is also a good way to get ahold of the real thing. If, however, you prefer online shopping, definitely check out customer reviews of those who bought the design before you to see if there are any complaining that they got a fake pair of kids designer shoes.
Durability
Consider the durability in relation to how long your child will wear these shoes.
When purchasing a kids designer shoes, it's important to really look into the durability of the design. You don't want footwear that looks cute and pretty but that has, after your daughter or son plays some kickball or walks around in school, the outsole or fabric materials wearing, tearing, or even scuffing. Whatever the situation may be, the shoe needs to be durable to handle a child's lifestyle.
So how can you know whether or not a design will be durable?
For starters, we're going to circle back to the subject of materials we touched upon briefly. Some of the most durable material options for the uppers are genuine leathers. With a little bit of love and care, leather footwear will last for quite a long time.
Canvas and textiles are a bit less durable, as they can fray easily and their color might even fade. Synthetic leathers crack relatively quickly and are not as long-lasting as other material choices.
Aside from the upper materials, you should also take a look at the outsole of the design. The outsole should be made of rubber because rubber is resistant to pretty much anything. It not only holds the entire design together, but it also provides security in the form of slip and skid resistance.
However, even with all of this being said, maybe you don't need to put that much emphasis on durability after all. We are talking about children's footwear here, and children grow pretty fast. Chances are that what you bought today won't fit your child in a few month's time and you will have to replace the design with a new one sooner or later.
In that regard, the option you go for should be durable enough to last until your child outgrows it, which all of the footwear in our list definitely is.
Comfort
Footbeds, heel pads, and adjustable closures are all features that affect the comfort levels of a design.
It's safe to say that comfort is another imperative aspect to consider when purchasing footwear, whether for an adult or a child. There are features that increase the comfort levels of a design, such as footbeds and insoles, padded heel pads and even adjustable straps and buckles. Let's take a more in-depth look at each of them.
Footbed: Footbeds and insoles are mostly one and the same. This is the part of the shoe that sits right underneath the foot sole and comes in direct contact with the foot. For maximum comfort, the footbed should be cushioned. Cushioning not only helps your kid stay on their feet for long, but it also provides shock absorption.
A footbed can also be contoured or molded. This means that it has hills and valleys to it and that these correspond to the forms of the foot sole. A contoured footbed provides arch support, which can be important in preventing flat feet in children.
Heel Pad: A heel pad has much the same function as a footbed, only it is focused on the heel area. It provides extra cushioning here - padding, as its name suggests - which softens your kid's heel strikes. This reduces the amount of force which travels up their leg on each step, lowering the chances of long-term damage to the joints.
Adjustability: Lastly, because of the slightly wider, chubbier or flatter shape of children's feet, it would be good to get an option that is adjustable. Adjustability can be achieved through straps that have buckles on them, or Velcro or hook-and-loop straps. These allow you to tighten or loosen the fit of a shoe however you like so that your little one can run around without any issues.
At the end of the day, because you won't be the one wearing these kids designer shoes, but rather your child will, it is important to listen to their feedback. Ask them how they feel about their footwear, whether they can comfortably move in it or not. If they don't take to it right away, perhaps it's best to look for a different option.
Style
You can opt for a casual sneaker or a dressier style, depending on the occasion you're shopping for.
At the end of the day, while the quality of the product makes a huge difference in whether or not to buy a shoe, we cannot deny that the design and appeal are equally important. The truth is, when buying kids designer shoes, most consumers are looking for the logo, the brand's signature trademarks, and a whole list of other things.
In our selection, you will find sneakers, dress shoes, Mary Janes, and even little heels for little princesses! Here are some pros and cons to all of these styles.
Sneakers: Like in the case of adult footwear, sneakers are by far the most comfortable type of shoes you can get for your kid. They are easy to wear practically anywhere - to school, to the park, to a playground, to a birthday party, to grandma's house - and there is nothing your little one won't be able to do in them.
Sneakers can be more casual, with canvas uppers and a laid back aesthetic, or they can be fancier, with metallic colors and sparkles or satin laces and stud detailing. Which one you choose depends entirely on your kid's preferences.
Dress Shoes: As opposed to sneakers, dress footwear is meant to be worn to a more formal occasion, such as a wedding, a christening, the church or similar events. Dress shoes for children are a bit more interesting than those for adults since they can have a glossy finish, flower or crystal or jewel accents and even vibrant colors that make them cute.
When it comes to dress footwear, you can choose between loafers, Mary Janes, and even heels! Heels are generally not advisable for children because their feet are still growing and they're still forming their natural gait, however, tiny tiny ones won't hurt. The one heel we have in our guide won't cause any problems to your kid, but will make them look absolutely stunning!
So, as we looked at each design, we knew that parents would want to see footwear that is well-designed and boasts a nice appeal. As you can probably attest, each option on our list today most certainly rose to this standard.
Our Favorites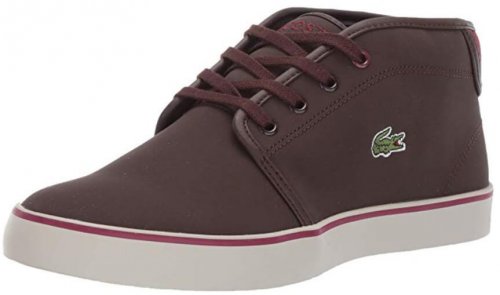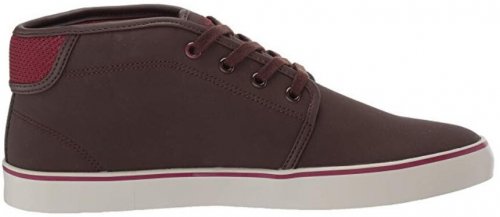 If a more minimal style is your thing, we are excited to share with you the Lacoste Ampthill chukka sneakers. These are a great pair for children seeking to be stylish, comfortable, and who perhaps have an admiration for crocodiles. The clean lines and smooth design will go well with any outfit your young one throws on, be it a pair of faux tattered jeans or a cute floral dress for a touch of spring chic!
What really captured our attention was that this brand, Lacoste, offers nearly 8 different design options for the same shoe! So, parents have the option to pick different colors and designs – and perhaps even buy multiple versions since they are really not that costly in the first place.
When it comes to the design of the Ampthill, there are a few features that really stand out. One, in particular, is the fact that the company included mesh linings in the shoe. If you are not familiar, anytime that a brand includes meshing into their footwear it's to help with ventilation and breathability – which reduces the build-up of moisture and sweat.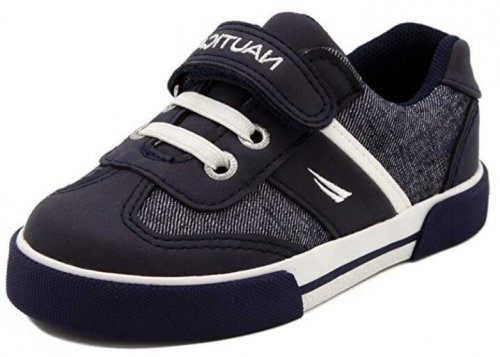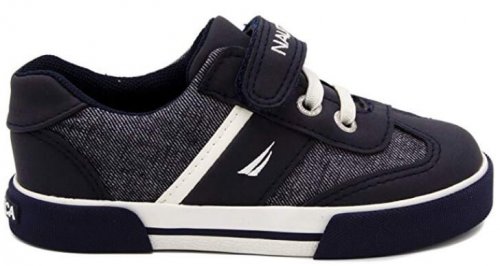 In the past 10 years, there is one brand in particular that has risen to the topic and is easily one of the most popular labels around. Of course, it's Nautica. This company is known for their nautical vibe clothing and fashion for both adults and children. Their Calloway sneakers are a testament to the quality and precision of this brand, which is why we are excited to share them with you today.
Sometimes, laces can cause too many problems for children. This is why this brand sought to make walking and other activities easier with unique Velcro straps and the inclusion of bungee lacing as well. These two together significantly help to secure your young one when running or walking. Additionally, this eliminates the hassle and time it takes to tie laces every day.
On top of the Velcro straps feature, this design is 100% adorable. Any parent that takes a look at this it will not be able to pass it up, especially after glancing at the price tag. With over 6 different stylish colors, parents can purchase a color and style that matches their little one's personality and favorite colors.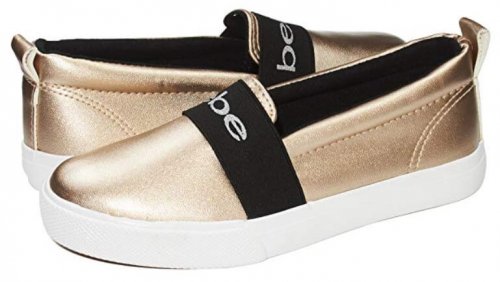 Bebe was established in 1976 and was a major fashion staple in the early eighties that has been making a comeback as of late. Featuring a non-slip rubber outsole, a durable toe cap, and six adorable color options, your child will love running around in these colorful slip-on sneakers.
Kids have a lot of energy and are more than happy spending their days running around and playing. While falls resulting in bumps and bruises are inevitable, the right kind of sole can reduce the chances of a nasty injury. These lightweight sneakers feature a durable yet flexible rubber outsole that is designed with anti-slip and safety features in mind.
When it comes to buying footwear for children - designer or otherwise - one of the most important things to consider is their comfort levels. Designer styles fetch a high price, and as such you want to ensure you are getting the best quality for your investment. Featuring a lightly padded insole and a soft interior, these are made for providing comfort in everything your child does.

4

. Jessica Simpson Bettina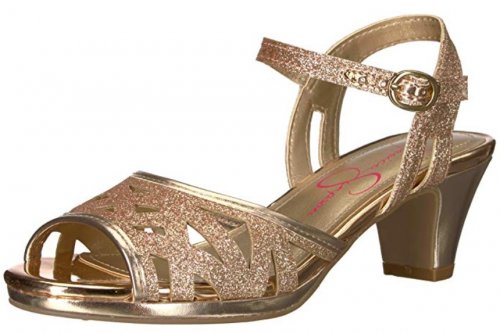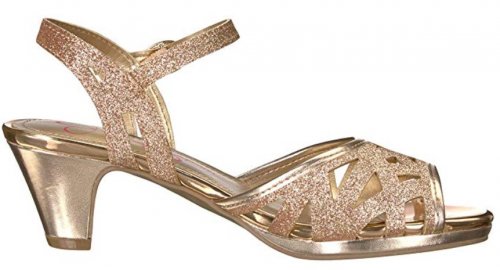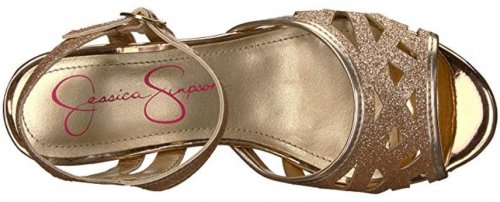 Jessica Simpson is not only a fashion icon but also a designer who loves infusing her pieces with her playful, feminine aesthetic. This is evident in the Bettina, a pair of glitter heels that any little princess will love to get their hands on! It is low enough to be comfortable for bigger kids, and it has a strappy upper, fun cutouts and sparkles, meaning it is a perfect choice for a flower girl or any other event where your little one has to be put-together and classy.
The Bettina is made from synthetic leather for the upper. It has an open toe front so that little toes can wiggle all they want, and the ankle straps are adjustable thanks to a buckle closure on the side. This buckle will allow you to customize the fit of the shoe to your kid's liking. The insole of the Bettina is padded for comfort and the outsole is non-marking, meaning it won't leave any marks on the floor. In addition to this, the heel is about 2 inches high, just the right height for all-day wear.
If you're looking for fancy options for your kid, something to match their pretty dress and to make them stand out in a formal event, then the Jessica Simpson Bettina is your design. It is cute and elegant, just the right amount of sparkly, and you can choose between rose gold and silver options to pair with your kid's outfit. Let the festivities begin!

5

. Stuart Weitzman Baby Dancer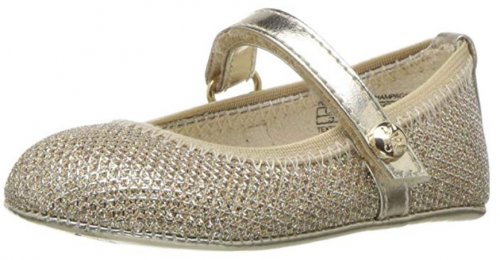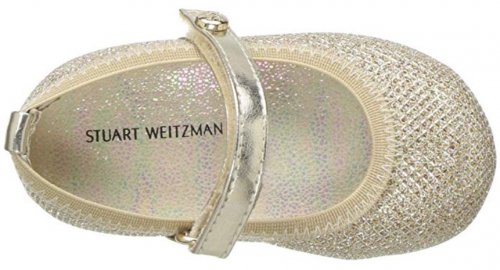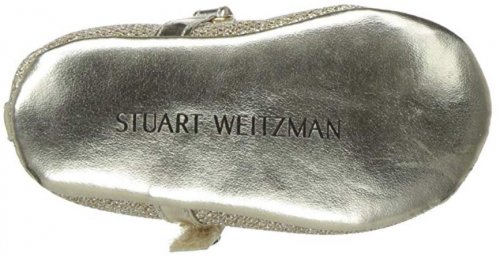 While all other options on our list are meant for kids who are stable on their feet and already exploring the world on their own, this pair of dazzling shoes from Stuart Weitzman are geared for little ones who are still mostly staying in one place. The Baby Dancer is a crib shoe ready to make any baby a star in their own right. It has a soft sole and a Velcro closure for maximum fit customization and freedom for wiggling the little feet.
The Baby Dancer is made from synthetic materials. It comes in sparkling gold, with a gold strap across the instep, making it a Mary Jane design. The strap is Velcro and completely adjustable so that you have an easy time putting these shoes on and off. Thanks to this closure, you can also be sure that your baby won't be losing their footwear any time soon. The bottom of the Baby Dancer is soft so that the little one doesn't feel too restricted and that their feet can move however they want even when they're wearing footwear.
Sometimes we also want to dress up our babies and have them look cute and fancy for a special occasion. The Stuart Weitzman Baby Dancer is a design that will absolutely make everyone coo in adoration and both you and your baby are bound to get heaps of compliments on the elegant choice of footwear.

6

. Michael Kors Ima Boerum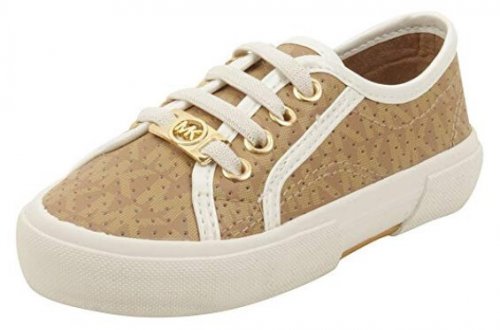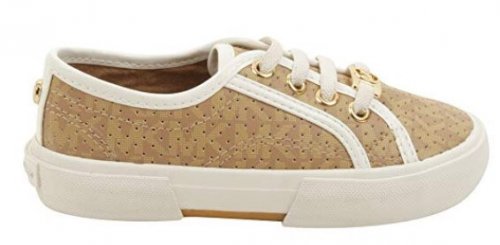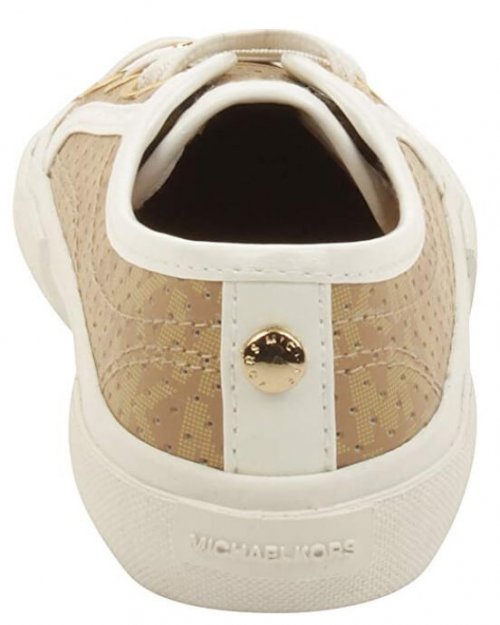 When you ask someone today about what big brands they know, one of the first ones they will say is Michael Kors. This brand is famous in the fashion industry and they easily secured a spot on our list with the Ima Boerum sneakers. This pair embodies the culture surrounding big brands and is wildly popular. So let's take a look at what they have to offer.
What really sells these sneakers is how stylish and fashionable they really are. There are three different variations of this model, all of which are stunning and feature the iconic MK logo across the entire shoe. With a lacing system, children can easily tie them for maximum comfort and rock their day in style. The bottom of this shoe is made from a unique rubber material, which is the highlight of the product. The reason being, rubber is a common choice in efforts to promote a more durable product for their consumers.
Now, you might be surprised to learn that this product can actually range from one of the cheapest to one of the most expensive models, depending on the style and color that you desire. With that being said, if you are looking to purchase a trendy pair of kids designer shoes, this will most certainly do it!

7

. Nautica Fashion Sneaker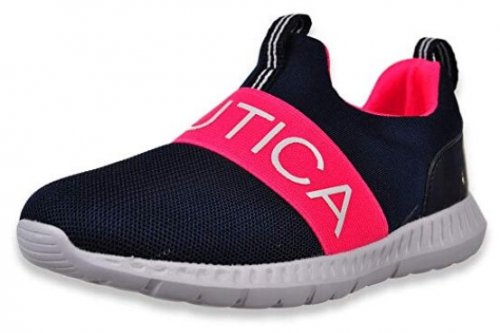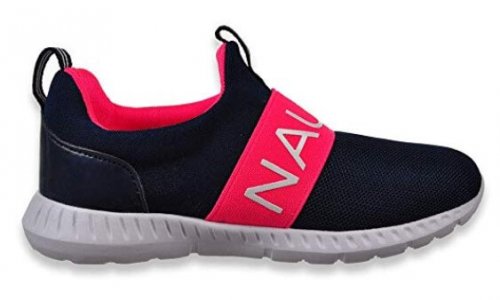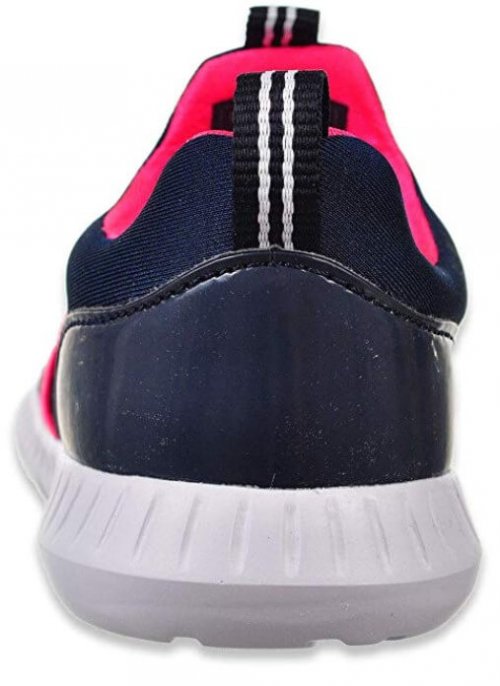 Next, we have a brand that almost everyone has heard of. The Nautica Fashion Sneaker is quickly becoming one of the most popular options for children as it offers a unique design that they find fun and matching to what they want. With a comfortable design, parents can be assured that their child is safe when wearing these shoes. Let's explore some of the product highlights, shall we?
Unlike traditional models, these have zero laces. Now, lace closures are typically preferred; however, in efforts to make wearing footwear easier and more comfortable, these are designed with a slip-on system. So, a child can easily put these on themselves without improperly tying them.
The biggest selling point is the actual design. This model is what so many children are looking for as it's a bold, fun, and exciting look. This is attributed to the different embellishments and little patchworks located around the entire shoe.

8

. Florsheim Croquet Penny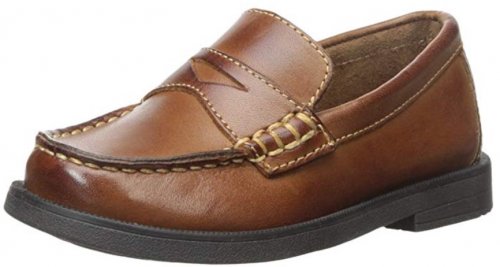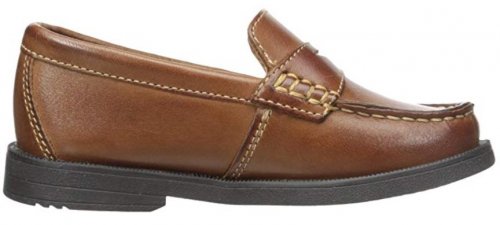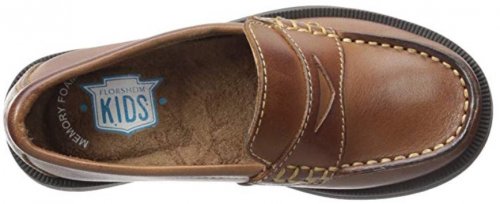 While not strictly from a single designer, Florsheim is a brand renowned for its impeccable craftsmanship and elegant styles that fit right into any formal occasion. This is how we have the Croquet Penny, a loafer for the young gentleman that will go amazingly well with a suit. You can find this pair of dress shoes in several different colors, from the traditional black and burgundy to the saddle tan found in our picture.
The Croquet Penny is made from genuine leather, making it exceptionally breathable and comfortable. Over time, the Penny will take on the form of your kid's foot and provide them with amazing comfort. To add to this comfort, there is also a memory foam footbed that absorbs shock and delivers cushioning like no other. The outsole of the Croquet Penny is made from rubber and it is also non-marking, so your kid can play on sleek floors all they want!
This sleek, sophisticated design is just the touch of formality you need to complete your little one's outfit for the next wedding or celebration event. They will look absolutely dapper with their little bow tie and tux, and you will enjoy the evening knowing they are also comfortable in their footwear and able to play with all the other children around.

9

. Nicole Miller NY Zipper Sneaker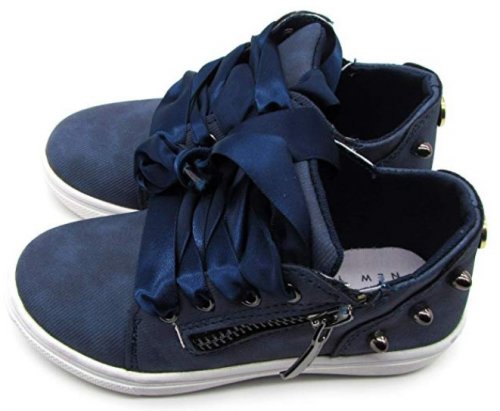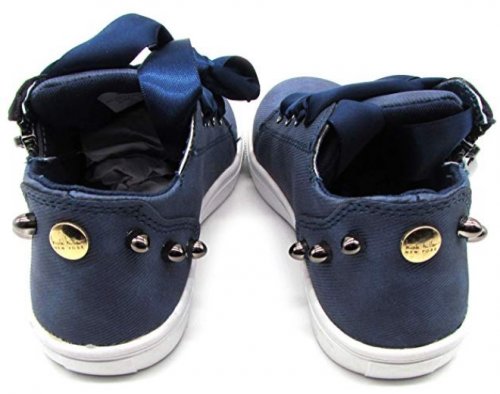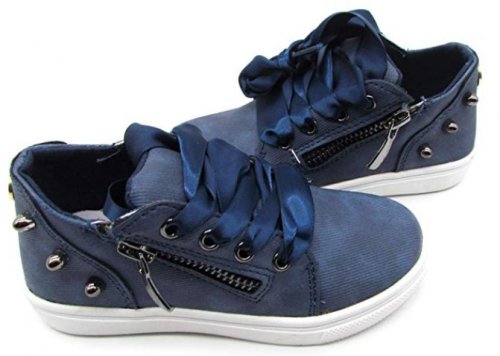 Who doesn't love a pair of trendy kicks they can show off to all of their friends and family? Nicole Miller is a fashion designer who puts an emphasis on bold prints and attention-grabbing details, and you can certainly see the latter in these adorable Zipper Sneakers. They are adorned with decorative zippers in the sides and stud detailing, as well as with satin ribbon laces for a touch of softness among all the metal bling!
This design is made from PU leather, which may not make it the highest of quality, but the leather is treated with an odor-resistant formula, meaning there will be no stinky feet any time soon. The footbed of the Zipper Sneaker is thick yet lightweight, and it will keep your little one amazingly comfy. The outsole is flexible and made from rubber, which means that it prevents slipping and skidding and moves along with your child's feet for the best playtime ever.
The Nicole Miller NY Zipper sneaker is an easy choice since it is definitely a design that your kid will wear all the time, and that they will find fun and fashionable. Help your little one be the most stylish kid in school thanks to these awesome kicks!

10

. Ralph Lauren Vaughn II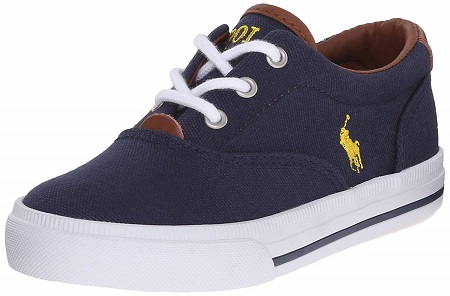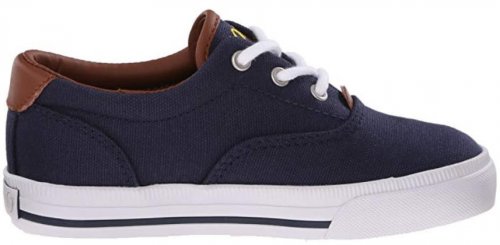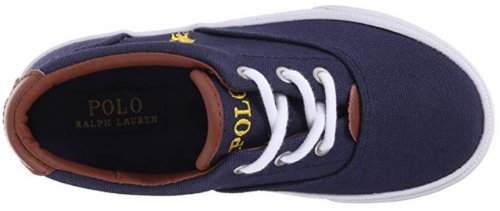 Ralph Lauren is a man of many hats: philanthropist, antique car enthusiast, one of the top 100 richest people in the US. Though most of us know him as a designer. Invoking a classic and iconic style, the Vaughn II shoe will be the talk of the classroom and the playground.
An uncommon choice for canvas footwear, the Vaughn II's padded leather collar is made with both style and comfort in mind. The padding adds extra cushioning in an area sometimes overlooked by shoemakers, while the contrasting leather gives them a smart look.
The footbed, also called an insole, is one of the most important parts of a shoe. The insole is what makes direct contact with the bottom of your foot, and needs to provide cushioning without being bulky. Foams are often the insole of choice for athletic footwear for their breathability factor, but in designer and kids designer shoes, textile is commonly used. Textile insoles are lightweight and soft while providing ample cushioning for your child's feet.

Subscribe to our Newsletter