Best Flower Girl Shoes Reviewed & Rated
In a Hurry? Editors choice: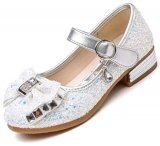 Test Winner: Kikiz Sparkle

Is there really anything cuter than watching a flower girl at a wedding waddle her way down the aisle, throwing petals in huge clumps? Yes! Their adorable dresses with matching shoes that turn it from just cute to over nine thousand!
Picking the absolute perfect pair can be quite the challenge since
little girl shoes
are just so delightful and endearing and have so many little adornments that cover them! There are many options out there that trying to find "the one" pair can become fairly discouraging. Should it have a heel? What about a bow? Oh, maybe rhinestones! The possibilities are endless, and we are here to make it easier for you with this list of top ten flower girl shoes for your consideration. Enjoy!
Standout Picks
Criteria Used for Evaluation
Style
The items in our list range from subdued and modest to glitzy and in-your-face. We understand how such a selection might be a little overwhelming, so in this section, we are going to talk a little bit about style.

For convenience, we are going to sort all the options from this guide into two main categories, so that it's easier to wrap your head around them.

The first category would be - flashy designs. By this, we mean something like, the Kikiz Sparkle, the Caki Rhinestone, the Dream Pairs Nina 66. These are options that go all out, decoration-wise. There's sparkle, there are crystals and beads and rhinestones and bows and dangling charms and literally all you can think of. These designs hold nothing back, and if you want your little princess to absolutely wow everyone during the ceremony, then they are definitely the right choice.

However, they may seem somewhat out of place if a wedding is quieter, more low key, more classic. If you want the flower girl to wear an elegant yet simple outfit, or if you don't want her footwear to clash with her dress, then definitely choose something from our second category - the simple designs.

Now, simple doesn't mean inferior. It only means that these options are smooth and minimally embellished, such as the Olivia K Ballerina, the Little Angel Kelly, the Swea Pea & Lilli Mia. They go well with any look and are great for a more elevated, refined aesthetic.

Of course, at the end of the day style is about personal preference. What you and the little missy decide, that will be the best option for everyone. Just take a moment to consider the amount of glitter that you want, and you're all set!
Fit
When it is an important occasion such as a wedding, the last thing you want is a flower girl tripping over her shoes, stumbling, or losing her cute heels somewhere along the way. Since sizes are often unreliable and young feet are tricky to measure, a good, secure fit is a must.

This means that you need a design which won't leave too much room around the foot; which will have ample space for little toes to wiggle, and won't pinch or squeeze anything, but which will also provide good enough support, and preferably have a strap with some kind of a closure on it.

These straps are what keeps the design in place, and what prevents the glass slipper from slipping off of the princess' foot during the event. They can be ankle straps or those across the instep, but what is important is that the fastening on them is solid and won't break off any time soon.

What type of a fastening it is depends entirely on you. If you want your toddler to not be able to take off their footwear whenever they please, then opt for a buckle closure, as that will be more difficult to maneuver.

On the other hand, if you want them to be able to comfortably put on and take off their own footwear, then opt for something like a hook and loop strap, with an easy velcro closure.

Fit is not something that you should lose sleep over, but it is definitely an important thing to consider. The little missy has to be able to comfortably prance around in her adorable heels or flats, and not fear that she'll be left without one - or both of them - by the end of the evening.
Stability
You may not think that stability is particularly necessary for this type of footwear, but we are here to tell you otherwise. Many of the options on our list come with heels higher than normal, and with them comes a new set of concerns: will the little one be able to walk in them? What if she falls? What if she scrapes her knee?

All of these are legitimate questions, and represent issues that can be easily avoided if you take a moment to think about the stability of a design.

For flats, this stability is almost guaranteed. If you want to prevent slipping or skidding, look for solid rubber soles which have traction patterns on the bottom. These will keep the young one up even on the most polished of floors, and won't let her lose her balance.

For heeled options, there are a few things to pay attention to.

Firstly, if the child is not used to wearing high heels, then a lower height is the better choice. Some practice might be in order either way, but a lower heel is infinitely more stable than a higher one.

In terms of heel shape, go for those which have a wider base, those which are blocky and thick. All of the options on our list are chunky, because after all, these are children's shoes, but if your kid is inexperienced with heels, then maybe going for the Caki Rhinestone - which has the narrowest heel out of all of these - may not be such a good idea.

At last, make sure that the little princess tests out the footwear before you decide on that design for the ceremony. She should walk around the house for a bit, gauge the stability, and together you can decide whether it feels good for her or not.
Materials
The words 'synthetic' and 'man-made' can be a little concerning since there have been so many stories coming to light of children being harmed from their toxic footwear.

Instead of surfing and researching endlessly to make sure the flats you want are safe and not made using toxic materials, we have found the best options for you that have zero toxicity and are totally safe.

A few of the slippers that have been chosen here are made by companies that only use materials that won't harm the environment. For example, the Little Angel Kelly is made only using synthetic leathers and has been designed with the planet in mind; no animals were hurt in the making of it. The brand itself only collaborates with distributors who share the same ideas about taking care of wildlife. There is also less chance of your little one having a reaction because of the chemicals used when tanning and treating hides to make leather.

In terms of comfort, however, synthetic leather does leave some things to be desired. It is usually stiff and hard to mold into a comfortable fit, and it can often rub the foot the wrong way and even cause blisters.

Many of the options here require some, short, break-in time, and we urge you to shop with this in mind. Set aside a few days or even weeks before the big event so that your little one can wear the designs around the house and check if everything is okay with them.

The slightest hint of pain mean that it is probably not a good idea to use that design for the ceremony, because any kind of discomfort will only grow more serious during extended wear.
Durability
We understand that durability may not be the biggest concern when you are shopping for a growing kid. Sooner or later, they will grow out of their footwear, and you will end up having to buy a new pair regardless of whether the old one had fallen apart or not.

That being said, during the few months or events that your little one will be wearing these designs, you want them to look good, to remain as intact as possible, and to not get too scuffed or creased.

Synthetic materials, such as leather, are unfortunately not ideal when it comes to durability - not nearly as reliable as genuine leather - but they can still hold up well over time, and will definitely last at least one whole season.

What you also need to pay attention to here, with the more elaborate items, is the durability of the glitter and the crystals and all the other ornaments. These can fall off in record time, or the glitter can rub off, and you will end up not only with a useless shoe, but also with a frowney face on your kid.

So make sure that everything is where it should be, that the design seems solid and that no rhinestones are in danger of falling off, and you will have a shoe which your kid will love and wear until it's time to get a size up.
Our Favorites
1

. OshKosh B'Gosh Giselle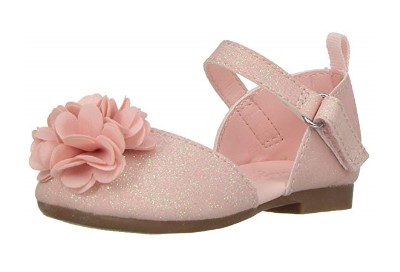 Ballet flats are beautiful without a doubt, and very practical for regular wear. The renowned OshKosh B'Gosh offers a modernized design of the ballet flat that is suited to walking, running, dancing, playing and everything in between. The pastel rose color is romantic and soft, and we love the touch of glitter, as well as the floral accent on the front. Your little missy will look absolutely adorable in these comfy flats!
With some children, it is hard to get them to sit still in order to buckle on their footwear. OshKosh B'Gosh uses top quality velcro that stays put and doesn't get worn down easily. It can be really annoying if the strap keeps coming undone, especially when the girl is trying to look all poised and happy while walking down the aisle. Fortunately, that won't be a problem with the Giselle!

Your little one will feel like a princess in this flat because of the floral decoration on the toe area. The Giselle will be perfect not only for the big day but also for fantastical tea parties where dressing up is required. Heck, if she wanted she could wear them to school even, thanks to their perfect mixture of casual and formal. Also with the exceptional sewing done by OshKosh B'Gosh, the floral decoration won't randomly pop off one day!

The OshKosh B'Gosh Giselle comes from a renowned brand and is made out of quality materials. It is subdued compared to some of the other option on our list and doesn't come in white, but it will definitely put a smile on everyone's face. The princess will love her new flats and they will perfectly match the petals she will be throwing around!

2

. Olivia K Vintage Roses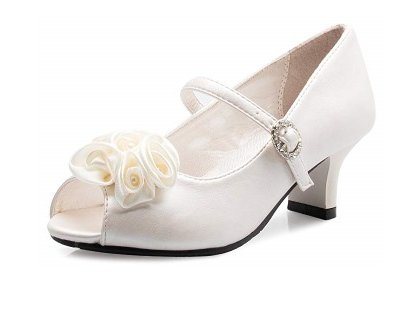 Aren't these Mary Jane style heels just the cutest with their rose accent and rhinestone buckle? They are even equipped with a wide heel so that the little one can walk confidently and comfortably! Not only are they adorable, but they also come in a few different shades; if you're looking for Winter Wonderland or Black Tie you can make sure that she's dressed for the occasion. And! They're versatile enough that you can keep them for a while (as long as they'll fit, anyway) for other events like a Christmas program at preschool or Easter Sunday with the family. You don't have to be concerned about spending the money on something that will only be worn once.
It's difficult to get footwear on a toddler's tiny feet without accidentally hurting them. Fortunately, the Vintage Roses are very easy to slide on, and if you're quick about it, then getting the buckle done is easy-peasy. You'll thank yourself when, for once, you actually get out the door on time and don't have to apologize about a million times for being late.

Pinchy, hard footwear is the bane of everyone's existence, so why should we force our children to wear designs that hurt? You will want something with a little padding and the Vintage Roses is a perfect choice. This padding is made from 100% synthetic, non-toxic materials that are friendly both to the environment and to little feet.

If your final decision is the Olivia K Vintage Roses, you won't be disappointed by its fashionably updated design. This blingy, yet classic Mary Jane silhouette is super comfy and has a fit that has been approved by many toddlers. Tried and true!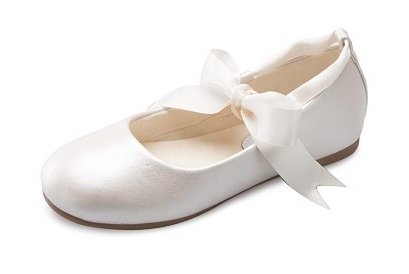 Got a prima ballerina that wants to wear her dance class footwear at your ceremony? Grab her these flats inspired by ballerina slippers! They will give her what she wants and won't get ruined in the process. The Olivia K Ballerina is everything a little dancer needs, from a simple, modest round toe upper, to the lovely ribbon that you can tie any way you'd like. So many options with just one pair of flats!
Real ballerina shoes are made of soft fabrics that easily bend and fold for dancing and if they come in contact with things such as mud and dirt, they're pretty much worthless. The Olivia K Ballerina delivers an elegant effect without giving up sturdiness, which is a necessity for kids footwear. If you're having an outdoor wedding, Olivia K has you covered.

Ribbons! Who doesn't love them!? Thanks to the really, really long ribbon, you can customize and tie these flats however you want. Whether it be in the classic ballerina fashion or in some new, innovative way you saw on Pinterest. You could probably even wrap other ribbons around this one in colors to match the bridesmaids!

The Olivia K Ballerina is high-quality, well-built, and absolutely worth its price tag. You will love this ethereal design that won't outshine what your flower girl is wearing, but that will still make everyone around her coo at her cuteness. You can't go wrong with a little ballet flair at your ceremony!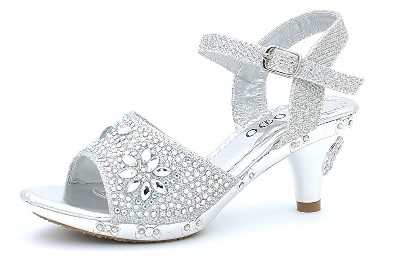 What is the one thing that the majority of little girls can never get enough of? Glitter and sparkly things! If the little one wants to feel like a princess, this pair of Caki Rhinestone heels is going to be your best bet and there's a good chance she'll never want to take them off. The ankle strap is a glittery fabric, whereas the front is completely bedazzled with rhinestones, and even has flower shapes made from larger crystals. They will look gorgeous with the flash of the photographer's camera as the young one makes her way down the aisle, almost as if she's walking on the sun.
No two weddings are the same, and if you've opted out of a carpeted aisle, the little missy is going to need footwear that isn't going to send her legs flying up and her bottom tumbling down. The Caki Rhinestone comes with a rubber outsole that provides necessary traction and prevents slipping and skidding on any type of surface. Wedding accident avoided!

It may seem a little intimidating once you notice the heel is thinner than some of the others, but rest easy, it isn't even an inch tall. Young ones aren't the best at keeping themselves stable and a low heel is going to be great at making sure that no flower girls get harmed during the ceremony, or on the dance floor after. She can walk, she can twirl and she can dance to her heart's desire!

The Caki Rhinestone is a super glam heel made from non-toxic, environmentally friendly, completely man-made materials. Trust us when we say you will most definitely get your money worth with these sandals. You may have overlooked it at first, but take a second glance and you'll see there are even little bow accents with a rhinestone in the middle of each one on the surrounding platform. The more you look, even more appealing the Rhinestone becomes!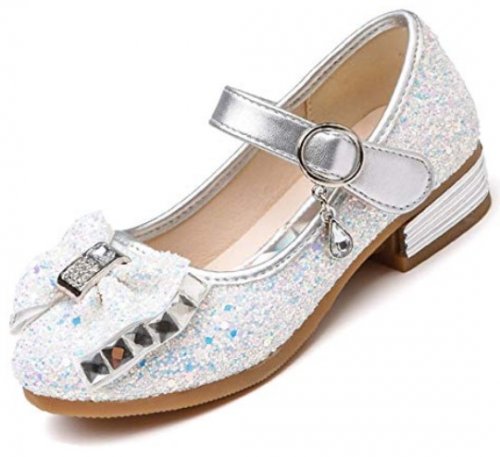 Kikiz truly held nothing back when they designed the Spakle! This cute Mary Jane has it all - the bow, the metallic color, the crystal-encrusted pin, the glitter, even a dangly accent from the buckle closure. If you are looking for that one design to put all others to shame - then this is certainly the one. Fit for a princess, the Kikiz Sparkle will not disappoint.
This Mary Jane is made from synthetic leather, meaning that it is wonderfully affordable and animal-friendly. It comes with a slight heel in the back which has a metallic accent, as well as a strap across the instep to keep the foot in place and prevent this dazzling design from slipping off.

What is, of course, the most striking about this option is its blinding sparkle. True to its name, the Kikiz Sparkle delivers glitter like you wouldn't believe. It is in the glitter material of the upper, the crystal-adorned bow on the front, as well as in the dangling crystal from the securing strap. Wherever your kid goes in the Kikiz Sparkle, they will certainly leave an impression!

We admit that the Sparkle is not for the faint of heart. If you are looking for something more lowkey, if you are not keen on having the flower girl dazzle her way down the aisle, then you might want to look elsewhere. However, if this is right up your alley, then go for it! This glorious design will not let you down.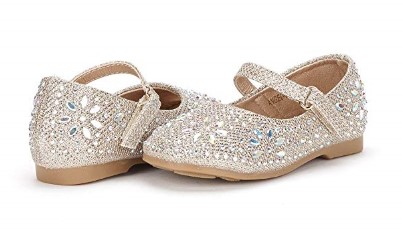 There is no such thing as too much glitter. The Dream Pairs Nina 66 is so covered in embellishments that your wedding guests are going to need sunglasses to protect their retinas (in a good way). Available in six colors, this flat is a little more diverse than several others. It is comfy to wear for extended periods of time, and it has an easy to fasten hook and loop strap over the instep. What a lovely pair of bedazzled shoes!
Dream Pairs built a rounded toe box in the Nina 66 with the knowledge that cramped toes lead to a world of pain. They even added extra room for stretching and spreading the little tootsies! The insole is padded as well, so you can be sure that the Nina 66 is here to provide the young one with everything they need for those hours-long celebrations!

Not only is the upper on the Nina 66 made out of a canvas-type fabric, but it is also imbued with glitter specks throughout, to highlight the faux gems artfully placed over the entirety of the flat. The fabric is lightweight and breathable, and the rhinestones will make the little one feel like an absolute princess, off to charm everyone at the ball!

The Dream Pairs Nina 66 is made out of top-notch synthetic materials that are non-toxic. Looking out for our kids' health is always a number one priority, and we wanted to be sure you will always get the best and safest footwear possible. Along with being safe and easy to wear, the Nina 66 is a show-stopper, and your girl will absolutely love it!

7

. Swea Pea and Lilli Mia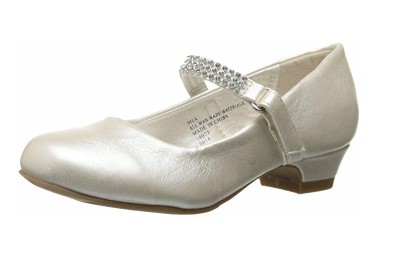 Swea Pea & Lilli created the perfect heel for the little girl who doesn't like too much sparkle, and who prefers something more elegant, and more classy. This short heel has only a small amount of rhinestones on the ankle strap and is largely straightforward in design. It is simple, refined, and easy to pair with anything, thanks to the sheen of the PU leather, without any added extras like poms or ridiculously large gems.
Finding brands that have wide size selections is a battle of a never-ending war since they usually only offer a small range for each style. Instead of searching in vain for the nonexistent possibility that there is one in the right size, save yourself some time and effort - go online, click the link we've provided, and relax after ordering your Mia heels, because they come in literally all sizes that you can think of.

While wearing heels is cute and fashionable, it is not recommended for young children to wear those that are especially high or narrow, as this might cause damage to their posture and development later on. Fortunately, the Mia is an incredibly low heel, just enough that the young one feels graceful, but not enough to cause any pain or discomfort, and she will love wearing them throughout the event!

Everything that Swea Pea & Lilli puts together is made out of 100% synthetic materials. This makes the Mia affordable and easy to maintain. The little missy will be so thrilled you made this purchase, thanks to the overall cuteness and the comfort provided by the Mia design.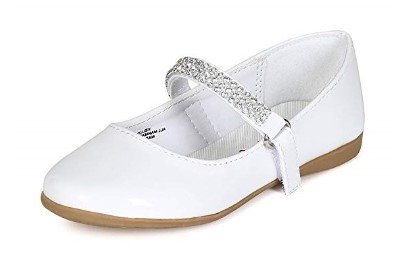 The Little Angel Kelly resembles the Swea Pea & Lilli Mia in the sense that it is also a cute, unembellished design, except in this case, there is practically no heel height, barely a quarter of an inch. This means that if you have a clumsy two-year-old trying to sprint down the aisle at full speed, she won't topple over like a game of Jenga. It is also much easier to stand for the ceremony, as there will be no unnecessary strain on the front of the little feet.
Not only is the outsole of the Kelly made from non-skid rubber, but it is also non-marking, which is good if you don't want to be cleaning the floor after the reception at the rental space. There is almost zero possibility of slipping and hurting oneself thanks to the rubber sole. An added bonus is that this type of rubber is practically indestructible and if the missy wants to wear these flats every single day, you can bet the tread won't wear off easily.

We have our fair share of options which are all about sparkle and luxury, but the Little Angel Kelly stands out in its simplicity. It is still a lovely design, one that will go well with any dress, and yet it won't overpower the overall look. The inside of the Kelly is also padded for added comfort, and the little one will have no problem running around the reception area after the ceremony.

The Little Angel Kelly is great for those who are still unsure about wearing heels at such a young age. It is elegant and romantic, and comfy enough to wear for as long as the princess wants. The little bling across the strap adds a nice dimension to the design, and overall, we find it irresistibly cute!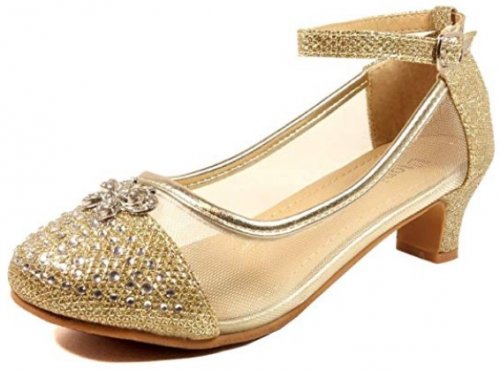 Now here is something slightly different - a design that is reminiscent of the popular transparent pump trend that has taken over the runways recently. The Nova Utopia Platform is original, sparkly, and still undeniably cute, and will catch the attention of many. It comes with a slight heel in the back and an ankle strap for security, and we are honestly taken by its unconventional design.
What makes the Platform stand out are the mesh inserts along its upper. The toe and the heel area are adorned with glitter and crystals, along with a cute butterfly accent on the front, but the true originality is in the see-through sections. These add contemporary flair, something unexpected, and we are sure that the little princess will love it, too.

Wedding ceremonies can last for quite a long time, and young feet can get both tired and sweaty. Fortunately, none of this is an issue with the Nova Utopia Platform. The mesh inserts are exactly what provides breathability here, as it is a porous material that allows air to properly filter in and out, and the design is so lightweight that the princess won't even feel it!

The transparent touches may not be for everyone - especially if you are planning a more conventional wedding - but always love a touch of something new and something sassy. The Nova Utopia Platform will become an event favorite, and no one will be able to take their eyes off of your flower girl!

10

. DressForLess Rhinestone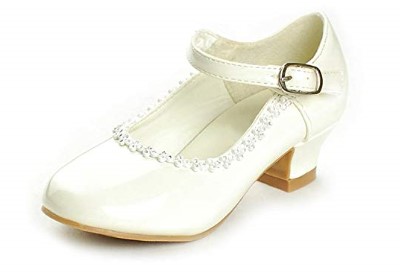 The Rhinestone from DressForLess is that classic, elegant choice that we all reach for. This heel comes with a smooth upper that has a polished shine to it, and is peppered with adorable beads all along the topline. There is a strap around the ankle with a buckle closure for adjustability, and we admire how effortlessly regal these little heels look. Everyone will absolutely love them!
Leather already has a natural sheen to it, but once it's treated with a high-gloss coating, it becomes extra shiny. You can almost see your reflection in the Rhinestone, especially in the black version. The patent leather imitation is nothing short of beautiful.

The heel on the Rhinestone is low enough so that the little princess doesn't lose her balance or feel any type of discomfort, and you can easily adjust the fit with the buckle closure at the ankle. What's more, the interior of the Rhinestone is cushioned for extra comfort, and she will feel as though she's walking on clouds the whole night!

The DressForLess Rhinestone is drop-dead gorgeous and absolutely perfect for the flower-laden journey. If you're not about those rhinestone and sparkly crystals and would like something more classic for the ceremony, then you can't go wrong with this simple, yet effective design.

Subscribe to our Newsletter