Best Hello Kitty Shoes Reviewed & Rated
In a Hurry? Editors choice: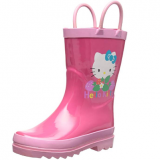 Test Winner: Sanrio Rain Boot

Kids love the character Hello Kitty from the Japanese company Sanrio. The cute face of the loveable cat graces a wide variety of products ranging from dolls and greeting cards to clothes, accessories, and shoes, all the while promoting a positive message of love and inspiring people from around the world to express themselves and do whatever it is that makes them truly happy.

With so many choices of Hello Kitty footwear available, it can be a task knowing which one to choose for your child (or yourself!), which is why we've carefully researched to bring you this comprehensive list of the ten best Hello Kitty shoes available today.
Standout Picks
Criteria Used for Evaluation
Our Favorites
1

. Converse Chuck Taylor All Star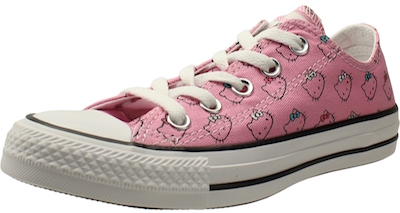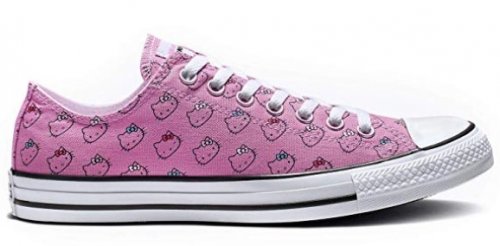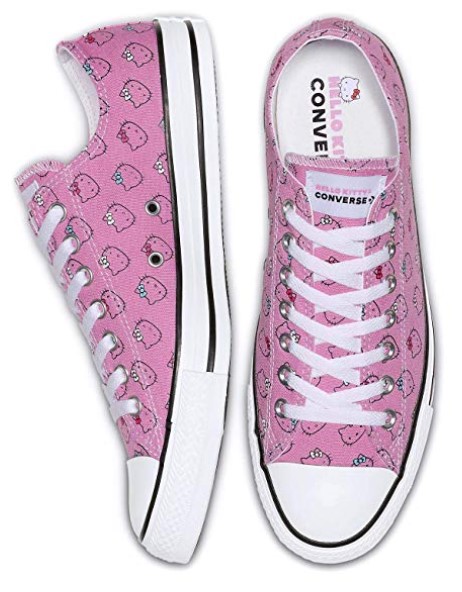 This classic sneaker has been around for almost a century, so it comes as no surprise that the company teamed up with Hello Kitty to bring fans a style they will love wearing every day. Available in several prints, in both low and high top versions, the Chuck Taylor is a sneaker that's ideal for warm weather thanks to the canvas upper, while the comfort features included allow users to lead an active lifestyle, all while looking super-cute.
The Chuck Taylor is a flexible and breathable shoe, with two gussets on the inner side of the arch that allow for fresh air to enter the shoe, as well as moisture to escape. The textile lining is soft to the touch and works well even during physical activity, and the insole is made with foam cushioning that absorbs shock and allows wearers to spend long hours walking in these.
The best thing about the model, however, is the rubber outsole that was originally developed for indoor basketball courts - made to be non-marking and slip-resistant, it has a diamond-shaped traction pattern that grips surfaces exceptionally well, all while being durable enough to be worn on asphalt and other abrasive surfaces. The price is affordable and these models can even be found on sale, allowing almost anyone to get a pair.

2

. Puma x Hello Kitty Suede Classic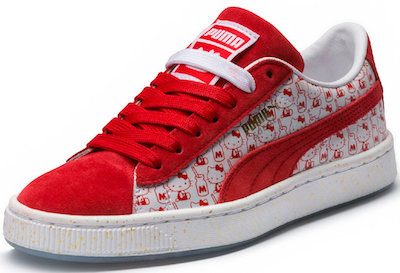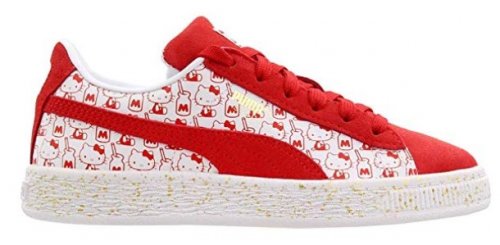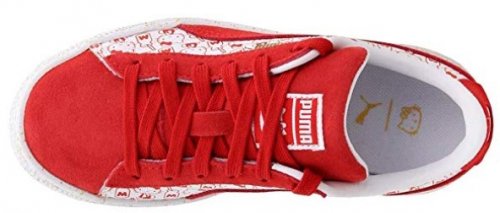 Another timeless casual design, the Puma Suede Classic is the perfect sneaker to wear when you want to look cute but prefer to be comfortable. This iconic shoe was designed to be used as a warm-up sneaker for professional athletes, and its introduction of suede uppers forever changed the sneaker game, giving users a durable but stylish look. The Hello Kitty version is made from bright red materials that are eye-catching, adding a unique print that will look great with any outfit.
In addition to the combination of suede and leather in the upper (which are always a good choice considering that they mold to the foot while providing adequate breathability), you can easily count on the Suede Classic to keep you comfortable. Notable features include a lace closure, a generously padded tongue and collar, as well as a breathable textile lining.
On the inside of the shoe, you get a foam insole that absorbs shock, making these suitable for all-day wear that includes lots of walking. The rubber outsole grips surfaces, is non-marking and doesn't weigh much, all adding up to one great pair of shoes. As for cost association, this is an affordable pair of sneakers that are also durable enough to last you a couple of seasons.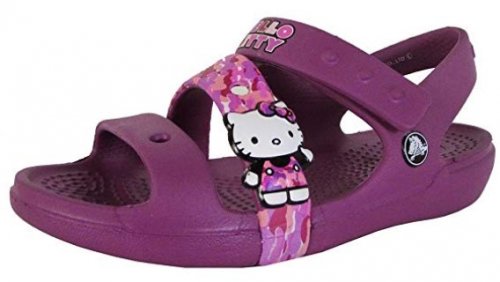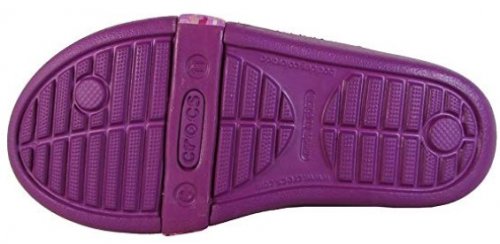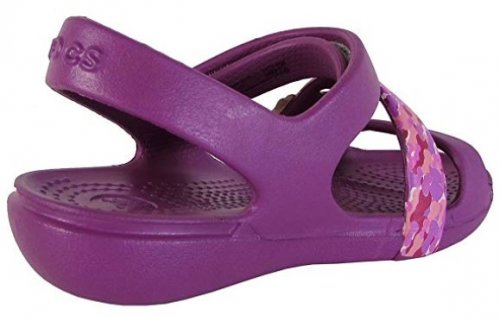 Crocs is a brand most famous for its not-too-attractive summer footwear that no one can get enough of. However, the Keeley is a kid's sandal that is most certainly not unattractive. It is entirely made from Croslite and it features a strappy upper with hook and loop closures, an open heel and toe areas, and comes in a rich violet combined with Hello Kitty's persona, as well as pink details. If your little one is an explorer, then the Keeley is a great choice to make them safe and fashionable at the same time.
Croslite is a Crocs-specific material that the Keeley is entirely made from. It is fully molded to resemble the shape of the foot, and this closed-cell resin foam has cushioning and odor-resistant properties. It absorbs shock to prevent long-term joint damage and keep your kid's feet comfy, and it also prevents the development of odor-causing bacteria.
The beauty of the Keeley is that it is completely adjustable. Three of its four straps have hook and loop closures on them - one with Hello Kitty detail - and they can be tightened or loosened to fit the foot shape without any problems. Make sure that your little one is secure and that they won't lose their shoes any time soon!
The Crocs Keeley is one of the comfiest, most advanced designs on this list, technologically speaking. For an affordable price, you get a special material with unique characteristics and unparalleled comfort when it comes to summer footwear. Treat your kid with these cute new sandals as soon as possible!

4

. Hello Kitty Lil Davina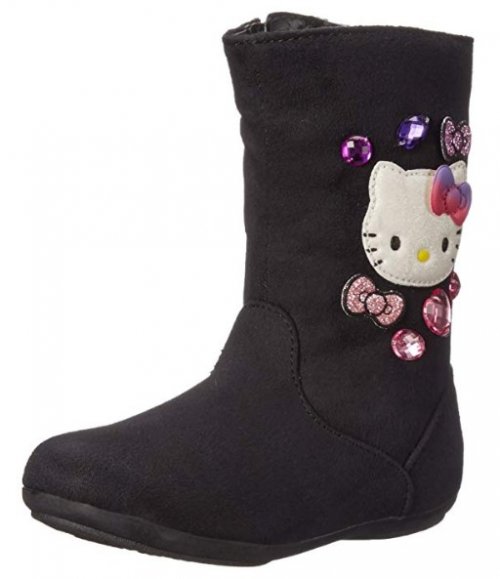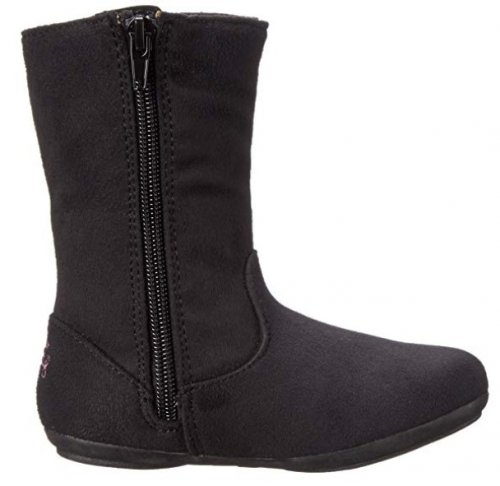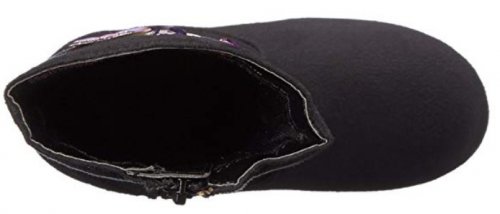 The Lil Davina is a cute boot made from fabric that keeps feet warm and snug. It has a zipper closure system and features a rubber non-slip outsole. These adorable riding-style boots have Hello Kitty graphics on the side and have an opening that measures 11.25-inches around.
The Davina is made from comfortable fabric and has a rubber non-slip outsole that's water-resistant for dry feet all day long. These boots offer warmth during colder weather but are also light enough to keep feet cool during spring and summer.
These riding-inspired boots are made with a zipper closure that allows for easy on and off wearability. They are a mid-calf length pair that has an 8.5-inch shaft when measured from the arch and an 11.25-inch boot opening. Another reasonably priced option that provides great value for your money. These boots are sized for little kids and offer a stylish design and practical structure.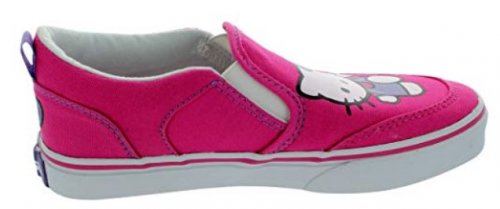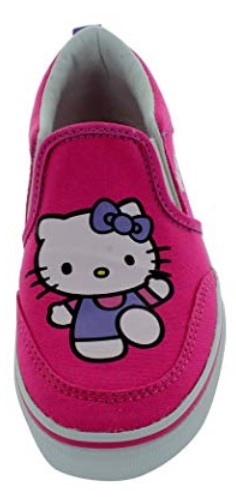 Inspired by the standard Vans Classic Slip-On that has rocked the fashion world for years, the Asher is a design with similarly clean lines and a simple silhouette. It is a slip-on sneaker with elastic gore panels in the sides, double stitching, a vulcanized construction, and the Vans-trademarked waffle outsole. This Asher comes in a hot pink color with the drawing of our favorite animated kitty on the front.
The Asher is made from a durable canvas. While that doesn't make it the best choice for inclement weather, it means that the overall slip-on is lightweight and breathable, thus perfect for warm and sunny days. The front and back of the design are double-stitched to increase their durability.
The elastic gore panels we mentioned accommodate feet of any shape, so even if your kid has a high instep, the Asher should fit them without any problems. The rubber waffle outsole on the bottom has incredible traction since it was originally made for skateboarders to have a better grip on their boards.
The Vans Asher is a cool, stylish option that your child can wear anywhere! To school, to a birthday party, to a family gathering - these sneakers match any occasion. Your kid will have so much fun styling them with their jeans and pants and even skirts and dresses, and you will be the best parent ever for getting them these beautiful kicks.

6

. Melissa BE + Hello Kitty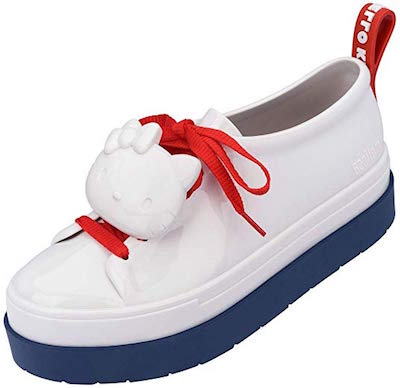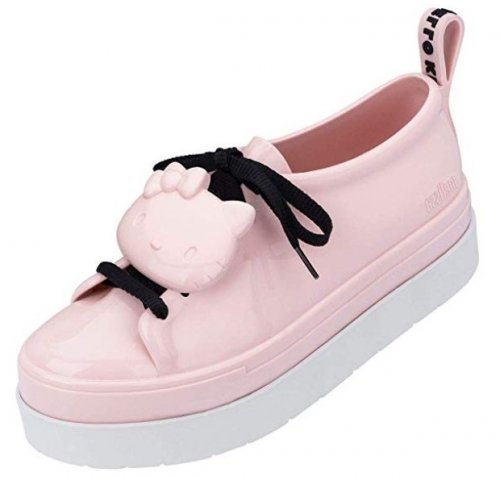 The 2019 collaboration between Sanrio and the Brazilian fashion company Melissa resulted in several pairs of shoes that the internet has gone completely crazy about. The BE by Melissa is a platform sneaker made for casual occasions that puts the well-loved cat front and center, giving fans a completely unique look that has not been done before. The sneaker is available both in adult and children's sizes, and there are a few cute color options.
The upper of the Melissa BE + Hello Kitty is made with shiny PVC and comes in four color options: a simple white with a navy sole and red laces, black with a white sole and laces, red, as well as a powder pink with white and black accents. The shiny rubber is easy to clean, and will even work in wet conditions, so if you're looking for something cute to wear this spring, grab a pair quickly!
In terms of features, the design doesn't offer too much - it has a basic lace-up closure, a pull tab at the heel for easier on and off and a basic cushioned insole to make wear more comfortable. Seeing that there's no lining, wearing socks is highly recommended. In terms of cost, this is a model that is slightly more expensive than average, but true fans won't hesitate, that's for sure.

7

. Minnetonka Kitty Slipper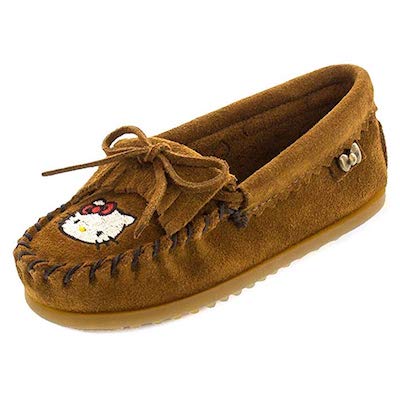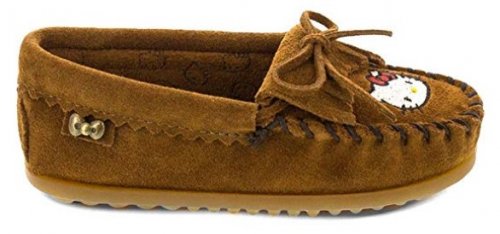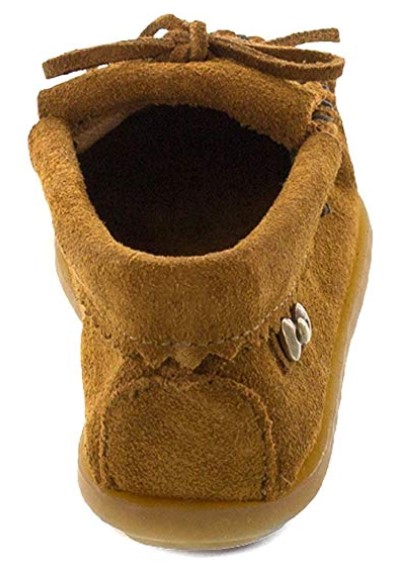 These cute Hello Kitty moccasins were made to celebrate the 40th anniversary of Hello Kitty. Minnetonka worked with the Japanese creator Sanrio to make these child-friendly slippers that are a limited edition item. They're handmade and feature soft suede materials and Hello Kitty details.
The Minnetonka Hello Kitty moccasin is made from leather and suede that are soft against the skin and provide comfortable wear. Both materials are long-lasting, while leather pulls moisture away from the skin for a cool and dry all-day feel. These cute slip-on shoes have a padded footbed for additional underfoot comfort. A well-padded footbed prevents foot pain and fatigue which can make kids cranky and uncomfortable.
These are an ideal choice for casual outings or walks, though they're not the best choice for playtime. They are priced similar to some of the more expensive options on the list, though they're not an overall expensive option at all. These slip-on Hello Kitty shoes are comfortable and look great. The kids will love them and will never want to take them off.

8

. Melissa Slipper + Hello Kitty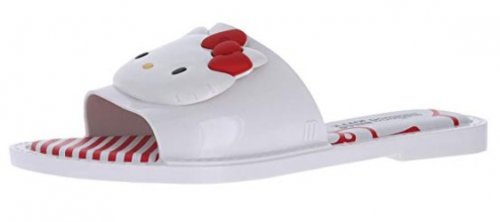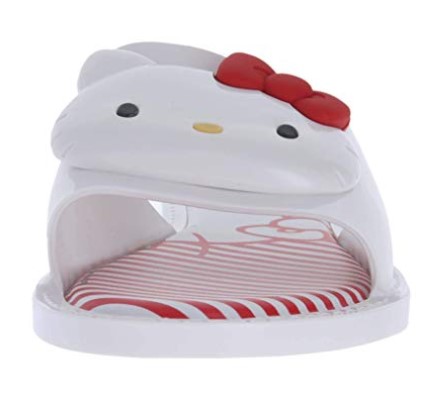 If you're after something stylish to wear to the beach, pool, around the house or even on casual occasions, we highly recommend the Melissa Slipper, a simple slide adorned by your favorite character. This model comes in five different color options, including white, red, black and two pink versions.
The upper of the Slipper is made with rubber, as is the outsole, so you don't have to worry about complicated maintenance - all you have to do to keep these clean is wipe them off with a damp cloth, and they'll look as shiny as they were when they were new.
As for comfort, you will love the foam insole that's lined with a textile fabric. Not only does it help prevent moisture buildup that is often a problem with rubber shoes, but it is also non-irritating, which means a lower likelihood of developing blisters. As for cost, expect to pay a high price for these slides - they're one of the more expensive items on this list.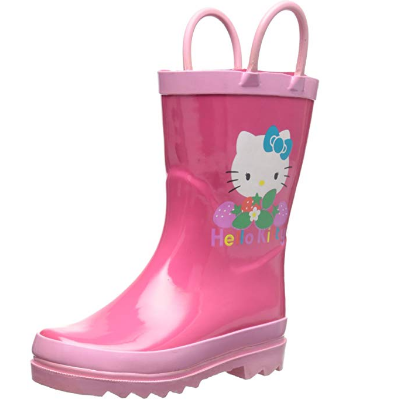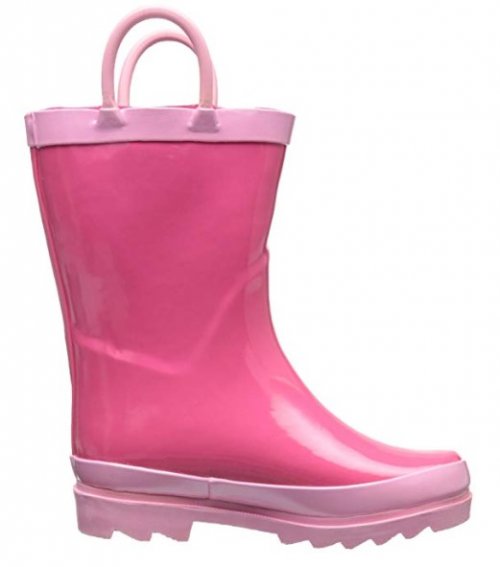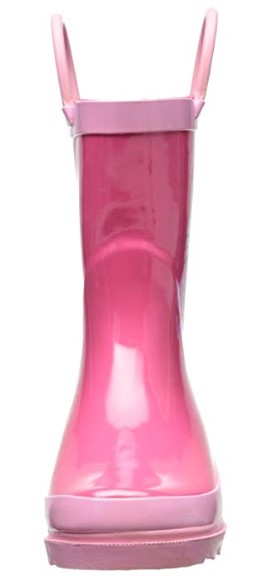 The Sanrio Hello Kitty Rain Boot is an easy to wear slip-on style that is manufactured directly by the creator of the Hello Kitty brand, Sanrio. These are lightweight, waterproof, and easy to clean which is ideal for a child's shoe because we all know how quickly they can get their feet dirty.
The Sanrio Rain Boot is made flexible and offers a lightweight structure that won't weigh kids down or cause unnecessary fatigue. It's made using a soft rubber material that's waterproof so kids can be kids and run or jump through puddles without having uncomfortably wet feet. They have a non-insulated interior that makes them a good choice for warmer weather, as well as pull handles for easy on and off.
This is an easy boot to care for which means no more time wasted washing dirty footwear. All you need to do is rinse them off and let them dry, how much easier could it be?! This is a great feature for children on the go so moms won't have to worry about cleaning up the mess. These colorful and super-cute boots are comfortable and easy to manage, all for a budget-friendly price tag.

10

. Hello Kitty Lil Frosty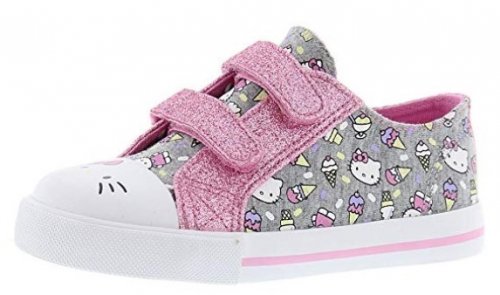 These toddler slippers are just too cute! They feature a pink upper unit and Hello Kitty top-cat that kids go crazy over. Perfect for in the house and casual times, these little slippers will become your child's favorite thing to wear over and over.
Designed for toddlers, the Lil Frosty is a slipper that has it all! It is made with pillow-like cushioning and ultra-soft synthetic materials for ultra-padded support. Your child will love wearing these while playing in the house and their feet will stay warm and cozy thanks to the slip-into design with a sock-like opening.
These Hello Kitty shoes have a Kitty Top Cat that pokes up at the toes and rides proudly atop your child's slippers. They have a girlie pink and polka dot upper unit and a sock-like opening which snugly wraps around the ankle, keeping your little one's feet cozy and warm. These Hello Kitty shoes are a little more expensive than most of the options on this list, but they're certainly a valuable item for a child. Their super-cute design and more-than-comfy foot feel make these a must-have for tiny toes.

Subscribe to our Newsletter