Best Wellington Boots – 2021 Guide
"April showers bring May flowers" is a statement becoming a more archaic and misinformed notion these days. With rainy days stretching further into the summer, one must wonder if a raincoat and umbrella are going to suffice when today's current climate conditions are all about near-monsoon levels of a downpour.

So, for the sake of saving on an expensive dry-cleaning bill, we've compiled a list of the top Wellington boots on the market. Some of them are functional, some of them are pure fashion, but we hope you will find what you like regardless, and that you can wear your next Wellington boots with confidence come rainy weather! Check out our best wellies boots!
Standout Picks
Criteria Used for Evaluation
Support
For maximum comfort, look for a contoured, cushioned insole, arch support and a wide-cut heel.
A good Wellington boot should give you a nice soft fit and offer plenty of support so that you don't develop any discomfort or pain as you wear them for prolonged periods. Luckily, makers have caught on to the fact that this type of boot should not just be functional, but also needs to provide this required level of comfort, and nowadays you have the opportunity to choose from many features that are oriented towards providing you with the best possible wearing experience.
A contoured, cushioned insole is a great start to your search for comfort and foot support in your Welly. First, it provides you with the softness your feet will appreciate in each step you take. Second, it will give you arch and heel support that are a must for anyone with flat feet, plantar fasciitis or any related foot problems. A bonus benefit is that you can remove it and wash it to help limit the odor in your shoe.
A lack of arch support can lead to a number of pain issues from your feet all the way up to your back that will eventually limit your ability to walk if not taken care of properly.
A design that has EVA foam components can prove to be an excellent choice as it provides comfort similar to wearing sneakers, which are known for giving great arch support but also plenty of shock absorption. You'll be able to walk all day with that material comforting your feet.
If you're looking for an option that gives you great foot support particularly for working outdoors, pay attention to a boot that has a wide-cut heel. It can provide you with a lot more stability than most boots and give you great comfort through your long day of work.
Lastly, a wellies boot with a scalloped top edge should be worth much consideration given the comfort it provides through allowing the calf area more ability to flex in the boot.
Outsole
A good outsole means that it is durable and slip-resistant.
Great boots can make you feel like you can confidently step on anything in the world and have the balance and stability to still be standing tall.
One of the ways Wellies provide that is with their rubber outsoles. These outsoles give the shoes excellent slip resistance regardless of whether you intend to walk in the rain or you need to make your daily steps on wet indoor surfaces. In addition, rubber soles will provide you with excellent durability that you can appreciate year after year.
Another way Wellies offer traction stability is through their angle cleated outsoles. For those familiar with sports technology, cleats are something quite familiar from the footwear worn by football and baseball players. For those less so, these are bumps on the soles which have the function of digging into the ground, making sure that you have plenty of traction and that you don't slip even when walking on mud.
You can also look out for any boot featuring a PVC outsole which also has great slip resistance and durability. Try to see if a boot is stated to have large grip soles as this can also mean better traction. You can be assured the features in the top Wellington boots will keep you standing and walking on your feet on any rugged or wet surface for a long time.
Certain designs of wellies boots also provide the benefit of having electric hazard rated outsoles. This means that this shoe has been tested and proven to be able to protect against electrocution. So for those who work in the electric energy company field, a good boot for you will definitely need to have this feature.
Weather Resistance
A good pair of boots needs to keep you cool in warm weather and warm in cold climates.
When you're walking in boots, they can heat up somewhat quickly since they give your feet a lot of coverage. You need a design that can assist in keeping your feet cool.
Wellingtons help give you temperature regulation and breathability through their mesh lining. The mesh liner moderates the temperature in your shoe by providing increased airflow that keeps your feet less sweaty and much cooler.
Even if the lining mentioned is not meshed in the boot you're looking at, it will still provide breathability for you.
Moderating temperature doesn't just mean keeping your feet cool during hot seasons, but it also means keeping them warm during cold seasons too. Wellingtons offer a solution to that in the form of their stretch-fit topline. It's specifically designed to keep warmth in your feet and thus more comfortable walking or working in freezing conditions.
Water Resistance
Fortunately, all wellies boots of this kind are waterproof, and some may even be chemical-proof.
There are not very many things that can be as uncomfortable as walking around with wet shoes and socks. This is especially true if you've got a whole day of work ahead of you.
Wellington boots can help prevent this through their waterproof design that is made so as not to let any water into the shoe, keeping you safe from rain, snow, and puddles.
The best Wellington boots will have an injection-molded construction feature. It makes the shoe waterproof, helping to keep your feet dry through the fiercest of rainstorms.
Full-grain SPR leather is another feature you can search for to give you that chemical resistance you may need. Although leather is not completely waterproof, but rather water-resistant, it may as well be possible that you need a pair of boots for barn and fieldwork, and not for wearing in the rain and snow.
Value
Value is most notably reflected in the quality and durability of a wellie boot.
The value of a design depends solely on what you expect from it and how you expect to use it. If you need this type of footwear for working outdoors, in the garden or the field, around the stalls, or any other type of chore, then you should choose the more durable brand names such as Muck Boot, Servus or Dunlop. These are not quite low in price, but they will definitely serve you well for a long time to come, even in harsh environments.
However, if you're looking for fashion rather than function, then choices from Joules or Nomad might be better. These are reasonably durable, meaning they will withstand regular wear on city streets or tame trails, but they're not meant for physical labor. Their prices are also within reason.
10 Best Wellington Boots
1

. Le Chameau 1927 Vierzonord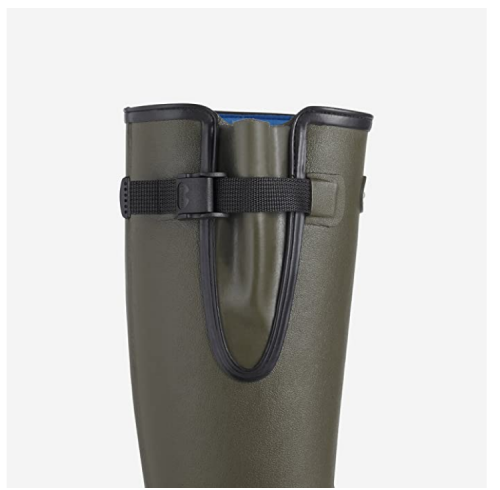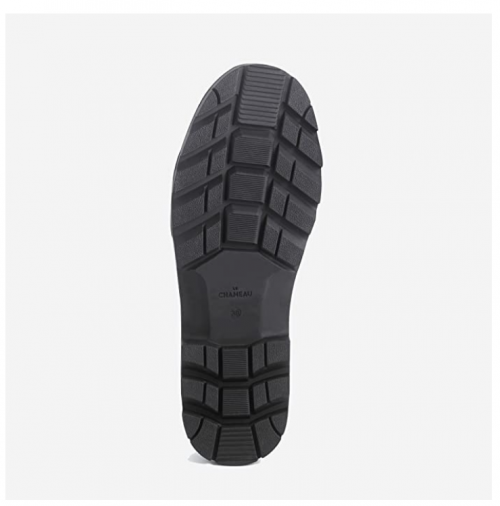 While it may not look like much style-wise, the Le Chameau Vierzonord is actually a prestigious, well-crafted design outfitted with all the latest technologies to keep you both dry and warm in wet, muddy conditions. It is an option that is fit for a royal, literally, as it is a favorite of the Duchess of Cambridge, Kate Middleton, as she transverses the British countryside. This wellies boot makes number one for some of these reasons!
The Vierzonord has an upper made out of 3mm thick neoprene that keeps moisture out and provides ample insulation. This design is actually the first one to come with an adjustable, waterproof gusset so that you can customize it to that perfect fit.
For comfort, there is a dual-density technology that absorbs impact and also provides arch support, reducing foot fatigue during long treks on slippery ground. The Vierzonord will keep you warm in temperatures as low as -15 C/-5 F, and you can wear them in all but the hottest of weather.
If you're into country walking or shooting, the Le Chameau Vierzonord is the perfect choice for you. It is a reliable design built on a long tradition and history of delivering only the best to its wearer, and you definitely won't be disappointed in your purchase. If it is fit for a Duchess, it works for us, too!

2

. Muck Boot Arctic Sport
Made for extreme conditions, the Arctic Sport by the Muck Boot brand is an excellent choice if you need waterproof footwear for extremely low temperatures. With a comfort range of -40 to 60 degrees Fahrenheit, these will offer plenty of versatility to ensure you have the right protective and comfort features no matter what situation you find yourself in. With an 11" shaft, they are mid-height, allowing for plenty of movement while you perform your daily tasks.
These are lined with fleece that is sure to keep you warm when you need it the most. The stretch-fit topline will fit you snugly, preventing the cold air from getting into your footwear and keeping the warmth in.
The rubber outsole on the Arctic Sport is 100% waterproof, making sure you don't get any leaks, wherever you step. It's excellent for long walks, especially considering the EVA foam midsole which has great shock absorbing and cushioning properties. You will appreciate the arch support, as well as the reinforced toe, heel and Achilles areas which give plenty of protection.
The Muck Boot Arctic Sport will give you the perfect combination of rugged and cushioned and is often chosen by explorers and professionals whose job takes them to places with extremely low temperatures, which is a true testimony to the quality the design offers.
3

. Dunlop Purofort Full Safety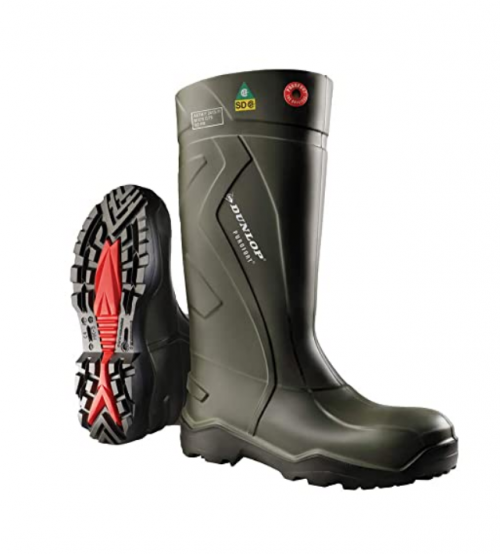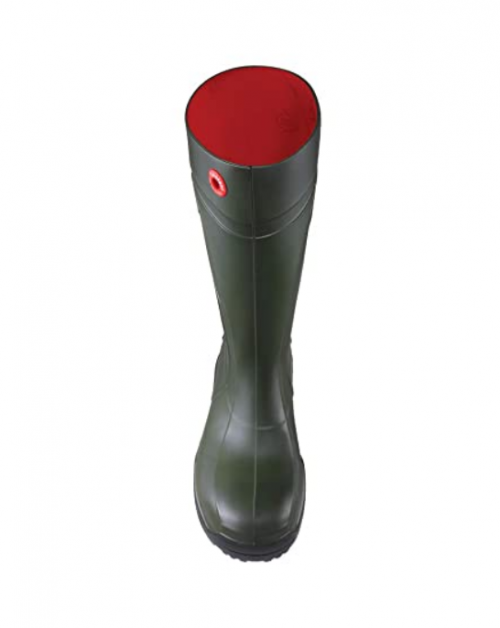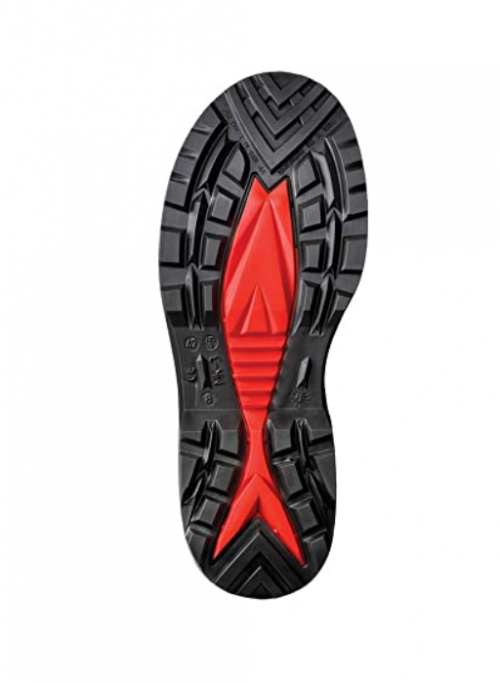 While the concept of safety boots is built right into the name of this option, the Dunlop Purofort is actually a wide collection of sturdy, protective designs that you can wear while doing your chores, gardening, exploring the countryside or even being involved in some serious construction work. They come with a steel toe and midsole for safety and are resistant to fuel oil, chemicals, water, and anything else you might come up with.
This Purofort design is not only about keeping your toes safe from bumps and stubs and ensuring that your feet come out intact. It is also an insulating option, which can keep you warm even in temperatures as low as -20 C/-4 F.
In terms of comfort, they deliver a perfect fit, and a heel part that absorbs energy. This impact absorption will allow you to be on your feet for longer, and to do more efficient work. Finally, the slip resistance on the Purofort has to be experienced to be believed, as it was tested on floors covered in glycerine.
We have to admit that this Dunlop design isn't really meant for everyday wear. Or it is, but only if you are wearing it to a tough job environment where you need all of its safety features. If not, this brand also offers quite a few solid wellies for casual use, which are every bit as water-resistant as these are, but with less steel involved.

The UGG Shaye is a quality rubber option, with an UGGpure wool insole to keep your feet cozy and warm in wet weather. Made in the USA but with fur from Australia, it's typical UGG brand expertise wrapped in a waterproof upper. With a larger opening over 15 inches, you'll be able to wear socks for a little fashion statement as well!
The Shaye comes in a variety of color hues, from neutrals to brighter options. Shiny rubber gives it a classic welly look and helps keep it waterproof. With an opening over 15 inches in diameter, they're great for those with larger calves and also allow some individual styling by pairing socks along with the welly.
About knee height, they're sure to keep you dry! Within the Shaye lies the UGGpure wool insole, soft and comfortable for extended wear should you need it. A PVC outsole allows you to keep traction in messy weather, while patterned tread adds to the grippy texture of the sole. Great for taking outside to work, playing with the kids, or if you expect to be out downtown during unfavorable conditions.
By no means will the Shaye break the bank, and is worth the investment for the brand name comfort, stylish design, and waterproof construction for which it's been designed. A great option to consider if you're looking for a new pair of wellies!
Muck Boot is a brand that's been a mainstay in protective footwear for the better part of nearly two decades. Wet or dry, sunny or rainy, you need proper footwear for any important or everyday life-event. With its sleek design and unparalleled performance, the Chore delivers on heavy-duty foot protection in a very light package. Appropriate for use even in sub-freezing conditions and up to 65 degrees Fahrenheit, these are an excellent choice if you want something that will keep the warmth in.
These are triple reinforced in the toe area and quadruple reinforced in the heel area, providing good protection to your Achilles tendon as well as your toes and heels. In addition, the sole has a steel shank that prolongs the lifespan of this design and provides you with better arch support.
The Chore has a 5mm neoprene upper that stretches four ways and that will fit your calves snugly without allowing cold air and water to get in. The lining is a breathable mesh that won't have you feeling like you're walking in a swamp. On the outside, it has a wide-cut heel base that offers better stability and wearing experience, while the kick rim allows you to get these off hands-free.
You will appreciate the Muck Boot Chore if you need proper weather protection in the cold and like good stability and arch support paired with a comfortable fit in the upper.
If you've just started to lose hope that you'll find a fun, playful option that's not for children - don't despair! Thanks to the Joules Molly, you can now enjoy dull, rainy weather with a smile on your face, as this design comes in so many whimsies, colorful patterns, you won't be able to pick a favorite. The Molly is a solid, reliable design that puts an emphasis on creativity and aesthetic appeal, and you will have an amazing time browsing through all of the choices!
The Molly is made from rubber, as most designs on our list are, and it is a mid-height, allowing you to move more freely and to have more space, especially if you have thicker calves. The outsole is made to withstand wear and tear and has a deep tread for superior grip, and there is a buckle on the outer side for decoration.
Apart from being attractive on the outside, there is also a hand-drawn lining on the inside of the design, amping up the cute levels.
The Joules Molly doesn't come with any special technologies or support systems that might help you if you have to walk for longer periods of time. However, for casual strolls around the countryside or even the city, these fashionable wellies are more than enough! They will make you feel confident and flirty, and will impress everyone around you with their eye-catching style!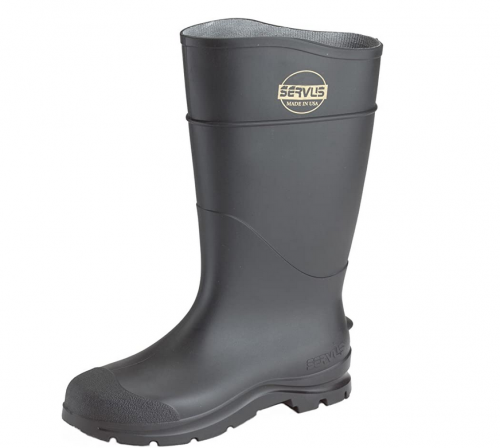 Grab a pair of that look about as tough as you are with the Servus CT Safety. Designed with the working man in mind, this PVC polyblend design allows the burly lumberjack or eccentric fashionista to wade through the waters of Rocky Mountain flood zones with incredible ease and comfort. Available both in a steel-toe and soft-toe version, these are a great choice for those who prefer simple but feature-packed footwear.
With a special PVC polyblend and plumbing hardware alike, this industrial-strength design allows the common man to brave the mud-filled construction sites of any region worldwide. The upper is resistant to degradation from agricultural chemicals, animal waste, and fertilizers, making these a great choice for ranch use. The deep angle cleated outsole will keep your footing safe on any surface while also protecting you from electrical hazards.
Honeywell's patented CT (Comfort Technology) features a scalloped top-line that is unique to this design, and which allows for easy flexing and movement paired with reinforced stress points and a guide along the shaft for comfort and adjustment. In addition, a lightweight FOOT FORM cushioned insole gives you plenty of heel and arch support and can be removed, washed or replaced at any time.
Comfort and thrift go hand in hand with these industrial-strength boots without compromising incredible durability and craftsman-like quality. Ranking low on this list when it comes to price, these are a perfect choice for the serious working man who isn't a big spender.

8

. Ilse Jacobsen Rain Boot
Ilse Jacobsen is a Danish designer who gets her inspiration from the backdrop of a small village she grew up in Denmark, a harbor with sandy beaches and raw nature surrounding it. The Rain Boot, a staple piece in her collection, is a result of spending many a day traipsing through that nature in all sorts of conditions. It is a handmade design that specifically endures wind and water, and makes you fall in love with rain all over again.
This option is made from natural, pure rubber and a secret ingredient that Jacobsen doesn't want to reveal. However, it is entirely PVC free, and has no animal products, making it perfect for vegans. This design is lined with a combination of viscose and cotton to provide comfort, as well as a nice padded insole.
The sole of the Jacobsen welly is made from EVA foam that is light in weight and can take temperatures as low as -40 C/-40 F.
Probably the best feature of this whole design is the fact that it has a lacing system all the way up to the top, thanks to which you can adjust the fit around your calves however you like. The Ilse Jacobsen design comes in several different color options, and you are bound to find one that goes well with your personal style.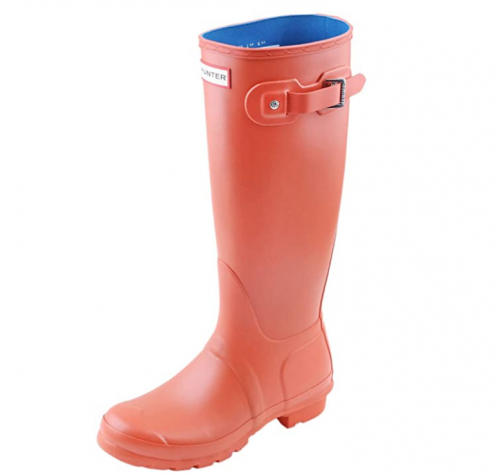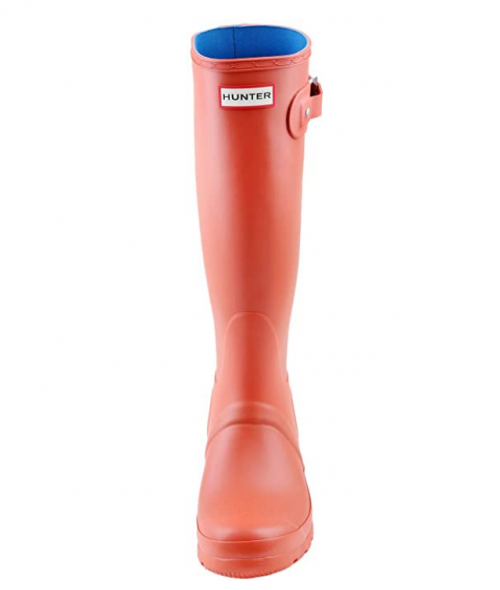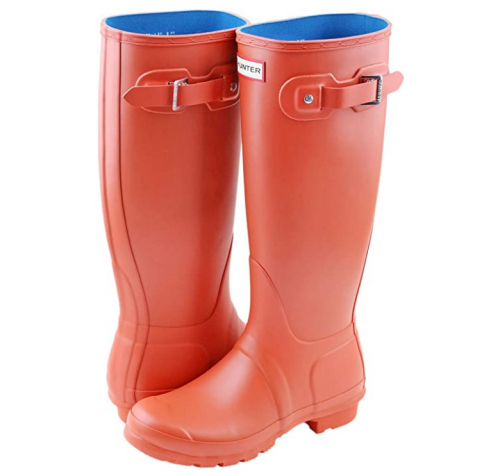 Design as old as the "Baby Boomer" generation, the Original Tall creation is meticulously handcrafted for a highly customized fit and feel that can only be expected of a Hunter boot. These retain their traditional appeal with their textile lining, original calendared outsoles and natural rubber mesh created for both fashion and fast-paced work conditions. The 16" shaft ensures that no puddle is big enough, allowing you to step worry-free wherever your path takes you.
The Original harkens to an age of impeccable craftsmanship and expertise with over 28 parts, from strap to heel, containing pure natural rubber in a nearly seamless design. Not only does this ensure a 100% waterproof shoe, but it also improves the durability and amount of wear you will get out of these.
The calendared outsoles and arches allow the wearer to virtually coast along any surface without slipping or tripping on their way to the office or preferred local coffee shop. Also, they allow for an excellent grip on wet and muddy terrain, making them a great choice for those who like to go for a long hike, regardless of the weather conditions.
This level of craftsmanship comes at a hefty price compared to the other selections on this list, but for the fashion-conscious, the Hunter Originals sell themselves in style and stability. With plenty of colors available, you are sure to find the pair of Hunter wellies that will go with any of your favorite outfits.
Chique and style clash with form and function in this highly stylized design. Frolicking in the rain on a city street or country road never looked as glamorous as it does when you are wearing the Nomad Puddles. Available in over 25 beautiful designs, these dazzling rubber wellies make an intrepid jaunt on a slippery sidewalk and are sure to not only keep you dry and warm even on the rainiest of days but will also get you numerous compliments thanks to their unique designs.
These use the highest quality rubber to ensure that you have a fashion-friendly, completely waterproof design that will keep you protected from wet weather conditions. The Puddles is lined with cotton for extra comfort and has a classic mid-calf shaft that is the perfect height for most people, regardless of their height.
Visually stunning in appearance and performance, the Nomad Puddles allows the user to walk tall in the platformed, contoured rubber outsoles. The sturdy treads on the outsole are made to offer plenty of grip and traction and will work just as well on wet concrete as they will on muddy country roads.
The Nomad Puddles offer excellent protection and durability and have the added advantage of beautiful prints that are sure to make even the darkest of days a little bit brighter.
Subscribe to our Newsletter