Best Toddler Wedding Shoes Reviewed
In a Hurry? Editors choice: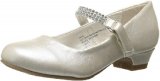 Test Winner: Swea Pea & Lilli Mia

Picking out the perfect pair of shoes to go with your wedding guest dress or suit can be difficult enough, but when it's toddler wedding shoes, it can seem impossible. It becomes less about the appearance of the shoe, and more about finding a pair that's appropriate for the occasion but still comfortable enough to last your kid all night. You might choose to endure the toe-pinching, ankle-hurting high heels that match your clothes – but your toddler will have none of it.

There are infinite varieties of toddler wedding shoes both for girls and boys. That's why we prepared this list of the 10 best wedding shoes for toddlers, and we hope that you and your little one will find just the right model for the occasion!

Standout Picks
Criteria Used for Evaluation
Materials
Highest quality materials are genuine leather and suede, followed by their synthetic counterparts.
Knowing the material from which the toddler wedding shoes are made is crucial, especially if you are buying online and cannot feel the design for yourself. Because your toddler will be wearing their footwear throughout the entire wedding and perhaps attend some celebrations as well, it's important that they are comfortable enough for them to have fun.
The right material is essential for providing adequate comfort. In addition, it can also give you an idea of the footwear's durability and practicality.
Many boys' dress shoes are made of leather. Leather is breathable, allowing the feet to cool during warm weather and preventing the accumulation of odor. It is also well known for its durability - in fact, leather is often used in work boots to protect against harsh environments. This might not be a pro, however, when it comes to toddler wedding shoes, toddlers will grow out of their footwear very quickly and may not be able to fit into them in a few months anyway.
Suede is another popular material. It is used in both boys' and girls' dress shoes and is somewhat similar to leather. Suede ones are very light, comfortable, and have a classy look that makes them perfect for formal occasions. They are a bit higher maintenance than leather and synthetic fabrics, but if you take care of them well, they can last for a long time all the same.
However, they are not suitable for rainy weather and can be hard to dress down.
Synthetic materials are also very frequently used. These are fabrics are made from man-made materials rather than natural fibers, and some examples include polyester, spandex, and nylon. They are very lightweight and can offer breathability superior to that of natural fibers. Many synthetic types of leather are also made waterproof through chemical treatment, rendering them suitable for wet weather as well.
Heel
In general, try to avoid heels - even the low ones - for your toddler.
If you're considering buying a pair of heels for your toddler for a wedding or any other big event, you might want to reconsider, as they may actually affect their growth and put them at a risk for injuries.
Up until the age of 12, children's bones are still growing and developing, making them susceptible to foot, ankle, or other joint problems later in life if they don't stay protected. Wearing high heels from such a young age could prompt the development of foot and leg problems such as the shortening of tendons. Even after the age of 12 and up to the age of 16, high heels should not be worn for long periods of time.
Furthermore, toddlers don't yet have a normal gait pattern. They tend to walk on their toes rather than landing on the heel before shifting the weight onto the toe. When wearing high heels, especially those that are very narrow, their foot would then slide forward into the narrow toe of the shoe and compress the toes together. This could lead to foot deformities after a while.
Of course, the effects will depend on the height of the heels and the length of time in which your toddler wears them. On top of that, there are very few toddler shoes out there with heels high enough to actually cause negative effects, as all these factors have been taken into consideration by manufacturers.
But another downside of heels for toddlers that applies to even very low heels is stability. If your toddler is very young, even a low heel might make it hard for them to walk steadily, and makes it easier for them to trip or slip. Even if they're a little older and you're sure they're steady on their feet, chances are they'll be running around, playing, and dancing at the wedding, and heels will only come in the way.
Overall, whether or not your toddler should wear heels depends on your situation. If they won't be walking or running around much or will only be wearing them for a short time, then go for it. Otherwise, if they'll be playing around we recommend you opt for the ballet flats instead.
Comfort
In order for your little one to be as comfortable as possible, look for the right fit, adjustable closures and padding in the footbed.
One of the most important criteria that you need to look for when purchasing any type of footwear for your little one is the level of comfort it provides. Regardless of the time, they're going to be spending in them, a bad fit or an uncomfortable cut can mean an unhappy child who won't have a problem with showing their disappointment.
That's why proper sizing is crucial. Before shopping, make sure that you know your child's foot measurements, and that you've consulted with the manufacturer's size chart. If you're shopping online and won't have the opportunity to try them on, take the time to read the online reviews to see if a particular model fits too big or small.
Even if you find that a pair has arrived in the mail, but the fit's not comfortable for your child, you should not rely on having them break in the footwear. It's better to return and size up or go with a different model than to risk injury and unhappiness.
Secondly, consider the lining material of the shoe, as well as the footbed. If you're planning on having your little one wear their shoes without socks, it is highly recommended that what's in contact with their sensitive skin is a soft, moisture-wicking fabric, or supple leather or suede.
Harsh synthetic materials can not only trap moisture and cause unnecessary rubbing, but may even lead to the development of bad odors, and can cause bacterial overgrowth. Even children can get athlete's foot which is uncomfortable and difficult to get rid of, and that's not something you would want.
On that note, your toddler should wear socks with their footwear, as these can help with the breathability factor, as well as provide an added layer of skin protection.
The closures on any children's products need to be secure, but highly adjustable. Laces should probably be avoided, although they can work for some children. Nowadays, you can even get elastic laces that allow for the same secure fit but are easier to get on and off and provide a tad more flexibility.
Kids will usually prefer hook and loop closures, or buckles. If your prince or princess tends to take theirs off, maybe you should stay away from velcro, as it could lead to uncomfortable situations.
Last but not least, if you have an active child on your hands, you should make sure that the toddler wedding shoes you've chosen for them have some sort of cushioning in the sole so that their feet are protected from the impacts that come with jumping, running and lots of dancing. They'll appreciate it and won't get cranky because their feet have become too tired.
Versatility
So that your toddler can make the most out of their footwear, look for neutral colors and sturdy outsoles.
Because dress ones for all ages can be quite pricey, you'll want to buy a pair for your toddler that they can wear again on other occasions, and that won't be crammed into the back of the closet the day after the wedding.
A versatile pair of means they'll be able to make the best of them before their little feet grow out, and it'll also save you some money as they won't need a different pair for every different occasion.
Neutral colors would allow them to be paired with other outfits that are more suitable for a particular occasion such as a church. For girls, white and beige are a good choice. They offer a clean look that will never go out of style. Try to avoid glitter, as they might render a pair more informal and hard to match. Boys' options are easier - nearly all of them are of a neutral color such as black or brown.
You should also pay attention to the outsole of the shoe. If they aren't too formal and provide adequate comfort, such as a pair of ballet flats, your toddler may be wearing them to the playground, on walks, or to preschool as well.
But if their outsoles aren't of rubber and don't provide sufficient grip, it can lead to a lot of slips and falls. Make sure to check that the sole is rubbery and can grip onto smooth floors. Most loafers and oxfords should have a rubber sole, along with certain ballet flats.
Durability
Solid construction, high-quality materials, and durable rubber outsoles add to an increased lifespan of toddler wedding shoes.
Durability is a tricky quality to consider when it comes to footwear for toddlers. The reason for this is that toddlers are naturally very lively and energetic, and they tend to go through theirs quickly, not only because they grow them out. Toddlers run, leap, dance, jump, roll around, and as a result, their footwear can take quite a beating.
The first aspect you should look at is the construction. The design you're considering shouldn't have any obvious construction flaws: there should be no openings between the sole and the upper, no seams should be sticking out, and no straps should becoming undone. If the design is solid and sturdy, then chances are that it will last for longer than usual.
Secondly, pay attention to the materials. Our previous Material section may help here. Genuine leather and suede are quite durable, and this type of footwear will definitely last until your toddler outgrows it. Synthetic leathers are not as long-lasting, as they tend to crack and crease with use. However, synthetics are also less expensive, and if you find that your toddler is growing fast and going through shoe sizes like nothing else, you may not want to spend too much on genuine leathers.
Finally, some additional aspects may help increase durabilities, such as rubber outsoles and even reinforced toe caps. Think Chuck Taylors - if your child's footwear has a layer of rubber or some other type of strong material over the toe area, this has a double benefit. Your child's toes will be protected from bumps and stubs, and their footwear will last so much longer.
At the end of the day, while durability is a factor in the sense that no one likes theirs falling apart right after purchase, the fact remains that your child will most likely outgrow them before this happens. So weigh the pros and cons carefully before you decide on whether or not durability is important to you.
10 Best Toddler Wedding Shoes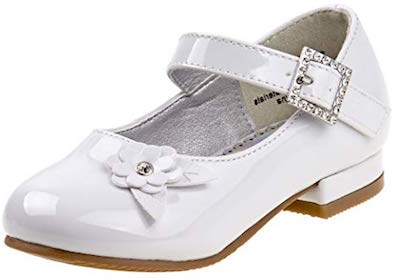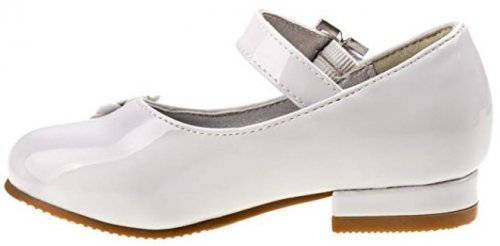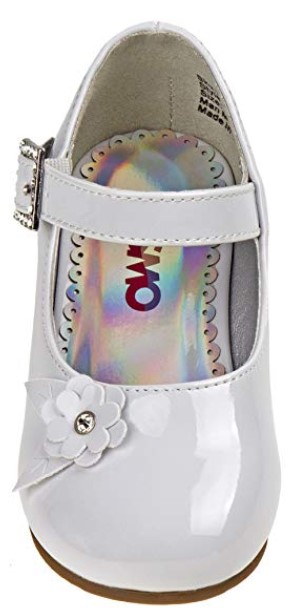 The perfect choice for any formal occasion, the Josmo Rhinestone is a great option if you're looking for something sophisticated and beautiful, but age-appropriate. Available in a number of color options, it can be combined with almost any outfit, while the white version is perfect in case your little one has a role in the wedding, for example, that of a flower girl.
This Mary Jane has an adjustable buckle closure that allows for a better fit, as well as an easy on and off experience that won't result in tantrums just when you need to leave the house. With the rhinestone embellishment, it looks special enough for dressy occasions, but won't be too out of place for everyday wear either.
Made with a manmade patent leather upper, this shoe will look fancy, while also being extremely easy to care for. Even if spills happen, you can easily wipe the stain off with a damp cloth, and it'll look as good as new. The inside is lined with soft leather material for a comfortable wearing experience.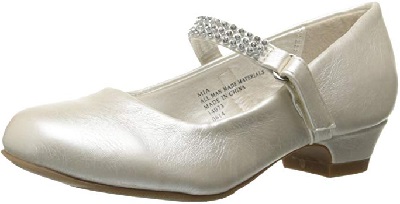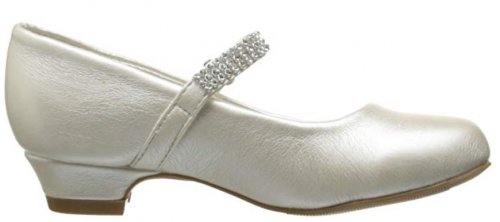 With a lower heel and an elegant look, the Swea Pea & Lilli Mia is a shoe suitable for flower girls. They are made of fabric and synthetic, with rich color and a beautiful shimmer. Their strap is studded with rhinestones and ensures easy on and off. Their rubber outsole and low heel provide stability, while an insole cushion keeps the feet comfortable. Color selection includes crisp white, rich black, and ivory so that you can find the perfect color to match your child's dress.
Not only are the colors of these exactly as pictured they also shimmer under the light, making them look beautiful and exquisite. The rubber outsole on these will allow your toddler to dance and play while staying steady on her feet and it ensures slips and falls don't happen.
Sitting at around the middle of our price range compared to the other products on the list, they are a great bargain, as their simple design allows them to provide for all kinds of special events.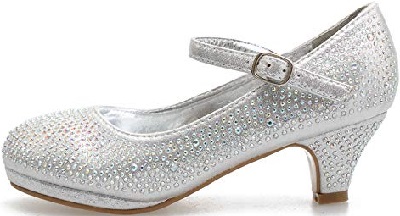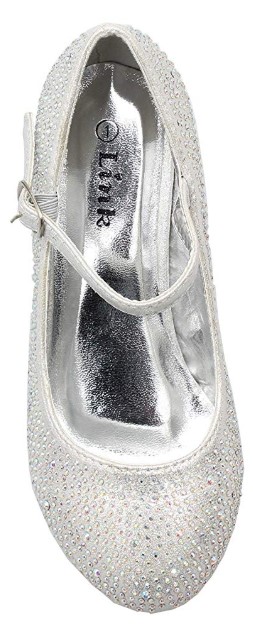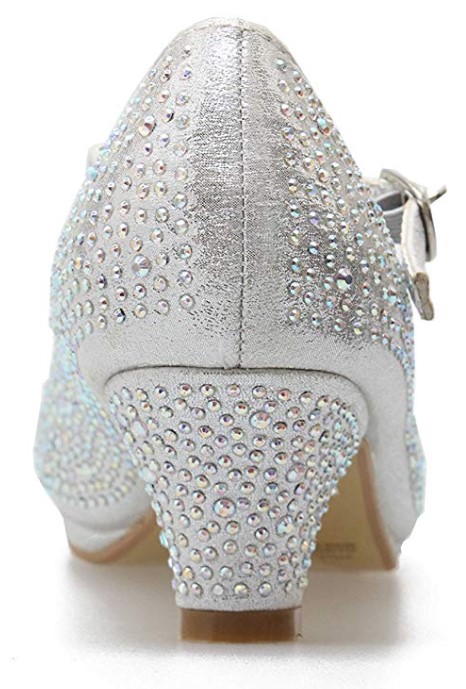 Absolutely gorgeous, this pair of toddler wedding shoes with a Mary Jane-inspired front strap is perfect for your little one. These come with extra rhinestones and are ready to tackle any formal occasion. There are four colors available to add to the splendor and the 1.5-inch heel height is great for not being too high, yet it remains adorable.
These are good for formal occasions and offer plenty of comfort for a long event. They have a 1.5-inch heel height which is not too much for a child's foot. They are sparkly with rhinestones embedded all over the upper for ultimate bling. Although the rhinestones come off fairly easily, these do come with spare rhinestones to compensate for that.
The Dana is moderately priced. The quality is enough to make you feel like your money is well spent. Also, with the added heel tip and extra rhinestones, this is a solid purchase.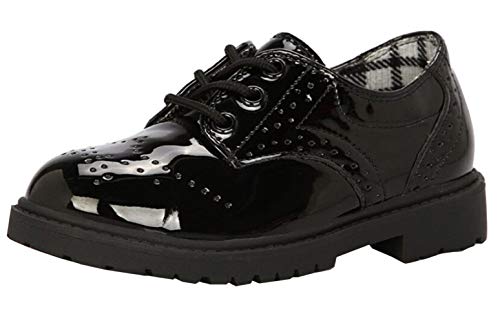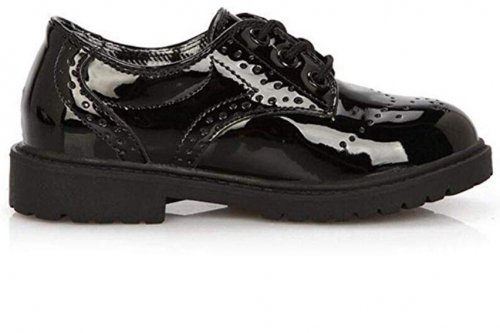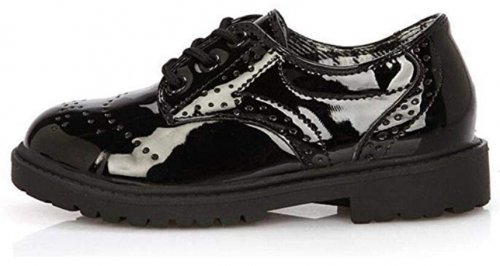 Our next pick is a pair of oxfords that will ensure your little one walks into the wedding with style. They are suitable for dressing up for big events, but can also be worn to school or even out to play thanks to their flexibility. Their black color is rich and shiny, providing a sleek look perfect for any formal occasion. In addition, they are very lightweight and well-padded, providing comfort and making it easy to walk.
Although they might look as though they're only good for their appearance, these oxfords actually have a grippy outsole that prevents slipping. Even for children who never stop running around, these will hold up. Their hardy material will definitely hold up for as long as your child still fits into their footwear.
Another great feature of these oxfords is their price, which sits on the low end of our price range compared to the other products on our list. You won't have to worry about paying a fortune for footwear that will only fit your child for a short period. You'll definitely get your money's worth.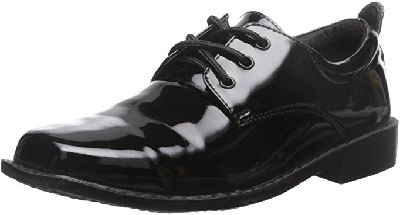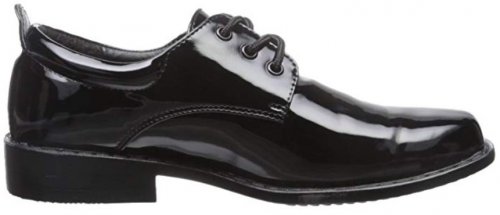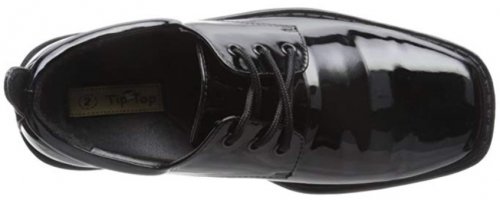 This pair is dressy and looks professional. The patent leather looks good for formal wear and is durable, as well. With laces, they will fit and not slip off during those magical moments. They are manmade and have two available styles to choose from. Moreover, this is a pair that will outlast your child's growth.
There are two styles with this particular pair, one of which is a moc toe. The patent leather look is adorable and these, also, are available in white. Sometimes comfort is not high on the list when it comes to children's dress shoes. These, however, have a cushioned sole to keep those little feet feeling good throughout the day.
This pair is cost-efficient and looks really good. As such, they are worth every penny and you will not be disappointed that you have invested in them; not to mention, the 'little man' will feel like he's part of the 'big boys club' while walking around the wedding.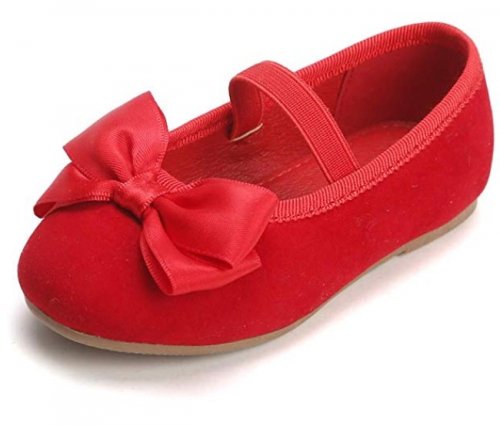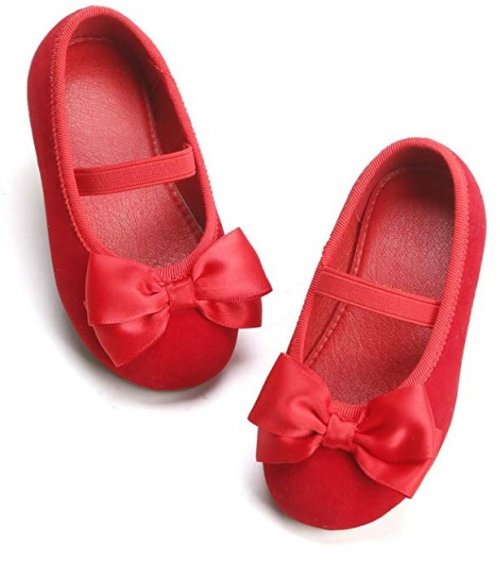 This adorable pair of ballet flats boast a simple design but retains their elegance at the same time. They feature a side bow and an elastic strap that ensures easy on and off. Their material also renders them comfortable and flexible, and their rubber sole prevents slipping. What's more, this model is offered in a wide range of colors, including white, black, gold, and even sparkly pink, which your toddler is sure to love.
Made of PU leather and featuring extra padding, these flats are guaranteed to keep your little girl's feet comfortable. The casual look and comfort of these mean they can be worn in everyday life as well as to a wedding.
In addition, the wide range of colors available means you can pick one that is easy to match with many outfits, and their non-slip rubber sole will prevent injuries when playing around.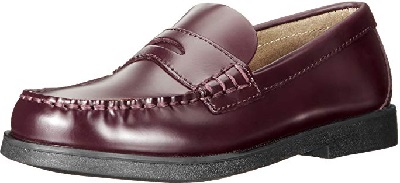 Sperry is known for its great quality and classy designs - and a pair of these loafers can prove it. Classy and stylish all at once, they can easily be matched with any formal attire. Their leather uppers are durable, flexible, and provide excellent comfort. Their design allows them to be slipped on and off with ease, also rendering them suitable for casual and formal occasions alike. In addition, they come in both burgundy and black so that you can pick what will best match your child's outfit on the day of the big event.
The upper and lining of the Colton are made of real leather that is soft, flexible, and easy to maintain. They also give the shoe a more classy look. The sole is made of non-slip rubber. With no laces or straps of any kind, your toddler can easily slip these on and be good to go. They are extremely convenient - your child may not need your help putting them on at all.
Because of their higher price, the Sperry Colton may seem like a terrible bargain at first glance, but their features can definitely justify their cost and be worth your every penny.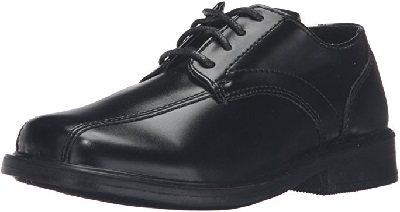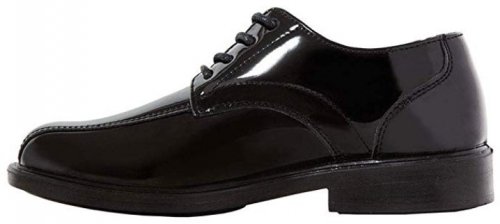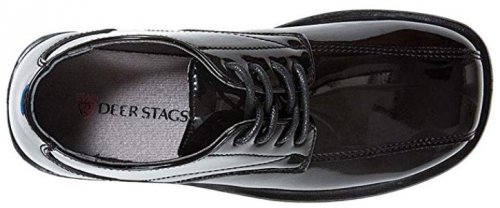 This model is a classic dress shoe by Deer Stags that is bound to make your toddler look good and feel even better. Their cool style renders them perfect for all sorts of formal events. With a fabric lining and a cushioned insole, they also keep the feet comfortable during long events. They are lace-up and might take a bit more effort to slip on and off. However, their laces also allow the tightness to be adjusted for a more comfortable fit for your toddler.
Made of smooth faux leather, these are sleek and handsome and come without a high price so that you won't have to worry about your child growing out of them too quickly. The outsole features a pattern that ensures traction on smooth floors, preventing slips and falls. In addition, the heel is kept low for more stability.
These provide a ton of practical features, and they are much more affordable than their handsome look may suggest.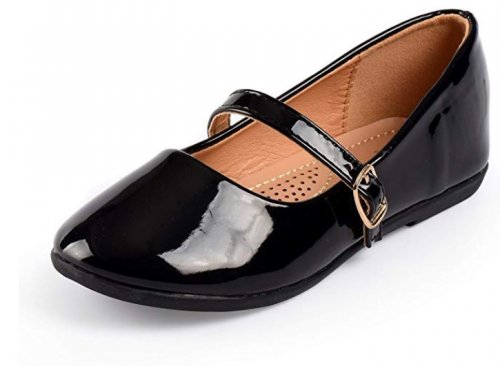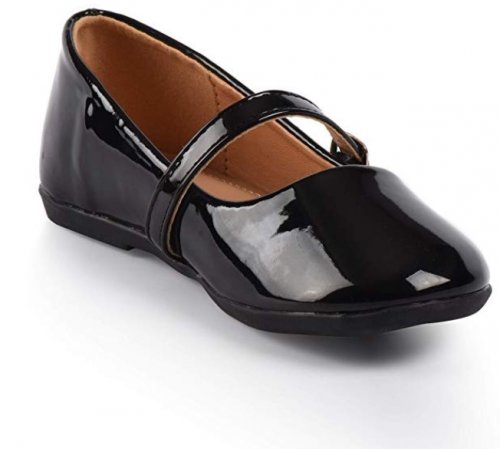 The Nova Utopia Mary Janes are yet another great pair of ballet flats. With a small buckled strap, your toddler could slip these on and off easily. It also allows them to be paired with both dresses and pants for all sorts of occasions, formal or not. If you purchase the pair with gemstones, additional gems are provided to replace any that might fall off.
The lightweight material of the upper on the Utopia is comfortable and perfect for your little one. The extra padding also provides cushioning and additional comfort.
These are as cheap as flats can get, but their quality is still amazing. They won't get scuffed or scratched up easily and can stay good for months of wear. When you're placing your order, however, keep in mind that their size runs large, so consider checking out the measurements or ordering a size or two down from what your toddler would usually wear.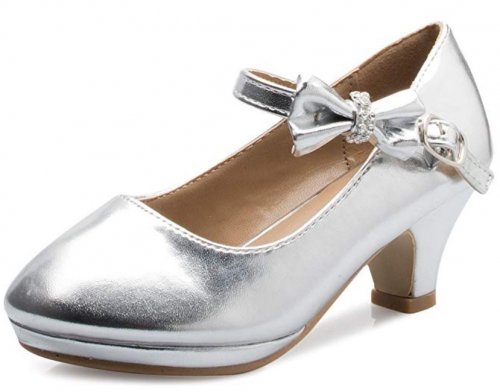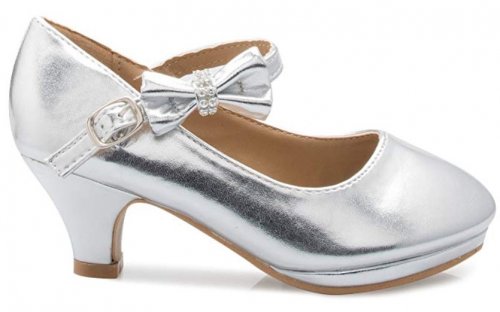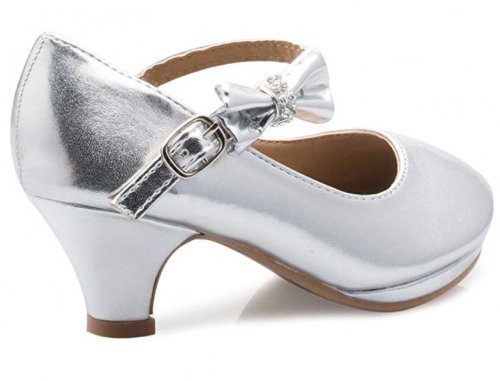 If flats don't have the elegance you're looking for, or if your little girl wants something fancy and "grown-up", these dress pumps are perfect. They are decorated with studs that give them an extra sparkle, along with extra studs in case any come off. They are excellent paired with a dress and will make your toddler feel like the fairy-tale princess she's only ever dreamed of becoming.
The height of these pumps gives them a grown-up look while the studs keep them fun. Your little girl will feel mature and elegant strutting into any big event. However, the height of the heels also means they can be a problem if your child is very young and still can't walk very steadily. It also means they are not versatile.
These come with extra rubber heel stoppers, which allows for more stability when walking. It helps to minimize tripping and falling, preventing injuries in the long run.

Subscribe to our Newsletter