Best Native Shoes Reviewed & Rated
In a Hurry? Editors choice: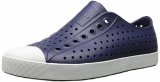 Test Winner: Jefferson

Founded in 2009, Native shoes has a philosophy of Keep It Lite. This label aims to achieve just that, with its key ingredient, lightness - or lite-ness, as they call it - which will help spread all the good vibes around the globe. Native shoes has a Beast Free policy, meaning that no hair and no hide from any animal has been - or ever will be - used in the construction of their footwear. They are all about respecting animals and people in equal measure and have even been certified by PETA as a vegan brand. They offer an option for everyone, regardless of their age, gender identity or background, that is in keeping with the brand's inclusiveness and contemporary thinking.
Standout Picks
Criteria Used for Evaluation
Weight
There is something inherently freeing, that makes us feel liberated and like we can do anything when we're walking around in lightweight footwear. You've seen that term in this particular Native shoe guide several times over, and we have to reiterate how Native shoes emphasizes the importance of designs which aren't bulky or heavy in any way. Their primary focus is on 'liteness' since our daily lives are already stressful enough without clunky footwear dragging us down.

Of course that there are other benefits of lightweight footwear aside from the psychological ones. In shoes which aren't cumbersome, we can cross longer distances. Our legs don't get as tired, and we find ourselves able to run that extra mile, to walk further, jump higher and spend more time on our feet in general.

Additionally, we experience less pain. It has long been proven that wearing heavy designs for long periods of time leads to shin splints, inflammation of the joints and pain in almost all parts of the leg - the ankle, the knee, the hip - and even the lower back. Lightweight footwear and quality running shoes for shin splints save us from all of that and helps us get through our days without a twinge of discomfort.

All these obvious advantages to lightweight footwear mean that it is one of the most important categories when it comes to the criteria we used for evaluating our items. In this Native shoe guide, the lighter the design is, the higher the score it has.
Breathability
One more thing that Native shoes finds essential is breathability. We touched upon some of the reasons why this is a key aspect when it comes to footwear, but here we'll explain it more in depth.

No one likes sweaty feet. That's a fact. Other than the unpleasant feeling you get from it, there are also other problems which stem from that - bad odors, for one. Sweat usually equals stink, and it is a special shade of embarrassing to take off your shoes in someone else's house and realize that the hosts are cracking the windows open because of you.

But while unpleasant smells can be easily remedied with a quick wash - including washing your footwear - sweat, or a damp, hot climate around your feet can lead to worse issues, such as bacterial or fungi infections. These microorganisms thrive in confined, moist spaces, and if you're not careful, you could develop a disease such as athlete's foot, which is accompanied by a range of uncomfortable symptoms, including itching, scaling, cracking of the skin and redness.

In order to prevent all of these unnecessary hassles, make sure to go for comfortable, breathable footwear when looking at Native shoe options. This includes designs made out of natural materials, such as leather, suede and wool - synthetics are not as good in conducting air - as well as those which are thin and porous, such as mesh fabrics.

Other details which add to a design's breathability are perforations, and of course, the ultimate breathable choice, especially during summer, is the sandal. Sandals provide a healthy climate for your feet by letting them enjoy the fresh air, and reduce the risk of all these nasty consequences we've talked about. Native shoes have many models with perforations, or sandal options to help keep breathability maximized.
Shock Absorption
The problem with walking, and especially with high-impact sports such as running, CrossFit or HIIT training, is that they put a lot of stress on your body. Your joints, muscles, and bones are repeatedly pounded by your own weight as you exercise, which long term leads to muscle fatigue, pain in the joints and, in extreme cases, to bone damage.

As a solution for this, the footwear industry has developed materials that have shock-absorbing properties. These serve to disperse the kinetic energy which enters your body with each step. They evenly spread out the force of the impact throughout the sole of the design, and thus reduce pressure on your ankles, knees, and hips, and help you remain on your feet for longer.

The one material most commonly mentioned in this Native shoe guide is EVA. In the chemical world known as ethylene-vinyl acetate, EVA is a golden standard when it comes to shock absorption. It is widely used for practically every part of a shoe, and thus we can have EVA uppers, insoles, midsoles and even outsoles that are used in various combinations and for various purposes.

Upon every strike of your heel, EVA compresses to absorb the impact and then springs right back up when you lift your foot, ready to do it again. It is truly a material that changed the landscape of running and sports footwear, and nowadays it is impossible to imagine both professional and lifestyle sneakers without its presence. Native shoes make good use of using this kind of material in their footwear.

However, bear in mind that EVA does have a flaw, in that it slowly degrades over time and loses its compressibility qualities. This is true for designs that you wear constantly, day in and day out, but also for those which are taking up space in your closet, collecting dust because you don't feel like wearing them anymore. After a while, EVA is no longer as effective in energy rebound as it used to be when the design was brand new, and so it is not a bad idea to replace your running shoes every once in a while.
Water Resistance
Native shoes has truly outdone itself when it comes to functional footwear. Water shoes are a necessity if you are often finding yourself in splash-prone areas, such as by the pool or at a beach, or even if you are likely to walk around the city in the rain.

Now, don't make the mistake of thinking that these Native shoe designs are waterproof. Waterproof means that the material of the shoe is keeping the water out, while at the same time keeping your feet dry. However, Native shoes water shoes are not waterproof, they are water-friendly. This means that water will still get into your shoe and make your feet wet, but it will not ruin the design or otherwise damage your footwear in any way.

This is an ideal option for when you need lightweight, summer footwear to wear before and after your dips in the sea, as most other designs don't hold up well against sand and water.

We would also like to point out that, while originally intended for wet conditions, you can absolutely wear Native shoes as regular sneakers as well! Nothing should stop you from showing off your environmentally-friendly footwear in an urban setting, regardless of what their initial purpose was.
Style
One of the defining characteristics of all the designs from our Native shoe list is that they are all casual. Native shoes has a goal of making your everyday life easier and more efficient, so that you don't have to worry about footwear if you're rushing to an office meeting or are late for a business lunch or on your way to pick up your kids from football practice. These pieces are created with special care and attention to detail so that you can devote your time to what really matters.
 
With that in mind, in this Native shoe guide we have three footwear types which serve to help you enhance your everyday wear, and those are fashion sneakers, water shoes, and sandals.
 
Fashion sneaker: Arguably one of the most common styles of Native shoes, the fashion sneaker is definitely a popular choice. The reason for this is that it is comfortable and easy to wear, and perfect for almost any occasion. You can take your fashion sneakers to a shopping trip, to the workplace in some cases, on a date, and even to some semi-formal events. There is very little that doesn't go well with this type of footwear, stylistically speaking.
The great thing about Native shoes fashion sneakers is that, as other types of sneakers, they usually come with specially cushioned footbeds. Bonus points are awarded for designs which come with arch support as well, as this helps with a wide array of foot-related medical ailments.
Fashion sneakers are not designed for any hard-hitting sports, but you will definitely love them and they will most likely become your go-to option for when you need to decide on a comfortable, yet stylish shoe for your outfit.
 
Water shoe: Since we already talked about them extensively, here we will just mention that these Native shoe designs are practical, but that it doesn't mean they can't be trendy, as evidenced by all the options in our guide. In fact, Native shoes goes out of its way to introduce a new type of water footwear, which is both useful and has that urban appeal that every fashionista is after these days.
 
Sandal: The one type of sandal which found its place on this list is the ubiquitous pool slide. While previously thought of as largely an uninspired design, reserved for frat boys and athletes going to and from their matches and competitions, recently this sandal type has experienced a true rebirth. Thanks to brands such as Puma and even famous artists such as Rihanna, the slide sandal received a makeover in the form of satin details and furry straps, which now effectively make it a fashion statement.
Of course that, when it comes to Native shoes here, the emphasis is on functionality and ease of use rather than style, but the fact remains that the slide sandal is all the rage this season.
Our Favorites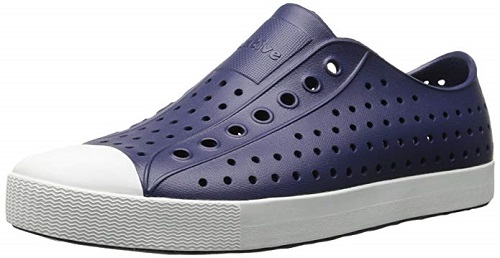 An absolute bestseller when it comes to footwear from this Native shoes, the Jefferson is leading the way for all EVA designs. This is a water foot apparel made entirely from injection-molded EVA, with a perforated upper and a rubber band and toe area. It is shock-absorbent, resistant to bad odors and can be easily washed by hand. It comes in a wide range of different color combinations, and can even be treated with marbling or a print! Your beach or pool days will never be the same again after you try Native shoes Jefferson.
We have often found ourselves in situations where, even though we take good care of our hygiene, wearing a pair of footwear for longer periods of time - especially without socks - can lead to unpleasant smells. Fortunately, this isn't the case with the Jefferson, as it is entirely odor-resistant, and it will always keep your feet smelling fresh and breezy!
 
In the Jefferson, you can run and leap and twirl and dance to your heart's desire. This entirely EVA constructed Native shoe is also entirely impact-absorbing, and it will help prevent pain resulting from pounding at the heel, as well as foot fatigue.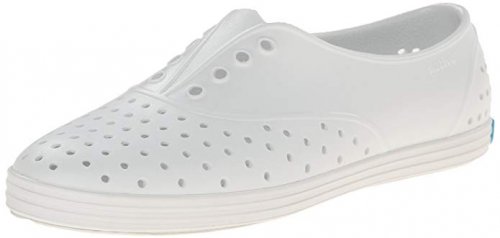 Another one in the EVA footwear line, the Jericho is a Native shoe which has a lower cut and a more streamlined silhouette. It bears all the characteristics of the other footwear in the same collection, namely that it is resistant to bad odors (even if you wear it without socks!), it provides shock absorption and it is easily washable by hand.
What we particularly love about the Jericho is that it doesn't contain a chemical known as MBT (mercaptobenzothiazole). This substance with a complicated name is completely harmless except for those who are allergic to it, and it is unfortunately found in rubber, latex, adhesives, spandex, poly-cotton blends, neoprene, memory foam and basically most materials which footwear is usually constructed of.
 
If you belong in the unfortunate category of those who are allergic to MBT, you will be glad to know that the Jericho is safe for you to wear for as long as you want!
 
Moreover, this stylish design has a rubber rand and toe, and it also comes in a myriad of color options and print treatments. Be prepared to receive a lot of compliments on your cute choice of water-resistant kicks!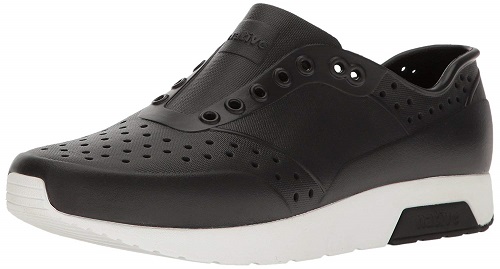 The well-known EVA design has received a makeover with the Lennox. This Native shoe is inspired by traditional athletic sneakers, even though it is made out of 100% EVA. Its construction is three-part injection-molded EVA, along with a dual density EVA midsole and a compression EVA outsole.
The dual density part means that the Lennox is lightweight and climate controlling - when it's chilly outside, your feet stay warm, and when it's hot, this Native shoe promotes proper air flow and propagates cooling. Additionally, thanks to its dual density construction, the Lennox has more cushioning and is more durable than regular designs, able to withstand temperatures up to 203F.
 
As other options in Native shoes, the Lennox is also water-friendly, hand-washable, and resistant to odors. It is a mondolite weight option, one that resembles a classic trainer on the outside, but in all actuality is a much-improved version.
 
Now you can experience a brand new urban adventure with the Lennox sneaker!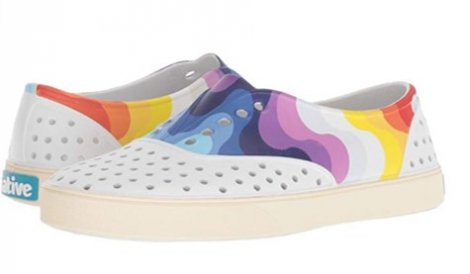 This Native shoe keeps the classic style of the brand with perforated toe and heels, but adds a ton of different style options and prints to show of some style. This easy slip on is designed with foam-injected mold, making them environmentally friendly in design methodology. Lightweight and comfortable, the Miller comes in a variety of colors, black and white stripe or rainbow stripe.
The Miller Dublin, similar to many other models of Native shoes, is made completely of synthetic materials, making it animal friendly, so you can feel good about what you're wearing on your feet. Uppers are EVA molded, and the Miller is also odor resistant for those hot days when feet start to sweat.
Simplistic in design, these can quickly replace your old favorite go-to shoes as an every day pair for running errands, hanging with friends or even a creek walk to cool off. They're hand-washable, and with a traction pattern sole, you're sure to stay firmly on your feet, even on slippery surfaces.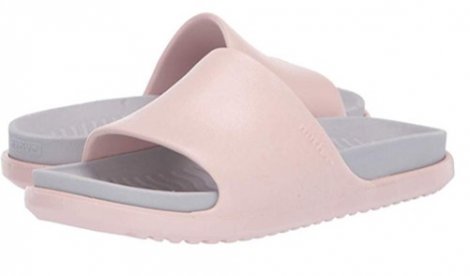 The Spencer is one of Native shoes more casual, laid back style of sandals, with slide design making them easy to step into, or kick off. Cushioned and comfortable, these slides are perfect for the pool, beach, or lounging in the backyard. And with several colors and color combinations to choose from, you'll find one that reflects your style sense!
Two part EVA constructed, the Spencer gives stability and support in all the right places for a slide sandal. EVA outsole makes them durable for wear, and an Ultralite footbed helps wrap your foot in extra comfort when walking or standing. And since this slide is made fully with synthetic materials, it's considered animal/vegan friendly!
Summertime calls for lighter weight and breathable footwear, and this fun pair of Native shoe slides certainly delivers on both accounts. Weighing about 8 oz a pair, you can avoid any foot fatigue, and with the molded upper, the fit will have you walking tall instead of shuffling your feet back into the slide. Perfect for the heat with all the bright color that comes with summer!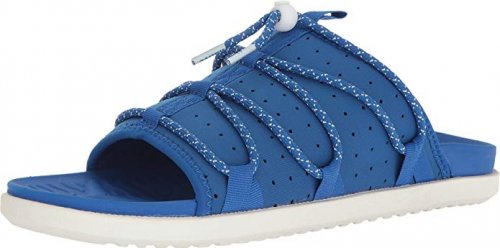 With the Palmer, we're taking a break from all the EVA designs, as well as those which are more geared towards sporty looks, and we're diving right into the current trend that is the slide sandal. The Palmer is definitely unique in its construction, as it has a neoprene upper, perforated for extra breathability, and a lace and toggle tightening system.
Neoprene is an all-around badass material. It is resistant to water, snow, sand, dust, sunlight, oil, and any other weather elements you can think of, which is why it is an excellent choice not only for footwear but also for swimwear, wetsuits, camera bags etc. It is also latex-free and provides cushioning and protection against any hazards in your environment.
 
We are fascinated by the toggle tightening system of the Palmer, as it allows you to tighten or loosen the strap of this slide sandal in one easy step. Simply adjust the closure to your liking and you'll be on your way in no time!
 
Aside from all of these cool features, the Palmer also comes with a cushioned EVA footbed and an EVA outsole with an ultra-light rubber insert. It may not be the most stylish of designs, but you are bound to be super comfortable and summer-ready in these effortless Native shoes!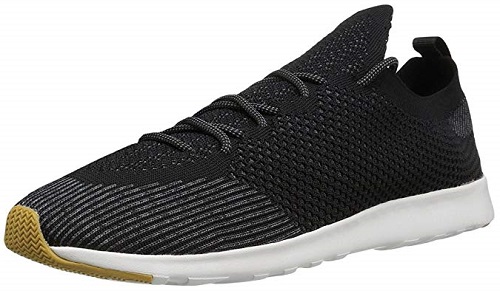 With its sleek profile and running sneaker silhouette, the Mercury Liteknit is one fashionable lifestyle Native shoe. It comes with an upper that is specially woven out of interlocking fibers which offer much-needed elasticity. This means that it will fit you like a sock and that the stretchy quality of the material will accommodate your foot regardless of its shape. Talk about true comfort!
This lightweight Native shoe is set atop an EVA midsole and outsole, for some impact absorption, and it comes with a Superfoam perforated insole, for breathability and cushioned comfort. The lace-up closure at the front with speckled laces helps adjust the fit to your liking - make sure to tighten the strings so that your foot doesn't slip out of the design, but also not so tight that you're accidentally cutting off blood flow!
 
The Mercury Liteknit is one fashionable sporty Native shoe, as it comes in a variety of cool colorways. It transcends the limits of weightlessness and is a great combination of a classic running sneaker design with fresh, new technologies of the future. Conquer your day with the Mercury Liteknit!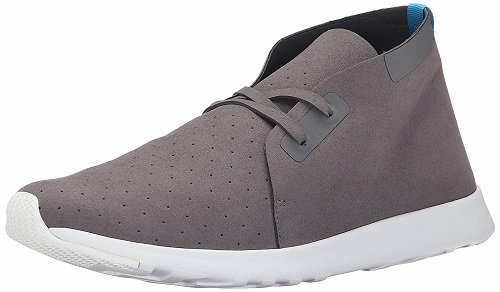 Native shoes has several versions of the same design - the Apollo - from a regular low top sneaker to this one, inspired by a chukka boot. The Apollo Chukka has an upper made out of 100% microfiber material, making it incredibly soft to the skin, with little perforations all over.
Microfiber is a special blend of polyester and nylon that has unique properties. It is lightweight and thin, making it a great choice for summer footwear, but it also has some antimicrobial properties. The microfiber upper of the Apollo Chukka prevents unpleasant odors and bacterial infections that might otherwise occur in closed footwear in hot temperatures.
 
The Apollo Chukka also comes with a Superfoam insole and an unbelievably light frame. The Superfoam insole has exceptional abilities to absorb impact, as well as to cushion your every step. Thanks to it you will feel comfortable and light on your feet regardless of how long you walk around for in your Native shoes.
 
This is a take on a desert boot and is meant to be a casual, breathable option for the summer when you don't want your feet to sweat but you also don't feel like exposing your toes to the world.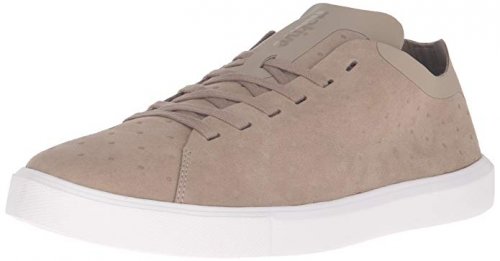 In between all of the laid-back, summer footwear, there is also an option which can pass for a dress sneaker - enter the Monaco Low. This is a Native shoe made from microfiber, a material that is amazingly soft and antimicrobial in quality, with little perforations all over to maximize the airflow. Even though it is a sneaker in form, you can be sure that the Monaco Low will provide your feet with a healthy climate.
Additionally, this Native shoe also comes with no-sew accents on the heel and eyelets, to add interest to the visual appeal, but not to take away from the simplistic design. This is indeed a timeless silhouette, one which you can wear both to casual events and even smart casual ones, and which will effortlessly fit into your wardrobe.
 
The Monaco Low has a single piece EVA cup outsole that offers an addictive sort of comfort, and it also has a Superfoam insole which is standard for the brand. It hardly gets any more stylish or any more comfortable than the Monaco Low.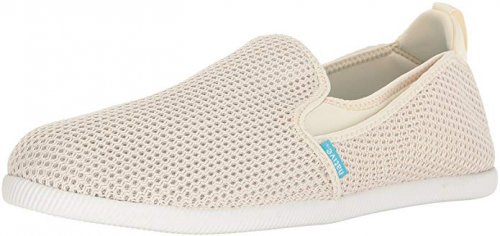 If the summer hasn't yet reached record highs in terms of heat, or if for any reason you feel uncomfortable uncovering your toes, but would still like to feel breezy - the solution comes in the form of the Cruz! This is a slip-on Native shoe which is made out of porous mesh material and a neoprene collar to ensure that your feet are properly air-conditioned and yet still covered.
The mesh upper of the Cruz means that air has no trouble passing in and out of the design. Your feet are kept cool and dry regardless of the temperatures outside, and you can be sure that there won't be any sweating or bad odors at the end of the day. The neoprene collar means that the entrance to the sneaker won't stretch out in any way, no matter how much you wear it.
 
The Cruz slip-on has an EVA outsole for shock absorption, although we do admit that this design is more geared towards breathability. Nevertheless, you will be comfortable and unburdened in these lightweight Native shoes, ready to take on the city streets with a spring in your step!

Subscribe to our Newsletter