Best Puma Sandals Reviewed To Make You One Cool Cat All Summer Long
In a Hurry? Editors choice: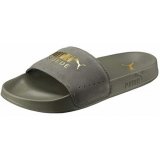 Test Winner: Leadcat Suede

You don't have to be a professional athlete in order to enjoy the comfort and functional style of
Puma footwear
. This brand also produces its fair share of lifestyle designs, the most popular of which are the famous slide sandals. You must have seen them around town – those simple and yet memorable slides that everyone reaches for once the weather gets too hot.
In case you ever wished to own a pair of those yourself, we are here to help you. We have put together a list of top Puma sandals which will make an excellent addition to your casual, sporty days, and keep you comfortable and cool in these unprecedented heat waves. Sit back, relax, and enjoy the read!
Standout Picks
Criteria Used for Evaluation
Style
On this list, we have encountered several different styles, each of which we are going to take a closer look at here, and discuss a little bit about why they're popular and how best to wear them.

Slide

The slide sandal, otherwise known as the pool slide, hasn't always been the peak of fashion. In fact, in the 90s, this style was reserved for college students too lazy to get into proper footwear for their midnight snack run, or for athletes who would slip into these with their socks on after a hard-won game.

However, all of that started changing in recent years, and especially this season the pool slide trend has experienced a revolution. Now, you can find a pair of these from every brand – from high-end Gucci and Stella McCartney, bedazzled with glitter and crystals and made out of high-quality materials, to more sporty designs, like Tory Sport and Puma.

Pool slides are in fashion because they are ridiculously easy to wear – as their very name suggests, you simply slide into them and you're on your way! Depending on their aesthetic, they go well with everything – jeans, skirts, sundresses, denim shorts, you name it. Of course, they are casual in appearance, nothing you could wear to a wedding or a similar formal event, but for a stroll by the lake or even a chill afternoon out with your friends – it doesn't get any simpler or easier than the pool slide!

Sports

By sports sandals here, we mean those who have a more relaxed aesthetic, which you can wear all day every day in warm weather, and which look good in all casual settings. Such as the Platform Sandal, for example.

These come with some sort of fastening or closure around the back, differentiating them from the classic slide option, but they are not any less easy to wear. Given their mostly athletic design, you can best pair them with tracksuits, jeans and shirts, and maybe even a jersey dress for a sporty chic look.

Flip-flop

The obvious advantage to the flip-flop is that it is, similarly to the pool slide, very easy to wear. No buckles, no complicated zippers or lacings – you just slide on a flip-flop and you're ready to hit the beach. They come in a variety of shapes and sizes and bedazzlements, but the one thing they all have in common is the toe post which goes between the big toe and the second toe. This might be uncomfortable for some people, but it doesn't take long to get used to it.

Flip-flops are the ultimate casual footwear style and are definitely not appropriate for school or the workplace, or any other setting where you're expected to be put together. Rather, this simple model is reserved for spur-of-the-moment walks by the riverbank, for the beach or the pool.

While they provide solid protection from hot asphalt and sand, from any glass on the ground and even bacterial and fungi infections in communal showers, it is important to know that flip-flops shouldn't be worn all day, every day. Usually, this type of sandal doesn't come with significant arch support, and wearing it for extended periods of time can lead to pain in the ankle, knee, and hip, and even more serious conditions such as flatfoot.
Comfort
This type of footwear is meant to be worn all day every day during the summer months. You can take your favorite slides to the grocery store, on a shopping trip, a walk by the lake, a stroll on the pier, even to a sightseeing tour! So it stands to reason that you want them to be comfortable. There's really no point in getting footwear that you're not going to be able to wear as much as you'd like.

With this style, there are several things to consider when it comes to comfort, and we're going to list them here.

Strap: Every sandal has a strap, or several, which wrap around the foot and help secure the design in place. These can be thick or thin, wide or narrow, crisscrossing, winding, plain or sparkly.
In regards to comfort, however, it is important that the straps are made from soft, flexible materials. Since you will most likely be wearing your shoes without socks, you need to make sure that the upper - or the straps - aren't hard and unforgiving, and that they don't dig into your skin or cause lacerations or blisters of any kind.
Footbed: The footbed is what comes in direct contact with your foot sole, and what largely determines the levels of comfort of a design. If you want to be able to walk around for hours on end, then you want the footbed to be cushioned or contoured, or even both at the same time.
Cushioned footbeds reduce the strain put on your feet and joints with every step, and make you feel as though you're walking on clouds.
Contoured footbeds are there to provide support, cradle the foot, and make sure that it doesn't overpronate. Contours are also great for arch support, which is essential in avoiding foot fatigue.
Weight: Lastly, because this is a style meant for the summer, to keep you cool and breezy, you may want to opt for something lightweight. A heavy design can wear you down, make it difficult to walk and even cause pain in the shins and joints. Save hardwearing constructions for clunky winter boots, and for the summer choose a design that instead brings a spring to your step!
Water Resistance
We admit that not all of the items in this guide are built to be worn in wet conditions. However, as this footwear style is primarily for places like the pool, the beach, the riverside and similar, we felt the need to include a section about water resistance.

We are not talking about waterproofing here; when a shoe is waterproof, it means that it prevents any and all moisture from getting inside to the foot, a quality commonly found in boots.

We are instead talking about footwear that is water friendly. Water friendly means that a design won't lose its shape or its characteristics when splashed by water. It won't stretch out, get discolored, fall apart, or otherwise suffer any damage if you happen to step into a puddle, or if your little cousin attacks you with a water gun.

If the design happens to be quick-drying at the same time, all the better!

So in case water resistance is important to you - if you are looking for a good option to wear around water - then definitely make sure to sort the items on our list according to this criterion. We do warn you, however, that the more stylish options - such as the Fenty Faux Fur, the Fenty Bow and the Creeper Bandana - are not meant for wet conditions.

Instead, the designs that are durable in such cases are the Divecat and the Popcat, which you can get wet without worrying about what will happen to them.
Traction
When going about your day, you are crossing over several different types of terrain - sleek indoor floors, rough asphalt, maybe soft earth, shifty sand, slippery tiles. It's not easy to keep your balance on all of these, and this is why traction is an important factor to consider when you're shopping for this type of footwear. You want to reduce the risk of slipping, skidding and falling and injuring yourself.

Traction is achieved through placing intricate patterns on the outsole of a design. These patterns, lines or grooves, increase friction between the outsole and the ground, and decrease the chance of slipping. The patterns come in countless forms - concentric circles, chevron-like, wavey, and many more. All of them ensure that you don't lose your footing when it matters.

The aspect of traction is especially important if you intend on taking your new shoes to the pool. Pools are usually surrounded by tiles, which get amazingly slippery when wet, and can cause all sorts of accidents. In order to avoid these, definitely pay attention to the levels of traction your new design provides.

If you are unsure whether or not your sandals will be good to wear on a particular surface, maybe it's best to leave them at home for the outing. Better safe than sorry, they always say, and we agree. Even if your footwear is incredibly stylish and will perfectly compliment your outfit, if you feel like there is a risk of you accidentally hurting yourself, it's better to play it safe.
Durability
The durability of a design is what we all focus on. Because we like a shoe that looks good, feels good, that can withstand wet conditions and won't let us slip and get hurt - but we also want to know how long this design will last. We're investing money in it, so it's only natural that we want to know how long we can expect to enjoy it.

Durability as such is determined by a myriad of factors, not least of which are the materials that go into the construction of a model.

Those made from genuine leather materials, such as the Creeper Bandana and the Leadcat Suede are one of the most durable options, because leathers are quite long lasting. Those made from synthetics are not as durable, as synthetic materials tend to crease, to flake or otherwise fall apart sooner rather than later.

Another thing which also decides the durability of a design is the construction itself.

Since this type of footwear comes with straps, we have to mention how straps are usually the first thing that goes, because the connections between them and the sole break down.

If you want a design that stands the test of time, then go for something like the Divecat, which is a slide made entirely in one piece. It has a strap, in a way, but it is not really a strap, and is, in fact, fused with the rest of the shoe. The strap can't come off, because there's no connection between it and the sole!

So to make sure that you are getting the most for your money, definitely look for high quality materials, such as leather and suede, and constructions which are more solid and sturdier than others. And you're all set!
Our Favorites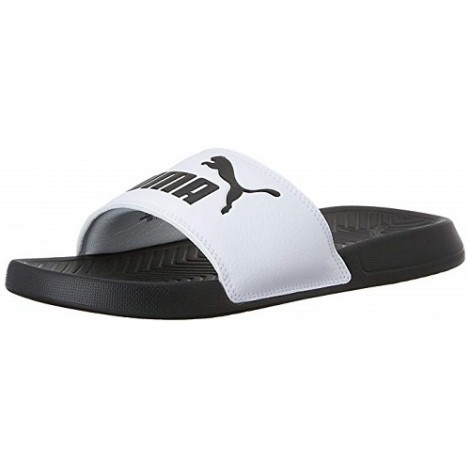 A Puma classic, the Popcat slide is a staple for that laid-back summer style. This is a simple design with a synthetic leather strap that should fit you snugly - not too tight and not too loose. It has an injection-molded EVA outsole, a chevron-patterned footbed for added traction and slip-resistance, and a large brand logo and name stamped on the strap. Truly, it doesn't get any more minimalistic or uncomplicated than the Popcat, designed to meet all of your easy summer footwear needs.
The strap of the Popcat slide is made out of soft synthetic leather which won't cut into your skin or leave you with any lacerations. What's more, this material is quick-drying, meaning that if your slides get splashed with water, you can rest assured they will be dry in a blink of an eye.

EVA is a material known for its shock absorbing abilities. This means that an outsole made out of EVA evenly distributes the force of your heel strike across the shoe, minimizing the strain put on your heel and your joints. Say goodbye to foot fatigue!

The Popcat slide is a staple Puma sandal design, one that is recognizable everywhere, and which serves its purpose as an effortless, no-nonsense model. It is easy, it is cool, and it is a great deal!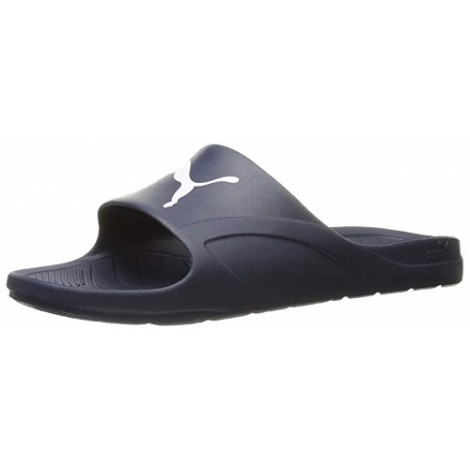 The Divecat slide is ideal for all of your swimming pool and shower needs. It is made entirely out of EVA, or ethylene-vinyl-acetate - from the injection-molded EVA upper and outsole to the anatomically shaped EVA footbed. It is constructed as one single piece of material, meaning that you won't have to worry about the strap coming off anytime soon. While the Divecat is not the most stylish of slides - as in, it leaves a lot to be desired in the fashion sense - it still has a practical use. It will serve you well when you have to pop out to the store, when you have to hit the showers after a workout, or simply for traipsing around the pool area as you cool off in the summer.
When it comes to communal showers - where fungi and bacterial infections lurk in every corner - it isn't the best idea to go barefoot. This is why simple, waterproof slides like the Divecat are useful - they protect your feet from nasty foot ailments while not hindering your shower experience in any way.

Even though the Divecat slide isn't designed to be worn for long periods of time, comfort is still a factor to consider. Fortunately, this model has a contoured footbed, meaning that your foot will be supported and comfortable no matter how long you decide to wear the slide for.

The Divecat is a pool slide you will love to wear in wet conditions. You will most likely love wearing it even in dry conditions. Admittedly, it doesn't look like the most fashion-forward of options, but it is sturdy, practical, and it is incredibly cheap. A great investment!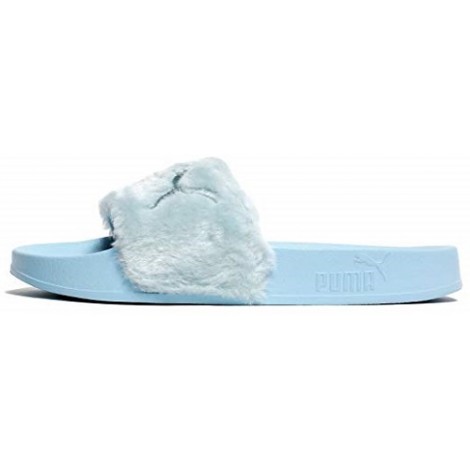 Whereas most other slide sandals from Puma look as though they're meant for soccer players in their downtime or professional swimmers loitering around the pool, the Fenty Faux Fur is anything but. This is a fun, flirty slide with a faux fur strap that has satin foam backing and a logo on top. It has all the hallmarks of the well-known Puma slide silhouette, including an ergonomic footbed and a durable rubber outsole. With the addition of faux fur, this entire design is elevated onto a different level, one that is suitable for going shopping with friends and drinking coffee at your favorite coffee place in your best-looking dress.
The strap of the Fenty Faux Fur is nothing short of heavenly. Not only does it look cute and adds a fuzzy dimension to your footwear, but it is also extremely gentle on your skin. The satin foam backing will make you feel luxurious and expensive, and won't cause any painful hotspots or abrasions.

Aside from being long-lasting, rubber outsoles also have another very important feature - they provide good grip on all types of surfaces. This means that you can go from sleek floors to rough terrain to water-splashed surfaces without missing a beat, safe in the knowledge that you won't slip or hurt yourself.

The Fenty Faux Fur is an undeniably fashionable pool slide - something that is hard to achieve - and one that everyone will envy you on, come warmer weather. You will absolutely love taking it out for a stroll day after day!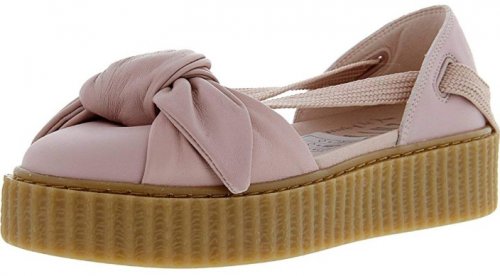 The casual sandal design is open-toed, but that doesn't mean that this footwear style can't be closed-toed as well. The Creeper Bandana is a refreshingly different addition to our list, in that it is made out of truly premium leather materials, and that its design is inspired by a ballerina shoe. The Creeper Bandana is feminine and flirty with its soft pink upper, but there is still something distinctly grunge about its creeper outsole.
The Bandana is made out of genuine leather. We love this material for its durability, breathability, and comfort, all of which make this design one of the highest quality options on our list. There is a cute bow accent on the front of the shoe, as well as an intricate lacing system that goes up the ankle, reminiscent of ballet designs.

The footbed of the Creeper Bandana is padded for bonus comfort, and the outsole is 1.5 inches thick. This elevation in height is a nod to the classic creeper shoe, which transports this otherwise cute design into something a little edgier.

Finishing off this look is a round toe silhouette which has plenty of room for your toes, and we honestly can't find a more comfortable closed-toe sandal than this one. The Creeper Bandana is fashionable and cool, and yet amazingly romantic at the same time. The best of both worlds!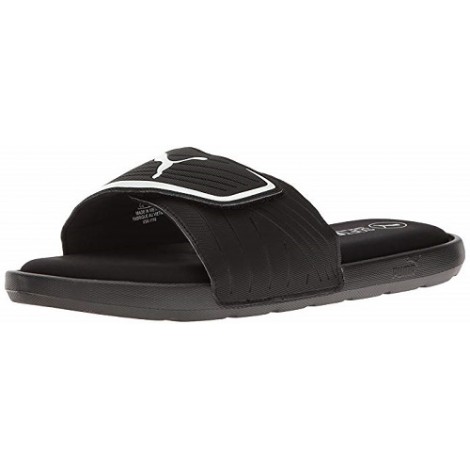 The Starcat Sfoam represents a perfect balance between comfort and style. This slide has a velcro strap for that customized fit, a memory foam cushioned footbed and an EVA outsole with grooves for grip. The strap is also padded on the inside to ensure maximum comfort and prevent any cutting into skin. Because of the memory foam, the Starcat Sfoam is not ideal for wet conditions, but it still an exceptionally comfortable slide which you can use as a treat for your tired feet after a long, exhausting workout at the gym.
The foam used in the construction of the Starcat Sfoam is actually called Softfoam. It is a mix of memory foam and classic breathable foam, and it provides you with the softest of walking experiences. This foam has incredible rebound properties and keeps your ankles and joints from feeling pain.

The Starcat Sfoam is not only addictingly comfortable, but it is also incredibly easy to fit into. Often we have trouble getting into sandals because they have a tight or a narrow fit. This isn't a problem with the Starcat since you can use the velcro strap to adjust the fit however tight or loose you feel comfortable with.

The Starcat Sfoam is a slide which offers a lot in terms of comfort and impact absorption, and you will certainly appreciate its customizing features. While it may not be suitable for the beach or the pool, it still a solid design to wear when you need something open toed and comfortable.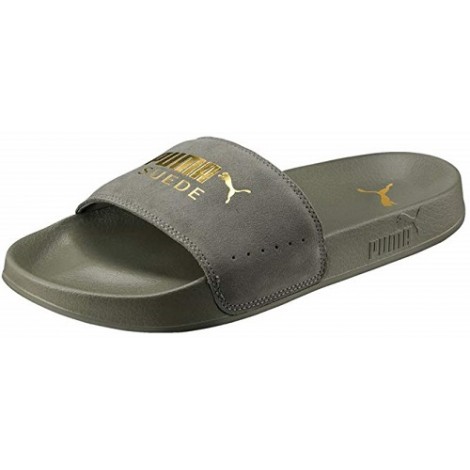 With the Leadcat Suede, the classic Puma slide design has been elevated to a new, classier level. This is mostly due to the strap, which is made out of genuine premium suede, with the usual logo and brand name stamped on top. The strap is also padded for extra comfort. The footbed of the Leadcat Suede is molded, and the outsole is made out of EVA for durability and grip. When you wish to throw on something a little more refined but still casual, feel free to combine your board shorts, tuxedo vest, and fedora with this high-quality pool slide.
Suede is a natural material - a type of leather with a napped finish - which gives that plush, luxurious feel to any product. Not only that, the suede strap on the Leadcat Suede is addictively soft on the skin, and in time it will take the shape of your foot, providing you with ultimate comfort.

If you can't be bothered to put on something more complicated, or don't wish to confine your feet to uncomfortable footwear in the heat of the summer, the Leadcat Suede is a perfect choice for a put-together, smart summer look. Upscale and yet still effortlessly casual.

The Leadcat Suede slide is made out of high-quality, premium natural materials. If you don't mind investing a little more money in your pool slide, the Leadcat Suede's quality and design certainly won't disappoint.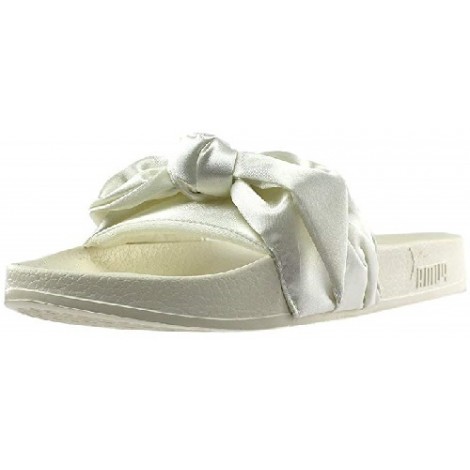 The word is that this Fenty collection was inspired by the decadent extravagance of Marie Antoinette. The period of her French rule was marked by luxury, lavish spending and somewhat inappropriate behavior. Puma and their collaborator Rihanna wanted to embody all of this in the Fenty Bow - and they succeeded! The well-known slide silhouette gets a glamorous touch in the form of a satin bow around the upper. There is also a satin foam backing, and a contoured footbed with the Fenty logo emblazoned on it. The pool slide has never been as sinfully elegant as the Fenty Bow, and in it, you will truly feel like a queen!
Thanks to this splendid material, the Fenty Bow has that expensive even sheen which comes from light reflecting off of satin fibers. Not only that, satin is amazingly soft to the touch, and you can be sure that this strap won't cause even the slightest discomfort, however long you wear the sandals for.

You will hardly find footwear which is this cute and flirty in appearance and yet so easy to get in and out of. Since this is a slide design, you can put it on literally in a blink of an eye, and it will make you feel supported and comfy all throughout the day.

Given the brand and the artist names behind the Fenty Bow, as well as the opulent elegance of satin in its construction, it is not surprising that this design is not a slide for the pool. Rather, it is a great lifestyle option to pair with cute sundresses and skirts, if you don't mind paying the extra buck.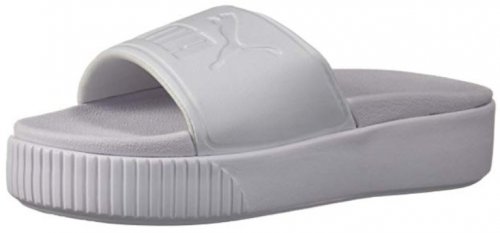 With the Platform Bold, the traditional slide design gets a makeover, mainly in the form of a flat platform sole that is almost two inches high. This offers both a boost in height and a boost in confidence, as you get to enjoy the classic creeper silhouette without sentencing your feet to confining footwear in hot weather. The Platform Bold is definitely a throwback to the 90s classic flatform designs, and we couldn't be more thrilled about it.
The Platform Bold has a strap made out of synthetic leather. It is lined with textile underneath for that gentle touch and provides you with all-day comfort. The brand logo and name on top of the strap are an iconic detail at this point.


The reason why the Platform Bold was named that and its most defining characteristic is definitely the platform sole. It is cushioned so that you can easily wear it day in and day out and has a textured toe bumper to protect you from toe stubs. While it may not be the most practical to wear to the locker rooms, the Platform Bold is definitely a design that you can take out on a casual walk around town.

The Platform Bold takes the classic silhouette and turns it on its head. We love a good flatform, as they have the same level of comfort as flat shoes, but come with added height. There is truly nothing you won't enjoy about this bold slide.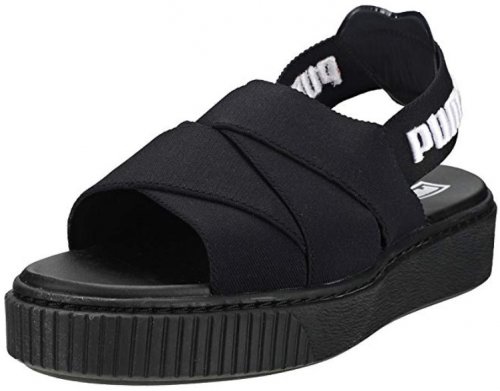 Most of the items on this list are slides, and while those are comfortable and easy to wear, we do like a little variation in our selection, and so we present you with the Platform Sandal. This design comes with a chunky sole about two inches high. It has an urban, casual aesthetic of a wrap-around textile upper, and a strap in the back to keep you secured in the shoe.
The Platform is made from lightweight, breathable materials. We're obsessed with the way the textile hugs the foot, keeping it safe inside the design, but also not constricting it or causing any blisters or abrasions. You may think that it doesn't look stylish, but trust us when we say that this design has everyone reaching for it.

The back strap of the Platform isn't adjustable, but it is made of elastic materials that will easily accommodate the shape of your foot. The footbed is cushioned, and the outsole is durable, to make sure that you stay on your feet wherever you go.

From famous fashion models to Rihanna to k-pop stars - many celebrities have put their mark on the Platform, and thus this option comes in several different versions, each one more alluring than the last. We love the laid-back vibe of these, and can't wait to try them out in the summer!




The Epic Flip V2 is a classic flip-flop. However, that is not to say that it is entirely ordinary and without its fair share of special features. This versatile, flexible design has a woven textile upper and a soft and pliable webbing toe post. There is a cushioned footbed for added comfort and a treaded outsole for good grip. The Epic Flip V2 comes in a variety of colorways, from the standard black and white to sea blue, scarlet red, and aqua green. It is a silhouette that everyone needs in their shoe closet, for when the summer heat becomes unbearable and all we want to do is lounge by the pool and soak up the sun - preferably with a cocktail in hand.
The straps of the Epic Flip V2 are made from textile, which is a soft material, one that doesn't rub your skin the wrong way. When you're wearing a flip-flop, it is extremely important that the toe post doesn't cause you discomfort, and fortunately, this isn't a problem with the Epic Flip V2.

The Epic Flip V2 is easy to carry around wherever you decide to go. These flip-flops are thin and incredibly lightweight, allowing you to pack them into the smallest of compartments in your suitcase or purse. Great for going from the office straight to the gym pool!

The Epic Flip V2 is a solid flip-flop, one that doesn't stand out so much in terms of design - except maybe when it comes to its vibrant color options - but which still offers you decent cushioning and comfort. If you're looking for something easy and simple, this is definitely a good choice for you.

Subscribe to our Newsletter