Best Supplements For Inflammation Reviewed
In a Hurry? Editors choice: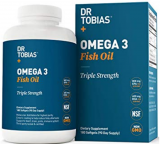 Test Winner: Dr. Tobias Triple Strength

Inflammation is the body's defense mechanism to damaged cells, pathogens, and other irritants. Although it is a natural swelling reaction to sickness and allergens, it can be painful and at time harmful to the affected body part. When faced with these types of swelling your body triggers a biological response to try to remove it.
When you suffer a sprain, the surrounding area flairs up to
protect the injured area
from further damage: however, prolonged swelling is inconvenient and a sign of severe physiological issues. Luckily, advances in nutritional science have brought us
anti-inflammatory supplements
.
These supplements exploit the anti-swelling properties of natural ingredients present in plants and animal proteins. Such products also contribute to general wellness and reduce dependence on dangerous opioid-based painkillers. Below is a list of the best supplements in the market and additional information that will help you make the most educated choice.
Standout Picks
Criteria Used for Evaluation
Materials
The ingredients used in anti-inflammatory supplements are the most crucial factor to consider.
These products contain various types of proteins, flavors, and stabilizers. There are too many components to mention many of which need technical explanations. Below are some of the most common and potent ingredients you can focus on when considering a product.
Turmeric is a common household herb found in most kitchen spice rack and is used to add flavor to foods and beverages - a bright yellow powder, curcumin that has proven powerful biological properties. Curcumin is the primary anti-swelling agent used in product such as Vimerson health.
Ancient Ayurveda medicine (traditional Indian therapy) recommends the use of turmeric to address various health conditions. Modern western medical research has also used turmeric extracts to treat chronic pain and swelling. This herb is more natural to assimilate into the nervous system and bloodstream for quicker effects and pain relief.
Omega 3 fatty acids are abundant in fish, especially cod and salmon. This component has many health benefits, which include the reduction of swelling. Omega 3 fatty acids are most preferred by many because of the proven results in the reduction of vascular inflammation.
Vascular Swelling presents a significant risk factor for strokes, heart attacks, and heart disease. Products like Dr. Tobias triple strength Omega 3 provide the right dosage and potency to reduce such risk factors. Such supplements also come with proper instructions on the packaging that prevent related side effects
Zinc is a potent anti-swelling agent with support for the immune system. Regular use of zinc significantly reduces most of the markers of inflammation. Zinc also reduces oxidative stress, which triggers swelling and increases the risk of a variety of health complications and conditions that includes cancer.
The use of such supplements that contain zinc also reduces the rate of infection by 66%. Use of such products can also address zinc deficiency brought by conditions like people with arthritis. If you choose to use such products, please note that zinc may interact with calcium, certain antibiotics, and diuretics, thus consult a doctor beforehand.
S-adenosylmethionine (SAM-e) is a compound created naturally in the body. This compound plays a vital role in the regulation of epigenetic genes. Doctors at time recommend the use of (SAM-e) to manage the symptoms of osteoporosis, depression, liver diseases as inflammation has a contributing role in these conditions.
Several studies have also cited the use of (SAM-e) is an effective drug for countering chronic pain and inflammation associated in conditions like arthritis. (SAM-e) S-adenosylmethionine is also a more holistic alternative to various opioid-based painkillers. Should you elect to use such therapy in swelling reduction avoid a high dosage as it may have adverse effects on the bowels that induce vomiting and diarrhea.
Black pepper is surprisingly effective at reducing swelling in the body. While it is not used directly for these effects, it provides an avenue for the effective absorption of other agents in these types of supplements. The use of black pepper in such products significantly reduces pain and discomfort.
When you consume black pepper, the digestive system excretes hydrochloric acid. This acid breaks down proteins and other foods at a faster rate. This acid secretion reduces the amount of work that your digestive tract does so it can focus on the absorption of other compounds present in anti-inflammatory supplements.
Ginger root extract reduces swelling in muscles and cools down all inflamed areas of the body. Products that contain ginger extracts are especially useful for users that go through lengthy training sessions. Like capsicum-based spices, it stimulates the digestive process, enhancing the rate of nutrient absorption.
This saved energy can be converted for other physiological functions. These functions include the reduction of swelling and muscle soreness. The effects of ginger are cumulative and may take a while, but they are amassed and long-lasting.
Chondroitin is a significant component of bone cartilage. The use of products that contain chondroitin as an ingredient prevents bone cartilage from wearing out. When chondroitin and glucosamine are combined, the effects may be enhanced to repair muscle and bone tissue damage sustained during physical activity.
Cat's claw is an extract of various Uncaria plants that include Uncaria guianensis and Uncaria Tomentosa. Research has proven the effects of this agent's ability to reduce different types of swellings. Cat's claw inhibits TNF-alpha a chemical that induces swelling in the body.
Effectiveness
What value does the product provide?
The most disappointing thing for most is when they spend money on a product and end up getting the results they wanted. Most of these products' formulation consists of the main component and other stabilizing or supportive agents. Research and clinical trials have proven that these additional ingredients strengthen the main ingredients.
This analysis means that one should look at this support and stabilizing ingredients when shopping for such products. Ingredients rich in macronutrients are hard to digest and assimilate into the bloodstream and muscle tissues. Active compounds like Bioprene and stabilizing fats like coconut oil are required to boost digestion and assimilation.
These active compounds achieve this by stimulating the secretion of hydrochloric acid in the stomach. This acid action ensures the proper breakdown and assimilation of the main active agents. From there, they get into the bloodstream and are delivered to the inflamed region.
Release Date
Product cycles and expiry dates are vital considerations.
When considering anti-inflammatory supplements, one should also look at how long the formulation has been in use. The formulation of a product is intellectual property and subject to a lot of competition and revision throughout its marketing and sale. Some formulations have been able to stand the test of time and continue to provide the required effects even as the years pass.
Other formulations are newer and represent the technological leap and innovation that goes into considering everyone's needs. Therefore, when choosing from the various options, one should also look at this aspect to know how much they can trust in a product. Older formulations are more trusted, and newer ones are more revolutionary, you can pick from either to ensure that the product you settle on meets quality and safety standards.
You should also ensure that the product you end up purchasing is not past or close to its expiry date. When ordering from an online vendor, insist on products that are between 6 and 12 months from the expiry date. The use of an expired product may be harmful to your health, and the potency of the active agents can't be guaranteed.
Use
These products have additional health benefits.
These products have formulations that promote better health and wellness throughout the body. Some components boost other physiological processes while enhancing the ingestion and effectiveness of the main element. These positive effects can be an extra reason to opt for a particular product over another.
Improved memory and brain functionality
These products contain components that ensure the principal-agent gets into the blood circulation and nervous system. Such actions enhance the rate of other nutrients into the same neuropathways, which would regularly not reach the same pathways. The absorption of the minerals present in a component like omega 3 has been cited to improve memory while enhancing cognitive capacities.
Enhanced motor functions
Specific components contained in this product improve muscle elasticity while repairing joints and bone cartilage. These components increase the release of synovial fluid to the joints, which makes mobility easier. If you think of joints and bones as gears and levers then, the synovial fluid is the grease that keeps them from wearing out when they sustain friction.
Improved digestive system
Specific components like black pepper enhance the digestive process to ensure that the other components are ingested. These components do this by stimulating the production of hydrochloric acid in the stomach. This acid secretion improves your metabolic rate and lessens the energy your body spends when on digestion of other foods and translates to better nutrition.
Less dependency on painkillers
These products target injury and sickness in the inflamed area directly. The components reduce swelling by addressing the root cause as opposed to just masking the pain receptors. This targeted action reduces the need to use painkillers when you are in distress and ensure that you heal faster.
Dietary supplementation
These days, people consume refined foods that are rich in carbs, sugars, and have high caloric content. While the food you eat can provide the energy you need, it may fail to produce enough minerals and vitamins. These products also come chockfull of these vitamins and minerals as well as an effective delivery system to ensure they get fully integrated into the body.
Side Effects
Some of the components may come with some slight to unintended adverse consequences.
The use of these products while you have certain preexisting health conditions may have some unintended adverse effects. When it comes to ingestible products reading the label to learn the specific content and use instructions is very important. When shopping online, you should also look up the manufacturer's website to find out more.
When in doubt, please consult a certified health practitioner. These small precautions will protect you from these side effects, some of which may lead to health complications. You should also stay away from components that induce allergic reactions.
Stomach upsets
Some agents in this product support the digestive process but can cause some irritation. Please stay within the recommended dosage to avoid the effects that may include vomiting, diarrhea, gas, and abdominal cramps. If you have preexisting digestion problems like ulcers or are on a low fiber diet, it may be wise to consult your doctor before using these products.
Blood thinners
Some ingredients, like fish oil, ginger, and turmeric have purifying properties that may make blood thinner and make you bleed easily. These ingredients lower your cholesterin and blood pressure. It is during this process that they reduce the thickness of plasma. If you have hemophilia or are currently taking blood-thinning drugs like Coumadin, please avoid product that contains turmeric and fish oil.
Stimulation of contractions
Curcuminoids and Bioprene compound contained in some of the formulations in these products may stimulate labor in pregnant women. Although there is little clinical data to support such a claim, there have been instances where these compounds were used to calm the symptoms of PMS. Therefore, pregnant women should use such products under strict doctor's instructions or avoid them altogether.
Flu-like symptoms
Some anti-inflammatory supplements may present users with flu-like symptoms such as chills, fevers, fatigue, and headaches. Such symptoms are common when you have mineral toxicity. Therefore, you may need to take a blood test in they present themselves. It is a great idea always to disclose the type of supplements you are currently taking when consulting a doctor to avoid further complications.
Lower good cholesterol HDL
Some components like zinc may lower good cholesterol while having little to no effect on bad cholesterol. (Good) HDL cholesterol clears cholesterol for blood cells, thereby reducing the risk of heart disease while preventing the buildup of plaque that clogs arteries. A dosage of over 30mg of zinc per day may cause such symptoms.
Altered taste buds
Some ingredients like zinc may cause hypogeusia, which creates dysfunction in your ability to taste. Exceeding the recommended amount may also result in a metallic taste in your mouth. The best way to avoid such symptoms is to avoid using chewable anti-inflammatory supplements that contain zinc.
Top-Rated Supplements That Fight Inflammation
1

. Dr. Tobias Triple Strength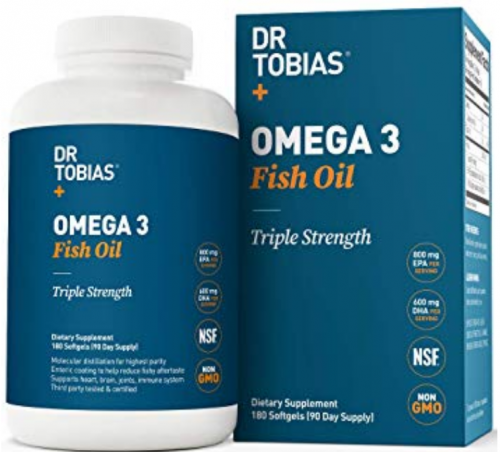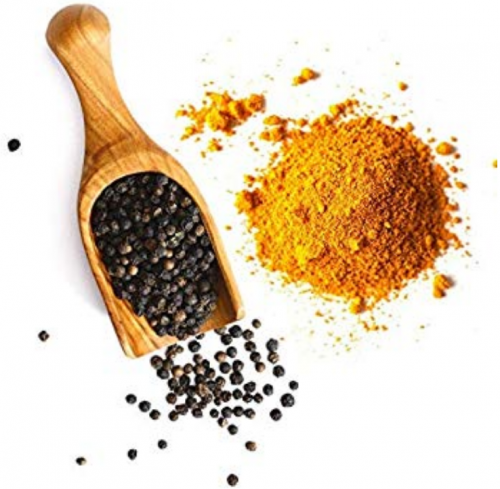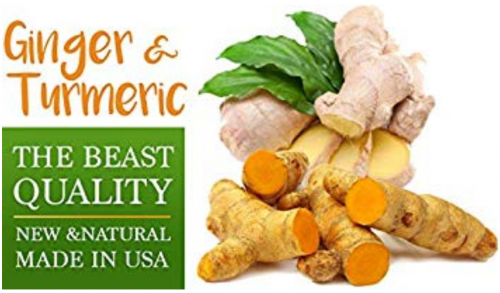 Dr. Tobias triple strength Omega 3 are non-steroidal capsules that deliver 800mg of omega 3 and other essential fish oils per serving. Dr. Tobias contains fresh fish oils sourced from wild-caught fish and contains three times more Omega 3 goodness in every dose. This oil is purified in a molecular distillation process that preserves the purity of the ingredients.
Unlike many fish-based products, these capsules contain zero traces of mercury and other heavy metals thanks to the distillation process. Each capsule contains a perfect balance of EPA (eicosapentaenoic acid) and DHA (docosahexaenoic acid) which enhance the absorption of omega-three into the body. Each bottle of Dr. Tobias strength delivers 1,400 mg of omega 3.
Dr. Tobias has also used an enteric coating on each capsule that ensures that they don't dissolve too quickly for effective absorption. The only drawback to this product is the soy-based material used to make the capsules. These capsules are the best way to get the benefits of Omega 3 and other essential fish oils minus the pungent odor and fish aftertaste.
This product was mostly found in specialty retail stores, but now you can only purchase it through online platforms. Unlike many similar products consumption of Dr. Tobias triple strengths not as cumbersome, you only take two capsules a day for a 2000 mg dose. This product is also cost-effective as it is more affordable than many Omega 3 dietary enhancements.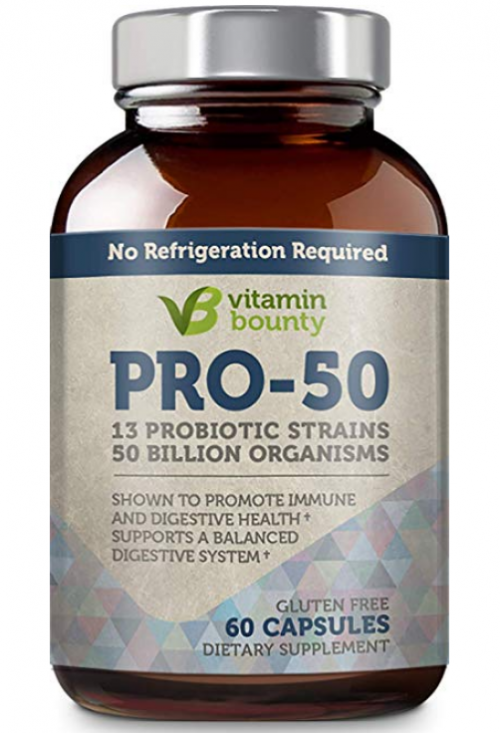 Vitamin bounty pro-50 is one of the best probiotics the current market has to offer. This product contains 13 of the most powerful and effective strains of probiotic compounds. These compounds come from natural sources for maximum results and holistic nutritional therapy.
These 13 strains include boulardii, longum acidophilus, Plantarum, acidophilus, lactis, brevis, casei, rhamnosus, salivarius, paracasei, bulgaricus, barium, as well as fermented greens. Vitamin bounty pro-50 has a 50 billion CFU formula. This concentration of probiotics packs everything you would need for a healthier metabolism and goes a long way in reducing any swellings.
Innovative Freeze-drying technology is applied to each of the strains for effective release and storage. This proprietary DRcap technology ensures a delayed discharge of biotic agents of a milder response and a sustained consistency. All of the ingredients are natural; however please ensure you check whether any can trigger an allergic reaction.
Women using this product can also benefit from acidophilus, which significantly reduces yeast in the body. Men that use it can enjoy better prostate health thanks to Plantarum content. This moderately priced product offers a complete 30-day course of two servings a day.

3

. Vimerson Health Turmeric & Ginger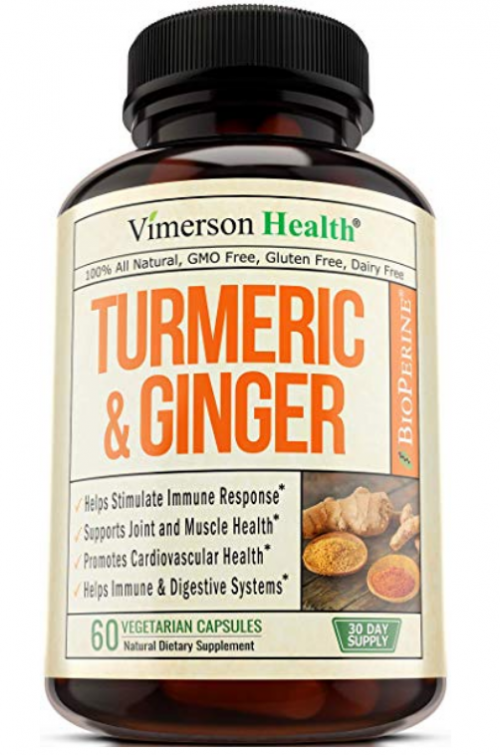 Vimerson health turmeric with ginger uses the power of natural anti-oxidants and anti-swelling components to increase lubrication in the joints. This product combines well with other mineral and multivitamin to ensure you get an immune boost. Consistent use of Vimerson health can be key to stronger joints, healthier muscles, cardiovascular health, and a more effective digestive system.
The formulation has 1000mg of Turmeric root extract, 10mg of Bioprene, 200mg of ginger and other curcuminoids. Turmeric is one of the world's oldest anti-swelling herb and has been in use for century's though-out Asia and now the rest of the world. The effects of this product are not only fast acting but also holistic and cumulative for long-term benefits.
The potent formulation has 95% standard curcuminoids that reduce swelling by at a cellular level. This formulation also contains Bioprene compounds (black pepper) that speed up the absorption into the lymphatic system to reduce swelling and provide relief. The black pepper components plus other all-natural additives ensure that curcumin assimilation is 2000 times faster.
Natural anti-inflammatory supplements like Vimerson health enhance overall health and while complementing all your physical activities. Athletes stand to gain from limber joints and more fluid muscle actions. You also benefit from having improved blood circulation, heart health, an enhanced nervous system, and support for healthier bones.

4

. Garden of Life Mykind Organics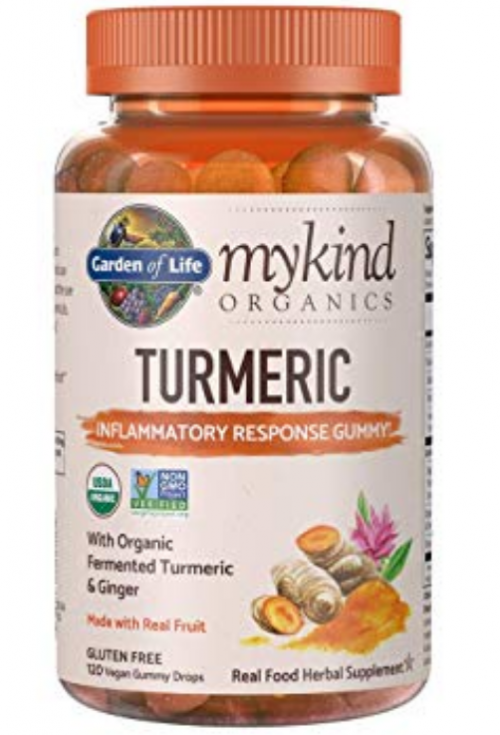 Garden of life has been at the forefront of providing quality multivitamins for all kinds of consumer needs. Their organic turmeric inflammatory response gummies are made from vegan approved organic fermented turmeric and ginger. These gummies also meet with USDA certification and are non-GMO to give you the real fruit taste with no gelatin or refined sugar additives.
Each gummy packs 50mg of standardized 95% curcuminoids that provide relief from swelling and associated aches. The formulation includes organic black pepper that ensures the formulation acts fast on inflamed areas for quick relief and healing. A light dusting of organic rice powder preserves the formulation and ensures it is not passed through the bowels before it assimilated into the body.
Aside from relieving inflamed tissues and joints, these gummies also boost the immune system and overall health. Therefore, you are encouraged to use this product on flu seasons and other periods of the year when allergens like pollen are saturated in the air. Adults take four gummies daily, and children aged four and above can also use this product under strict adult supervision.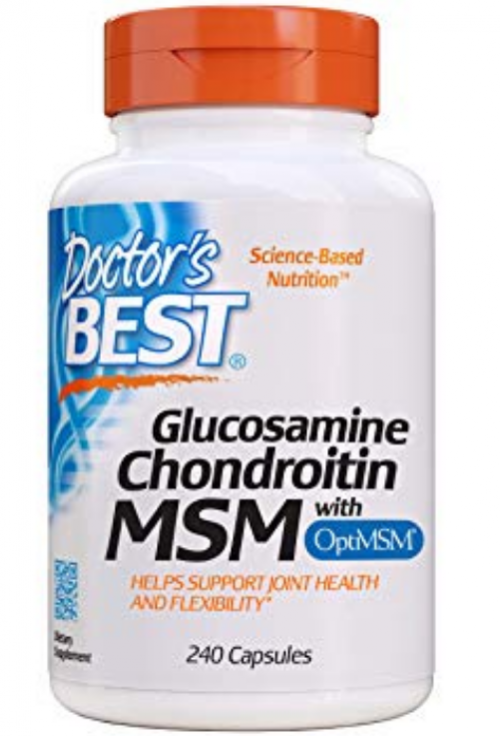 Doctor's best is a household name in this industry and have many top-selling products under its stable. You can also rest assured by the fact that real professionals developed and produced this product. Doctor's Best glucosamine chondroitin MSM is one of the best dietary supplements in terms of safety and effectiveness.
The manufacturer attributes this grand claim to the carefully balanced formulation and the well-selected all-natural ingredients. This powerful formulation acts fast to address the root cause of inflamed joints and the associated aches and symptoms. This formulation also enhances lubrication in joints as well as flash out other anti-oxidants and anti-biotic that cause discomfort in the body.
Glucosamine aids in the stimulation of healthy joints while chondroitin enhances joint elasticity and shock absorption capabilities. The MSM component provides sulfur that forms antioxidants a vital building block for nutrients in healthy and functional joints. This formulation enhances metabolic functions reducing the energy required for catalytic enzyme actions and regulation.
Doctor's Best glucosamine chondroitin MSM is highly recommended for athletes as it has a holistic way of addressing injuries and aches. This product's glucosamine component simulates the manufacture of proteoglycans that repair worn out bone cartilage. The combination of all these ingredients has been proven to enhance comfort even while in pain and support joint functionality and structure.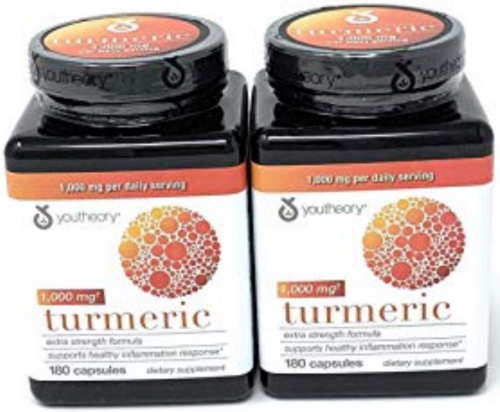 Youtheory is a company known for providing reliable products that enhance the health of the consumer. This claim comes backed by imperial data from scientific research. Youtheory Turmeric has various health benefits as that include easing inflamed regions of the body and aches in joints.
Their turmeric-based formula enhances the immune system as well as giving your skin a more supple appearance thanks to an olive-leaf extract component. The turmeric component also provides the product with a nice yellow color and an exotic aftertaste. This product's anti-oxidant and anti-swelling properties not only address the cause of the pain and discomfort but also enhance overall health.
A significant plus for this product is the absence of gluten, soy, and dairy content. This holistic formulation ensures that people with food aversions and allergies can use this product with confidence. Each bottle of Youtheory turmeric contains 120 tablets, and it is widely available on online vending platforms.

7

. Squeeze Dried Turmeric Pepper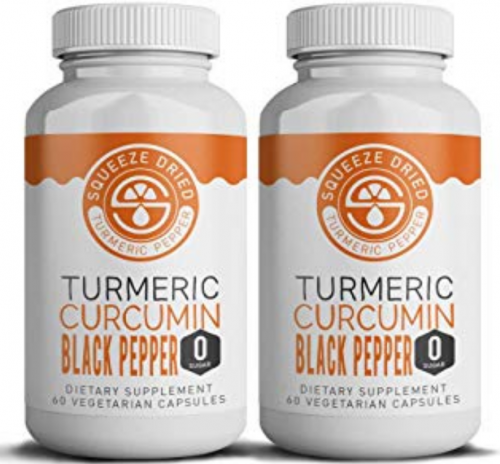 The manufactures of this product cater to users with fast passed lives that are prone to injury and indulge in some unhealthy habit. Keeping healthy is hard, and food lacks nutritional value; that's why squeeze dried curcumin with black pepper comes with an extra potent formulation. This formulation is 100% organic delivering 1500 mg of pure organic turmeric curcumin enhanced with peperone for quick absorption.
This formulation reduces swelling, enhances brain functionality and memory; it also relieves chronic back and joint pain. Aside from that, it also improves blood circulation and digestion as well as promotes healthier eyes, joint, hair, heart, and general mood. What's more, it packs quite a punch and won't mix the mark thanks to an extra-strength formulation.
The best thing about this product is that its claim to fame comes fully backed by scientific data from numerous independent studies. The all-natural formulation is GMO-free and contains no soy, dairy, gluten, hormones, or antibiotic compounds. The ginger used in the formula comes with authentic TRU-ID certification having gone through cutting edge DNA testing.
Thanks to the potency of the product, all one needs are two capsules a day swallowed with a glass of water for all these health benefits. Unlike most potent formulations in the market squeeze dried soothes digestion and prevents any violent allergic reactions. The manufacturer is so confident that this product comes with a 100% satisfaction guarantee or your money back.

8

. Nature's Way Ginger Root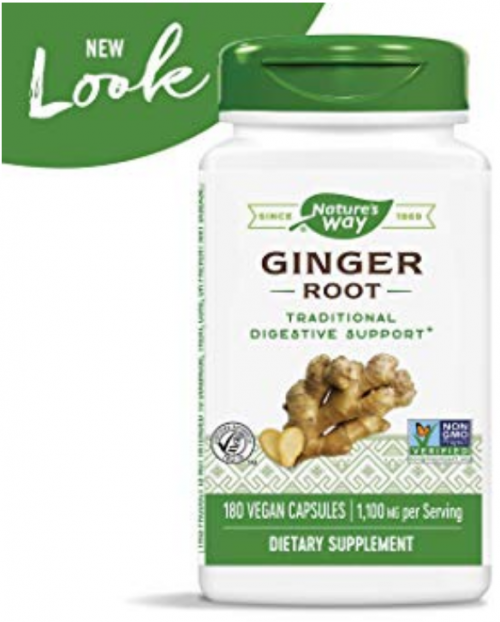 Nature's Way was born in 1968 out of Tom Murdock's (the eventual founder) desperate search for a way to improve his wife's deteriorating health. His search led him to take a leap of faith and turn to traditional Native American plant-based healing therapies. His wife lived for 25 more years thanks to his discoveries. These discoveries led to a new renaissance in herbal remedies that spread throughout the world in the form of over 1,000 herbal products.
Nature's Way Premium Formal Ginger Root keeps in step with this tradition with a practical, genuinely herbal formulation. Unlike many herbal concoctions out there in the market, this one works and comes with Authentic TRU-ID certified ginger. This formulation acts fast on inflamed regions while soothing digestion and promoting health in joints and ligaments.
The foundation is also a verified member of the Non-GMO project; therefore, you can rest assured of best practices in the avoidance of GMO components. Each capsule contains an effective dose of 1.1 grams of ginger, meaning all you need are two a day. This gluten-free and vegetarian option is plant-derived and contains no yeast, salt, soy, wheat, dairy, flavorings, preservatives, or artificial colorants.

9

. East 270 Turmeric Plus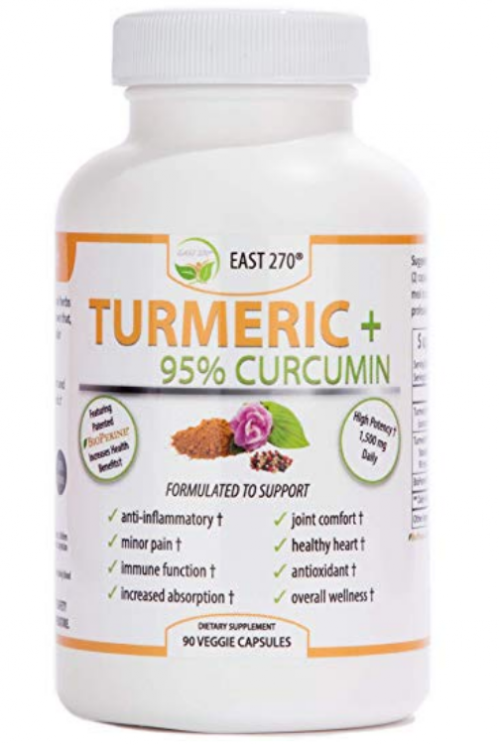 East 270 was born out of the frustration of two guys named Steve and Sean faced when searching for information on how to improve health. Their research and experience have helped many decipher the secrets of many natural ingredients. This information birthed a website and a plethora of all-natural health and wellness products.
East 270 turmeric plus packs the highest potency into 1500mg worth of capsules per bottle. These capsules are proactive in reducing swelling, chronic pain in the knees, joints, back, hips, and your extremities as well as the associated symptoms of conditions like arthritis. You can also benefit from an immune-response boost, anti-aging as well as an improvement in brain and memory functionality.
East 270 also contains a patented Bioprene component that dramatically enhances absorption and bioavailability of curcuminoids into the body. East 270 turmeric plus is all-natural and contains no additives, fillers or preservatives. This natural product provides a quality you can trust and is perfect for those that want to live a healthier and more active lifestyle minus the associated aches and pains.

10

. Golden Reason Turmeric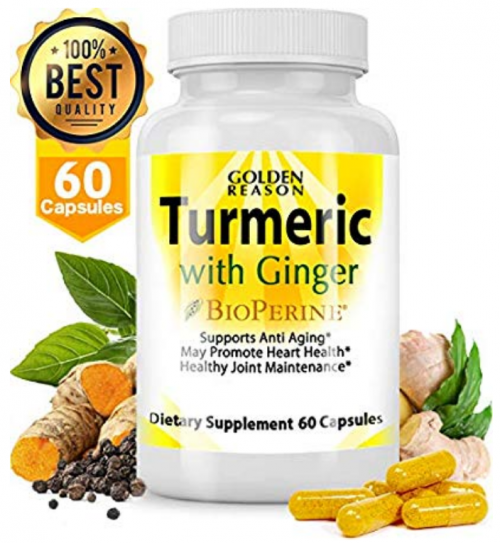 Golden reason is formulated by the most professional of doctors and research teams and is a product made in the USA. Its facilities meet with FDA approval standards. The manufacturer also adheres to the strictest GMP guidelines to ensure the highest product purity and quality.
Golden reason turmeric with ginger packs 120 premium-quality veggie capsules into one neat vial. These capsules carry a potent formulation that provides anti-aging and joint support. It also contains Bioprene compounds that ensure the formulation acts fast to relieve pain in inflamed muscles and joints.
This product provides a healthy and natural way to lose weight, and it also promotes the health of your heart. This product is made from ethically sourced Non-GMO ingredients making it sugar and gluten-free, making it vegan approved. This production standard ensures that consumers need only to use a small dosage for enhanced effects.

Subscribe to our Newsletter