Best Shoes for Back Pain Reviewed
In a Hurry? Editors choice: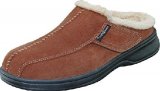 Test Winner: Orthofeet Asheville

Who would think that beyond style and plain comfort, there is more to think about in your choice of shoes? The consequence of a poor choice in footwear is not just limited to
blistered toes
or ankle dislocation as the case may be, but also the infamous back pain which according to the American Chiropractic Association, is the second most common reason for people's visit to the doctor. People with back pain, or those prone to it due to their activities, may be oblivious of the enormous impact a 'harmless
fashionable pair of shoes
' could have on their physical health, hence the passive decision when searching for, or purchasing them. It is simple – the body simply runs a chain-like reaction and improper footwear can cause pain to travel from your feet up to your back. That is why our experts reviewed 10 best shoes for back pain.
Standout Picks
Criteria Used for Evaluation
Comfort
Cushioning is essential to protecting your feet from injury, but it also protects your ankles, legs, and back. Consider Newton's third law of motion, which states that every action has an equal and opposite reaction. This means that each and every time you take a step, you are pushing down on the ground and the ground is pushing back against you, which allows you to propel yourself forward. The Law of Conservation of Energy states that energy cannot be created or destroyed. As such, energy has to transform from one form to another. There is a lot of force generated by each footstrike and that energy has to go somewhere; it doesn't just disappear.
As you walk or run, you are converting energy stored in your body into kinetic energy, which allows you to move. Then, that kinetic energy is slammed down into the ground, which pushes back with just as much force. The energy travels as shock through your shoe to your foot to your ankle to your leg and finally to your back.
Cushioning cannot eliminate shock, but it can change the way that it is distributed and prevent more of that shock from running your legs to your back, which will reduce back pain. However, as great as most forms of cushioning can be, not all kinds of cushioning are effective or useful for reducing or eliminating back pain. Padding in the upper of your shoe, for example, can make the shoe more comfortable, but it doesn't absorb the shock from each footstrike.
Insole
The insole or insert of your shoe needs to provide ample cushioning without hindering the flexibility or support features of the shoe. Many shoe manufacturers use EVA, or ethyl vinyl acetate, memory foam in their insoles, but they also use polyurethane and other kinds of soft, responsive foams. Each can be effective, but EVA is used the most often.
When you are shopping for a shoe, consider the areas of your shoe that experience the most wear- those areas are the areas that need the most cushioning, so look for a shoe with an insole that meets those needs.
Some shoe manufacturers and models come with removable inserts, so you can replace them with custom orthotics if you need to, but it would be less expensive to find a shoe that has the appropriate amount of cushioning for you.
Midsole
Midsole cushioning is wedged between the insole and the outsole and is often made with EVA foam. These units are never replaceable, so the midsole units are usually made of more durable materials so the shoe lasts longer. These units often offer the most bounceback and responsive cushioning.
Outsole
The outsole of the shoe provides shock absorption, as well. Specialized air pockets can be placed in the heel, which further reduces the shock from each footstrike and it feels like you're walking on air, too!
Specialized Cushioning Locations
Sometimes you need more cushioning under your arch or beneath your heel. These midsole or outsole units help to absorb shock and provide some support for your arch and heel. Not all shoes come with either or both of them, so bear that in mind if you need extra arch support or if your heel suffers a lot of painful impacts.
Support
To promote normal pronation and supination, many shoe manufacturers use different support features to reduce this resulting from abnormal pronation and supination. Most shoes that offer the most support are stability and motion control shoes, but sometimes these don't offer enough shock-absorbing cushioning and can still result in injury and discomfort. So, make sure that the support is positioned exactly where you need it before you invest in the best shoes for back support.
Consider your arches. Do you have a high, normal, or flat arch? The simplest way to determine this is to place a sheet of paper or a towel on the ground, get your foot wet, and then step on the paper or towel. If the shape of your foot on the paper is very thin and skinny in the middle, then you likely have a high arch and we recommend these types of shoes or particularly shoes for high arches. If you have what looks like a complete outline of your foot and the middle of your footprint is as wide as your foot, then you likely have a flat arch. If your footprint is somewhere between those extremes, then you likely have a normal arch. You're more likely to have problems with pronation if your arch is high or flat. If you have a high arch, you're more likely to have problems with overpronation and under supination, whereas a flat arch would cause you to have problems with under pronation and hyper supination.
Arch Support Units
Usually, an arch support unit is placed in the midsole section of the shoe and takes the form of a firm EVA foam wedge, but can also take the form of foam pillars or a midfoot shank made with thermoplastic polyurethane. Some shanks extend from the edge of the forefoot to the heel, providing both arch and heel support at the same time.
Heel Support Units
Heel support units can be found in the outsole or midsole sections of the shoe. They can take the form of a firm EVA or another foam wedge, but they can also come in the form of a thermoplastic polyurethane ring encasing EVA foam, which provides support and shock-absorption at the same time.
Other Forms of Support Units
Other forms of support found in good shoes for back pain include synthetic or leather overlays or firm upperparts, but these rarely affect you. The exception to this rule would be a firm back of the shoe, which can help to stabilize your step.
Flexibility
Flexibility serves as the opposite of support, but they do not necessarily negate each other. In fact, the best shoes for relieving and reducing back pain have a healthy combination of flexibility and support which team up to provide you with a comfortable step. A flexible shoe can prevent injury and discomfort. Imagine a wooden baseball bat. A baseball bat could splinter if you hit it on something hard enough. A bat made of plastic can bend more without splintering if you hit it on something. Depending on the type of plastic, it may not splinter if you hit it on something too hard. With these examples in mind, imagine running hard in a pair of shoes that won't bend or flex. It could lead to a serious injury because the shock cannot be dispersed through the shoe and back to the ground without affecting your feet, legs, and back. Now imagine a shoe that is firm enough to support you, but flexible enough to allow natural foot motion and disperse shock. The second shoe is more comfortable and safer to wear.
Flex Grooves
Flex grooves are strategically cut into the outsole to provide more flexibility and give. These flex grooves are also good for increased traction and grip on the shoes, which further reduce your risk of injury and back pain.
Outsole Materials
The outsole material can improve the cushioning and shock-absorbing properties of the shoe, but the outsole material can make the shoe more or less flexible. Rubber and synthetic outsoles are the most flexible and, thus, the best for reducing shock and discomfort.
Flexible Uppers
Flexible uppers are important, too, though they don't affect you as much as flex grooves or the outsole material. Flexible uppers do, however, protect the top of your feet from painful rubbing and pain, so it's important to consider, as well.
Traction
In terms of reduction or elimination, traction isn't as important as the previous entries on this list of criteria, but traction is still important. Wearing shoes that don't properly grip the ground and provide you with the traction you need can result in a painful slip or fall and falling can result in discomfort or injury. So look for shoes that have good tread patterns that allow water to slip between the grooves to escape so you don't slip stepping in water.
Look for tread patterns and outsole parts that are diverse and moderately deep to improve your grip in every terrain. A shoe with a flat outsole will do little to prevent you from slipping and falling, so it's in your best interest to find a shoe with a diverse tread pattern.
Breathability
Temperature management doesn't have an effect on you, but it can reduce foul odors, prevent athlete's foot and other foot fungi, and reduce the occurrence of blisters from heavy sweating. Managing the temperature of your shoes can really increase your quality of life, as these things are quite unpleasant.
Look for shoes with mesh uppers or perforations in the sides, which allow for increased airflow. The increased airflow will cool and dry your feet. This will allow you to walk or run more comfortably while having your feet be dry will protect you from blisters. Open toe and open back shoes, as well as sandals, are great for keeping your feet cool and dry.
10 Best Shoes for Back Pain
Many will agree that the Brooks Ghost 11 is the best pair of runners currently available for purchase. With a perfectly balanced amount of cushioning and support, these boast numerous comfort features that are meant to help you reach all your goals. Made for road running, with neutral support, this is an excellent choice for those with normal arches, who value a good, breathable fit that molds to the foot, a responsive ride, and a flexible outsole that provides the required traction in all weather conditions.
One of the best things about Brooks shoes is their responsive cushioning that gives just the right amount of softness but is still supportive, which is important for those bigger runners who need something to hold their weight. Especially important is the DNA Loft heel crash pad that'll save this part of your foot from hard landings, and that'll disperse the shock to provide smoother transitions, ultimately providing you with a stellar amount of energy return.
Made with specially engineered mesh, the Ghost 11 features both stretch and structure to give you a fit that'll adapt to your foot shape, but that'll provide a good amount of support and a locked-in feel, without sacrificing flexibility.
Another great shoe from Brooks, this model is a perfect choice for those with back issues as it is well-cushioned, highly responsive with full-length segmented crash pad. That is why we rated them as our best sneakers for back pain on the list.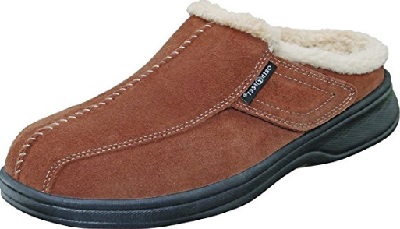 The option of having both comfort and style comes uniquely presented with these velvety brown slippers. They not only offer anatomical arch support to enhance a proper gait, but also a cushioned and softly padded interior that provides your feet a deep comfort that alleviates pain both for your toes and heels
The lightweight sole with air cushioning enables softened steps which in turn add some spring to your step when you walk - call it the feet shock absorber.
This slipper offers the option of re-inserting a new insole of your choice if you ever think of replacing the factory fitted ones with a custom orthotics of your choice. For so much ease, comfort and cushion all in one piece, complemented with loads of positive reviews from product wearers, the cost of these slippers is rated a little over average by buyers, but also viewed as worth the price for the service it provides.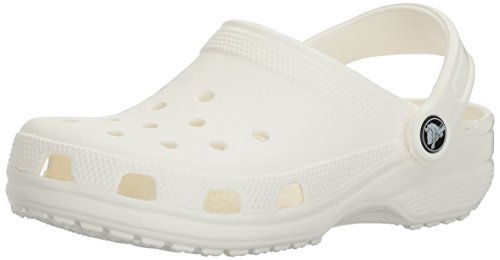 Our feet need as much air and comfort as our body desires during those sunny days. The classic clog from Crocs is an absolute summer delight for your feet without compromising your comfort and total gait. From its well ventilated upper to its wet-dry material, this footwear gives your feet the perfect companion, leaving your back without discomfort.
From its ventilation ports that create breathing room for your feet to its pivoting heel that provides a secure fit around your feet, you have yourself a beautiful summer companion in these sandals.
Produced from Croslite material, these best sandals for back pain provide a soft, lightweight, buoyant, odor resistant and super-grip sandal hence making it suitable for specialized or recreational uses such as hiking, boating, gardening or swimming.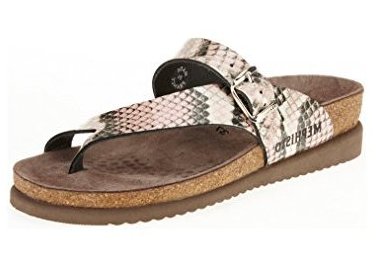 The Helen Thong from Mephisto gives you the perfect blend of casual style and comfort. From its upper design made of leather to its well-contoured shock-absorbing footbed, and non-slip rubber soles that add an extra spring to your steps, this is a perfect summer sandal for anyone.
This sandal incorporates a cork/latex footbed as well as soft-air technology, to provide cushioning support and comfort for a long-distance walker. This sandal from Mephisto gives you over 40 colors and patterns to choose from, giving you the ability to find the right look for your personality and wardrobe.
Providing your arches with every inch of support, this is a sandal that is worth every penny. While it may be out of some budgets, the look, style, and comfort of this shoe is one that is certainly worth checking out regardless of price.

KEEN's Rose Sandal comes in a variety of lovely colors and is designed for outdoor use. The straps form a supportive but comfortable cage to reduce your risk of injury. It comes with a TPU shank and rubber outsole for support and with a cushioned heel and EVA footbed for shock-absorption to reduce the shock which can cause discomfort.
This lovely sandal comes with a thermoplastic polyurethane shank placed beneath the arch to provide the wearer with arch support. This helps to reduce shock and helps to increase stability.
This sandal comes with a powerfully cushioned heel, which helps to absorb shock and painful impacts, which reduces the amount of shock that travels up the leg to the spine. This stylishly comfortable sandal that helps to reduce discomfort can be found in the low-to-upper price range. Be sure to shop around for the best deal for it, though. You will see why these are on our list of best shoes for back pain sufferers.
One of the greatest running shoes of all time, you'll run better than before with this updated, evolved lightweight model. What makes these great for discomfort is their ability to properly align any foot pronation that can give you a discomfort causing an imbalance. The 25 has an enhanced midsole for a ride that is stable and energized. The technology updates this shoe has been equipped with give you a high performance that doesn't decrease comfort and fit.
The midsole is constructed with this technology to give you an even greater bounce back. It's also much lighter than your industry-leading EVA and has properties that provide cushioning and durability. You have the superb protection of the underfoot and an energy return that is very high. The upper is has a multi-directional construction of mesh that is stretchable. There are also reinforcements within the stretch to give you better foot adaptability. You'll have a fit that feels like a glove.
Kayano 25 runs high with an average price being on the higher side. The price, however, is well worth it when you consider the technologies (the ones we listed barely scratch the surface) and the long-standing popularity. Don't skip out on top quality that has been proven over and over again because of the price. There's a reason why these shoes are usually a runner's first choice and one of the best shoes for a bad back.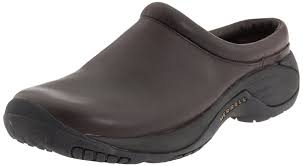 This is a little bit of a switch-up from the other designs by this brand. While leisurely activities such as hiking are great, we wanted to give at least one professionally-styled option. The Encore Gust is a fantastic slip-on that can be used by many who work in a professional capacity. Those in the medical field will fall in love with the comfort, traction, and understated class that the Encore Gust exudes. We know those internships and rotations get rough, so let the Encore Gust take a load off of your weary feet.
Are you a doctor constantly on the move? Or perhaps you work in a lab drawing blood for a living. Either way, you're going to need the right pair to get you through those days your back is killing you. Slip-on designs are perfect because you waste little time getting them on and off. We're well aware that many students on rotation will catch a few winks in a designated room when they can... but when you wake up you need to be ready to go at a moment's notice. Slip-on shoes give you this ability. You're also going to love the traction and durability provided! These are definitely one of the best shoes for degenerative disc disease and other back issues.
When you're on your feet working all day, you need to slip into something that can help you get through. Having the right pair on your feet can mean a world of a difference! The Encore Gust is crafted with some of the best technology in comfort on the market today. From the padded collar to prevent chafing to the air cushion that absorbs shock to the compression-molded EVA foot frame, the Encore Gust wears with your comfort in mind.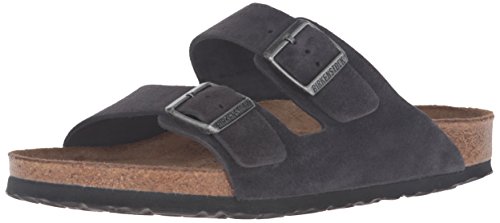 The high quality, thick suede sandals from Birkenstock, which comes in about eight different colors, emphasizes simplicity with comfort. Made of leather, it gives room for your footwear to mold to your feet, a super soft and comfy footbed that enables an even distribution of your weight on your feet and ultimately giving your back the optimum support.
The upper suede fabric ensures your feet feeling secure from unwanted sting and bruises typically associated with harder materials. Pair up with fuzzy socks during the chilly winter or just slip them on comfortably on sunny days, there is absolutely no limit to how much comfort you can derive from these amazing sandals.
The monetary value of the Arizona soft footbed is steeper priced, compared to the regular footbed or other sandals on the list. The average user, as gathered from product user reviews, may not consider taking back their money on this one, for all the purpose it serves.




Orthotic users will find this footwear a go-to, as it offers comfort with support for outdoor activities. This podiatrist-designed sandal is built to give stability through its deep heel cups that align the feet to their natural position.
For someone whose job includes standing for long hours or walking long distances, this Vionic sandal is built with the perfect arch support to give your feet a double dose of comfort and support.
The Vionic Tide II gives you the luxury of playing around the water on those sunny days without compromising on the durability of your sandal, thanks to its rubber but rigid soles.

10

. Brooks Addiction Walker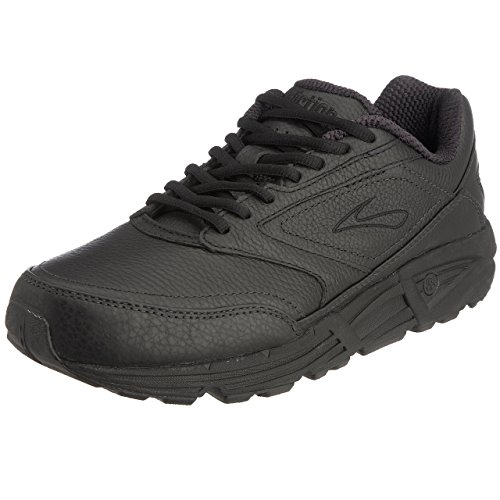 Built to provide every inch of support needed for your arches, and manage overpronation of the feet, this walking shoe (which subsequently gives your back the best stability and posture) will turn out your favorite go-to walking companion as you go about your daily activities. With its upper velvety nubuck or full-grain leather, you don't have to worry about wearing out this walking shoe so soon, as it provides durability along with its comfort.
The additional placement of dynamic gooey fluid units in the forefoot and heel area provides an ideal shock absorber for the feet; alongside the HydroFlow technology which improves the midsole cushioning.
Its style and shades of color it comes in - black, brown and white - make it an easy option to wear with various types of outfits. For a shoe that offers versatility, durability, and comfort all at once, it is a fairly priced running shoe and many customers say these are the best shoes for scoliosis. It is no surprise that it has tons of positive reviews from both long and short-term product users.

Subscribe to our Newsletter