Best Remedies, Treatments and Supplements for Muscle Cramps and Muscle Pain
In a Hurry? Editors choice: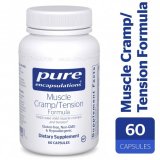 Test Winner: Pure Encapsulations

Almost everyone gets some sore, fatigued, and tense muscles at some point in life. If you are active you may have common experiences with muscle soreness after your training sessions, and the ability to help soothe those symptoms allows you to function normally after your workouts and get back into the gym for your next sessions. Acute muscle soreness that doesn't require professional medical intervention can be easily soothed with some over the counter options. From holistic formulations to traditional pain relievers, or topicals, there are quite a few options you can try.

We put together a list that looked at all the very best products from drinks, to pills, to topicals. We evaluated our picks using potency, accuracy, safety hazards, side effects, and ease of use to establish the baseline in evaluating each product.
Standout Picks
Criteria Used for Evaluation
Potency
While OTC medications are going to be on the safer side since they are widely sold to the public without a prescription, that doesn't mean they come without consequences. Some individuals may still be sensitive to the ingredients that are used in these medications and it is important to understand your body and if you are one of these special populations. If you know your body well and understand your sensitivities you can better choose which products or methods may be the healthiest and safest for you. Additionally, while ingredients may be suitable for you, dosing may not. Some individuals cannot take full doses while others will need the full dosing in order to find relief.
When it comes to sensitivity to aspirin, for instance, these individuals may also have issues with most non-steroidal anti-inflammatory drugs which go by the abbreviation NSAIDs. Ibuprofen is in the NSAID category, naproxen sodium is as well. If pain relievers like opioids don't work out well for you, then it is best advised to stay away from NSAIDs.
If you aren't sure about if a medication will work for you, if the ingredients are suitable, or if the potency is acceptable you can always consult your health care provider. These professionals know your medical history, understand the complex physiology of your body and they also have access to any other medications you are taking which could also impact the OTC medications that would be safe for you to try.
Accuracy
Once you have identified and understand where and why you are having pain or discomfort, in addition to knowing what ingredients and formulations are safe for you to make finding the right products that will target your symptoms will be much easier.
1. If you have aches and painful swelling, ibuprofen is a good option. One group of pain relievers that are non-steroidal and anti-inflammatory also known as NSAIDs include ibuprofen. This is also a great option for headaches and it can even be helpful for inflammation and stiffness in your joints, or tense muscle discomfort. It is also helpful in lowering your fever. Not only can ibuprofen minimize pain and reduce swelling but it can also help you with your comfort level. As little as 200 mg per dose may do the trick, but if you need a bit more, you can take up to 400 mg in a dose. Should your pain continue throughout the day, you can take this medication up to four times in a 24 hour period.
Pairing with a meal helps this medication work more effectively. These guidelines are meant for adults, special populations like children, however, may have varying dosing, so please make sure to check the directions before giving to anyone that isn't a healthy adult.
Ibuprofen is not without side effects for some, and these can include abdominal discomfort, gas and bloating - and that bloating may manifest itself in belching. You may also experience indigestion and that can also be associated with flatulence. Nausea, as well as vomiting, may occur for instances in which your body is feeling effects of toxicity and needs rid the medication. Those with kidney problems should keep their distance from this medicine.
2. Most anything that causes your body acute pain can be relieved with the use of aspirin. It offers a general numbing ability and it can also be found in the NSAID category of pain medications. Used primarily for headaches as well as muscle tension and discomfort, this medication is able to additionally lower high temperatures associated with fever. For healthy adults, the range for a dose can be 300-600 mg. If you need more than one does in a day, you can take up to four doses in a 24-hour period.
Side effects associated with aspirin include digestive issues such as diarrhea, constipation, and indigestion. Other negative reactions could include head pain, an upset stomach that could also include committing. Bloating and gas are often associated with negative side effects. Children under 19 should avoid it. Reye's Syndrom has been associated with the use of aspirin in younger children. Those with asthma should be careful of its use due to potential allergic reactions or increased severity of asthma symptoms.
3. Extended relief of pain symptoms can be alleviated with the use of naproxen sodium. Yet another NSAID, this one will also help with pain discomfort and swelling. Great for those suffering from pain that occurs as a result of conditions like arthritis or sprains. Even the sting of sunburn can be quelled. Debilitating menstrual cramps may also be subdued with this medication. Because of it's the ability to last a longer amount of time, you may end up taking less in dosage and amount per day than you would with other pain relievers. Healthy adults are looking at either 250 mg, 375 mg, or 500 mg doses. As long as these doses are taken at evenly spaced increments, you can have two rounds in one day.
Like many of hte other options stomach discomfort with associated constipation, diarrhea, and gas can result in side effects.
Additionally, be aware of heartburn, upset stomach, and vomiting. Some individuals may lose balance and become dizzy.
4. Need to stay away from NSAIDs but still need effective relief? You need to get your hands on acetaminophen. This analgesic can relieve pain but it is not helpful for the reduction of inflammation. For this reason, it is not as effective for muscle cramps and pain or sprains. It is much better geared towards the relief of symptoms associated with osteoarthritis particularly in those at an advanced age. Nerve and stomach pains are also effectively treated with this option.
You should take this medication with water and at the intervals that are advised by either your doctor or are indicated in the directions. Side effects can include nausea and head pain.
Safety Hazards
Always make sure to read the labels and understand the active ingredients which make up the medicines so you can avoid potential overdose which can be deadly.
Combining medications is never recommended unless your physician is giving you the dosing and the directions to do so, do not combine ingredients alone. There could be overlapping in the ingredients from one product to the next. This could result in accidental overdoses if you aren't careful.
An example of this would be taking a dose of Motrin followed by a dose of Advil simultaneously. Both of these medicines are ibuprofen and they just come to you with differing brand names. Another example is taking Alka-Seltzer with aspirin thinking that they are both different is a complete mistake because you may not know this but Alka-Seltzer has aspirin formulated in it.
Avoid aspirin, ibuprofen, and naproxen in your system simultaneously. Should you have the need to take baby aspirin for heart issues, this could be one exception.
Side Effects
There are some common conditions that limit the use of OTC medications certain individuals and special populations must be aware of. Some of the conditions that can be limiting include:
Kidney disease
Heart disease
Pregnancy
Nerve conditions
Asthma
Liver disease
Alcoholism
Ulcers
Stomach or intestinal bleeding
Bleeding disorders
Should you have any of these, take special care with what you take. Speak to your local pharmacist when you are in your drugstore and deciding which product would work best for you, or simply make an appointment to get confirmation on what is safe with your doctor.
Keeping in mind the medications you are currently taken can also determine what is safe for you to take from the OTC options. Blood pressure medicine can interact with pain relievers, for instance, rendering them either less effective or toxic with side effects. Also, medications that are taken for blood thinners, ACE inhibitors, diuretics, and lithium could cause potential interactions with OTC pain products.
Ease of Use
Let's be serious, no healthy and well-adjusted individual wants to spend the day popping pills. The easier it is to get relief the better. Some products require that you take a couple of pills multiple times a throughout the day to help keep the alleviation of inflammation or pain at bay while others can be taken less and have a longer duration of potency. If you are able to take fewer pills per day you can streamline your daily routine much better and you don't have to worry about being stuck somewhere without your pillbox in order to continue operating pain-free.
The other factor that contributes to ease of use is actually how you take in the medication. There are many people who have a hard time swallowing pills. For this reason, those options that provide a much smoother or easier way to ingest are going to be much more suitable. Some pills have a capsule with powder inside, that allows those who can handle pills to swallow easily and for those who can't, the ability to pour the powder out in the water and drink may be another feasible option. Some formulations can dissolve in the mouth so swallowing is unnecessary. Many gel capsules smooth outer shell allow them to go down the throat a bit smoother. The ease at which you can physically ingest the medication can play a big part in its effectiveness because you aren't going to get any benefit from a medication you can't take in.
Best Medicine For Muscle Cramps


The electrolytes magnesium, calcium, and potassium are well-known for helping maintain and preserve healthy muscle contractions and reduce cramping in muscles. Pure Encapsulations supplements for muscle cramps and muscle pain take advantage of this scientific evidence and puts it into their therapeutic formulation targeted for improved leg comfort. Specifically, if you suffer from nighttime issues which is a very common time that legs can act up and distract from a restful sleep, this medication can help you sooth those issues with botanicals lemon balm, passion flower, and chamomile which together help with muscle tension and promote relaxation.
Relaxation combined with leg comfort and support is found here with these refreshing botanicals and the electrolyte elixir. This is a muscle cramp and tension relief formula that can really help during the night. If you are hesitant to take combination concoctions, this product provides some ease of the mind in that they formulate their products with research-based ingredients and combinations. Their products are hypoallergenic using pure ingredients that offer predictable results safe enough for even the most sensitive of patients.
No need to worry about wheat, gluten, egg, peanuts, magnesium stearate, hydrogenated fat, artificial sweeteners, and colors, or any other fillers because these products never use them. If you want a more natural option to help alleviate cramps and especially if you have been struggling to get a good nights rest because of it, this is the one to try.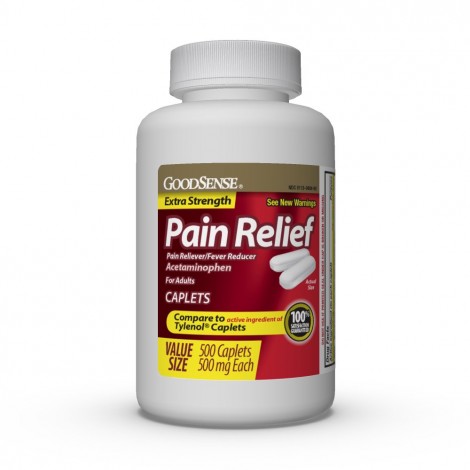 GoodSense muscle cramp supplements make an extra strength pain reliever using Acetaminophen that comes to you in caplets that shouldn't be difficult to swallow. It comes in a 500 m caplet and can be used for pain relief as well as fever reduction in healthy adults and children over the age of 12. Manufactured in the state of Michigan, these caplets are gluten-free.
Your basic acetaminophen pain reliever and fever reducer, these easy caplets can help alleviate the symptoms associated with those minor pains from headaches, muscle aches, arthritis, toothache, backache, symptoms of the common cold, and menstrual cramps. There is no aspirin in the formulation for these caplets.
You should never mix this product with other acetaminophen products or products containing this ingredient at the same time. You can be fairly certain that this caplet will provide you acceptable relief, but just in case, there is a satisfaction guarantee that backs it up. The directions indicate up to 2 caplets for each dose and you can take this amount at 6-hour intervals.

3

. Caleb Treeze Organic Farms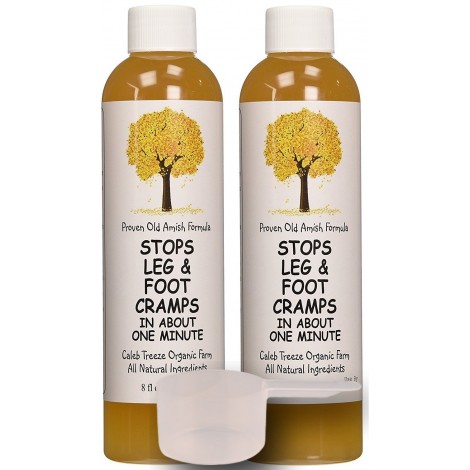 Caleb Treeze Organic Farm works well on leg, hand, and foot cramps. It is an all-natural and holistic remedy. The formulation is based on an Amish blend using organic apple cider vinegar, ginger, as well as garlic juice. It is salt, gluten, and nut-free.
If you need action now, this fast-acting formula can work amazingly in as fast as a minute or less. Now that is a relief! This holistic formula can help stop those annoying body cramps. The free measuring scoop can help you effortlessly get the correct serving size so you always take in the correct amount with each dose.
Additionally, this muscle cramp supplement for leg and foot cramps comes with further resources including a guide that helps educate you on how to reduce and even eliminate, in some circumstances, the instances of leg cramps you have to endure. There is also a bonus strick that you can combine while you take in this drink which is said to help you gain relief even faster.
Don't dilute it, drink it as is and you will see how potent this stuff is. You can keep it in your nightstand for easy access so when you are ready to bed down and are having some pain, take the drink and get yourself the restful sleep you need to tackle the next day.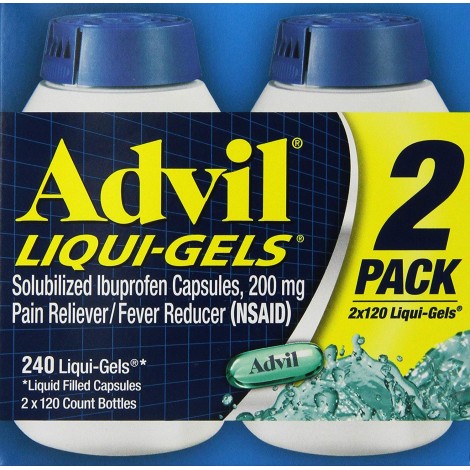 Advil Liqui-Gels are a nice option when you need fast, potent relief to combat pain. This gel cap works for relieving a variety of pain including headaches, back pain, muscular issues, and some arthritis discomfort. Menstrual pain can also be alleviated with this medicine. Don't forget that inflamed, stiff joints may find relief using these gel caplets. When your body is achy because of the flu you can count on Advil to come to the rescue. Advil is a household staple that has been providing millions of support for over 25 years.
So many pain relievers on the market so little time. This gel cap uses ibuprofen that is a non-steroidal anti-inflammatory drug or an NSAID. Clinical studies back up the use of these ingredients as effective pain relievers. Who hasn't used Advil at some point or another? The name itself is even synonymous with pain relievers.
Advil does not contain acetaminophen. Acetaminophen is an active ingredient that much other pain relieving products use, and the side effects associated with it include severe liver damage if too much is taken. This product can provide long-lasting support from acute pain and it has always been a leader in its market for a reason. It works well and is reliable. You can find this in bulk supply online at very reasonable pricing.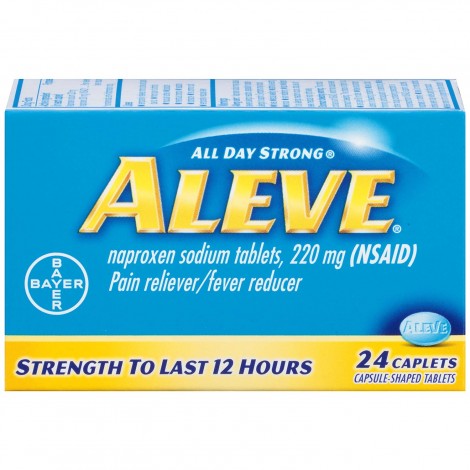 This product uses naproxen sodium 220 mg. Aleve is a long lasting muscle cramp medicine that claims to relieve pain with only 2 pills for all-day support. If you suffer from backaches, muscle aches, headaches, acute arthritis and joint pain, menstrual pain, toothaches, or symptoms associated with the common cold, this product can help. The active ingredients work at the site of pain to dampen it so you can function all day without issues.
Aleve is an anti-inflammatory drug (NSAID), and non-steroidal which provides long-lasting, all-day relief from your minor aches and pains that occur as a result of a wide variety of conditions and ailments. It can help temporarily reduce fever and temperatures associated with fever.
natural pain occurs in the body as a result of hormones that send out the signals with you receive as pain feelings. This product works to block the natural functioning of the body to send out the pain signals. There have been extensive clinical studies on the efficacy of pain medication and Aleve has constantly come out on top as an effective option.
If you are short on time and big on activity, you may enjoy the convenience of only having to take 2 pills per day to obtain relief. Each pill, individually, has the strength to give you 12 hours of relief, so if you aren't big on taking too many pills you can even potentially get effective relief from half the dose.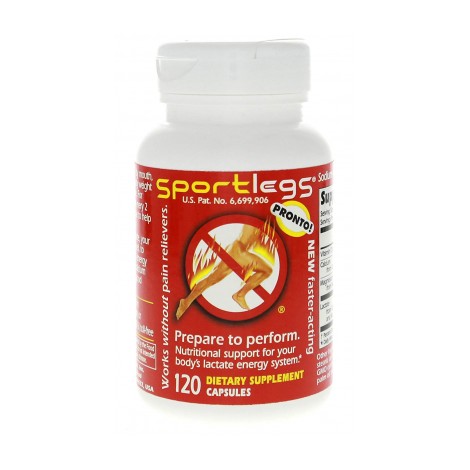 This 120 count bottle can help with burning muscle irritations. It is formulated with the mineral calcium and the mineral magnesium. Vitamin D is also used in the formulation and it functions to reduce muscle fatigue and increase endurance. It also decreases muscular exhaustion. Sportlegs is directed exactly towards the active audience. When you are ready to head out for your exercise session, give yourself about an hour prior to your workout to take some of this medicine. That way you will be able to preload your bloodstream with lactate which raises your performance threshold so you can operate at your optimal level. When taken after strenuous exercise it is also effective at eliminating soreness and can help you recover more efficiently so you are up and back at it the next day.
This product is not only a pro-active pain reliever but also a pro-active recovery supplement. Formulated and directed at active individuals to help them subdue symptoms and maintain optimal health and fitness so that you don't have to miss your workouts or mix up your routine as a result of irritation or pain.
This is a product acclaimed and mentioned in active publications everywhere including Bicycle Magazine and the Denver Post. Being proactive about your regiment and including this into your training routine can prep your muscles to be ready for ultimate exertion each day.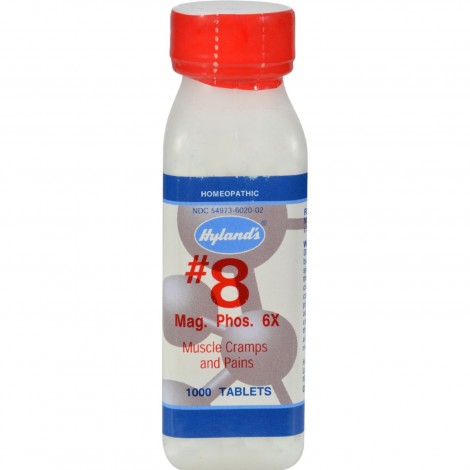 When your body is deficient in essential cell salts you can face acute health concerns and issues. If you can keep an optimal balance or replenish deficits you can better combat illness and health issues. Hylands Homeopathic contains magnesium phosphate which is key to helping cramps and muscles effectively recovery naturally.
For all your body's cramping needs, for those tense and stiff muscles, and for overall body discomfort whether it be during the menstrual cycle or in the stomach, you may be able to find relief naturally with the addition of natural cell salts. This holistic product can offer more clean and safe relief without having to worry about nasty side effects. There are no artificial ingredients or flavors composing this medicine, the focus for this company is to provide the public with natural ingredients that have reduced risks associated with them. It is non-habit forming and safe to take for most people.
This product can be taken by healthy adults and children that are over the age of 7 years with the same dosage of 4 tablets. Those children that are 2-6 years will have a bit less, at 2 tablets. Easy to take, these little cell salts dissolve under the tongue and can be used up to three times per day. If you have acute conditions, the directions do mention that more frequent use is acceptable at about 8 doses every 15 minutes.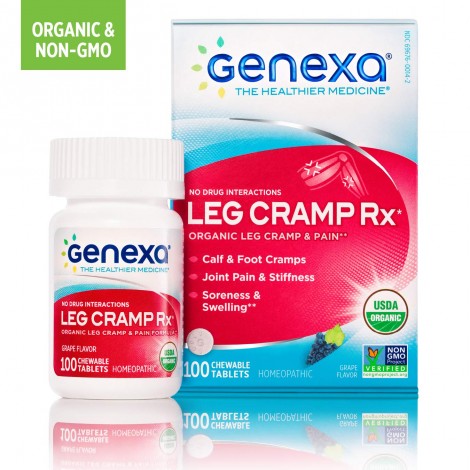 Genexa's helps the legs, feet, and calves obtain relief from muscle tension. This homeopathic, non-habit forming product does not have any drug interactions. As the world's only Certified Organic and Non-GMO Verified supplement in this category, there are never harsh fillers used and only the most potent natural active ingredients.
When you are looking for relief but you aren't big on pills, medicines, and chemicals pulsing throughout your body, you may want to explore the holistic and homeopathic pathways. These pills are natural and they are easy to take. Made to have a pleasing tasted and don't worry if you have issues swallowing pills because these are chewable.
Genexa is also a Certified B-Corp with a core focus that makes an exerted effort to donate to health, children, and clean water type charities. The ethos of this company is to promote overall health and wellness. If you take a variety of medications and have the concern about cross medicating and potentially toxic and hazardous side effects, this could be a good product to try as it shouldn't contain anything that would cause adverse reactions with other medications.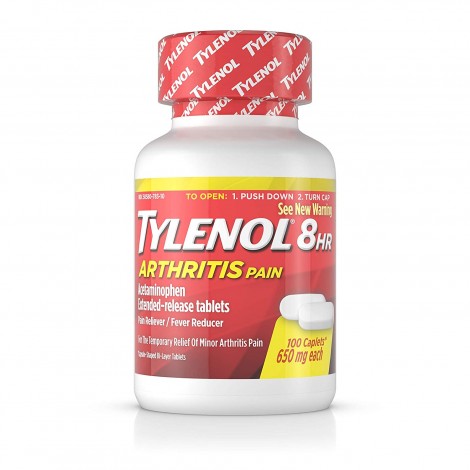 TYLENOL 8 hour relieves pain for the full duration of that hard workday. It is a powerful pain reliever that can help ease tension in your head, back, muscles and really all over your body. This medication is time-tested and doctor recommended for acute issues that cause you irritation.
If you are specifically looking for a reliable product that will help your sore, fatigued, and tense muscles that can have cramping after or during your workouts, this is one that will do the trick. Everyone has had issues with muscle soreness at some point in their lives whether they stood up the wrong way, moved in an awkward direction, overstretched and pulled something, or just trained really hard. These acute issues can really weigh on your daily activities and reduce your ability to be active.
When being docile is not an option, this pain reliever can come to your aid. This product contains acetaminophen and you can take up to 6 in a 24 hour period if needed. These fairly easy to swallow tablets can be taken every two hours and provide you with a full 8 hours of relief.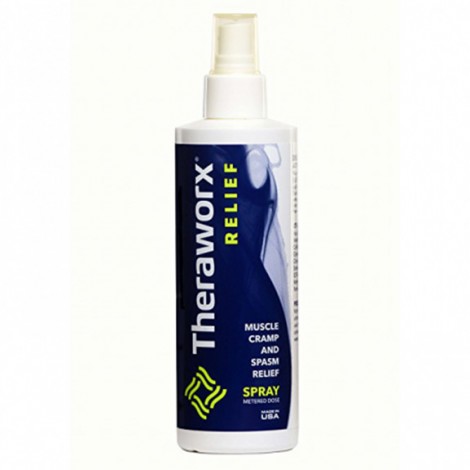 Theraworx Relief is a fast-acting foam formula that has been shown in multiple clinical studies to help alleviate negative symptoms associated with foot and leg cramps, Charlie horses, Restless Leg Syndrome (RLS), even post-cramp muscle soreness. As with many topical options, you may think there'd be a strong smell and oily mess that would be associated with this. The beauty of the foam formula is that there is no strong odor, just a really pleasant fruity apple scent. There is also no slimy mess, the foam absorbs quickly into the skin for quick acting relief and there isn't any type of unsightly residue left after it is applied.
You want quick relief and aren't that into pills and medications a topical might be the answer for you. The fast-drying foam that contains magnesium. If you are magnesium deficient, you will get a pretty fast and strong response. One of the most notable uses for this foam is the treatment of unpredictable RLS. RLS usually affects suffers at night and is common in pregnant women. This affliction can really affect one's sleep, so having a safer topical option that can be used to manage those symptoms will go a long way when you are getting good, comfortable and restful sleep again.
Very easy to use, a couple pumps a couple of times a day will do the trick. The overall cost is a bit pricey but the foam lasts a good while so you can get quite a few pumps out before you'd need to restock. Many online retailers sell it at a better rate in multiples which may work out nicely as you will have backups in your medicine cabinet when you need them.

Subscribe to our Newsletter