Best Electrolyte Drinks for Dehydration Reviewed
In a Hurry? Editors choice: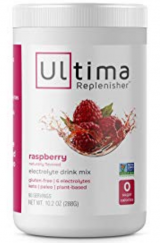 Test Winner: Ultima Replenisher

Running and other forms of exercise deplete a lot of the water and nutrients through sweat. Constant hydration with drinking water is an excellent way to go, but it does very little to restore the mineral balance in the body.

Electrolyte drinks are the best option when it comes to restoring this balance. Unlike regular water, these beverages help you stay hydrated during various exercise and sporting activities. The right Minerals balance is essential for bodily functions it regulates nerve and muscle functions.

Electrolyte drinks also balance the pH of blood while helping rebuild damaged tissues. These products offer a surer way of balancing out energy while keeping the body hydrated. Below are some of the best of such beverages available in the market and some handy tips that will help you get the best out of every purchase.
Standout Picks
Criteria Used for Evaluation
Effectiveness
These products provide more health benefits besides hydration.
Improved performance during workout sessions
These products help athletes replenish the water, minerals, and energy lost during exercise through sweat and calorie expenditure. Water loss during various physical activity can account to a loss of up to 2 % of the total body weight. This deficit leads to a sharp decline in focus, speed, and strength.
Sweat also contains various mineral salts like calcium, chloride, and potassium. It is estimated these salts account for up to 1 gram in every litter of sweat. These products are highly recommended over regular water to replace the fluids and minerals lost during such activities.
Rehydration when you are ill
Whenever you are sick, you lose a lot of water and particular nutrient through diarrhea and vomiting, even in the short term. However, adverse health conditions can drain your body of nutrients and fluids very quickly. The aged, babies, and infants are especially susceptible to dehydration for severe vomiting.
Oral hydration solutions like the products listed here contain carbohydrates, water, and essential minerals in easy-to-digest proportions. A great example of such products is Pedialyte. Please consult a medical professional is such symptoms persist for over 24 hours.
Prevent heatstroke
Hot and humid environments are risk factors and put you at risk of contracting various heat-related illnesses. Such illnesses vary in intensity with some being mild and others more severe and possibly life-threatening. Our bodies usually regulate temperature through sweating, reduction of digestive processes and sweating.
However, this thermoregulatory system can fail in the face of scorching temperatures, which poses a severe threat to your life. The best way to avoid heat-related illness is to stay away from the sun but hydration solutions and help your body stay crisp and fresh for longer. You should also avoid caffeinated beverages and alcoholic beverages as they worsen the problem.
Materials
In the case of these products, you look at the minerals contained in the formulation.
Electrolyte drinks get their restorative properties from a chemical charge that result when these formulations are dissolved in water. There are too many compounds and stabilizing agents contained in this formulation to mention them all in the length of this brief publication. However, you should know about a few common and vital minerals.
Bicarbonates
Bicarbonates are essential minerals that slow down the secretion of lactic acid in the body. This inhibiting factor reduces the amounts of lactic acid that buildups in the muscles and tissues, which in turn reduces fatigue. These effects improve your endurance during workouts, which allows you to push your endurance.
Sodium
Sodium levels are the quickest to drop whenever you work up a sweat; you should choose a product with a decent percentage of this mineral in its content. Inadequate sodium levels cause muscle cramps and seizures. This mineral deficit leads to a sharp decrease in energy levels, which may hamper your performance.
Sodium also helps your body maintain a proper balance of fluids in the body. This balance is essential in the relaying of nerve impulses to the muscles. This mineral also plays a vital role in the maintenance of pH balance in the blood. Because of the many functions, sodium plays in your body's physiology, and it is the most common mineral that is lost.
Magnesium
Magnesium works in conjunction with calcium to allow for muscle contractions. These contractions also include the maintenance of a steady heartbeat through the palpitations of heart valves. A sharp decrease in the levels of magnesium may cause a total system shut down in your body.
This mineral is also vital in the breakdown of various sugars in the metabolism. This metabolic helps the body to utilize the sugars for energy instead of them accumulating and turning into fat. Magnesium also plays a crucial role in the release of enzymes that support various physiological functions.
Calcium
Calcium plays a vital role in the contraction of muscles, and a deficiency causes seizures and may lead to conditions that are more adverse. A lack of calcium can also cause a reduction in bone density, which will lead to a decrease in body height. This mineral also helps in the breaking down of various vital nutrient on multiple parts of the body.
Potassium
Potassium helps the body maintain a proper balance of water levels. In retaining these levels, it also ensures an appropriate balance of sodium in the body. Potassium ensures that neurons in the brain can fire up properly and connect. This mineral allows your body to have proper mortar functions and prevents muscle cramps.
Ease of Use
How much convenience does your preferred product provide?
Many athlete and average consumers require specialty beverages that they can use while working out or on the go. The fast pace at which you live requires beverages that add some convenience to the way you consume them. You need to be able to access your beverage as directly and quickly as possible.
Many of the products featured in this article come in portable bottles, vials, and tubes that are also secure and can fit into gym bags and all sorts of carrier luggage. When considering powder formulations, an easy to mix and serve option is very convenient as it saves you time and effort. You should also look into products that have easy to follow instructions.
For convenience sake, you should avoid products that require additional ingredients like milk and mixing in blenders, or that should be served in special tumbles or bottles. Products that require refrigeration are also not convenient especially if you are on a hike or a camping trip. The best-powered formulations dissolve readily in water and don't need the use of shake cups or blenders to mix them.
A good powdered product not only dissolves readily but also dissolves fully in water or other liquids. Any sediments left in the cup or bottle after mixing represent a wastage of minerals and nutrients. These especial minerals are lost because even if you swallow them with your beverage, the body will not absorb them.
As for concentrates, you should look at the security the packaging provides as well as how intuitively you can use the product. Some concentrates come with complicated instructions and need additional ingredients, which robs you of convenience. Ready-made beverages may come at a higher price point, but they provide the most convenience, as they are all one needs to do is to open the cap and take a sip.
Side Effects
Some chemical imbalances can because by too many minerals in your body.
The human body requires a certain amount of minerals like calcium, sodium, potassium, and magnesium. These minerals must be replenished every time you lose them through sweat or urine. However, when you drink too many electrolyte drinks, there can be some adverse effects.
Hypercalcemia: or an excessive concentration of calcium causes an imbalance of phosphorus levels in the blood. These minerals are essential for bone health, but an excess can cause lethargy, nausea, fatigue, bone, and joint aches. Hypercalcemia can also cause or complicate stomach problems.
Hyperkalemia: occurs when there is excessive potassium in the body and bloodstream. This condition occurs when there are too many minerals for the kidney to filter out of the blood or if a kidney condition impairs this ability. You can prevent this condition by drinking water together with your electrolyte drink.
Hypernatremia is a condition that causes dizziness when switching positions, diarrhea, and vomiting. This condition shows no symptoms until the levels of sodium in the blood are too high. You can prevent this condition by taking moderate amounts of sports beverages with plenty of water.
Size
You should do all in moderation.
As you can see from this review, electrolyte drinks are served in small servings and for particular reasons. This measure is because the body absorbs a specific amount of minerals and discards what is not usable. The body also needs to replenish a specific amount of minerals each day.
Overconsumption of such products can lead to or worsen health issues like high blood pressure, heart problems, and many other ailments. It is also quite dangerous to consume such products when you lead a sedentary lifestyle and barely hit the gym or the road for a run. Physical activity leads to a need for these products because it drains your mineral reserves, and some are lost through sweat.
The prevailing weather conditions can also determine the size you should purchase and consume. When it is cold outside, you sweat less often, lose less mineral content, and required less hydration solution. When working out indoors, you will also need less hydration solution as compared to outdoor training.
Most of these products come with convenient serving instructions that explain how much you need to use in every activity. These instructions can also guide on the amount of solution you need to use when on specific diets. If you have any preexisting health issue, it is a wise idea to consult a doctor before taking these products as the wrong amount may interfere with prescribed medication.
Top 10 Picks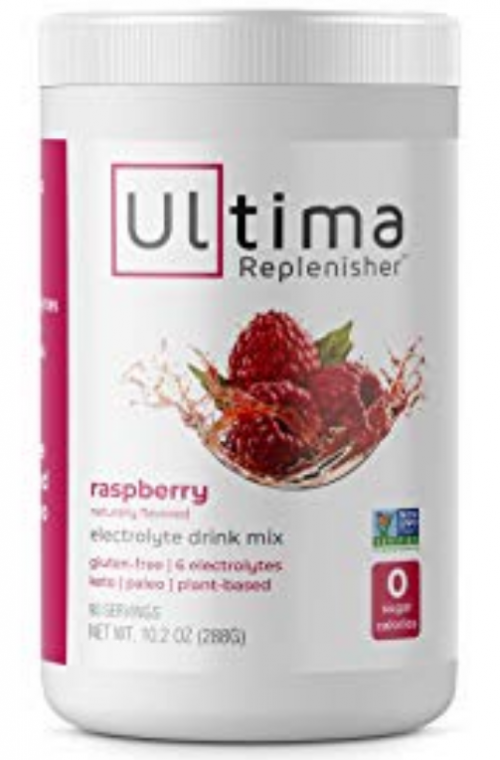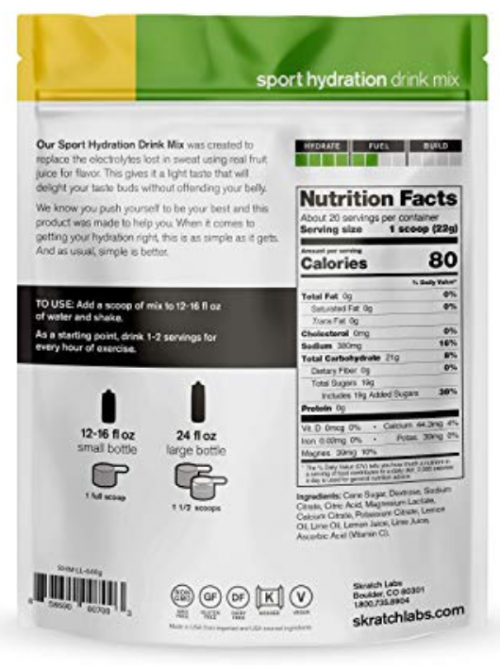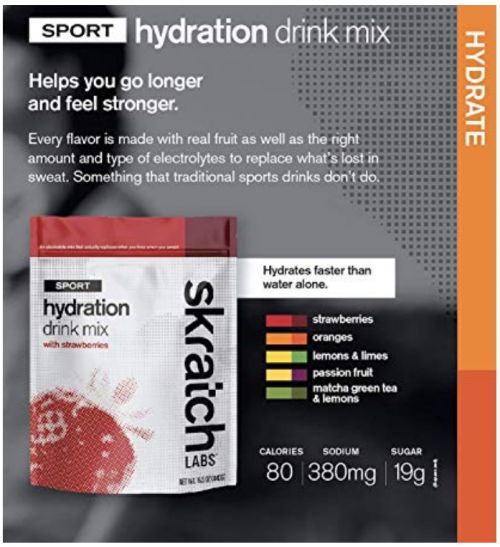 Ultima Replenisher powder is one of the alternatives to pre-packaged sports beverages. This mix is less expensive and offers more liquid content when compared to store-bought premixed options. This product contains 90 servings worth of powder and comes in a tasty raspberry flavor.
This mix is healthier than many alternatives it seven calories, is made from plant-based color and flavors, which has zero percent sugar content. This mix provides minerals like potassium, chlorine, sodium, magnesium, phosphorus, and calcium. This mineral content makes the Ultima Replenisher powder one of the most comprehensive options the market has to offer.
This mix is ideal for various types of diets that include Keto, paleo, vegan, and it is even suitable for those who want to observe kosher. This mix has a great taste; it is not too sweet and light on carbohydrates. This mix also supports a variety of operations of minerals within the body and is an ideal way to cut on the sodium levels in your body.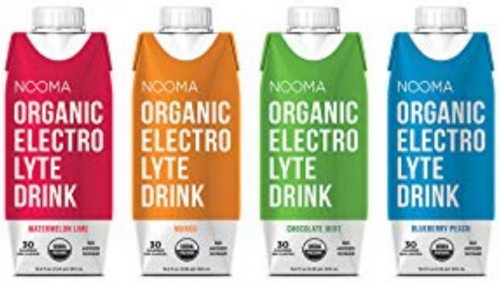 Despite being a sugar-free and low-calorie option, Nooma Organic is a very sweet and effective option. This flavoring makes Nooma organic ideal for all types of diets and lifestyle, including vegan. This product is simple as it provides a natural alternative to get your pH balanced while keeping you hydrated and with a little flavor to help it go down smoothly.
This pre-mixed beverage has salt and coconut water as the essential ingredients and comes in flavors such as watermelon lime, mango, and raspberry peach and chocolate mint. For the mineral and vitamin content, this beverage consists of organic, B-corp certified ingredients and the plant-based stevia flavoring instead of sugar.
These ingredients make the beverage easier for the body to absorb delivering the required minerals to where they are needed faster. Each pack of Nooma organic has a calorie content of just 30, which makes it ideal if you are on a weight loss diet or workout campaign. This product comes at a slightly higher price point, especially when compared to powder and table options, but it does the job and saves you the time you would spend on mixing.

3

. Nuun Sport Electrolyte-Rich Tablets


Nuun hydration tablets are easy to carry; you can stash them in a tube and carry them in your gym bag. His added ease of use ensures that you won't run out of a hydration option even as you move. If you are looking for an alternative that is between a powder and a pre-mixed beverage, then this product is ideal for your needs.
This product comes in a conveniently portable and insulated tube that packs ten tablets. You get four tubes when you purchase Nuun hydration tablets. As for flavors, you can select from a wide variety of options like orange, watermelon, citrus fruit, lemon-lime, fruit punch, and many more.
Each tablet has additional minerals like calcium, sodium, magnesium, and potassium that restore your electrochemical balance as well as bolster your health and boost your recovery. Each serving of Nuun Hydration packs just ten calories, low in carbs and with no artificial sugar or coloring. This product is light yet refreshing and comes at a very reasonable price.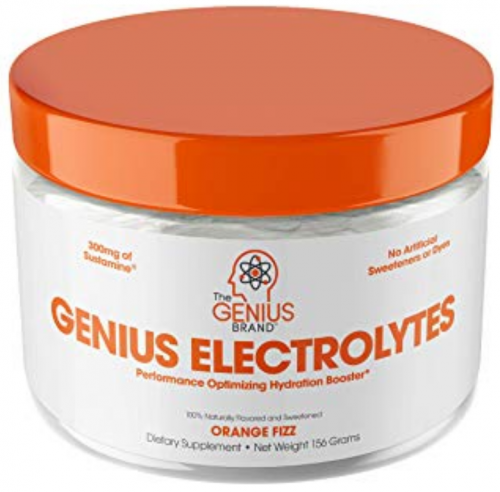 The genius powder comes highly recommended by many pro and amateur athletes as well as fitness enthusiast around the world. This powder is effective at keeping you hydrated, and it works as a mineral and nutritional supplement. This pre-mixed sports beverage helps you recover quickly from exercise and improves your general mood.
Aside from a confidence boost, this product helps you restore the chemical balance of your blood. The formulation of this product has a well-balanced mineral content that includes zinc, sodium, magnesium, potassium, and other essential elements. These mineral elements also provide a supplementary source of nutrients that may be missing from your diet.
This mix is ideal for all kinds of physical activities, including both long and short workout sessions. It is also easy to mix and use this formulation, and it offers a good number of servings per pack. The genius powder is ideal for athletes of all skill levels and is reasonably priced, giving you a lot of value for money.

5

. Ultima Hydrating Electrolyte Powder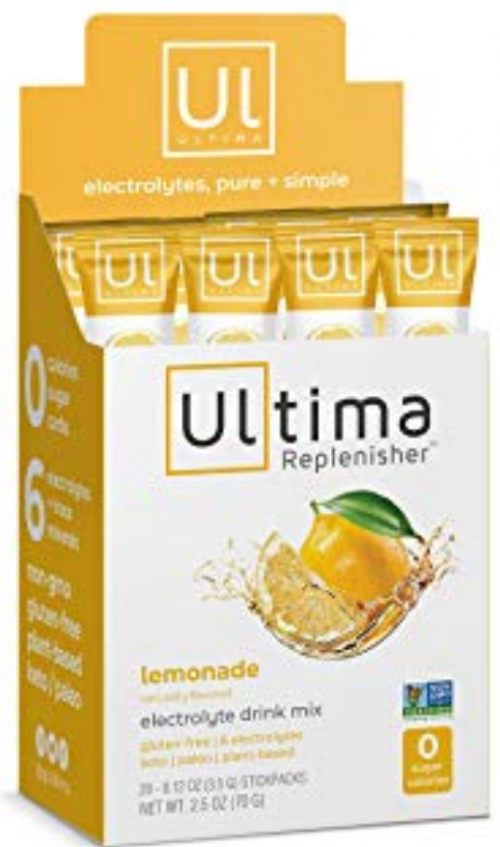 Ultima Hydrating is one of the most potent powder alternatives in the market. This easy to mix hydration solution is chock full of minerals
and nutrients that replenish those lost when you sweat. It offers more value for money when compared to pre-mixed alternatives as it comes with more servings. Ultima Hydrating electrolyte powder comes in a tasty and exotic berry, Lemon-lime, and orange flavors.
Each pack of Ultima Hydrating electrolyte powder contains up to 45 servings that can last for quite a while. With a caloric content of just seven calories, you need not worry if you are using this product while on a diet. This product's formulation is all-natural, with plant extract coloring and no artificial additives.
Ultima Hydrating electrolyte powder replenishes your body with potassium, chlorine, sodium, magnesium, phosphorus, and calcium. These minerals are vital to various bodily functions and are lost through sweat. This product is also ideal for all kinds of diets like Keto and is appropriate for many dietary lifestyles like a vegan.
This formulation enhances digestive processes allowing for proper nutrient absorption. You also get to enjoy a tasty sugar-free beverage thanks to natural stevia flower flavoring. This natural sweetener also makes this ideal for users with concerns over their blood sugar levels.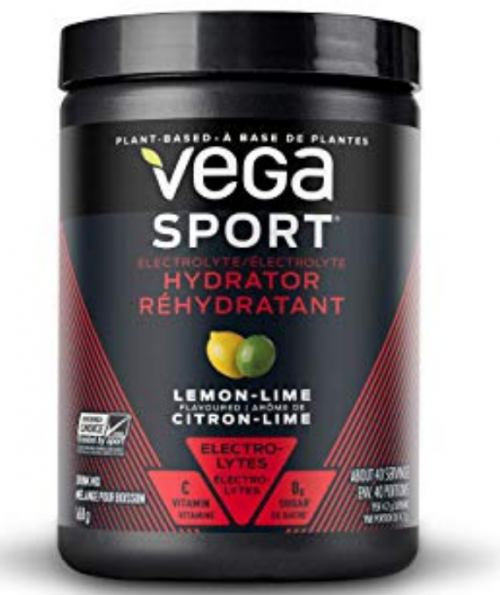 Vega's sports hydrator has all the essential minerals that your body needs to keep you hydrated during a workout session. This beverage is low in carbs and sugar and features no artificial additives making appropriate for a Keto diet. Vegas hydrator also goes well in smoothies when you add a little coconut oil for extra energy to get you through tough days and workout sessions.
One scoop of Vegas hydrator can be mixed into 2 cups of cold water (500ml) for an all-day hydration solution. The whole tab gives up to 20 servings, which is cost-effective when compared to similar products. Since this is, also a nutritional and energy supplement, it may contain traces of soy, dairy, and gluten and you should read the label carefully if you have a sensitive constitution.
This product is suitable for avid runners and enthusiastic athletes in need of a functional recovery and hydration solution. Unlike most of the products on this list, it comes with a higher carbohydrate to protein ratio, which also makes it one of the best hydration partners for strength training. It's a little pricey, but it delivers a lot of value to the end-user and ensures that they stay on their feet throughout the day.

7

. LyteLine Ionic Electrolyte Concentrate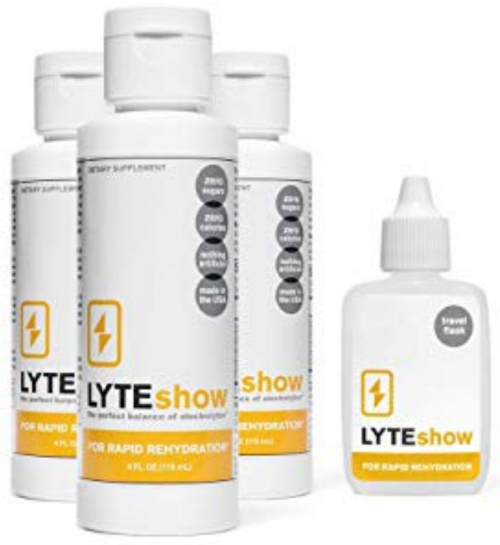 LyteLine iconic concentrate is ideal for users that want to eliminate artificial additives, sweeteners, and unnecessary calories from their hydration options. This product is made from minerals naturally sourced in the USA. The formulation has been clinically tested to ensure that it's safe to use and that it provides more health benefits than regular water.
For each bottle, you get 4oz of concentrate that contains enough for up to 40 servings. This product is also ideal if you have strict dietary requirements, as it is Vegetarian, Non-GMO, gluten-free, and appropriate for vegans as well. The only major drawback to this product is the slightly salty flavor it adds to water, but for some, this is viewed as a sign of its efficacy.
You have the option of adding a few drops of fresh lemon juice to mask the taste. Unlike most related products, there are no mineral sediments, yet it still packs over 35% mineral content to supplement your diet. LyteLine iconic concentrate is highly portable and delivers value for money thanks to the number of serving you get in each bottle.

8

. Good Sense Pedia Liquid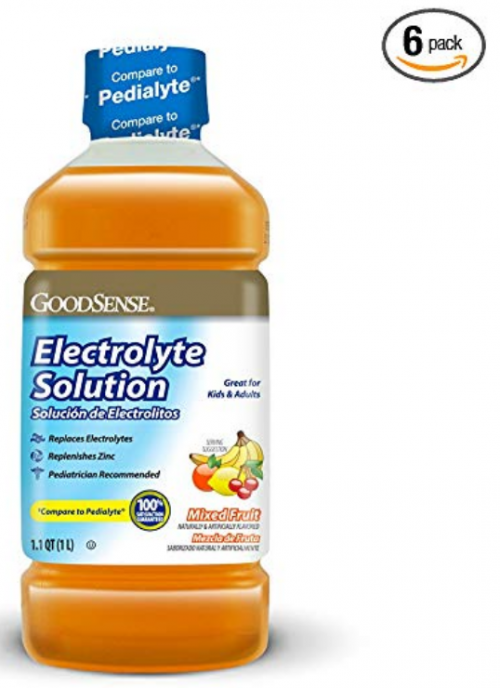 Good Sense Pedia liquid is a fruit-based hydration and mineral supplement that acts as an excellent replacement for sports and energy beverages. With the growing concern over the harmful effects of artificial juices and chemical-filled sodas, it's nice to have such an alternative. This product restores fluids and minerals lost during physical activity, sweating, diarrhea, and vomiting.
While these aspects make it sound like a recovery drink, its fast-acting formulation also makes it ideal for runners and other athletes. With each purchase, you get a six-pack each with 34oz worth of fluid. This product comes highly recommended by pediatricians the world over and can be used to help children recover from illness while enhancing their appetite and digestion.
Adults can also use it to stave off dehydration, enhance digestion, and bolster immunity and combat the adverse effects of heatstroke. This product has an unbeatable taste and is less irritant to people that have sensitive stomachs. Good Sense Pedia Liquid solution is reasonably priced, and the six-pack option gives you good value for money.

9

. Pedialyte Advanced Care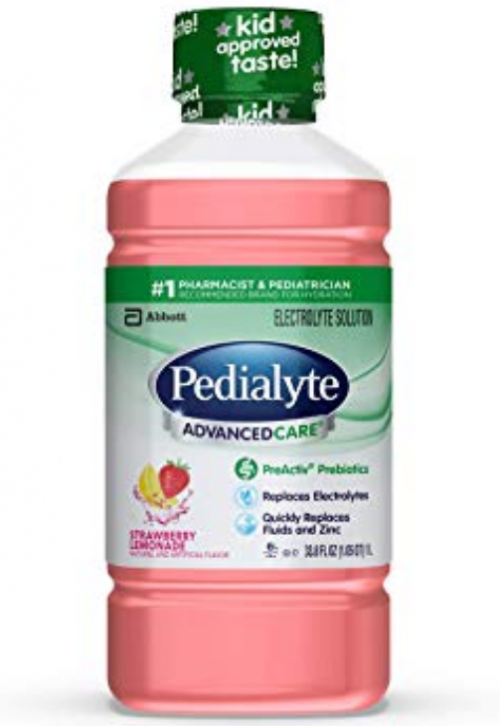 Pedialyte advanced care solution is a ready-to-drink hydration solution specially formulated from an optimal balance of minerals and sugar. This beverage is ideally suited for both adults and minors as well. For optimal absorption and healthy digestion, this product contains Pre-Active Prebiotics that also restore the balance of beneficial and harmful bacteria in the bowel system.
This product comes in a 33 oz bottle of ready-to-drink strawberry flavored beverage; there are also more flavors available in the market. The formulation is highly concentrated can be used for a couple of servings. Each serving bolsters your body with minerals like chloride, potassium, and zinc for a more balanced ph.
This product has no artificial colors, flavors or sweeteners and packs only 25 calories and 6 grams of sugar. Pedialyte advanced care solution is reasonably priced and offers value for money due to the multiple servings you get. Another advantage to this product is the fact that you can also give it to a child that is sick to quicken their recovery time and enhance their digestion.

10

. Skratch Labs Hydration Mix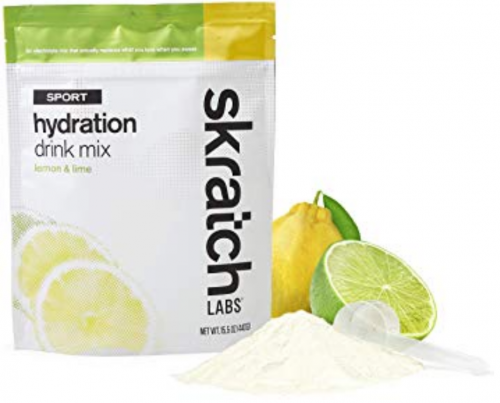 Skratch Labs hydration mix bolsters your body with 10% more mineral content and tasty, natural flavor. This powder is also more soluble in water and offers a faster way to stay hydrated and energized even after a long and grueling workout session. This product also adds a few calories that ensure you don't lose too much energy as you exercise or engage in sporting activities.
Each 1-pound pack provides 40 servings and more nutrients when compared to similar products. This sugar-free formulation is still just as delicious and chock full of minerals that supplement what is lost during exercise. Unlike various related products that pack in so many minerals Skratch labs, hydration mix is easier on the stomach and assimilates rapidly into the bloodstream and body tissues.
The 1-pound size is also more cost-effective when compared to other products. There are no artificial fillers and flavors, which makes this product a very healthy option. It is a bit pricy when compared to different powder formulations, but it delivers more servings and mineral content.

Subscribe to our Newsletter