Best Gym Bags for Men and Women Reviewed
In a Hurry? Editors choice: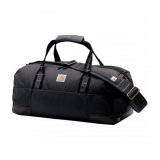 Test Winner: Carhartt Legacy

Something as simple as a gym bag shouldn't be too difficult to pick out, but there are actually many products on the market and a couple of different styles that could be game changers as far as what would work best for you. What you really need could be much different from what you quick look at in the store.

This guide for best gym bags for men and women will try to help you understand all the differences and benefits of the various options so you can really get the right bag for your requirements. We looked at all the top available options and we evaluated our list using the style, materials, and the features each has to pick the top 10 you can get.
Standout Picks
Criteria Used for Evaluation
Style
There a couple of different types of gym bags and they all function similarly in that they can store your clothing and equipment allowing you to pack what you need to get ready for a great workout and to clean up after. Each type has its positive points as well as areas where there may be some features lacking for some. The best thing to think about is what your needs are, what you will need your bag for, will help you pick the best option for your requirements.
Traditional gym bags
These products are pretty similar to duffel bags with the exception that these models will tend to have more storage pockets. They offer various compartments so you can organize and place your clothing, toiletries, gear, etc. in their rightful spot. They will often have mesh pockets which can hold things like water bottles or anything that needs air or sweats.
They will have shorter handles to hold or you can go hands-free with longer shoulder straps which are usually adjustable to fit your size. In some brands, there will be a frame inside the construction that provides a bit more stability and form.
They will come in a wide range of brands, sizes, colors, and aesthetic styles.
The pros for this style is the multiple pockets and compartments that allow you to separate your items, they are generally affordable, and they can be multifunctional as a workout storage option, weekend travel bag, or a carry on for a flight. Where they have cons would be all those extra spaces create more spaces and crevices that mold, debris, dirt, and bacteria can hide making them a bit less hygienic if not taken care of.
Duffel bags
These are very popular for working out as well as for your carryon used on a flight. They are very basic in their construction and form in that they generally don't have many compartments or pockets and are more of a simple one large storage area.
They are easily packed when not in use making them a great space saver because they don't generally use a rigid structure, so they can be folded and put away easily. They include handles and some will have a shoulder strap.
The pros with these options how light they are, the ease at which they are packed and stored away, and they are very inexpensive. What they don't offer is separation for various gear and clothing, some may offer a shoulder strap but many will not, and they aren't made super durable. The seams used in these are fairly basic just like the construction, you aren't going to want to use these for very heavy items.
Backpacks
Backpacks can come in a range of sizes from mini versions to very large varieties. They take a load off one of your shoulders that straps can cause by distributing weight on both shoulders and across the back which eases the weight you may be carrying. They can carry heavier options as well as light and they generally have many compartments of varying sizes, and many models will also use mesh compartments. Some will have extra loops to clip things to like your keys for example or anything that can be attached by a carabiner. More heavy duty options will use a chest/and or waist strap to go round your body and allow for more security when wearing. They all pretty much include a small handle on the top.
These are ideal for those individuals that have to use both of their hands at all times and need their packs to be stowed out of their way while they are active. Think bicyclists, commuters, hikers, etc.
The pros these products offer is definitely the hands-free and hassle-free wear, they can be used for so many different purposes, and they can distribute weight better. There aren't too many cons, but they tend not to have the very large compartments that the other styles boast so they may not be the best option for a weekend trip.
Gym Totes
Gym totes are going to be simply very large bags that have handles. Some use drawstrings for closure while others don't use a secure closing system. They can be very stylish in how they are made and they can be helpful for very large items like yoga mats or towels. They can offer an outer pocket or inner divider, but in general, they are just one big open storage sack.
These options are well used for larger, bulky items. They do not offer much separation for multiple items and these can be less secure in their closure system or lack thereof.
Materials
There are several materials various products will use in their construction. Here is a couple of the most popular.
Polyester
This is the most common option used, it is heavy-duty and strong. It is super functional and easy to maintain, many times you only have to wipe it to clean it off. It responds well to moisture so if you have wet items, it's not going to let that water soak through and cause a mess when you are carrying it. This is good and bad. While it won't allow water to penetrate it also doesn't breathe meaning that any wet materials if left too long can have issues with bacteria growth or mold and that can also come with a nasty odor.
Nylon
This material choice is light in weight and fairly affordable. It is easily folded because it doesn't hold shape well. The downside here is that it tends not to be too durable and it doesn't hold moisture well. It can stain too. This is a material that is best for light use and for those that are looking for a bargain.
Leather
has a lot of benefits. It has a chic expensive look, it is durable, and holds its shape. Where it is lacking is that that expensive look also costs big bucks, so plan to spend some cash on leather products. LEather can also be heavy and bulky. It is hard to maintain and can stain easily as well as retain noxious odors. For gym purposes, leather is best used as a supplementing material in the handles or for trim with another material option being used for the majority of the construction. If you are going on business trips and need something that has a level of class to it while traveling, full leather options could be a fine choice.
Canvas
It's tough and rugged made from cotton or a blend of cotton. It tends to be light, affordable, and the maintenance is quite easy as it can be thrown in the washer and let to air dry. IT is a terrific option for smelly, sweaty gym clothes. Canvas won't hold water well by itself, but many options use a treatment that can provide water-resistance. Canvas options can be all the same material or use touches of heavy duty leather for style and added strength.
Features
Once you have figured out the needs you have, how hard you are going to use your bag, and the style that would work best, it makes sense to look at which features are more preferable or practical for you.
Compartments
As discussed in the style section, some options are going to offer more compartments or compartments that have security seals using velcro or zippers, while other designs are going to be more basic and not have as many storage size options built-in. If you have smaller gear like headphones, cellphones, and keys, watches, or jewelry that you ant separated from your larger items like your clothing and toiletries, various compartments may be necessary. Perhaps you just need to have a place for wet items like water bottles and shampoo to be separated from clothing and shoes, then you'd only need minimal sectioning. Most people find at least a couple compartments helpful, but for very basic use you can save money by selecting options that have fewer design features.
Waterproof Materials
Where are you working out? Swimmers or that that is going to be outside may best benefit from materials that are more resistant to water and hold it better. If you really sweat during your workouts, this can be a beneficial feature too. You may not need to have your whole bag waterproofed, some models offer waterproof compartments that are separate from the rest of the product.
Water bottle holder
There are many outer pockets used with mesh or plastic type materials which can keep your bottles easily accessible and can allow breathability while resisting possible sweating.
Reinforced seams
If you are carrying heavy items or a lot of items that can add bulk, you aren't going to do well with an option that lacks durability and has flimsy seams. If the bag breaks it defeats the purpose of using it. Some will need reinforced seams in the construction because of what they are carrying while others can get away with a simple design.
Yoga mat strap
For bulkier and awkward items like a yoga mat, some options are specifically designed for carrying these pieces of gear by incorporating a specialized strap that they can easily attach to. This makes it much easier to pack up and carry as you go and keeps your arms and hands-free.
Ventilated shoe pocket
Sneakers are some of the most stinky gear we have. When you have gotten a good solid sweat session in, your shoes and clothing may be damp. Shoes can take much more time to dry out and need the extra airflow and ventilation to help the process along. A shoe pocket that is designed for air circulation can help your shoes dry faster, allowing them to lessen the likelihood they will develop germs, bacteria, and mildew that reduce their hygiene and use. You pay a lot for quality shoes, keeping them in good condition only makes sense.
Solid Closures
Reinforced zippers, heavy-duty velcro or solid metal buttons can help seal your bags closed so that you won't have to worry about any of your items fall out. Closure systems that have extra supportive fabric that can improve strength and protection will be very beneficial if you are moving around a lot from place to place or are needing to use public transportation where you could be bumped and bounced around increasing the risk of losing items from your bag.
Wheels
For heavier items or if you are carrying a lot of gear with you, wheels could make your trips and travel much more convenient.
Padded straps
WEaring a strap helps you keep your hands open, but the amount of weight you have in your bag can put a large stress on your shoulder. Added padding can soften that stress and provide a more comfortable fit.
Color
Color, patterns, and design can be very appealing to some that have a personal style they like to show off or that they like to match with their outfits for example. There are many styles and color options for most of the brands out there, that you can find the most subdued option to the most flashy.
Top Gym Bags for Men & Women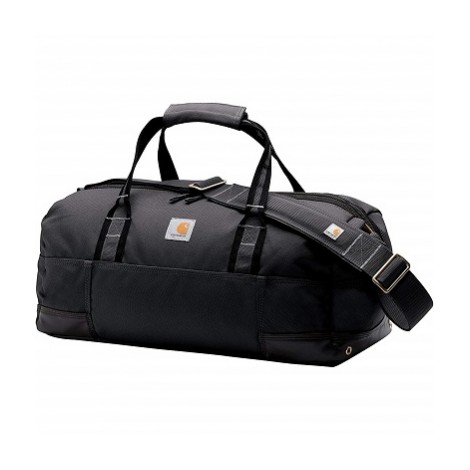 Carhartt unisex gym bag is known for its heavy-duty products, and this legacy serious for gear storage are made just as tough. They use durable synthetic fiber and are coated for the elements with Rain Defender which can withstand dirt and water as well as made with an abrasion-resistant base so you can use this on the construction site or anywhere your workouts or job takes you. Rain or shine, rocks or grass, this product will hold up.
Founded in 1889, this company's staple is making rugged and dependable products that go through rigorous testing and are made to hold up to a beating making them one of the best gym bags on the market. They are primarily used in the construction industry but if you are a traveling personal trainer or a person who uses your gear hard, this one will give you the durability you need.
If you need room, there is plenty of space for larger gear in the main compartment while the zippered pockets can get you resealable storage for smaller items. The shoulder strap can be adjusted to the most comfortable fit for your body size and it has padding for extra support and cushioning. It is a practical addition for hands-free use and you can remove this strap if that is your preference. Should you need to carry it, there are handles built into the sides of the bag and on its top.
While this may be a bit of a splurge, it is a great heavy duty option. You can use it anywhere and put in your heaviest and equipment and the materials will still keep it looking like it was when you first bought it. It can be washed if it gets dirty. This is a super useful and tough storage option that can take a huge beating.

2

. Under Armour Undeniable


Under Armour Undeniable duffle bag is a durable bag that is water resistant as well as abrasion resistant to handle the elements outdoors, and in a serious gym. This bag comes in a ton of color options and is adjustable to fit most any body type. It is a great option to get into your workout inside or out and it works well for traveling trainers that may need to carry some equipment.
The adjustable shoulder strap is also HeatGear so it will keep your shoulder from getting too hot and sweaty. It is also padded for extra comfort. The grab handle is padded as well. A large vented pocket works well for stinky shoes or gym clothes. The zippered pocket keeps your valuables locked up tight.
There are many sizes to choose from but the one thing that is consistent is that they are all roomy. No matter what size you choose you will be able to fit all your essentials and then some. It carries well and feels light even when it is fully packed which makes it easy to use and to travel with.
As a solid brand name with just the right amount of room and durable materials which can be pretty easily wiped down or cleaned it is an all-around nice option. There is space even in the smaller sizes so you should have no problem getting all your stuff packed, and it comes at a fair price point too.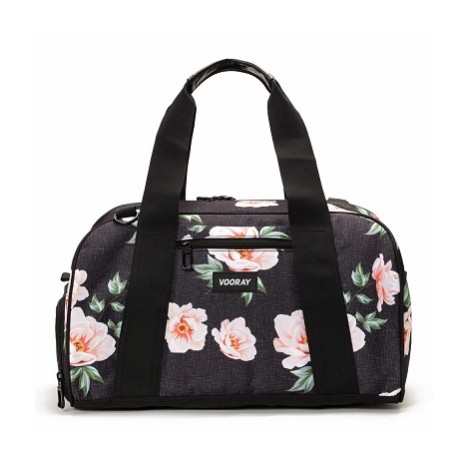 Vooray Burner gym bag for women is stylish and designed with an ultra-feminine look. It is light and compact to allow it the ability to hold your most essential workout gear at 23 liters in capacity, but still, be dainty and cute. It is also fairly light at 1.6 pounds.
Features include a ventilated pocket lets you put any damp or sweaty shoes and clothing away with some airflow to help dry them out and reduce odors. The leather handles have magnets in them, a hard-shell base with faux-fur lined media pocket adds some plush and extra padding for your electronics. It also has mesh pockets for loose items as well as an adjustable shoulder strap to help you with the fit
Everyone can appreciate easy maintenance especially when we all know that getting to and from your workouts can be a messy business. Keeping this product clean is no hassle as it has nylon as it's lining. The nylon is very durable and very easy to clean. Even though it is a bit of a pricey bag for a product that is smaller, this is a very pretty option that looks good in the gym and carrying in between workouts. There are some nice plush additions as well as all the essentials you'd need like the ability to clean easily as well as ventilated pockets and room for electronics.

4

. R-Gear Your Fit-It-All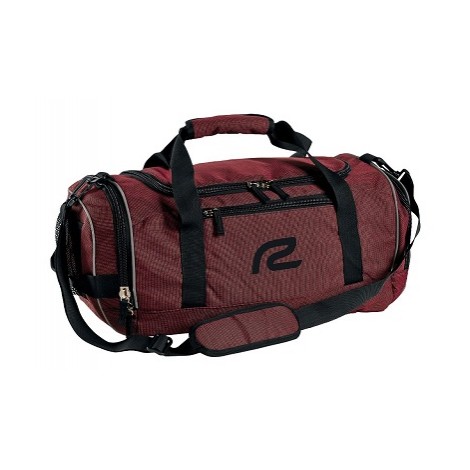 R-GEAR YOUR FIT-IT-ALL gym bag has a bunch of compartments for you to organize all your gear. These compartments also function to help you keep separate damp and dry items as well as zippered storage to keep valuables secure.
Storage is king. Not only can you separate the wet and the dry and have a place for your shoes and valuables to tuck securely away but you also have a place for food and drinks. This product provides a very nice added benefit of food insulation in one pocket which is a feature not seen very often.
This gym bag can be used in the rain or the dry weather with its waterproof fabric. And if that material isn't enough, the heavy-duty zippers will keep all your items in and the elements out. Well priced, there is a lot of added extras. If you like to keep your items in their proper place, and secure sealing, this product has the compartments and tough zippering to make that happen. Did we mention the insulated food and beverage storage? Well, let's mention it one more time because it's such a useful feature.

5

. Eagle Creek Cargo Hauler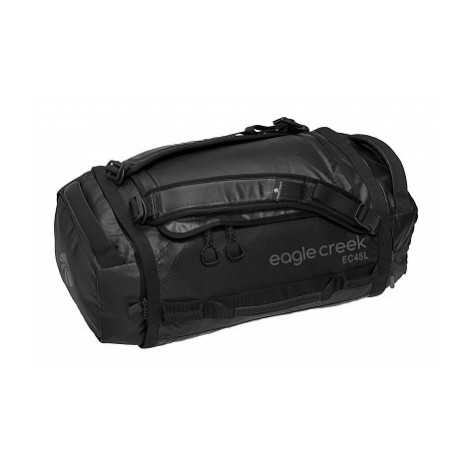 Eagle Creek Backpacker Cargo Hauler gym bag has constructed with very large end gear pockets and tie-down chains. It can be worn like a backpack would or you can carry it.
This product is made so you can carry it the way that is most convenient and comfortable for you. The three-way carrying design can be put on your pack or held with top haul handles, or side grab handles. The extra protection includes water-resistance and it has a whopping 10 lockable zippers with a storm flap. The protection goes above and beyond to ensure that should you hit a monsoon, nothing in your bag will be affected. And if that monsoon makes visibility tough, the finger pulls are made of reflective materials so you can easily see them and access any of your items. These pulls are also nice because if you are wearing gloves, you should be able to still have easy access while they are still on.
You are getting a very large carrying capacity with durable security features but it comes in a surprisingly lightweight package. All the nice features that keep this bag extra rugged and secure you'd think that it would be expensive but its actually nicely priced making an awesome value that you should be able to get great use out of. This is a company that has been around for 40 years and the bag comes with a lifetime warranty making it one of the most reliable and best gym bags on the market.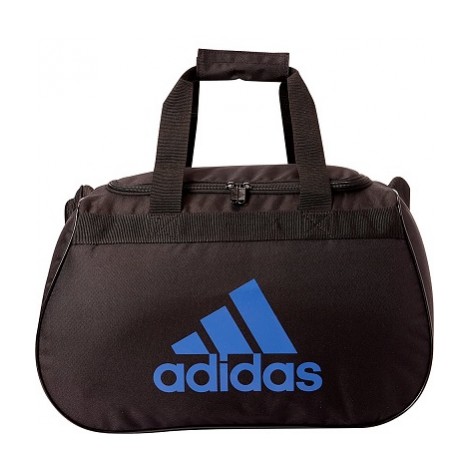 A smaller size, this Adidas gym bag for both men and women is suitable for quick trips, jots at the gym, or practice. It is a simple design that is easily accessible and packed. An adjustable shoulder strap with a handle both has padding to up the comfort level.
It doesn't' get much easier than this. A simple design that is very easy to use and to pack. The main compartment it offers allows you to quickly stuff all your stuff quickly inside. It can stand up to daily use and the zipper seems to hold securely. It also shouldn't break on you which is something that is common with more affordably priced options.
The look has the traditional Adidas logo which has it's own nice aesthetic. If you want to customize the gym bag to your own preferences or for a sports team logo, for instance, this product is made just for that. It has the space for any type of customization that you can use to make it your own which can be very fun. What is even nicer is the affordability of this product. While this is not going to be your durable off-grid camping options, it will function well for the gym or storage for short trips. It also comes with a lifetime warranty which is pretty nice for such an inexpensive option.

7

. New Balance Performance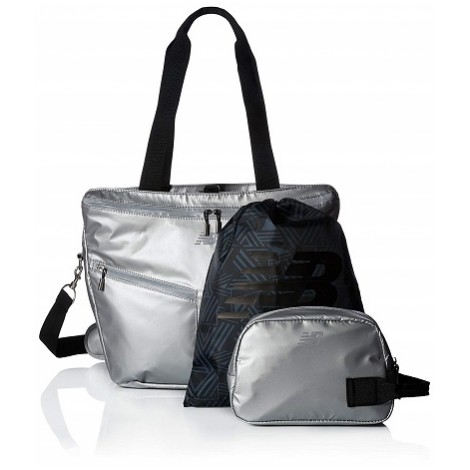 The New Balance Performance tote is a nice looking option, whose design is aimed more at women. It can be used in a variety of ways from the gym to the club, or as a backpack. It is a complete kit with a removable toiletry kit, and a storage bag, plus a functional strap that can easily carry a yoga mat.
A perfect traveling companion, this women's gym bag is a nice combination kit that can keep all your items organized and each little extra bag included will allow you to take them out just when you need them. It is very light and it has a sleek look, making it nice while wearing. There is enough space that you won't have to cram all your stuff into it. you should be able to comfortably fit what you need.
The storage options including a side pocket that can allow you to hook essentials maximizing your space and for those pieces that you need fast access to. Zippered pockets help you secure your valuables. This can store a laptop, keys, your phone, and wallet, jewelry, and clothing. There is even an insulated pocket. With a moderate price tag, you are truly gettings everything you'd need to travel with or workout with. It is organizable and the look is quite nice. It also has that convenient yoga strap for easy transporting of bulky mats.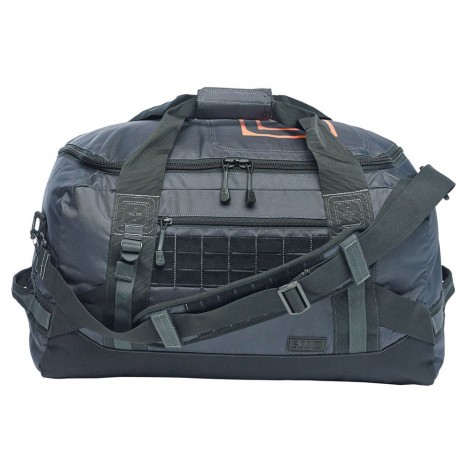 5.11 NBT Lima men's gym bag makes a customizable and resilient bag that can be used for working out or traveling as a carry-on. The shoulder strap is removable and has padding for comfort. There is multiple carry options built-in. The compression straps keep all your gear sturdy and secure.
Durable enough for strategic use, this is a brand known for making products that are supremely durable and, tactical. The stitching is very strong, and the size just right to hold almost everything you need. This product is truly made of 100% nylon the full way through, not just a little bit so it can hold up to wear and tear and is very strong.
Maximize your space because this product isn't stiff in design so it can be rolled up when not in use. That allows it to be stored easily away without taking up much space at all. While it offers that extra space and storage you'd want, it won't take over your closet because it can take on a fraction of its full shape when not in use.
These products and this brand will cost a bit more, but they are made with high-quality fabrics that are truly durable. While some products boast materials like nylon, even though they only are made with a small percentage of it, this one has it throughout. The stitching is strong and it is very tear resistant.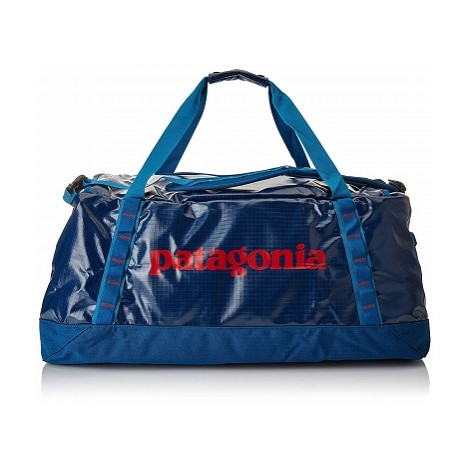 A great all-around bag for camping trips, traveling, or workouts, the Patagonia Black Hole with the ability to hold it in your hands or use it with backpack straps. There is plenty of room for everything, comfort padding for safety of your items and for a soft feel when wearing. It is completely weather resistant. This model comes in many sizes including 60L, 45L, 90L, and 120l.
Customizable features that include backpack straps that are optional but if you don't use them they are completely removable. The handle can be comfortably held or is large enough that you can put your full arm through. The bag won't deform when packing. A very nice, noticeable style with four color options to choose from. If you are traveling and you need to find this pack on the conveyor belt it is really easy to spot.
This is a brand that always tends to be on the pricier side. They make highly durable outdoor gear with top-notch materials that can withstand the elements. This bag is no different, and it has a great look and plenty of room with plenty of compartments including zippered and mesh pockets.

10

. Osprey Packs Transporter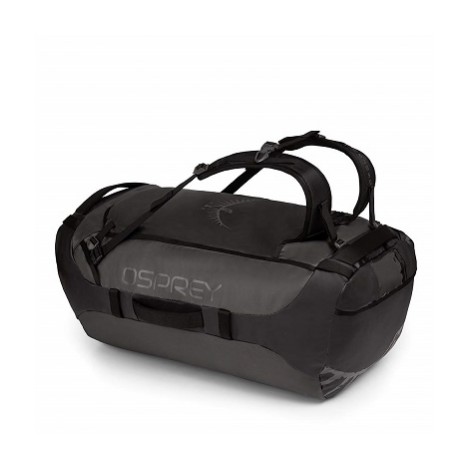 If you are going off grid and need tons of gear, the Osprey Packs Transporter 95 Expedition will provide you with a large compartment and tons of ability to click and attach gear. It is completely weather resistant so it is good in all outdoor situations.
The built-in dual sided TPU coating is used throughout, rugged hardware, the body has stiff structure and tons of extra built-in protection and strength. The weatherproofing isn't just in the materials and the secure closures, there are additional flaps that cover the closures so that falling rain or snow, and even heavy hail is deflected.
Founded in 1974 this company has a strong brand reputation in the backpacking and storage industry. The owner still to this day stays hands-on with operations and design. The stitching is always reinforced, the design is always custom for all their products to the specific outdoors activity that one would want to engage in. Constantly innovating to keep their products fresh and cutting edge, there is a reason they are an elite brand. As such, there will be a reflection of this in the price. This is a rugged option that has the ability to keep your items sealed and safe inside with its internal securing system. the over the top weatherproofing makes this great for outdoor use and it has plenty of room and attachment options to carry all your gear.

Subscribe to our Newsletter