Best Waterproof Jacket for Running Reviewed
In a
Hurry? Editors choice: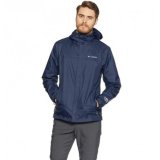 Test Winner: Columbia Watertight II

Wind, rain, snow, or sun, there is no stopping you and your
dedication to running
. If you are the kind of person who never let a little rain stop you from reaching your goals, then you will also understand the value of good quality equipment. You can't stay dry on willpower alone, unfortunately, which means you are going to need some serious gear for staying safe and dry while exercising. If you are training for a race like a marathon or a 5K, you may not have the luxury of choosing optimum times for running. Sometimes you might have to run in all kinds of weather. That is why we are going to look at the best waterproof jackets for running, products that allow you to go out there and seize the day no matter what the weather decides to do.
Standout Picks
Criteria Used for Evaluation
Comfort
Certainly, one thing related go comfort is fit. How well the waterproof running jacket fits greatly affects how comfortable it feels. This includes not just the size, but also how the product is designed. We examined each product to see how it was pieced together, and we looked for small but thoughtful details like a collar that prevents chafing or seams that were reinforced. One big factor of convenience was whether or not the product was packable. Nearly every product we chose has the ability to be stored in its own pocket which makes for easy travel.
One of the biggest factors that made these products much more comfortable was that they were lined with mesh. The mesh helps keep you cool. It wicks sweat, provides breathability and refreshing airflow, and also gives the inside of the product a slick feel which makes it much easier to put on and take off especially if you are already wearing long sleeves. No more getting your sleeves bunched up underneath a jacket. There is a reason that athletes were mesh-style jerseys. Most of the products we chose incorporate mesh in some way.
A fabric that helps keep you cool might seem counterintuitive in a product designed to keep you warm, but it really isn't. It is necessary for these products to allow some way for breathability, especially since they are designed with a watertight seal, they need to have some way to let air through. Once you are running for a while, you will start to feel warm and sweat will start to form. But these products are designed to keep water out, so how do they avoid holding water in? That is why breathable vents in several places around the product helps. Most of the products we chose included several vents that are customizable with zippers so you can get just the right level of comfort.
Durability
The two most common potential weak points in these products are the waterproof coating and the zippers. A common problem we came across when researching was that related products tend to lose their waterproof coating after a while of use. The coating starts to peel, crack, or fall off, and means the product is useless after that. To remedy this, we chose products that were extra durable. Since cold can speed up the wearing out process of the coating, we chose products that were rated for colder temperatures and that could withstand both rain and snow.
Of course, we all know how much trouble zippers can be. We have all had a zipper fail on a favorite piece of clothing. They can get stuck and just refuse to move anymore meaning you have to pull the clothing on or you might not even be able to wear it at all anymore. Exposure to weather can ruin zippers, to be sure, which is why we gave preference to products that came with a storm flap to cover the vulnerable main zipper. We also tried to choose products that had hidden zippers for the pockets because this will help protect those zippers as well.
Weather Resistance
These products have a lot expected of them. They need to keep out the rain, but not keep in the sweat. It is no fun to stay dry from the rain only to feel like you are running around in a wearable sauna. We looked for products that were breathable one way. They let water out but not in. But we also looked for products that had a good number of zippered vents. Relating to weather resistance, though, we checked to make sure there was absolutely no way for water to get into the product. We wanted these to be extremely watertight to make it on the list.
One essential related to this was zippered pockets. Without zippers, water could easily enter in through the pockets, not only damaging whatever is inside, but also getting you soaking wet. We made sure that the zippers for the pockets as well as the main zipper were either coated with a waterproof coating and/or were protected by a flap of waterproof fabric.
Another thing we looked at was the seams. We made sure that each product paid careful attention to how they designed their seams so they would not let water in. The products we chose used generally one of two methods for sealing their seams. One was heat sealed, the other was taped. Both of these methods seemed to work equally well according to our research. It was only necessary that each product includes some way of sealing their seams, no matter which way they chose.
Style
Looking good is extra motivation for going out and running. There were two main factors related to style. One was color options. And the other was design and fit. As for colors, we tried to choose products that came in more than one color, preferably several colors. We also liked to see products that had several choices of multi-colored products with well-chosen coordinating colors. Everyone has color preferences and style, and many like to be able to coordinate with the rest of their outfits. This is why we thought color options were so important.
The other factor was design and fit. We looked at how the product was designed, how it was put together, and how it was made to fit. Was it a slim, form-fitting style, or a roomy poncho-style fit? We tried to include several different styles because we realized that this isn't just a matter of personal style and preference, but it is also a matter of practicality. Some styles, no matter how attractive or unattractive, have certain practical functions. For example, a slim fit might look better if you wear only a t-shirt underneath, but a baggy design is going to be a lot more practical if you plan on layering warm shirts underneath.
Fit
We looked at both the overall fit of these products, as well as the specific fit of certain parts of the clothing. For overall fit, we examined users' reports to see if these items generally fit or if they run too small or too large. We wanted to find out if users had better success ordering a different size than they usually did for similar products so that we could pass that information along to you. Every product has its own unique sizing, and what might be a medium in one brand could be large in another. This is one of the potential pitfalls of trying any product, and by looking at the culmination of all other users' experiences, we wanted to spare you from the hassle.
As for specific fit, we looked at how well each part of the product fit. We wanted to know if the cuffs were too tight or too lose, how long the sleeves were, how long the body was, how wide the chest was, and how big the hood was. Even better, we looked for adjustable options in all of these areas. Many of the products we chose are highly adjustable and allow you to get your own unique fit that works best for your shape and size.
Top 10 Running Rain Jackets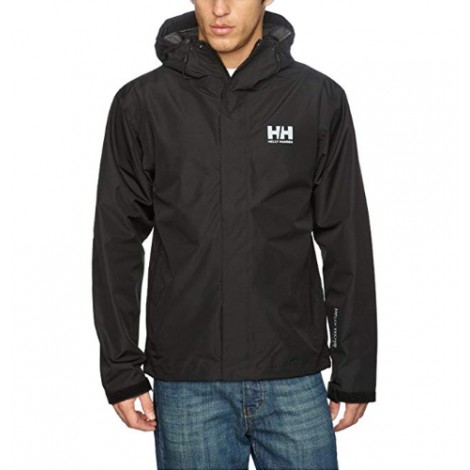 This waterproof running jacket from Helly Hansen has some good features for comfort. These include an anti-chafe chin guard which will prevent those annoying collars that irritate your chin when you go running. The Helly Hansen comes in a whole bunch of different colors so you can pick one that exactly fits your style. The product has a clean, classic fit with a hood that can be adjusted to your size.
The color options include some really bright colors that would be great for high visibility when running on a road. These include a fire engine red, a sulfur yellow, and a bright orange, but there are also plenty of other colors to choose from, and plenty of neutral or non-bright colors like navy blue, forest green, cream color, black, and gray. These are just a few of the many color choices.
This waterproof jacket for running is entirely made of polyester, which is great for its waterproof capabilities as well as its easiness to clean and take care of. The shell is both waterproof and windproof while still being breathable. The product is made out of a special two-ply fabric that keeps the rain out and wicks away sweat and allows it to evaporate. The lining is made to be quick drying. The shell is treated with something called Durable Water Repellancy, or DWR. This treatment makes water bead up on the fabric, and then simply roll off of it. Helly Hansen uses their own kind of fabric called HellyTech which acts kind of like a one-way street when it comes to moisture. It lets sweat out, but does not allow rain back in. All of the seams are sealed to prevent water from entering them, and the YKK zipper is covered with a storm flap to protect it from water.
One unfortunate thing about this running rain jacket is that the hood is fixed and can't be removed. This is a minor detractor for two reasons. One is that you will presumably want to wear the hood if you use this product for running out in the rain. Two is that if the hood was removable, that would be a weak point for water to potentially enter. But on the other hand, this could be an inconvenience if you plan to wear the product even when it is not raining, and in that case, you might not want to have a hood in the way. Another thing that users have mentioned is that the size of the product might run a little big. The sleeves might be a little too baggy and long unless you order a size down.
A good thing about the hood is that it is highly adjustable at multiple points. It is designed to be adjusted by one hand. The cuffs are also adjustable with velcro which allows you to tighten them around your wrists to keep the rain from running down your arm. The bottom hem features a cinch cord so you can tighten the produce around your hips.

2

. Columbia Watertight II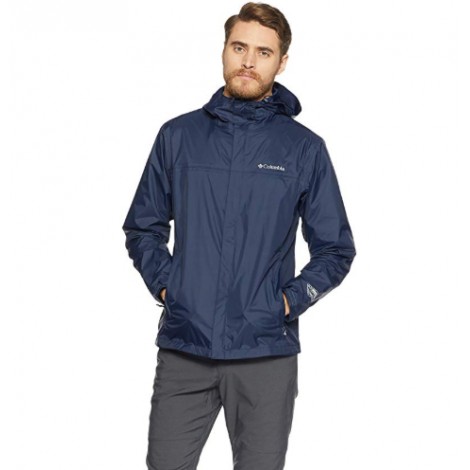 The Columbia Watertight II is a lightweight product that has a snug fit which is great for use in running. Wearing a tighter waterproof running jacket will also help keep out the rain better. Strategically placed elastic detail helps hug the product to you which makes it tight yet still comfortable and still allowing you to have free range of movement which is essential for running.
Although the cuffs and the hem are not adjustable, they are made out of elastic so they basically adjust themselves. While the lining is a mesh type fabric that is made out of polyester, the shell is made entirely out of nylon. There are two pockets, one on each side, and they both have zippers. The collar is abrasion resistant, and the product is machine washable. One really cool feature is that you can pack the entire product into its own side pocket and then carry it around or travel with it in a convenient, space saving, folded format. To fold it, simply turn it inside out and then pack the whole thing into either pocket. Then you can close the pocket using the zipper. Then, you can easily store the product in a backpack if you plan on going hiking and want to be prepared for wet weather.
The outside of this waterproof jacket for running is coated with Omni-Shield which is a microporous fabric that resists any kind of staying. It does not absorb liquids and repels stains and water. Some users have said that the hood is too big, and since it is not adjustable you would need to wear a hat under it to make it fit right and to keep the rain from hitting your face and running down your neck.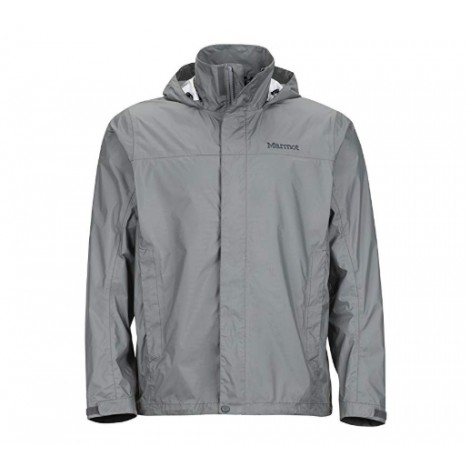 One really cool feature of the Marmot PreCip waterproof running jacket is the foldable hood which allows you to roll it tightly into the collar and store it away. This is the next best thing to a removable hood, and is, in fact, a much better design when it comes to waterproof clothing.
Users say that the Marmot PreCip works best if used in rain for less than three hours at a time. If you remain in the rain too long, the product will start to absorb the water instead of repelling it. The Marmot is best for moderate rain, snow, and wind, but not extreme conditions. The seams are all taped which prevents leaks, and the chin guard is lined with a fabric called DriClime. The product features two and a half layers of Nano Pro fabric which repels water at the micro level. The hood has a visor which is supposed to help keep the rain from reaching your face and also keep the hood from blocking your view.
Something users have complained of was the fact that the waterproof lining can wear out after awhile. Using the product in the extreme cold might speed up this process. Users started to see cracks in the lining where they could see the non-waterproof fabric underneath. Some users thought the fit was a little different than with most products. They said that it has a loose fit similar to a poncho at the hem, but yet the arms and cuffs were tight. This product is probably made with that kind of fit in order to allow you to wear layers under it. The layers would need to have tight-fitting sleeves. Some have also said that the visor on the hood needed to have stiffer support in it so it stays up and does not droop over the eyes.

4

. The North Face Venture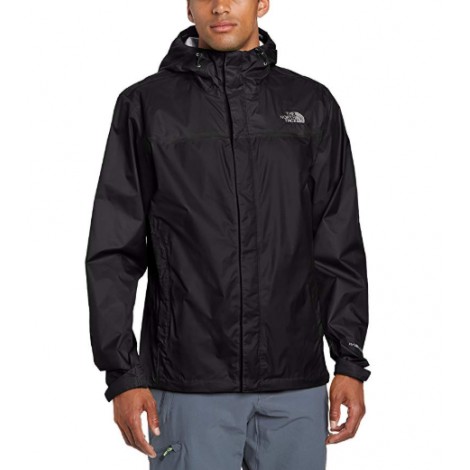 The North Face features a hidden drawcord system which is remains hidden for the benefit of style and so that it does not get in the way. The front of the product has a zipper closure, and the storm flap has velcro on it as an added bonus closure.
The North Face waterproof jacket for running has some unique color options that we have not seen on other models. These are dual color combos with the sleeves and the top fourth of the product being one color, and then the bottom three-fourths of the product being a coordinating color. Some of the color combos include dark blue and light blue, laurel wreath green and spruce green, red and blue, gray and black, burnt olive green and black ink green, teal and white, gray and white, and maroon and black.
Some users have complained that the product did not last more than a year or two. Others have said that the product does not have a lining and so is not very warm, but at least it keeps the rain out. These users have said that they ordered a size up so they could wear a warm sweater or a base layer underneath. A common report from users was that the product fits well and is stylishly designed.

5

. Charles River New Englander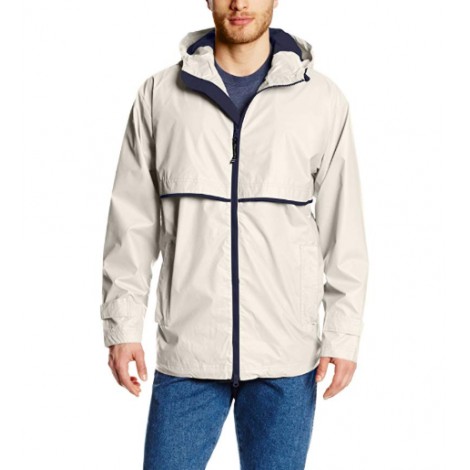 The Charles River running rain jacket has a stylish design with contrasting color accents and a stripe horizontally across the back. The product features several mesh vents for cooling and ventilation, especially helpful when it is used for running.
The mesh air circulation vents are located under the arms and on the front yoke on each side of the chest, These vents are covered to allow breathability while still keeping the rain out. The entire product is also lined with mesh to help with overall breathability. All seams are sealed with heat, and the polyurethane fabric has been bonded to a woven fabric which provides additional strength. The Charles River features a two-way zipper for convenience, and it comes in several classy color options with coordinating or contrasting colors. The stripe across the back is not just for show, however, on three of the color options (red, black, and navy). It is also there for a practical reason. The stripe is actually a reflective tape which provides you with more safety when running. The sleeves are lined with nylon to make it easier to take them off and put them on. The cuffs are adjustable with hook and loop velcro closures. One downside to the Charles River is that it must be hand washed. This will improve the life and durability of the waterproof coating, but it is somewhat of an inconvenience. Another potential problem is that the zipper does not have a storm flap to cover it.

6

. Outdoor Research Foray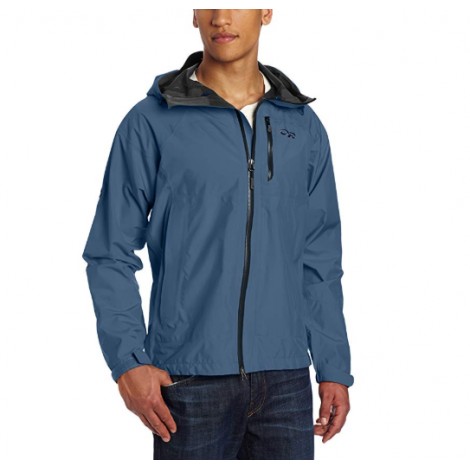 This product from outdoor research features zippered vents on both sides of the product. The zipper goes all the way from the hem up to under the top of the arm. You can unzip these for maximum ventilation. This is useful for if it stops raining and gets warmer and you want to keep running without having to take off and store the product. The side vents have double zippers so you can unzip them from the top, from the bottom, or from the middle.
Although there is not a storm flap to cover the front zipper, all of the zippers are coated with a protective, waterproof coating so they do not deteriorate and also do not let in water. Although users did have trouble with the zippers working. Some of them said the zippers would get stuck. Perhaps this is because of the coating, or it might be because there is no flap to protect the zippers from the elements. There are three total pockets in this product, all of them with zippers. Unlike most products which have just two side pockets, the Outdoor Research also includes a Napoleon chest pocket which is perfect for storing your phone. All of the pockets are placed strategically so they do not get in the way of a harness or belt. This product has been tested by athletes in several sports including rock climbing, ice climbing, hiking, running, skiing, and boating. The Outdoor Research has a carabiner clip as well as a clip for keeping your keys secure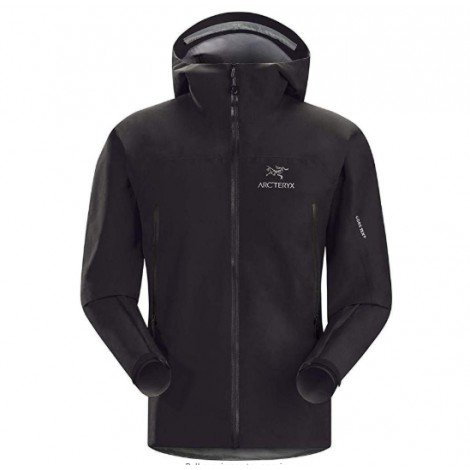 The chin guard on the Arc'teryx Zeta is brushed with microsuede which gives it a soft feel and prevents irritation if it rubs up against your chin when this waterproof running jacket is zipped up all the way.
The Arc'teryx has a special technology called Gore C-Knit which gives the product a next to the skin, comfortable feel. The product is designed for comfort with elbows that are articulated, and underarms that are sewn in with gussets which provide more comfort and ease of mobility. The hood has a laminated brim to act like the brim of a hat. The velcro on the cuffs is designed to be minimal so it will not catch on things and will not get torn off accidentally. The hem is laminated for durability and features a drawcord for adjustability. Most of these products only have external pockets, but the Arc'teryx actually comes with two internal pockets, both of which have laminated zippers. One potential downside to the zippers is that they are only water resistant, not fully waterproof. This means that you should not keep items in them that can be damaged by a little water that might leak in. This only applies to the outside pockets, however. The inside pockets are fully waterproof. One thing users liked is that the product does not stick to you even after you have worked up a sweat. The outside of the product has a smooth, soft texture that does not make a loud rustling noise when you run as is the case with some products.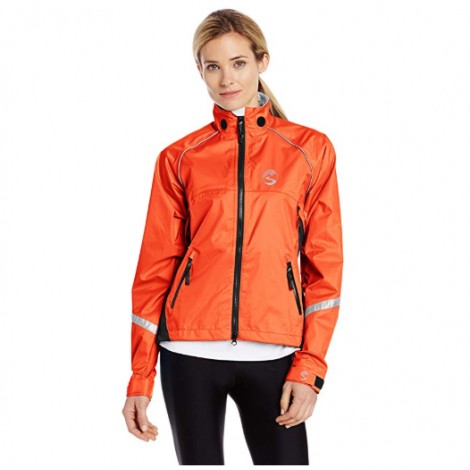 This waterproof running jacket from Showers Pass has two roomy front cargo pockets with zippers, and the pockets are easy to access. It comes in high visibility colors for maximum safety, and it also includes reflective tape all the way around. Users have said that they love the bright colors that the product is available in.
This running rain jacket is fitted with a slim and sleek design that makes it feel more like a shirt. It has a dropped tail and three layers of breathable material. The Showers Pass has several customizable vents. There is one at the base of the neck, two under the arms, and core and back vents. One downside is that the product does not come with a hood. The hood must be purchased separately and attached. The Showers Pass has a loop on the back which makes it easy to hang up when not in use.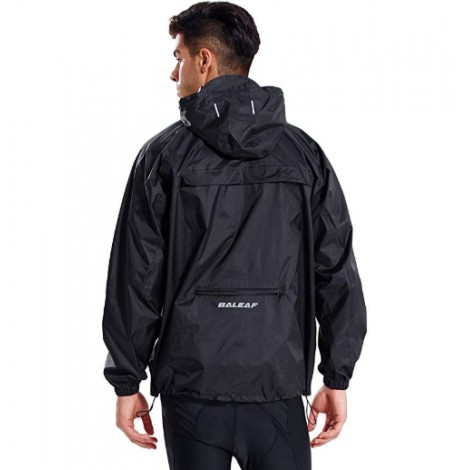 The Baleaf waterproof jacket for running has a large back pocket which is great for storing larger items. It still has the customary two front pockets as well, but the back pocket boasts more room for storage.
You might see the three quarter front zipper as a good thing or a bad thing depending on your preferences. On the one hand, it means there is less potential area for the rain to enter, and less zipper to potentially stop working. But on the other hand, getting the product on and off will be somewhat less convenient since you will have to pull it over your head instead of just zipping it up. The Baleaf features reflective logos on the hood, back, and front. Some users have said that the Baleaf is not very breathable and does not wick away sweat. One nice thing about the Baleaf is that it is not specific to one gender. Instead, it is made to fit both men and women equally well.

10

. Under Armour Storm No Breaks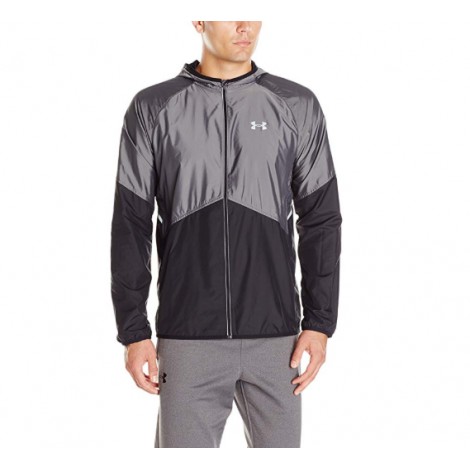 The Under Armour Storm waterproof running jacket has a special woven iridescent fabric that shines in the light. It is not quite reflective, but it is highly visible and will help drivers see you on the road.
The Under Armour has an internal mesh pocket on the right side for storing and protecting your phone. The product is made out of the brand's special UA Technology fabric that repels rain and wicks sweat. The product has a tiered system of layered fabrics and is made out of an almost equal mix of nylon and polyester. The product has a stylish coloring design and comes in six pairs of colors. An option you can choose is whether or not to purchase them with reflective properties. The most common complaint about the Under Armour is that it is suitable mostly for light rain, and not for heavy downpours.

Subscribe to our Newsletter