Best Running Tights to Keep Cool With Reviewed
In a
Hurry? Editors choice: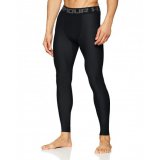 Test Winner: Under Armour HeatGear

If you're here looking for the best running tights then you already know that one factor that is often overlooked is the clothing you choose to wear. Let us help you find the right running tights.

We are athletes here too and we know that your clothes need to fit you just right in order to help provide you with an environment that is not only comfortable for running but one that can even boost your performance. Investing in a pair of high-quality running tights is a great place to start. Poorly made or ill-fitting tights can be distracting, uncomfortable and can hinder your ability to run.

We have compiled a list of running tights below of the ten best running tights on the market today. Take a look through our buying guide and see if you can find one that will work for you!
Standout Picks
Criteria Used for Evaluation
Compression
Clothing that has compressive qualities can be very beneficial for runners. Running with compression pants, calf sleeves or socks on can help give you a bit of an extra edge. As you may or may not know, oxygen is what provides fuel for our muscles when we exercise. Having adequate amounts of oxygen will allow us to go further and faster. But if you don't have enough oxygen, your body will then produce lactic acid. Lactic acid is that burning sensation you feel when you're working out and pushing your body very hard. We can almost guarantee that every single runner has felt this at some point. In order to stave off premature muscle fatigue, we have to be able to give our muscles more oxygen more efficiently. We also need to be able to get deoxygenated blood to the heart in order to take away the lactic acid that is fatiguing the muscles. This, my friends, is where compression clothing comes in handy.
Properly made compressive clothing has graduated compression panels through it. Manufacturers are known to put a greater amount of pressure on the panels that are compressing the muscles furthest from the heart. In running leggings, the focus is on putting more a greater amount of pressure around the ankle. This will help to squeeze the muscles of your calf, ultimately giving the veins the necessary push they need to get that deoxygenated blood where it needs to go. When this process is in motion, you'll be able not only run further because you're getting more oxygen in your blood that can then be used to give power and strength to your muscles, but you'll also be able to recover much faster because of how quickly your body is getting rid of the waste lactic acid.
The compression leggings on our list will be able to provide runners with the support they need in the areas they need it in order to perform their absolute best during every run. These running tights for men and women will give your quads and knees additional support to help cut back on some of the vibrations those muscles would otherwise have, helping you feel powerful for longer during your run.
Comfort
No amount of compression can save a pair of running tights if you find them uncomfortable to wear in the first place. Comfort level is often determined by the materials used in construction of the clothing, as well as the way they are designed to fit on your body.
We scoured material lists, clothing tags and reviews from current wearers while we were choosing the best options to include in our buying guide. You'll be happy to know that every one of the ten garments listed above have far surpassed our expectations in terms of comfort.
All of that said, however, comfort is a relative thing. What we might find to be a comfortable pair of leggings might not be so for you. If you know you're a bit picky with the fabrics you find comfortable on your skin, we recommend making sure the product you're investing in has a solid return policy. This will protect your investment in case you receive your item in the mail and find that you aren't a fan of it in some way, shape or form.
Fit
The way your new running tights are designed to fit depends entirely on which product you choose from our list above. Some of the garments that made the cut on our buying guide are compression tights while others are not. As we touched on in the Compression section above, these particular options are designed to fit tightly on your body. They will feel entirely different than a pair of leggings that do not have compressive properties. If you've never worn compression clothing before, you might be surprised at how tight they feel. But, don't worry. You didn't purchase the wrong size. Compression tights are supposed to feel tight – that's how they provide you will all that delicious compression. If you know you're someone who hates the feeling of clothing tight against their skin, you may wish to pass right on by the tights with compression qualities. You will, more than likely, not find them comfortable at all.
Breathability
If you tend to overheat and sweat a lot when you run or perform high-intensity activities, you know just how important it is to have the best running tights that are going to help keep you cool and dry during your workouts. This is why we wanted to take breathability into account as we chose the ten best options for our buying guide.
Breathable leggings are made from fabrics that naturally allow air to circulate under the clothing and over it. This allows sweat to dry as fast as possible and will stave off bacteria build-up. It's this build-up of bacteria on our skin that leads to the scent we associate with body odor (or B.O.). If you're doing a lot of running and experiencing a ton of moisture on your skin (especially in areas like your groin and armpits), it can be very easy to come down with a fungal infection. Investing in clothing that enhances the breathability of the product is essential in this case.
It can be really uncomfortable to wear clothing that has is not breathable. These garments can make you hotter which leads to even more sweat and bacteria build-up and further discomfort. No one wants to wear soaking wet clothing during their runs. Not to mention, clothing that is not breathable can lead to overheating very quickly which can not only affect your performance but can make you susceptible to unfortunate heat emergencies as well.
Support
Support and compression go hand-in-hand. If you purchase a pair of leggings with compressive qualities, you're going to be wearing something that is supportive. But do your tights need to be compression pants in order to be supportive? No. Not everyone likes the way compression clothing fits and feels on their bodies. That's okay. You can still purchase a pair of running leggings that are supportive without being compressive. It's the material of the garment that makes them supportive. Regardless of which product you choose from our list, we believe you'll be happy with the amount of support they provide.
Why is support something you want in your running pants in the first place? Great question! No one wants to feel like their bodies are jiggling during their runs. It's normal to jiggle. We all have a little extra skin where we may not necessarily want it. But feeling our tummies or thighs moving as we run can be really distracting. When you have a pair of supportive running leggings, they'll hold your skin in place when you run.
Running tights are meant to fit, well, tight against your skin. This slim fit will help to ensure your clothing is not riding up mid-run. It also helps to eliminate any friction that baggier and less-fitted pants might cause on your skin. Tights don't have to be restrictive, though. Materials like polyester and spandex will provide ample amounts of flexibility and freedom without making you feel like a busted can of biscuits or like you're sliding into a pair of too tight Spanx.
10 Top Rated Running Tights
The CW-X Endurance Pro Compression Running Tights were designed to help support all of the essential muscles you'll need during your runs. They have an EXO-WEB panel that contours to your muscles in order to provide an element of stability without feeling like you're being restricted too much or affecting your range of motion.
If you look closely at these running tights, you'll see some criss-cross webbing design. This is the aforementioned EXO-WEB tech from CW-X. This is actually where the compression comes in. It mimics how massage therapists and physiotherapists use kinesiology tape on their clients to help support joints and muscles that are injured. This webbing will help provide a level of shock resistance to protect your joints as well as increase your circulation and help with recovery. Not to mention the webbing gives these a cool boost aesthetically. The Endurance Pro is available in three different color options, where the external lining of the webbing is colored (black, purple or rainbow).
These running tights are made predominately from CoolMax fabric which will help you to stay not only cool during your long, grueling runs, but dry as well. CoolMax is able to pull any moisture away from your skin and transfer it to outside of your clothing.
Taking our second place spot is this option for men from Under Armour. These men's running tights are designed to have an extremely tight fit that feels closer to wearing second skin than anything else.
They're made from Under Armour's proprietary HeatGear technology. This fabric type is meant to keep whoever is wearing it cool and dry in particularly hot conditions. Any garment you purchase from Under Armour with HeatGear is great for folks who do a lot of outdoor workouts in warm temperatures or for those who tend to overheat when they workout. If you're someone who sweats a lot, you'll be happy to know that these tights will wick away sweat, dry quickly and also even have anti-odor properties that will keep them from getting smelly.
These men's running tights have a mesh gusset and panels on the inseam that is designed to provide ventilation in the spots that need it the most. You'll be happy to find that there are no seams on these tights in places that see a lot of abrasions, ultimately giving the comfort level of these a huge boost. We have to give bonus points to Under Armour, too, for providing these tights in a number of different colors like black, blue, grey and green, to name a few.
The 2XU Elite running tights for men is a great choice for men who need a little more from their running tights. These feature an elastic waistband with a drawstring that will help to ensure that you're getting the best (and most comfortable) fit every time.
These also feature 2XU's Muscle Containment Stamping (MCS) technology, whereby they apply targeted compression to the areas of your body that are more likely to experience muscle fatigue, like your quads and calves.
These men's tights are made from 2XU's signature fabric – PWX (Power Weight Flex). This fabric technology is designed to provide power and flexibility to the wearer just where they need it. It's also moisture-wicking to keep you comfortable, dry and chafe-free. The fabric is also anti-bacterial so you won't be smelling any unfortunate scents, regardless of how much you sweat in them. They even provide wearers with a UPF 50+ for protection from the sun when running outdoors.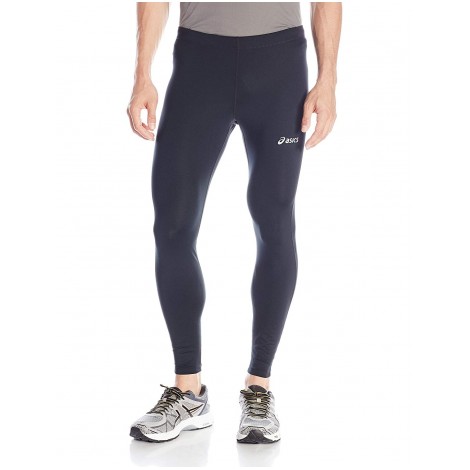 These running tights for men are made from a soft and stretchy performance fabric that will help to aid in moisture management in order to keep you cool and comfortable during your runs. They have an elastic waistband to ensure you get an optimal fit and a pocket on the back with a zipper closure so you can keep essentials on you.
We think you'll love the all-around coverage that these tights are able to provide wearers. The lightweight and stretchy polyester materials used in the construction of these are going to feel like a dream when you slip into them and you'll love how they give your performance a boost.
Though these running tights do not have compression qualities like some of the other items in our buying guide, they are designed to be a fitted option. They're not necessarily great for using in extreme weather (cold or hot), but will work just fine in the 40-55 Fahrenheit range.



If you are finding it difficult to jump aboard the compression tights train, you'll be happy to see that this option from Reebok has a bootcut fit instead of compressive qualities. This fit makes them a great choice for not only jogging but yoga and errand-running too.
These women's running pants are made with a quick-drying polyspan material that will take any and all moisture away from your skin so you're dry and comfortable during your runs. They are made to fit your legs like a hug but, as mentioned, aren't restrictive at all. If you're a serious runner looking to beat some PRs, you may want to look elsewhere for this reason alone.
The waistband of the Reebok Lean is nice and wide to provide comfort across the tummy and they have a small pocket, perfectly sized to fit your key during your runs.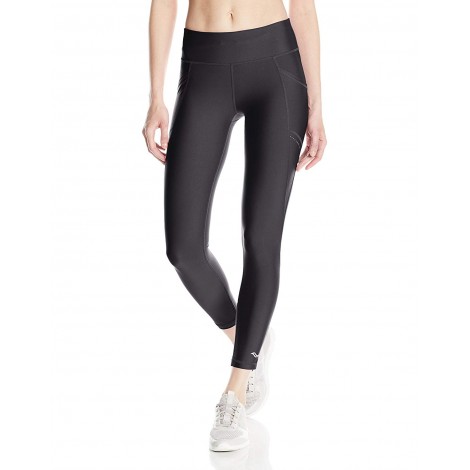 Are you looking to add a little pop of color into your workout gear? Then look no further than this option from Saucony. The Bullet is available in eight different color options including solids like black, pink, purple and red as well as bolder multi-color patterns.
The Bullet women's running tights are designed to fit like a second skin thanks to Saucony's PowerLuxe fabric. This material is ultra-supportive and will help keep you comfortable. It also boasts some pretty great cooling technology to keep you comfortable during your runs.
Saucony really pulled out all the stops when it comes to features in The Bullet. These running tights have a back pocket where you can store small personal effects, a gusseted crotch that'll ensure no chafing will occur during your workouts, and some reflective trimming to help keep you safe during runs in the dark.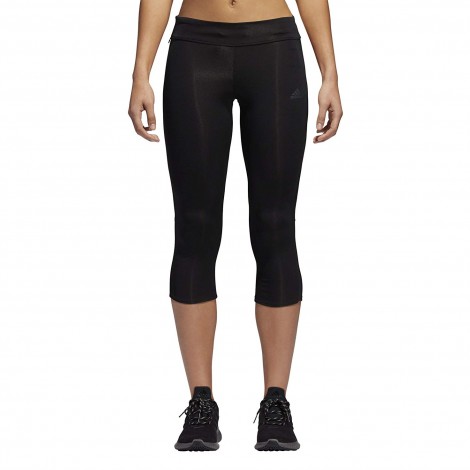 We couldn't very well have a list of the best running tights and not include a product from one of the leading manufacturers of athletic gear, could we? This product from Adidas is made of soft and stretchy materials that are going to move with you during all of your runs.
They feature built-in mesh paneling on the sides for additional breathability that will also add a huge boost in the leggings' cooling capabilities. There's a zippered pocket to hold any small personal effects like your house or car key with you.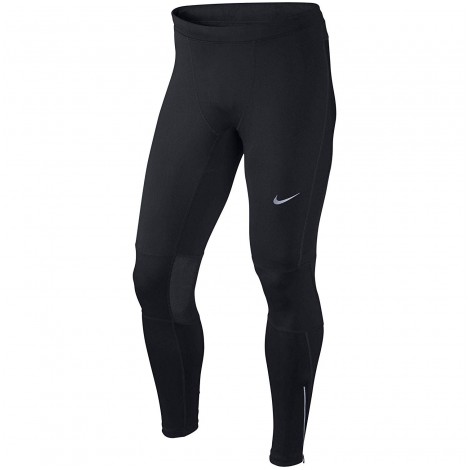 Of course, we can't forget one of the major athletic wear brands on our list of the best running tights. Nike holds a special place in many athlete's hearts because of how well-performing and durable their athletic gear.
The Power Dri-Fit is, of course, no different. These running tights feature Nike's Dri-FIT tech which, as you may be able to guess from the name of the technology, is designed to keep runners dry and comfortable, no matter how far they're running. These leggings have mesh panels behind the knees so that you'll always feel cool and well-ventilated.
The waistband is elastic and has a drawcord on the inside so you're able to customize the fit.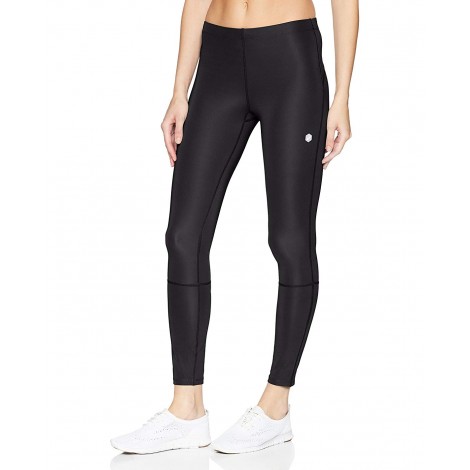 These running tights from ASICS are going to be your best friend for your runs, especially if you do a lot of running during low light times of the day. The reflective bars found on the calves of the leggings will give you a boost of visibility when it's darker outside, ensuring you'll be kept safe no matter what time of day you choose to log some miles.
They have a drawcord to help ensure you're getting a comfortable and supportive fit. Speaking of 'comfortable fit', the Anytime 7/8 tights also have moisture-wicking capabilities which will help keep you dry and comfy during those long, grueling runs.
These women's running tights are available in a few different color options so if you're the kind of person who likes to have a pop of color in their workout gear, you'll want to check these out. They're available in black, grey and blue steel. But, if you're more of a print girl, don't worry, ASICS has your back. These are also available in a few different print options as well.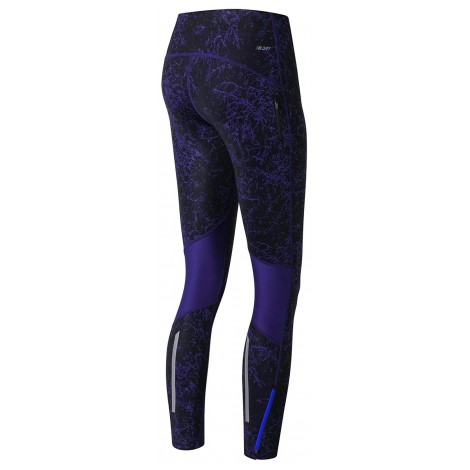 In the final spot on our top ten list is this great option from New Balance. Don't let it's spot in tenth place fool you, it's still as viable of a running tight option as any of the others on our list. Let's look closer.
These women's running tights are great if you tend to overheat or get uncomfortable while you run. They have mesh insets on the back of the knees to increase ventilation in order to keep you cool. The hem of the tights has adjustable zippers and silicone grips to help increase your comfort. The waistband has a drawcord to help ensure you get just the right fit every time you slip these on.

Subscribe to our Newsletter