Best Compression Leg & Calf Sleeves Reviewed
last updated:
Mar 29, 2020
Athletes of all levels know the difference that wearing a compression sleeve can make! If you suffer from shin splints, lower limb fatigue, bruising, or numbness in your legs and feet incorporating compression into your exercise gear can help improve your symptoms. Doctors and physical therapists highly recommend wearing this type of equipment while performing physical activities like running, jogging, or even walking, especially if you have a condition which impacts your circulation. That's why we've made a list in which all the best compression sleeves are provided, researched specifically for individuals like you. Continue reading below for a detailed review of the top 10 compression sleeves available today.
This is the best product on our list that is currently in stock:

CEP Running 2.0
Why is it better?
Adequate Airflow
20-30 mmHg
Moisture Control
Halo Top-Band
In a
Hurry? Editors choice:

Test Winner: CEP Running 2.0

5
Researched Sources
4267
Reviews Considered
11
Hours Researching
10
Products Evaluated
Compression
Materials
Comfort
Effectiveness
Support
By Default
Top 10 Picks
16-23 mmHg
Polygiene Stay Fresh Technology
Anti-Odor
Moisture Wicking
The Rockay Blaze Calf & Shin Sleeve provides graduated pressure that has been scientifically proven to help with preventing and speeding recovery times from common injuries such as shin splints, leg cramps, varicose veins, and achy legs. Lower limb fatigue will be significantly reduced thanks to its unique combination of polyamide and elastane materials that provide just the right level of compression to stabilize, support, and strengthen the calves and shins.
Rockay's Blaze offers graduated compression that is verified by Swisslastic's one-of-a-kind test. Graduated compression is proven effective and works by providing more pressure lower down the leg, at the ankle, and less pressure higher up towards the knee. This method is highly recommended by healthcare professionals and works to improve circulation to the lower limbs. Rocky stands behind their product by offering a lifetime guarantee on the quality of their sleeve and have even included the Swisstastic test inside the box letting customers see the results for themselves.
 
This Sleeve provides odor-fighting technologies and is pre-treated with Polygiene Stays Fresh Technology that inhibits the growth of odor-causing bacteria. The Blaze has been noted for its moisture-wicking properties thanks to the addition of air ventilation zones during its construction. The innovative Polygiene Technology works to maintain the level of airflow by keeping the ventilation points clear of sweat and other blockages.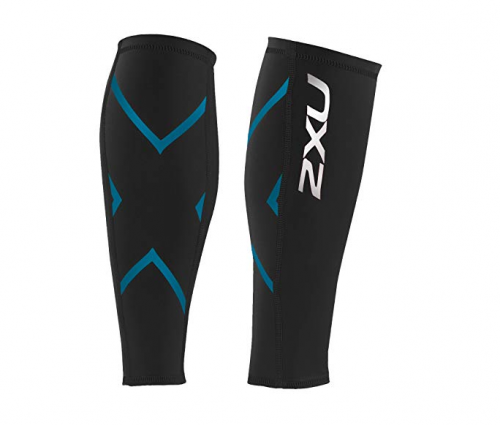 360° Knit Construction
50 UV Fabric
Sport-Specific Compression
Anti-Bacterial Technology
2XU offers an innovative type of compression that's sport-specific of just the right type based on your activity. This unique patent targets specific muscle groups to provide the ideal pressure based on the movements associated with your preferred activity. It utilizes different strengths of compression panels over certain muscles to provide a great mixture of flexibility and support. The great thing about this option is that it feels tailored to your exact needs which is why wearers can't get enough of this sleeve.
This pair's 360° knit construction allows for a strong and continual pressure that targets the shin and calf muscles. It's made from a lightweight combination of Nylon and Lycra that allows for adequate next-to-skin airflow and is pre-treated with anti-bacterial technologies that prevent odor-causing bacteria.
 
2XU has got you covered when it comes to UV rays, that is! This pair is made from 50 UV fabric that protects you from the suns powerful rays while you're on the move. This option targets the muscles, tendons, and fascia that affect overall performance which is why wearers report improvement in overall speeds with fewer instances of injuries and downtime.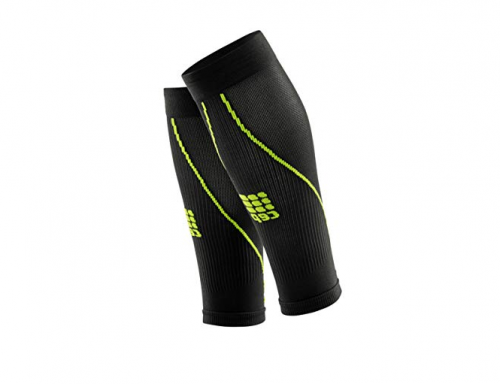 Adequate Airflow
20-30 mmHg
Moisture Control
Halo Top-Band
CEP's Running 2.0 sleeve offers graduated compression that's an effective way to improve lower limb circulation and prevent shin splints. Paired with best running shoes for shin splints, it gives you extra protection. These sleeves are geared towards performance improvement and injury prevention while, at the same time, reducing leg pain and fatigue. This lightweight options allows for adequate airflow and is ideal for wear in warmer temperatures when you need an option that's going to help minimize sweat production.
This sleeve delivers a comfortable 20-30mmHg of pressure which is within the recommended range by healthcare professionals and is considered effective for swelling, pain, and fatigue in the legs. It's Halo top-band sits below the knee and makes for an enjoyable wear thanks to its easy-wearing construction that keeps your sleeve from sliding down while you move.
 
Made from 79% polyamide and 21% elastane, the Running 2.0 is likened to Rockay's Blaze and wearers enjoy its moisture-controlling properties that help to prevent irritation from rubbing and excess perspiration.
4

. Mava Sports Calf Sleeve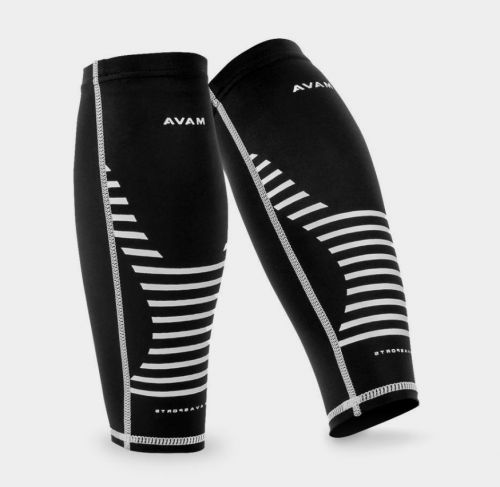 18-25 mmHg
85% Nylon
15% Spandex
Four Sizes
This selection from Mava Sports is perfect for alleviating shin splints and muscle cramps. It's made from a breathable blend of 85% Nylon and 15% Spandex and offers an 18-25 mmHg compression strength. This sleeve helps to encourage blood flow while providing a support structure for the lower limbs and allows for faster warm-up time and smoother recovery.
This pair is available in four sizes ranging from small through extra-large and is anatomically shaped to help lessen the incidence of injury. Go ahead and wear this sleeve all year round thanks to its breathable combination of materials that help to wick excess moisture away from the skin while preventing a buildup of sweat and odor-causing bacteria.
 
Mava Sports is a trusted name in athletic equipment that is known for their high-quality performance-enhancing gear. This sleeve retails for an accessible price point that is very affordable. Anyone shopping for a relatively inexpensive pair that delivers good value for its price will be happy with this option.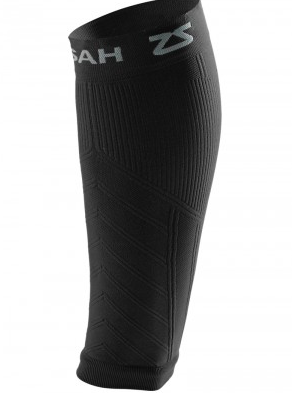 90% Nylon
10% Spandex
Anti-Odor Technology
Moisture Wicking
Zensah's sleeve is made from 90% Nylon and 10% Spandex for an enjoyable fit that provides just the right kind of pressure. It's effective against the symptoms of shin splints and helps to improve circulation to the legs. Wearers love the improvement they see in recovery times while wearing this sleeve and the targeted support that it delivers. This US-made sleeve is one of the original designs that date back to 2004 when Zensah was first founded.
This option includes built-in moisture-wicking and anti-odor technologies that make it a favorite with runners and other professional athletes. Forget about uncomfortable sweat ruining your run because this Zensah has got you covered even on the toughest courses. Its anti-odor pre-treatment keeps your sleeve fresh even after long hours of strenuous activity so you can feel your freshest while you perform.
 
Athletes looking for some additional calf and shin support will benefit from the Zensah's sleeve that delivers graduated compression proven effective against cramps, fatigue, and micro-tears. It helps to stabilize the muscles and prevent undue strain and injuries.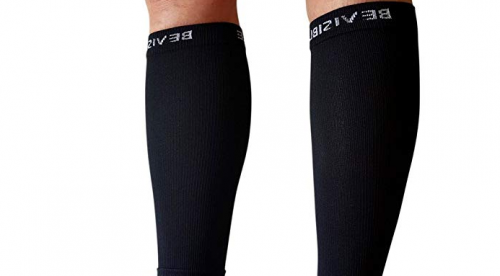 14-23 mmHg
76.6% Nylon
23.4% Spandex
Lightweight
The BeVisible Sports Calf Sleeve provides a supportive level of pressure that doesn't feel too tight against your skin. Its made durable and is scientifically designed to enhance athletic performance while also providing just the right level of pressure for everyday wear. This option delivers a unique 14-23 mmHg graduated compression that provides relief from shin splints, leg pain, and swelling.
This option from BeVisible helps to alleviate uncomfortable leg cramps and is a great choice for joggers, sprinters, and other physically fit individuals. It features a wider 1.2-inch no-slip strap that ensures your sleeve stays perfectly in place while you move so you can keep your head in the game where it belongs!
 
Made from 76.6% Nylon and 23.4% Spandex, this option is lightweight and breathable which is ideal for preventing excess sweat. Choose from three sizes ranging from small to extra-large and five vibrant colorways that make this an option that's unique to you.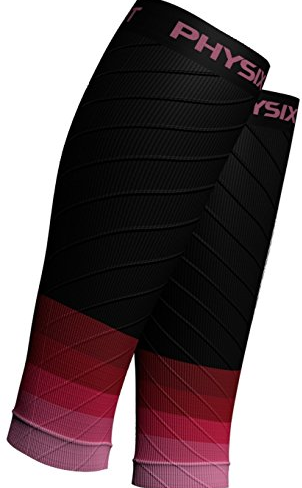 Double Stitched Seams
Durable Fabric
Breathable
Stay-Put Design
The Physix Gear Sports Sleeve is a well-made option that provides lasting compression. It's made with double stitched seams and durable fabric that ensures this pair will last. For athletes who plan on running the extra mile, this is a great choice that delivers a solid level of pressurized support and helps to prevent cramps, swelling, and other lower limb discomforts.
This option offers a fashionable appearance that lets you stay stylish while you run. Its available in 12 colorways so you can choose a design that lets you express yourself while you exercise. Physix Gear has crafted a breathable design that helps to prevent overheating and excessive sweat that can lead to odors so you can feel fresher for longer while wearing a pair of these.
 
This sleeve won't slip or slide down even during bursts of intensive activity so you can feel assured while performing and know that your equipment won't fail when you need it the most.
8

. Fittest Pro Sleeve Sock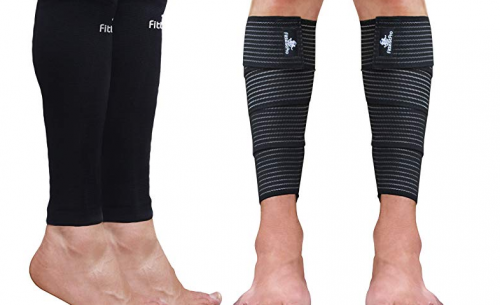 Posterior/Anterior Calf Support
Crisscross Straps
Elasticized Cuff
Graduated Compression
The Fittest Pro Sleeve Sock was made for everyday use and is designed to provide extra support to both the posterior and anterior calf muscles, as well as, the Achilles tendon. Specific pressure offers targeted support and is the perfect choice for individuals who are on their feet for long periods of time, or who engage in intensive sporting activities such as jogging, running, training, or weightlifting. Made with unique crisscross elastic straps and an adjustable Velcro closure system this option provides a customized fit that's perfect for individual requirements.
Fittest Pro utilizes graduated compression that helps to boost performance while alleviating leg pain, swelling, and other discomforts of the lower extremities. This is an inexpensive option that delivers solid results and circulatory benefits which is what keeps wearers coming back for more.
 
The adjustability of this pair is popular among users who enjoy its crisscross straps and customizable Velcro closure system. Nursing staff, athletes, and casual wearers alike can all benefit from these options that provide a supportive level of pressure that isn't so strong that it's going to cause discomfort. This choice comes with a 100% money back satisfaction guarantee so you can try it for yourself risk-free.
9

. Doc Miller Premium Knee-High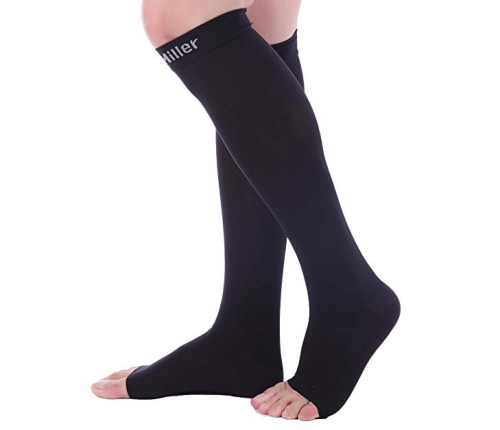 77% Nylon
23% Spandex
Medical Grade 30-40 mmHg
Multiple Colorways
Doc Miller's Premium Knee High is an effective toe-less sleeve that offers a medical-grade compression pressure of 30-40 mmHg. It utilizes a graduated pressure that effectively improves circulation and is recommended for maternity, as well as, athletic use. Ergonomically designed to ensure a supportive fit, these Doc Miller's are a great choice for anyone searching for a stronger pressure than the standard 15-20 mmHg.
Fatigued and achy lower limbs won't bother you anymore, thanks to this pair of Doc Miller sleeves! They deliver the right amount of strength to assist with improving blood flow. Once your circulation increases, you will notice a drastic improvement in swelling, aches, pains, and other symptoms associated with the legs. This is a lightweight choice that's made from high-quality materials including 77% Nylon and 23% Spandex. This makes for a breathable fabric that is pre-treated with anti-odor technologies that help to eliminate the growth of odor-causing bacteria for a fresher all-day feel.
Available in multiple colorways including blue, skin, and black, just to name a few, this option adds a personalized flair to your equipment. Wearers enjoy the individuality that this pair offers and love having the ability to mix and match their outfits with different colored sleeves for every day of the week.
10

. Thirty 48 Graduate Calf Sleeve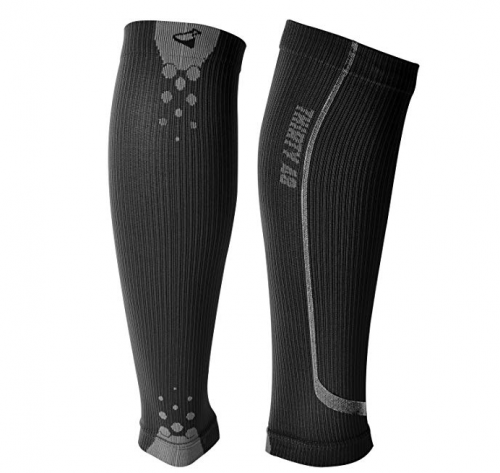 15-22 mmHg Or 20-30 mmHg Strengths
Wicks Moisture
90-Day Satisfaction Guarantee
Anti-Odor Technology
Thirty 48's Graduated Calf Sleeves' are suitable for all types of athletic activities and get your blood pumping quickly for enhanced circulation. They're available in both a 15-22 mmHg and 20-30 mmHg pressure strength and come in a variety of colorways making for a more stylish appearance. This sleeve helps to reduce muscle fatigue and injury while improving overall performance and lessening recovery times.
You won't have to worry about uncomfortable moisture retention while wearing a pair of these Thirty 48 sleeves thanks to their moisture wicking technology. Excess sweat is wicked away from the skin which helps to inhibit the growth of odor-causing bacteria for a fresh all-day feel. This is also a safe option for use during pregnancy as well as for individuals who spend long hours on their feet.
This sleeve helps to support the mid-sole and ankle area by offering increased pressure around the Achilles ligament. This helps to provide more muscle stability, allowing for greater overall performance. Thirty 48 offers a 90-day satisfaction guarantee so you can give this pair a try it risk-free. They also retail their products for an affordable price point that is accessible to individuals from all walks of life.
Criteria Used for Evaluation


Compression
Compression sleeves work by increasing the blood flow and improving circulation in the calf and lower leg areas. This provides some much-needed relief to those areas and effectively reduces swelling, pain, and inflammation which helps strained or fatigued muscles heal faster,
 
Not every compression sleeve is alike, there are various levels of pressure available. These levels are indicated by a numerical score which is based on a unit of measurement called "millimeters of mercury." The measurement is relative to the pressure applied and is the same system used to test your blood pressure. The resulting numbers will look similar to "20-30 mmHg" which is indicative of the minimum and the maximum amount of compression the equipment will provide.
 
Generally, sleeves sold without a prescription have a lower number score which will be more like 15-20 mmHG. This number is recommended for everyday activities and is highly effective for treating conditions like swelling and limb fatigue. This is also the score of many sporting sleeves because it provides a comfortable feeling that most users prefer to the more intense pressure of the higher number.
 
Medical grade compression starts at the 20-30 mmHg level and is widely recommended by doctors and physiotherapists. It is effective for treating swelling, spider veins, sports injuries, and even varicose veins.


Materials
There are several different materials that are used to make a sleeve and each offers its own good and bad aspects. Let's break down these materials further;
Spandex: This is one of the most widely used options because of its sheer versatility and excellent compressing capabilities. Spandex can expand up to 500% of its actual size and then easily revert back without any stretching or distortion. This material is incredible in its ability to conform to almost any structure which is another reason that it's so widely used in this type of equipment. The downside to Spandex is that it offers limited breathability and therefore, is usually combined with another fabric that allows better air flow and wicks excess moisture away from the skin. Nylon is often combined with Spandex because it's incredibly breathable and lightweight which makes it the perfect counterpart.
Microfiber: This type of sleeve is on the rise, in part, for the way it retains its shape better than nylon does. Microfiber is less stretchy than nylon and is preferred when more compression is needed because the chances of it stretching out of its original shape are slim. If you plan on wearing your sleeve frequently it might be a wise choice to consider a microfiber option.
Silk: Silk has the added benefit of being a naturally derived material which might be better for some individuals who can develop irritation when they wear synthetics. Like microfiber, silk retains its shape well and won't stretch out with extended wear. This material provides strong compression and can be highly effective. The only downside is that it's thicker and is harder to conceal underneath your clothing.
Polyamide: Commonly referred to as Nylon, this material has an excellent next-to-skin feel! It's made from long-chain fibers linked together by amide linkages (chemical bondings). Polyamide is excellent for wicking moisture away from the skin as it tends to absorb body heat, pulling it away from the body for a natural cooling effect. It offers a flexible feel that wearers enjoy, though it can cause more static to form.


Comfort
While this equipment is notorious for being a little less than comfortable, there are certain aspects which can make for a more enjoyable experience. Aspects like moisture control, heat distribution, and airflow, can all affect the overall wearability.
 
Moisture Control is a very important aspect of this equipment that can really make it more enjoyable to wear. This is controlled by the materials that its made from, as we previously mentioned. The wrong materials won't allow for proper airflow next to your skin and will cause excess sweating. Can you imagine wearing a really tight piece of material wrapped around your leg without any air on your skin at all? It's not very pleasant, is it?!
 
Once your skin starts to sweat excessively it will become more susceptible to odors, not to mention to irritations. Your skin may become irritated from the friction of the material that's pressed against your continuously moist skin and can develop a rash or worse, even a heat sore!


Effectiveness
When properly designed a compression sleeve provides faster muscle recovery, enhanced circulation, reduced swelling, and less muscle fatigue. These garments help the muscles to recover in less time once the strenuous activity is over by encouraging faster blood flow through the muscles when it would otherwise be slowed. This boost to circulation helps to push away all of the biochemical byproducts that build up after exercising. By reducing these byproducts a reduction in muscle aches, fatigue, and inflammation is seen.
In order for a sleeve to be effective, it needs to provide an adequate level of pressure ranging from 15 – 20 mmHg through 40-50 mmHg. The normal pressure required will be in the lower range and any numbers higher than 20 – 30 mmHg should first be discussed with your primary care physician.
Effectiveness will also be measured on the results that the wearer exhibits. A lesser instance of injuries, shin splints, muscle fatigue, swelling, and other lower extremity complaints indicate that the product is efficient and effective.


Support
The level of support a sleeve provides is limited to the materials of which it's comprised. Firmer materials like Spandex and microfiber will be more supportive than thinner options like Nylon, though when combined with other materials, Nylon can also prove quite supportive.
 
The support factor comes from the way that the sleeve fits tightly against the leg ultimately resulting in greater support to that area. If the material its made from is too flexible than you're going to experience less structured stability and can still experience lower limb discomfort. If the sleeve doesn't live up to its supportive qualities it greatly reduces the overall effectiveness of the product.
 
Some of these options are also designed in a way where they manipulate the Achilles ligament and provide additional pressure to that area which in turn supports the mid-sole and heel areas of the foot.
  
This type of equipment can't be the sole supportive assistant and other gear should also be expected to provide greater structure. Footwear, for example, should provide the most stability of any piece of exercise gear.
Expert Interviews & Opinions
Most Important Criteria
(According to our experts opinion)
Experts Opinion
Editors Opinion
Users Opinion
By Default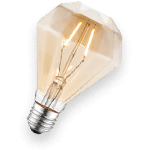 Good Night
While some individuals do need to wear compression socks to bed, it should only be done when recommended by your doctor. There are specialized sleeves for sleeping, and athletic compression sleeves should not be worn overnight.
Muscle Vibrations
For runners who wear compression sleeves during activity, there are multiple benefits to be reaped. Not only will compression sleeves help with post-exercise recovery and enhance bloodflow during your run, but they can also help prevent fatigue and reduce any vibrations caused by your feet hitting the pavement.
Other Factors to Consider


Style
There are different styles of leg and calf sleeves to choose from. Some will have a closed-toe that covers the entire foot and stretches up to below the knee. Others will cover the foot but will have an open toe area and will also extend up to the knee. The most popular type of sleeve has no foot covering but will start at the ankle and extend up to just below the knee.
When it comes to choosing the best style for you it's important to evaluate all of the aspects of each. Full-length sleeves that cover the foot are often called 'compression socks' and are preferred by some wearers over the sleeve. This is because of some wearers concern that blood will pool in the feet with the sleeve style and increase the risk of developing Deep Vein Thrombosis. In reality, if the right level of compression is used there is no greater risk for this with a sleeve than with a sock style.
It's important that your sleeve fit properly and not be too tight because if it is this increases your risk of developing complications. You can always consult with your doctor first to make sure that you're wearing the right size and pressure level. So long as the sleeve fits snug but does not cause you any pain then it's not too tight, though it should generally feel fairly tight on your leg.


Bottom Line
Compression sleeves are a proven method for improving circulation in the legs and lessening the time it takes to recover from strenuous physical activity. This type of equipment can help with swelling, aches, pain, varicose veins, and even spider veins, which is why athletes turn to compression sleeves to help protect themselves from common lower limb symptoms associated with continuous physical strain.
 
They work by providing a graduated compression which is tighter at the ankle and slowly transitions to a lighter pressure as it climbs the leg. This method of pressure delivery helps the arteries to dilate which increases blood flow by up to 40% throughout the body. Proper compression will also work to stabilize your muscles and limit the number of shock waves, effectively helping to lessen fatigue. Increased blood flow is an important factor for improving overall performance and decreasing the negative effects felt during recovery times.
 
Choosing the right sleeve for your individual needs is an important aspect that will determine the kind of results seen. The materials it's made from can have a huge impact on how well any given pair will work for you because some materials just aren't suitable for everyone. Some individuals have an intolerance to synthetic materials and can develop irritated skin from wearing unnatural fabrics. These users could benefit from an option that's made from silk, a naturally derived material that is well tolerated even by the most sensitive skin types.
 
It's also very important that you choose the right level of pressure based on your individual needs. The most common compression level is 15-20 mmHg and medical grade levels start at 20-30 mmHg. For anything higher than these numbers it's advisable to consult with your doctor first.
 
Compression sleeves are also an effective tool for individuals with diabetes, though first consulting with your primary care physician is a must. Diabetes affects the circulatory system and can lead to all sorts of complications affecting the legs and feet. This is exactly why the increase in blood flow seen with this type of gear can benefit people with diabetes by helping restore normal circulation to critically affected extremities.
Frequently Asked Questions
q:

Will this equipment protect my legs from hazards on the track?

a:

Yes, these sleeves act as a layer of protective fabric that helps shield your legs from certain hazards like rocks and debris. This can help to prevent cuts and scrapes, especially if you accidentally take a tumble. Some options, like the 2XU Calf Guard, also provide UV protection which is important while you're training under direct exposure to the suns powerful rays.
q:

Should I wear these if I am diabetic?

a:

Most diabetics will find that they benefit from wearing a compression sleeve or sock, though it's always recommended to consult with your doctor before wearing this type of equipment! Many individuals with diabetes find relief from swelling, varicose veins, and other lower limb symptoms commonly associated with diabetes. This condition affects the circulation which is why many diabetics suffer from complications of the feet and legs. Wearing a sleeve helps to improve blood flow to the lower extremities and therefore, can prove quite beneficial. It's very important to seek the advice of a health care professional who can help you with finding the right level of pressure that's the safest and most effective.
q:

How long do these last before needing to be replaced?

a:

Its advisable to replace your sleeve every four to five months because they tend to stretch slightly within that time frame. Though it really depends on the specific pair in question, because some brands guarantee that their products last longer. Rockay, for example, guarantees their products for life which is pretty impressive!
q:

How do I know which level of compression I need?

a:

Generally speaking, if you have good circulation and are in good physical health, a 15-20 mmGh strength should suit you just fine. For individuals who find the 15-20 isn't strong enough the next stage would be a medical grade, 20-30 mmGh. Anything higher than these levels should be discussed with your physician before trying it. Though it's always safer to discuss your needs with your doctor first because they are able to recommend the safest and most effective level of compression for your body.
q:

What should the fit feel like?

a:

If the sleeve is too tight it will be very difficult to put on or take off and will cause significant discomfort when worn. If you wear a sleeve that's too tight it puts you at an increased risk for Deep Vein Thrombosis, a dangerous condition that can cause serious health complications. This is why it's so important that you choose an option that is well fitted. They should feel tight but should not cause any pain when worn. If at any time you're in pain remove the sleeve immediately and consult with your doctor who can help you find the right size and pressure level.
Subscribe to our Newsletter