Best Backpacking Boots Reviewed & Rated
Depending on the place you are visiting, you may require certain things from your backpacking boots.

If you're in a place that has a lot of rain, or if you will be hiking through damp forests, then you are going to want to make sure that your footwear is waterproof. If you've opted for a warm, dry location, then waterproof backpacking boots are going to be far less important than having a pair which is breathable and lightweight. Those who want to hike mountains will prefer products with intense traction, while others who are just exploring cities will want a shoe that is well-cushioned.

We have carefully curated a selection of all of these in the hopes of helping you find the right pair of backpacking boots for your next adventure. Enjoy!
Standout Picks
Criteria Used for Evaluation
Weight
The number one key feature that backpackers commented on was the amount each foot ended up weighing overall. Everyone knows that a product made for traveling and exploring is going to be heavier than a running shoe or sandal, but does the weight between different options make that much of a difference?
Well, the answer is, absolutely yes. A couple of ounces here and a couple of ounces there really will make a significant difference over time, and your feet are going to thank you if you purchase a pair of lightweight backpacking boots. Many manufacturers will claim their products to be lightweight, but it's essential that you take the time to check what the actual weight is. While a 15oz shoe is entirely in the lightweight category, a 33oz option may also be listed as such, and that's a significant difference between the two.
Backpackers come in all different forms, and not every adventurer is going to be planning for the same type of trip; traveling through London is going to be extraordinarily different than exploring the Himalayas. Weight will play an important role depending on where you are going, so it is important to make that distinction.
Water Resistance
As we discussed when looking at weight, different backpackers are going to have vastly different requirements when it comes to what they need depending on the location, as well as the weather they will encounter. If you're somewhere hot and dry, this section won't be as relevant, but for anyone who thinks they may encounter rain, streams, puddles, rivers or damp forest floors, then you will undoubtedly want to continue to read on.
Every option on our list was looked at for their waterproof or water-resistant qualities. The majority of the backpacking boots featured claim to be waterproof, but like with all things in life, some are better than others at fulfilling that promise. Light rain isn't going to require anything fully waterproof. You can easily get away with water resistance or a simple hydrophobic lining.
For anything more than light rain, however, a fully waterproof boot is going to be your best bet, as there is nothing worse than having wet, soggy feet all day long. Blisters, bacteria, fungus, and other unpleasant things can occur in moist, damp, dark environments; keeping your feet completely dry is a very important aspect.
Gore-Tex wrapped backpacking boots are a very common choice, and this has a lot to do with their ability to be fully waterproof while also allowing heat and moisture to escape through their lining. Heat and sweat building up inside your footwear are no more enjoyable than rain soaking in, so having an upper that can do both is the sweet spot that you want to aim for.
Another thing to consider that often gets overlooked is how quickly a shoe will dry after it gets wet. If you are submerging your feet in rivers and streams while you trek, your backpacking boots are going to get wet and the dry time is going to be vitally important. Giving a check to see if a shoe is quick-drying may save you some hassle on your trip and is a small thing to keep in mind that could end up making a big difference down the road.
Traction
This is one of those factors that will be important regardless of the weather and location, so it's essential for every backpacker to take it into consideration. While the amount may be different for each person, traction and grip are required to keep your feet moving safely over whatever terrain you're on. From city streets to uncharted mountain trails, the last thing you want is to be slipping and sliding while carrying heavy backpacks on your shoulders.
For people who want more traction and grip, you should look for backpacking boots that have lugs on the outsoles, as these will do a better job of catching on to more uneven terrain and slippery slopes. Wider set lugs are going to give you the most grip on uneven surfaces, whereas close-knit lugs tend to do better on wet and slippery surfaces.
For slick streets and well-paved roads, a good tread pattern is going to be your ideal, and this means that the tread should be multidirectional and grippy enough that it makes a difference. Reviews are always going to give you a good idea of how good the grip and traction is, so utilize those resources when you can. Some outsoles have what is referred to as a sticky grip on the bottom, and while some people find this extremely useful, others say it isn't as effective. The best thing to opt for is a sturdy rubber sole with a good tread pattern that has positive reviews to match.
Slipping, sliding, and falling can lead to serious injury, especially for those who are in more remote locations. The last thing you want is to slip down the side of a ravine or down into a bush where you have little cell reception or support. One of the best things you can do in regards to backpacking boots to help keep you safe is to opt for a pair that is genuinely going to give you support. Being so back heavy due to what you are carrying, traction and grip are a major factor in selecting the right pair for you.
Effectiveness
To evaluate the performance or effectiveness of your backpacking boots, it is essential to define what terrain you will be covering, and in which weather conditions.
For city-centered trips in warm/hot locations:
This is the group who are going to want the lightest weight possible. If you are walking for hours in a city that's hot, the number one thing that is going to kill your feet is the sweat and the heat. Once moisture starts building up and your feet overheat, you are going to need to stop, take those sweaty shoes off, and put your feet up. This may give you a chance to relax and take in your scenery, but you won't want to do this every 20 minutes. Generally, the lighter the shoe, the lighter the upper, and this is going to be your ideal choice every time. City streets require far less durability and ruggedness from your backpacking boots, so you can focus on light and airy.
For city-centered trips in cold/rainy locations:
If you fall into this category, you have a bit of freedom to play with weight. As long as your backpacking boots of choice are giving you enough warmth, protection, and dryness, you can still go for a more lightweight option. Any kind of insulation will add weight, but unless you're in freezing conditions, you should be fine with a warm pair of socks and some light insulation. A full mesh upper may not be your best bet, but you can still opt for one of the lighter pairs on the market. City slickin' is more about duration over durability, and you want your feet to be free from the aches, pains, and fatigue that heavier backpacking boots often cause.
For rough terrain in warm/hot conditions:
The simple rule of thumb is that the more rugged your trek, the more rugged the shoe needs to be. Hiking mountain trails, exploring off the beaten path, and tackling dense and uneven terrain means you need backpacking boots that can take a beating and still keep going. Rugged options weigh more, but an important distinction is, if you are heading to a warm/hot location, you can forego any insulation, shaving a bit of weight off. Here you want a shoe that's going to protect your foot but also allow heat and moisture to escape. Synthetic and Gore-Tex uppers are great choices.
For rough terrain in cold/rainy conditions:
Out of all backpackers, you are the one who wants the heaviest shoe, something that can walk through mud, over fallen trees, and up the side of a mountain with ease. Insulation is going to be an important factor, as is an option that is genuinely waterproof. Leather uppers, while heavier, are going to be the most common one seen for this style of travel. Heavier backpacking boots may cause your feet to become sore and tired, but they will also protect your feet and ankles from sprains, injuries, slipping, and falling.
While your needs might be different than the next reader, we assessed the overall effectiveness of the backpacking boot for all terrains and needs.
Durability
From backpacking through Europe to trekking through the desert, a pair of backpacking boots that fit well and are comfortable is the number one priority. However, as we assume you would want to use most of your footwear during the trip, you should also take into account the durability of the design.
For maximum longevity, look for genuine leather backpacking boots. Especially when layered thickly, leather is extremely hardwearing and can take quite a beating in the long run. This can be reinforced with rubber inserts, or even some durable textiles, such as nylon or polyester. All of these are designed to endure repeated wear in unfavorable conditions.
The materials you want to avoid are mesh and canvas. These are breathable and provide a sock-like fit, but if you are backpacking on rough terrain, these lightweight fabrics definitely won't hold up well over time.
In terms of construction, it would be ideal if you could find a design that is constructed using a Goodyear welt technique. Backpacking boots built with this are virtually indestructible. The benefits of this technique include the fact that it is easy to resole the shoe without damaging the upper, so you get many years of use out of it.
All of the backpacking boots on our list are sturdy and durable, meant to withstand whatever you throw at them. However, some are better at that than others, and if you're curious which ones come at the top, don't hesitate to sort our list by that criterion.
Our Favorites
All-terrain and fully waterproof, these are dream backpacking boots. Made from nubuck leather overlays and a GORE-TEX Surround, the Nucleo from La Sportiva will securely lace up your feet and give you excellent stability and traction whether you are going uphill or down. An internal heel counter prevents the shoe from slipping in wet conditions. With help from a rubber toe bumper, the toes of your shoes will be protected from rocks and debris.
The GORE-TEX Surround provides both waterproof and breathable features. While the footbed is moisture-wicking, so there should be no build-up of sweat or odor, you may get warm in them quickly. Fatigue and friction are not a problem, making these great for long-distance backpackers, but only in colder climates. The GORE-TEX lining makes sure that no moisture gets into your boot, and it is smooth enough to prevent any hot spots or pain from friction. You can confidently hike in the sun or rain with these backpacking boots, and know that they will stand up well in both conditions.
Similar to most of the boots on this list, these backpacking boots are a bit of an investment for yourself. With that said, this is pretty standard when it comes to all-terrain boots. Since these work best in cold climates, you might want to consider another pair if you plan on trekking across a desert.
2

. La Sportiva Trango Cube GTX
Another option from La Sportiva is the Trango Cube GTX. These rugged backpacking boots will ensure that your feet stay protected on your next adventure. With a mesh back and QB3 Waterproof fabric, your feet will stay dry from both the elements and from sweat. This boot also boasts a seamless technology along with an ultralight sole and midsole. Definitely a design worth checking out.
One important feature of all backpacking boots is water resistance. The Trango Cube has a seamless upper that is waterproof and crazy strong. The direct-inject lacing system maximizes resistance to abrasions or punctures while also remaining lightweight. The seamless upper with the "One" sole by Vibram gives the design a lower profile that keeps the overall weight low. This will increase your speed and agility while out backpacking and make it easy to lug around your backpacking boots while not wearing them.
These boots aren't cheap, but you might just want to splurge. If this is your first time buying backpacking boots, these might not be for you. But if you're looking for a new pair for your next big adventure, or really want something that will last, then these are perfect.
3

. Under Armour Valsetz RTS 1.5
More lightweight than what we've seen so far, the UA Valsetz will be great for those who are going long distances but don't intend to climb mountains or take on unexplored terrains. Planning on backpacking around Europe? Want to see the country, stay in hostels, and meet new people along the way? Under Armor made sure that their backpacking boots will give you cushioned support while remaining light enough that you don't feel weighed down.
Made up of individual, hourglass-shaped cells, the UA ClutchFit web will flex when stretched, giving you a bit more flexibility for your ankle and foot's natural movements. The ClutchFit web is wrapped around the ankle, so you will get maximum levels of support and comfort, as well as having a boot that will move with you so that you don't hurt your ankle at any point. The Micro G foam platform at the bottom is going to give you a comfortable and cushioned gait, as it is very responsive. Lighter and around 30% thinner than standard foams, this Micro G layer brings the total weight of this boot down so that you don't end up with tired, sore feet every day.
The main thing you will find with these backpacking boots is that they are not going to hold up if you're putting rugged terrain miles on them. These boots are best suited for long-distance city backpackers who want to explore without going off the beaten path. If that's the kind of trip you're planning, these boots are a great choice for you.
When you're backpacking, a lot of mileage is being put on your backpacking boots, so opting for something like the Keen Durand Mid is going to give you the peace of mind you need. Extremely durable, this is a high ankle boot that is designed to last, and the quality materials will ensure that it doesn't fall apart during your trek. The waterproof leather upper will keep your foot dry and protected, regardless of the weather. Great shock absorption and a contoured heel lock mean your foot will stay comfortable day after day.
Fully waterproof in the Durand, you will be able to trek through damp forests, rain-soaked towns, and mountain streams without your foot getting soggy. Their patented KEEN Dry Membrane allows moisture to escape, giving you a breathable and dry interior. Your feet should feel sweat- and heat-free, even after long days of walking with your heavy backpack. These backpacking boots boast a metatomical footbed that will properly contour to your foot's shape. Your arch will get the proper amount of support, while the rest of your foot will find cushioning in the areas that need it most.
KEEN is a great brand that specializes in this type of footwear, so you know you're getting backpacking boots that are durable, long-lasting, and well made. Even at full price, you will get your money worth with a pair of these.
The Salomon X Ultra 3 is the successor to the 2 Mid and is one of the ideal backpacking boots for a lot of different reasons. Low profile, light, waterproof, and comfortable, there is little else you could want in a boot that is going to go on a journey with you. As anyone who spends long hours on their feet knows all too well, having heavy footwear makes a significant difference and at the end of the day the lighter the boot, the less sore and tired your feet will be.
Choosing between a hiking boot and a trail running shoe can be difficult. The Salomon X Ultra 3 takes the best of both worlds, bringing together the lightness and agility of a running shoe with the support and durability of a hiking boot. Designed for people who like to be on the move, these backpacking boots will easily carry you across all types of terrain, while still offering a secure lug pattern for traction and a stiff upper for ankle support. GORE-TEX allows for this boot to stay waterproof while also remaining breathable and well-ventilated.
These are most certainly not the cheapest backpacking boots, even though they are completely worth the price tag. With features such as waterproofing, strong ankle support and a padded heel, your feet will be thanking you for spending the extra dollars!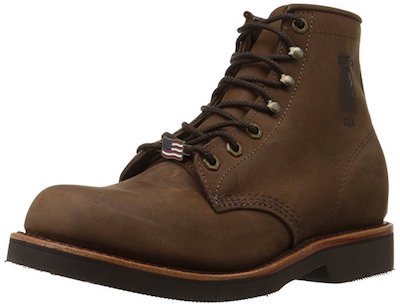 Since 1901 Chippewa has been making boots that are designed for tough, hard-working people, originally crafted with loggers in mind. These backpacking boots will stand up to the toughest of terrains, and give you intense traction and stability in any condition. With a 6 inch lace-up front, the Aldrich can be tightened to your exact preference, and you can be sure that they will stay securely bound to your feet as you hike and climb your way to the top of any mountain.
The Vibram outsole on this shoe is made from a synthetic compound that offers up a lot of great benefits. Similar to rubber, it is incredibly slip-resistant, and will also last a long time without wearing down. What makes it different from rubber, however, is that it is about half the weight which is important for a boot like this which is already massive in size. This has allowed for a huge outsole that has traction in any condition, without adding on a ton of extra weight to your boot. Even the most rugged terrains should have little effect on the outsole, ensuring that it doesn't wear down while you're traveling.
These backpacking boots aren't the cheapest on our list, and realistically they are a bit expensive for some budgets. With that said, value-wise it's unlikely that you will find another pair that will hold up as well as these do. This is a pair of backpacking boots that will last you for years, if not a lifetime, depending on how much mileage you put on them.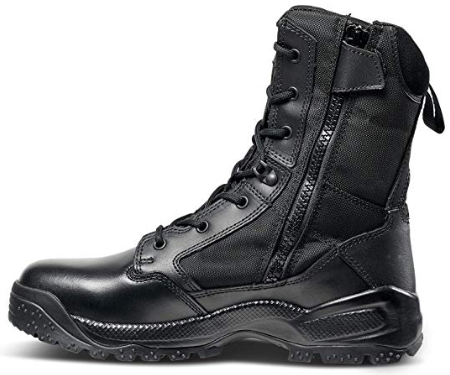 The ATAC 2.0 by 5.11 is technically a tactical boot, however, it meets all of our requirements for resilient, durable backpacking boots and then some. This 8-inch design comes with an air-flow tongue, and Ortholite footbed for maximum comfort, and a special flex zone in the heel. If you're looking for rugged durability and strength like no other, you won't go wrong with the ATAC 2.0.
The upper of this design is made from a combination of leather and nylon for comfort and sturdiness. It has a tongue which enables easy air circulation and a side zipper so that you can slide in and out of the boot without a problem. The ATAC 2.0 has an Ortholite footbed for energy rebound and cushioned support, while the flex heel ensures that your foot can move in any direction you want without constriction.
To top it all off, the ATAC 2.0 also comes with a knife pocket, should you wish for an added layer of security on your trip. These badass backpacking boots are like no other option on our list, and if you're all about toughness and rough, unexplored terrain, then you will love these.

The Teva Ahnu Sugarpine II is an effective and stylish boot that is functional in many terrains and weather conditions. For those who are going to be putting some mileage into their backpacking boots, these are going to stand up well over time and provide your foot with comfort and support that will be much appreciated. Waterproof and lightweight, these are an excellent choice for anyone.
The Numentum technology is one of the best features of these backpacking boots, and what it means is that they are designed based on the biomechanics of how a foot should naturally move. With every step you take, the Sugarpine II will ensure that your foot is properly aligned; it will help center you so that you are getting a more balanced, efficient stride. This technology holds up well on a variety of terrains, so you can take these boots through the streets as well as off the beaten path. Not only is the Sugarpine II fully waterproof, but the membrane is also extremely breathable, allowing for airflow so that you don't get hot and sweaty feet. The nylon lining will wick away any moisture, so you can be confident taking these backpacking boots off and not worrying about any odor.
A great value for the money, you are going to find that these are perfect for backpacking and are versatile enough that you can adventure around without worry. Given that they can hold up against most terrains and weather conditions, you are getting an all-around fantastic boot for a total bargain.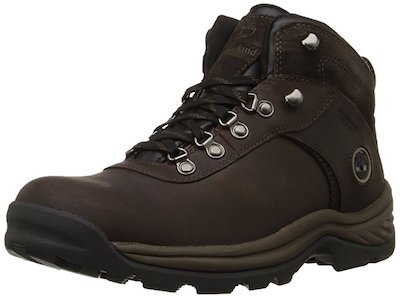 A waterproof boot, the Timberland Flume is a durable hiking option crafted from fully waterproof leather. With a seam-sealed construction, you can feel confident in knowing that your feet will stay dry regardless of the weather or the moist terrain you are moving through. The tongue is fully gusseted so that debris stays out, and you won't have the annoyance of dirt or rocks poking at your feet. Great ankle support and an EVA footbed and midsole mean you will be comfortable all day long and should have no foot fatigue at the end of the day.
For those who take into consideration environmental concerns when making a purchase, these backpacking boots have the added bonus of being crafted from leather that was sourced from a silver-rated tannery. This means that an independent environmental audit was done on the tannery, and they were rated based on energy use, waste production, and water treatment. The tannery then scored a silver medal, ensuring that they are meeting and exceeding environmental standards.
The seam-sealed method of making boots waterproof has the advantage of keeping them lightweight. The leather material is attached to rubber, and then heat is used to seal it against the bottom of the boot. This makes sure that no water can get inside the boot, and the lack of additional stitching or other membranes means the weight of the backpacking boots is kept low. This technique also helps keep the boot breathable, so your foot shouldn't get hot and sweaty while you're wearing it.
The price of the Flume, combined with the superior construction, means you are getting a great deal. With such a reputable brand behind these, you can be confident that even with a lowered price these are still great backpacking boots that will hold up over the duration of your journey.

The Vasque Breeze III boots are a fantastic choice for both the low key and more rugged backpacker. Lightweight and durable, these backpacking boots will hold up no matter how far you walk, and your secure ankle will ensure that you are comfortable and stable the whole time. Made from premium grade leather, the Breeze III is waterproof and rugged. With a comfortable midsole and an interior spacious enough to house any custom insoles, it is sure to make your feet feel and look amazing on your travels.
The midsole on this boot is thick and well-cushioned, giving you a luxurious feel when you walk. The cushiony feeling of the midsole is great for all-day comfort, and it provides a good amount of shock absorption as well. These backpacking boots have a fantastic outsole that offers great traction and grip. No matter what kind of surface you are walking across, you will be impressed by how well they grip and give you full stability and security. For those who love to hike, this boot will be a great choice as you can use it for backpacking, hiking, and general everyday wear.
These backpacking boots should easily fall within most backpackers' price ranges and that makes them well worth checking out. With the ability to be worn for a variety of occasions, for the low price you may want to pick up a couple of pairs!
Subscribe to our Newsletter