Best Running Hoodies for Athletes Reviewed
In a Hurry? Editors choice: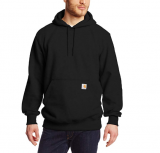 Test Winner: Carhartt Rain Defender Paxton

When it comes to wearable comfort, nothing beats a running hoodie. These garments are some of the most versatile casual clothing. They are wonderful for lounging around the house on a day off or changing into in the evenings. They are also great for working out at the gym, especially if your gym is kept at a low temperature. But another great use and the one we are going to be focusing on is running and jogging.
Many runners, whether for competition or for a healthier lifestyle, like to be able to stay in shape all through the cool autumn and winter months. If you are a runner, you probably do not like to be kept indoors just because of a little wind, snow, or rain. That is why we will be looking at hoodies that are especially good for
running in all weather conditions
.
Standout Picks
Criteria Used for Evaluation
Breathability
For any kind of exercise clothing, breathability is of supreme importance. Breathability means the flow of air through the material, but it also means how well the material pulls sweat away from your body. Both of these things need to be present because they work together to keep you cool and dry. The material first wicks sweat up and away from your skin. Then, the breathable fabric allows the air rushing by to dry away the sweat from the material. This greatly affects how comfortable the product is to wear when running, though it might not be something you notice that much, especially if it is doing its job right.
We researched which kinds of materials tend to be the most breathable and cotton and polyester were the definite winners. Then, we chose products based on this. All of the products on this list are made out of either completely polyester or a blend of polyester and cotton. There are three different thicknesses of products on this list, and they each have different forms of breathability. Many of the products on this list are made out of thick fabrics and are meant to keep you warm for running in freezing temperatures. These have multiple layers and keep out the cold air. They can't keep out cold air and be breathable at the same time because that would defeat the purpose. But what they can do is wick away the moisture. In this case, rather than keeping you cool, the goal is to keep you warm. Sweating while out in the cold can be dangerous without the proper clothing. Some of the products are a more midweight or medium thickness. They are a single layer and are more breathable yet still warm. This medium weight is good for autumn. The last product on the list is the lightest thickness and the most breathable. It is extremely sweat wicking and breathable and is ideal for warmer conditions, especially summer mornings.
Comfort
Breathability and material highly affect how comfortable a product will be. So does fit, and even durability since pilling can greatly reduce the comfort of a shirt. Since everything affects the comfort of a product, that means this is an area in which a lot of things can go wrong. One little problem can make the product uncomfortable to wear which will not encourage you to use it. If we're honest, we all know that we do not want to give ourselves any more excuses not to exercise. Clothing malfunctions are one of the biggest "I can't exercise today" excuses. Running is hard enough. Running faithfully in all kinds of weather is even harder. Your clothing needs to work for you, not against you. When researching the comfort of each of these products, we took into consideration all the other criteria, as well as some other factors.
When it came to comfort, we relied heavily on user reports since those are the people who will know how comfortable the product is. We looked for users who had worn the product for quite a while in order to get past the initial breaking in of the product, but also to see if the product withstood the test of time. Some products become less comfortable over time as they wear out. We tried to avoid that in our choices for this list. While certain materials might perform very well in all kinds of conditions, there is still the possibility they might not be comfortable. Sometimes the two factors of comfort and durability are at odds. Wearing canvas would be extremely durable, but it wouldn't be comfortable at all. We tried to find a good compromise between comfort and durability.
A final thing we looked at relating to comfort was little thoughtful design elements that take into consideration all of your needs. Good pockets were a big thing. We looked for big, roomy pockets for carrying things and for keeping your hands warm. We also tried to include at least a few products with good pocket closures because this makes one less thing to worry about.
Durability
One of the biggest problems in the world of clothing is pilling. We see this in everything from sweaters, to hats and gloves, to hoodies. Pilling is not only extremely annoying, but it also makes the product look a little ragged and not fit for wearing outside the house. And more importantly, it can make the product much less comfortable to wear if the pilling happens on the inside lining, which it often does. With products that have a fuzzy inner lining, this is especially a factor. These products seem luxuriously soft and wonderful when you first get them, but after a few washes, the fuzzy feeling turns into hard, scratchy pills.
We tried very hard to find products that are made out of such good quality materials as to avoid this. Polyester certainly helped with durability. The products that are completely polyester don't usually have this problem. Neither do products that are thinner and don't have a soft inside layer. But many users will want the soft material because it is more comfortable and is much warmer. Some pilling might be inevitable with time since nothing lasts forever, but the products we chose were at least the best available for avoiding this as long as possible.
We also looked at the design of the seams since they are a potential weak point. We looked for double stitching to provide extra durability. One final thing that we considered to be an essential was the ability to wash the product in a washing machine. Nobody wants to have to wash exercise clothing by hand. These kinds of clothes should be tough enough to withstand rigorous wear and rigorous washing. That is why we chose all machine washable products.
Fit
There were several areas we examined for a perfect fit. One was the size of the neck opening. This affects how easy the product is to put on and take off if it is a pullover style, and it affects how comfortable the product is to wear. Because of the weight created by the hood, these shirts tend to ride backward and might make you feel like they are choking you a little. Having a large neck opening helps prevent this, as does a v-shaped neckline.
Another thing we looked at was the length and design of the sleeves. We chose mostly sleeves with a tight, ribbed cuff at the wrist because this helps the sleeve stay in place when you are running, and it also makes the sleeve stay rolled up when you choose to wear it that way. We also looked at how the sleeves were attached to the body of the garment. We wanted to make sure there was plenty of room in the shoulders since you need mobility for swinging your arms when running.
We examined the hem of each of these garments. Many of the hems are elastic for a tight fit to help them stay in place. We made sure that each product was plenty long which helps keep the ribbed hem from riding up to your stomach instead of staying at your hips. The longer length helps keep that hem pushed down. We also looked at the side panels. These are good for a more tailored fit. They look good, and they provide comfort.
Finally, we looked at the size and design of the hood. So many poorly designed products have a tiny hood that does not even cover your whole head and is basically useless. Others are way too big and hang over your eyes affecting your visibility. If you are running in the rain, you will probably want to wear your hood and so it needs to fit perfectly.
Weather Resistance
Running outside brings with it a whole set of hazards. Dedicated runners will find themselves out in all kinds of weather conditions like pouring rain, biting wind, and freezing snow. We took into consideration how you can best be prepared for all of even the most extreme conditions. Many of these products are waterproof or at least water resistant. This is something we looked for when evaluating products. Another important factor was wind resistance. If the product is not made right and does not use the right materials, the wind can cut right through it and chill you to the bone. That is why some of the products we chose have a good, wind resistant layer on the outside. We had some tough criteria for the products to fulfill. We wanted to find products that could hold out the wind and rain, but yet remain soft, breathable, flexible, and comfortable. All of those in combination were what we looked for when researching.
Top 10 Running Hoodies
1

. Carhartt Rain Defender Paxton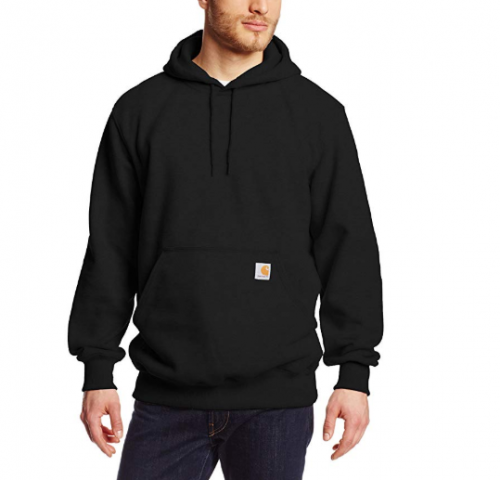 The Carhartt running hoodie is well made and very durable. Users report that it can withstand a lot of use and has no trouble being washed in the washing machine.
Since the Carhartt is heavy weight and is quite thick and bulky, it is best for running in extreme cold. If you run all through the winter and if you live in a cold climate, this would be a great option for you. Although the brand says the product is only water repellant, users have reported that it actually acts like it is waterproof. Users have worn it in wet weather and stayed completely dry, so that's a great feature of the product.
There are three different zipper options that you can choose from when you purchase. One is a full zipper, another is a quarter zipper, and the third is no zipper. The product comes in several neutral colors like black, blue, gray, green, brown, and dark gray.
The hood is lined with jersey material, and it also has a drawstring. The cuffs are ribbed for a tight fit around your wrists which will help keep water (whether it be from the weather or from sweat) from running down your arm. The pocket is a kangaroo pocket and it includes an inner security pocket.

2

. Under Armour Storm Armour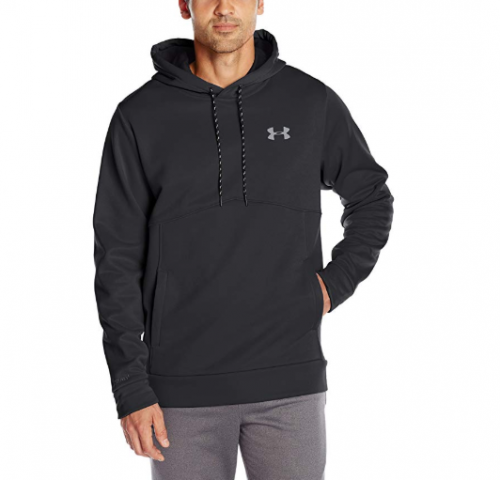 The Under Armour is lined with fleece that is both warm and lightweight. The fleece helps wick moisture away from your body while still remaining breathable at the same time.
This running hoodie is designed with storms in mind, hence the name. It is made to keep you dry from the rain and also to protect you from the wind. This is done using a tiered system of layers that keep wind and rain out, but still, allow the product to be breathable.
The Under Armour is soft, flexible, and stretchy so that it does not hinder your mobility. It also has a loose fit which is good since it is meant to be an outer layer.
Something several users did not like was that the brand decal has a tendency to come off, especially after being washed in the washing machine. It is only glued on, not sewn, and so comes off easily. On the one hand, this is just an annoyance, but on the other, it could make the product look like a cheap knock off of the real deal. Washing it by hand may or may not solve this problem. The decal might just be destined to come off eventually.
The product has a slick feel to the fabric, and users have reported that it is extremely good at keeping you warm. Some have said that they put it on when they are cold, and then have to take it off after a short time because they get so warm. This shows that the product is definitely doing what it is built for, and it would be a great choice for running in extreme cold, just for wearing around the house on a chilly day.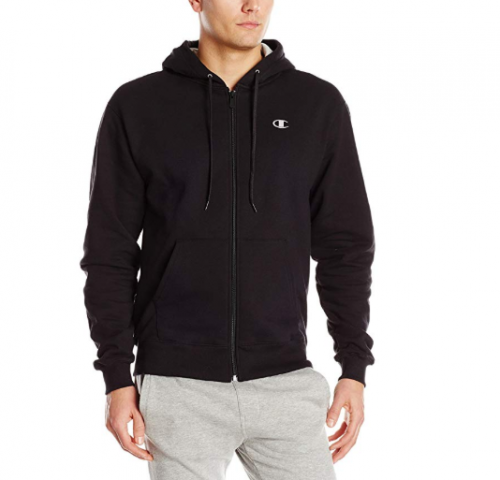 The cotton fleece lining of the Champion running hoodie is brushed to make it extra fluffy and soft. The great thing about the Champion is that it is made with both practicality and comfort in mind.
While the body of the shirt is lined with the soft, brushed fleece, the hood has a jersey lining, just like the Carhartt on the number one spot on this list. One thing we love about the Champion is that 5% of the material comes from recycled polyester fibers. This is always a bonus since everyone likes to feel like they are responsible in doing their part to save the environment by using recycled things.
Champion has a huge number of color choices to choose from so you will probably have no trouble finding the one that fits your taste and style. The colors are black, navy, crimson, dark green, granite heather, oxford gray, surf the web heather (which looks like an ocean blue), cafe roast (a coffee brown), team maroon, white, and trojan red. Many of the colors are similar to the colors used by some college sports teams, so you might be able to find one that displays your team support.
The crimson color is a bright orangish red, and is the brightest of all the available colors. It would be a great choice for high visibility when running on a road, although it still is not reflective, just a bright color.
One of the disadvantages of this running hoodie might be the zipper. Users have reported that the zipper wears out or comes apart. It is a metal zipper, which is usually much better quality than plastic. But the trouble comes from the attachment of the zipper to the fabric, according to users. Not everyone has experienced these problems, however.

4

. Hanes Full-Zip EcoSmart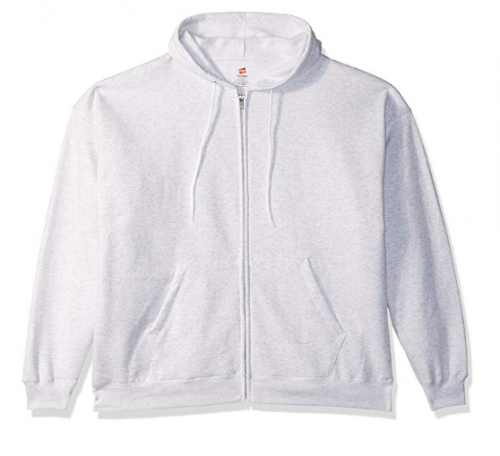 Hanes has become synonymous with comfort, and this EcoSmart Fleece Running Hoodie lives up to its expectations. The material has a t-shirt feel and is made out of a blend of half cotton and half polyester for a good blend of comfort and durability.
Like the previous product on this list, the Hanes is also made out of 5% recycled materials. Hanes gets these materials from plastic bottles, like water bottles and soda bottles. They use an amazing process where they grind up the plastic bottles and then turn them into soft yarns which get made into these products. Hanes uses up nearly 50 million plastic bottles each year, keeping them from ending up in the landfill.
The Hanes running hoodie has a high density of stitches which gives it better durability. This helps prevent seams from coming apart and stitches from coming out. The fabric is designed to resist pilling. The blend of polyester and cotton are what make the fabric so long-lasting.
Hanes has a lot of color options, but just a few of the unique ones are a light sky blue, a bright royal blue, and ash, which is a kind of grayish white. The drawcord is dyed the same color as the shirt, as opposed to being in a contrasting color. Some users had trouble with the drawcords fraying, especially after being washed in the washing machine a few times. Another thing they noticed was that the inside started pilling and feeling rough. The outside did not have any pilling, but the inside did. Users have said that this product is a good, basic option, especially if you do not mind the inside not being soft.

5

. Russell Athletic Dri-Power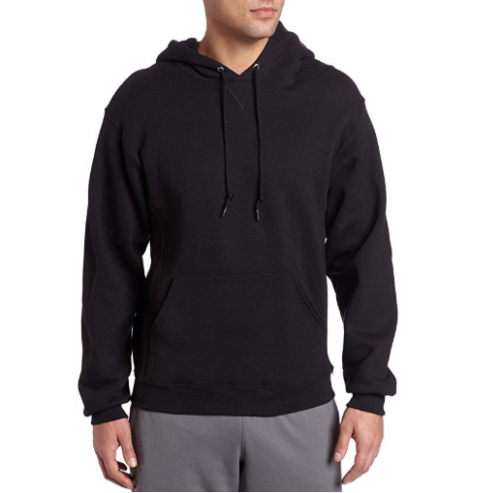 The Russell Athletic has a nice, roomy fit for extra comfort. Some users did not like that it runs big, but others loved how comfortable it was. If you do not want a loose fit, then you might want to try getting a size smaller than what you usually wear. Users have said that the sleeves are just the right length.
Users have also said that the material is really soft and comfortable. Some users have said that after machine washing the product even one time, it has a lot of pilling, but most have said that it is still comfortable despite this.
The collar has a "V" stitched on the front for a little extra style to an otherwise plain shirt. The color choices are extremely numerous, including a number of raglan coloring designs. Users say that the actual colors are true to the pictures.
The running hoodie is soft and very warm, yet lightweight. It is designed for moisture wicking with the brand's signature Dri-Power technology which is why it is great for running or working out. One of the benefits of the large fit is that you will not have trouble getting the product to fit over your head. Users say that the head opening is nice and large. The Russell Athletic is also good about not shrinking in the washing machine.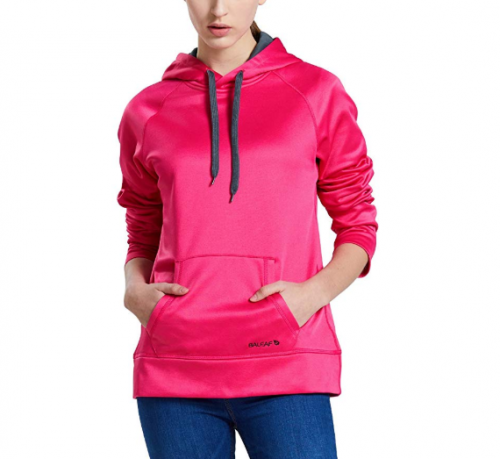 This sleek and comfortable running hoodie from Baleaf is both warm and breathable. It allows for a comfortable range of movement and helps keep out the wind.
The slick feeling that comes from the 100% polyester fabric means that the outside will feel icy cold at first, but it will quickly absorb your body heat and will be good about keeping you warm. The inside is lined with fleece, so the inside at least will not feel so cold when you first put it on.
The outer layer of polyester prevents pilling, and protects you from feeling the wind. The hood has three panels which make it large and roomy. No one likes hoods that barely cover half of your head and keep falling back. You will not have that trouble with the Baleaf.
The sleeves are sewn on raglan style. In this case, raglan isn't the coloring, but instead the shape of the pattern. This design allows for a greater range of movement in the shoulders and arms and make this ideal for jogging.
One benefit of the polyester material is that lint and especially pet hair will not stick to it. Pet hair is notorious for sticking to soft, fuzzy shirts even after you wash them. But since the Baleaf is so slick that the pet hair does not even stick, so you can snuggle up with your dog or cat and still go out in public without being covered in hair.
Some users did not like the feel of the polyester fabric, and others have complained about the wrist cuffs being too big. They are not tight and fitted like many products. Instead they fit loosely around your wrist which makes it hard to roll up the sleeves because they will keep slipping down.

7

. The North Face Surgent 2.0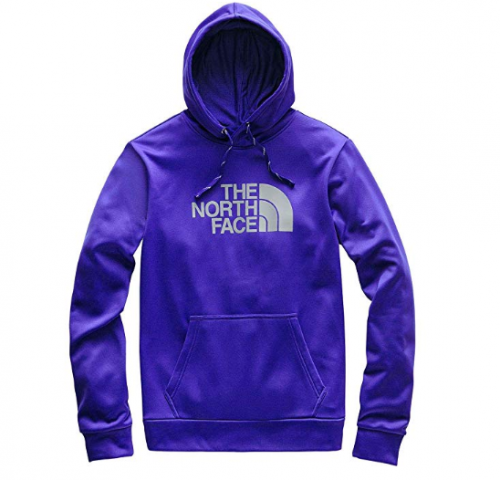 The North Face has some style. It comes in some great colors and has an appealing design and a closer fit. The product has a lifetime warranty to ensure excellent durability.
One nice thing about the North Face product is that it has the logo screen printed on the front of the shirt. This adds a little more style to the product. Another thing that adds some style is the striped drawstrings. The North Face comes in a whole bunch of different colors (seventeen, to be exact), and most of them are bright colors while a few are neutral colors. There is a fluorescent green, a bright red, and a bright yellow which would all be great for high visibility safety for running.
The North Face is a little more fitted than some models. It fits closer to the body and is does not have such a loose, boxy fit. This makes it more aerodynamic for efficient running. Users have said that the North Face has a snug fit. If this is what you like, then that is great. If you do not like a tight fit, though, try ordering a size or two up.
Several users have stated that the color you get does not quite match up with the color that is pictured for each running hoodie. Some have said that the actual color is darker. Others have said that the drawstrings are a different color than pictured. Some have also mentioned that the product has trouble with pilling.

8

. Eddie Bauer Radiator Cirrus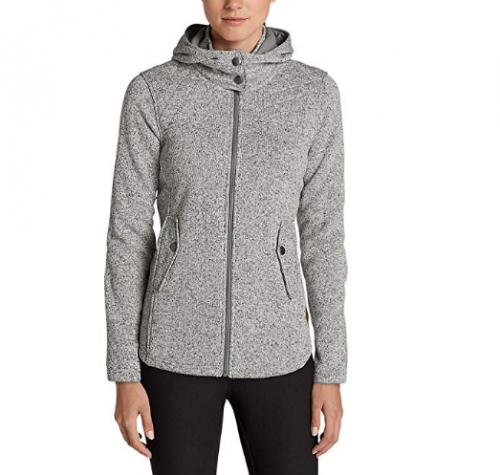 The Eddie Bauer has a stylish design with snap buttons at the front of the neck and on the pockets. The buttons at the front of the neck serve more than one purpose. For one thing, they allow you to customize the fit. You can unbutton them for a looser fit or button one or both for a tighter and warmer fit around the neck. Another purpose is purely for style. They create a cowl-style look. It might look like the hood is detachable, but it is not.
The buttons on the pockets. These are extremely practical since they allow you to close the pockets to prevent anything from falling out when you are running, but they also add some great style. They are a nice touch to a garment that is usually pretty plain and casual looking. The buttons add a little class to the hoodie. The Eddie Bauer also has quilted shoulder pads for both comfort and style. There is also quilting on the back yoke (which goes across your upper back) and on the elbows for stylish elbow patches. The product comes in four colors. One is black, and then there are three heather colors which are gray, fuchsia, and juniper (which is a greenish blue).
The lining inside both the collar and the hood is a plaid printed jersey material. The fit is classic fit which is a cross between a tight, fitted athletic product and a loose, relaxed fit. It gives you mobility for swinging your arms when running, and it also allows for comfort. The product is great for holding in heat, especially if you have a tighter base layer underneath. Users say that the product provides a slimming fit. In case you are wondering, the Eddie Bauer is machine washable. Some users have said that the quality of the material was not as durable as they expected.

9

. NIKE Sportswear Full Zip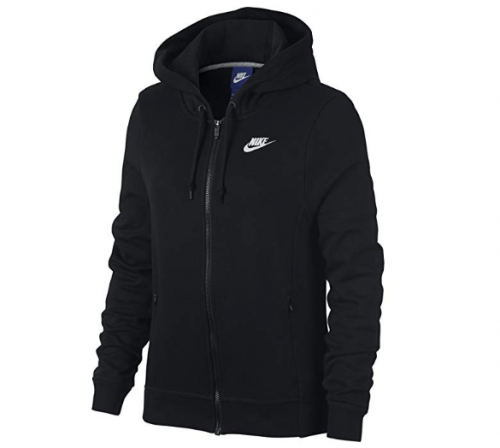 The pockets on the Nike are right on the side seam. They have small zippers and a minimal, no show design. The hidden pockets are a nice touch and combined with the zippers help keep your belongings secure. This is good since sometimes clothing made for running do not have adequate pockets or pocket closures. It is nice to have zippers so that your keys or phone do not bounce out of your pockets.
Some users loved the loose fit since it is extra comfortable. Others thought it was too big and decided to try a size smaller. It all depends on your preference. If you do not like loose fitting hoodies, keep that in mind when deciding on a size to purchase. The side seams create a side panel that gives the product a more fitted, stylish look. The Nike is made out of a French terry material which gives it a very soft feel and helps keep you warm. Although users have said that the material is not all that thick. It is a light to medium weight product. It is good for running in cool weather, but probably not cold weather, and it is not waterproof, either. This is a good option for staying warm on cool autumn days with good weather.
The ribbed hem helps to hold the shirt in place. It keeps it from riding up when you are running. The sleeves also have cuffs at the end, and users have said that the sleeves are just the right length. Users have also said that the style of the product is nicer than some of the most casual hoodies out there. This one gives you a little more put together look rather than a "college dorm" or "just got out of bed" kind of look. The hood is nice and big and is paneled just like the Baleaf.

10

. Adidas Running Response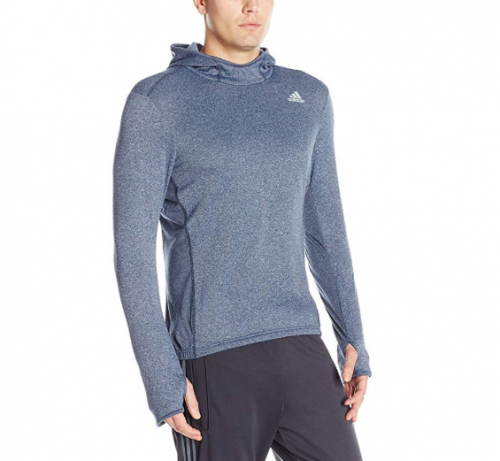 One of the best qualities of the Adidas is that it has reflective detailing which is a great safety feature for running on roads. The Adidas has side panels for a fitted look, and it has thumb holes which are great for keeping the sleeves from riding up when you are running.
Users have said that the size runs fairly small. Some have had trouble with the sleeves being too short for them to get their thumbs in the loops. It would probably be a good idea to order a couple of sizes too big to avoid this problem. The Adidas uses a special climalite fabric that wicks moisture away from your skin. The seams have a great design. They are designed to lay flat and are covered with a layer which helps prevent chafing and skin irritation.
Keep in mind that the fabric of the Adidas is very thin. It is very lightweight and breathable and is meant for warmer weather running. It is not waterproof or windproof. But this is a good thing if you are looking for a product that will not make you too warm when running in the summer or spring. This product would be ideal for brisk morning runs in the summertime. The bottom hem on each of the sides has some elastic for a tighter fit at the bottom. Users have reported that the product does not have trouble with pilling and that it holds up well even after being washed several times.

Subscribe to our Newsletter