Best Futsal Shoes Reviewed
In a Hurry? Editors choice: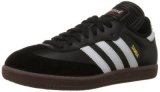 Test Winner: Adidas Samba Classic

You may be able to get away with playing futsal in pretty much any type of shoe, including your
running shoes
, but not just any shoes are ideal or will help you perform adequately. If you really want to play futsal the right way, then it's only befitting that you find the best futsal shoes that are made specifically for the sport. It's an action-packed, competitive and often physical sport; attributes that come with the necessity of speed, traction, strength, and durability in your footwear. More than that, additional factors like shoe length and width, price, design, aesthetics, materials used to make the shoes, and the manufacturer have to be duly considered by buyers in order to ensure that the futsal shoes serve the fundamental
purposes of comfort
, safety, and reliability.
Standout Picks
Criteria Used for Evaluation
Flexibility
We've said it before, and we'll say it again, flexibility is an element that is important in all athletic shoes. A totally stiff outsole is by no means acceptable in sports as dynamic as futsal and can lead to sore feet and pain. Some people think that flexibility is something needed just at the forefoot, where the foot naturally bends while running. The truth is that the outsole needs flexibility just as much as the upper build does.
If the outsole does not flex, the running motion will be affected in both performance and comfort. The foot naturally bends on both the forefoot and the underfoot, thus the outsole should flex accordingly. A futsal shoe that has a material or mesh upper is going to move with you easily where you may need to give the leather some time to break in before you see it's true flex potential.
Flexibility on the outsole is important to diminish impact too. Most sportsmen are unaware of the effect that flexibility has upon shock absorption and may not realize how important it is. If the outsole is totally stiff, the flat impact will cause much more stress and pressure on joints and muscles. A flexible outsole will help keep pressure away from your feet and ensure you feel great for the next day's practice.
Traction
Just like in many other sports, the outsole is arguably the most important part of a futsal shoe. Every single aerobic activity targets a different type of motion and surfaces; thus, the outsoles should be specially created for their specific target. In the case of futsal performance, we're looking at hardwood surfaces or concrete in recreational circumstances, or possibly turf depending on your practice location. By being adapted to a specific surface, all features of the outsole are adapted towards it.
Regardless of the sport, outsoles must deliver basic qualities such as stability and grip. However, futsal-specific footwear takes more than just that. Criteria such as grip, flexibility, and durability are key for a futsal outsole. Without them, you would be performing on slippery, stiff, and loose shoes. Everything in futsal, from acceleration, to change of direction and stability, will depend on the quality of the outsole. Rubber is commonly used as it is superior to others in the form of grip. There are a variety of patterns and they can impact your performance differently. You may have to try a couple before you find what suits you best.
The improper grip can lead to serious injury if you find yourself on a newly waxed floor you want to make sure your futsal shoes keep your feet firmly planted on the ground. Slipping can take you out of the game for weeks or sometimes even longer. Making sure you choose the right grip for your practice and game-day locations are crucial to ensuring you get to continue enjoying futsal.
Weight
If you're a consistent user of sports shoes, you'll know that there's a constant race among manufacturers to deliver the lightest shoe. Sure, an extra ounce on your shoe might not seem like it would affect your performance. However, we can guarantee that keeping your futsal shoe light does improve performance. At the end of the day, manufacturers do it for a reason.
By delivering a weightless build, futsal shoes deliver much more sensitivity and touch. This makes contact with the ball much more thorough and natural. The weight of your shoe can be your friend, just as much as it can become your enemy. Lightweight shoes keep your muscles, bones, and joints feeling great throughout your practices and games.
Not all material is created equal. Futsal shoes are tricky, as they have to be steady enough to deal with a harder ball, yet light enough to deliver acceptable aerobic performance.
Comfort
Outsole
The outsole, or more simply, the sole of the shoe, makes direct contact with the ground and therefore supports the entire foot and body when in motion. Needless to say, a poorly-constructed outsole will lead to discomfort, slipping and foot or other bodily injuries. For this reason, many manufacturers use materials that are water-, weather-, heat-, and impact-resistant. Depending on the type of footwear, one will often see outsoles made from natural or synthetic materials, such as PVC, EVA, rubber, and leather. Each of these has its advantages, depending on the shoe's purpose; however, as a general rule, they each are resistant to the aforementioned factors. They are also flexible enough to support a proper foot cycle when in motion, but they are not so flexible that they feel like a pair of socks. A sole made of the materials above tends to score higher on our product evaluations, as they are not only comfortable but also support other criteria, such as "support" and "durability".
Midsole
The midsole is designed to provide cushioning and shock absorption to the shoe, nestling the foot in comfort. Whereas running shoes tend to have thick midsoles, flats and thinner shoes not designed for high-impact activities often have thinner midsoles. The reason for this is simple: you need more shock absorption and vibration dampening during high-intensity movements or activities to maintain comfort and prevent foot injury than you otherwise would with a regular shoe, flat or sandal. Midsoles are often made from EVA (ethyl vinyl acetate), a synthetic plastic also used to make insertable orthotics. A firmer type of EVA for the midsole will make the shoe heavier, but more durable; whereas a softer type of EVA, like those found in running shoes, improve shock absorption, but wear much quickly. Podiatrists tend to prefer firmer midsoles for those suffering from orthopedic conditions, such as plantar fasciitis.
Insole
The insole is the proverbial foundation of the entire shoe. The sock liner lays on top of the insole, which is then fused to the midsole, and finally the outsole. A firm insole will give good structure to a shoe and increase its stability and durability, but it will also increase the weight of the overall product and be less comfortable. A softer insole might be more comfortable, but that comes at the expense of stability and durability. We tried to balance these weights when evaluating our products, but each reader and wearer are different, so be aware of this trade-off.
Fit
Finding a perfectly-fitting pair of shoes can be like finding the holy grail; there are so many brands, styles, models and makes of shoes that it seems like it's next to impossible, especially when you are shopping online! Fear not, as we've ranked each product on our list for their fit and trueness-to-size to help guide you in finding the perfect match for you.
To come up with a score for the fit of a shoe, we considered several factors, like the ones mentioned above, in addition to real customer reviews, to help boil down everything into one simple score. For example, Nike tends to make shoes that are true-to-size, meaning that you can buy a pair of 11s one year, and another pair of 11s next year in a different model and they will usually still fit (unless your feet have grown or shrunk). A brand like Nike will most likely have a high score when it comes to fit, but the other variables in play, such as make, model, and purpose, will also affect the overall score.
Consider that a running shoe, with its thicker midsole and a synthetic sole, might fit differently than a flat shoe, with its thinner midsole and hypothetical leather sole. Each of these shoes, even if they are both from Nike, may have similar scores for trueness-to-size, but a size 11 in one might not be the same as an 11 in the other. What's a reader to do in this case? You must also consider the purpose and type of shoe it is. Knowing what kind of shoe you are buying, and for what purpose, will help you make a better decision. A running shoe might run smaller than a flat because it has thicker materials, so read customer reviews as well to arrive at the best decision for fit, in addition to just our overall score.
At the end of the day, however, a higher score for the "fit" criterion will tend to mean that the shoe experiences a better trueness-to-size than a competing product; just don't forget all the underlying factors that are baked into arriving at that single score!
10 Best Futsal Shoes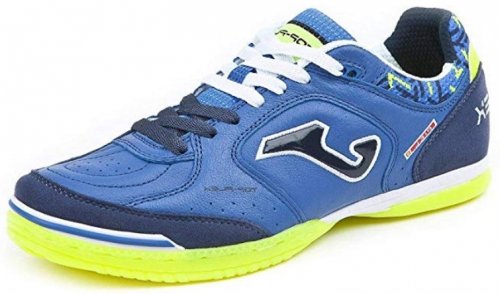 Joma isn't a brand that is world-famous like some of the other choices on our list, but the Joma Top Flex design earns a spot as one of the best options for indoor soccer, largely thanks to its durable, flexible and protective construction. This vibrantly colored sneaker comes in many other color combinations and patterns, from those which are more modest to those which catch everyone's attention, and you are bound to find one that suits your tastes.
The Joma Top Flex has a leather upper with special reinforcements in strategic places to provide protection to your toes and feet, as well as durability. The outsole of the design is made from rubber that is highly resistant to abrasion, meaning that it will last you for quite some time. Special flex grooves allow for an ergonomic shape of the sole, and they enable a natural heel to toe movement that your feet will appreciate. Finally, thanks to carefully designed geometric patterns in the outsole, the Top Flex enables easy rotation and change of direction that is crucial to the game and prevents injuries to the ankle and the knee.

While you may not have heard of this brand or this model before, we guarantee that the Joma Top Flex is worth considering. Everything about this sneaker is geared towards helping you perform better on the indoor court, and feeling more secure and comfortable while you play.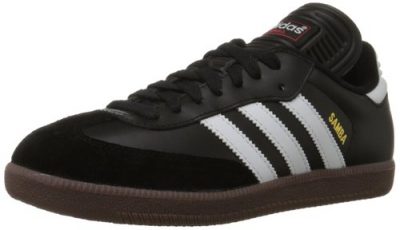 Featuring a full-grain leather upper that is suavely fashioned with a rubber sole and the trademark three stripes on the side, the Adidas Samba Classic is a perfect blend of class and comfort that suits just about anyone looking for a quality option at an affordable price.
Thanks to its low-profile non-marking rubber outsole and lightweight, the Samba Classic offers plenty of control and excellent grip for soccer players on any kind of indoor surface. Because of their trendy design and comfort, Samba Classics can be used not only for playing futsal but also for casual wear, where they can be worn with a pair of shorts, khakis or even jeans.

The Adidas Samba is definitely a great bargain and easily one of the best designs with great value for their highly-affordable price.

3

. Adidas Predator Tango 18.3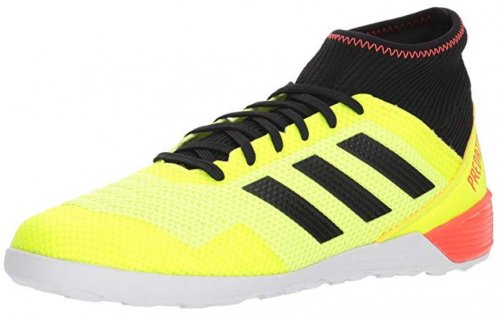 As the brand itself declares, the Adidas Predator Tango 18.3 is built to dominate the indoor game. All of the features of this aggressive design are created with precision, control, and comfort in mind, and there is hardly an option out there that can compete with it. Enjoy the Predator's sock-like fit, molded heel, and improved ball-handling and watch how no one can stop you from scoring a win for your team.
The Predator Tango has an upper made from coated mesh for breathability and a fit that is often described as a second skin. At the back, there is a molded heel that delivers a secure fit and natural movement, and what is called 'control embossing' on the upper helps you control the ball better. On the bottom, the outsole of the Predator allows for effortless rotation and provides good traction on indoor floors.

Of course, we can't forget the booty-like construction which protects your ankle from any type of injury. The Adidas Predator Tango 18.3 is truly an option that has to be experienced to be believed. If you are serious about your game and want to annihilate the competition, then you will consider investing in these badass indoor sneakers.

4

. Adidas Samba Millenium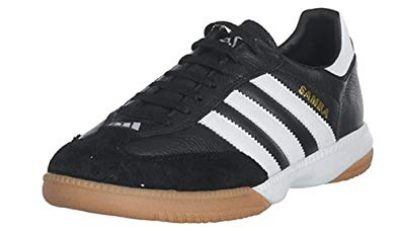 If you are looking for a lightweight option that features a full-grain leather upper with suede overlays and a nice rubber sole that guarantees comfort, then the Samba Millennium is the one you need to go for.
Coming in the colors of white, black and gold, the Samba Millennium is made of high-quality synthetic leather and a soft interior that provides great cushioning and admirable shock absorption, making it a trendy option for both indoor and outdoor usage. And just like most leather-made footwear, these classic sneakers are very durable, reportedly lasting as long as two-plus years for people who pretty much use them on a daily basis.

More notably, the Samba Millennium retails affordable in most stores, hence offering tremendous value to its users, especially if you consider how long-lasting they are.

5

. Under Armour Spotlight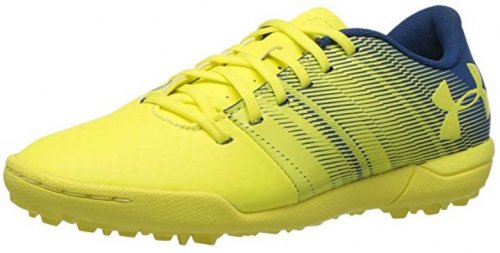 The Under Armour Spotlight is a sleek, fierce choice in the world of indoor soccer. It comes in several bold colorways (though you can also get it in less striking white), and it is perfectly designed to help you score that winning goal. Its synthetic leather upper, asymmetrical lacing closure and sock liner ensure that you have a comfortable, secure ride and that you want for nothing once you step onto that game court.
The Spotlight's upper is designed to be super soft and to provide a sock-like fit for superior comfort. It has a lacing system that delivers good lockdown in the sneaker, as well as a large kicking surface. Inside, there is an Ortholite sock liner for comfort and good ventilation. The sock liner is also treated with antimicrobial agents to reduce bad odor and the risk of infection. The outsole of the Spotlight is patterned in a way that makes you stay low and close to the ground for maximum traction.

Having been designed specifically for indoor soccer, the Under Armour Spotlight is a no-brainer. This option will keep you safe and comfortable as you lead that ball across the court, and its breathability and odor-resistant features are nothing to sneer at either. An overall solid, reliable choice.

6

. Adidas Nemeziz Messi Tango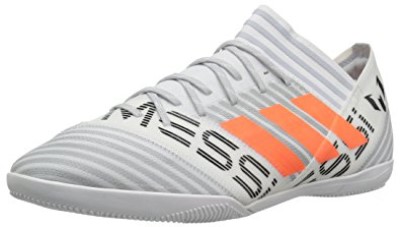 Adidas is a powerhouse when it comes to indoor soccer footwear. Take your game to the next level with the Adidas Nemeziz Messi Tango. Super lightweight with excellent traction and grip, this design will help you perform like never before. The durable upper breathes well and provides great comfort while the rubber sole makes maneuvering on slippery floors a breeze.
Inspired by sports tape, the 360 Torsion Tape gives you medial and lateral support. Sports tape is used by athletes across the globe to ensure their muscles continue to feel great. Adding that same support to your feet will keep you going longer, stronger, and you will find that you recover faster. Keeping your footwear securely fastened to your feet is a top priority. Finding a pair of sneakers that offer not only a sure fit but also adds to the stability of your ankles can be difficult. However, Adidas Nemeziz Messi Tango will stay put on your feet and offer advanced stability with their dual lock collar system.

Great performance, agility, traction, and style can be yours with the Adidas Nemeziz Messi Tango and it won't cost you a fortune. Keep your feet and your budget comfortable when you pick up a pair and know they come from a company that really knows indoor soccer.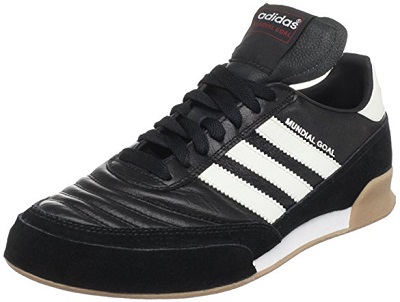 The Adidas Mundial is a highly-cushioned, full-leather sneaker that is fashioned in the trademark black and white Adidas colors. Lightweight comfort is guaranteed with the design's die-cut EVA insole, as well as great stability, traction, and comfort thanks to its many useful features.
Thanks to the TRAXION outsole on the Mundial that is blended with a posh-looking rubber sole and its max grip profile, your stability is assured when you are using these on turf and hard surfaces. The synthetic lining on the inside, leather on the outside and thick (but lightweight) rubber sole also provides a splendid blend of comfort, solid support and protection, which greatly limits injuries when playing indoor soccer or simply using them for casual purposes.

The array of features that come with this design—particularly the Kangaroo leather—make the Adidas Mundial a great bargain. It's hard to find such a legendary pair on the market at a similar price range.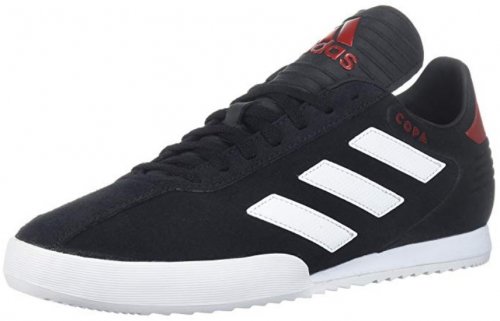 Adidas is a brand which dominates this guide, and with good reason - they offer a wide variety of designs for indoor soccer, from those abundant with high tech features to more simple ones, which don't require you to think too much about whether or not they are right for you. The Copa Super falls into the latter category, being a simple, straightforward sneaker which meets all the requirements for a good indoor option, and yet which doesn't go overboard with technologies.
The Adidas Copa Super has a clean, slightly retro aesthetic with an upper made from leather for comfort and breathability, as well as synthetic for support. It features a lace-up system for maximum adjustability and the signature Adidas 3-Stripe logo on the side. The outsole of the Copa Super is made from rubber for traction and grip. Overall, this option is lightweight and durable, and thanks to its textile lining, it is also comfortable to wear for as long as you'd like.

The Copa Super isn't as advanced as some of the other items on our list, but if you're not in the mood for wading through complicated technology names and specifications, it is an easy, simple solution. It will keep you supported and will provide decent traction, and that's all you really need to enjoy a good game.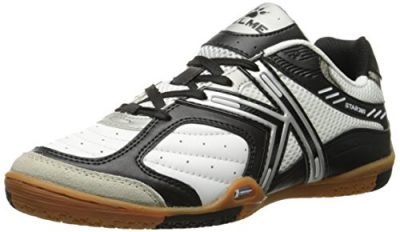 By combining the ingenuity of two powerful companies (Kelme and Michelin), this sneaker brings a well-rounded blend of design strengths (more so in traction and comfort) that are specifically tailored for the futsal market and indoor activities.
Weighing in at an average of 10.4oz, the Kelme Star 360 is an ultra-lightweight design that deservedly warrants the big reputation it commands on the market. Add the gum-rubber soles and the variety of quality materials used in construction, and this pair is certainly a fantastic indoor option. Courtesy of Michelin's background in rubber technology, the Kelme Star 360 soles offer the stability that is second-to-none and a flexibility that allows for use in sporting activities as well as in daily casual endeavors.

With a strong build quality, nice lightweight feel, amazing traction, and overall beautiful design; it goes without saying that the Kelme Star 360 is soundly priced, if not being a great bargain compared to other options on our list.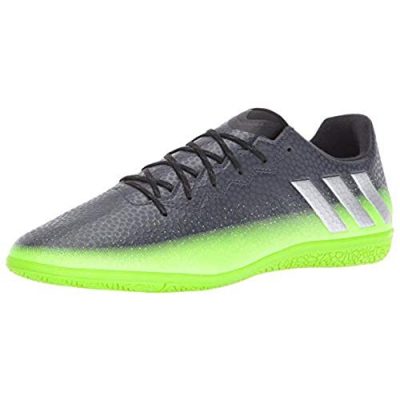 The Messi 16.3 by Adidas combines a snug fit with mono-tongue and flexibility all in one solid pair of indoor soccer footwear. Touch skin uppers allow for good ball feel and handling while maintaining agility, and a grippy synthetic sole helps to keep you pivoting past opponents to the next goal. Available in stylish color options, the Messi was named after Leo Messi, one of the great forwards who play on the Argentine National team.
With Messi 16.3's grippy sole, quick turns, pivots, and lateral movement changes won't become an issue due to slippage, and the non-marking sole will help keep the floor clean for the next bout. Snug touch skin uppers keep the shoe flexible for movement and footwork, but also fit like a second skin for a supportive feel and fit. And, no worries about anything getting inside your footwear when playing, as the mono-tongue helps to keep out any debris.

Best for players who find themselves moving around extensively, Messi 16.3 although an older model of the updated 18.3, keeps the snug fit with its asymmetrical lace closure and touch skin uppers. The uppers will mold to the foot, making them feel fused to you, and they allow for sensitivity during ball handling.

The Adidas Messi 16.3 is a great performance design for indoor soccer. Its grippy outsole provides traction for quick pivots and turns, and the touch skin uppers provide a snug molded fit which enhances foot feel during ball handling. Even though this model has since been updated to 18.3, it's still a solid pair of footwear to consider!

Subscribe to our Newsletter