Top Rated Yoga Mats For Casual and Serious Yogis Reviewed
In a
Hurry? Editors choice: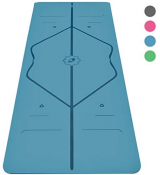 Test Winner: Liforme

Practicing without a yoga mat is like a golfer playing without his clubs, or a
cyclist
without his bike. The comparisons might seem a little extreme, but that is just how vital mats are. Some people perceive them as optional gear, but the reality is that every yogi needs one.
They will shield you from direct contact with the floor. You won't be exposed to dirt, germs, or bacteria. You also won't be exposed to the cold floor as you practice. They also provide cushioning, which is very important to ensure that you don't injure yourself: especially if you have sensitive joints.
The best yoga mat will also help you with your balance and coordination as you practice. Your sessions will undoubtedly be more productive. They have so many other benefits, and they will help support you as you work towards attaining your goals as well.
Standout Picks
Criteria Used for Evaluation
Materials
Detailed product knowledge will always work in your favor
There are several kinds of yoga mats available for sale in the market. Before you rush to make your purchase, you should have more information on the types of materials available and what to expect from each of them.
The first kinds of models we are going to look into are those made of PVC. These are the most common kinds in the market and are often available at affordable prices. They are an excellent fit for anyone looking for a durable alternative. Beginners who plan to continue practicing for some time will benefit from them because they won't have to budget for new models continuously. Additionally, they are latex-free, making them user-friendly for people who have such allergies.
PVC models also offer an excellent floor grip. Thus, you can rest assured that it won't slip whenever you're using it. It will boost your confidence as a beginner because you won't be paranoid. You will be able to focus on getting your poses right and catching up with the rest of the class. These models will also give you an easy time when cleaning them. Naturally, things also have a downside to them. PVC is not biodegradable, so people who prefer eco-friendly products do not favor them. Some people argue that they emit toxins, and aren't the healthiest choice.
There are also models that use TPE (Thermoplastic elastomer) materials. This material is often a blend of rubber polymers and plastic. They also have excellent traction, so that is a bonus. If you want to avoid PVC, you could opt for this kind of material. It is eco-friendly, making it a better choice for the environment. However, such models don't last as long as that of PVC do. You will still enjoy the same level of thickness, but you need to be prepared to deal with replacement costs.
If you are not interested in any of the above yoga mat materials, you could opt for natural ones instead. Such materials include jute, natural rubber, and organic cotton. Cotton and jute are excellent for gentle forms of yoga: and they are beginner friendly. Cotton is absorbent, which is good because things may get sweaty during practice. It's also soft and will not give you a hard time when washing it. All these options are ideal for the environment, but you need to be wary of natural rubber. Buyers who are allergic to latex are advised to avoid such models and choose between the other eco options.
The eco-materials will offer you decent body traction, but they don't have as much of a grip. They also have a short useful life compared to the rest. Each of the products also differs in price, but you won't fail to get one that's in your price range. Just make sure that you don't sacrifice quality to save a few dollars.
Comfort
You are at your best when you're comfortable
One of the significant things to look at in terms of comfort is thickness. It's advisable for beginners to go for thicker models with excellent padding because they are more comfortable. Such models offer better support for your wrist and knees and will help you prevent injuries. They are the best alternative for people who are sensitive and need to take extra care of those joints. Some people also prefer these kinds of models because they are compatible with restorative and therapeutic practices.
You can get products that are 1/4 inch thick, 1/6 inch thick, and 1/8 inch thick. Despite the advantages of a beginner using a thicker model, it can also be quite hectic. Since they are new to the practice, they may find it challenging to take on standing poses. Additionally, these kinds of models are also bulky and may prove difficult to carry. That is why some of them still prefer to go for standard sizes. Alternatively, you could choose a model that measures somewhere in between the two, such as the 1/6 alternatives.
The kind of clothing you will wear during your practices will also determine your comfort levels. It is advisable that you shop for the appropriate attire for more convenience. Yoga consists of many poses that require you to lift, bend, and stretch your body and certain body parts. The right attire will enable you to minimize exposure, and give you the confidence you need to carry on with the session. These clothes will not limit you. They are easy to move in, thanks to their design.
Their fabric performance is ideal, compared to regular clothing: they have moisture wicking capabilities and are often quick drying. As such, they absorb the sweat from your body, giving you room to continue with your session without such discomfort. So don't just pick out any casual attire, select the right kind for more benefits.
Accessories
Accessories will offer you convenience
Some brands will provide you with accessories with your purchase. Some accessories will make things convenient for you while others will help enhance your practice. One of the most common accessories is bags. Some people consider them a necessity because they make it easier to carry the mats to and from practice. Some people practice at the studio, others prefer exercising outdoors, and there are those who love practicing in the comfort of their own homes.
Mobile people need bags the most because they are handy in terms of portability. It makes it less hectic to walk around with them as the bags have handles and shoulder support. Additionally, bags help keep them from unrolling since they are contained in a confined space. They also keep your hands free, so you can multi-task as you head for practice. You will be able to grab a drink or even cycle to your sessions if need be.
They also offer you a storage means. If storage space is an issue, you can simply hang the bag and sort the problem out. The pack will also protect it from the elements. It will be safe from snow, dust, and even rain. Nothing will be able to stand in your way. It will also last longer because the bag will prevent its exposure to any of the above. Some kits have more than enough room, allowing you to store your other possessions. You can keep your other accessories, towels, and even some spare clothes if need be.
Straps are also accessories that you can get with your purchase. You can also use them to carry your selected model, just like the bag. Some people buy them separately while others make one for themselves. Other important accessories include slings and blocks. They don't often come with purchases and are optional for most people. Their purpose is not so much about convenience as they help one get a better handle on their techniques.
They are accommodating for beginners as they help them achieve better alignment. Reason being, most beginners, are not as flexible and may struggle in taking on some poses. With these tools, they will be able to get the most out of their sessions, because they offer them some much-needed support. Some studios have them, but you can also purchase them for yourself. If you have never used any of them before, make sure you get an experienced instructor to guide you.
Yoga towels are important, but they are also among those that don't come with purchases. They are not optional per se, but owning one will work to your advantage. These products are not like regular bath towels. They are ultimately built for moisture absorption and are quick drying. The towels' design consists of nubs on the underside, which are responsible for the grip they offer. That is why they are quite secure when placed on the mats.
Another advantage of placing them there is that they help create a sweat-barrier. There are many advantages to this with one being that they help improve your stability. You will have an even better grip during as you practice. Cleaning will also be effortless and quite effective. To top it off, it will also be healthier for you since you won't have direct contact with it. Since it's often on the floor and may have some traces of dirt and dust. Yogis, who often use their towels in this manner, also claim that their models end up lasting longer than expected.
Features
Reliable features will make your sessions more effective
The texture is one of the features that people always look at when narrowing down which models to buy. You have to choose a model that offers you the right amount of traction. Reason being, when you make a random selection, you may end up with one that keeps sliding around. Such models are potentially dangerous, because they may cause you to fall or sustain some injuries. Examples of such models include those made of PVC. They usually are quite smooth and slippery.
Beginners who go for such options tend to have a tough time. The best models are those that have textured kind of patterns. The patterns are responsible for the grip they offer. Some poses require powerful movements and may need you to use a smoother model. To be on the safe side, users are advised to purchase natural rubber options. They offer the same benefits as PVC alternatives but are much safer. The only downside is that they don't have sweat absorption capabilities, compared to their textured counterparts.
You should also consider looking into the size of the model you want to buy. Its length should be able to fit your entire body. Positions like the Savasana require that you lie down. As such, if you choose a smaller one, there's no way that that would be possible. You would end up on the floor, too uncomfortable to finish the pose. Always make sure that you confirm the length of the model you are buying, avoiding such inconveniences. Afterward, compare it to your height and check if it's a good fit.
Some people are heavier and therefore need wider options. Otherwise, they would end up in the same situation as the one described above. If you have a bigger body, you will need more space. That is why you also have to countercheck the width of the product before making your purchase. The weight of the model you choose is also equally important. As discussed earlier, most people are mobile and carry them around. If you are such an individual, then you have to make sure that its weight is reasonable enough for you to bring.
If it's too heavy, you will have a hard time doing so. If the mat is too light, it may also mean that it's not thick enough. That is why you need to strike the perfect balance between the model's thickness and its weight. There are models created specifically for traveling with. Such models tend to be light and compact. They are easy to pack because they don't take up much space. Users love them because they easily fit into suitcases and other forms of luggage. For that reason, be patient when making your selection and choose a model that you can easily handle.
Compatibility
Your selection has to go hand in hand with your practice
There are different types of workouts. Your choice needs to be compatible with the kind of practice that you've taken on. People who practice Yin yoga are compatible with standard models. The 1/8 models are also a good fit for people who practice Hatha yoga as well.
Other people practice more intense forms of yoga. Hot yoga, Ashtanga, and Vinyasa forms of yoga require the use of models with more traction. Because of their intensity, users also sweat a lot compared to the gentler practices. If possible, make sure you add a towel to the mat, to get the benefit of its sweat absorbency and additional grip.
You should also look at the style or design of the model. You should select a color you find appealing, or one that you feel will be easier to maintain. Some have prints and patterns as well. If you like such designs, you can opt to go for such alternatives. All in all, it all comes down to your personal preferences.
Top 10 Yoga Mat Reviews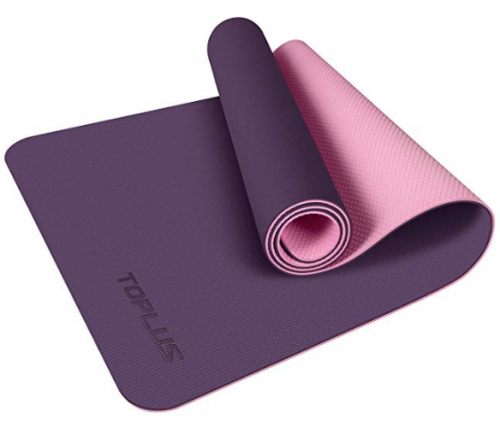 Have you ever wondered how easy it would be if you could use one model for all your floor exercises? It would also be cheaper because you wouldn't need to purchase different ones all the time. Well, TOPLUS is a brand that came up with a solution to all your concerns. This yoga mat is a yogi's best friend. In fact, it's so versatile that it's popular with people who take on other practices as well. The company offers it in two thickness levels. You can get it in the standard size and a 1/4 inch size as well.
They use TPE material that has SGS certification. It is eco-friendly and 100% safe. It has higher quality standards compared to PVC, EVA and NBR models. It is true to say that, this material variation is a product of technological improvement. It is a healthy option because it doesn't have any harmful chemicals, latex, or PVC. The model also has a non-slip texture and offers the highest anti-slip performance.
The brand made it such that both sides of the model had the texture, to offer the user the optimal grip. That is what makes it a perfect fit for all kinds of Yoga. The cushioning is also worth noting. You will find it comfortable to use, thanks to its 6mm thickness. It has the perfect balance in terms of thickness to accommodate you as you build your skills. Your knees and other joints will be well cushioned and protected, without compromising on your grip. It is also light enough to carry around, especially with the free strap that comes with the purchase.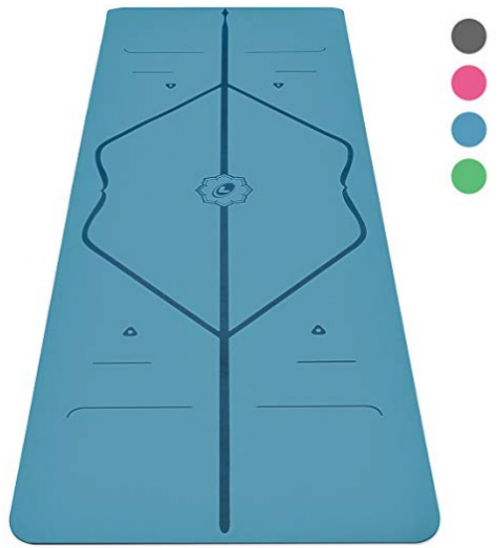 What makes Liforme models some of the ebst yoga mats is their "AlignForMe" system. The brand offers a unique navigational tool to help yogis improve their technique. The design behind it undoubtedly intelligent and it works for people of all heights and body shapes. It ranks highly among tools that claim to offer the best foundation for this kind of practice.
This brand of yoga mats also has its very own "GripForMe" material. Its purpose is to offer users an exceptional grip. The company claims that they have one of the most premium slip-resistant models currently available. Another reason why it works for all kinds of people is its overall design. The brand made the model ideal in several ways. It has the proper thickness, it is longer, and it is wider than most of its counterparts.
When you purchase it, not only will you have stability and cushioning, you will also have more than enough room for practice. Additionally, the manufacturer still found a way to make it lightweight. Your purchase will also include a bag to help solve any portability issues you might have had in the past.
As for the materials used, they are healthy enough and won't cause you bodily harm. These yoga mats are PVC-free and easy to clean. As you can see, the model ranks highly because of the brand's unique approaches. Expert yogis created it to help meet the needs of fellow yogis. That is why it has all these desirable traits. You will get enough room, cushioning, support, and stability that you need.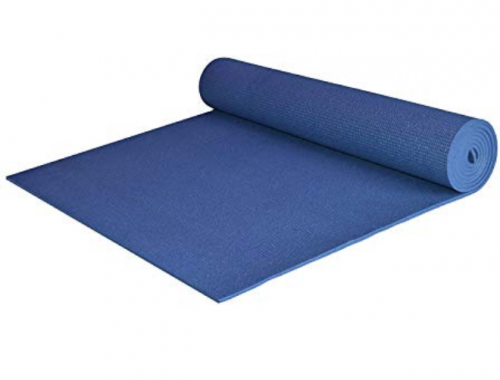 If you are looking for a thick model, this option may be a good fit for you. This yoga mat model will be ideal for intermediate and expert yogis, who are looking for a dense alternative. With this kind, there will be no need for a 1/2 inch model. Reason being, it rivals most of such sizes that other brands have to offer. The plus side is that it's also not as heavy or as they are.
Tall people looking for a lengthy option will also benefit from this purchase. The model measures about 7ft long and has a 3ft width: making it a worthwhile investment. The model has sufficient grip, sweat absorbency, and joint-saving density. The brand uniquely combines closed and open cell material to achieve such a mixture. Users also prefer it because it does not have any heavy metals, phthalates, or latex in its composition.
This yoga mat will serve you well since the brand made it withstand years of vigorous use. It has anti-tear properties, so it won't easily succumb to wear and tear. What's more, the material is also scratch resistant. As such, it will keep looking presentable even after significant time passes. You have to make sure that you handle it properly and clean it regularly.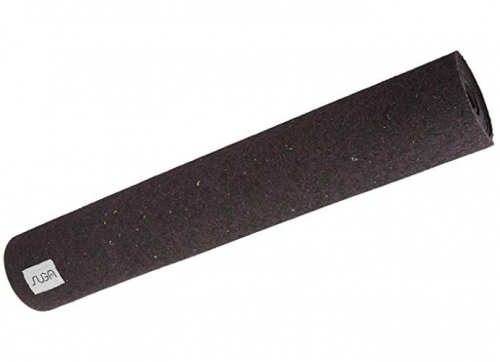 Yogi's who practice high compression asanas are going to love this model. The cushioning it provides is crucial for; the Mukta Hasta Shirshasana and the Parshva Bakasana. In layman's terms, you will find it useful for poses like the side crow, and the hands-free lotus headstand, to mention a few. The model consists of cell-closed foam.
That is why it has an advantage over competing brands. It will not accumulate any bacteria, dirt, or dust, thanks to the foam material. Users also find them extremely easy to clean because it has such attributes. Its performance is incredible because of its high tolerance. The model is durable, has liquid permeability, adequate retention, elasticity, density, and tackiness. Therefore, you will always be confident regardless of the asana.
The yoga mat material used is safe, because it's made of surfing wetsuits that were recycled. This brand of yoga mats also makes them according to the highest labor and environmental standards. This model also has a lower carbon footprint, making it an eco-friendly option.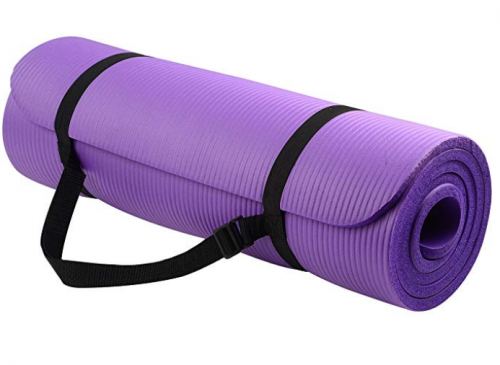 BalanceFrom yoga mat offers another thick model: to provide you with the kind of support you would need to cushion your elbows, knees, hips, and spine, whenever you're on hard floors. The model has exceptional resilience and slip resistance. What makes this one of the best yoga mats on the market is that you won't have to worry about injuries, and you will always retain your balance. It is the perfect tool to take on different poses and practices.
You will find it easy to maintain, and cleaning it will be quite simple as well. All you will need is some bit of soap and some water. The model has moisture-proof technology, which makes the cleaning process swift. The included strap will make it easy to transport. Additionally, the adjustable length and is of the toughest Velcro. As a result, it will not snap, and the hold will be better and more convenient.
Buyers can get the model in different colors. The brand offers it in red, purple, pink, green, gray, blue, and black. They all have the same anti-tear material that contributes to their longevity. It will be a worry-free purchase because the company offers a satisfaction guarantee. They highly prioritize customer service: who are also responsive.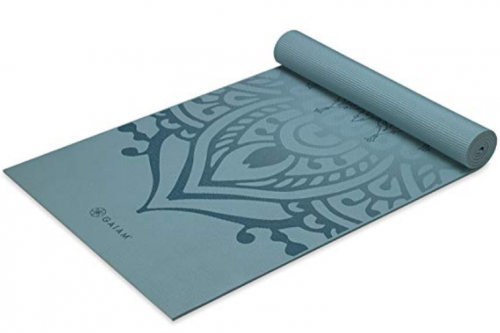 If you are looking for some print alternatives, Gaiam has precisely what you need. This yoga mat brand has a premium collection of 35 models that will blow your mind. They are innovative, stylish and some are quite colorful. You can use them in whatever location you want: from your home to the studio, or even outdoors.
You can rest assured that you are going to get proper alignment. The model will also provide you with the right kind of support: to help you maintain your poses and protect your joints as well. The level of traction it offers can be attributed to its non-slip surface. It is somewhat sticky, and its grip is superior to that of most models.
Buyers can download the Gaiam Yoga Studio App to kick-start or help enhance their techniques. Downloading the app will give you access to 280+ poses, 25 hours of video classes, including teacher commentaries to help you attain your goals. The pictures from the app are easily downloadable, and there are programs for both beginners and experts.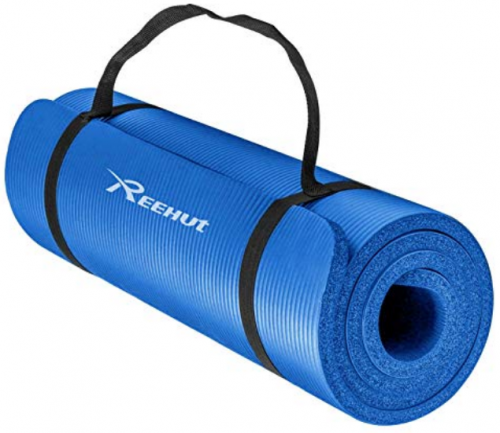 This yoga mat brand is yet another all-purpose model. You can conveniently use for different applications thanks to its dynamic resilience. It is useful for Pilates, aerobics and several other activities. Some people even use it for picnics, as a play rug or even bedding. As a result, if you have a family, you will also get to enjoy using it with them.
The model has approval from 6P, RoHS, REACH, and PAHs. That is why you should be confident that you are buying a safe to use as an alternative. This toxin-free model is an excellent tool for toning workouts, stretching, and Pilates, to mention a few. Both sides of the model have textured surfaces. Coupled with its slip resistance, you won't have to worry about any stability-related issues.
The brand offers lifetime customer support, so you can reach out to them whenever you want. They are very responsive and open to helping their customers. In case of any issues with your model, you can ask for a refund or replacement: within 30 days of the purchase. Buyers also get a two-year warranty as well.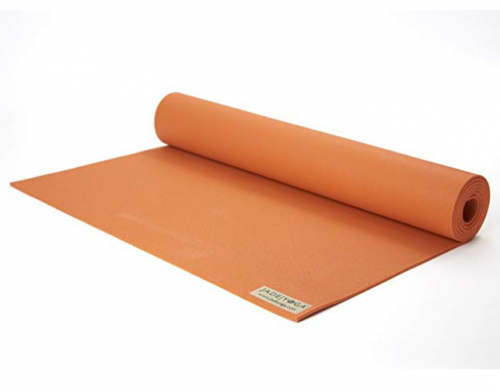 What makes Jade one of the best yoga mat brands is that they offer users several length varieties. You can get them at 74", 71", and 68". Unlike with other brands, you won't feel left out in case you like the brand. Everyone can get his or her perfect fit. According to user feedback, 100% of the people who bought them, found them to be an exact fit. In other words, they got exactly what they expected.
The model consists of natural rubber, which is a renewable source. You can trust that no synthetic plastics were used in its construction. The model's grip is substantial to help you hold your poses. Balancing will also be easy for you since the traction won't let you slip.
Additionally, it's also stable and dense enough for your standing poses. Aside from length, you can choose from over ten colors. The model is available in; black, Tibetan orange, teal, midnight blue, slate blue, saffron, raspberry, purple, olive green, midnight blue, and chili pepper.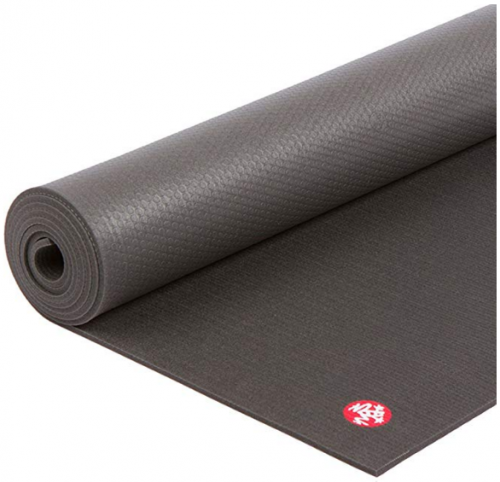 Manduka is one of the most renowned yoga brands. The company is respected and offers legendary products- thanks to their 20 years' worth of experience. They have over two million customers and a large following around the globe.
This PRO yoga mat model is one of their most durable products. Manduka claims that it will never fade, peel, or flake. It will look as good as new, no matter how long you use it. You can get one in a standard or an extra-long size depending on your height and size requirements. The company advises users to break in the model after buying it. You can do so by continuously using it to practice.
For maintenance, they encourage buyers to use the Manduka All-Purpose Wash. It has a unique formulation that will not damage the model. The wash also won't cause the product to be slippery. No sweat will slip into it as well, thanks to its closed cell surface.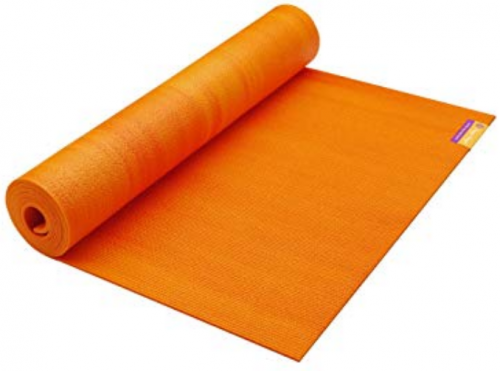 The Hugger Mugger is another great antimicrobial alternative. It's a must-have for people who don't like to compromise when it comes to their hygiene. The brand created it for use by yogis of all skill levels. So, whether you are an amateur or a professional, you will still benefit from this purchase.
The yoga mat material is extra sturdy, seeing as it consists of extra strength fabric. The company refers to it as "ultra-stable," so you don't need to worry about its grip and traction. It is also slip resistant and long lasting as well. Carrying it around will be easy since it weighs about 2.5lbs. It is much lighter than a number of the options in this list.
Overall, this yoga brand model does not have any phthalates; it is durable and easy to clean. You won't need any special tools to clean it up- just some soap and water will do. Your purchase will also come with a manufacturer's warranty. If you are interested in vibrant colors, you can opt to purchase the flame model. The brand also has the product in evergreen and purple mountain colors.

Subscribe to our Newsletter