Best Runner Belts Reviewed
In a Hurry? Editors choice: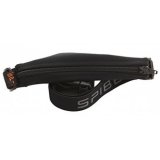 Test Winner: SPIbelt

People have been comparing armbands and running belts for quite some time now. The debate is inevitable since most of us want to carry our smartphones when going out for a run. Some people need them for tracking their route, fitness apps, and others use them to listen to music, among other uses. The fact of the matter is that phones are quickly becoming must-have fitness tools.

There are certain benefits that runners' belts can offer that armbands simply cannot. Unlike in the past, phones are much more substantial, making them incompatible with armbands. You want to have that peace of mind that your phone is safe; which can be difficult if your handset dangles on your arms during your runs. The running belts are highly functional and give you more room for other essentials. They also come in handy during other outdoor activities such as trekking and hiking.
Standout Picks
Criteria Used for Evaluation
Water Resistance
Don't take the safety of your belongings lightly.
One of the main qualities your model should have is water resistance. The main reason for purchasing one is so that you will have safe and convenient storage space for your possessions. Therefore, if you get a model that has no waterproof qualities, you will end up putting your belongings at risk. Your phone, money, ID, and credit cards are not meant to be exposed to moisture or wetness. That is why you cannot compromise when it comes to water resistance.
Most models are often made of Neoprene material. Neoprene is a form of synthetic rubber, which is more robust than most. It's an excellent choice for marine-based activities and products that require water resistance because of its waterproof nature. To top it off, it has cold insulation properties as well. As such, nothing in your possession will become wet, cold, or damp with a neoprene model.
These traits ensure that you will have nothing to worry about even when it starts to rain. If you plan on using your belt for long runs, marathons, or triathlons, such material will still have you covered. Regardless of how sunny or sweaty things get, no moisture will penetrate through the pouch. Such designs give you the freedom and peace of mind to carry whatever you want whenever you want. With that kind of confidence, unpredictable weather won't scare you into changing your training schedule.
Capacity
Make sure the model satisfies your storage needs.
To determine the size you need, one of the questions you should ask yourself is, "What do I plan on taking with me?" Some people only need their set of keys, while others prefer carrying essentials such as their phones, sunscreen, money, and IDs, to mention a few. A person who only plans to bring an item or two will not require as much space as someone who is packing up the latter.
For people carrying their phones, size is a crucial factor. These products are not standard, so you have to be keen. Some can hold phones, but they may not be of much use if they are outdated. That is because modern phones are bigger than previous versions; you have to ensure that you always check for specifications. If possible, you could also contact the manufacturer to ask for clarification regarding any doubts you may have concerning their sizing.
The size you need also depends on the distance you plan to run. People taking on shorter distances don't need much, compared to someone running long distances or marathons. If you plan to carry several items, one of the things that you should also focus on is the number of compartments. Reason being, you want to try to be as organized as possible. You may get sufficient storage, but putting everything in one place tends to get somewhat messy. The chances of you dropping some of your things when reaching out for a specific item are quite high.
Some models have extra pockets on the outside, while others have internal compartments. There are those with designated spaces for your phone, which prove to be quite handy. You won't have to deal with any accidental damage to your phone's screen. There are also designs that provide room for carrying water bottles. These kinds of models are the best fit for people going for long runs. They make it possible to stay conveniently hydrated, without having to run with a bottle in your hands. Such designs vary from a single bottle to multiple bottle designs.
The advantage of multiple bottle storage is that the overall weight is better distributed. As such, any chances of bouncing are limited. You will also have more water, thanks to this design.
Comfort
The model you choose must be comfortable if you want to use it often.
The first thing you'll need to look at in terms of comfort is the fit. You need to select a model that will fit your waist size. Before making any purchases, you should first take your waist measurements. Doing so will help you narrow down the kind of belt you need. Most of them are adjustable, enabling them to fit several waist sizes. If you select a size that's too big, it may end up falling off when as you run. On the other hand, a smaller size will cause you so much discomfort.
You need to choose wisely because not all of them are adjustable. Waistband designs are good examples of such models. If you pick the wrong size, you wouldn't have any way to make it fit you. Fortunately, some manufacturers have size charts to help guide you. A few of the products offer a universal fit and can suit almost anyone.
Flexible options also help simplify the fitting process. That is why you also need to be precise when it comes to the kind of fabric used. Some materials are rough and rigid and may cause you to chafe. You need to avoid anything that will feel is digging into your skin or poking you. The best materials are often the softest and breathable ones. Mesh is a good option if you want excellent ventilation. It won't feel sweaty against your body, allowing you to focus on your run.
Alternatively, you could select one that has moisture wicking fabric. That way, you will always feel dry, even during the toughest workout. Your preferred model also needs to have an easy access design. You want to spend the least time and effort possible, getting to what you want. The best designs will not frustrate you, nor will they disrupt your running. You don't want to waste time making stops whenever you need something from the pouch.
Durability
A durable selection is a worthwhile investment.
A sturdy model will serve you well, regardless of how often you make use of it. To determine the longevity of your choice, you first need to look at the quality of its material. Good quality options like neoprene are often resistant to sweat, water, and can withstand the elements. As such, they are useful for different environments and won't be worn out easily.
Some brands invest in elastic tear resistant materials, which are easily expandable. They can easily hold one's possessions without becoming undone. Other fabrics have wear resistance, making them retain their appeal even after several months of use. A well-constructed alternative is also worth investing in as well.
Some brands put a lot of work into the product details. Such models have heavy-duty zippers to help secure your belongings. They often have reliable re-enforced stitching that stays in place regardless of how much the pouch expands. If you select one that has a buckle, ensure that it is also sturdy, so that it can last you longer.
Advanced Features
Some features enhance your user experience.
Some belts have much more to offer aside from storage space. Some models have reflectors to boost your visibility. They are excellent for people who love to run late in the evening when there's not much lighting outdoors. The reflectors make it so that motorists can see you, or at least be aware of your presence.
Others have smart designs, such as provisions for earphone cables. They make it so that you can easily listen to your music as you work out. Another added advantage is that you will also be able to answer any calls coming through via your earphones. Older models did not have this feature. Instead, users were forced to leave their zippers open, just to use their earphones. That left people's belongings exposed and increased the risk of dropping some items.
Some brands have features such as integrated toggles for race bibs and loops for energy gels. Buyers can also get options that have Add-ons for phone cases and sunglasses alike. Select an option that has features, which you will find beneficial.
Top 10 Runner Belts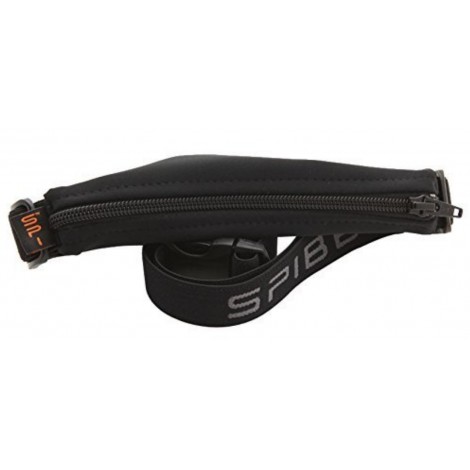 Big phones are more entertaining and convenient. However, when it comes to activities such as running, they don't favor a minimalist kind of approach precisely. SPIbelt offers you a solution by providing a running belt that fits some of the biggest phones, in the market. So, if you have a Galaxy Note 3, Galaxy S6, Galaxy S5, Nexus 6, or even an iPhone 6S, it's got you covered. Buyers can use it with any phone that is up to 6.5 inches in size
The running belt is such that it doesn't bounce around. You can take on rigorous activities peacefully, without worrying that it will start riding. That is why it's an excellent choice for people who want to train, and not just for short morning runs. It consists of spandex that stretches comfortably. You also won't experience any chaffing, thanks to its soft elastic.
The buckle is sturdy; thanks to some outstanding construction work. It glides flawlessly and is an excellent fit for people who plan to use it actively. This model is also adjustable and can fit anyone whose waist ranges between 24 to 47 inches. It also expands effortlessly, allowing you enough room to carry your necessities wherever you go.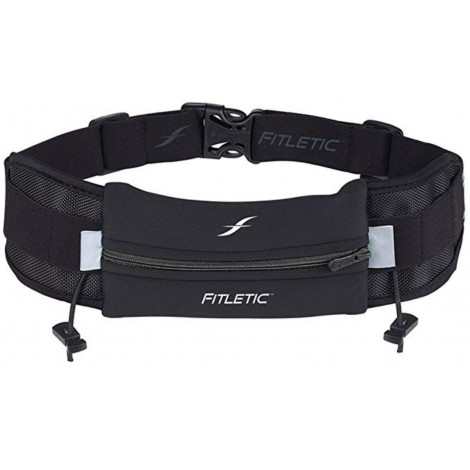 Fitletic has a patented technology to help ensure that you won't have any bounce issues. Therefore, you can rest assured that their Unique Dura-Comfort technology, will take care of such matters. This runner belt is versatile, used not just for long-distance athletics, but also for; rollerblading, walking, workouts, hiking, cycling, and trekking.
You can use it in any weather, thanks to its water-resistant nature. It consists of Neoprene, which helps keep your devices and possessions dry. This particular version designed to fit Samsung Galaxy S8+, iPhone 8 Plus, and other phones in the same size category. As a result, you won't miss any important phone calls while you're out and about. You will be able to use maps whenever you need help with getting directions and best of all you will have some music to keep you company.
This running belt will contour to your body, thanks to its ergonomic design. It has a dual adjustment feature that and feels quite soft. You are certainly going to feel comfortable when wearing it. You will also get different compartments to help keep things more organized. There's a separator for keeping your credit cards and ID. Your phone will also be safe from scratches.
You will have six quick-access energy gel loops at the exterior. The exterior is innovative and patented under the brand's designs. Its integrated race bib is also another resourceful feature meant to prevent any damage to your shirt. You can also use it in the evening for additional safety. The running belt has reflectors that are highly visible, to help make motorists aware of your presence.



Sport2People boasts of having one of the best new generation designs. They've covered almost every area that could have potentially frustrated you. Music lovers get a wholly separate pocket for their phones. The innovative thing about this running belt is the fact that the pocket comes with an earphone hole. You won't believe how convenient it makes things, especially, if you love to work out without some background music.
You can use the other pocket to put all your other stuff. As a result, things won't keep falling off whenever you try to get your phone out. As for its weather resistance, the brand used waterproof material when making it. The bag also has a special kind of zipper that also prevents water from penetrating to your belongings.
There won't be any shaking, bouncing, jiggling, or any awkward movements when you run. It's very comfortable, and the material is also breathable. The fact that it's also stretchy is also a plus. Any runner can use this model, provided they fall under the 27.5'' to 40.5'' category. That is part of what makes it an excellent gift option as well. It comfortably fits kids and adults of both genders. The running belt's added safety feature is three reflective darts, for security during evening runs.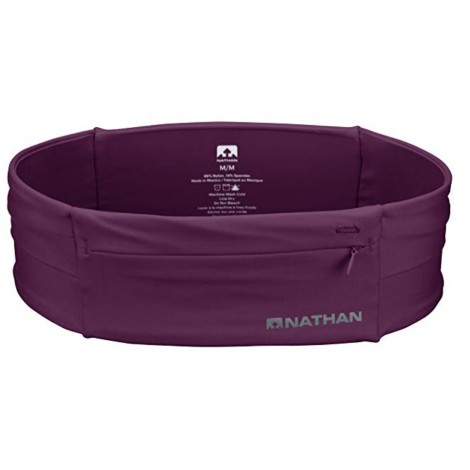 If you are looking for a sleek minimalist runner's belt, the Nathan 7702 is a great option that will capture your attention. The model is unisex and comes in eight colors. You can get one in; blue radiance, amaranth, heather grey, heather blue, and black, based on your preferences.
It has four pockets in total, to make compartmentalization easier. You can separately store all your belongings, making it easier to get what you want quickly. All the pockets are weather resistant and have waterproof zippers making it one of the best running belts for running in the rain.
The storage pouch can fit Galaxy S8/S8+, and iPhone 8/8 Plus comfortably. The material used has a comfortable feel to it, and it can stretch generously. This model is available in large, medium, small, and x-small sizes.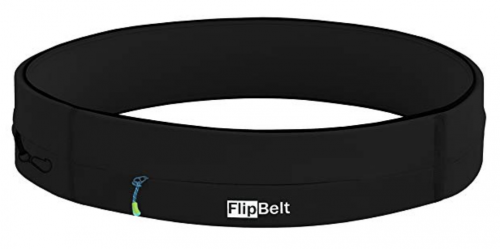 When it comes to design, this model surpasses a number of the alternatives we have on this list. It's tubular, sleek, and secure. The design ensures that it sits on your hips in a flat and stable manner. What makes it even more interesting is the fact that it's meant to be worn like a pair of pants. The brand did not place any buckles, to avoid chafing and any pinching that might occur.
Aside from running with it, most people find the belt useful when biking, hiking, and traveling, among other activities. The material used to make it has moisture wicking properties, giving the product an upper hand in terms of moisture management. Afterward, the moisture is then transferred to the fabric's outer layers for quick evaporation. That is why you will always feel comfortable, cool, and dry.
To eliminate any further chances of skin irritation, the model only has flat seams. Thanks to its piping construction, there is no way that you are going to experience any discomfort. The brand also used maximum stretch stitching and recovery. The combination makes it easy for you to maneuver around without feeling restricted. To close it, all you'll need to do is turn it over. Securing your belongings will only take you a few seconds.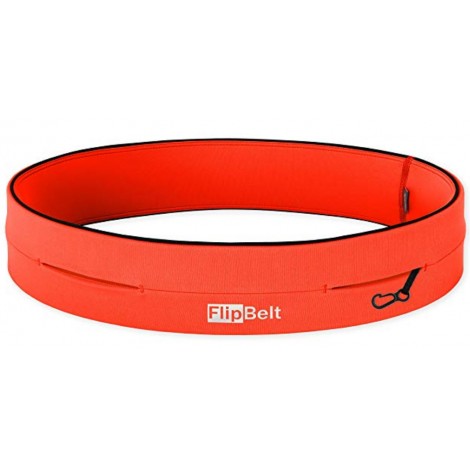 If you're still in search of a FlipBelt design, this model might be the best fit for your needs. It is large enough to fit your phone, pills, EpiPens, inhalers, and insulin pumps, to mention a few. The reviews concerning it are real; from the Business Insider, Vogue, and People Magazine, to the Greatist.com - all the positive feedbacks are also from respected sources.
The brand prides itself in offering quality products and even offers a 100% satisfaction guarantee with the purchase. They also advise users to be cautious, because of the counterfeits in the market. Unlike the original, counterfeit products stretch out. The stitching used is subpar, materials are low quality, and buyers don't get any exchanges.
With this model, every stitching is re-enforced, plus the stretch and recovery properties are exceptional. It consists of the Micropoly fabric of the highest quality and a 3M reflective logo. You will also love the fact that it's of true activewear sizing. It has a secure no bounce design, and enough room to fit larger phones. Maintaining it will also be easy because the high tech Spandex-Lycra blend is machine washable. It will last you longer and serve you better than most.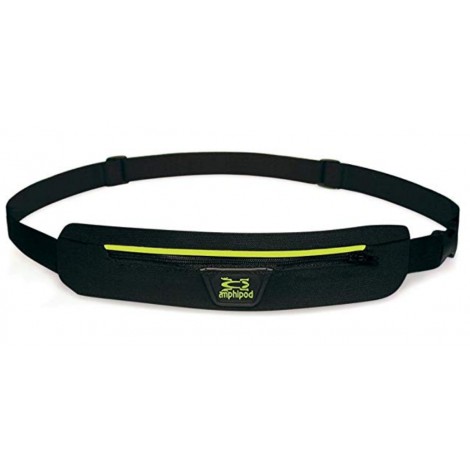 Some of us have more belongings, prompting us to seek more storage space. The Amphipod AirFlow is a good match for such individuals. It might not look like it, but this model can expand four times its size. As a result, you won't ever have to leave any essential item behind, because it will always stretch to accommodate your needs.
The pocket measures about 9inches by 2inches, thanks to its AirFlow Microstretch feature. You can also adjust it to find the best fit. It will comfortably stretch to fit anyone with a 28-inch to 50-inch waist. It is also lightweight and won't get in your way as you race. Amphipod refers to it as a "great race-day solution."
It also has a divider that you can remove to increase its capacity. However, the divider will make it easy for you to store your phone and other items separately. You can get one in; pink, open green, black, black and pink, black and silver, and navy blue colors.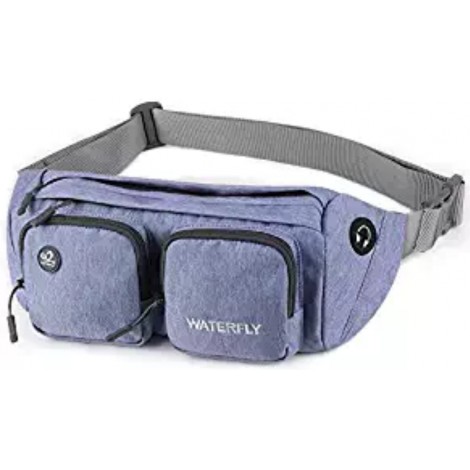 Waterfly is one of the best options for people who value multiple storage compartments. Instead of making a purchase that you aren't sure will fit everything you want to carry, it's better to place your bet on an option that is ideal for compartmentalization. You will get five zipper pockets and four internal compartments. Keeping track of your cards, phone, sunscreen, and keys will not be an issue. They will all be easily accessible and always at your disposal.
Its outer material consists of premium nylon, with water-resistant capabilities. Hence, your belongings will be safe from moist, sweat, or unexpected raindrops. The model is also durable compared to those of other brands. There will not be any abrasion, and it can withstand consistent usage. The waist area is also made of nylon, and it's quite simple to adjust.
The side of the fanny pack that has contact with the body has a mesh surface. The design ensures that there won't be any accumulation of sweat or moisture. Your waist area will always be well ventilated and comfortable. The fanny pack also features an earphone hole, conveniently placed at the front right side. As such, you won't have to take out your phone whenever you want to answer a call.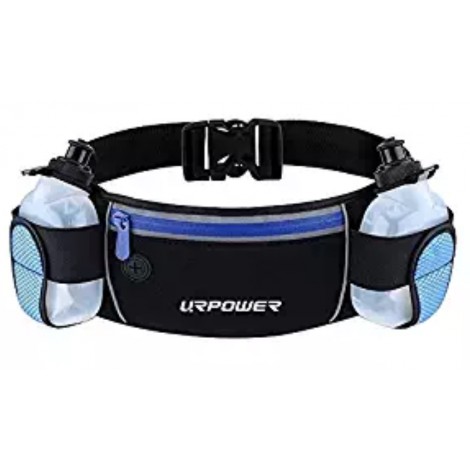 URPOWER models are also long-lasting: they will, without doubt, serve you well. They consist of tear-resistant materials, making them a sturdy option. It is exceptionally light that you may even forget that you have it on you. Therefore, it won't be a nuisance as you go about your duties.
The best thing about the model is its dual-purpose nature. Not only will you have enough storage for your belongings, but you will also have room for your water bottles. You can carry one on each side and train hands-free. Additionally, the design has a provision for your headphones.
You will also have the option of using it as a shoulder bag. The straps are fully adjustable, making it possible to reposition the waist pack. The pack's Neoprene material is breathable, and it comes with reflectors. URPOWER offers buyers a lifetime guarantee with their purchase; you can contact them concerning any issue with your purchase, and they will sort you out.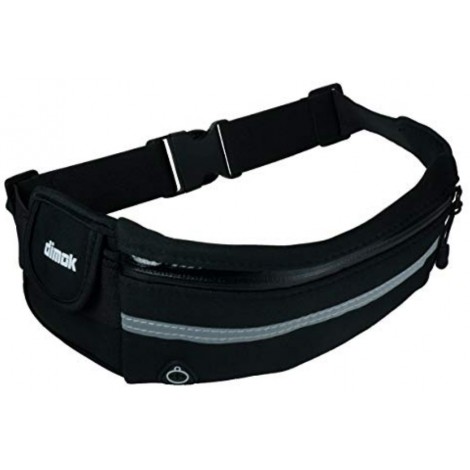 Dimok claims that their model is useful for different kinds of environments and weather. You can use it when it is snowy, muddy or rainy; and its performance will still impress you. It comprises of Neoprene material to ensure that nothing gets wet. Cleaning it up is easy since it is machine washable.
If you are looking for a heavy-duty option, then you might as well purchase this alternative. The brand offers a satisfaction guarantee, such that you can return it if you feel discontented. You can wear it as long as your waist ranges from 28 to 49inches. It is also flexible and will be effortless to layer on other clothes.
You can be confident that the model won't bounce around because of its slim design. It will fit you in a snug and comforting manner. The model comes in varying colors ranging from; neon green, pink, orange, blue, and black. It's tremendously versatile and useful in other exercises, including obstacle courses.

Subscribe to our Newsletter