Best Rollerblades For Kids and Adults Reviewed & Rated for Performance
In a Hurry? Editors choice: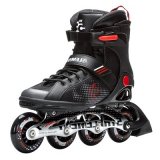 Test Winner: Fifth Element Stealth 84

There are a lot of important factors when looking at the overall quality of an inline skate. The structure and fit play a huge role in the way you use your skates. A poor fit, whether too small or too large, will lead to an array of problems such as blistering, ingrown toenails, hammertoes, or bunions. The enjoyment that you get from riding rollerblades will have this activity as a top choice in your next exercise session. Check out our best rollerblade brands on the market and choose your perfect pair.
Standout Picks
Criteria Used for Evaluation
Ease of Use
The closure system can have your feet feeling stable and secure or they can leave you sliding all over the place. A tight, supportive fit is essential to a positive blading experience. On the rink or through the neighborhood you definitely don't want your feet to be sliding around. Not only is the closure important for stability but also for safety and prolonged wear for the rider.
Keeping the foot secure with laces, a strap, and a shin clip is one of the best ways to make sure you aren't getting blisters. In addition to blisters, you may get painful pinching and pressure from bad closures and this is a quick way to stop the skating fun. The other piece of importance when talking about pain and being unable to skate is the rolling of your ankle. The ankle is very sensitive and if not held secure can roll giving you awful pain and swelling. An injured ankle will have you sitting on the sidelines and why we made sure to offer skates that have great closure systems.
A quick-release strap may be the perfect thing for the rider. Easy on and easy off these types of closures tend not to be quite as secure but at a low speed, just for a fun ride, it is a nice feature. Be careful, if your skill level grows and you are doing more tricks this type of closure may not be for you. Street Hockey games are increasing across the globe and secure closures are a must for this type of skating and while it may seem great to get your skates on and off quickly, they may not offer the stability you are looking for.
Making sure to wear protective gear and opt for excellent closures will make sure that first-time rider is safe and wants to continue learning in this healthy and fun activity. If you are more advanced then, I'm sure you know what it feels like to take a nasty spill. Too tight or too loose is the real culprit for marking a pair of inline skates as "bad skates". We must keep in mind the level of skill and what the blades will be used for when deciding which closure system works the best.
Adjustability
First-time rollerbladers tend to have feet that are still growing and the ability to adjust to growing feet not only keeps costs down but ensures that your rider has a well-fitting pair of skates for time to come. For more advanced and exceptionally skilled speed bladers, the need to adjust or remove your break, replace wheels, and customize your skate can be essential in the continued high-quality use of your skates. Some of these things are very difficult to accomplish and some very easy, we believe this needs to be taken into consideration.
Still growing feet can change a shoe size more often than once a year in some cases. This can be very costly and frustrating to the parents and the budding skater. They want to skate but their rollerblades hurt their feet and all you keep hearing is how they need new ones. What they don't understand is that it just isn't in this month's budget. If you find this to have been a problem in the past take a look at what great quality and price you can get in an adjustable size rollerblade. Spanning up to 5 sizes in growth you are sure to get longevity out of your investment.
A fast-paced game of hockey or a stretch of bumpy bike trail that you plan on beating your fastest speed on today can be a real problem if you can't easily make adjustments. Changing out a wheel or lowering your break can mean the difference between the best roll of your life and the worst. Making a sound investment in your skates and your gear is necessary for the serious rider and will help avoid injury and extra cost.
Materials
Not all rollerblades are built the same and the construction of an inline skate is important to ensure safety and comfort throughout your ride. A well-built frame and connecting chassis will keep your skates performing at the top of their game. Also, making sure the inner boot fits well and you can close them in a secure and well-fitting way leads to a thrilling, pain-free ride.
Some frames are made of low-quality materials that may lead to cracking during wear. Falling and injury may result from a poorly constructed frame. You can also have a lot of problems with a low-quality frame paired with a low-quality chassis. The construction that gives you two low quality but high importance pieces will pretty much guarantee a bad experience. As a result, you should stick with companies that know what you need to have a successful ride, every time.
A good frame and a bad chassis are almost as scary as having both pieces be of low quality. We definitely don't want a wheel falling off or a bearing popping out because of poor design and poor materials. We have looked into superior quality materials and made sure this guide offers you a skate that won't leave you in a pained position at the end of your ride or worse.
Durability
To assess each of the products on our list for durability, we not only read through thousands of customer reviews on our recommended products, but we also looked for some of the hallmarks of quality construction. From brand name reputation to their initial smell out of the box, there are a few ways of identifying a well-built, made-to-last product.
The Details
A zipper that doesn't zip or snaps? Poor threading technique? A smelly, chemical residue on the shoe when you open the box? All these details were looked for and evaluated when assigning a score for durability.
Materials
Certain materials last longer than others, even if that comes at the expense of a higher score in the "comfort" criterion. Materials that are synthetic, thicker and firmer tend to score higher on durability.
Product Purpose
A shoe made for running and high-impact sports will not likely last as long as a good pair of general activity shoes and that's okay. Being aware of the shoe's purpose is critical for you as a reader and for us as a reviewer. Although shoes that will last longer score higher on this criterion, you might also see high scores to shoes with more limited durability, if that product was specifically designed for certain purposes that involve high-impact and high-stress motions. We take into account the type of shoes you are trying to purchase when assigning scores to shoes in this criterion.
Brand Name
A product is a promise made, but a brand is a promise kept. A brand name is often a signal of quality and consistency in construction and durability from product to product. Although there are always exceptions to this rule, quite often brands that perform continue to perform. Brand names on our list tend to score higher in the durability score.
Value
The price of a shoe can sometimes be a deal-breaker. That's part of the reason why footwear manufacturers invest time and energy into creating cost-effective technologies to incorporate into their shoes to make them durable, long-lived, versatile, and inexpensive.
Durability & Longevity
Footwear, usually, lasts more than a few months, because shoes that are going to fall apart after a few months of use aren't worth the investment of more than a few dollars. Leather and synthetic overlays can be used to make the shoes more durable without sacrificing flexibility. Firm leather or synthetic uppers provide durability and support.
Versatility
Great footwear can be used for more than one activity. Walking and running shoes, for example, can be used in some casual sports. Stylish athletic footwear could be used in informal work environments. Sandals can be used in casual and semi-formal settings. The more situations you can use the shoe in, the more value it offers for the price.
Maintenance
Good footwear is easy to maintain and clean. They don't require a lot of expensive shoe treatments or time-consuming upkeep. Shoes that need a lot of effort, time and money to maintain, don't sell as well as shoes which are easier and cost less to keep.
Removable inserts
As mentioned earlier, removable inserts in footwear make it customizable, but that's not the only bonus to removable inserts. Removable inserts increase the longevity of the shoe, which is why some come with removable inserts.
Cost
A hefty price tag can be a deal-breaker for people on a budget. That's why many can be found in the low-to-middle price range. They're affordable, and if they are priced a little higher than others, then they offer many features to make the footwear worth the extra investment.
10 Best Rollerblades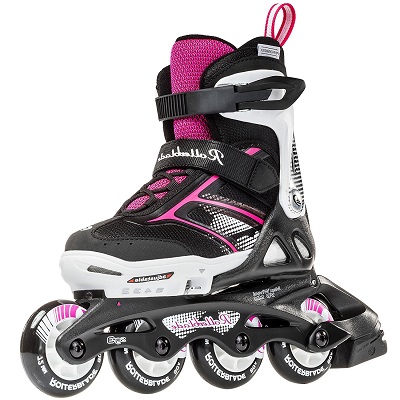 This brand is synonymous with quality for obvious reasons. Trusted by athletes all over the world the Spitfire skate is bound to strike passion in the world of blading. Innovation in frame, closure, uppers, wheels, and bearings guarantee exceptional performance and quality for years to come. Expandable for growing feet this skate will save you time and money. It is a great pair, made by a great company, making sure to give the quality that you expect when you hear the Rollerblade name.
When it comes down to it, feet grow fast. This skate has an easy push-button adjustment to allow growth up to 4 sizes. We all want to ensure excellent quality in the recreation gear we buy, we also want to make sure to get the longest wear for our hard-earned money. The longevity of this skate will keep the thrill of riding at it's maximum and save you money at the same time.
All of the components help to give it a superior fit. From the adjustable frame to the multiple closures and of course the top rated wheels and bearings this skate exceeds your fit expectations. A great fit with your skate helps improve balance and skateability.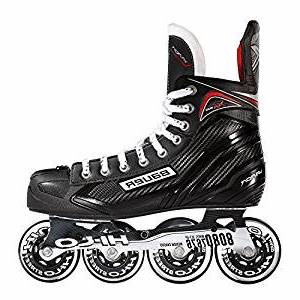 Bauer is a name trusted in all things ice hockey, naturally, as street hockey has become more popular, they have expanded their line to inline street skates. Technology and experience give you the high-performance, quality gear needed to give your best performance, at tomorrow's game. Roller blades vary in use and these are for a high-level game that sports enthusiasts love.
Trusted by professionals, this amazing pair is built by a company that knows structure and form. If you are looking to be the best in your street hockey games try these skates that will give you top quality performance. The build of this is based off of the top quality structure and build their tried and tested ice skates have been offering athletes for generations.
Adventures in exciting sports lead to some hard earned sweat. Continuous moisture on the feet can cause all sorts of uncomfortable foot issues including blisters, fungal and bacterial growth, and sore feet that can prevent top quality skating. The microfiber lining wicks moisture away from the foot keeping feet comfortable and dry during the hardest training sessions.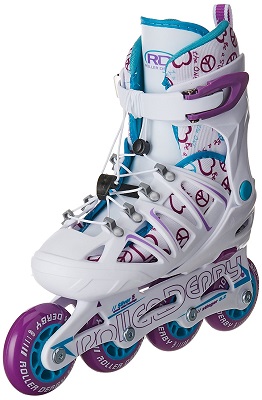 Roller Derby skates are a multi-purpose skate used for beginners, all the way to expert junior skaters. The Stinger is the beginning of a long relationship between you and the Roller Derby brand. Roller Derby has been in the derby skate business for more than 80 years and gives you a great quality skate for multiple skill levels. America's skate company has something to offer all skaters and this is a great place to start. These ensure your love for rollerblading continues for generations to come.
Spills, scrapes, and general mess tend to find its way into the lives of beginners. A removable liner makes cleaning quick and easy. We spend a lot of our lives cleaning up messes and we don't want to add to the burden with yet another piece of recreational equipment. The liner pulls out with ease and is machine washable keeping these looking good and smelling good without any added work.
If an inexperienced skater always needs your help getting their skates on and off you will be spending a ton of time away from other things that may need doing. The pull and tighten laces will make it easy for your new skater to put them on and off as they please. Great structure and easy push button fit combined with the easy lacing system make these a great starter skate.

4

. Fifth Element Stealth 84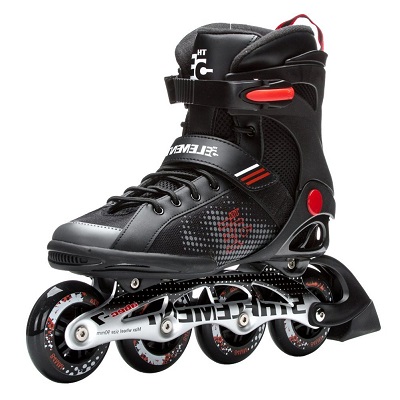 Top quality features paired with outstanding performance make 5th Element an excellent next pair of skates. You get an excellent transfer of power during your toughest trail ride or hockey game. Firm support of the ankle and multiple support closures promote performance with stability and style. Made for a more experienced skater keep the thrill of rollerblading with great speed, comfort, support, and stability with 5th Element Stealth 84.
Making the most of every stride is very important when on those long roller or when you find yourself in overtime at your weekly game. The construction of the chassis makes sure to keep you skating longer and stronger. The best-built skates, use aluminum to the skater's advantage and offer speed and consistency for all your rides.
A high cuff and triple locking closures support your ankles and your feet. Keeping your feet comfortable and supported is a number one goal when you want to skate on a daily basis. Lace, buckle and strap yourself in for a ride you won't forget because of how great your feet and ankles will feel in the morning.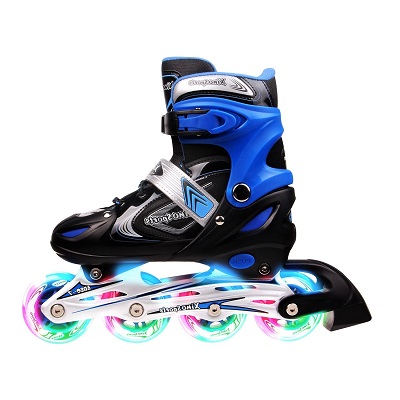 These adjustable inline skates are great fun for your young skaters. They feature illuminating wheels and great ankle support which is so important in a skate. The padding inside is comfortable and the build is also high quality. Colorful and full of fun lights, your skater will love these roller blades.
There are red, blue and green illuminating lights on these inline skates that will be a lot of fun for young skaters. No batteries are required to keep the lights running and they are set into wheels that offer a smooth and comfortable ride for the kids.
The roller blades come with a 60-day money back guarantee so you can order your rollerblades with confidence. You can't go wrong with a guarantee like this. The rollerblades fall in the lower range pricewise which is a good deal for an inline skate that will adjust to your child's growing feet and will supply your child with many, many hours of fun, outdoor activity.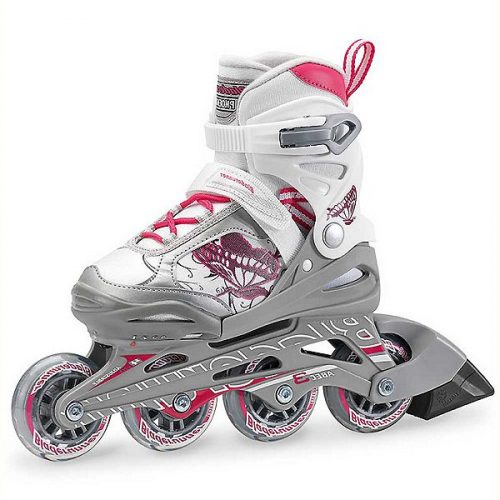 Excellent for beginner skaters, parents trust the Bladerunner Phoenix to give them long-lasting, great wearing, rollerblades that will grow with their junior skater. With a triple closure system, this skate will make sure the foot and ankle are supported and injuries will stay away. A great overall recreational skate, not only will you give your family the joy of skating but you will also be promoting healthy choices in exercising. Giving you style and performance will keep your kiddo skating for years to come.
It Starts with the laces and tightening and loosening the old-fashioned way. With a standard set of laces, you can adjust the initial fit just like a pair of shoes. Next is the powerstrap, fully adjustable, this strap ensures laces stay in place as you rider starts trying those thrilling tricks and before that makes sure that long laces aren't getting caught in the rider's wheels which could cause unexpected falls. It ends with the buckle, also easily adjustable and gives security around the shin.
The bearing used in this beginner skate makes your skater have great control with enough speed to really enjoy their ride. This is partially achieved with a low center of gravity that makes keeping balance much easier. As the skater develops these will offer a bit more speed and excitement making sure to maintain their interest.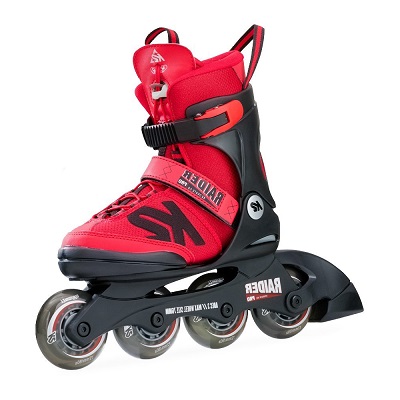 K2 makes a great skate, built with adults in mind. They have also made sure to keep your beginning or growing skater in mind too. Giving five sizes of adjustability these well-built skates will sure to last a growing foot for many rides to come. Knowledge and technology offer an innovative inline skate that will make this a trusted brand in your household. A smooth ride is expected and with the ability to change the wheel. Riders that quickly grow in skill will still have a rollerblade that meets their needs, for years to come, with all the growth potential these skates offer.
No matter what level skater you are, you need a comfortable fit. The decreased vibration from this frame and base set up keeps the wearer feeling less and enjoying more. This is especially important with new skaters and when riding on rough terrain. We always want to make sure we can skate again tomorrow and a strong base, frame set up will help us skate every day if that's what we want to do!
If you want to start in the hallway on the carpet or on the rink's wooden floor this skate will provide in all indoor environments. If your preference is a bike trail or sidewalk these will also suit you well. We never know when a rainy day could lead to an indoor party, rest assured if this is the party for the day, K2 will provide a great pair of skates to make a memory to last generations.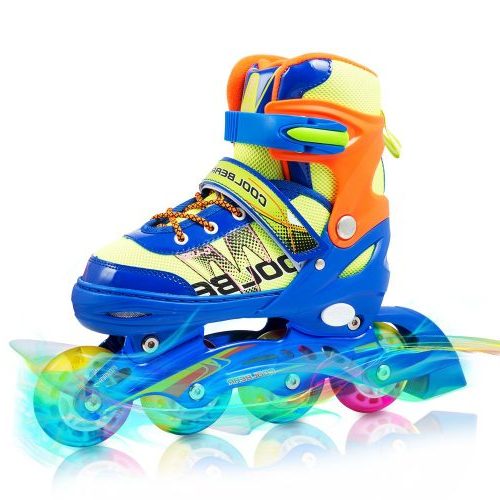 These rollerblades adjust with the press of a button which makes it easy for young skaters. There are also wheel lights which require no batteries to operate and are fun for kids. The inner shoe is comfortable and soft. The overall build of this roller blade is of good quality and the skate is very suitable for beginners. The skates are also guaranteed for your satisfaction.
The inline skate closes with a ratchet buckle and the inner shoe uses both laces and a Velcro strap for the safety of your young skater and to provide great ankle support. Your child will have no problems taking the skate off and on and using them safely.
The small size fits children's sizes 12 – 2 and the medium size fits child sizes 2 – 5. As your child's foot grows the fit can be adjusted with the touch of a button, making it easy for you and for them to adjust their inline skate.

9

. Rollerblade Zetrablade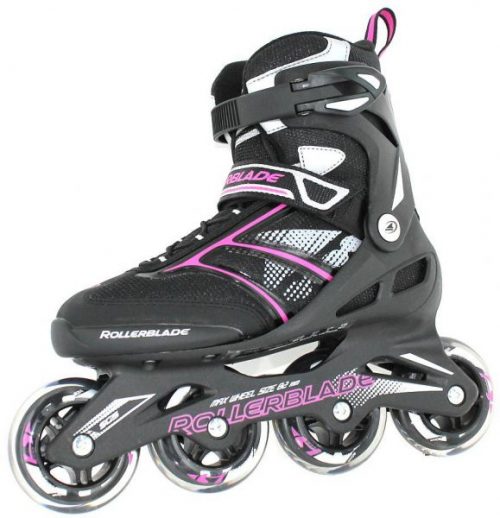 The Zetrablade, in particular, is made for the beginner to the intermediate level skater. Offering great support and a smooth roll if you choose to skate once in a while or plan to move from intermediate to expert this skate will have you riding comfortably.
The type of bearing used alongside a wheel made for a smooth ride gives you support during the learning stages of your rollerblading future. Sometimes, there really is a thing as to fast. The wheel used on this skate is made for moderation. If you are new to skating or just a little afraid, it's ok because this skate will have you gliding along with great control and just the right amount of thrill.
We know, the other great detail listed above, is also about learning. It is very important to know what you are doing when deciding to take up a new activity. If you don't learn to do it properly it may lead to injury, putting a stop to all your favorite activities. This frame is built with a low center of gravity. Keeping your pace moderate while you are picking up skills that will surely lead to a faster set of rollerblades.

10

. Roller Derby V-Tech 500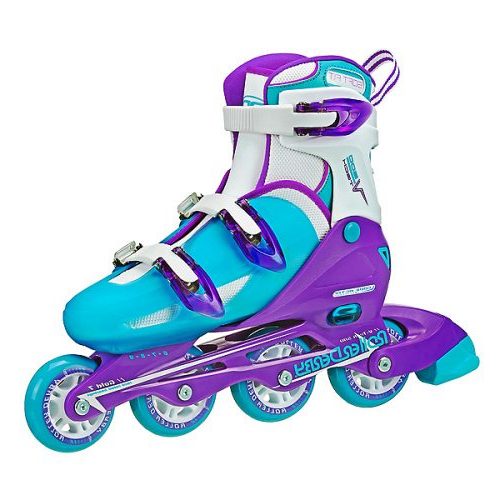 Roller Derby has also been mentioned in our guide prior to this. When looking for companies that can be trusted to offer a high quality, built to last, all around great pair, this one has yet to disappoint. The V-Tech 500 is adjustable for youth to adult sizing, something not often found in rollerblades. Growth potential in not only skill but in sizing makes this an awesome skate for a variety of riding situations.
Easy on and easy off, the triple cam buckle system doesn't lack in support but makes it exceptionally easy to get in and out of your skates. If you show up to the rink late or just can't wait to get your roll on these won't hold you up for long. Simply push through and pull to tighten and press the button to release, get moving faster and enjoy the ride.
The race rated bearing keeps the wheels moving with speed and efficiency. Add to the great bearing a urethane wheel, and what you get is speed at it's finest. Your stride will help increase your speed and you will leave your friends in the dust while racing around in these rollerblades. Style, support, comfort, and speed what more could you ask for in a top 10 skate?

Subscribe to our Newsletter