Best Spider-Man Shoes For Tiny Nerds In Training Reviewed
last updated:
Nov 07, 2019
Is your little one fascinated by all things Spider-Man? If so, then Peter Parker themed footwear is a must-have! This Marvel Comics character has been the cornerstone of every child's list of heroes since the early 1960's and is just as popular today as ever. Whether it's comic books, cartoon television shows, blockbuster hits, or video games, chances are your child has become entangled in the spider's web somewhere.
The great thing about Peter Parker's character is that he's so easily relatable to children from all walks of life. He has to deal with the same ups and downs of adolescence that most every child does, with the exception of being bitten by a radioactive spider, of course! This comic character has spun a web that's caught the attention of children from far and wide, having spanned across the decades for over fifty years.
Featured Recommendations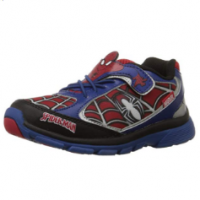 Stride Rite Light Up

Our rating
Light-Up Sneaker
Comfortable For Play
Price:

See Here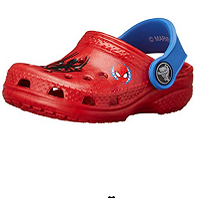 Crocs Kids Classics

Our rating
Croslite Foam
Ventilated Design
Price:

See Here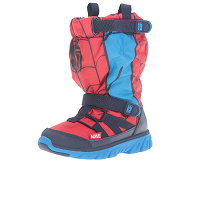 Stride Rite Made 2 Play

Our rating
Fleece Lining
Customizable Fit
Price:

See Here


It can be tough using your spidey-senses to track down the perfect pair of shoes for your kids! Whether you're back-to-school shopping or hunting for summer sandals, there are so many to choose from, it can feel overwhelming at times. That's why we've written this detailed guide to the best Spider-Man themed footwear, to help take the pressure off and make finding the best pair that much easier. Continue reading for a breakdown of the top ten pairs, as well as, a detailed look at the criteria used to evaluate each one. We've also answered some of the most frequently asked questions on the topic to bring you the most comprehensive page possible.
10 Best Spider-Man Shoes
1. Stride Rite Light Up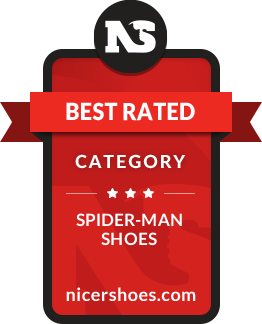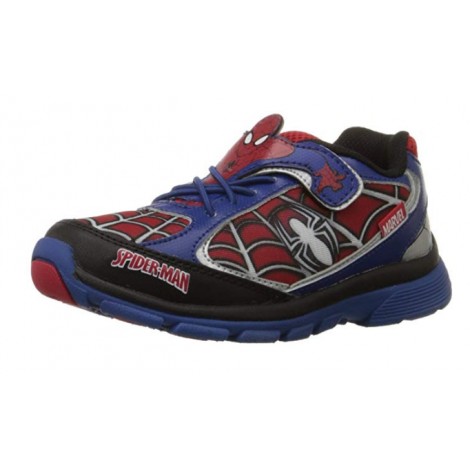 The Spidey Reflex will have your child's spider-senses tingling! It features a leather and mesh upper unit that's both
breathable and comforting
. The Reflex has impressive graphics that look like Peter Parker's mask, eyes and all!. Their non-slip rubber outsole makes for a safety first wear that will keep your kids feeling great about the pair on their feet. An added bonus, these shoes
light up
with every step which will keep your kids amused for hours on end.
Expand to see more
Hook and Loop Closure
The Spidey by
Stride Rite
features an adjustable hook and loop closure system. This allows for effortless on-off wear and keeps your child as comfortable as possible. Hook and loop closures, also known as Velcro, are the ideal choice for children and let smaller kids feel in charge by making it easier for them to put their own shoes on.
Heel Pull Tab
This pair has a pull tab at the back which makes on-off time a snap! Simply hold the tab and all your struggles are forgotten! Anyone who's ever helped a child put their shoes on knows that you will often struggle with getting the fit just right. That's why this closure is ideal because it takes all the extra work away.
Cost and Value
While these ones cost a bit more than some on the list, they're well worth it! They offer a light-up design that will keep your kids entertained with every step they take. No more lazy days or tantrums over going out for a walk thanks to Stride Rite's super cool Spidey shoes.
Light-Up
Rubber Outsole
Heel Tab
Hook & Loop Closure
2. Crocs Kids Classic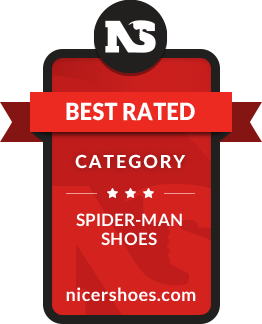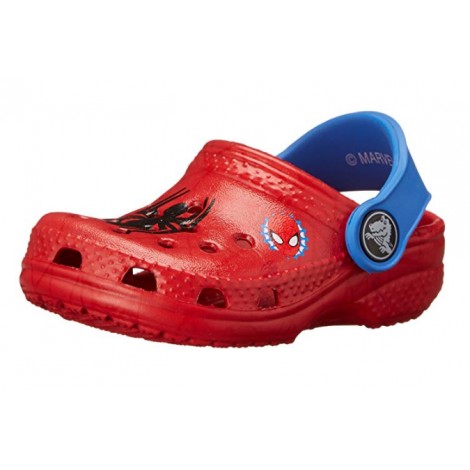 This pair of kids clogs is ultra comfortable and is perfect for growing toes on the move. They feature signature Crocs Croslite foam cushioning for a supple feel. They're covered in a quality graphic print that will keep your child amused all day long. A flexible heel strap adds extra security. Croc's is a well-known brand that is synonymous with comforting footwear that easy wearing.
Expand to see more
Croslite Foam
Croslite is a unique foam material that's unique to the Crocs brand. It provides the perfect mixture of padding and support thanks to its firm build and supple top cushion. Your child will love walking in a pair of these making for much easier outings and less fussy tantrums.

Heel Strap
An added heel strap helps to keep these clogs firmly in place and prevents any flopping. This keeps your child safer and lessens the chance of accidental falls. Wearing safe footwear is so important, especially when it comes to children who are naturally more prone to accidents.

Cost and Value
These Crocs are very affordable and offer excellent value. They offer a secure and comfortable environment that will ensure your child to be more active. When little one's enjoy wearing their shoes it makes walking a favorite pastime that will much easier to keep them interested in.
Heel Strap
Croslite Comfort
Drainage Holes
Crocs Iconic Comfort
3. Stride Rite Made 2 Play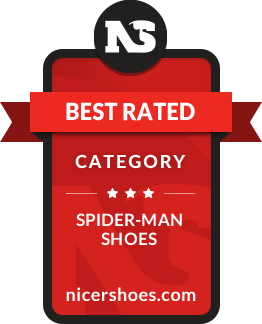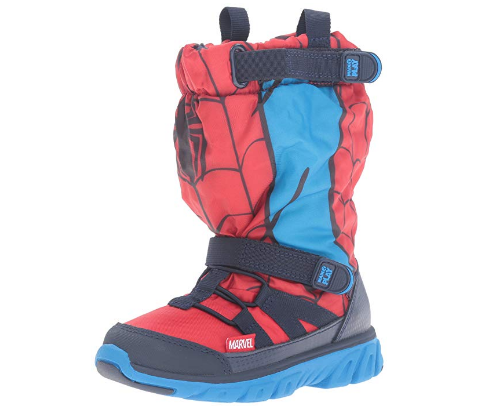 The Made 2 Play from Stride Rite is the perfect pair of boots for winter! They are guaranteed to keep your Little one's feet warm And toasty. This pair is sized For toddlers aged one to four through, as well as, for kids five to eight-years-old. They feature a super cool Spidey color scheme and the classic spider-web graphics.
Expand to see more
Warm lining
This pair features a
cozy fleece lining
that ensures your child will be warm and toasty. It's treated with an antimicrobial coating which effectively reduces odors keeping your child's shoes fresh all season long. These boots are machine washable for easy care, while their foldable shaft makes for effortless storage.
Water-Resistant
The Made 2 Play is a water-resistant winter boot that features a reinforced toe and heel for added safety. Its fold over 8-inch shaft is designed to keep your little one warm during freezing conditions. This pair boasts a non-slip waterproof rubber outsole that lets your kids run and play on slippery terrain without the added risk of falls.
Cost and Value
These Stride Rite winter boots are extremely affordable and are the perfect choice for parents who are shopping on a budget. You don't have to worry about skimping on quality with this pair! They're made from quality materials and are designed to keep your child
warm and dry
even in the harshest conditions.
Fleece Lining
Water-Resistant
Non-Slip Sole
Affordable Price
4. New Balance Flexonic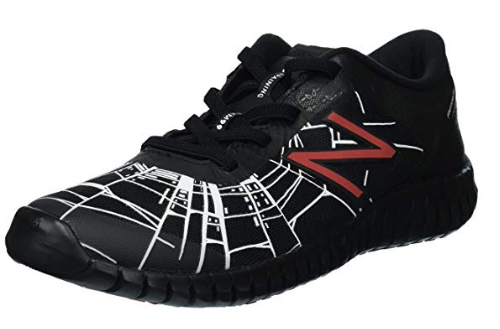 The Flexonic from New Balance offers a cool dark theme with white spider webbing. It's made with synthetic and textile materials which keep your kid's feet cool and comfy even after hours at play. This pair has a ground contact EVA outsole that provides excellent traction and superior comfort. Its low-top design is perfect for athletic children and will keep your kids happy on their feet.
Expand to see more
Special Edition
This special edition shoe features a slip-on style that makes for effortless on-off wear. They are designed for athletic use and were tested in the New Balance Sports Research Lab to ensure that they meet the industry standards in every way.

Cool Graphics
These hero-themed shoes feature webbed detailing and a Spidey color scheme. They're perfect for back-to-school shopping and will have your child loving the pair they're wearing. Starting a school year is a big time for any child and they want to look their best, which is exactly why they will love this shoe!

Cost and Value
New Balance is an accessible brand! This hero-themed pair is very affordable and will help with your savings when it comes to back-to-school shopping.
Spidey-Themed Colors
Webbed Graphics
EVA Sole
Anti-Slip Tread
5. Disney Rain Boots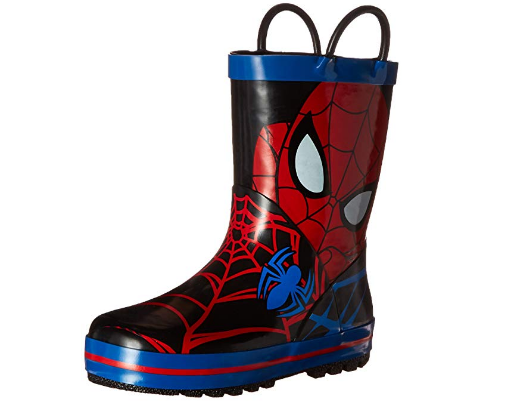 These super cute Disney rain boots are made from synthetic materials and feature a rubber outsole that is 100% waterproof. Their shaft measures seven-inches from the arch and it is covered in high-quality Spidey graphics. They display the Spidey mask and web with the signature nuclear spider. These boots offer a lugged tread pattern for a secure walking experience.
Expand to see more
Pull-On
This pair has a no-fuss pull-on design that's super easy to wear. They feature easy pull handles at the top to make for effortless on-off wearability. Your child will love the ease of these boots that they can take on and off themselves.

Disney Brand
Disney has been a beloved brand by children from across the globe for over 50 years. They make quality clothing and footwear that features high-end and colorful graphics. Your child will love looking at their favorite character come to life on their footwear and will want to wear them all the time.

Cost and Value
These waterproof boots are completely affordable and offer excellent value for your money. Your child will love wearing a pair of these and they're available in both toddler and little kid sizes.
Lugged Tread
High-Quality Graphics
Pull-On
Easy Handles
6. Disney Web Feet

This pair of flip-flops features top-quality graphics and a cooling design for the warm summer months. It has Spidey eyes on the straps and a cool spider-themed footbed. A canvas strap and vinyl eye details allow for a free flow of air around the skin keeping your little one's feet
cool and comfortable
.
Expand to see more
Spidey Eye Appliques
This pair provides an extra set of eyes, which is that much better for catching bad guys sneaking around. Its Spidey-themed eye applique straps will have your child seeing through the eyes of their favorite hero and will keep them entertained for the miles that lie ahead.

Secure Heel Strap
These spider sandals have a secure heel strap that adds an extra layer of safety. Their non-slip sole is textured to help keep your child steady on their feet, even on a wet or slippery terrain. So you won't have to worry so much about accidental slips or falls.

Cost and Value
This shoe is perfect for shoppers on a budget! Your child will love the cool graphics and comforting design, while you fall in love with their affordable price! This is an ideal summer shoe that has everything a hero-at-heart could need.
Canvas Upper
Spidey-Eyed Straps
Non-Slip Outsole
Graphics Footbed
7. Marvel Ultimate Sport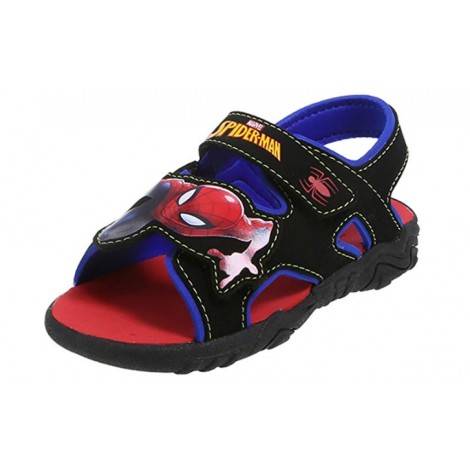 These sporty sandals offer high-quality super-cool graphics. Their double strap design and easy hook and loop closure ensure your little one's feet will stay firmly in place. This pair has a soft lining material and cushioned insole that's perfect for growing toes. Their durable non-slip outsole keeps kids safe while they're out running and playing.
Expand to see more
Hook & Loop Closure
These sandals offer a strappy design and secure hook and loop closure system. Their effortless wear makes on and off a snap! Your child will enjoy the open-upper concept that's both breathable and lightweight keeping them cool when the weather outside is anything but.

Padded Insole
Your child will benefit from additional cushioning for the delicate underside of the foot! These sandals offer superior padding for an ultra-enjoyable wear that will keep kids coming back for more. No more troubles when it's time to go for a walk because children can't wait to wear these hero-themed summer shoes.

Cost and Value
This is a prime example of another affordable choice of comic book hero footwear! They're ideal for warmer weather and will keep your toddlers happy on their feet. No more tantrums because your child doesn't want to walk! In fact, they'll never want to take them off.
Cushioned Footbed
Durable Sole
Anti-Slip
Hook & Loop Closure
8. Trimfoot Lighted Sneaker

This light-up sneaker is motion activated and features three cycle processes. Its cool, dark themed, graphics are perfect for heroes in the making! The double closure system keeps your child safe and secure in their footwear and lets them play freely. A padded tongue and collar add extra comfort and additional ankle support which prevents accidental sprains or injuries.
Expand to see more
Pull-Tab
A handy rear pull-tab makes for effortless on-off wear. You won't have to worry about the time it takes to put your kid's shoes on thanks to these easy-on sneakers! Go ahead and pull their rear tab and watch how easily their shoes slide right on.

Hook and Loop Closure
This pair of sneakers has a single hook and loop closure and elastic no-tie laces. These two combined fastening systems make for a secure and super convenient wear. Hook and loop closures are made for effortless wear and hold firmly in place throughout the day. children enjoy this style because they're able to handle their own shoes. The elastic no tie laces keep them firmly in place without having to unnecessarily tie them.

Cost and Value
These Trimfoot sneakers are relatively inexpensive and offer great value for the money. Their light up design and gorgeous high-quality graphics make these an ideal pair for growing feet. Your little one will feel comfortable and confident while wearing a pair of these and you can enjoy knowing they're safe and secure.
Elastic No-Tie Laces
Velcro Strap
Light-Up
Pull-Tab
Lights Don't Last For Long
9. Vans X Marvel SK8-Hi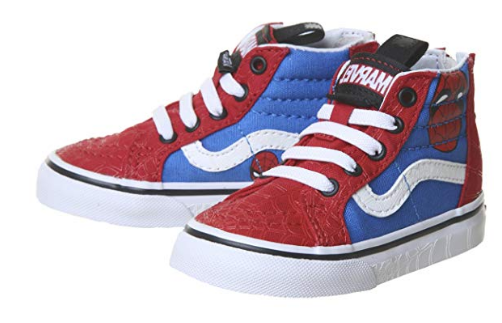 These Vans sneakers have a high-top profile that's perfect for athletic kids. Their Spidey color scheme and statement white outsole are true to the classic Vans style. While their white no-tie laces make for a secure foot feel.
Expand to see more
Canvas Upper
Their canvas upper unit allows for adequate airflow inside of the shoe preventing overheating. This lessens the amount of sweat and reduces the build-up of odor-causing bacteria.

Rubber Outsole
This pair offers a non-slip rubber outsole so your kids can run and play freely without having to worry about slips. This pair is modeled after the classic Vans style of sneaker and will be a hit with both your child and their peers.

Cost and Value
This pair may cost a bit more than some on the list but they're certainly worth it! Vans is synonymous with stylish and comforting footwear and they definitely delivered with these athletic shoes.
Canvas Upper
Spidey Color Scheme
Rubber Outsole
No-Tie Laces
10. Reebok Amazing Infant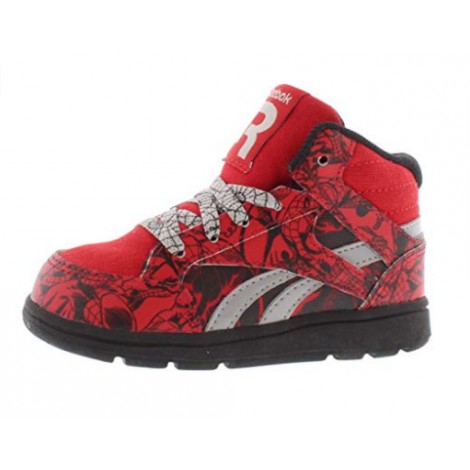 This pair of preschool Reebok casual sneakers is both colorful and super-fun. Your little one will love wearing these and if they're a Spidey fan they'll love to show them off. A leather upper unit lets air flow freely around your child's feet for a cool wear. The spider graphics are bright and made from quality materials.
Expand to see more
No-Tie Laces
This pair has no-tie laces that make for effortless on-off wear. You'll love how easy it makes putting your toddler's shoes on and how secure they stay in place. This is the ideal design for growing little ones on the go.

Leather Upper
A leather upper unit helps to keep your child's feet cool and fresh. It's a breathable material that pulls moisture away from the skin and pushes it towards the outside of the fabric. Your kids will feel happier because they won't have moist hot feet.

Cost and Value
Reebok is an affordable brand of footwear and this pair is no exception to the rule! The Amazing Infant is a great casual shoe that lets kids be kids and explore the new world before them.
No-Tie Laces
Padded Collar
Rubber Sole
Secure Fitting
Higher Tongue Takes Adjusting To
That concludes our list of the ten best Spidey shoes available today. Hopefully, you're now that much more confident about choosing the best pair for your child. The most important things to consider when making your decision is that your child will be comfortable and safe while wearing them. Safety is always a big concern when it comes to little ones! Which is why it was one of the main things evaluated in the selecting of the pairs for this list. Children love to run wild and play hard so their shoes need to provide a secure structure that won't fall apart with a little wear and tear.
The construction and design features each pair offers is another integral part of their overall wearability because kids are tough on their footwear. The imagery they offer should be colorful and represent their hero in a bold way that captivates their growing minds. The pairs on this list feature high-quality imagery that's made tough so it will last as long as they're able to wear them, without outgrowing them, that is.
Continue reading below for a more detailed breakdown of the criteria used to evaluate each of the ten pairs. We've also included answers to some of the most frequently asked questions on the topic to ensure you're getting all the information that you need to decide on the best pair for your child's feet.
Criteria Used To Evaluate
The Best Spider-Man Shoes

Graphics
The graphics are a big part of the criteria used to evaluate these pairs. Let's face it, at this age, kids are all about visuals. They want to see colorful representations of their most beloved characters that stand out and capture their attention. An important consideration for the parents is how well the imagery is made and if it is able to withstand the constant wear and tear kids put them through. This is exactly why we considered the overall durability and quality of graphics while choosing the pairs for this page.
Comfort/Wearability
Kids need a comforting pair on their feet! They're constantly on the move, running about and playing from dawn until dusk and on top of that, they're often having to deal with growing pains. The best thing a parent can do for their little one is to put a comfortable pair of footwear on them that will cushion and support their growing toes. The shoes on this list were chosen, in part, for their enjoyable structure that provides all over comfort for your little one. Let's break down the aspects which affect the overall wearability of a pair;
Width:

Kids need to have an adequate width in their shoes so their feet don't end up being squished. It's also important that their shoes not be too wide because this will cause them to flop which makes it more dangerous. The rule of thumb with how a child's shoe fits are that you should be able to stick one finger down the sides, front, or back and not be squished.

Height: The flatter a shoe is, the better it's going to be for your little one! Kids aren't coordinated enough to walk in a pair that's lifted off the ground with a raised platform or heel. It puts them in danger of falling and can lead to serious injuries. A flat pair is best for their growing structure which hasn't had time to fully harden and will benefit from the flat design. Their feet will often feel sore and fatigued because they're still growing, which can be painful at the time. A flat surface is the least likely to exacerbate their discomfort and will let them stretch and wiggle as needed.
Toe Shape: The shape of the frontal area of a pair is important because it determines how much room your child will have for their toes. Kids need room to wiggle and move so it's not advisable to opt for a pair with a narrow toe box. Rounded toes are always the best choice for children because they not only offer the most room, but they're the least likely to cause accidental falls. Kids haven't had a chance to develop their sense of balance and are prone for trips and falls which is why a rounded toe is the best choice. Rounded ones are less likely to snag on something which could send your child tumbling if they're not careful!
Cushioning:

The cushion is what provides the padding that keeps our feet comfortable. It's also what keeps us from feeling the hard pavement beneath us. Having proper cushioning is essential in order for your child to enjoy wearing their shoes and can mean the world of difference in how cooperative they are when it comes time to go out for a walk. We often see children on the street throwing a tantrum or not wanting to walk which is often because they're uncomfortable in their shoes. Depending on their age, some kids don't yet know how to properly express themselves. So when they experience discomfort it causes them to react in a negative way by throwing a tantrum. This can often be mistaken simply for being bad behavior but your child is really trying to communicate that their feet aren't comforted in the shoes they're wearing. It's best to look for a pair with a cushioned footbed, heel, and ankle cuff. The footbed is what keeps the sole of the foot from becoming fatigued, after all, it's what supports the weight of our bodies when we stride. The heels and ankle area are the most prone to friction or rubbing which is the root cause of painful blisters. If your little one gets a blister it could be weeks before it's fully healed and that means they're going to be in pain for far too long!

Support:

Everyone needs a supportive shoe, but growing children especially! Their bones and structure haven't had time to fully grow and to harden so they're more susceptible to fatigue and pain. A supportive shoe can make the world of difference and make your child enjoy running and playing that much more! In order for a shoe to provide support, it has to have a firm outsole and a sturdy frame. This will counter the cushioned footbed and keep the foot and delicate arch area more supported.

Safety
Keeping your child safe is the number one priority! Which is why we took the safety of each pair on this list so seriously. Children run and play wildly which puts them at a greater risk of falling and that's why their shoes need to provide an extra level of security. The following aspects are all contributing factors to the safety;
Closures/Fastening System:

The type of fastening system a shoe has is one of the biggest safety aspects. There are several types of fasteners including laces, zippers, hook and loop, and buckles. Laces are the most common, though they can pose a problem for younger kids who can't yet tie them by themselves. Laces are also prone to uniting which can further the risk of tripping and related injuries. Hook and loop styles, most commonly known as Velcro, are the easiest for kids to use. They also offer superior adjustability and are super easy for on-off wear. Kids will enjoy being able to fasten their shoes without the help of mom or dad. Zippers are less common with kids shoes and don't allow for must adjustment. Buckles are often found on little girls shoes, though they're less common with this kind of footwear.  

Outsole:

The outsole, or bottom, of the shoe determines how slippery a pair will be. Rubber is the best material because it's both waterproof and anti-slip by nature. Rubber provides solid traction on any surface including wet and slippery ones, which means you can worry less about your little one falling.

Weight:

The weight of a shoe can greatly affect its safety. If your child's footwear is too heavy it can cause them to trip over their feet. Whereas, if they're too light it can cause them to overstep by mistake. The pairs on this list were chosen, in part, for their balanced weight which helps to keep little ones safe and sound while they're on the go.

Weather-proofing:

It's vital that a pair protects your child from the various weather conditions like snow, rain, and extreme heat. One of the best materials is leather because it helps to control excess moisture, as well as, insulates in the cold. The downside to this material is that it doesn't hold up particularly well in wet conditions. Though there are synthetic options available that are water-resistant. Mesh is an excellent choice for hot weather because it's extremely breathable and prevents overheating, For colder days a child needs to have an insulated pair that has a warm thick lining material.
Frequently Asked Questions
Q: How do I care for these pairs?
A: Depending on the pair you have one of the best ways to care for this type of shoes is simply by wiping it clean with a soft washcloth. You can fill a bowl with warm water and add a touch of mild detergent. Then dip your soft cloth in the water and wipe away any dirt or mud. This is the best way to ensure that the graphics print won't fade or crack. Just be sure to let them dry in a shaded space because direct sunlight will make them fade faster, especially when they're wet.
Q: What kind of lights are used in the lighted pairs?
A: Each pair on this page has LED lights. LED is a much safer choice that tends to last longer than other kinds. LED lights are bright and colorful but are less likely to get hot when they're on for too long. This is important for the safety of your child because if they get too hot it could cause discomfort or even burns.
Q: Will the graphics fade?
A: As long as you take proper care with these pairs the graphics shouldn't fade too quickly. If the imagery is poorly made it will fade much faster, which is why choosing a pair that made with high-quality materials will be much better in the long run. Certain brands are trusted in the world of comic-themed footwear including Marvel, Disney, Stride Rite, and many others. It's always best to research a brand before making your purchase because this will give you a better idea of the kind of footwear they produce. As for care, try not to leave them in direct sunlight for long because it will cause fading quite quickly. This is especially true if they're wet at all!
Q: Who makes the best ones?
A: There isn't one specific brand that is better than the others. There are several options that all make high-quality pairs including Marvel, Disney, Stride Rite, and Crocs, to name a few. It's a good idea to research a brand before purchasing any pair of their footwear. That way you can read user reviews and get a better sense of the kind of products they produce.
Q: Are these pairs popular?
A: Anything to do with classic hero characters is always going to be a popular choice. However, with the upcoming Spider-Man movie set to hit the theaters, there's never been a better time to invest in a pair of Spidey-themed footwear.
Sources