Best Square Toe Shoes Reviewed & Rated for a Classic Look
In a Hurry? Editors choice: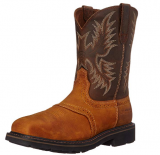 Test Winner: Ariat Sierra

The square toe style of footwear goes back to the early 1600s when the pilgrims sailed aboard the Mayflower wearing geometrically straight toes. Since then, the style has had a whirlwind of ups and downs in terms of popularity. In recent years, it has fallen under heavy fire for being less than desirable, but in reality, it offers a classic and chic look that you just won't find with other kinds of footwear. We have written this guide of the best square toe choices available to give you a breakdown of the fundamentals in this avenue of fashionable footwear. We have also included a detailed look at the criteria used when choosing these pairs and answered some of the most frequently asked questions on the topic.
Standout Picks
Criteria Used for Evaluation
Style
Straight-tip footwear comes in many styles and variations. Some of the most popular are professional and dressy options for both men and women. Women's are often seen in flats and kitten heels, though they come in all sorts of styles. Continue reading below for a more descriptive look at some of the most commonly seen choices.

Western: Western style footwear is often seen with a squared end and is most common with cowboy boots or western work boots.
Dress: Formal attire is commonly found to have a squared point for both men's and women's footwear.
Heels: Heels with straight toes are usually in the form of boots, though there are also full-coverage high heels, including pumps, stilettos, and kitten heels.
Sneakers: Sneakers are an athletic style of footwear that usually have a rounded toe, though there are styles available with a straight tip.
Clogs: Clogs are a comfy choice of footwear that's generally wide by design but there are a few options that have adapted to the squared look.
Loafers/Moccasins: Loafers and moccasins are both slip-on styles that commonly have a straight end. These styles of footwear are loved for their low-key versatility.
Flats: Flats have no heel at all and commonly include straight toes.
The tip is the part of the design where your toes sit and there are lots of different styles and shapes. For this guide, we're talking specifically about squared ones so we're not going to get too much into the other shapes. There are a few differences among these designs, including the strength of the shape. Here's a look at the two differences commonly seen:

Chisel: A chisel style has flat angular sides that gently taper inwards. They also have a sloped appearance on the topside and a squarish toe-box. This style is considered to have an elegant appearance and is highly regarded in the fashion world as being the best of the squares available.
Squared: Footwear with this shape has a rectangular shape to the toe-box and gives the illusion of smaller feet. This is because of the "chopped" appearance that the rectangular shape gives. The Squared is the bluntest of any type of footwear that has a rectangular shaped front.
Comfort
The level of comfort a design offers is dependent on many things. Some of the key aspects to consider are arch support, heel height, cushioning, airflow, and the materials it's made from.

For a design to provide adequate arch support, it must offer a good amount of padding in the footbed. A properly cushioned insole will protect the delicate underside of the foot from shock waves which travel through our feet with every step. While the insole should provide a supple cushion, it should also be firm enough to support the foot rather than allowing the arch to sink into the padding.

The height of the heel will dictate how easy a design is to walk in. Higher heights are much more difficult because they make for an unnatural arch in the foot. When you're walking in a heel, the platform with which the backside of the foot falls is much narrower than if you were to step down on your heel and can throw off the natural balance of the foot. This makes balancing much more difficult, thus resulting in a strained walking experience.

Airflow is another huge part of how comfortable a design feels because, without airflow, your feet will overheat and start sweating. When sweat builds up, it causes a growth in odor-causing bacteria that quickly leads to smelly insoles and feet. This is why the right materials are important to keep you feeling cool. One of the best materials for breathability is leather because it allows for great airflow while also pulling moisture away from the skin and towards the outer rim. Mesh is another extremely airy material that lets your skin breathe and prevents overheating.
Materials
The materials used in the construction of a design is an aspect that has to be taken into consideration. Certain materials provide better airflow than others and prevent a build-up of sweat and odors. Leather, as we mentioned in our Comfort section, will allow for much better ventilation than a heavy fabric; it also pulls moisture away from the skin in a process called moisture wicking.

Heavy fabrics tend to trap moisture next to the skin, which leads to the development of bacterial and fungi infections and mildew. Once odors set in, it's next to impossible to remove the stink from your shoe and it can actually ruin a perfectly good pair of footwear.

Mesh is another material that allows for complete breathability and is highly recommended for warmer weather. It is porous and allows air to freely flow in and out of a design, making it wonderfully ventilated. That's why mesh is one of the key materials used in running and other athletic type footwear.

Materials to avoid are heavy fabrics that have a dense weave. These will block air and prevent moisture from escaping the design. A moist feeling inside of your footwear is a terrible feeling that can make you most uncomfortable throughout the day. It can also lead to rubbing, which overtime causes painful blisters to form. Once you end up with a blister, it will be days, if not weeks, before your foot is fully healed, meaning you'll be in pain for a long time to come.

While it is important to choose a design made out of high-quality materials, it is also important that you don't lose sleep over this. If it so happens that the option you like is one that is less favorable in terms of materials - get it anyway! Chances are, it will still be comfortable enough to wear on occasion, albeit perhaps not as durable as high-quality items. At least you will be able to enjoy a couple of seasons of a great-looking design before you're due to replace it.
Color
Color is a big part of the overall appearance of this type of footwear. We arrange our outfits according to color, we go shopping with a specific color in mind, and we build our entire wardrobe collections based on the colors that we like and those that go well together. This is why it's no surprise that we also ranked the items on our list according to how attractive, or how versatile their hues are.

Dark, solid tones will look the best with a pronounced geometrical shape because they will lessen the harsh lines, whereas lighter colors or patterns will accentuate the drastic lines often found with the boxed styles. Black, brown, dark blue, and greys are the best shades to opt for if you're in the market for an elegant pair to wear while you're at the office. They're neutral, not drawing much attention to themselves, and they go well with practically any outfit and any color combination.

Lighter colors and patterns, in turn, will be fine with a more subtle curve because they give the illusion of a more rounded silhouette. If your footwear has a barely noticeable rectangular curve opt for lighter colors or patterns because it will give the illusion that the front is actually round.

It should also be mentioned that, if you feel like, don't be afraid to experiment with colors! If you like that bright red, go for it! If you're taken by that polished silver (like in the Anne Klein Unitee), then by all means, don't let us stop you! Life is too short to worry whether or not a certain color will look good on you or fit with the rest of your wardrobe. If it caught your eye - treat yourself! You'll figure out how to make it work with what you have in no time.
Adjustability
We all have feet of different shapes and sizes. Some come in standard sizes, while some require special options, such as a narrow, a wide or an extra wide. This is all completely normal, though sometimes it can pose a quite nuisance when hunting for that great pair of shoes.

Adjustability is the obvious solution to this problem. If you get a design that has some great options to adjust its fit, then you don't have to worry about it being too tight or too loose!

The factor of adjustability is most commonly reflected in the type of closure of a design. Those on our list come with a variety of different closures, including zippers, laces, and buckles, and we also have those which are just slip-on styles.

Zippers are often preferred for their ease of use as well as their stylish appearance. However, the downfall to this option is that you are unable to adjust the fit and have to wear them at the standard level.

With laces, you have much more control over how tight you tie them up, though they have a tendency to come undone or snap.

Buckles are often found on dressy designs and offer a good level of adjustability with hardly any downsides, making them a great choice for footwear.

If you are someone who is unsure about the size they need, a little adjustability goes a long way. Whether you opt for laces, buckles or a simple slip-on with stretchy panels in the upper, you won't regret being able to customize the fit to your liking, and thus having a design which you can wear for as long as you want without any issues!
Our Favorites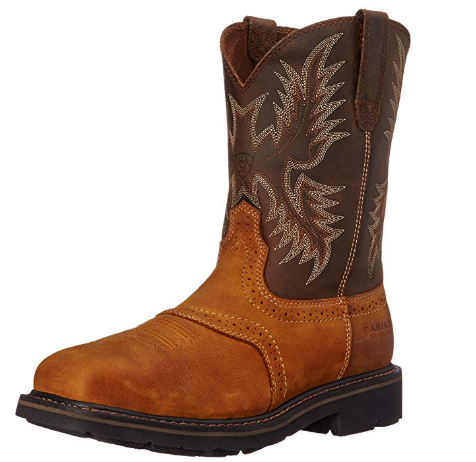 The Sierra from Ariat is a western-style work boot. It has a 1.5-inch heel and 11-inch shaft for sturdy footing. The Sierra is made from full-grain leather and offers superior oil- and slip-resistance that meets the workplace safety standards. These boots are made tough and offer solid support thanks to their built-in advanced-torque stability technologies. Anyone in need of a rugged pair of boots for work should take these into consideration.
The Sierra features a full-grain leather upper and a synthetic outsole that is slip-resistant for steady footing. It's a heavy duty work boot that meets the standards for workplace safety and is oil and slip-resistant.

The Sierra is made using the Goodyear welt construction which is the toughest there is. This boot has a soft mesh lining material that's breathable and lightweight, along with advanced stability torque technologies that provide supportive protection.

The Ariat Sierra is approved for safety in the workplace and provides an extremely comfortable wear. The Sierra is a well-made pair of box tip boots that will outlast the competition.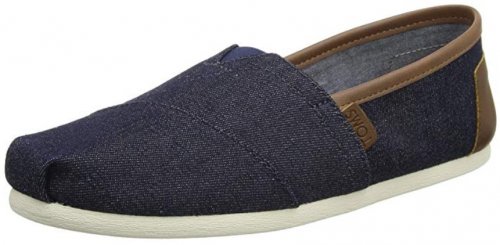 Arguably the most iconic square-toe design currently on the market, the Toms Classic is a worthy item on this list. It is a summer design to end all others, meant for warm, breezy weather when you want your feet to be cool and dry and carefree, but you don't feel like exposing your toes. The Toms Classic comes in literally dozens, if not hundreds, of color and pattern options, and you are bound to find one which catches your eye.
The Toms Classic has an upper made from lightweight, breathable canvas. This material is perfect for warm temperatures, as it allows air to pass in and out of the flat, and helps your feet stay cool. Moreover, there is a gore panel at the top of a design that stretches out to accommodate your foot no matter what shape it is.

The key feature of the Toms Classic, however, is definitely its footbed. It is removable and contoured in just the right way to keep you well-cushioned and comfortable no matter how much you spend on your feet. When walking in the Toms Classic you will feel like you're walking on clouds.

There is little more to be said about this amazing option. It is comfortable, easy to wear, cute in style and goes well with all outfits. You will not be able to wait for next summer when you can take these out again and show them off to the world!

3

. Harley Davidson Ingleside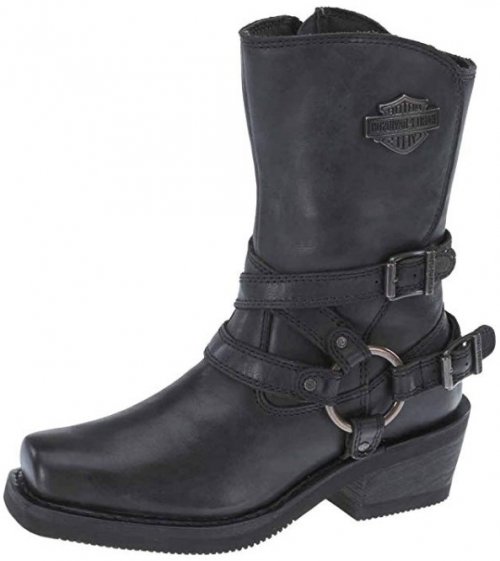 The Ingleside from Harley Davidson is a leather mid-calf boot that features a distinctive square shape. Its shaft measures 8.5-inches from the arch, while its full-grain leather upper unit keeps feet feeling cool and dry. These boots are made tough thanks to their Goodyear welt construction and inside locking zipper.
The Ingleside has a stylish ankle strap with an O-ring for added detail. It offers a distressed design that's super unique and adds to the streamlined effect these boots exude. It has a two-inch heel height that maintains a natural walking experience, along with an 8.5-inch shaft that sits at the mid-calf.

These Harley Davidson boots are made from premium full-grain leather that's breathable and lightweight. Leather pulls moisture away from the skin in a process call wicking which prevents a build-up of sweat and odor-causing bacteria.

The quality of craftsmanship and superior construction of the Ingleside are well worth its slightly higher cost. These boots are made to outlast the rest and provide a solid frame that is ready to walk or ride.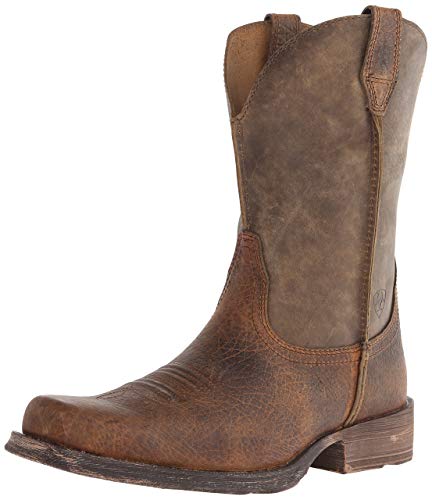 When it comes to Ariat, there is no better product from this brand than the Rambler Wide Square Toe. Not only does this shoe boast a unique and fashionable design, but it's also packed with valuable innovations, including a quality outsole, comfortable infused midsole, and a stable-focused footbed. If you are looking for advanced footwear, there is nothing better than these.
One of the most important parts of this footwear is the way the outsole was designed. Whether you are looking for these boots for riding or for ranch daily-tasks, these are designed to handle any venture. The Duratread outsole is a unique outer material that is known to provide some of the best resistance and protection from whatever the ranch or terrain may have in store.
Let's be honest, cowboy boots may not be the most comfortable footwear in the world. For some people, the toe box may be too narrow, or the footbed too uncomfortable. To make this product the very best in the industry, the manufacturer carefully crafted the footbed from moisture-wicking materials and infused a wealth of gel and padding to absorb shocks and provide comfort when walking or riding. As far as cost is concerned, this specific footwear is considered to be priced quite competitively. Since we are reviewing all products from this specific manufacturer – we can say upfront, most prices are relative and around the same range. What really sells this product from any other is the way that it was designed and the different technology and innovation that the company put into this shoe. This product is superior for a reason, perhaps it's your turn to find out why!

5

. Jessica Simpson Mandalaye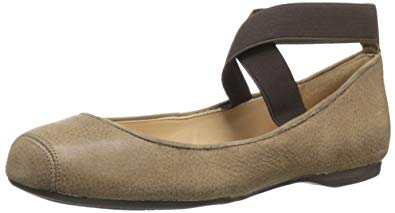 Relax in comfort with Jessica Simpsons Mandalaye, one of the best flats for women you can buy. They are casual yet stylish and feature a crisscross elastic strap for superior staying power. The Mandalaye is a fun and flirty choice which sports a low 0.25" heel and is manufactured in the USA.
Nothing fits better with a flowy dress than a pair of slip-on shoes. Easy on-off wearability makes transitioning from the city to beach a breeze. Plus, these look professional enough to be worn to work, making this one of the most versatile products on our list.
The Mandaleye comes in a variety of uppers, from leather to textile, so you can choose the version that suits your style the best. But, the best thing about this pair of flats is definitely the cushioned sole that helps absorb shock, conforming to your foot. If you plan on doing a lot of walking or have to stand at work, this is definitely a winner model. The Mandalaye is considerably lower priced than similar styles of footwear but is equally as stylish.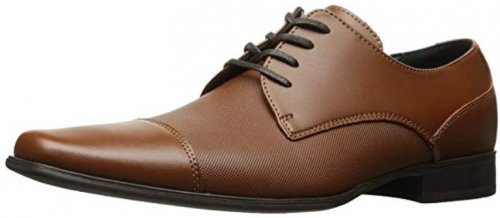 Calvin Klein is a designer who is known for his penchant for minimalism. His aesthetic is simple, elegant and yet undeniably expensive-looking (not necessarily high priced at the same time), and the same is true for the Bram oxford. This sleek, sharp silhouette speaks of a sophisticated, gentleman, one who is confident in tailored designer suits and who has his eyes set on conquering the world.
The Bram is made from genuine nappa leather, but with a play on texture. The cap toe and the quarters of the design are smooth, while the rest of it pebbled for added interest. There is a lace-up closure at the front for adjustability.

This is one flexible oxford. You might shy away from a dress design, knowing that it can be uncomfortable, but we assure you that this is not the case with the Bram. In fact, this one has a cushioned foam insole, which provides you with shock absorption and undeniable comfort as you go about your business.

The poise and the extravagance of the Calvin Klein Bram are hard to miss. This oxford aims to excite, to seduce, and it does this with ruthless precision. You will be in awe with this design, and so will everyone else around you.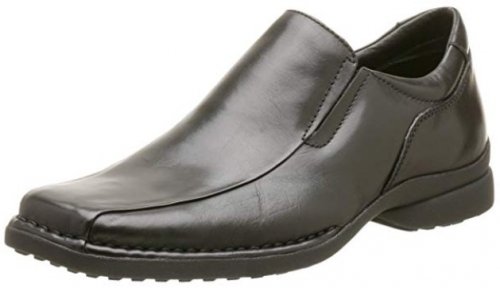 The Kenneth Cole Punchual is made in the USA and features a soft leather upper unit. Its rubber outsole provides solid traction on any surface, while a padded collar provides additional ankle support. Hidden goring keeps this pair of slip-on footwear securely in place and ensures that your feet won't slip or slide around inside them. Their one-inch heel provides a stable structure and is perfect for busy people on the go.
The Punchual has concealed elastic goring under the tongue which keeps it planted firmly on your foot. This slip-on pair isn't going anywhere! They are ideal for those who prefer no-fuss footwear but can't tolerate their shoes flopping or falling off.

This pair offers a padded footbed for additional underfoot support and cushioned comfort. It has additional padding at the collar that supports the ankle to prevent unnecessary strain and lowers the risk of ankle related injuries.

Enjoy walking with class and style as you stride past in a quality dress design that will turn more than a few heads. Best of all, your feet will thank you for this comfortable no-fuss ride in the Kenneth Cole Punchual!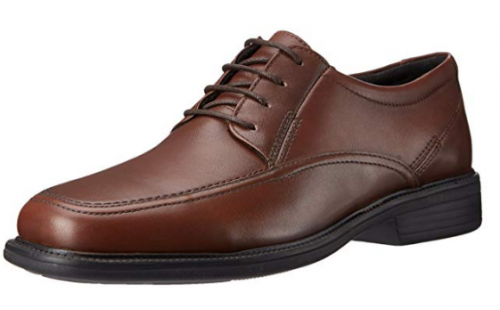 The Bostonian Ipswich is made with a high-quality leather upper and features a lace-up closure. This oxford-styled design offers a dignified silhouette and subtle squared tip. It has a soft fabric lining material and a Flexlite molded EVA insole for total comfort. The Ipswich is made with a padded tongue and collar that offers additional ankle support to prevent unnecessary strain.
Flexlite is a soft foam based insole with a semi-rigid shell to provide adequate support. Flexlite insoles are also designed with a softer heel pad to prevent strain and injury. This is the perfect footbed for those suffering from plantar fasciitis or who need to prevent arch pain.
The Ipswich boasts a soft and breathable leather upper unit. Its molded EVA midsole provides a supple yet supportive cushion for superior wearability, while a soft lining material keeps feet feeling comfortable all day long. These oxfords offer all-over-foot-enjoyment and a unique foot-feel that you'll want to wear over and over.

Look and feel your best for a lower price thanks to the Bostonian's easy-wearing design that's offset by a subtle geometrical tip. In the Ipswich, you will be suave and dashing wherever you decide to go!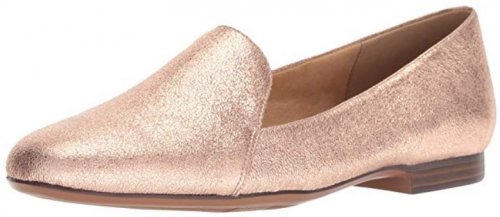 Embracing the popular trend of androgynous designs, the Naturalizer Emiline is a fine play on the classic men's smoking style. This is one suave loafer which comes in a variety of color options, and we couldn't help but get stuck on this dazzling rose gold. The Emiline is refined, graceful and bears Naturalizer's signature N5 Technology for maximum comfort as you make your mark on the world.
The Emiline is made from genuine leather, making it amazingly breathable, comfortable, and durable. It has no closures or other accents, but the appeal of this design is precisely in its simplicity. It is tailored, it is easy to slip on and off, and it will effortlessly complete all of your formal and business looks.

Naturalizer footwear comes with their patented N5 comfort system, and the Emiline is no different. This technology ensures shock absorption, cool and dry feet, a stable heel strike, a natural, balanced gait, and a lightweight feeling all in one, and we are sure that you will have a hard time finding a more comfortable option than this one.

The Naturalizer Emiline is really everything we ever wanted out of a business design. It complements our figure and the lines of our feet, it goes well with pantsuits and pencil skirts, and it is amazingly fashionable without being over-the-top. A great choice for the office!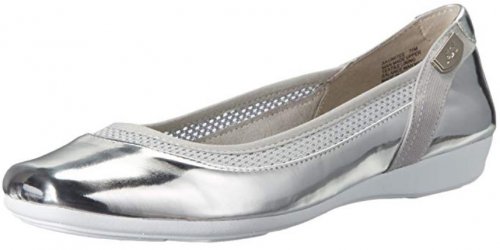 Honestly, we're a little obsessed with this color. We're having a hard time taking our eyes off of the Anne Klein Unitee as its shiny, liquid silver upper is just to die for. This is a flat in style, but a sporty one, with a mesh topline for breathability and a couple of elastic accents at the heel. It also comes in a black version, but we're so in love with the silver metallic that it'll probably be all we think about for the rest of the day.
The Anne Klein Unitee is constructed out of synthetic materials. It has a slip-on silhouette that makes it easy for you to get in and out of it in record time, and that defining square toe front that puts a classic twist on this otherwise sporty design.

The footbed of the Unitee is lightly padded for your comfort, outfitted with a 3mm thick foam cushion, and it comes with a Sportlite EVA sole which absorbs shock as you walk. Additionally, the Unitee also has a heel of almost one inch in height, which doesn't make it a flat, but one which you can easily wear all day long.

We're hard-pressed to find a more eye-catching, more dazzling option than this one. The Anne Klein Unitee has character, it has that oomph that we like in our outfit pieces, and it will certainly brighten up your day!

Subscribe to our Newsletter