Best Punk Rock Shoes – 2022 Reviews
In a Hurry? Editors choice: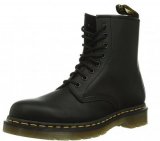 Test Winner: Dr. Martens 1460

Whether it's a concert, a local event, or even just a regular day of picking out an outfit, we all know that one of the most important accessories is your shoes. Without a pair of matching boots or shoes, it can throw off the entire outfit – or be the greatest compliment.

With that being said, if you are in the market for a pair of punk boots, you already understand the need and importance of finding the perfect footwear. This market is packed with options and different brands that have created different boot styles, marketed as "punk", in efforts to capture your attention.

We picked 6 models that our reviewers find to be among the best n 2021.
Standout Picks
Criteria Used for Evaluation
Materials
One of the best ways to assess any shoe is based on the materials that a shoemaker uses. In the industry, there are so many different materials that a company can use, it's quite crazy! For example, manufacturers can use any of the following materials:
Leather
Suede
Polyester
Rubber
Plastic
Wood
Fabric
Textile
Canvas
That's just naming a few of the most common materials! As we evaluated each product, we carefully looked at the different materials that the manufacturer used and highlighted those that were made from the best materials, like leather.
The reason being, leather boots are typically the highest-quality as they are the most comfortable, durable, stable, and best for fitting.
If you are ever wanting to learn about the quality of the materials of a product, always look at the consumer reviews. Since this is a pertinent aspect, most people are discussing their thoughts on this standard.
Effectiveness
Have you ever purchased a pair of shoes before, hoping that you could wear it everywhere? I mean, chances are, we are all guilty. Sometimes, the design of the shoe is just too good – outvaluing the actual importance of the shoe: the functionality and usability. When it comes to Punk Boots, we knew that many of the products that are marketed today suit better as holiday consume accessories rather than everyday wear.
Our goal with the criteria and standards was to separate these products and only focus on those that were designed to handle everyday walking. To do this, we carefully analyzed and research each boot based on how usable it really was.
Could someone walk around nature with this product?
Could someone walk around from class to class with these?
Could the product withstand daily walking?
By answering questions from the like above, we were able to narrow down our list even more.
Midsole
Whenever it comes to picking out a pair of shoes or boots, one of the most important aspects that we need to look at is something called the midsole. Typically, consumers do pay close attention to the midsole; however, they don't know the terminology that shoe gurus often use.
The midsole is considered the middle part of the interior of the shoe. This region is known to provide the support, cushioning, padding, and comfort that consumers are looking for when trying on a shoe.
Now, in standard shoes, companies use different padding, like EVA foam, thanks to its durable yet comforting properties. When it comes to Punk Boots, we noticed that not many brands in the industry focused on the midsole of their product. With that, we were slightly concerned that certain boots would not be comfortable, or valid enough at the point, for our list. We studied each boot, look at the midsole and insole region, and even looked at consumer reviews to see what previous consumers have said regarding the comfort of the product.
After researching and really skimming through the market, we found the best items, all which come with a comfortable midsole (and insole) so that consumers can enjoy their new product without fear of their feet hurting after an hour of wearing them.
Outsole
Ah, the outsole. This is part of the footwear that holds it all together! As the name might imply, this is the sole of the shoe that can be found on the outside of the shoe. If you didn't guess it already, it's actually the bottom part any footwear and they are typically made or constructed from:
Natural Rubber
Carbon Rubber
Polyvinyl Chloride
Polyurethane
The reason behind this is that rubber and PVC are great for durability, but they are also great for wear and tear. With that being said, given that this market is all about boots, we knew going in that these brands most certainly invested some time and money into the development of this region.
What we found was that most outsoles on this list included some form of patented properties, including unique lugs, traction features, waterproof properties, and so much more. When picking out any product, these are important facets to take into consideration!
Value
The last criterion that we looked at when picking out each product for today's buying guide was the cost and value relationship. At the core, this principle is the ideology of looking at the price tag of a product and measuring whether or not it's a good price, given the amount of value that the product offers.
Now, to figure this out, there are a few different things that we, as consumers, need to do. This does take a few extra minutes; however, it can pay off in the long run! The reason being, through understanding this relationship, you can avoid making a bad purchase!
Here's how it works:
✓ Look at a wide variety of different products that you are looking for. For example, punk boots.
✓ Find the highest priced and lowest priced product to create an average for the industry.
✓ Assess a wide variety of products and look at the value that they offer.
✓ Look at the price tag and evaluate whether or not the value that the product offers is worth the price, considering the average price point from step 2.
✓ If the product is priced higher than the value, it's not worth considering.
Top 6 Punk Rock Boots
When it comes to the pinnacle of the punk boot shoe market – it's without question that the Dr. Martens 1460 Combat Boots takes the title and the throne. These punk rock boots are made from leather, offering consumers the most fashionable and stylish design. If you are looking for a heavy-duty boot, this is the choice for you.
Great Design
The thing with these punk shoes is that they're just such a great design. First, the entire boot is made from high-quality leather material. It features an 8-lacing system, offering consumers a more snug and comfortable fit. Additionally, the outsole is made from PVC materials, which is durable, high-quality, and can resist wear and tear.
AirWair Sole
The biggest selling feature is an innovation called AirWair. This is built into the sole of the shoe, giving the consumer the most comfortable and controlled experience in the industry.
Cost and Value
This item is the single most expensive product on our list today. However, at the same time, it's the single most valuable choice that you can make.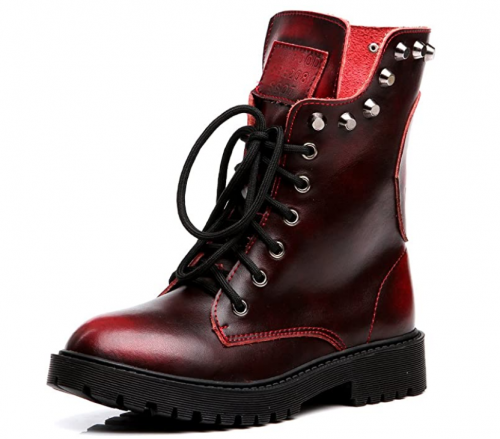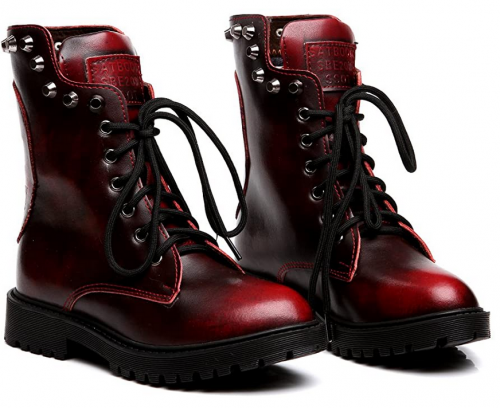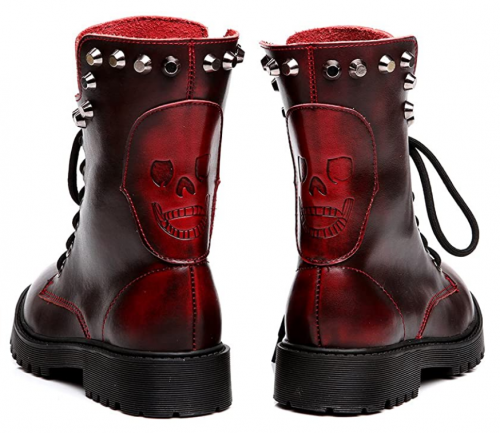 This option boasts a unique and high-quality design, a crazy-powerful outsole, and three different colors that might have you wanting more than just one pair.
Strong Outsole
If you look at the picture of this boot, one of the most noticeable aspects is the thick rubber material found at the bottom of the shoe or the outsole. The outsole is made from rubber- not only is it skid-resistant, but it also has some nice shock-absorbing features.
Great Design
One of the biggest selling features is the overall appeal and design. You can pick from three different colors, all of which are made from split leather materials, have a quality lacing system, and include studs towards the top of the boot.
Cost and Value
This punk boot is one of the cheapest on our list today.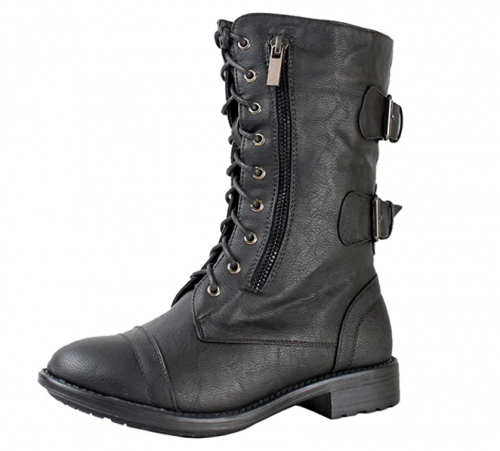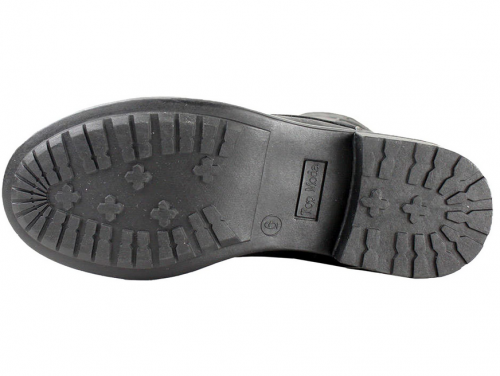 This option is stylish, fashionable, and it's fun to wear. For those of you who are looking for a traditional punk boot, this is the right pick for you!
Fashionable and Stylish
The biggest selling point of this punk shoe is the design. It models the traditional punk boot. It features the two straps on the back of the boot, a stylish zipper on the front, and the mid-calf length design.
Comfortable
When purchasing a punk combat boot, it's important to make sure that it's going to be comfortable. This option is designed with some good features which can be found in the outsole and the insole of the shoe.
Cost and Value
Very budget friendly!

Wait – another Dr. Martens' boot? That's right - this option has some unique innovations and features that might just capture your attention.
So Many Designs!
The brand created over 30 different color variations of this punk boot, giving consumers full customization. So, whether you want pink, red, black, white, or multi-color, there is the color for you!
Quality Soles
You can expect quality in the soles of the shoe. The outsole is made of high-quality rubber that is both resistant to abrasions and slipping. Additionally, the upper and midsole are sewn together, rather than glued.
Cost and Value
This is certainly a pricey option BUT, it's worth every penny.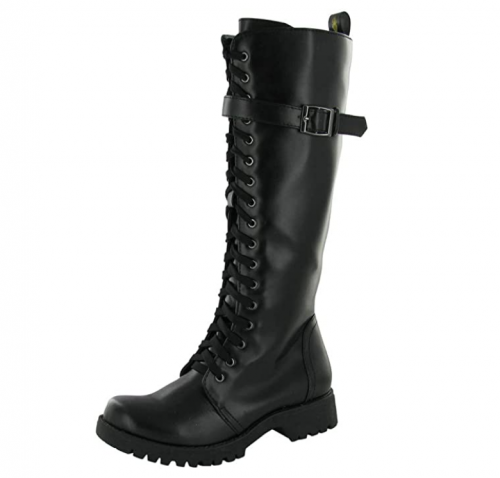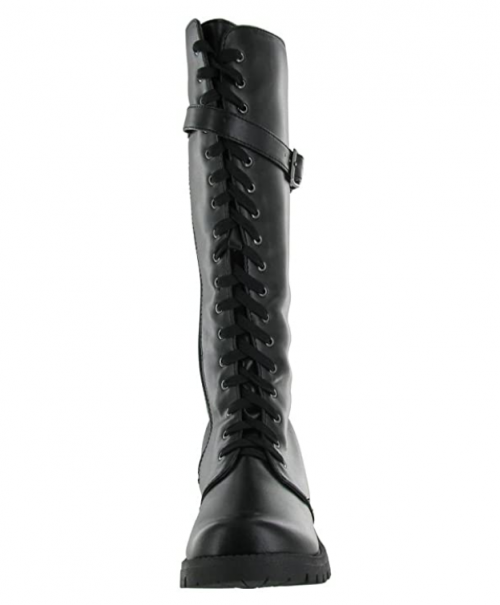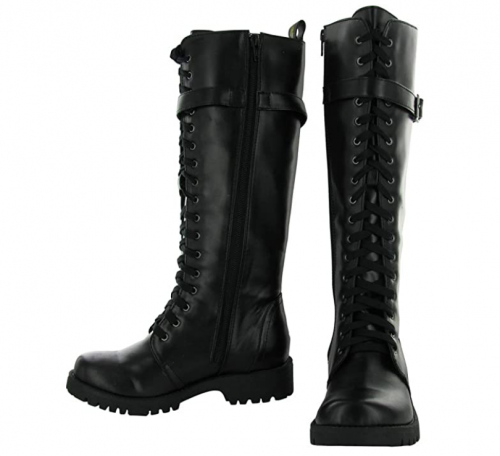 This option is arguably one of the most stylish – and most popular models we found! Its knee-high design and heavy-duty appearance make it a must have.
Lycra Lining
The interior part of this boot is lined with Lycra material. This not only makes the boot incredibly stretchy and flexible – it's great for moisture-wicking and breathability.
Heavy-Duty
We value products that are durable and that can withstand wear and tear. This model has a heavy-lug outsole, includes a padded interior footbed and insole, and made from durable exterior materials.
Cost and Value
What really sets this boot aside is how it's designed, the unique Lycra interior, and its durable outsole. And all of this for a super affordable price.

6

. Diesel Tatradium Basket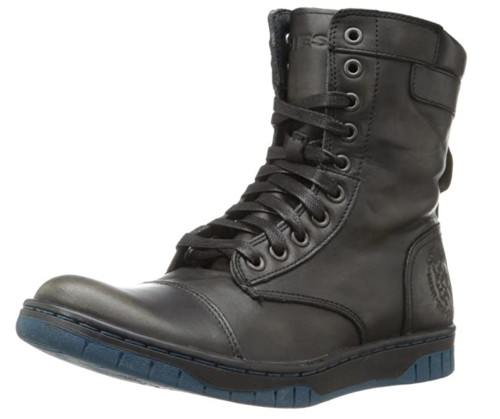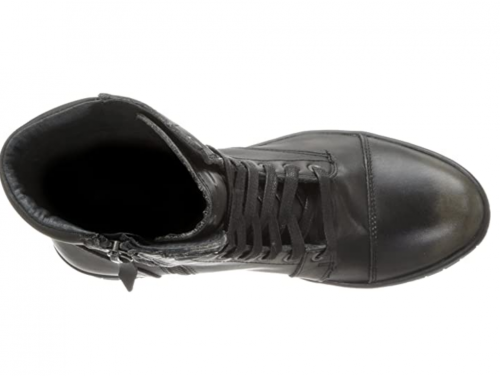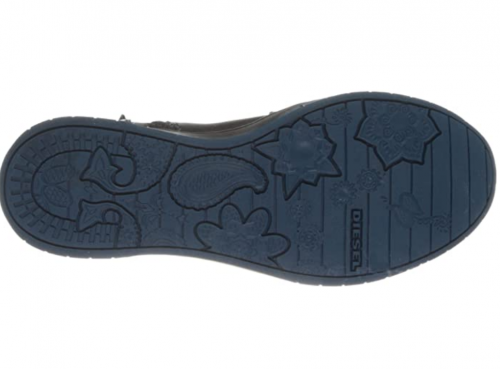 This model boasts similar qualities as the Dr. Martens; however, this one has some unique features that you might not be expecting.
Cushioned
We all know that boots may not always be the most comfortable footwear – especially when the brand provides no cushioning or padding. Now, this punk shoe brand is quite iconic, and they understand how to design footwear. The footbed is made from cushioned and padded materials, offering consumers a comfortable walking experience.
Rubber Outsole
The outsole is made from durable rubber materials. This ensures that you're in-control and stable while walking.
Cost and Value
This item is really an investment for consumers that are seeking the absolute best of the best. If you are willing to spend the money – this shoe will not disappoint.
Subscribe to our Newsletter