Best Foldover Boots For Layered Looks Reviewed
In a Hurry? Editors choice: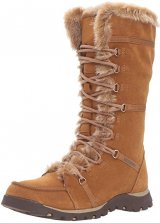 Test Winner: Skechers Grand Jams Unlimited

Sometimes it's not easy to choose what boot style you want to wear - do you wish for something taller to reach your knee, or perhaps even go over it? Or do you want something cute and turned inside out, revealing a plush lining?

Well, thanks to foldover boots, now you can have both! This type of design is perfect if you want some versatility in your looks without investing in a second pair of footwear. At the price of one, you get two options to wear in whatever way you please! So, scroll on down and take a look at our careful curated selection of the best foldover boots on the market. Enjoy!
Standout Picks
Criteria Used for Evaluation
Style
When it comes to boot heights, you can choose between ankle, mid-calf and over-the-knee styles.
Given the title of this guide, it is reasonable to assume that all of the options we have laid out in our list are boots. They are meant to protect you from cold and wet weather conditions, while at the same time helping you look stylish.

As you have seen, there are many different types of boot styles. In this section, we will talk about each one we have here, and about their pros and cons. Let's begin!

Ankle: Ankle-height designs are arguably the most popular type currently on the market. The reason for this is that they are easy to pull on and easy to take off, and people who have calves which are too thick or too thin don't have to struggle with finding the right fit for their leg.

Ankle boots provide just as much weather protection as taller options, and they also keep your feet warm. The bonus of having your ankle surrounded by a shaft is that it is supported and stabilized on all sides, minimizing injury from twisting it or spraining it.

The downside to an ankle boot is that rain or snow might still get in through the top of the shaft and that it doesn't protect your leg from the cold. However, if you are living in a place with dry, not-so-freezing winters, and don't want to be bothered with finding the right width for your calf, an ankle-height is the perfect solution.

Mid-Calf: Taller than ankle and lower than over-the-knee, we have the standard mid-calf option. These are also classic and can be found almost anywhere. Those who don't mind searching a bit longer for a size that fits their calves get the benefit of keeping their legs warm and protected as well.

Mid-calf boots are particularly useful because in those cases you can choose whether you want to have an ankle model or one that covers most of your lower leg!

Over the Knee:
Finally, we have the tallest version that is still practical to wear, the OTK design. While these have some function in the form of fishing boots, usually they come as a fashion statement, a means to draw everyone's attention. OTK boots are created to be eye-catching, sexy and empowering, and as such they are more geared towards style than towards functionality.

The downside of an OTK design is that it is difficult to find one which is easy to slide on, which doesn't pinch your leg or sag or bunch up in weird places, and which looks flattering. However, if you have an opportunity to try a design on, don't hesitate! You might just encounter a gorgeous OTK that you want to take home. After all, thanks to the folding cuff option, you can always make these appear lower than they actually are.
Comfort
Pay special attention to the materials and the footbed of boots, as they determine the comfort levels.
Aside from the question of how good a design looks on you, we also have to address another important aspect - if it is comfortable or not. So many times we fall for an attractive style, one that goes well with those jeans or that cute little skirt we have, but then it turns out we can't even wear our new shoes because of how much they hurt.

This is why we have to dig deeper into what makes these designs comfortable, and what you can look for to increase your chances of being able to wear them over extended periods of time.

Upper: Because so much of this footwear style is the upper - especially if it's a mid-calf or an OTK design - the materials the upper is made of are extremely important. They need to be soft and malleable, to mold to the shape of your foot and leg, but also to be solid enough to provide support, to stay up and not stretch out or lose shape over time.

The best material footwear can be made from is genuine leather and genuine suede. These natural materials are breathable, flexible, conforming and durable, and really a great choice all around.

Synthetics, like faux leather and suede, are not as high in quality. However, if you are vegan, or are interested in animal-friendly designs, then synthetics are definitely the way to go. These designs are also less expensive than genuine leather ones, meaning that your budget won't suffer, either.

Lining: From the upper, we're moving inside the boot and taking a moment to see what the interior is made from. The lining is equally as important as the external materials because this is what comes in contact with your feet and legs, and perhaps even your skin if you're not wearing socks. You want the lining to preserve warmth, but also to be soft and comfortable, and to not cause any chafing or abrasions.

Fluffy options, such as fur, faux fur, wool or shearling, are great for providing plush comfort. There are also fleece linings and even leather ones which are just as good in making sure that your feet are properly ventilated and comfy.

However, both in the case of the lining and the upper, make sure to check if the materials are too stiff. If that is the case, the shoes may need some breaking in before they become comfortable enough for wearing it all day.

Footbed: The last, but not the least feature that concerns comfort is the footbed of a design. This is where true support lies. Footbeds come in many shapes and forms, made from many different materials, and here we will talk about the most common versions.

We'll start with cushioned footbeds. These have added padding to them, which quite literally cushions your feet, adds a bounce to your step and provides shock absorption. Cushioned footbeds are usually made from memory foam or EVA; they help minimize the pressure put on your joints, and allow you to stay on your feet for longer.

The second type of a footbed is a molded footbed. This type has contours which correspond to the lines of the foot, and thus provide an addictive sort of comfort. Molded footbeds also often have arch support, which is a vital detail in reducing foot fatigue and preventing a condition called flatfoot.

Whether you will go for a cushioned footbed, or a molded one - or both - is all really up to you. Remember that comfort is subjective, as most other criteria here, and if something works for others doesn't necessarily mean that it will work for you. Choose carefully, and if something doesn't feel right when you're trying the shoes on, it may be wise to think a little bit more about the purchase.
Weather Resistance
Consider whether or not insulation and extreme weather resistance are important for the area you intend to wear the boots in.
As we mentioned before, the purpose of boots is to protect you, to keep you warm and dry and comfortable in cold days covered in rain and snow. Not all designs do this, of course - some are more fashion than protection - and this is why we have also felt the need to include Weather Resistance in our Criteria.

Designs in our list can be divided into those which are meant for extreme conditions, and those which are more for dry autumns than for any real trudging through the snow and the slush.

Thus we have our Extreme group: the Sorel Emelie, the Columbia Cityside, the Timberland Teddy and similar. These are options which are waterproof, designed to keep out any and all signs of moisture. They are also lined with insulating materials, with the purpose of preserving warmth inside the design. Their outsoles are made from non-slip compounds, which also have deep grooves or even lugs at the bottom to keep you steady and stable on all types of slippery surfaces.

With these options, you will be able to take on pretty much anything that winter throws at you.

On the other side of the coin, we have less sturdy, more stylish choices such as the Cole Haan Raina Grand. When it comes to weather resistance, these are not as useful as the Extreme group - they are made from high-quality materials, but they are not waterproof and don't do much in the way of providing you with warmth.

We're not saying that any one group is worse than the other. We're merely pointing out a difference in some of our models, and leaving you to decide which one you prefer. If you're looking for a solid, protective winter option, then choose from the Extreme category. However, if winters in your area are not as bad and you prefer something more fashionable, then the latter, more refined group of designs is the better choice for you.
Versatility
If versatility is important to you, go for less bulky, more streamlined designs.
When we buy a design that we love, we expect to be able to wear it on as many occasions as possible. We want to feel confident, want to show it off to our friends and family, and we want our purchase to pay off. Because what is the point of a shoe if it will just sit and collect dust in the closet?

Foldover boots have versatility built right into them. For the price of one, you get two different versions of the same shoe - one taller and sleeker and one shorter and with its plush and/or colorful lining exposed. In that regard, all of the items on our list are the same - all of them deliver that possibility of changing up your look at a moment's notice.

So we looked beyond that, at the overall aesthetic of the designs, and judged their versatility based on that. We considered in what conditions a design can be worn in, as well as what outfits it matches the best.

It is no wonder that the smoother, more streamlined products, such as the Timberland Teddy and the Ugg Bailey Button came out on top. These are really easy to pair with jeans and leggings and even shorts or skirts if you have thick enough tights to wear underneath. They are exceptionally trendy this season - and will be in the future seasons as well - and they will only add to your already fashion-forward collection of footwear.

Less versatile are the bulky, protective-but-not-attractive winter options, like the Sorel Emelie, the Columbia Cityside and the Skechers Grand Jams Unlimited. These are great for harsh conditions, for exploring trails and braving snow-covered city streets. However, they lack elegance and are usually only worn either out of necessity, or as a handy design for outdoor activity.

All that being said, we can't end this section without saying that just because a design is low or high on our list regarding versatility, doesn't mean that it should stop you from wearing it wherever you want. If the dress code allows, and if you are comfortable, wear your new shoes in any event you wish!
Durability
Durability is best achieved using natural leather materials and sturdy construction techniques.
Durability as a characteristic is determined by a myriad of factors - the materials the footwear made from, the methods used in their construction, the conditions they're worn in, the frequency of use and similar.

Fortunately, almost all of the options in our list are made from high-quality materials. And we mean, extremely high-quality materials. These ones which are not are made from synthetic leather and suede rather than genuine ones, which decreases their durability a smidgen compared to the other designs.

When it comes to construction, one option stands out among the rest, and that is the Dr. Martens Aimilita. This pair is made using the Goodyear welt technique. The Goodyear welt method is widely regarded as one of the best when it comes to constructing footwear, mostly because designs made like this are waterproof and easily resoled, making them last for literally decades. Consequently, shoes made using the Goodyear welt technique are more expensive than others.

In terms of construction, even though the other items are made using machinery in an industrial process, they aren't that far behind. Due to the solid, high-grade materials they are made of, they will also last years, as long as you keep the genuine leather and suede adequately clean and conditioned.
Our Favorites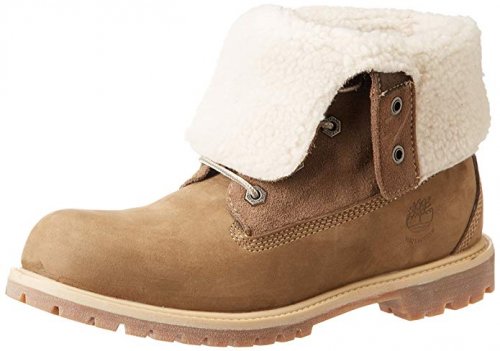 There is hardly an outdoor footwear manufacturer more popular than Timberland. Their classic silhouette in wheat-colored nubuck leather transcends fashion styles and has become an iconic design, one that stands next to Converse and Birkenstocks in the footwear Hall of Fame. For the purpose of this guide, we will talk about the Timberland Teddy, a premium leather pair which can quickly turn into a staple piece in your wardrobe.
This design is made out of full-grain leather or suede for a rugged appeal. It is also waterproof, thanks to the material - Timberland impregnates their leather with their own waterproof treatments during the tanning process - and thanks to the waterproof membrane construction. It has a flexible suede shaft, and a teddy fleece lining for added comfort.

Speaking of comfort, the Teddy comes with an EVA midsole for cushioning and shock absorption. It also has a full lace-up system at the front for maximum adjustability, with laces entirely made from recycled PET bottles. The rubber outsole on this legendary option is made from slip-resistant rubber, with lugs for superior traction.

If you are craving both a foldover cuff for a touch of versatility and Timberland boots - this is the perfect marriage of the two! The Timberland Teddy will keep you warm, dry and comfortable, and also effortlessly cool with its sturdy, lumberjack silhouette as you take on the cold days.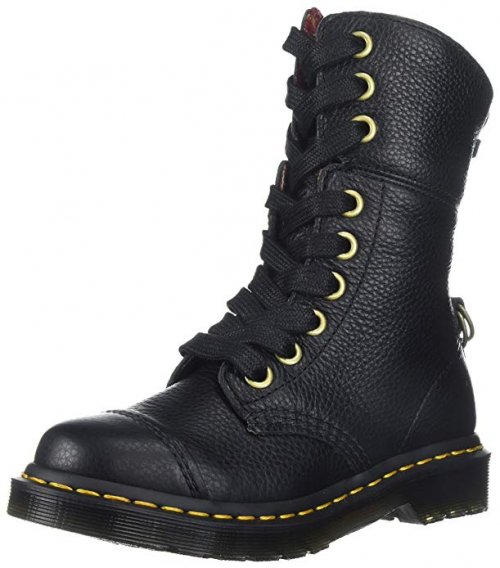 Dr. Martens is a brand which has always taken pride in providing footwear for those who are different, who are not afraid of being themselves, and who stand up for what they believe in. This strength of character and principles is reflected in the Dr. Martens Aimilita. This pair is everyone's favorite, a combination of a biker silhouette and a bold, red plaid lining.
The Aimilita is made from Aunt Sally, which is a naturally tumbled leather that feels very soft. The upper comes with a lace-up system all the way to the top, complete with gold gleaming eyelets. However, if you lace the design up only to the ninth eyelet, you can roll the cuff down and expose that plaid lining for some Scottish chic. The tartan lining is also made of wool, keeping you warm inside the Aimilita.

The toe area is reinforced for a rugged, Dr. Martens-specific look, and it comes with the famous Dr. Martens air-cushioned sole, which provides comfort as well as abrasion- and slip-resistance.

The Dr. Martens Aimilita is not for the weak of heart. This is a military design, more or less, one which rebels against the norm and infuses your outfits with a toughness not easily found anywhere else. If you wish to look a little hard around the edges, to let everyone know that you are not someone to be messed with, then use these Doc Martens to deliver that message across.

3

. Fila Disruptor Shearling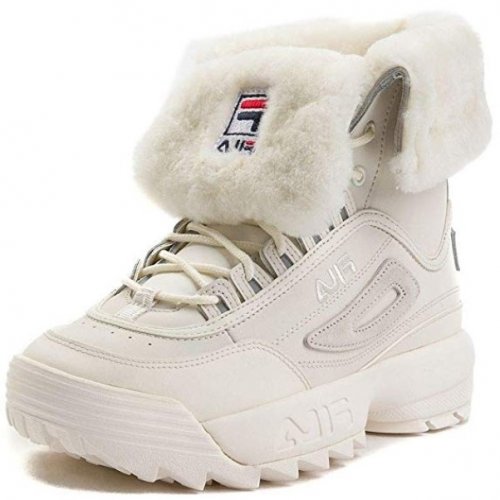 Have you ever wished you could wear your favorite chunky dad sneakers in the winter as well? Well, thanks to the Disruptor Shearling from Fila, now you can! These are boots that look - and feel - like sneakers, and the iconic look has been updated with a plush shaft and snap button closures for fastening the cuff if you choose to roll it down.
The Disruptor Shearling is made from faux suede for an animal-friendly supportive feel. It has a faux fur lining all along the interior that gives you a cozy feel no matter how cold it is outside. In terms of comfort, this pair comes with an EVA midsole for cushioning and shock absorption. Finally, the outsole is made from rubber and has a deep lug pattern that will help you keep your balance on slippery ground.

The Fila Disruptor Shearling is not your average pair of boots. These are a youthful style, one that is definitely on trend this season, and that you will love wearing day in and day out thanks to their warmth-preserving features.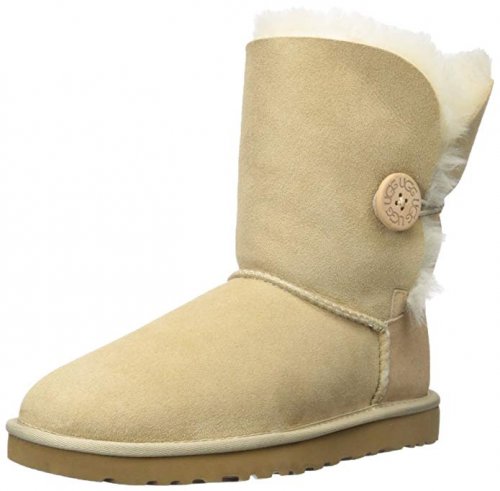 The now iconic UGG design has taken the world by storm, despite its questionable style. The reason for this is that the UGG boots are insanely comfortable and easy to wear, as well as being insulating and weather protective. The Bailey Button II is no exception, as it bears all the hallmarks of a classic UGG design, only this time with the addition of a button to the side, which allows you to quickly and easily fold the cuff down for a change in style.
The Bailey Button is, as most UGGs, made from sheepskin and suede, and specially pre-treated to repel water and stains. That's right, despite its soft feel, this design is just as protective as any other waterproof boot. As we mentioned, there is a button on the shaft, with an elastic closure which enables you to reveal the fluffy collar if you so desire.

The Bailey Button has a sheepskin insole for preserving warmth and providing comfort, as well as a Treadlite by UGG outsole. This outsole ensures that you have all the cushioning, traction and durability you need to enjoy these for many years to come.

The versatility of the Bailey Button is endless. You can dress this design down with some overalls and a t-shirt, or you can even throw on a silky dress to challenge yourself and present something unique to the world. Either way, if you go for it, the Bailey Button will become your trusted friend, and you won't be able to imagine your winters without these boots.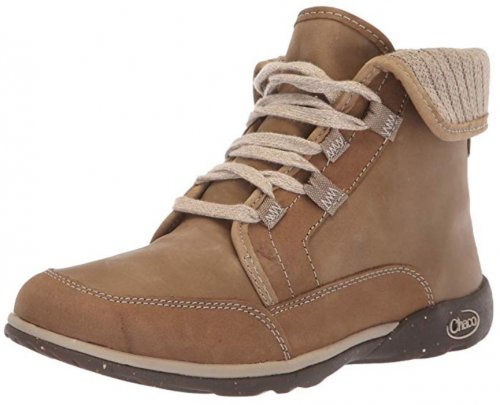 A pair of shoes that is more practicality than style, the Barbary from Chaco is a perfect design for cold weather hiking and exploring tame mountain trails. This adventure-oriented silhouette comes in three color choices for maximum compatibility and is outfitted with Chaco's signature LUVSEAT comfort technology.
The Barbary is made from waterproof full-grain leather for the upper, and its lining is soft wool and fleece for superior insulation. A classic lace-up system will help you adjust the fit just right, while the foldover cuff will make switching up the style easier. Comfort-wise, the Barbary comes with a LUVSEAT footbed which provides support certified by podiatrists. It is lined with pigskin for a soft feeling underfoot.
The outsole of the Barbary is made from non-marking rubber and features lugs that prevent you from losing your footing regardless of what terrain you find yourself on. If you're looking for a rugged, hiking-like pair, make sure to take the Barbary from Chaco into consideration!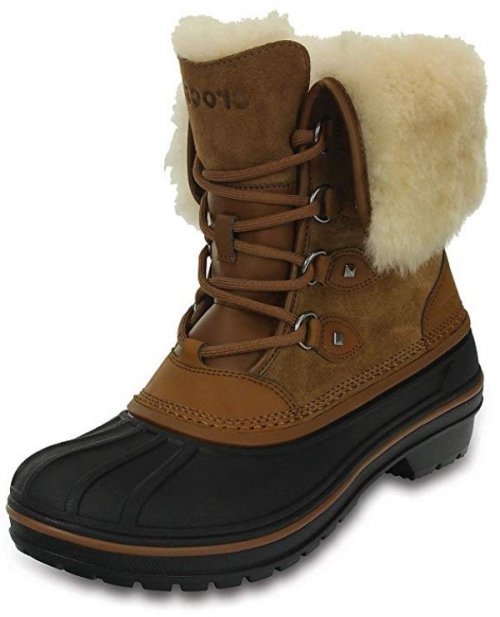 If you're surprised to encounter a Crocs design that isn't the classic water-friendly clog, you shouldn't be - this brand is actually a front runner when it comes to comfy, functional footwear designs, and this pair is no different. The AllCast II Luxe is sturdy, solid, and will keep you cozy and comfy as you brave the harshest of winter conditions.
This design is made from genuine suede and a synthetic nubuck trim for the upper. These materials have been pretreated to make them waterproof. Additionally, there is a seam-sealed construction that also keeps any and all moisture out of the boots. The footbed of the AllCast II is made from Croslite, which is a brand-specific material that is shock-absorbing, cushioning, and which has antimicrobial features, making sure that bad odors are a thing of the past.
At last, we understand that the AllCast II Luxe from Crocs is not the most fashionable pair available. However, if you live in an area that is afflicted by long, ice-cold winters, and need something to keep you warm and dry, don't hesitate to reach for one of the brand's most famous winter designs!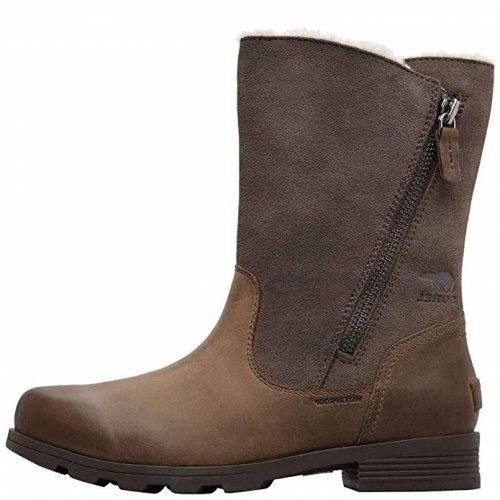 Sorel boots are a Canadian brand which is world-famous for its insulating, waterproof footwear meant for the most extreme conditions. The Sorel Emelie collection features a plethora of designs, one of which is this design. Granted, this particular one is not to be used in a harsh environment, but the Emelie will nonetheless be a decent winter boot while offering you the choice of a regular or a folded cuff.
The Emelie is made from full-grain leather and suede, utilizing a waterproof construction. Its lining is faux shearling, which comes with 100g of insulation and keeps you toasty even when it's snowing outside. There is an asymmetrical zipper in the outer side, to allow for an easy way in and out of this design.

When it comes to comfort, the Emelie is outfitted with a die-cut EVA footbed, which provides much-needed cushioning and absorbs impact, and is also removable, to make more room inside the design if necessary. The outsole of the Sorel Emelie is made out of molded rubber, with a rubber wrapped heel.

We will admit that the Sorel Emelie silhouette is nothing new in the fashion world. This design is not meant to be cute - though it is far from unattractive. This is a simple, uncomplicated winter pair that will keep you warm and dry, with an easy closure and an even easier way to style them either up or down.




Cole Haan is a brand known for its classic, elegant designs and impeccable craftsmanship. With the Raina Grand, we are stepping away from the clunky, unfashionable winter designs, and moving into something more attractive, and perhaps even more sensual. This is a gorgeously luxurious over-the-knee boot that will leave everyone around you speechless at its sophistication.
The Cole Haan Raina Grand has a suede upper in two color options. It reaches above your knee, but the top part can be folded down if you're not about that vixen look. The design has a zipper in the back for easy entry and a molded sock lining which is padded for extra comfort.

Speaking of comfort, the Cole Haan brand is famous for its Grand.OS comfort technology, which is also featured in the Raina Grand. Grand.OS means that the footbed of this option moves along with your foot, that it promotes airflow for breathability and cooling, that it is exceptionally lightweight, and that it comes with special energy padding which ensures all-day comfort.

To round this design up, there is a rubber outsole with flex grooves and a two-inch high stable, square-shaped wrapped heel.

There is nothing to not love about the Cole Haan Raina Grand. It is a little extravagant in terms of style, and not for a sensible, office environment, but for any other casual or fancier situation - this design is a show-stopper! Don't be afraid to be a little sexy and a little bold this winter, and reach for these glorious Cole Haan boots!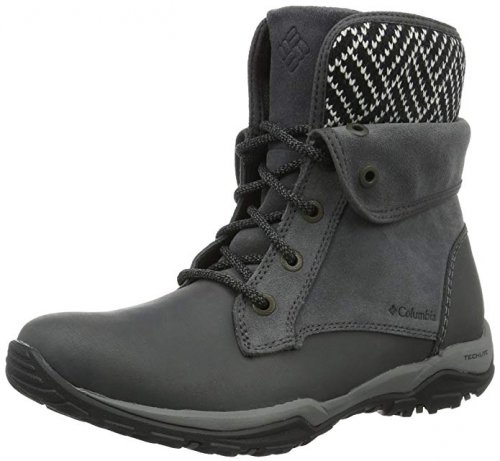 If you're not interested in only roaming the paved city streets, but also wish to go on a little adventure on the nature trails beyond, then you need a sturdy, reliable boot like the Columbia Cityside. This is not a fashionable choice, but a practical one - it will keep you protected regardless of the environment. You can now take on mucky roads and snowy streets with undiminishing confidence!
The Columbia Cityside has an outstanding waterproof construction - partly because of the waterproof PU coated leather and suede upper, and partly due to the Omni-Tech waterproof seam-sealed membrane to keep out any and all moisture. The collar of the design is made from a knit material, in an interesting pattern that is visible if you choose to roll the cuff down.

The closure of this design is a lace-up system at the front, which allows you to easily adjust the fit of the boot however tight or loose you'd like it to be.

Inside the Columbia Cityside, there is a Techlite midsole, which is light in weight, and which provides cushioning and high energy return for maximum comfort. On the bottom, we can find an Omni-Grip traction outsole, made from rubber and leaving no marks on any type of floor.

The Columbia Cityside is not that kind of a design which you simply take out to work, to a walk around the city, or to your favorite restaurant. Rather, this is something akin to a hiking style, one which will support you on wet, unfavorable terrain just as well as it will support you on asphalt. If you're the type who loves a little exploring in their free time, the Cityside has your name on it.

10

. Skechers Grand Jams Unlimited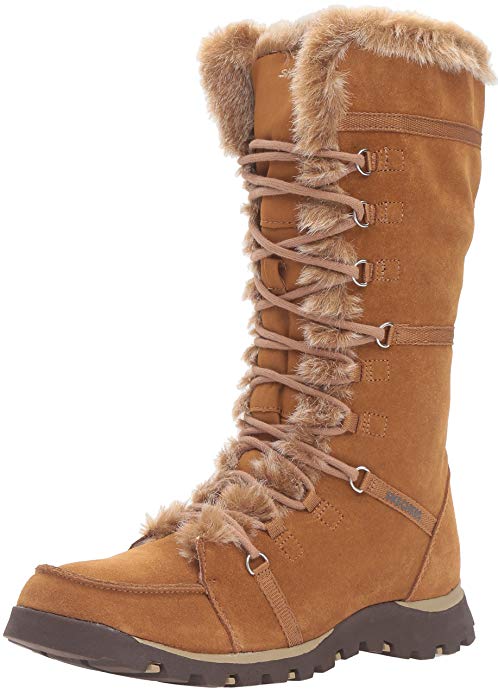 While we usually don't associate the sporty, athletic-oriented Skechers brand with winter footwear, the Skechers Grand Jams Unlimited is a design which stands out. It is a pair entirely constructed for colder seasons, which keeps you comfy and protected, while at the same time providing you with that solid, alpine look for a winter wonderland effect.
The Skechers Grand Jams Unlimited has an upper made from 100% suede. The suede offers that soft, plush finish, though the downside is that it needs to be pretreated before you decide to take these out in rain or snow. The lining is faux-fur for a gentle, abrasion-free experience, and there is both a half-zipper in the inner side and a full lace-up system at the front for adjustability.

At the top of the design, there is a thin velcro strap to fasten the boot in the area where the zipper doesn't reach for extra security.

The footbed of the Grand Jams Unlimited is lightly cushioned for your comfort. It is man-made, and the outsole of this design is made from rubber, to prevent slipping and skidding across any type of terrain.

The Skechers Grand Jams Unlimited is not the best winter option due to the fact that, without special treatment, it can't be worn in wet conditions. However, given that this guide is all about the versatility of the cuff and not about the protectiveness of the item, we feel confident that you will find a place in your wardrobe for this reliable, practical cold-weather pair.

Subscribe to our Newsletter