Best Fall Boots Reviewed & Rated
In a Hurry? Editors choice: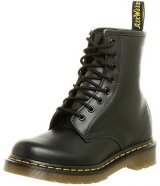 Test Winner: Dr. Martens 1460

Whether you live in a place where autumn means plenty of precipitation, or where the sun is always shining, the right choice of footwear will mean the difference between having a fun autumn season or suffering through that transitional period that is neither here nor there.

There are lots of features to consider before making a purchase, as different climates will require different types of fall boots. Whatever route you go, make sure the design speaks to your personality and has a price tag that is reasonable and reflects the quality and durability you are looking for. To help you prepare for the season, we've compiled a list of the top ten fall boots to make your decision easier.
Standout Picks
Criteria Used for Evaluation
Water Resistance
Water- and weatherproof materials are a must in this type of footwear.
Unsurprisingly, one of the most important features you want to look for in your next pair of fall boots is waterproofing. You may be surprised how few makers will produce footwear that is both warm and can keep water out, making shopping for a good pair of autumn footwear a task much harder than it should really be.
If you live in a climate that sees any level of precipitation during the months of October and November, you need to make sure that the shoes you choose will be up to the task of keeping you dry and comfortable.
One of the things that will influence the way a design performs in wet weather is the material it is made out of. Most companies will make autumn footwear out of leather, seeing that it is a great material that is both stylish and functional, and it provides the wearer with unique comfort and plenty of wear time.
However, one of the downsides of leather is the fact that it's not waterproof, and can even be damaged when exposed to rain or snow. If you have chosen to purchase leather boots, make sure to treat them with a water-repelling agent that will not only keep you dry but will also prolong the life of your footwear.
Rubber rainboots are another excellent option for autumn, seeing that they are completely watertight, and you can rest assured that you can go through any puddle without fear of ending up soaked.
However, they do have two downsides. One is related to warmth, as a great number of rubber boots are not insulated, meaning that they will work better for mild climates with heavy rainfall. The other downside is the fact that rubber footwear is not breathable, and can become quite the breeding ground for bacteria and odor, especially if you spend a lot of time wearing this type of footwear.
This means that rubber rainboots are not suitable for everyday wear, and you should only opt for them if you already have a design that will do well on dry days and will provide you with a warm but breathable fit.
Last but not least, you could opt for one of the techier models on this list, and go for a pair that is weathertight, has a gore-tex lining or that is seam-sealed. Having these options will ensure that your pair has an outer that looks good, but your feet will get the benefits of complete waterproofing, no matter the situation.
Weight
Depending on the purpose of your footwear, choose either a lighter or a heavier design.
It is very important to consider the weight of your next pair of fall boots, especially if you intend to spend a whole day in them, or if you are purchasing them for outdoor, hiking use.
As a rule, the heavier a pair of shoes get, the more tired you will feel after having worn them for a few hours. So, for example, if you are in the market for a pair that you can wear to your job, you need to consider the fact that you will be spending over 8 hours wearing these, making it really impractical to choose something that is clunky.
Instead, try to opt for footwear that is as light as possible, but still offers the features you need, including a lining to keep you warm and weatherproofing to prevent you from having to walk around with damp socks all day.
While some people will need the protection of a higher shaft, fall boots can be a great choice when it comes to weight, seeing that they are often made as ankle booties – giving you the perfect combination of protection and warmth without the unnecessary, heavy addition of a high top that can be saved for winter and colder days.
A higher score on this criterion means the shoe will be heavier overall.
Durability
If you wish for sturdy, durable footwear, pay attention to the price tag, as well as the reputation of the brand name.
While durability and a cheap price are not always mutually exclusive, it is important to decide how much you are willing to pay based on how long you intend to wear your fall boots. Some people prefer spending less and purchasing new ones every few months, while others will be willing to pay a higher price and have a pair that will last them a lifetime. Whichever your preference is, there is a couple of things you need to consider.
One is the reliability factor of your chosen autumn footwear. While you may be tempted to go with the least expensive item you find, it's important that you don't waste your hard-earned money on something that will fall apart or start leaking after just a few wears.
On the other hand, you might find that investing a couple hundred dollars could actually buy you a pair that you will wear for the next twenty years.
Whether you are shopping for just one season or for a lifetime of wear, it's good to consider the reputation of the brand before making your final choice. For example, models made by Red Wing, Wolverine, Timberland and L.L. Bean are all excellent choices as they make footwear that is ready for any challenge, providing you with plenty of wear time.
Dr. Marten's is also excellent, as are brands that make footwear for the Armed Forces such as J. Crew and Alden.
Versatility
To make the most out of your new footwear, make sure it is as versatile as it can get.
There are fall boots that are drab and boring and made only with productivity in mind. And then there are others that look so cool and stylish that you want to wear them even when the cold weather has passed. It's a great thing to be able to choose a pair of shoes that are as versatile as possible. This not only relates to style – as we all want a comfy pair that look good with a casual as well as a more dressy outfit - but also to functionality.
The perfect designs will perform just as well in rain as they do in dry weather and will be comfortable to wear in both cold weather and on those days when the sun decides to peek through the clouds. If you manage to find a design that can even work in the summer, you can consider yourself to have made a really great purchase.
So, what makes an option versatile? First of all, consider the shaft length - shorter designs, such as ankle boots, are more likely to go with both pants and skirts and dresses than taller designs. Secondly, consider the color - neutral colors such as black, brown, tan and grey go with everything and are easy to pair with any color combination. Finally, try to avoid too many accessories such as charms, studs, buckles, and bling, as these make it harder for you to combine your new fall boots with both casual and dressier outfits.
Another thing to consider is that these designs can offer versatility of use outside the autumn season. If you're someone who needs a pair of shoes for those long hikes, rock concerts or even a good pair of protective work gear, they will prove to do well on these occasions.
Features
Finally, keep in mind the quality of the materials the footwear is made of, how functional it is, and whether or not it offers proper insulation.
Climate Protection
Leather is versatile, but water, snow, and salt are its enemy as these tend to age it too quickly and turn it into a cracking, unrepairable mess. Basically, leather is not the best choice of material to wear out in places where there's more snow than solar panels.
You can preserve leather by cleaning it with saddle soap. Or you can buy fall boots that have been made from the ground up to survive in the cold, with a waterproof membrane, Thinsulate, leather mixed with silicone during the tanning process, or even a mixture of these choices. It's a great idea to look at brand reputations for making high-quality weatherproof footwear, and starting with names like Baffin, Sorel, Woolrich, KEEN, and Kodiak is a good option.
Functionality
While durability, waterproofing, traction, versatility, and warmth all come into play, you still need to consider what makes a perfect pair perfect for you, personally. Some people might prefer a thigh-high style for aesthetic reasons, while others appreciate it because of the added warmth it supplies.
Designers and popular shoemakers have wised up with their potential customers, recognizing the need for footwear that will both look good and perform well in certain types of situations. A great example of this is calf width and how it relates to the construction, as well as the need for more orthopedic features for maximized comfort and support.
Having zippers on tall, over-the-ankle models is probably the best idea ever; getting rid of the time it takes to fit the feet into the boots whilst avoiding the moving of cushions on the insoles. Amazingly, great looks don't need to be compromised in exchange for functionality, which is our definite favorite part of each and every one of our top choices. There are not many things that are as great as getting to wear shoes that match your wardrobe to a tee, yet can still keep your feet dry, warm and protected.
Insulation
While traditional footwear used wool and animal hide, which are widely used today as well, you have the advantage of available technology (despite its side effects on the environment) to create insulation.
Take the example of 3M's "Thinsulate" – a thin and highly insulating fabric made from polypropylene fibers. 3M had trademarked that name and it can be found in most autumn and winter choices. A few other companies try either to create their own style of insulation or use straight-away polyurethane foams which also provide good protection from the cold.
Our Favorites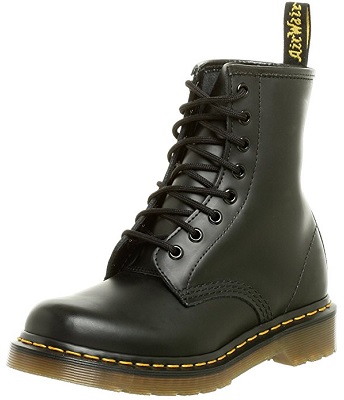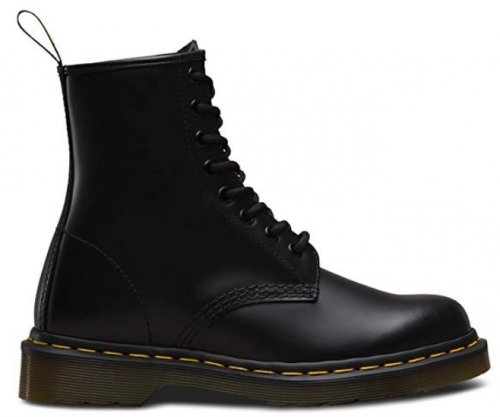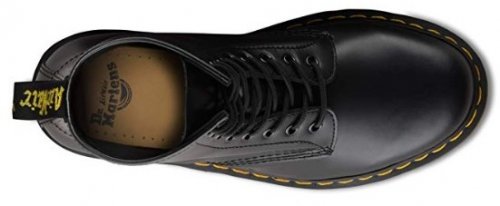 No other model pairs with a bold and bright outfit quite like a pair of 8 eye patent leather Dr. Martens. They are durable enough to be worn both at work and during your off hours, but also provide you with a look that is the perfect combination of polished and rugged, making these a fashion statement that has a punk edge. The Dr. Marten's brand is synonymous with individuals that make their own mark on the world, so wear these and march to the beat of your own drum (coming from a Nirvana compilation).
The 1460 came out in 1960 and has never been out of production. It has an 8 eyelet upper that comes in numerous colors and is made out of the classic Doc smooth leather. They are tough and you can rest assured they won't scuff easy, with an air-cushioned sole that makes them surprisingly comfortable. The leather ensures that over time and with proper care, they'll begin to mold to your foot. They're resistant to oil and fat, as well as being slip and abrasion-resistant. Made with Goodyear welt, the upper and sole are heat-sealed and sewn together, which means they won't come apart as easily as other footwear.
Dr. Martens are incredibly versatile, despite being popularized mostly by the punk elite in the United Kingdom in the late 1970s. They have the commanding presence of a boot that can be used to make a feminine outfit more masculine or, because of their polished exterior, give an edge to a finely tailored suit. Have them stand out by cuffing your stovepipe jeans like 60s British dock workers, or have their round shiny toes peek out from under a long flowing skirt. Because they come in a variety of colors and prints, the sky is really the limit with this incredibly versatile and popular model.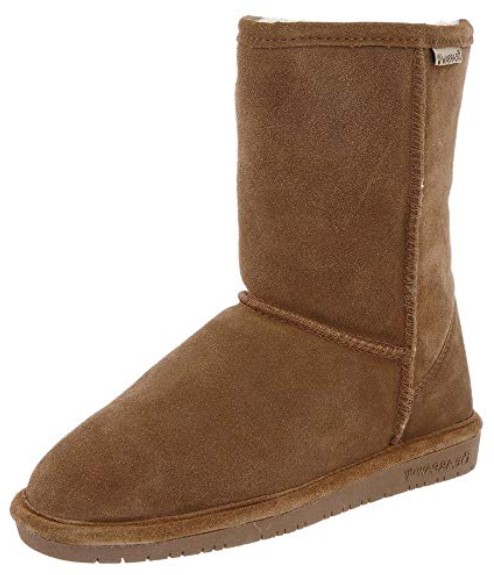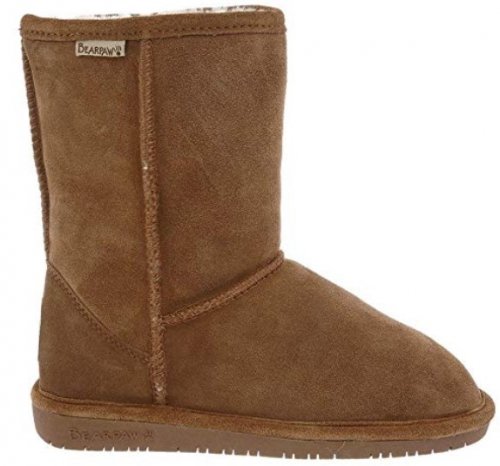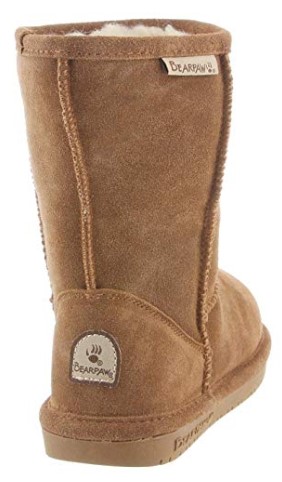 This model by BEARPAW is perfect for women looking for a comfortable and casual style that will look good with jeans or even a casual skirt or dress. Available in 14 colors, you are sure to find a pair that you will want to own. What makes them great is the soft upper that will keep you comfortable even with all-day wear, while still providing you with the warmth that you might need during the colder months.
The upper of the BEARPAW Emma is made out of cow suede which is soft to the touch, yet durable and breathable. They are lined with a sheepskin and wool blend lining, making them warm without the use of synthetic materials. This means that you can rest assured that odors are less likely to develop, while moisture generated while walking will evaporate more easily.
Their outsole is made out of TPR rubber and is a low profile outsole that can easily be worn outside and inside. An additional feature is that the outsole is non-marking, making these the perfect choice if you need to keep the surfaces you walk on nice and clean-looking. Even more, the TPR rubber provides the wearer with plenty of flexibility, making them suitable even for use around the home.

3

. Frye Phillip Harness Tall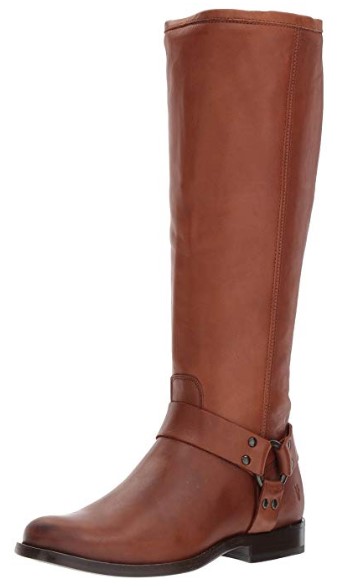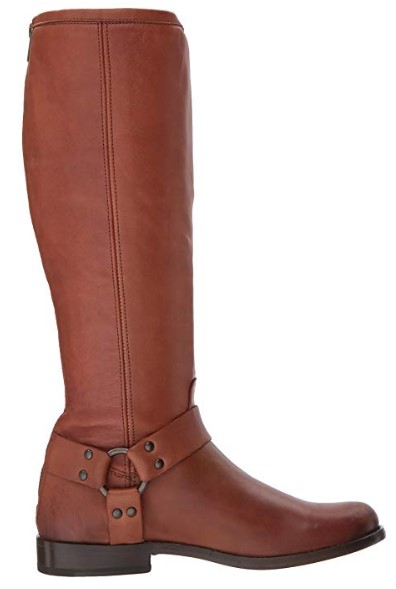 Frye is a company that was founded in 1863, and that specializes in designs made only from the finest Italian leather. The Phillip Harness Tall is no exception, a boot inspired by a motorcycle jacket, with harness accents around the ankle. It reaches up to the knee to give you protection against inclement weather as well as superior insulation. The Phillip Harness is a classic, a design that will seamlessly find its way into your wardrobe and into your autumn lifestyle.
The leather this option is made from is stone-tumbled so that it looks well-worn and well-loved. The lining on the Phillip is also leather, providing you with a healthy climate inside the design, and the outsole is, again, made from leather. A leather outsole molds to the shape of your foot, providing you with a personalized type of comfort. There is a full-length zipper in the back which allows for an easy entry into the boot.
If you're looking for that knee-high option that you can tuck your pants in or wear with your knee-length flowy skirts - you definitely found it! With its harness hardware, the Phillip is a little bit tough and a little bit rock and roll, perfect to play off of feminine, romantic outfits.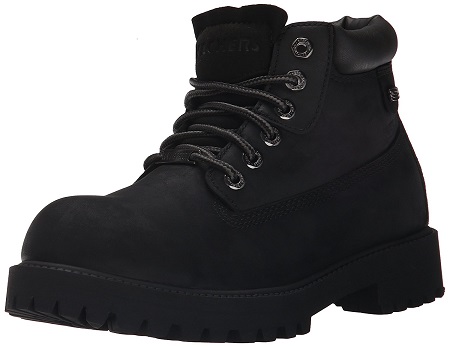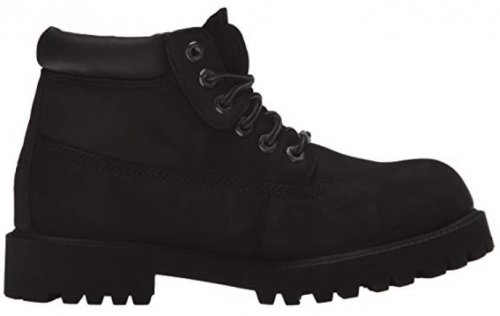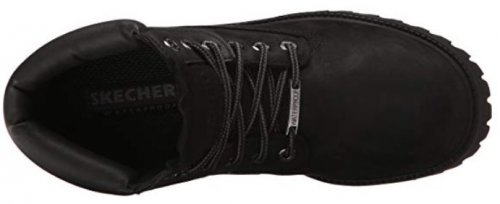 The autumn season is often accompanied by rain which can freeze over if the temperatures at night dip too low. This can make for some slippery situations if you don't have the right footwear. The Verdict boot from Skechers features aggressive lugs on the outsole which are designed to grip even wet ground properly, giving you the traction you need. They also sport a durable and water-resistant leather upper as well as the comfort that Skechers shoes are known for. This boot is available in five colorways, and sizes range from a US 6-14, including half sizes and additional width options.
Leather is one of the oldest materials used in shoemaking, having been in use for thousands of years. While we don't expect that modern-day shoes will last thousands of years, leather designs are prized for their strong durability. Leather also breaks down easier than plastic and other synthetic materials, making it more environmentally friendly.
Skechers footwear is well-known for its comfort and affordable price tags, and the Verdict is a great example of this. Depending on size and color options, these are slightly more expensive than other Skechers products, however, we feel that the benefits they offer more than justify this cost increase.

5

. Thorogood American Heritage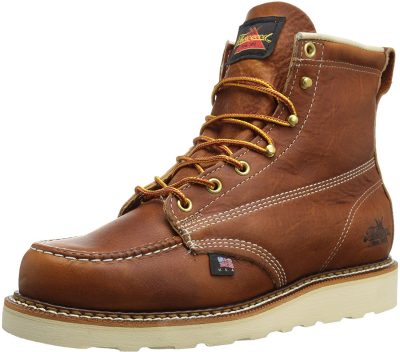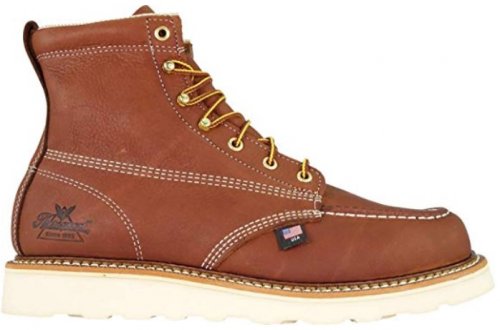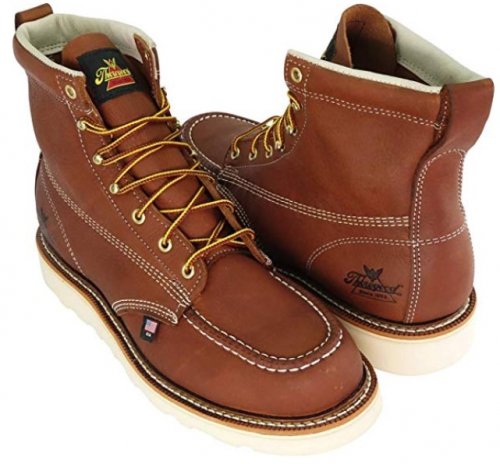 Thorogood's footwear is made by workers in the United States with the use of high-quality materials and with technologies that ensure excellent comfort, practicality and long-lasting wear. Available both in a non-safety toe and a steel toe version, this pair could either serve as your next pair of work footwear or something you wear when the weather gets colder. With their Goodyear storm welt construction, you can rest assured that they will serve you well in all conditions, while still giving you an attractive, versatile style.
The upper of these shoes is made out of oil-tanned leather and is available in four different colors. Their 6" height will cover your ankles, giving you both support and stability, while also ensuring some additional warmth when the weather starts turning chilly. You will definitely appreciate the cotton drill vamp lining which is there to give you a softer feel around your ankles.
The outsole is a Single Density Polyurethane MAXwear Wedge Outsole with a composite shank for added stability. It is slip-resistant, as well as abrasion, oil heat and chip resistant. The midsole is made out of rubber for good shock absorption which will protect your joints, while the insole is a Poron comfort cushion insole with a removable shock-absorbing footbed.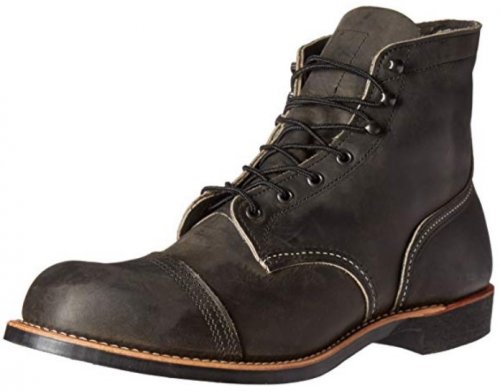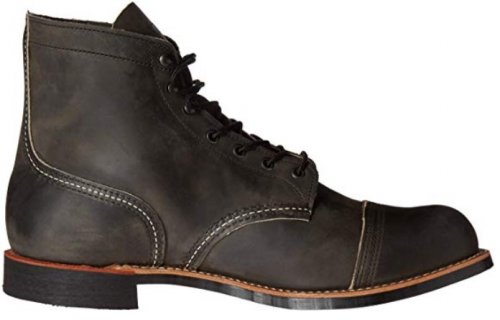 This model by Red Wing, a company that has been around for over 100 years, has become iconic through its high quality of make, durability and classic, timeless style. Originally made for miners from Minnesota, these shoes feature a double-layered toe cap, oiled leather and a nitrile cork outsole that is oil-resistant and provides excellent comfort that only gets better with wear. One of the great things about Red Wing is that they have their own repair facilities so that you can rest assured that whatever happens to them, you will have the option of repairing them with free shipping on services above $50.
These are made from oil-tanned leather from the S.B. Foot Tanning Co., and are water, stain and perspiration resistant. This type of leather uses less additional materials in the production process, allowing for a more natural look that is still very practical. When they are still new, they will feel comfortably tight on your feet, molding to your foot shape through wear and time.
The outsole of the Iron Ranger is made out of nitrile cork which is oil and water resistant and provides better traction than leather, and more durability than rubber. Thanks to the cork components, it also provides you with better padding and shock absorption, and it will mold to the shape of your foot over time. The insole of the Red Wing Iron Ranger is made out of leather, for durable, all-day comfort. Red Wings are constructed using Goodyear welt which ensures that you have a durable pair that won't come apart at the seams.

7

. Sorel Joan of Arctic Wedge II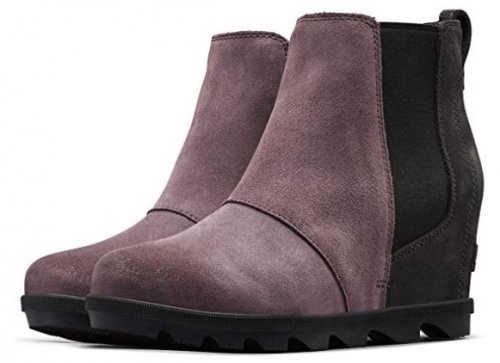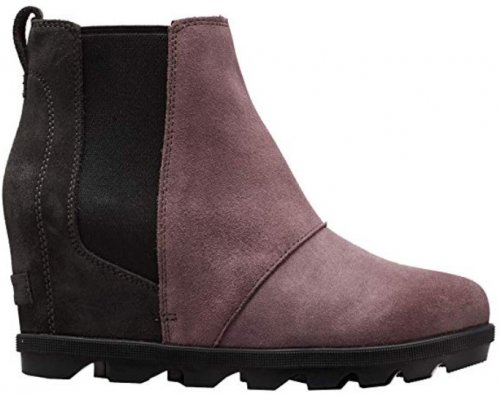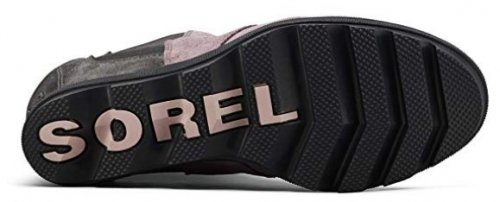 Chelsea boots have been around since the Victorian era and exploded in popularity thanks to the Beatles. The Joan of Arctic from Sorel takes the classic Chelsea to another level - literally. These sport a hidden wedge that givse you extra lift without having to compromise on stability. The calfskin suede upper provides some natural water resistance, which can be especially useful in the late fall when things start to become a bit soggy in anticipation of the upcoming winter.
While an uncommon feature in fashion boots, a textured outsole is necessary for the fall. This will allows the boots to better hold onto the ground, reducing the chance of you slipping on a puddle or some wet leaves. While not as aggressive as some other designs on this list, the traction system on the Joan of Arctic Wedge works to keep you balanced and stable.
Of course, while fall boots should have features that promote practicality, it isn't all work and no play with these. The hidden wedge provides some extra lift without causing issues with balance and stability. They are offered in eight stunning colorways, from basic black and camel to a rich wine with intriguing half-and-half color blocking. This makes them incredibly versatile, whether they're being paired with a dress and leggings, or jeans and a t-shirt.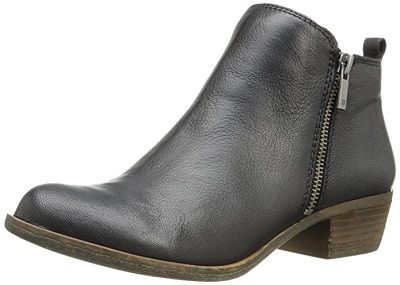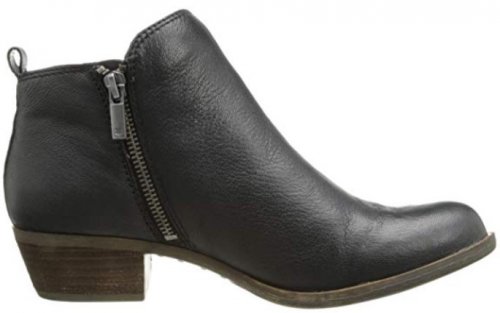 This is a little bootie that packs a lot of punch. With a modest 1.5" heel, it's easily an everyday design, and the side zip makes it easy to slip on and off. What sets it apart is the intriguing nature of its design, which allows for breathability as well as a unique look. Ankle booties like this are perfect for office wear or even for after-work activities taking place at a swanky lounge. No matter where you wear these, you'll look on point.
These come in many various designs for which the only thing in common is the quality leather upper and rubber sole. One pair may have dozens of tiny triangle cut-outs that dot the entire upper; another may be entirely covered in paisley; one may have a soft metallic gold finish, while another will have a wild leopard print. There are classically demure options like black suede or daring options like grey snakeskin. There is an option for every wearer, provided they can decide on just one.
One would ordinarily expect these sort of shoes to pinch your toes or possibly slice into your ankles seeing that the toe box narrows to a point. However, their leather upper is soft enough that it molds to your foot shape with little break-in time.
They have a stacked block heel that distributes your weight more easily, and a pull-on loop near the entry to the boot that, combined with the side-zip, lets you get them on and off without any fuss. They can be walked in for several miles without fatigue, but those with wider feet will feel discomfort until they are perfectly broken in.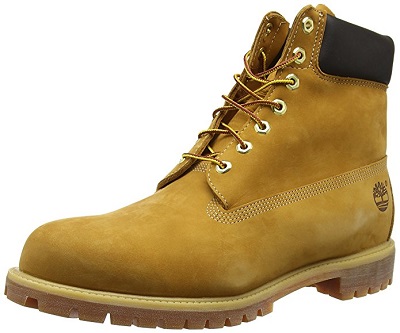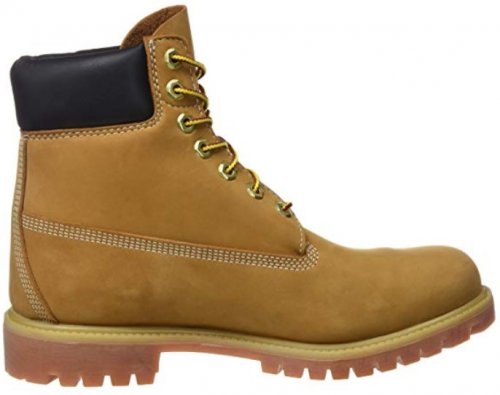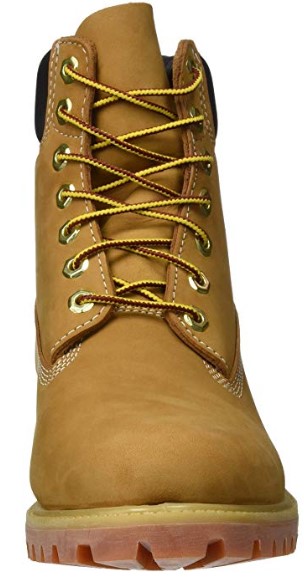 Timberland footwear is known for its quality and rugged appearance that can stand up to the elements coast to coast. The Timberland Classic 6" is made entirely from leather, with a padded collar, lace-up vamp, and a rubber sole with thick tread. It will get you through the slushy streets of NYC in October and crunching over the falling leaves of CA in November.
Favored by everyone from construction workers to rap artists, Timberlands are renowned for their durable exteriors that can take a beating. They have a tread that provides excellent traction on a variety of terrain, and the use of the same leather materials around the entire upper ensure that no portion of it wears down faster than the other, which can be the case when synthetic blends are used.
They have a removable insole that allows for comfort customization, and the extra padded portion of the collar is robust enough so that the ankle doesn't get chaffed where it touches the shoe. This is particularly handy if you plan on wearing your Timberlands for prolonged periods of time. The stitches don't wear out along the inseam of the heel since it's made out of one solid piece of leather.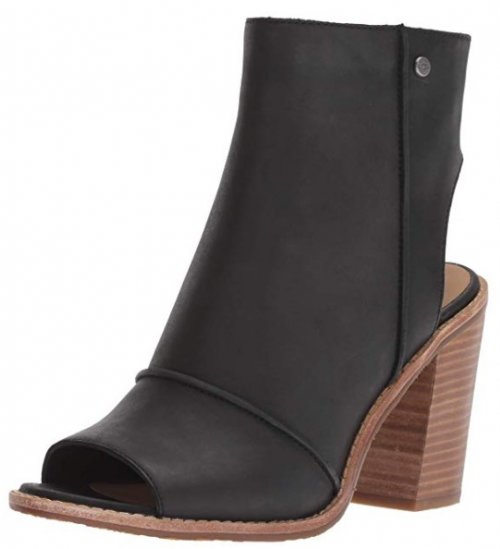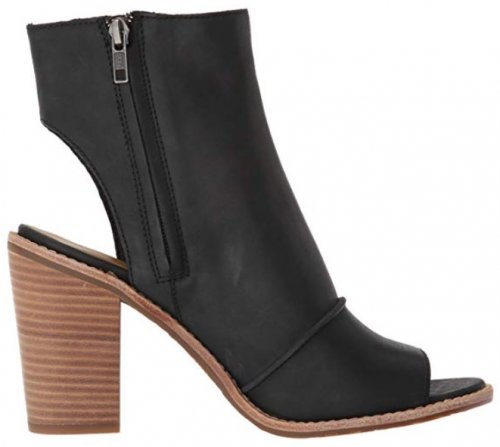 Now here is something a little different and a little unexpected. Just because it's fall, it doesn't mean that you can't show off your pedicure or be incredibly stylish as you strut down the streets. The Valencia from UGG is an incredible combination of both fashion-forward and comfortable, not to mention dry-weather appropriate, and you will definitely enjoy playing with its unorthodox silhouette!
The Valencia is made from full-grain leather, and what definitely makes it stand out from the rest of this list is the fact that it has an open toe and an open heel area. There is a zipper in the inner side for a quick way in and out. In terms of comfort, PORON cushioning will make you feel like you're walking on clouds, especially when combined with a foam insole and arch support. The heel of the Valencia is 3.5 inches high, making it perfect for all-day wear. It is stacked and blocky in shape for maximum stability.
The UGG Valencia is not meant for cold autumns or wet conditions, we'll admit to that. But when paired with jeans and a thick camel coat, won't it be just the most chic outfit ever? Treat yourself to something new and refreshing, and wow everyone you know with your playful style with the Valencia!

Subscribe to our Newsletter