Best Canadian Shoes Reviewed, Eh?
In a Hurry? Editors choice: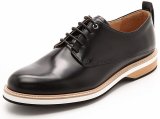 Test Winner: Want Les Essentiels Montoro

Canada - the land of maple, the Niagara Falls, ice hockey, charming prime ministers and no less than two ridiculously attractive Ryans (Gosling and Reynolds) - has always been regarded as a peaceful, genial country occupying the far north of the American continent. If you are interested to find out what type of footwear has Canadian origin, you have come to the right place!


Through meticulous research and investigation, we have come up with the top ten designs made by Canadian brands and designers. Here you will find anything from sturdy, bulky boots to keep you toasty in the coldest of winters, to fashion-forward, delicate pumps and flats to complement your trendy style. Join us in this Canadian adventure, and pick out a dashing new pair of shoes for yourself! Enjoy!
Standout Picks
Criteria Used for Evaluation
Comfort
Arguably the most important feature of any given design is its comfort level. Whether or not it can be worn for hours on end if it leaves any indentations or hotspots if your feet feel tired after taking it off at the end of the day… All of these concerns are valid, because after all, who enjoys wearing uncomfortable footwear?

This is exactly why we have put comfort as the top of our criteria. While other aspects are not to be disregarded, we can't help but feel that having a stylish, durable, easily adjustable, and even high-quality design means very little, if it gives us nothing but pain and blisters while we wear it.

So let's take a closer look at how different designs from our list achieve comfort, and what you should be paying attention to when looking for new footwear.

Footbed:
One of the key features of a shoe is its footbed. The footbed can largely determine how comfortable the design is, mostly because this is the part that comes in direct contact with the sole of your foot.
Footbeds should be made out of malleable, but firm materials, such as leather or memory foam, for example, which can take on the contours of your foot, but still provide you with enough support throughout the day. They should also come with a fair share of cushioning, for smooth, comfy rides.
Molded, or contoured footbeds are also a great option if the molds on it correspond to the shape of your foot sole. In these, your foot will feel gently cradled as you walk, and it will reduce the risk of foot fatigue, no matter how much distance you cover.
Additionally, the footbed could have an arch cookie built into it, which is always a bonus. Arch support is essential in correcting gait disbalances, such as overpronation, but it also prevents medical conditions such as pes planus, or flatfoot.
Midsole:
The midsole, as you may guess by its name, is the part of the design which goes in the middle, between the outsole and the insole, or the footbed. It doesn't come in contact with your foot, but it does affect the comfort level of a shoe.
It would be preferable if the midsole is made out of a springy material, one which provides enough bounce, or energy return. A great example of this is found in the case of Want Les Essentiels Montoro, which has a midsole made out of EVA. EVA, or ethylene vinyl acetate, is an impact absorbing material. It distributes the force of the impact through the midsole instead of letting it get absorbed by your joints, thus reducing the chances of the ankle, knee and even hip pain in the long run.
Heel:
Because there are a couple of designs on our list which are not flat, we also have to address how a higher heel influences comfort.
Heels are regarded as not the most comfortable, and it is no wonder why - they put the foot in an unnatural position - the more unnatural the higher the heel is - which can result in a myriad of problems, such as cramping and pain, hammer toes, bunions, ankle and knee pain, etc.
In order to feel the most comfortable you can in a high heel, look for two things: a lower height, and a thicker heel.
Heels that are three inches and lower are more comfortable to walk in, as the angle between your heel and your toes is not so sharp, taking excess pressure off of the ball of your foot.
A thicker heel, one which is blocky or wedge in shape, provides a stable foundation for you to walk on. This prevents wobbly movements in your ankle, reduces your chances of losing your balance and falling, and it also evenly distributes your weight along the design.
Heels which are four inches and higher, and stiletto in shape - while undeniably elegant and fancy in style - are difficult to endure for longer than a couple of hours at a time, so keep that in mind while you're shopping.
Style
Thanks to the wide range of different designs in our guide, we also have a handful of different styles to consider. When choosing a good option for yourself, think about the purpose you're getting these shoes for, where you'll be wearing them, and if they fit your personal aesthetic.

Because Canadian footwear brands tend to have a bit of that French class and effortless grace infused into their designs, it is no wonder that there is an abundance of fashion-forward, downright stunning styles in our list.

You can choose from pointy toe flats and sandals, such as the John Fluevog Marlene and the Brother Vellies Sister; playful and vintage pumps, like the Aldo Nicholes and John Fluevog Nuumite; and even a derby oxford to pair with an elegant suit, like the Want Les Essentiels Montoro. There is a dress option for everyone's taste and for every occasion, with multiple color combinations to choose from.

Even functional footwear, such as an ankle bootie to keep you warm during the winter, can be sophisticated, as we see in the case of La Canadienne Evitta.

There are, however, a few choices which are not suitable for a formal, or even a semi-formal gathering. These are the Native Jefferson, and the Sorel options, both the Joan of Arctic and the Caribou.

The Native Jefferson is essentially made for a fun time by the water, but it can also be worn in other casual situations, such as in exploring the city, going on a shopping trip to the mall, or even having a picnic at the park.

Sorels, on the other hand, are reserved for the deepest of snows and the most freezing of weathers. They are not meant to be stylish - although a point could be made that the Joan of Arctic is one attractive snow boot - but are meant to provide you with maximum protection against low temperatures and wet conditions. You don't buy these boots to look cute, but to stay warm and dry.

As we mentioned at the beginning of this section, which style you opt for is entirely up to you. If you're not a fan of heels - choose a flat design! If you want something casual - go for a cute bootie or the versatile Native Jefferson. If, on the other hand, you need something impressive to complement your bold style - go for the Aldo Nicholes or the John Fluevog Nuumite. There is no right or wrong when it comes to style, only what works best for you.
Materials
Materials are what determines the comfort of any particular design, in large part, as well as some other of its properties, such as breathability, flexibility, durability and similar. Materials are the key feature when assessing the quality of a design, and you can tell a lot by it from what it is made of.

Fortunately, the vast majority of items on our list are made from amazingly high-quality materials, ones that are specially selected and specially treated just for those products, and which guarantee that you are getting your money's worth when you purchase a new pair of shoes.

What most of them are made of - with the exception of the Aldo Nicholes and the Native Jefferson - are leather and suede.

These are two sides of the same coin - leather has a smooth, sometimes polished finish, while suede is quite literally the opposite side of it, with a plush, luxurious feel to it. Both of these materials are durable - especially if layered thick - breathable and undeniably comfortable.

Leather and suede allow air to properly flow in and out of a design and thus help in maintaining a healthy climate inside. We have already talked about how they change shape over time, to fit the shape of your foot, providing you with a level of comfort that is unmatched by any other material type.

The downsides to leather and suede are that they are not waterproof - though this can also be fixed, by using special waterproofing agents and constructions, as in the case of Sorel Joan of Arctic, Sorel Caribou, and La Canadienne Evitta - and they are more expensive than other materials, consequently driving the price of such designs up, as well. Additionally, leather and suede need regular cleaning and conditioning in order to last for as long as possible. (And trust us, that is a long, long time.)

Less impressive when it comes to materials are the Native Jefferson, constructed entirely out of EVA, and the Aldo Nicholes, which is made from textile or faux suede, depending on the color option. There is nothing wrong with these designs, and they will most likely last you a couple of seasons, but they may not be as comfortable, or as breathable as those which are made from leather and suede.

However, given that EVA and textile are synthetic materials, these two options are animal-friendly (beast-free, as Native proudly declares), and are also less costly than their genuine leather counterparts.
Adjustability
We love a design which we can customize to fit us however we like. The truth of the matter is that not everyone fits into the same mold when it comes to foot shape or size. Some people have problems with bunions, some have high insteps, feet that are too wide or too narrow, thick or thin ankles - all of these can benefit from a little adjustability, a nice and easy way of helping us wear our footwear more comfortably.

Of course that the best choice when it comes to adjustability is a lace-up closure. It offers you the chance to customize the fit of a design almost in its entirety, a feature that is especially neat when it comes to boots, such as the Sorels in this guide, where you need to make sure that it fits right both in the foot area and the ankle and leg parts.

Another way to add adjustability to different designs is to introduce buckled straps. These are not as fully customizable as laces, because the straps come with an already predetermined number of holes for the buckle, but they offer some wiggle room nonetheless. You can see these closures in the John Fluevog Marlene and the Aldo Nicholes.

Finally, there are also three designs, the La Canadienne Evitta, the Native Jefferson and the Brother Vellies Sister, which have no way of adjusting the fit. isn't a bad thing, necessarily - it only means that you should read their reviews, and examine the brands' size charts carefully before you decide whether or not these options will be suitable for you and your foot shape.
Durability
Lastly, if you're already investing in a solid new pair of shoes, it is reasonable that you also expect them to last for some time. Preferably, years, right?

Well, when it comes to almost all of the options on our list, you actually can expect them to last for years.

The trick is, as we may have mentioned before, in the quality of the materials (though construction also plays an important role in a design's durability). All but two of the items in this guide are made from leather and suede, which are legendary when it comes to durability. After all, there is a reason why these materials have, for centuries in producing footwear. With a little bit of cleaning and care, designs made from genuine leather and suede can last up to a decade, without ever showing signs of wear.

The Native Jefferson, made from EVA, is similarly durable. It may not last decades, but it will definitely keep you company for several seasons to come. It helps that it has a rubber rand and toe guard, which protect the design from excessive scuffing.

Finally, the Aldo Nicholes, which is made from textile, is probably the least durable option. It will not fall apart in record time by any means, but textile is a thin material which frays easily, and if you wear this design frequently, you shouldn't expect it to last nearly as long as any of the other ones.
Our Favorites
1

. Want Les Essentiels Montoro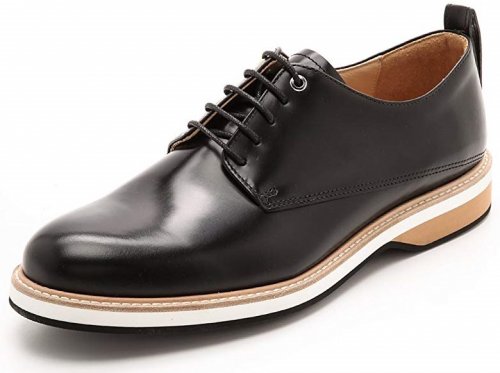 Twin brothers, Byron and Dexter Peart from Montreal, founded Want Les Essentiels over a decade ago. This brand first started out as a luxury leather label and has since expanded to footwear and travel accessories, leaving everyone in awe with their minimalist sneakers, derbys, and sandals. The Montoro derby belongs in this collection, an amazingly sleek design that you will not be able to resist.
This is a classic derby silhouette made out of smooth, premium calf leather, with a touch of unconventionality in the form of its silver and gold eyelets, and a rivet on the heel. It is not only the upper that is made from leather, but also the lining, for comfort and durability, and the insole, which is a combination of leather and foam.

The Montoro is that perfect formal dress shoe, but one which has all the comfort of a sporty sneaker. The midsole in this derby is made from high-performance EVA, a shock absorbing foam material that is commonly found in running sneakers and those meant for high-impact sports. The bottom of the Montoro is outfitted with a non-marking rubber outsole, to complete this polished design.

The Want Les Essentiels Montoro comes with all the poise and class of an expensive, and yet surprisingly down-to-earth design. It is ideal for semi-formal and formal events and will go well with that suit or tux that you're planning to wear for an upcoming special occasion.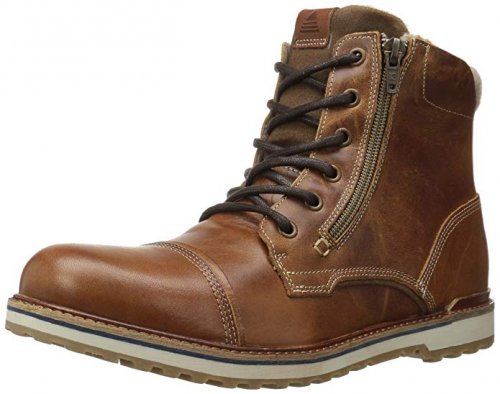 Aldo Suchman is a posh Chelsea boot with a charmingly rugged appearance. It is meant for everyday wear, but could also pass for a dress shoe at an event with a dress code that isn't strictly enforced. In the Suchman, you will feel like a true gentleman, but with a rebellious edge, and you can be sure that no one will be able to resist you.
The Suchman is constructed out of genuine leather. It has a dual closure - two zippers in the sides for a touch of punk, and a lace-up system in the front for maximum adjustability. On the inside, the collar and tongue of this boot are padded for extra cushioned comfort, and there is wool lining all around the interior. Wool is a material which works as a great insulator, and also has moisture-wicking properties, keeping your feet sweat-free throughout the wear.

The insole of the Suchman is lightly cushioned for support, and a pull-tab in the back helps you with slipping this design on and off. The outsole is made from rubber and comes with a distinct pattern which provides good traction on a multitude of surfaces.

Overall, the Aldo Suchman is that type of boot which you can't help but fall in love with. It has that bad boy vibe to it, but it is also elegant and high-class in its own, unique way. As one customer had said, 'I can't stop looking down at it, I just love it so much.' That's all you really need to know before you commit to these leather beauties.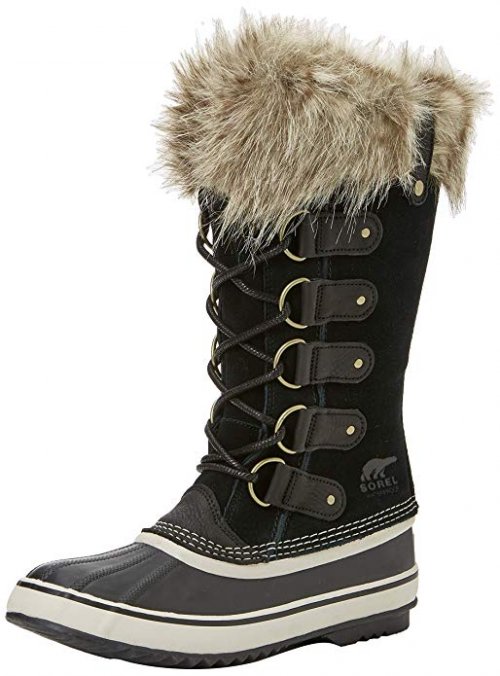 Given how Canada is famous for its picturesque mountain landscape and freezing winters, it is no wonder that one of the best outdoor gear and footwear manufacturers hails from this country. Sorel has a long-standing tradition of producing only the most protective, most reliable of winter designs, and there is no better example of this than the Joan of Arctic boot.
The Joan of Arctic has an upper made out of waterproof full-grain leather and suede. The waterproof aspect is further reinforced by its seam sealed construction. There is super fluffy, super soft faux fur along the collar of the boot, to bring a touch of winter wonderland to the look, and a fully adjustable lace closure at the front.

The inside of the Joan of Arctic is kept warm with a 6mm thick inner boot which is made out of recycled felt. This inner boot can also be removed, should you need more space inside the design, or if perhaps you wish to wash it separately.

Furthermore, the bottom part of the boot is protected by a rubber shell that is both handcrafted and waterproof, and there is a herringbone pattern on the outsole, to ensure your stability on slippery terrain.

The Sorel Joan of Arctic is truly a champion of winter boots. It is stylish, will keep your feet dry in heavy snow and warm in temperatures even as low as -25F, and you will never need another winter boot in your life again.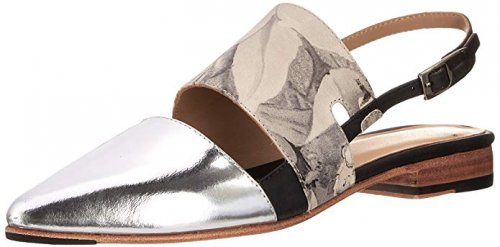 Another unusual, and yet undeniably stylish design from the Canadian designer John Fluevog, the Marlene is that chic addition to your wardrobe that you were looking for. With this pointy toe slingback you can now go from the office to a cocktail party in a blink of an eye. If you also happen to have a date later in the evening - fear not! This polished design fits well into any occasion.
Much like the Levitation, the Marlene is also made from genuine leather of the highest grade, complete with a leather sole. Its upper is part floral and part silver metallic - a combination which sounds over the top, but actually works in an elegant, trendy kind of way. There is a small stacked heel in the back, of about 0.75 inches in height, to keep you comfortable and secure as you go through your day.

The Marlene is a slingback flat in style, and as such, it has a strap that goes around the ankle. This strap comes with an adjustable buckle closure, which you can easily tighten or loosen to fit the width of your ankle.

If you're tired of the same old designs, the same flats, the same pumps, and wish for something to spice up your wardrobe with - the Marlene flat is just the right for you. This design will bring new spirit into your closet, put a smile on your face, and you will not be able to part from it at the end of the day. A true delight!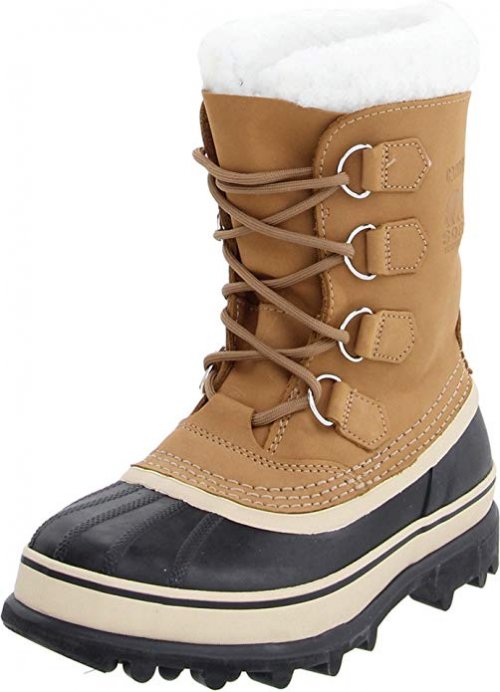 Similar to the Joan of Arctic - though with a few distinct differences - the Sorel Caribou is the original Sorel boot; the one which started it all. It is a bit less stylish than its famous counterpart, but it is no less functional, and it carries with it a couple of advanced features that are not often found even in Sorel designs.
The upper of the Caribou is made from full-grain leather, together with a waterproof seam-sealed construction to keep your feet dry in any type of weather. It has a Sherpa Pile snow cuff, which might resemble real sheep's wool, but is actually 100% polyester. However, this means that it is far more lightweight, less bulky and faster-drying, while still retaining all the other properties of wool.

On the inside of the Sorel Caribou, you will find a 9mm thick recycled felt inner boot, which is removable and washable, just like in the Joan of Arctic. However, this additional 3mm of insulation means that the Caribou keeps your feet warm even in temperatures as low as -40F.

The Caribou has a Sorel aero-trac non-loading outsole, and a handmade rubber shell which goes around the foot part, adding to the waterproof and the protective features.

Where Joan of Arctic is a boot for harsh winters, the Caribou is an option for the most extreme of conditions, when the snow falls in thick layers, the winds are biting and it is not advisable to be outside for longer than a few minutes at a time. If you're living in an area plagued by hellish blizzards, the Caribou is the one footwear choice which will guarantee you warmth and dryness.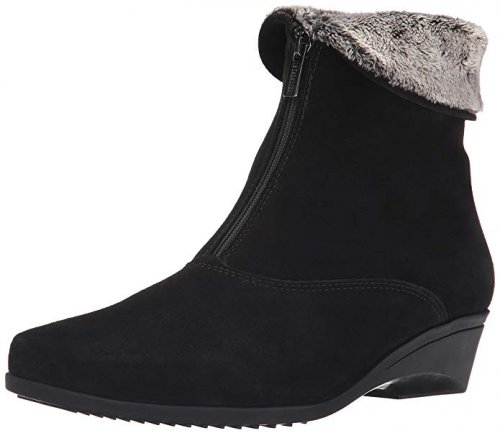 La Canadienne was founded forty-five years ago in Montreal. It is recognizable by its fashion-forward thinking, ethical practices and remarkable footwear that is not only on trend but which also provides ample protection from the elements. The Evitta bootie is all of that, with its timeless style and cozy interior which you won't be able to get enough of.
The Evitta comes with a luxurious, genuine suede upper that is entirely waterproof. It has a zipper in the front which adds interest to the design, but which also allows you to easily slip in and out of the bootie. The top collar can be worn up or folded over, depending on your mood for the day, and the inside of this option is lined with microfiber to keep you both dry and warm in cold winter months. This lining is also very breathable and has antimicrobial properties, reducing the risk of bad odors.

The elegant Evitta has a rubber outsole with a wedge heel of about 1.5 inches in height. This heel is amazingly stable and comfortable to wear, and you will feel supported every step of the way.

The entirety of the design is handmade in Canada, though it does, admittedly, come at quite a high cost. However, the Evitta is the embodiment of sophistication and class, while meeting all the requirements of a reliable winter boot. You will hardly find a design like this one anywhere else.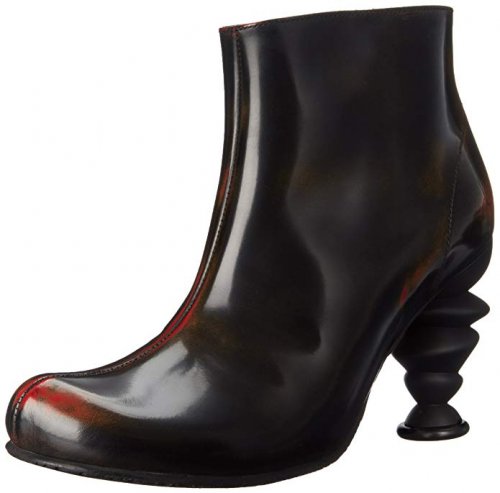 John Fluevog is a celebrity-approved independent footwear designer who creates "unique soles for unique souls". His designs have been worn by the likes of Madonna, Beyonce, and Lady Gaga, and now you can too indulge yourself with this whimsy, unorthodox Nuumite bootie.
The Nuumite is made out of genuine leather, a breathable and durable material that will mold to your foot and provide you with maximum comfort. There is a zipper closure in the inner side, to ease your way in and out of the design.

The sole is made of synthetic materials, and the heel is about 3.25 inches high, with an irresistibly unique shape which gives the Nuumite the appearance of a very elaborate chess piece. There is a small platform in the front, about 0.25 inches, and the entire front of the bootie is nice and rounded to provide ample space for your toes.

John Fluevog does not shy away from innovation and boldness. This designer infuses his pieces with his distinct vision, and the unconventionality of the Nuumite is a very clear representation of his aesthetic. You will have so much fun wearing this eccentric, comfortable heel; be prepared for a world of compliments when you step out in the Nuumite!

8

. Brother Vellies Sister



Aurora James is a Toronto-native designer who founded the Brother Vellies brand. Her goal is to introduce the rest of the world to traditional African footwear, handcrafted in Morocco, Kenya, Ethiopia, and South Africa. One such design is the Sister mule, which originates from Morocco, and is constructed using traditional Moroccan techniques.
This is a lightweight, extremely easy to wear mule, which is made out of the highest quality leather available. Its pointed toe front gives it an elegance not often found in designs this simple and provides you with a chic vibe you can seamlessly fit into your wardrobe.

The sole of the Sister mule is also made out of genuine leather, meaning that it will slowly take on the form of your foot as you walk on it, delivering a tailored type of comfort. The tools which are used in the making of this design leave a tiny needle hole in the sole, near the heel of the mule. While it is not immediately noticeable, this is something that shouldn't be considered a flaw.

Moreover, since all Brother Vellies products are handmade from natural materials, this means that no two pairs of shoes are the same. Each design carries its own personality, and you will be getting a mule that is unlike any other.

Don't hesitate to further explore this breathtaking marriage between Canada and Africa. The Sister Mule is effortlessly stylish and comfortable, and it will make a great addition to your summer wardrobe.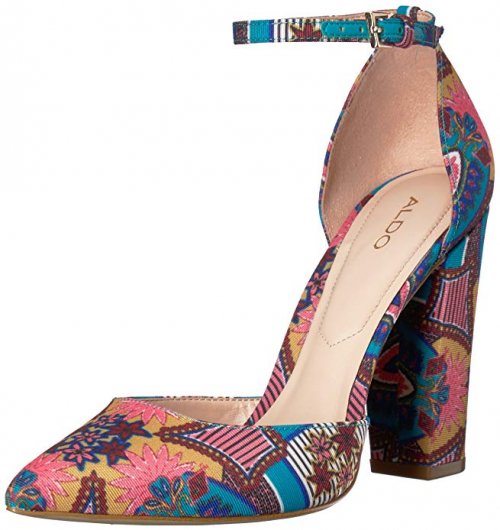 Aldo has one clear aim: to be the best fashion footwear and accessory brand in the world. This company was founded in Quebec in 1972, and, while it has lofty ambitions, it is also not too far away from its goal. With its quirky yet elegant designs, always with some kind of a twist, Aldo certainly is one of the leading fashion brands currently on the market. And its aesthetic and vision is perfectly embodied in the Nicholes pump.
This pointy-toe silhouette is inspired by the 40s, and represents a vintage must-have for every modern woman. The Nicholes pump comes in a variety of colors - from black to mustard to this irresistible teal and pink print - and it is mostly made from synthetic materials, with the exception of its leather insole. An insole made from leather changes shape over time, molding to the shape of your foot and providing you with exceptional comfort.

The heel of the Nicholes is a bit high - 4.25 inches, but it is also square, blocky in shape, providing you with good stability and reducing your chances of stumbling and falling. There is also a strap around the ankle, with an adjustable buckle which you can customize to however tight or loose you'd like it to be.

It's hard to take your eyes off of this design, isn't it? The silhouette is feminine and romantic, the color is eye-catching, and despite its high heel, the Nicholes is actually quite comfortable to walk in. Treat yourself to these gorgeous pumps and get ready to stun the crowds!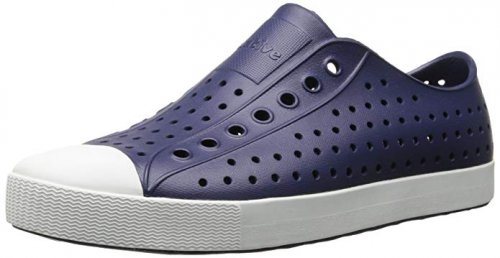 Native is a brand entirely dedicated to lightness - in fact, their motto is Keep it Lite, as they strive to make their customers' days simpler, to help the environment, and to bring smiles to everyone's faces. Their bestselling design - the Jefferson - is truly something unique in the world of footwear, and we're going to explore just what makes it so.
The Jefferson is the leader of Native's EVA collection. It is entirely made out of this material, upper to sole, with a rubber rand and toe area for protecting both your toes from bumps and stubs, and the design itself from excessive wear and tear. The EVA makes it shock-absorbent on all sides, providing you with the ultimate cushioned experience.

This sneaker-like design is actually a perfect water shoe - you can wear it to the pool or to the beach without fear of damaging your footwear. The water drains through the perforations on the upper, making the Jefferson a perfect option for swimming. Not only that, but this shoe is also odor-resistant and hand-washable. It comes in a variety of prints and colors as well.

The Native Jefferson is stylish enough to be worn every day, but it is also the trendiest water shoe you have ever seen. It will keep your feet happy and comfortable - and ventilated in the hot summer days - and you will love wearing it while knowing that no animal was harmed in the making of this entirely beast-free design. What a great concept!

Subscribe to our Newsletter